Are you looking to start selling on Amazon but don't have your own products yet? Dropshipping may be the perfect solution to get your Amazon business off the ground. In this guide, we'll introduce you to some of the best dropshipping suppliers optimized for selling on Amazon.
We'll cover how to find suppliers, evaluate them, and start a dropshipping business on Amazon. This concise guide will provide actionable tips to help you identify reputable suppliers, choose profitable products, manage inventory, and scale your dropshipping empire.
Let's dive in and start uncovering the best ways to maximize your Amazon sales through proven dropshipping techniques.
Top 12 Dropshipping Suppliers For Amazon: In A Nutshell (2023) 
| | | |
| --- | --- | --- |
| S.No | Dropshipping Supplier | Membership Cost |
| 1. | Alibaba | Free |
| 2. | SaleHoo | $67/year |
| 3. | Worldwide Brands | $299 (one-time) |
| 4. | CJDropshipping | Free |
| 5. | Banggood | Free |
| 6. | Ruby Imports | Free |
| 7. | Inventory Source | $99/month |
| 8. | Lee Mar Pet | Free |
| 9. | Geko Products | £30/year |
| 10. | AW Dropship | Free |
| 11. | DSers | $19.9/month |
| 12. | Wholesale2B | $37.99/month |
Here is the hand-picked list of top dropshipping suppliers for Amazon store owners.
1. Alibaba:
In terms of the number of suppliers, Alibaba tops the list with ease. The company has tied up with almost 180,000 suppliers covering all the major regions across the world. You can check out its supplier's directory, where you can find verified suppliers in your closest region. You can find suppliers with a specific product name or category. The best part about its directory is that all the listed suppliers come with a profile with ratings & reviews, which makes it easier to decide which one is best for your business.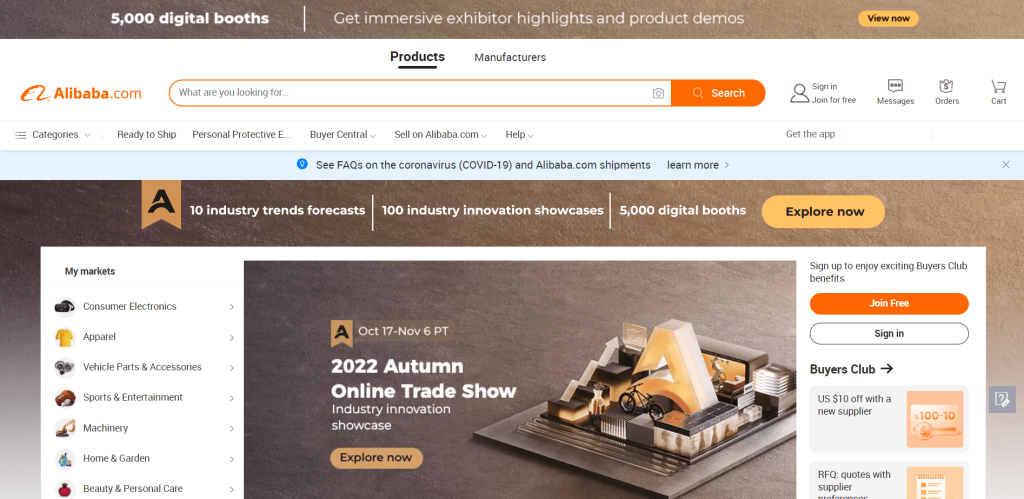 Apart from the suppliers, you can find millions of genuine and high-quality products directly imported from China. You can look through Alibaba's product categories to find out the best profitable products for your dropshipping business. In fact, you can find pretty much everything for dropshipping.
The platform certainly has MOQs, which is the only downside. But if you choose to purchase products in bulk, you get huge discount rates as well. Since there are thousands of suppliers on Alibaba, it also makes it difficult to find a reliable one for your business. So finding a trustworthy supplier can take some time on this platform. 
Key Features of Alibaba
Thousands of dropshipping suppliers around the world 
A vast selection of dropshipping products 
Supports all major eCommerce platforms and marketplaces, including Amazon
It takes 15 to 24 days for global shipment 
High-profit margins
Exclusive discount on bulk purchasing 
Drawbacks
MOQs set in place 
Hard to find a trustworthy supplier
Membership Cost: Free
2. SaleHoo:
SaleHoo is one of the best platforms where you can find a huge directory of trusted and vetted suppliers. SaleHoo features more than 8,000 dropshipping suppliers with over 2.5 million products. Since all the suppliers are verified and pre-vetted, you can rely on their quality of products and shipping policies. However, it runs on a membership model, so you have to pay a yearly fee in order to browse products and supplier lists.

With the SaleHoo membership, you will get access to its Market Research Lab, which helps quickly discover products with high profit margins. You can also see the past sales data of that specific product to determine how it might perform on Amazon.
If you simply browse the listed products, you will find a range of cheaper products with no MOQs. Along with that, suppliers also list details of their shipping time frame, return policy, and customer service, which makes it easier to select one for your dropshipping business. 
Key Features of SaleHoo
8000+ pre-vetted and trustworthy suppliers across the globe (dropshipping and wholesale) 
Millions of high-profit product selection 
Access to Market Research Lab
Priority support via phone, one-on-one assistance, live chat, and email
No minimum order quantities 
High-profit margin
Drawbacks
No free trial
Out of all suppliers, only a little over 1000 are dropshipping suppliers
Membership Cost: $67/year (60-day money-back guarantee)
3. Worldwide Brands:
Like SaleHoo, Worldwide Brands also offers a huge directory of pre-vetted dropshipping suppliers. But the product selection on this platform is way much higher than SaleHoo. Here you can get to choose from 16 million products in hundreds of categories, including clothing, home appliances, accessories, electronics, garden ware, pet supplies, toys, and many more.
You can trust every single supplier as each goes through strict inspection by the internal staff. Each supplier on the platform is directed to add their full address, contact methods, payment information, shipping details, etc.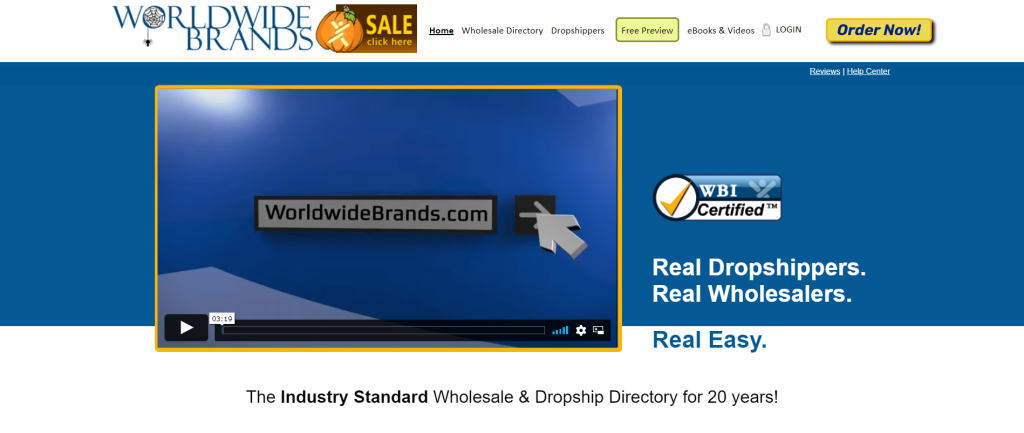 Apart from the supplier's directory, Worldwide Brands is also known for offering a competitive pricing range of similar products you can find on other platforms. The only downside is its membership cost which can be a huge amount for any beginner. However, it also offers many perks, such as exclusive discounts and priority support with the subscription. If you are facing difficulty finding a product or supplier, the Research Staff will guide you on every step, which is something you won't get on every platform.
Key Features of Worldwide Brands
8000+ certified dropshipping and wholesale suppliers 
Over 16 million products to choose 
Detailed information is attached with each supplier
Various discount and flash deals
Fast shipping options 
Onboarding assistance from internal staff
Drawbacks
Expensive upfront cost
Most suppliers come with a MOQ
Membership Cost: $299 one-time fee
4. CJDropshipping:
CJDropshipping is another China-based dropshipping supplier that owns a huge number of warehouses in the UK, US, Europe, and Asia. The platform features more than 400K products in 13 major categories. In terms of the number of suppliers, CJDropshipping might not be your first priority. But if you want a lower price range with the best quality, CJDropshipping overcomes many platforms. In fact, the platform is designed to dropship on major eCommerce platforms and marketplaces.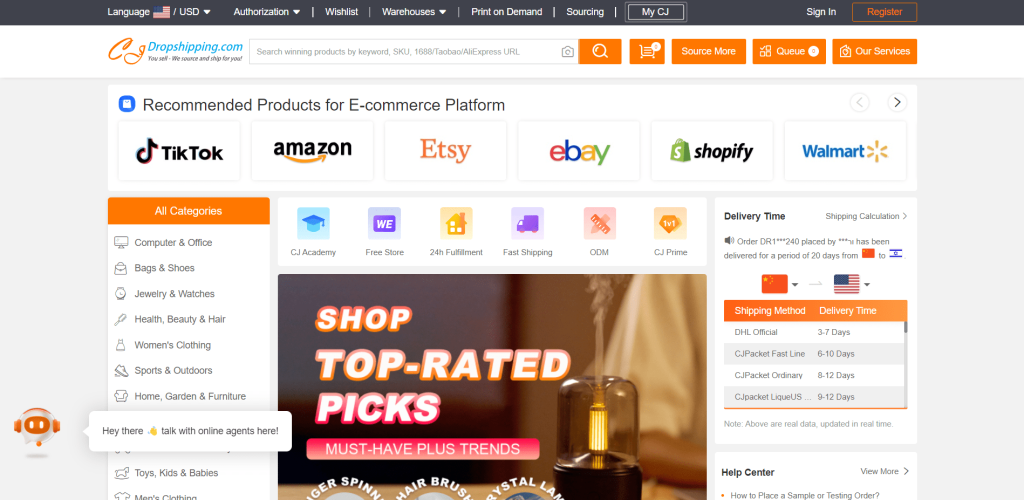 Apart from dropshipping, CJDropshipping offers POD (print-on-demand) services where you can upload your artwork and designs to be printed on white-label products and sell them on eCommerce platforms and marketplaces.
The platform works with major shipment carriers such as DHL, USPS, ePacket, CJPacket, and JewelShipping so that you can rely on their shipping services. However, local shipping can take 3 to 5 days, while global shipping can take up to 15 to 24 days. 
Key Features of CJDropshipping
Over 400K product selection 
Over 200 warehouses across the major countries 
Offers branding solutions 
Fast and reliable shipping solutions
Print-on-demand services available 
14-day risk-free return policies 
Drawbacks
Low numbers of dropshipping suppliers 
Charges additional processing and storage fees
Membership Cost: Free
5. Banggood:
Banggood is a China-based dropshipping and wholesale supplier with multiple warehouses in the US and UK. On Banggood, you will be able to find a mixed list of 100K local and vetted suppliers that offer over 1.2 million products in 30 categories. The best part is that there are no minimum order quantities which means you can buy your desired amount of units. Here you can also find the cheapest range of products that you can buy in bulk to increase your profit margin.
Apart from local products, Banggood works with suppliers that are intended to sell in 800+ known brands in categories like electronics, clothing, accessories, home appliances, shoes, bags, etc. The company mainly focuses on global shipment, which is why they work with the best shipping carriers. So if you want to sell your products overseas, you can choose fast shipping options to deliver your products. Local shipping has many free options, so it is worth dropshipping in the same region. Banggood also occasionally offers seasonal and flash deals, so you can always check out their flash deals and sales section to get amazing deals. 
Key Features of Banggood
Thousands of high-quality dropshipping products 
Trending and profitable products in a low price range 
No minimum order quantities 
Fast global shipping options available
VIP membership with many rewards and perks 
Flash deals and occasional sales
Drawbacks
Third-party suppliers are not that reliable 
No customer protection services 
Membership Cost: Free (VIP membership starts at $1)
6. Ruby Imports:
If you are thinking about sourcing jewelry and fashion accessories, there is no better option than Ruby Imports. The company has been in the business for more than 18 years and offers the best quality products, such as necklaces, earrings, pendants, anklets, rings, and many more. If you purchase jewelry items in bulk, you can get up to 70% discount straight away.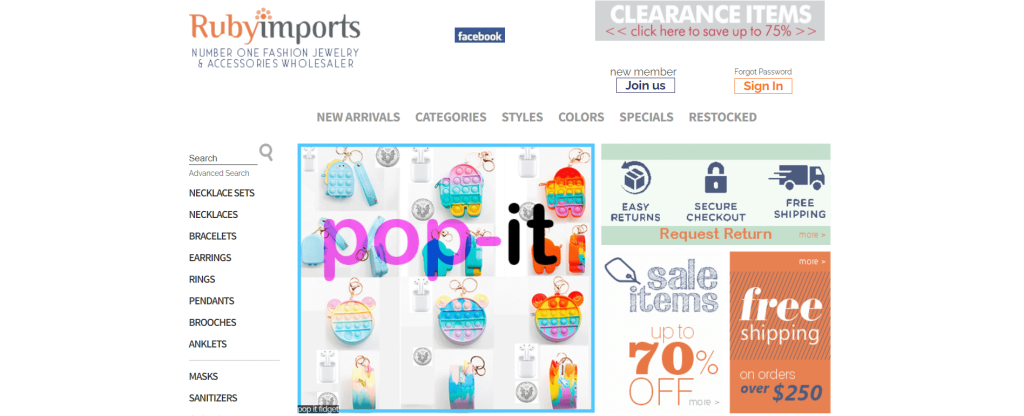 The platform comes with a minimum order of $50, which is considerably lower than other platforms with a MOQ. You can also get free shipping on orders above $250. You can get started with the dropshipping program on Ruby Imports for absolutely free. And if you want, you can directly integrate with your Amazon store and other eCommerce stores as well. The platform also offers POD solutions on white-label products, which gives you the opportunity to give exposure to your own brand.
Key Features of Ruby Imports
15 years of experience in the dropshipping industry 
Exclusive range of high-quality and premium jewelry selection 
No minimum order quantity (but orders must be above $50)
Fast shipping solutions 
Dedicated customer support 
Free shipping on orders above $250
Drawbacks
Need to create an account to browse products 
Limited reviews on listed products 
Membership Cost: Free
7. Inventory Source:
Inventory Source is a renowned dropshipping supplier best known for its automation and site-building features. Though the supplier's list is not very convincing, you can still browse more than one million dropshipping products. With its site-building capabilities, you can export images and product descriptions directly to your Amazon store. In fact, if you don't have a website, you can build a new one and start from scratch.

Since there are a low number of dropshipping suppliers on Inventory Source, you can easily go through their supplier's directory to find the best one for your business. You can streamline your ordering process and inventory management with its automation features. The platform integrates with 24 major eCommerce platforms and marketplaces, including Shopify, WooCommerce, Ecwid, eBay, Amazon, etc. The platform runs on a membership model, but unlike other platforms, it charges you based on the supplier count you work with.
Key Features of Inventory Source
230+ pre-vetted suppliers
Over 1 million product selection 
Advanced filters to find products and suppliers
Access to bulk feed management tools
Integrates with major eCommerce platforms and marketplaces 
Fully functional web-based app
Drawbacks
You need to pay an additional cost if you want to work with more than one supplier 
Membership Cost: Free to browse products but charges $99/month for inventory automation.
8. Lee Mar Pet:
If you want to dropship pet products and supplies, Lee Mar Pet is the best one to go with. This US-based website is an award-winning dropshipping supplier that sources high-quality pet products directly from top brands such as Petmate, Catit, and Kong. From treats and supplies to collars, beds, cages, and toys, Lee Mar Pet offers more than 10,000 dropshipping products with no minimum order quantities.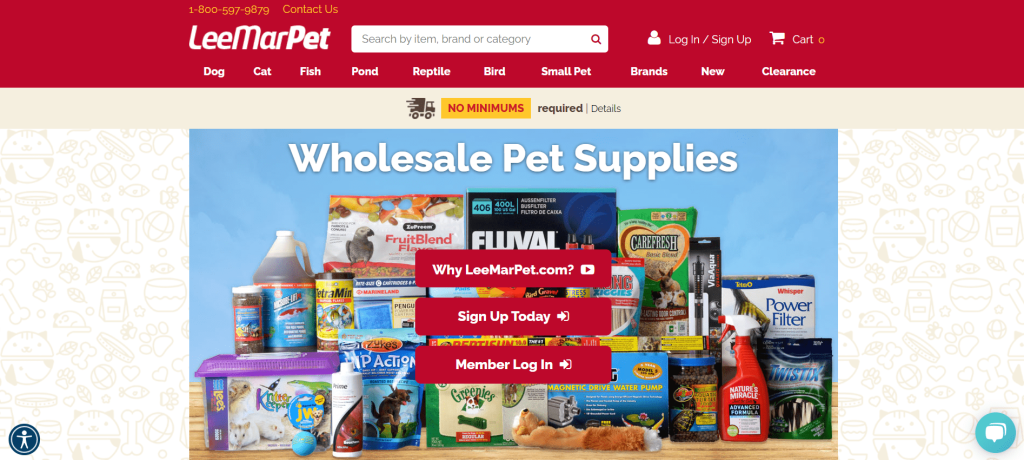 You can sign up for free on the platform and start dropshipping products directly from your Amazon products by providing the shipping address of your customers. The company also adds custom shipping labels and packing slips featuring your store name, which gives exposure to your brand. Apart from sourcing products, Lee Mar Pet provides everything you need to start your Amazon store from scratch.
Key Features of Lee Mar Pet
Over 10,000 products for pets, birds, fish, and reptiles 
Real-time inventory information 
Award-winning customer support 
Data feeds and high-quality images for the Amazon store
Same-day shipping options 
Branding solutions 
Drawbacks
Charges 20% restocking fee on returns 
Membership Cost: Free
9. Geko Products:
Geko Products is one of the biggest furniture, gifts, and home accessories distributors. Whether you run an eCommerce store or own a physical store, Geko Products offers services to all types of businesses. The platform offers an amazing range of products in categories like furniture, artificial plants, homeware, shelving, handmade items, and many more.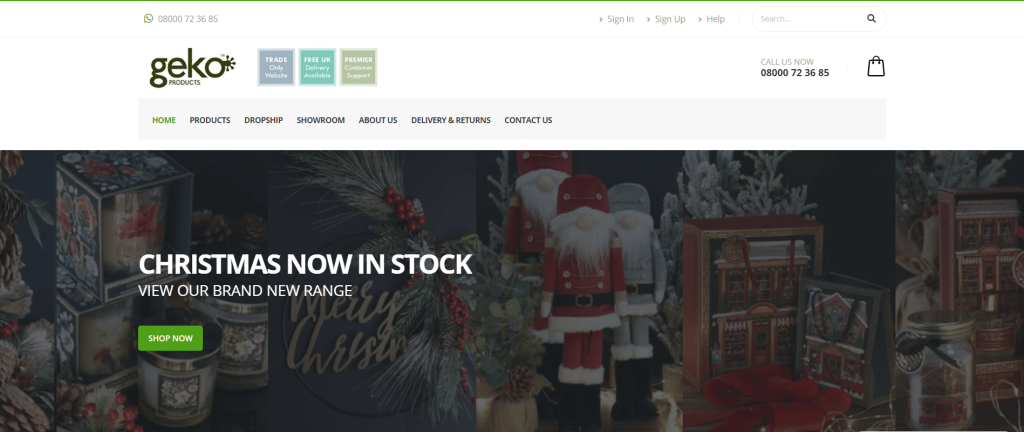 Geko Products is known for delivering 100% customer satisfaction as they only work with genuine and high-rated suppliers. You can easily navigate through the website and place orders of your like with no MOQ strain. However, you need to place a minimum order of £100 no matter how many units are included. UK-based buyers can take advantage of its free delivery. For same-day delivery, you might have to pay a shipping fee.
Key Features of Geko Products
The first dropshipping supplier of furniture in the UK
Offers a range of wooden products
Caters to both online and offline store owners 
Wholesale prices with a great profit margin 
No minimum order quantity 
Excellent customer service 
Drawbacks
The minimum order amount is £100
Membership Cost: £30/year
10. AW Dropship:
AW Dropship is one of the top-rated dropshipping suppliers in the UK. With a vast product catalog of quality products and top-notch customer service, AW Dropship has become a go-to choice for Amazon dropshippers. The company is famous for unique giftware and home accessories, but it also includes other categories, like furniture, jewelry, aromatherapy, etc. With its user-friendly interface, you can easily discover any dropshipping product for your Amazon store.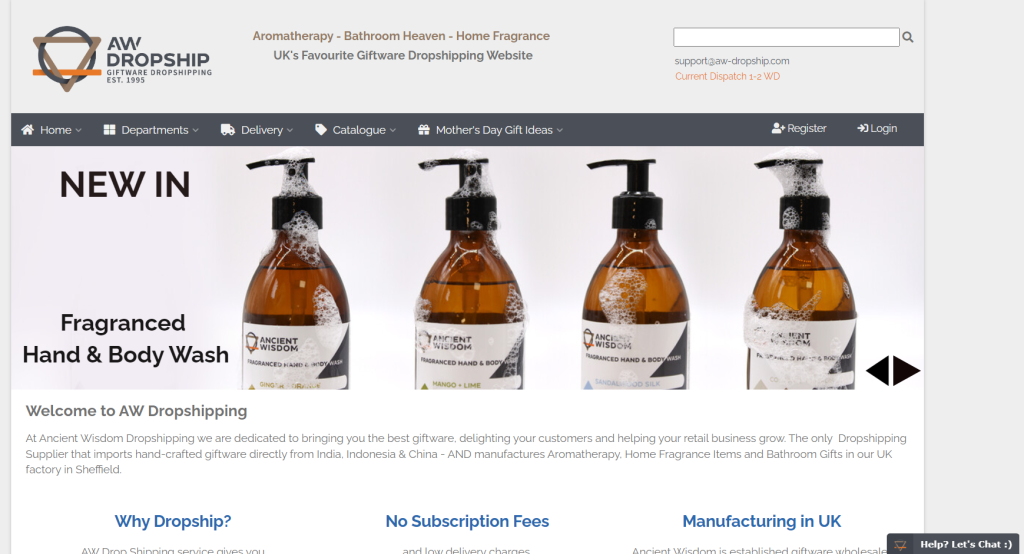 The best part of AW Dropship is that it flexibly integrates with Amazon Seller Central, which makes it easy for sellers to import products directly from the platform. So, as soon as you receive orders from your customers, the company will ship them to your customers within the given timeframe. This feature eliminates the risks of late delivery or receiving fraudulent orders. And also, you don't have to deal with third-party suppliers to source your products. On various occasions, you will also get flash deals and discounts on various products, leaving you space for additional profit.
Key Features
Over 10,000 unique dropshipping products 
Process orders directly from your Amazon store
Download CSV files of products for your Amazon listings
Fast and affordable shipping options
White-label product options for print-on-demand
Exceptional customer service
Drawbacks
Dropshipping is only limited to the UK, US, and Canada
Minimum order quantities on products 
Membership Cost: Free
11. DSers:
DSers is a leading UK-based dropshipping supplier that provides services to eCommerce businesses to simplify inventory and shipping management. Integrating seamlessly with major platforms like Shopify, Wix, and WooCommerce, DSers makes order fulfillment automation accessible. Retailers can manage and process orders directly through their online stores when using DSers.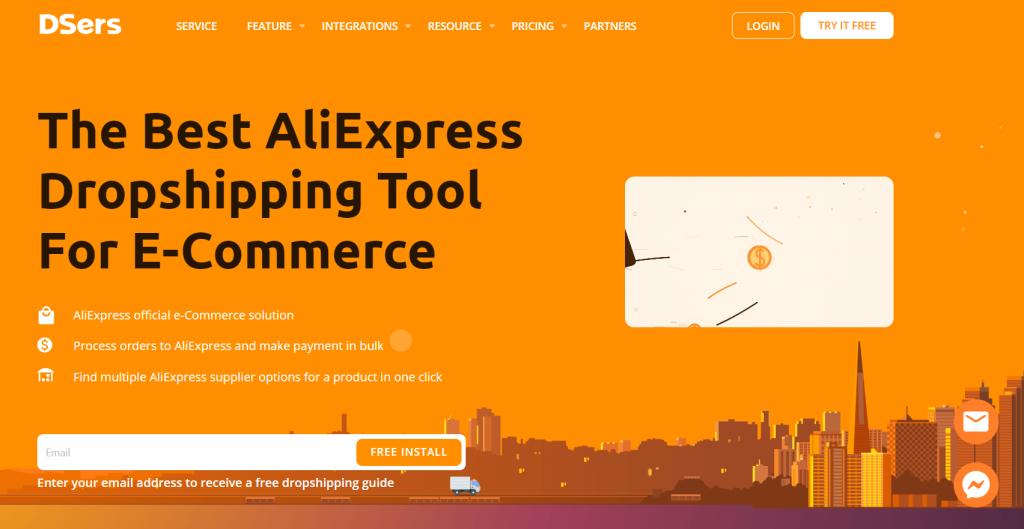 A key advantage DSers offers is connecting businesses with reliable, verified suppliers worldwide. Sellers can source quality products at competitive prices. DSers also provides optimization tools to enhance listings, inventory controls, and order tracking. With iOS and Android apps, stores can easily manage operations on the go.
Key Features of DSers:
Integration with top eCommerce platforms like Shopify and WooCommerce
Connects businesses with vetted global suppliers
Streamlines order fulfillment
14-day free trial for new users
Competitive bulk order pricing and discounts
Enables direct AliExpress supplier orders
Drawbacks:
Limited supplier range on its own platform (but integrates major directories)
It may not suit high-volume sellers
Membership Cost: The pricing starts from $19.9/month for Shopify.
12. Wholesale2B:
One of the best dropshipping suppliers optimized for Amazon is Wholesale2B. This wholesale platform connects dropshippers to verified suppliers, making it easy to find quality products to sell on Amazon.
Wholesale2B thoroughly vets its suppliers, ensuring they are legitimate companies that consistently ship on time. They offer various product categories, including home & garden, beauty, electronics, automotive and more.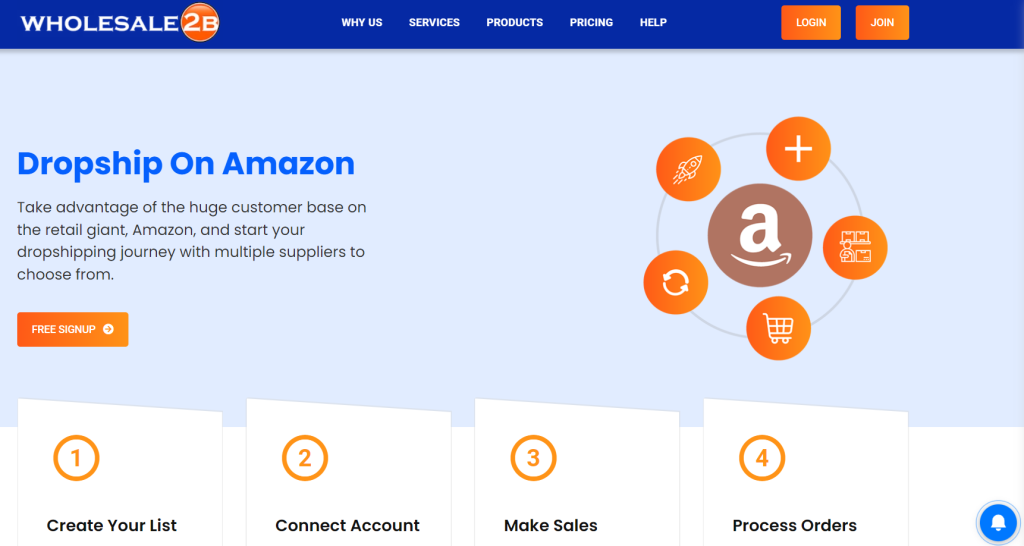 With Wholesale2B, you can easily browse and purchase inventory at wholesale prices for your Amazon store. They handle shipping the orders directly to your customers for you. This makes it fast and simple to scale up your product offerings. Wholesale2B also provides excellent supplier support.
If any issues arise with an order, they will work on your behalf to make it right. Overall, Wholesale2B's focus on Amazon-friendly suppliers, wide selection, great prices, and stellar support make them a top choice for dropshippers selling on Amazon.
Key Features of Wholesale2B
Vetted, legitimate suppliers optimized for dropshipping on Amazon
Huge range of product categories, including home, beauty, electronics, and more
Wholesale pricing allows good profit margins for dropshippers
Suppliers handle shipping directly to customers
It makes scaling inventory easy and fast
Excellent supplier support from Wholesale2B
Drawbacks
Limited ability to negotiate pricing with suppliers
Must order minimum quantities of some products
Membership Cost: To import products to Amazon, you must pay $37.99/month.
Related Read:
Conclusion: Best Dropshipping Suppliers For Amazon (2023)
Amazon is one the biggest marketplaces where you can start your dropshipping store and streamline your revenue stream. But in order to run a dropshipping business, you have to partner with a reliable dropshipping supplier that completes your order fulfillment by offering excellent customer service, fast shipping solutions, and branding options. Finding the best supplier on your own can be a bit of stress which is why I came up with this hand-picked list. 
You will find some of the best dropshipping suppliers for your Amazon store. You can try contacting suppliers in your nearby location so you can negotiate all your terms because a single invoicing error can get your store suspended. Make sure to work with the best, so you can stay out of trouble.