Are you looking for a verified wholesale supplier in the USA? Don't worry, I have got your back.
Starting an eCommerce or retail business is easy, but finding a reputable wholesale supplier to source products can be a difficult task. If you look for a wholesale supplier manually, you have to do a lot of market research in order to find the best one. Or you can look for a US-based wholesale company that offers not only a range of high-quality products but also a directory of verified suppliers so you can negotiate with them to get the best deal.
#1 Wholesale Suppliers USA — Syncee
Syncee is one of the best wholesale suppliers in the USA.🎯
Find the best dropshipping products to start your business with Syncee.🔥
That's why I have listed the nine best wholesale suppliers in the USA so you can compare and find the best supplier for your business, no matter what product you sell.
Let's get started.
Top 14 Wholesale Suppliers in the USA: In A Nutshell (2023)
| | | |
| --- | --- | --- |
| Sr. No. | Wholesale Suppliers USA | Rating |
| 1. | Syncee | 4.8/5 |
| 2. | Worldwide Brands | 4.7/5 |
| 3. | Costco | 4.6/5 |
| 4. | Doba | 4.5/5 |
| 5. | Bwanaz | 4.3/5 |
| 6. | Kole Imports | 4.1/5 |
| 7. | DollarDays | 4/5 |
| 8. | Wholesale Central | 4.5/5 |
| 9. | Alanic Clothing | 4.2/5 |
| 10. | Michaels | 4.1/5 |
| 11. | eBay | 4.6/5 |
| 12. | Tundra | 4.5/5 |
| 13. | Faire | 4.2/5 |
| 14. | Shopify Handshake | 4.4/5 |
Here is the list of the best wholesale suppliers in the USA.
1. Syncee
Syncee is a B2B platform that offers a vast database of wholesale suppliers in the USA. With over 1.6 million products from more than 2000 suppliers, Syncee makes it easy for retailers to find the right products for their stores. The platform offers a range of useful features, including automated product uploads, inventory management, and order management.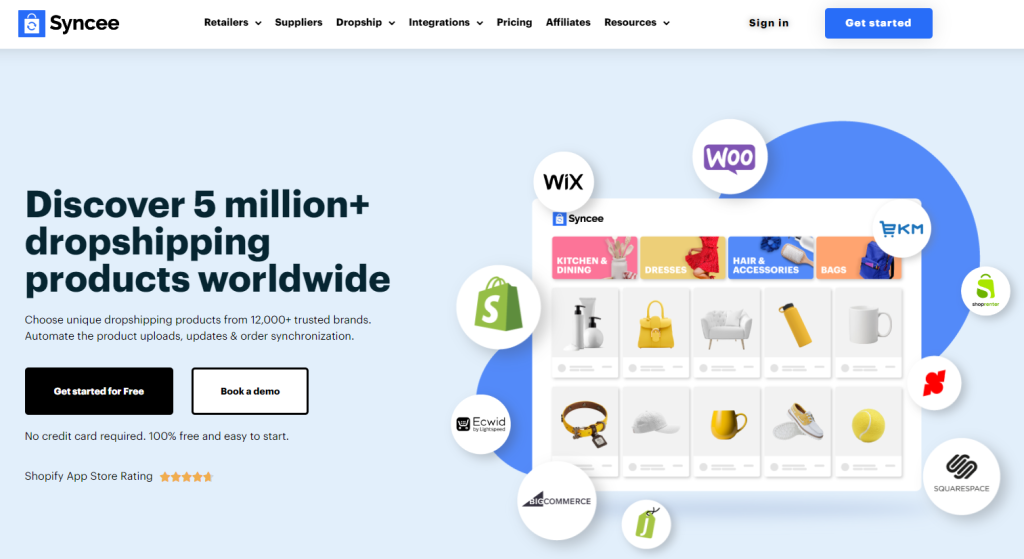 Syncee also allows retailers to communicate directly with suppliers and negotiate prices. The platform is user-friendly and requires no coding skills, making it accessible to retailers of all sizes. With Syncee, retailers can source high-quality products at competitive prices and streamline their operations, enabling them to focus on growing their businesses.
Key Features of Syncee
High-quality products from known brands
Over 2000 suppliers and resellers to choose from
Automate data exchanges with your suppliers and sales platforms
Create custom fields for better data organization
Enrich product data with additional information and images
Multilingual support to manage products in your preferred language
2. Worldwide Brands
Worldwide Brands is one of the internet's best and oldest wholesale websites. They have the biggest directory of wholesale and dropshipping suppliers. Their directory includes more than 16 million products and 8000+ suppliers for you to check out and choose from. To list a wholesaler on the Worldwide Brands directory, they inspect the Wholesaler's warehouse to check if they are legitimate or not.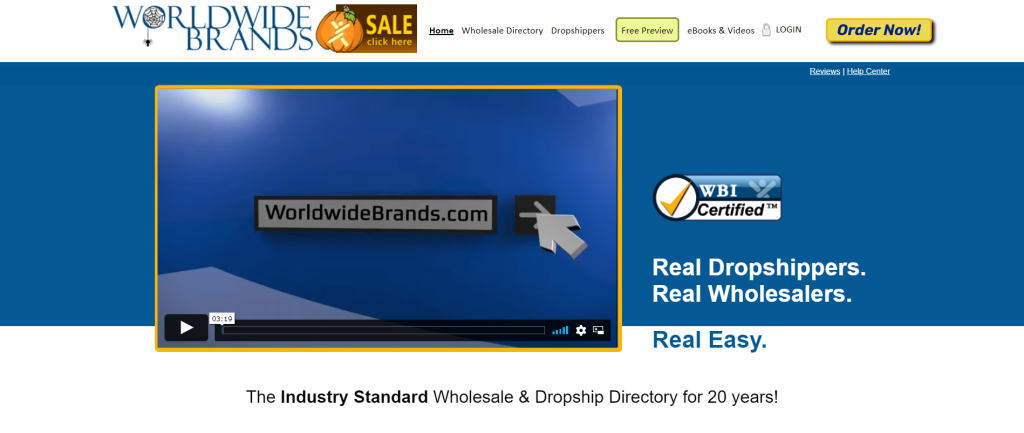 So you don't have to worry about any scams because all the wholesalers are real in the Worldwide Brands directory. They also update their directory every week, adding new suppliers & products and removing anyone who is no longer a wholesaler or dropshipper. To find the products you're looking for, you just have to search for the brand name, keyword of the products or location of the supplier. To get lifetime access to the Worldwide Brands directory, you have to pay a fee of $299 once.
Key Features of Worldwide Brands
Official source of certified wholesalers
The directory is available to all types of sellers
New wholesalers get added every week to the directory
16 million+ certified wholesale products
Find wholesale suppliers in all categories
A 60-day money-back guarantee is available
3. Costco
Costco is a US-based wholesale supplier and multinational corporation. The company is the third largest wholesale supplier in the world and the top in the US. Costco offers millions of products in 50+ categories and 1000+ subcategories. The company owns more than 580 warehouses in the US which makes it really easy to find wholesale products from your nearest warehouse. You can search by warehouses and contact directly to the supplier to negotiate.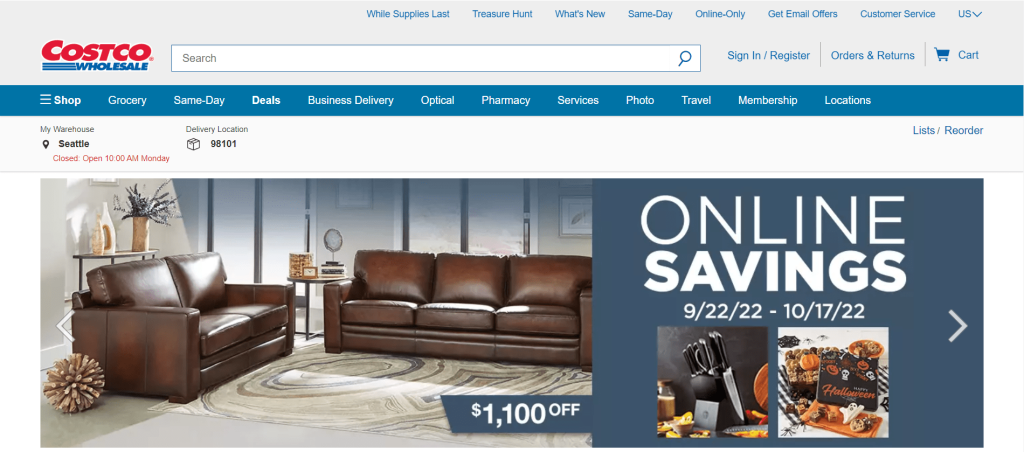 Costco offers fast shipping options for buyers. Most orders are shipped within two days, and in some cases, you can even get your items delivered on the same day. SMBs can get a membership of Costco Business Center, which mainly focuses on handling business orders. Here you can get cut-rate prices on food, home supplies, clothing, and electronics. 
Key Features of Costco
High-quality and branded products
Advanced product search options
Same-day and 2-day delivery options
White-label and private-label products
Costco Business Center for business orders
15%-30% discount on wholesale orders
4. Doba
Doba is an online marketplace for wholesale and dropshipping products. Located in Utah, the company deals in high-quality items in various categories, such as electronics, clothing, pet supplies, sports, and many more. Apart from that, it offers a supplier directory where you can find suppliers to source wholesale and dropshipping products.

Doba runs on a membership module. You can start by browsing millions of available products to find the best deals. Then, negotiate with the supplier and get your products delivered within 2-5 days. Dropshipping sellers using eCommerce platforms such as Shopify, Wix, WooCommerce, etc., can integrate Doba to find drop shippers for order fulfillment. 
Key Features of Doba
High-profit margins for dropshippers
20% discount on bulk purchases
Top selling products
The best quality guarantee
Integrations with major eCommerce platforms and marketplaces, including Amazon, Shopify, WooCommerce, Wix, etc.
Premium and verified suppliers
5. Bwanaz
Bwanaz is one of the best wholesale websites for small businesses. It is a California-based company partnered with big names such as Microsoft, Walmart, and Bloomingdale's. Bwanaz works with top US manufacturers and supports local businesses by providing them with a range of high-quality products. There are various benefits of purchasing products wholesale from this website, of which free shipping and free marketing are the best.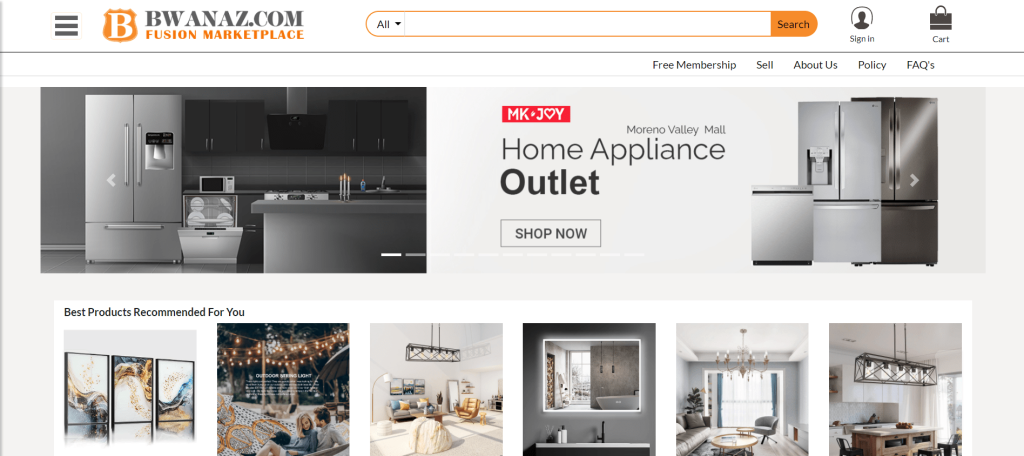 Bwanaz also allows buyers to order sample products to check the product quality before they make a large purchase. The company offers a three-month free trial to their paid membership which allows you to find the best deals and discounts on various wholesale products. You can also sign up for free membership to browse the products and suppliers directory. Dropshipping sellers can also look in the product recommendations section to find high-profit-margin products.
Key Features
Free shipping on local orders
Sellers can market their products for free on major social platforms
A vast range of local and premium products
Flexible return policy
Free trial and memberships
Product recommendations
6. Kole Imports
Kole Imports is a leading closeout supplier and wholesale merchandise in the USA. The company has thousands of high-quality products in tons of categories, including clothing, pet supplies, sports, toys, outdoor, kitchenware, and many more. You can also search for products in various pricing ranges so you can get the best deals. You can also check out its limited offer section to get discounts of upto 75% on wholesale items.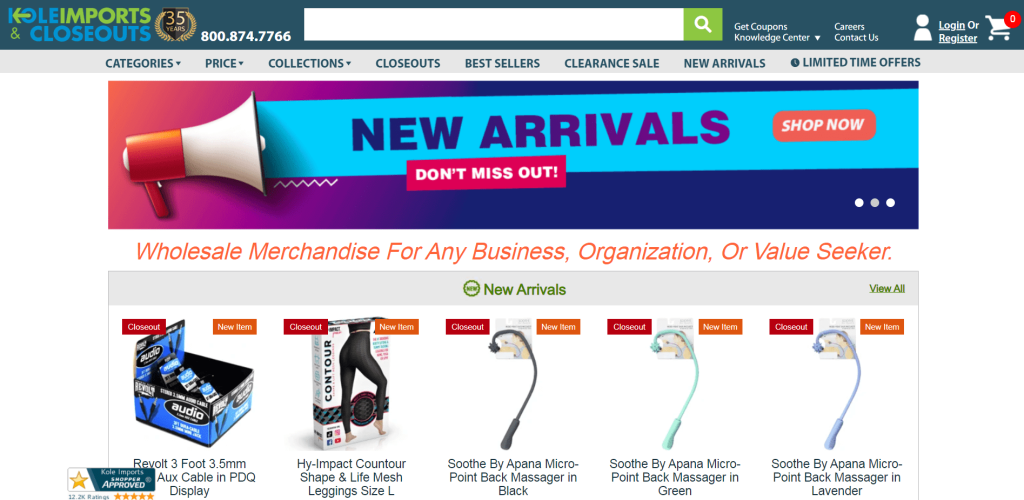 Most products on Kole Imports are available at trade prices which makes it an ideal supplier for eCommerce stores, dropshipping sellers, and start-ups. The company also supports FBA sellers by offering them an extensive range of FBA products and an FBA guide for newbies. It barely takes two days shipping time for local orders within the US.
Key Features of Kole Imports
Over 10,000 quality products in different categories
Branded products and closeout offers
Cut-rate prices on wholesale products
Deals and coupons are available every time
No order limitations
It also supports FBA and dropshipping business
7. DollarDays
Just like Kole Imports, DollarDays is also one of the largest online wholesalers in the USA. The company features more than 10,000 products in dollar items and general merchandise for nonprofits, schools, businesses, and charities. It also deals in sourcing wholesale products for global buyers. Unlike other marketplaces, DollarDays divided its products into various departments across the US, so you can easily find products near your region with minimum shipping charges.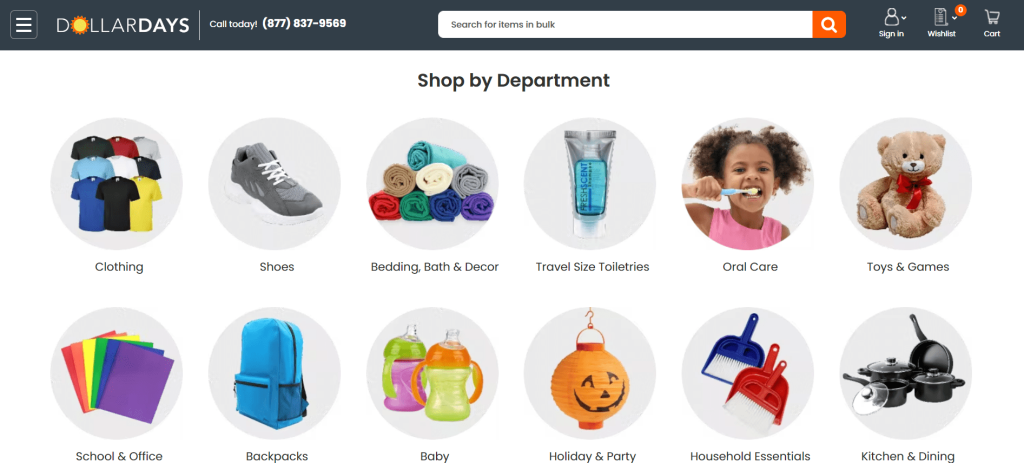 DollarDays releases new products every week to increase its customer reach. There are no order limitations on purchasing products since most of the products are manufactured in their own warehouses. It delivers in 48 states in the US using courier services such as FedEx and UPS. You will also get a flexible 14-day return policy on each product you purchase from DollarDays.
Key Features of DollarDays
Over 10,000 products in various categories
Trusted and reliable suppliers
No order minimums
14-day return policy
Products are available in local departmental stores at the same rates as the website
Fast shipping times
8. Wholesale Central
Wholesale Central offers one of the most extensive B2B directories of wholesale products and suppliers. The website is a carbon copy of Alibaba but for USA wholesale suppliers. It offers a trade show search engine from where you can locate wholesale trade shows in your local area so you can negotiate with the suppliers in person. You can also see the products and their prices listed on trade shows.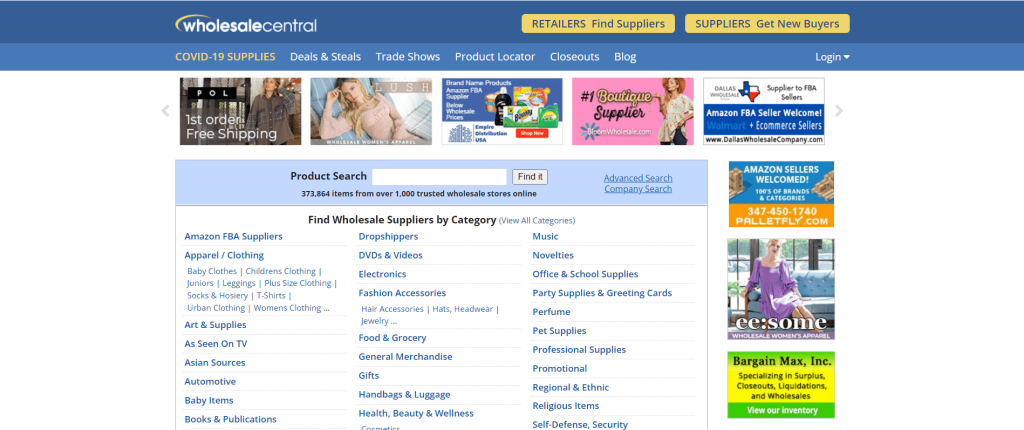 Wholesale Central also provides contacts of verified suppliers and drop shippers so you can directly interact with them for free shipping or discounts on orders. However, experts don't recommend Wholesale Central for beginners as you might need to put a lot of effort into connecting with the suppliers. On the other hand, experienced buyers find its environment pretty simple.
Key Features of Wholesale Central
Search products by suppliers and trade shows
New deals and discounts every day
Product locating options
Top-rated suppliers and retailers
Over 20,000 products in various categories
100% free membership
9. Alanic Clothing
Alanic Clothing is the best option available in the US if you're particularly looking for wholesale products in clothing. Here you can discover the best wholesale fashion and apparel items. The company has many headquarters in the US, which manages a chain of verified suppliers that ship orders for individual buyers and physical stores.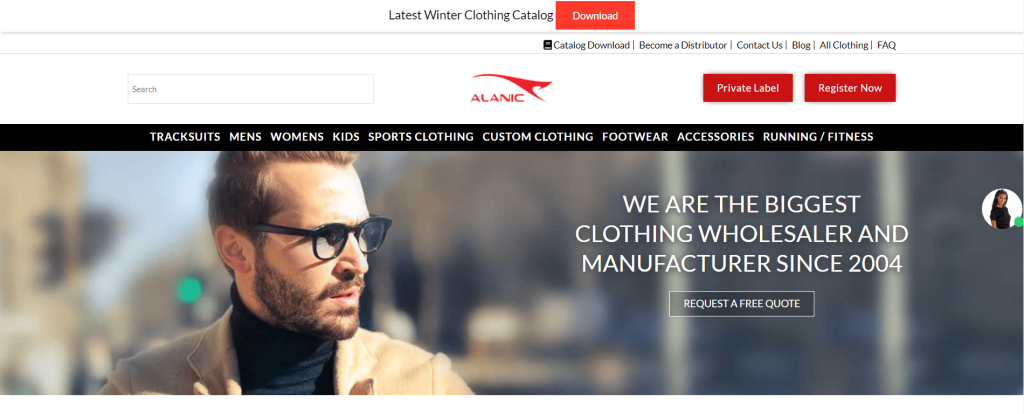 Alanic offers a wide range of premium and rare collections of clothing items such as t-shirts, leggings, jeans, sportswear, fitness, etc. You can find fashionable products for men, women, and kids in different sizes and colors. You can also get custom branding and white-label products within the finest fabrics. It launches flash sales and discounts for wholesale products every week.
Key Features of Alanic Clothing
Branded clothing products are available at wholesale
Custom branding and white-label solutions
Verified suppliers across the US
Free shipping on orders above $50
No orders minimums
Global shipping options
10. Michaels
Located in Texas, Michaels is one of the oldest wholesale suppliers in the US, with an experience of 49 years in the market. If you are looking for wholesale products in artwork and decorations, Michaels is the best one you can find. Here you can also find the best theme-based products for Halloween, Christmas, and other occasions. Apart from that, you can also find products in categories like home decor, kids, paint, fabrics, baking, apparel, and many more.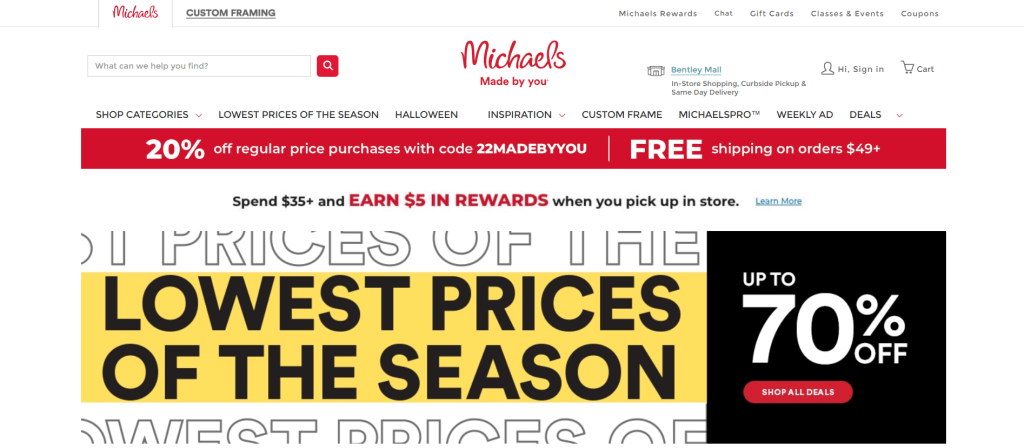 Michaels has a digital design library that allows you to create your own design for white-label products. You can also upload your pre-made design to be printed on different products at a minimal cost. If you want the best deal, you can check out the Deals section to unlock various coupons for wholesale products. However, the shipping services of Michaels can be terrible, which is why I am putting it on the last in this list.
Key Features of Michaels
Best theme-based products
Flash sales, coupons, and discounts
Verified sellers across the US
Free shipping on orders above $49
Free Membership
Flexible return policies
11. eBay
eBay has been one of the leading wholesale suppliers in the USA since 1995. It is also a popular auction marketplace for branded accessories and electronics where you can find great refurbished products at an affordable range. eBay partnered with the wholesale product sourcing giant BULQ®, which allows you to source and purchase products in bulk at a discounted rate. Here you can find branded items in categories from clothing to electronics.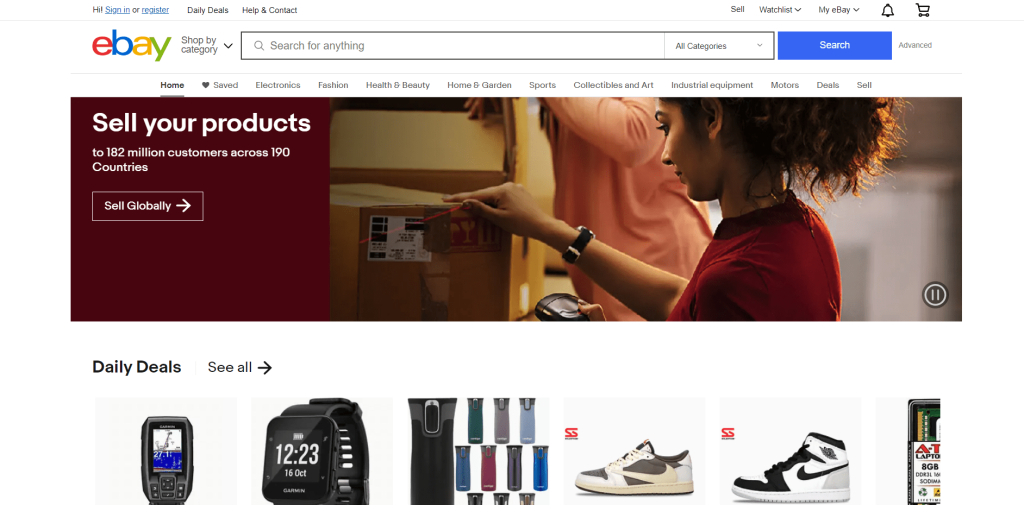 Listing wholesale products on eBay is easy. You can use its draft generation feature to prefill data which conveniently creates your product listings. You can use its advanced search menu to search items in various categories. You can search products by keyword, suppliers in specific regions, or categories. Before making a wholesale purchase on eBay, make sure to check if the product is listed in the bulk category so you can get the best-discounted prices.
Key Features of eBay
Millions of wholesale products
Up to 20% discount on bulk purchases
Low shipping rates
Advanced product search options
Shipping guide for each listed item
Verified and trustworthy US-based suppliers
12. Tundra
Tundra is a USA-based wholesale marketplace started by a couple, Arnold and Katie, in 2017. The platform mainly caters to small businesses that face hurdles while sourcing products from different suppliers. This B2B platform tends to provide affordable solutions for retailers, manufacturers, distributors, etc. With a wide range of product selections, you can source pretty much everything with no minimum order quantity required.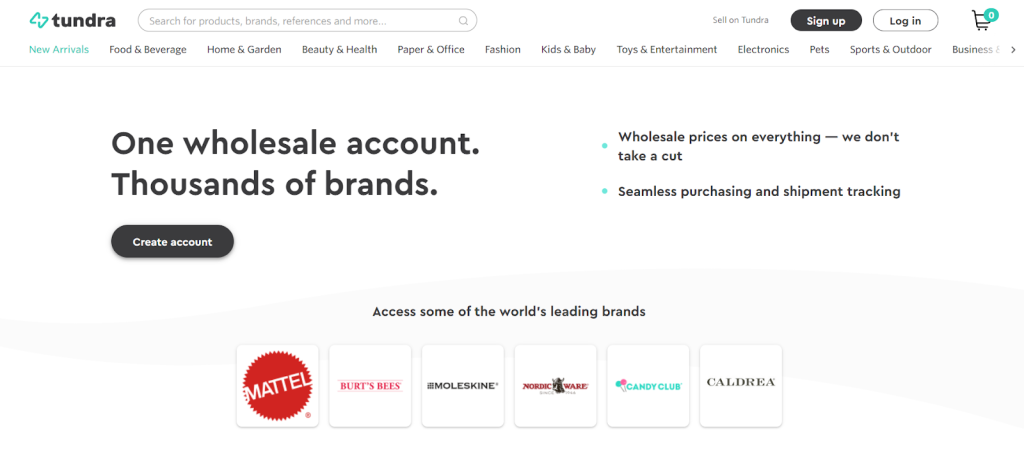 The platform offers free shipping options on most of its products, and there are no transaction fees, which allows you to increase your earning potential. However, the free shipping option is only available for Pro members. Once your orders are placed, you can track your shipments in real-time. Even if you own a physical store, you can integrate Tundra POS into your inventory management, so you manage everything while purchasing on the platform.
Key Features of Tundra
Affordable range of wholesale products
Fast and free shipping options
High-quality products from leading brands
Point of sale (POS) integration is available
No transaction fees
Helpful support staff available
13. Faire
Faire is another great wholesale supplier in the USA, where independent retailers can list their goods to sell wholesale or individually. It has over 100,000 independent brands selling their products all in one place. The interface of this marketplace is similar to a B2C website where visitors can go through multiple categories and find products to buy. They have filters that you can use to filter out products by brand or category.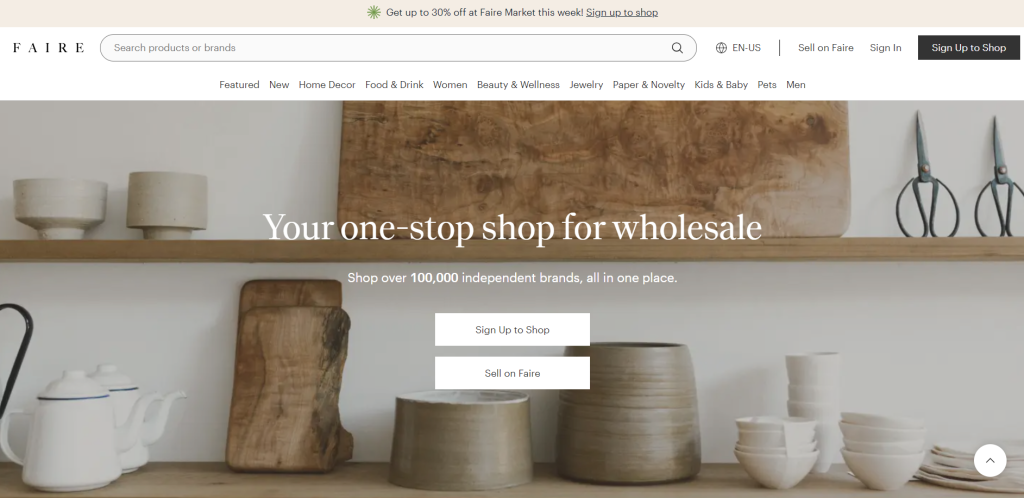 It is one of the best platforms for small businesses to grow. However, it is only available in a few specific countries like USA, UK, Germany, France, etc. The categories available on this marketplace are Featured, New, Food and drink, Women, Home Decor, Kids & Baby, Jewelry, Men, Pets, Beauty and wellness, and Paper and novelty.
Key Features of Faire
Flexible payment terms
Free returns on the first orders
Find unique products for your store
Over 1M independent wholesale suppliers
Custom product recommendations
Find new & trending collections every week
14. Shopify Handshake
Shopify Handshake is a wholesale marketplace connecting brands and wholesalers. It streamlines the B2B ordering process through automation and ease of use for both sides.
For wholesalers, Shopify Handshake grants access to purchase inventory from a wide range of brands in one centralized platform. Wholesalers can easily browse supplier catalogs, place orders, and manage purchases without time-consuming approval processes. Automated order workflows and bulk ordering save wholesalers time compared to traditional manual wholesale processes.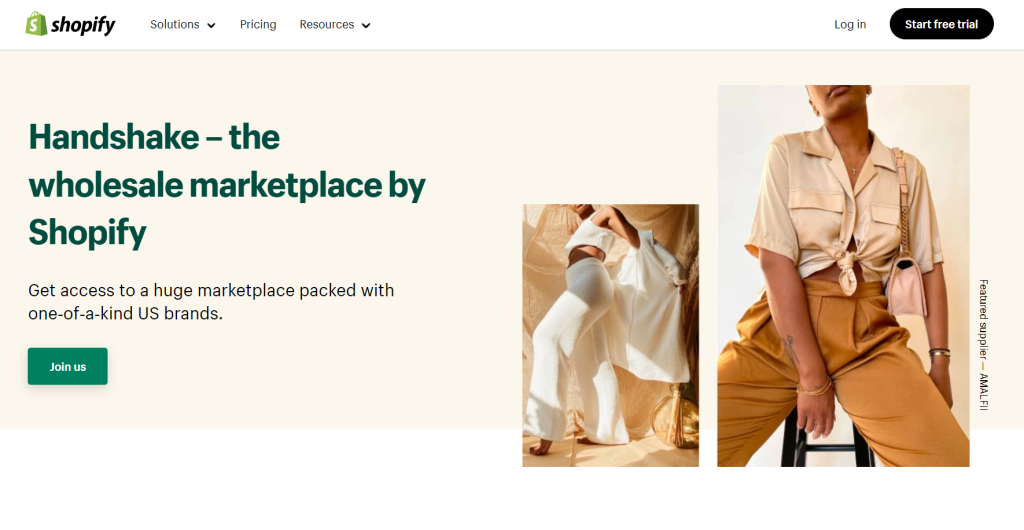 For brands, Shopify Handshake enables opening up inventory to new wholesale channels to increase sales. Suppliers can approve resellers, showcase products in a B2B storefront, and fulfill orders effortlessly. Brands also gain analytics into their wholesale channel performance. Automation also reduces the manual work typically required to manage wholesale relationships.
Key Features of Shopify Handshake
Supplier catalogs showcasing wholesale product pricing and inventory
Purchase order automation with workflows for approvals
Payment processing to easily pay for wholesale orders
Automated shipping rates and print shipping labels
Analytics dashboards tracking wholesale channel performance
Ability to require pre-authorization for resellers before ordering
Related Read:
Conclusion: Best Wholesale Suppliers In The USA (2023)
When it comes to sourcing wholesale products in the USA, each wholesale supplier listed in the post serves different services and discounts. However, if you are a local US citizen, you can try any of these suppliers to get exceptional deals on wholesale products, including free shipping options.
Most of them also offer a directory of verified suppliers from where you can find suppliers in your specific state or region. Make sure to negotiate with the suppliers and their products before picking the best for your online or convenience store.