Whether you run an eCommerce or a physical store, inventory management can be a huge deal for anyone. How are you supposed to sell anything if there isn't any item in your stock? This wouldn't happen if you were aware of your stocks in your inventory on time. In such cases, inventory management software is a real lifesaver.
An inventory management software not just only helps you manage and maintain your inventory but also tracks all the units and daily operations. Such tools sync your inventory in real-time, and so you can check the updates on your devices. However, finding the best software for your business can be a bit of work. Don't worry. I am here to help you with this situation.
In this post, I have put together a list of the nine best inventory management software for various types of businesses. Keep reading to find out which software is best for your eCommerce or retail business.
Inventory Management Software: In A Nutshell (2023)
Here is a brief overview of all nine tools I am going to list in the following article.
| | | |
| --- | --- | --- |
| Sr. No. | Inventory Management Software | Best For |
| 1. | Cin7 | Small, medium, and enterprise-level businesses |
| 2. | Fishbowl | Large businesses |
| 3. | NetSuite | Large companies and enterprise-level businesses |
| 4. | Zoho Inventory | Small and medium-sized businesses, multi-channel retailers |
| 5. | Katana | Manufactures (small and medium-sized businesses) |
| 6. | Lightspeed Retail | Retail and eCommerce stores |
| 7. | Megaventory | Large warehouses and manufacturing facilities |
| 8. | Quickbooks | Small and medium-sized businesses, wholesalers, and distributors |
| 9. | Upserve | Restaurants, diners, and cafe |
What Is Inventory Management Software?
Inventory Management Software (IMS) is a tool that helps you manage your inventory by automating and streamlining various aspects, such as inventory tracking, data updation, reordering, and replenishment. According to experts, an inventory management tool informs you what is happening with your stock and what necessary actions you need to take at a certain moment.
Nowadays, cloud-based inventory management software is trending on the internet, and that's what top experts recommend to sellers and owners. With cloud-based software, you don't have to manage an IT staff or manage servers as such things are managed by the software company itself. So it is important that the company you choose maintain high standards.
Usually, such software comes on a monthly and yearly subscription, which ensures users don't take stress managing the software.
What To Look For In The Best Inventory Management Software?
Before you choose an inventory management tool for your business, you need to check whether it is right for your business or not. Here's what you need to look into the software.
Business Requirement
Inventory management software undoubtedly helps sellers with a lot of things. However, some tools only cater to specific niches and businesses, so it is necessary that you pick the right one according to your business needs. Nobody wants to buy something that doesn't provide value to their business. Consider going through all the features and compatibilities before purchasing the software.
Process Automation
Automation is an integral part of an inventory management tool. This is the main reason you are buying the software in the first place. For example, suppose the units in your inventory are getting low, and you are unaware of this situation. Here the software must reorder more units automatically or alert you via a notification so you can replenish your inventory in time.
So you need to find a tool that offers a number of automated features. You can ensure that by going through plan features and online reviews by real customers.
Integrations
Many inventory management tools integrate with hundreds of eCommerce platforms and applications so you can ensure smoother operations and save time simultaneously. It is possible that your favorite inventory management software doesn't integrate with your platform. So do check before purchasing it. If it is compatible, you can carry on; otherwise, you need to look for an alternative.
Customer Support
There is no certainty that the software you have chosen for your business has no learning curve or any glitches inside the tool. In such cases, decent customer support is of the essence. You can instantly take help from the software experts if you face any issues regarding operating the software or something else related to it.
Best 9+ Inventory Management Software In (2023)
Here is the compilation of the best inventory management software. I have also mentioned what type of audience can use the specific tool for their businesses.
1. Cin7
Cin7 is not your ordinary inventory management tool. It is an all-in-one cloud-based software that offers almost the inventory management features for small to larger businesses. The tool integrates with over 100 third-party apps, including eCommerce platforms, point of sale, warehouse management, etc.
Cin7 is a great option for ERP (Enterprise Resource Planning) platforms as it offers in-built modules for all aspects of your business. Luckily, these modules are a part of its subscriptions. The software also has an integrated POS system, along with several manufacturing features, a payment portal, and B2B commerce features.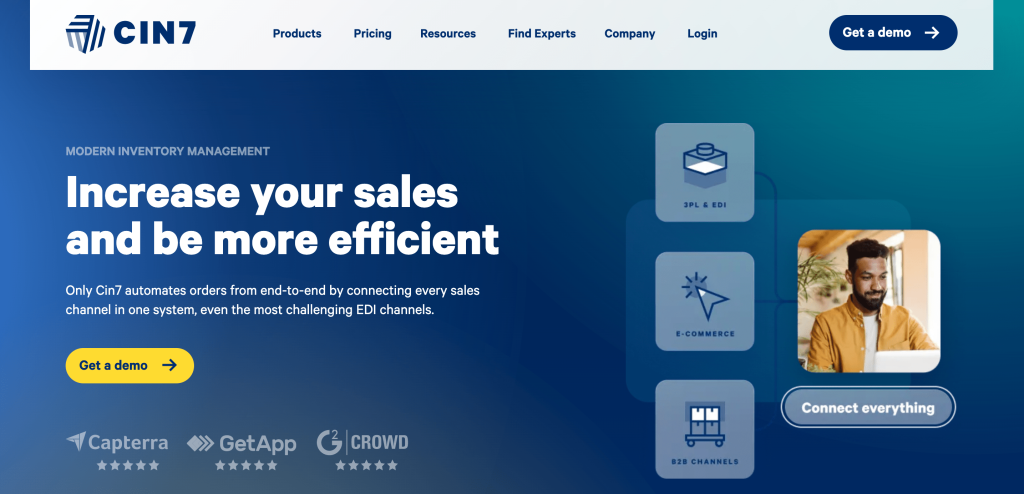 With each Cin7 plan, you will get standard inventory management tools such as order fulfillment, barcode scanning, and inventory tracking. Software can play a crucial role if you are running your business across multiple markets. It efficiently manages your inventories and keeps them up to date. The tool also helps you forecast how much inventory you will need for a certain period. 
Key Features
The software provides all the inventory information at your fingertips
All-in-one inventory management tools
Integrates with over 100+ eCommerce and inventory-related apps
Real-time inventory insights and reports
Advanced forecasting system
Onboarding assistance
Drawbacks
Limited customization options
Expensive monthly pricing
Best For: Small, medium, and enterprise-level businesses
Starting Price: $325/month
2. Fishbowl
Fishbowl is a flexible ERP software solution for large businesses and growing brands. The software offers an Inventory Management System (IMS) that is tailored according to warehouse and production requirements. However, separately, you can also get custom solutions for your inventory, manufacturing, warehousing, and integrations.
The main products of Fishbowl are Manufacturing and Warehousing. The manufacturing part is structured to streamline your production, such as maintenance, assembly, replacement, and dismantling. On the other hand, warehousing is completely dedicated to inventory tracking, such as reordering, stock-level alerts, replenishment, and shipping.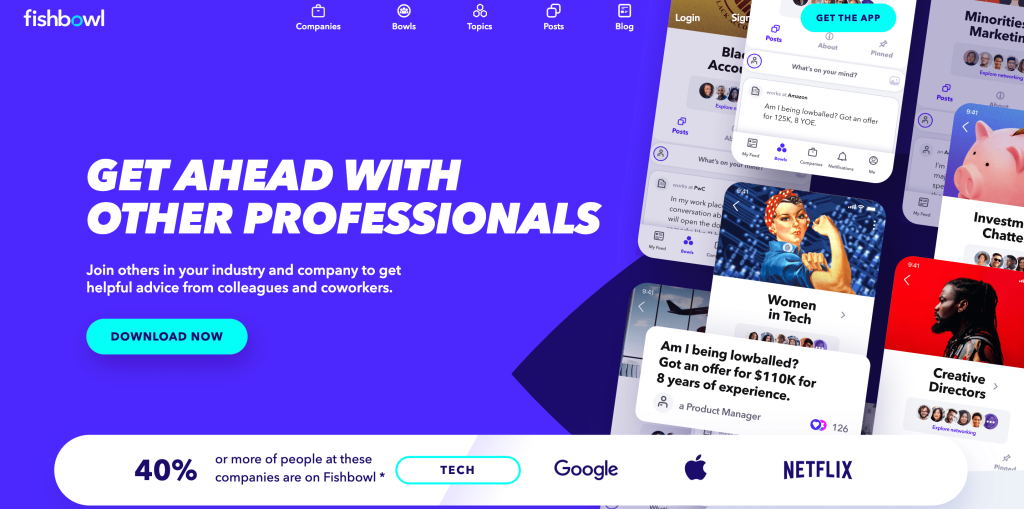 The setup process of Fishbowl can be a little bit difficult for beginners. Luckily, there are tons of training videos and support resources available that will help you with various processes throughout your setup journey and other troubleshooting issues.
Key Features
Real-time inventory updates
Integration with top eCommerce platforms such as Shopify, Amazon, and WooCommerce
Centralized inventory database
Inventory forecasting
Third-party logistics support
Multi-channel syncing
Drawbacks
High upfront cost
Not a suitable option for small businesses
Best For: Large businesses
Starting Price: Custom Pricing ($4,400 for lifetime access)
3. NetSuite
Netsuite was acquired by Oracle, the world's largest database company, in 2016. Netsuite is part of Oracle's Enterprise Resource Planning and cloud applications. The software is a top-notch solution for enterprise-level businesses that need a robust inventory management system. The software mainly focuses on modularity and ease of use so that anyone can get started without any learning curve.
Since Netsuite is a SaaS (Software as a service) app and all its services are cloud-based, it doesn't have multiple versions. So the current version will be enough to handle inventory and back office under the same dashboard.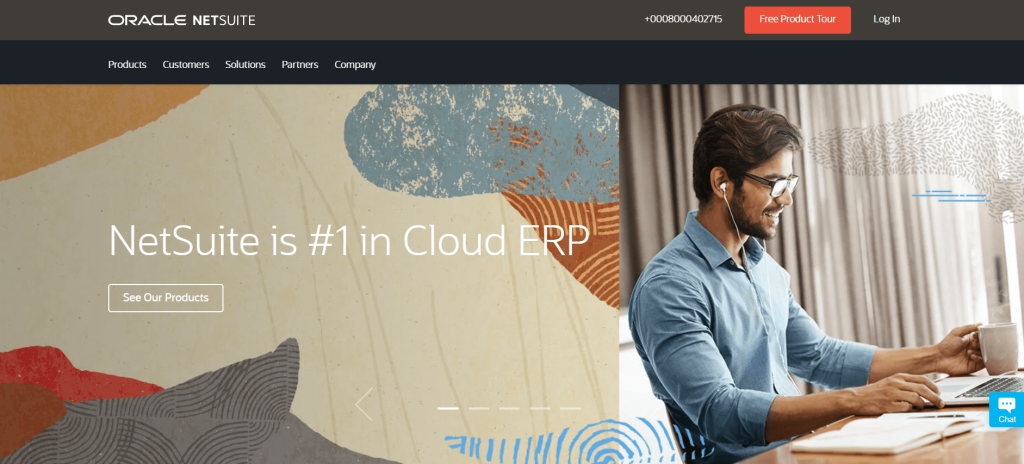 Apart from other services, NetSuite also runs expert-led workshops where you can find many business-related learning formats. If you want, you can get it with your custom plans. The tool will also provide optimization assistance and configuration support to keep your business standing out from others.
Key Features
Exceptional CRM features
Standard reporting features
Enterprise-level resource planning features
Customizable process workflows
Easy-to-navigate dashboard
A lot of integrations options
Drawbacks
No free trials or demo
Not a great option for SMEs
Best For: Large companies and enterprise-level businesses
Starting Price: Custom Pricing
4. Zoho Inventory
Zoho is a powerful software suite that offers all sorts of business and marketing services. Zoho Inventory is a part of its software suite. It is an advanced inventory management software that helps retailers run their businesses in multiple sales channels.
Zoho Inventory provides access to a tool that streamlines your business operations and efficiently manages your inventory, sales orders, purchase orders, and shipments. The GST-ready tool auto-populates your business GSTIN whenever you receive a sale, purchase, invoice, or bill.

The software also includes a free version that allows small businesses or individuals to manage their inventories efficiently. With the free version, you will get two-user access along with orders, shipping, and after-shipping tracking tools with limited access. The free version is equally good as many paid software out there in the market.
Key Features
Free version available for small business owners
Plenty of automation features (even with the free plan)
Automatic inventory updates
Options to send real-time inventory status to potential buyers
In-built CRM program
Solutions for dropshipping merchants
Drawbacks
Consulting and integration services available with only premium plans
Integration with apps can be a complex process
Best For: Small and medium-sized businesses, multi-channel retailers
Starting Price: $79/month
5. Katana
If you are a manufacturer or own a production facility, Katana is one of the best inventory management tools you can find on the internet. With this tool, you will get complete control of your inventory under one dashboard. The tool follows an automated inventory management system that allows you to track your inventory process in real-time.
All Katana plans include a live inventory management tool that helps you optimize and track inventory movements by setting up sales orders and reorder points. This feature can save you from inventory from being out of stock, no matter how fastly your inventory is moving.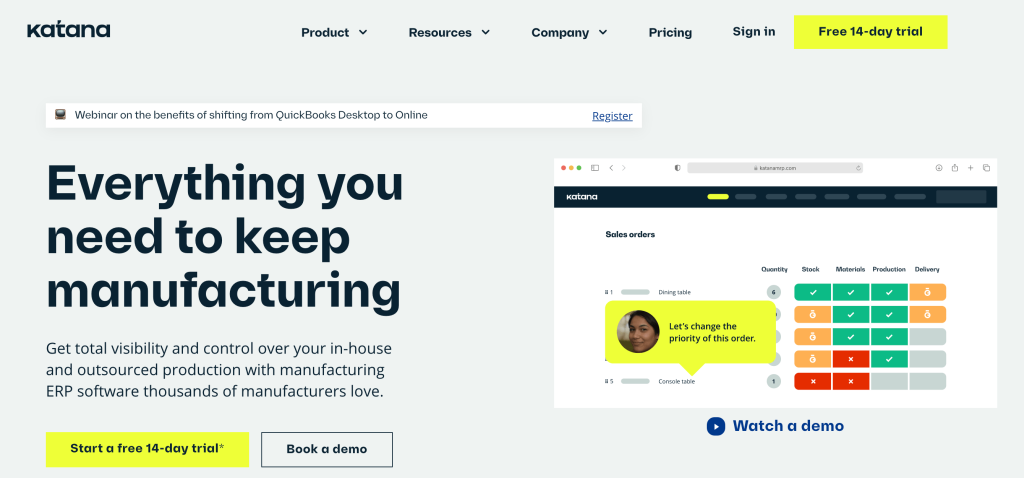 Apart from that, you will also get an omnichannel order management feature which is quite unique compared to other tools. This feature helps you manage both made-to-stock and made-to-order workflows at the same time, giving you full visibility over your eCommerce or B2B operations.
Key Features
Live inventory management
Optimize and control your raw materials and final products
Easy contract manufacturing
Manage resources, scheduling, and production in one place
14-day free trial
End-to-end traceability
Drawbacks
Compared to other tools, Katana plans are expensive (as it is only available for manufacturers)
No mobile app
Best For: Manufactures (small and medium-sized businesses)
Starting Price: $129/month
6. Lightspeed Retail
Are you running a physical or retail store? No worries; Lightspeed Retail is here help you. Lightspeed Retail is one of the market's best POS (point of sale) inventory management software. The web-based tool offers multi-store features, including inventory syncing, low-stock alerts, stock management, etc.
Lightspeed Retail is designed to cater to both retail and eCommerce stores, which makes it a valuable asset if you run both types of stores at the same time. The software also offers a separate iPad version, which also supports FIFO and average cost methods.

Lightspeed includes sophisticated retail analytics technology with all its plans that keep you updated with real-time reports of your products, sales, and inventory in your physical store. If you source your products from a manufacturing facility or warehouse, you can integrate the SkuVault app with your account to manage all the dealings.
Key Features
Sync your both physical and eCommerce inventories
Track SKUs and inventory levels across multiple locations
Automate discounts and bulk change prices
Customer reorder guidelines
Import catalog files
Free retail tools available on the website
Drawbacks
Expensive price point
No Android support
Best For: Retail and eCommerce stores
Starting Price: $69/month
7. Megaventory
Megaventory is undoubtedly the best inventory management software for large manufacturing facilities. Along with inventory management software, it is an Order Management System (OMS) that helps manufacturers and retailers track not only inventory but also new orders and fulfillment.
Megaventory's OMS system is easy to implement and straightforward to use, so you don't have to go through a learning curve in order to use it. If you still face any kind of issue setting up or syncing, you can check out the free training videos. Since it works on a cloud-based server, all the Megaventory tools run on a browser (Mac, Windows, and Linux).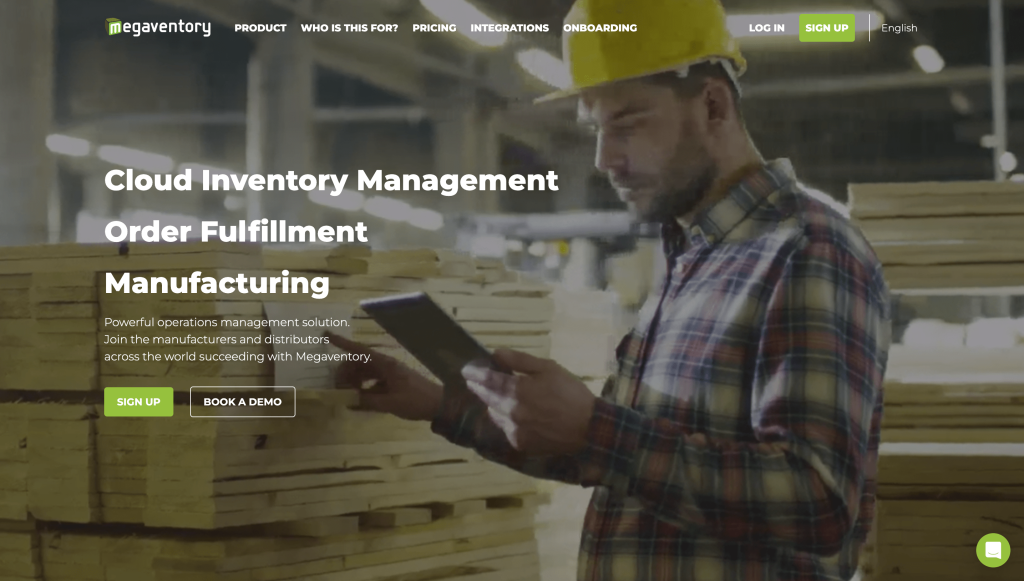 The tool simply has one plan (Pro) that offers five user access and the capability to track over 20,000 products each month. If the Pro is not enough for you, you can get tailored solutions from the company by contacting their team.
Key Features
Create customized packing slips, BOMs, and work orders
Multiple user access
Tracks vendor and customer contact information
Supports Zapier API extensibility
Bulk reporting options
Barcode scanning & printing
Drawbacks
No accounting module
Customer support can be better
Best For: Large warehouses and manufacturing facilities
Starting Price: $150/month
8. QuickBooks
QuickBooks, previously known as TradeGecko, is an amazing inventory management software that helps business owners manage inventories and finances from anywhere. If you are running a wholesale business, this is probably the best tool in the eCommerce industry.
QuickBooks offers a unique set of tools that help wholesalers and distributors monitor their production and moving inventory. At the same time, it also alerts you when your inventory needs replenishment. There's an in-built payment processor that let you enable a "Pay Now" button. With this option, your clients can make payments for the invoices you send them.

Apart from all services, you can set up your own B2B eCommerce website with a tool allowing you to sell products at your pricing. And by default, you will also get a payment processor, so there is no need to integrate a separate payment gateway. 
Key Features
Multi-channel management
Warehouse and production management
Automation features for inventory-related processes
Track financial statements
Hosts online storefronts for wholesalers
30-day free trial
Drawbacks
Lacks backup features
No industry-specific features
Best For: Small and medium-sized businesses, wholesalers, and distributors
Starting Price: $30/month
9. Upserve by Lightspeed
Restaurants and diners have their own unique inventory needs, so traditional inventory management software won't be much help—they need more than usual, like Upserve. It is a dynamic IMS that enables restaurant owners to track inventories and supply chain needs.
For example, you run a restaurant where you sell a variety of food items and beverages to customers. Each item follows a recipe that requires specific ingredients. It makes it hard for chefs or managers to keep track of all ingredients and their quantities. That's where this tool comes into play. Whenever a customer orders a certain dish from your restaurant, it automatically deducts the quantity of the ingredients used to make that dish.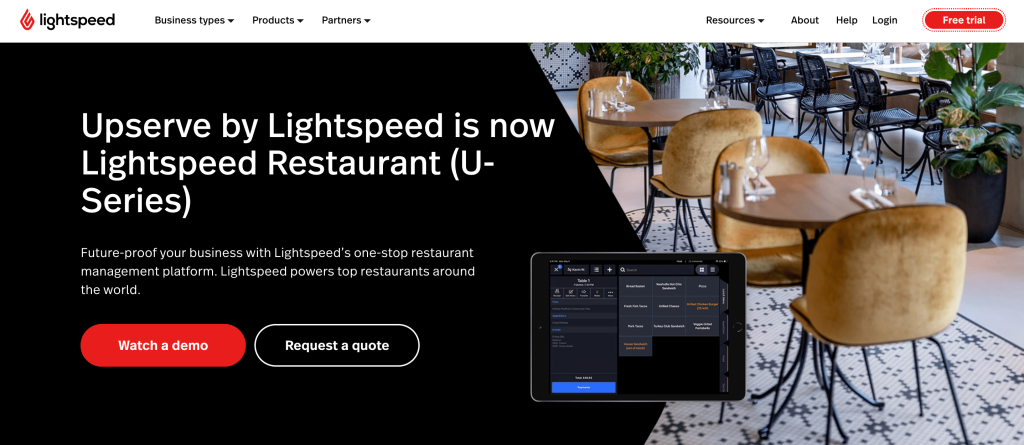 You can feed the exact quantity of ingredients used to make a specific dish so it can tell you how many items you will need for the day. This way, you can also reduce food waste. It also has an in-built POS system that allows you to use this tool for brick-and-mortar sales.
Key Features
Sync and feed recipes and certain requirements
Automate reordering ingredients
Manage inventory and supply chains
One-click purchase option
Low-stock alerts
Multiple-location support
Drawbacks
Mobile app crashes sometimes
The process of adding recipes and ingredients can be exhausting
Best For: Restaurants, diners, cafes
Starting Price: $59/month
Conclusion: Inventory Management Software To Try In (2023)
So this is my handpicked list of inventory management software for various purposes and business types. As I already mentioned, every business has different needs and requirements, so it is not certain that the tool you have picked for your inventory management is compatible with your business. This is why checking a tool thoroughly before investing your money is important.
The above list is a compilation of different inventory management tools catering to a specific audience. You can check and find the perfect tool that meets your business requirement. If the tool offers a free trial, consider checking the tool's services and inventory management capabilities. It will ensure you are picking the right tool for your business.
Latest posts by Shally Rose
(see all)