Are you looking for an Amazon Product Research tool that provides quality results with data accuracy? The Black Box tool of Helium 10 is the best option out there.
Helium 10 is a powerful suite of tools that offers e-commerce solutions for Amazon Sellers. It offers 25+ professional tools and software that help you run your online Amazon store smoothly. Black Box is one of its reliable tools that lets you find winning products with absolute accuracy. If you are curious to know more about Helium 10, then check our in-depth Helium 10 review here.
In this post, I will share a quick overview of Helium 10's Black Box tool with you. I have also included a step-by-step guide on how to use the Black Box Tool using the advanced filters.
Let's get started.
What is Helium 10 Black Box?
Black Box by Helium 10 is a powerful product research tool that helps you find winning products on Amazon. The Helium 10 Black Box allows you to use advanced filters that scan the entire Amazon within seconds before showing you the products you are looking for. 
You can search for a product by filling up the filters manually. But if you want to find products more comfortably, you can use Helium 10's Chrome extension to browse Amazon. Using the extension, you can check the BSR numbers, who has the Buy Box, the number of sellers, and the ASIN of each product you see in the search results. You can also see the complete analysis of any product by clicking on the Show icon.
How to use Helium 10 Black Box?
While searching for a product, you'll need to set your preferences in certain data sections. Let's see how you can find winning products using the Black Box tool.
Step #1. Open your Helium 10 dashboard and find the Black Box tool from the Tools section.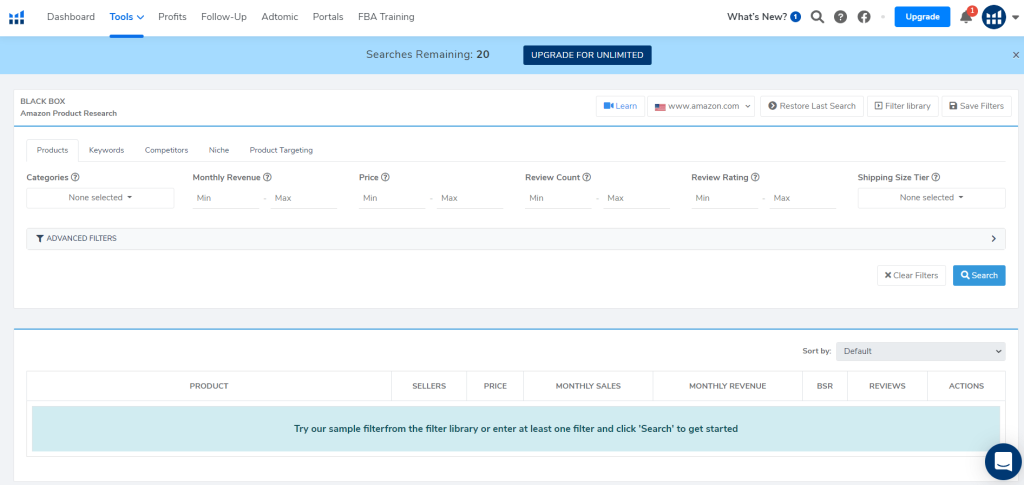 Step #2. Go to the Products section and fill in the data in the following order.

Categories: You can choose multiple categories at the same time.
Monthly Revenues: Estimated revenue of the last month
Price: Listed price range
Review Count: Range of total customer reviews
Review Rating: Ratings are given by the customers (1 to 5)
Shipping Size Tier: Product size that determines the FBA shipping cost (Small to Oversized)
After filling in these basic preferences, you can click on the Search button to find a list of products in the search results.
Step #3. If you want to find a product with more specific details, you can use the Advanced Filters section. Fill in the data as your requirement in the following filters.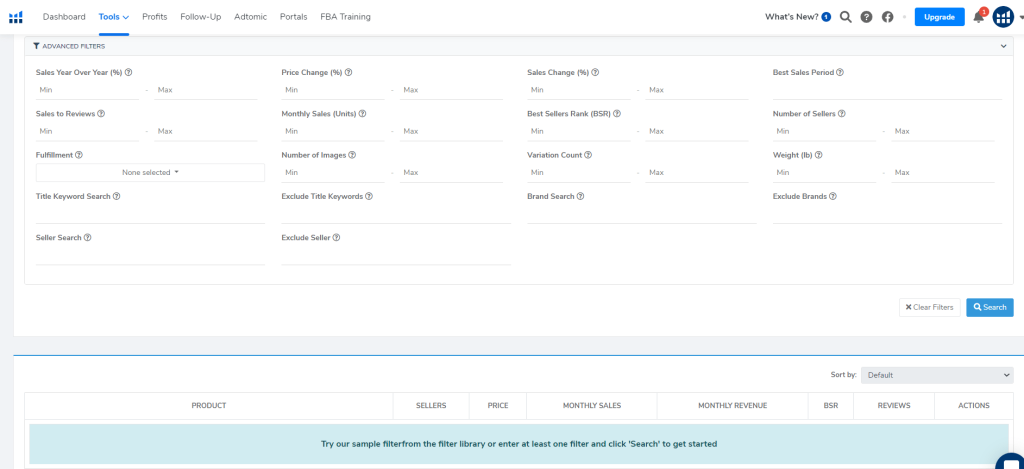 Sales Over Year: Sales fluctuation in percentage over the past 12 months
Price Change: Price fluctuation in percentage over the past three months
Sales Change: Monthly fluctuation in sales
Best Sales Period: Highest sales volume in a particular calendar month
Sales to Reviews: Ratio of monthly sales to total received reviews
Monthly Sales: Estimated number of units sold in the last month
Best Sellers Rank: The BSR numbers, based on historical and recent sales
Number of Sellers: The number of active sellers
Fulfillment: Product's fulfillment based on FBA, FBM, or Amazon
Number of Images: The number of images uploaded for the product
Variation Count: The number of product variations (Keep it a minimum to find low-competitive products)
Weight: Combined weight of product and package
Title Keyword Search: Title keyword for a product
Exclude Title Keywords: Write the keywords you want to exclude from the Title Keyword
Brand Search: You can write multiple brand names
Exclude Brands: Write the brands you don't want in the search results
Seller Search: Exact names of the sellers
Exclude Seller: Exact seller names you don't want in your search results
Note: You don't have to fill all the filters necessarily. You can fill only certain filters that seem essential to you.
Step #4. Once you have filled all the filters, click on the Search button. In the search results, you will find 200+ products based on the filters you have filled.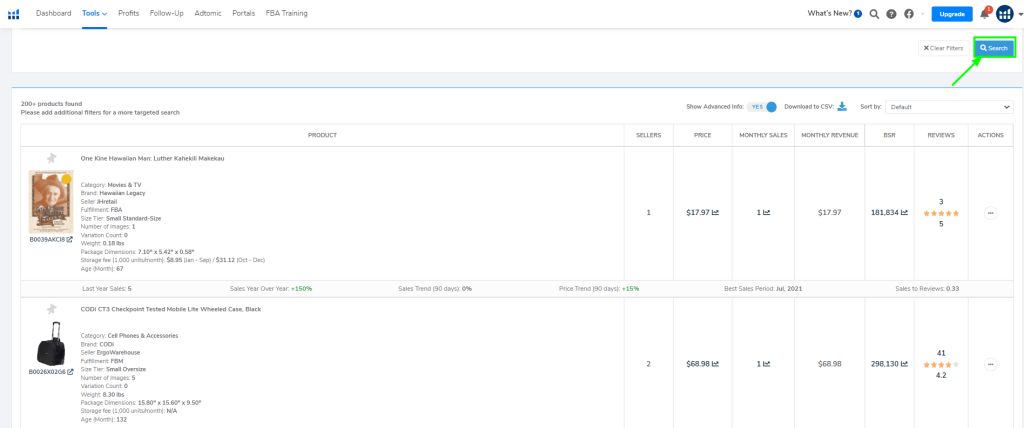 Step #5. Look through the results, and if you find potential products for your business, you can click on the "Add To List" to add them to your watchlist.
You can fill out the same filters to find Keywords, Competitors, and Niche with Helium 10 Black Box. If you are having problems filling the filters, you click on the Learn to find a video tutorial where you can watch all the steps regarding your research.

You can also save the filters by giving a name to that particular search filter. You can find all your saved filters from the Filter Library.
Benefits of Helium 10 Black Box
Helium 10 Black Box is a premium tool that is commonly used by Amazon Sellers. It surely will give you a whole new experience of Amazon Product Research.
Here are some of the significant benefits of using Helium 10 Black Box.
Ease of Use: Using Helium 10 Black Box is straightforward. If you don't understand filling the metrics, you can learn from the video tutorials that you can find on the same page.
Smart Advanced Filters: The Black Box provides you with all the possible filters for your research.
Data Accuracy: The search results based on advanced filters provide 99% accurate data, which is better than other product research tools.
Quick Results: The search results take an average of 4 seconds to display the products according to the filters.
Compare Products: With Helium 10's data accuracy, you can compare the products in search results and find potential products for your store.
Search Filters On Helium 10 Black Box
Here are some important search filters you should use on Helium 10 Black Box to find the best products to sell.
Monthly Revenue: This filter indicates the projected revenue you will make monthly with a product. This gives you a rough idea of how much you can make with a certain product.
Product Category: If you are looking for a certain product, then you can just search for its category directly in this filter—for example, Pet Grooming.
Keyword Search Volume: You can find this filter under the Keyword filter. This filter gives you an idea of how many times a keyword has been searched on Amazon. This way, you can find the keywords with good search volume.
Monthly Sales: This filter shows you how many units are being sold on average for a product monthly.
Price Range: You can set a price range before searching for a product, this way, you will know exactly how much you can spend on inventory and costs.
Number of Sellers: This filter shows you how many Amazon sellers are selling a particular product. The lesser the number, the better your chances of making a profit on that product.
The complete search filter list is very long, and these are some important filters you should use on Helium 10 Black Box to find the right product.
Why Use the Helium 10 Black Box tool?
Before starting an e-commerce store on Amazon, it is crucial to find a product that you are going to sell on the platform. New sellers always face difficulties while finding a winning product for their store. If they start their business with a particular product without any research, they might face heavy competition, which costs them low sales or no sales at all.
That's where Black Box came into the play. The tool lets you find winning products in a specific niche. You can use its advanced filters to squeeze out the best products with less competition. Then you can add the potential products to your list and select the best of the best for your business.
Conclusion: Helium 10 Black Box (2023)  
Helium 10's Black Box tool gives you an unfair advantage over your competitors. Amazon experts recommend it after being tested strictly on every level. Start using the tool now if you want to grow your business with less competition and low risk.