Are you an Amazon seller looking to boost sales and grow your business? If so, you may have heard of Helium 10, one of the most famous Amazon seller tools on the internet. But with so many Amazon seller tools and software options out there in the market, how do you know if Helium 10 is the right tool for you?
As someone who has been using Helium 10 for the past two years, I can confidently say that the tool helped me achieve great success on Amazon. From product research to keyword tracking and listing optimization, the software helped me out on every phase of my Amazon business.
It even helped me launch my first product, and FBA (Fulfillment by Amazon) handled the rest of the fulfillment process. And trust me, the combination of Helium 10 and FBA makes things a lot easier on Amazon.
But don't just take my word for it — Helium 10 has a loyal following base of thousands of Amazon sellers who swear by its effectiveness. And with the tool's constantly evolving features and updates, you can be sure that you are always staying ahead of the competition.
In this review, I will share my personal experience with Helium 10, its various tools, and how it has impacted my Amazon sales. Whether you are a beginner or an experienced Amazon seller, read the complete review to see if Helium 10 could be the game-changer your Amazon business needs.
What Is Helium 10? Why Is It So HYPED Among Amazon Sellers?
Helium 10 is a robust suite of tools for Amazon sellers. When I started my Amazon business two years ago, I remember there weren't many tools, and some of them were in the beta version. Now, it offers over 30 tools for product research, keyword research, listing optimization, analytics, and marketing. Apart from Amazon sellers, now it is also catering to Walmart sellers. And if you are running an online business on both platforms, Helium 10 can take your business to new heights.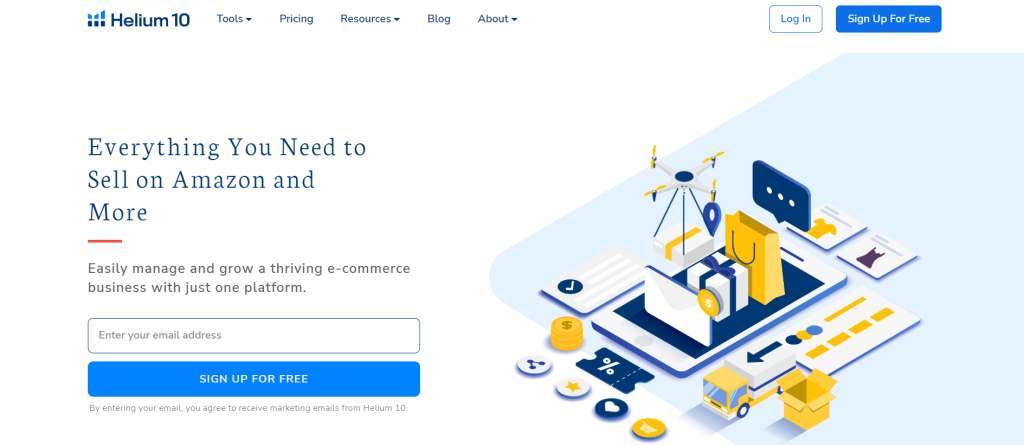 There are not one but various reasons Amazon sellers choose Helium 10 over other seller tools. Here are my reasons for choosing Helium 10:
Comprehensive Set of Tools: As I mentioned before, Helium 10 offers a wide range of tools covering almost every aspect of Amazon from a seller's perspective. Apart from basic needs as an Amazon seller, Helium 10 offers many other exceptional tools, such as Refund Genie, Adtomic, Alta, Inventory Protector, and many other tools that you won't get with other seller tools. The best part about all tools is that they all have step-by-step guides and video tutorials that help sellers learn how they can utilize the tools to get the most out of them. This makes it a one-stop-hub for Amazon sellers who want to streamline their workflow and maximize efficiency.
User-friendly Interface: Helium 10's interface is structured to be intuitive and user-friendly, making it easy for even beginners to navigate and use. As I mentioned, if a seller is stuck with any tool, they can easily check the video tutorials and guides to solve their queries.
Data Accuracy: Helium 10 uses advanced data analytics and algorithms to provide accurate and reliable data on rankings, search volumes, product sales, and other key metrics. It helps sellers make informed decisions on listings, pricing, optimization, and marketing strategies. The only software that comes close in terms of accuracy is Jungle Scout. I find Helium 10 more accurate than Jungle Scout, but you will find mixed reviews regarding this debate.
Customer Support: Helium 10 offers excellent customer support, with a team of dedicated experts available to help sellers troubleshoot any issues they encounter. On the platform, you will get three options to solve your queries: email, live chat, and submitting a form. However, phone support is not available at the moment. But their live chat support is extremely fast and responsive.
Testimonials and Success Stories: Helium 10 has built up a strong reputation among Amazon sellers through its success stories over the years. Many sellers have reported significant improvements in their sales and profits after utilizing the Helium 10 suite, which has helped to generate a lot of hype and buzz around the platform. Not going to lie; my first instinct to use this platform was these testimonials and success stories.

Helium 10
The #1 Amazon Seller Tool
Helium is the #1 recommended Amazon Sellers tools with one stop solution for sellers. Seven figure Amazon sellers like Kevin King, Tatina James recommends Helium 10 to Amazon Sellers
Helium 10 eliminates most of the guesswork and manual work for Amazon sellers when it comes to taking a solid decision. This is why 25% of top successful Amazon entrepreneurs and businesses use the tool.
Helium 10 Pros & Cons
Here are the benefits and drawbacks of using Helium 10.
| | |
| --- | --- |
| Pros | Cons |
| It is an all-in-one platform that also gives you the flexibility to switch between plans. | It does not offer any information on suppliers because it does not have a supplier database. |
| It has some of the best optimization, reverse ASIN and product validation tools. | The learning curve for using Helium 10 is very steep. |
| It comes with a free plan which gives you limited access to most of the features | |
| Its Magnet, Frankenstein, Scribbles, and Cerebro tools are one of a kind. | |
| Access to one of the best Amazon FBA courses called Freedom Ticket. | |
Helium 10 Does Exactly What Every Amazon Seller Craves to Become Successful
There is no specific time or phase to join Amazon. All you need is a product and some selling strategies, and you are good to start a business on Amazon.
But if you want to become successful, you will face major challenges and competition that is enough to break down a seller's will and morale. Thanks to Helium 10's tools and features that give an edge to the user over other sellers so they can stay ahead of the competition. Here's what an Amazon seller needs when they start:
A Winning Product to Sell
In Amazon terms, a winning product is a low-competitive and high-profitable product. There are over 7 million Amazon sellers around the world, with more than 350 million product listings on Amazon. So what are the chances the product you are going to launch will bring you success?
Look at the search query I made on Amazon.
For one search query, Amazon is showing over 3000 items. So just think about it. Without proper research and SEO, your product will be lost among these stranded 3000 products. And doing research, calculating search volumes, demands, and analyzing competitors manually can take a lot of time and patience.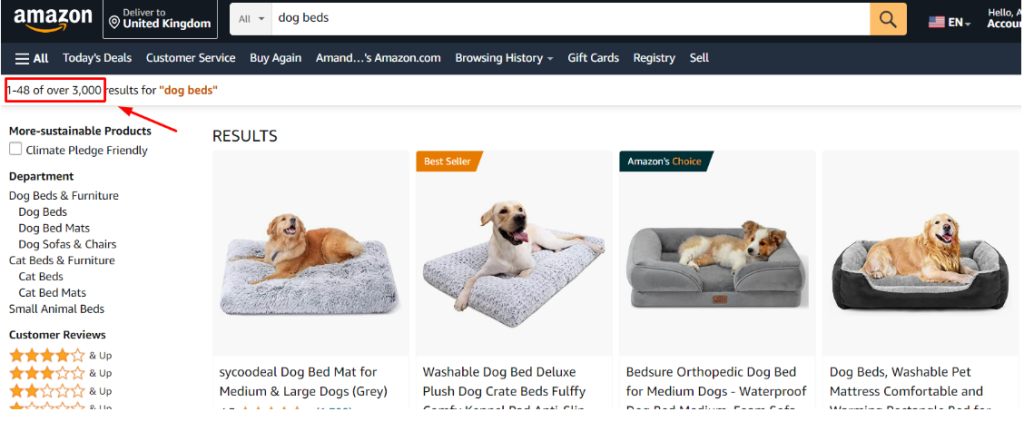 Or, you can use Helium 10's niche and keyword tools that will help you find a winning product without letting you put in too much effort. You can also analyze demands and spy on your competitors to find key data points so you can make necessary changes in your listings.
Just look at the image below, and you will realize how easily you can gather various data points with Helium 10 while browsing Amazon.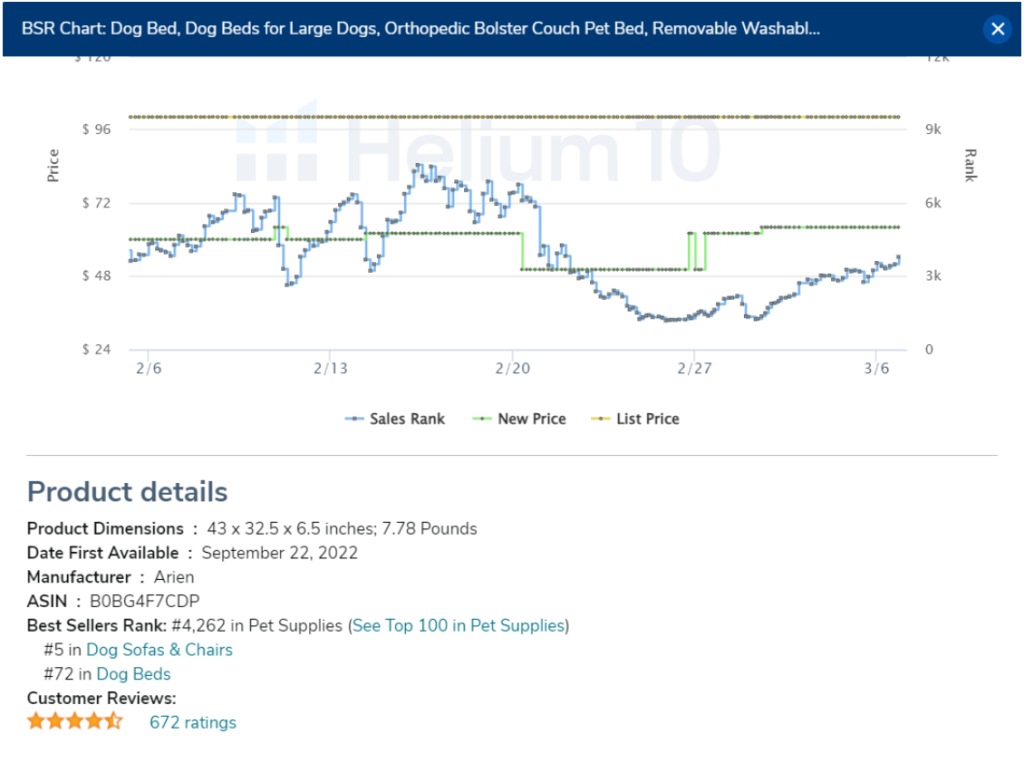 Launching The Product The Right Way
Finding a profitable product to sell doesn't indicate you will get successful on Amazon. You will also need to find the right audience and make marketing strategies to sell your product. And this will all needs to be done before launching your product.
To target your audience, you must know every detail about your product, such as who needs it and how it can provide value to your customers. Even if you gather all the information, you will need to know how much inventory you should be sourcing.
Helium 10's Magnet and Cerebro tools eliminate all the guesswork and risks before you launch a product. The tools help you find your target audience and demand in the market so you can know how much inventory you will need for a certain period.
Ranking On The First Page
One of the biggest challenges Amazon sellers face is finding a place on the first page of the search results. You can put yourself in a customer's shoes—why would you go to the second or third page if you can find the best product on the first page?
Nobody cares about other pages other than the first page. But what can you do to make your product find a place on the first page?
All you have to do is;
Get more sales and visibility
Get more positive reviews
Use FBA
Create the perfect listing and optimize it
Take control of high-volume keywords
Set competitive pricing
Well, it might sound depressing, but the level of competition on Amazon expects all these aspects from a seller—if you want your products on the first page. Luckily, all of these things are possible with Helium 10. The tool helps with the SEO section by finding relevant keywords according to your targeted audience. And if you level up your SEO game, you can rank your products at the top of search results.
How To Use Helium 10?
Initially, Helium 10 can be used in two methods: Helium 10 web app and Chrome extension. I will explain both ways to use this tool.
Helium 10 Web App
When you subscribe to a plan or start a free trial, you will be redirected to the Helium 10 dashboard, and it will look like this.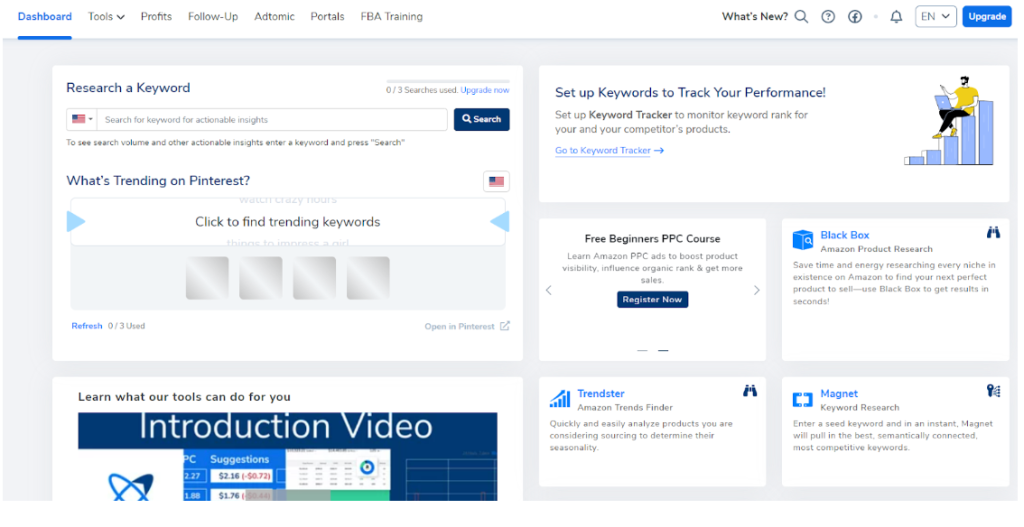 Well, the Helium 10 dashboard has all the tools, and each tool carries its own description. You can read about the tool and pick the tool from the dashboard.
Or, you can go to the Tools section and access the tool right from there.
Helium 10 Chrome Extension
The Chrome extension method is much easier and more convenient. You can access most of the tools directly from the extension. Unlike the web app, you don't have to copy ASINs in order to extract data from Amazon with the Chrome extension. You can just browse Amazon marketplace and use any tool.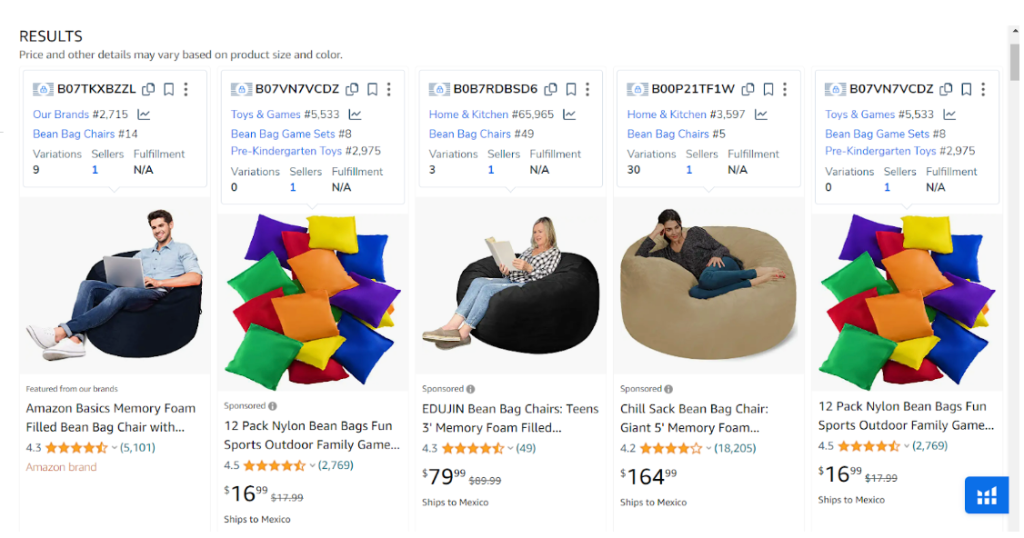 When you use the Helium 10 Chrome extension, you will see the search results page something like this.
You can also check all the sales metrics and historical rankings in real-time. 
What Is Included In The Helium 10 Suite?
What tool access you get with Helium 10 depends on the subscription you purchase. Though Helium 10 offers a free plan, it will come with very limited access. And some premium tools will only be unlocked after purchasing a paid subscription. If you purchase a premium plan, you will be able to access the following tools:
Product Research
Black Box: The Black Box tool helps you find s profitable product according to your niche.
Trendster: This product research tool allows sellers to find trending products on Amazon.
Listing Optimization
Frankenstein: This amazing tool is designed to optimize huge keyword lists. Then, it turns them into traffic generators. The tool saves a seller so much time and effort by processing thousands of keywords in seconds.
Scribbles: It is an SEO-friendly tool that helps sellers scrape money-making keywords for their product titles, bullet points, and backend search terms.
Index Checker: A tool that allows Amazon sellers to check if their products are indexed for specific keywords in Amazon's search results.
Listing Builder: A tool that helps Amazon sellers create optimized listings for higher rankings and conversions.
Listing Analyzer: A tool that analyzes Amazon product listings for areas of improvement and provides suggestions to the sellers for optimization. 
Audience: A Helium 10 tool that helps Amazon sellers identify and understand their target audience for better marketing strategies and sales.
Analytics
Keyword Tracker: This tool provides Amazon sellers with detailed sales and performance data so they can make informed decisions.
Market Tracker (& 360): Market Tracker and Market Tracker 360 both tools help Amazon sellers monitor competitors and their products so you can make strategies to stay ahead of the competition.
Profits: The tool helps Amazon sellers manage and track their profits so you can calculate the profit margins of each product in your inventory.
Keyword Research
Cerebro: This exclusive tool provides Amazon sellers with detailed data on their competitors' keyword rankings and strategies.
Magnet: It is a keyword research tool that helps sellers find the most relevant keywords and high-volume search terms & phrases for their products.
Misspellinator: This amazing tool helps Amazon sellers identify common spelling mistakes in the target keywords that they are going to include in their product listings.
Marketing
Adtomic: This is a premium advertising management tool that helps sellers create and optimize the Sponsored Ads of their products on Amazon.
Portals: The tool helps Amazon sellers in creating custom landing pages for their products so they can increase conversions.
Operations
Alta: This is an in-built financial management tool that helps sellers track their expenses and manage their finances. It also provides funding up to $1 million to approved sellers.
Alerts: This tool alerts you when someone tries to hijack or monitor your product listings. You will also receive notifications when you receive negative feedback from a customer.
Inventory Protector: This tool helps Amazon sellers to prevent inventory loss due to fraudulent orders or stock-outs.
Refund Genie: A Helium 10 tool that helps sellers identify and claim refunds or reimbursement from Amazon for lost and damaged inventory.
Follow-Up: It is an email automation tool that allows Amazon sellers to send automated follow-up emails to customers in order to increase feedback, reviews, and customer satisfaction score.
Inventory Management: This exclusive tool has the capability to forecast future supplies so you can manage your inventory like a pro.
Learning
FBA Training (Freedom Ticket): The Freedom Ticket is an exclusive course for Amazon sellers that you can access for free after subscribing to a premium Helium 10 plan.
Pro Training: This feature includes all the training videos and tutorials related to every tool on Helium 10.
Exit Ticket: This new feature was recently included with all premium Helium 10 plans. It helps sellers exit Amazon in a profitable manner.
If you want to access all these tools, you will need to subscribe to a paid plan. Most of the tools are self-explanatory, and if you find difficulty using a tool, you can instantly go through video tutorials that you can find on the right side of the page as the "Learn" option.
Going Through Major Helium 10 Tools (Tips Included For Maximum Output)
Now you know about every tool in Helium 10's inventory, let's check out what its tools are capable of.
Cerebro
If you are a beginner on Amazon and also using Helium 10 for the first time, you must start with the Cerebro tool. This reverse ASIN lookup tool helps you sneak into your competitors' listings to know their products' feasibility on Amazon.
You can start by copying the ASINs of your competitors' listings. It is a ten-digit alphanumeric code that you can find on the product page. Or you can use the Helium 10 Chrome extension to browse search results for a keyword. The ASINs of products will appear like this.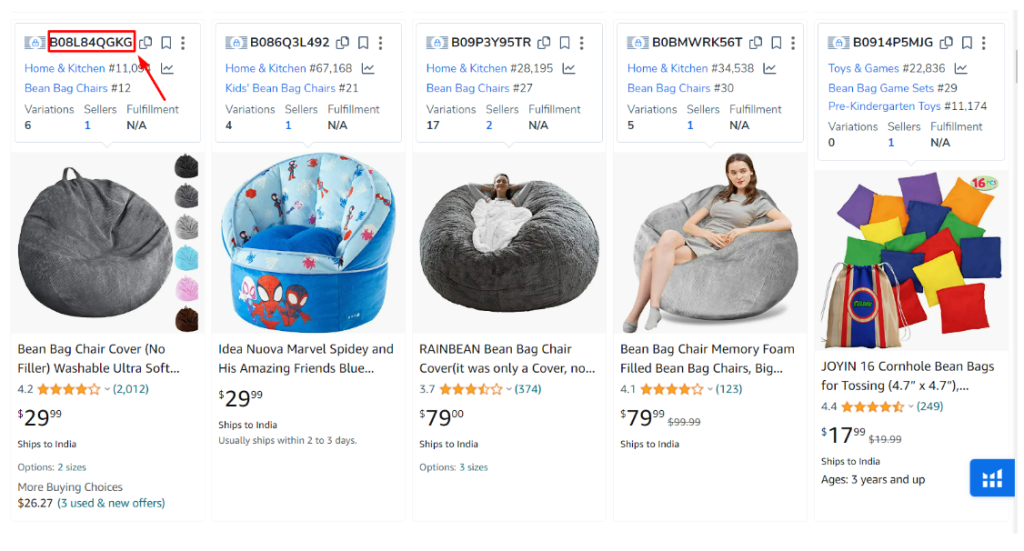 You can copy the ASINs of your competitors and paste up to 10 ASINs in the Cerebro tool to compare all the listings.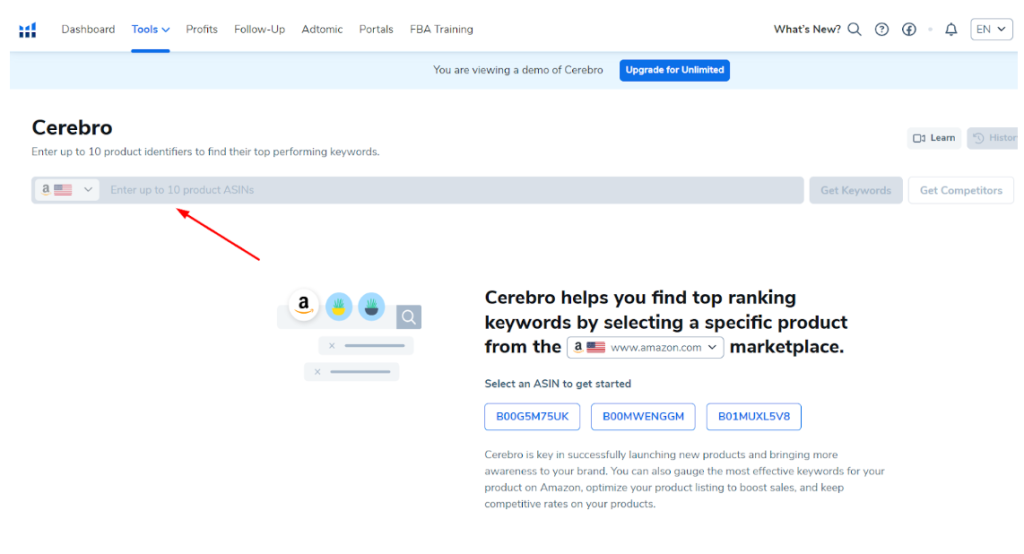 After pasting the ASINs, you can use the advanced filter to get precise results. After using the filter, you can click on the Get Keywords button, and your search result will look like this.

You will see multiple data points in Cerebro's search results. Let's break down all the data points:
Cerebro IQ Score: The IQ score indicates how good the product opportunity is for your business. If the number is higher, it will be a high-profitable and low-competition product. The lower number indicates the product is highly competitive with a low monthly search volume.
Search Volume: It shows the estimated number of times a keyword is searched for in a month on Amazon.
Sponsored ASINs: This metric indicates the ranking of products that are advertised using the Amazon Sponsored Ads program.
Competing Products: Similar product rankings that are competing for the same keyword on Amazon.
CPR 8-Day Giveaways: This is a promotion strategy that involves running a giveaway for eight days to boost a product's sales to increase its organic ranking.
Match Type: There are three match types: A, S, and O. This column shows the type of ranking of the product for a specific keyword. A means recommended by Amazon, S means sponsored ranking, and O means organic rankings.
Amazon Recommended Rank: This column shows whether a product is ranked on Amazon Recommended or not. If it is blank, the product is never recommended by Amazon.
Sponsored Rank: This column shows where products appear on a search results page if it is running an ad campaign using Amazon Sponsored Ads.
Organic Rank: This column shows the organic rank of a product for a specific keyword.
Tip: When you use a common keyword to create your product listing, your product might appear among thousands of results. It can be pretty hard for customers to find your product from the search results. You can use Cerebro to find relevant keywords that you can stuff in your product listings. These keywords will reduce the number of search results and help your product appear to your target audience.
Magnet
Cerebro helps you discover hundreds and even thousands of keywords for your product, but how can you decide what keywords will help you improve your product ranking? The Magnet tool is the answer to your question.
The Magnet tool helps you filter out juicy and actionable keywords for your products. You can discover keywords for your product title, description, and bullet points. If you want to run PPC campaigns or Amazon Sponsored Ads, you can also find specific keywords to bid on. 
To start with Magnet, first, you can select the marketplace where you want to sell your products. Then you can add your selected keywords or choose from the "My List" option.

Tip: Before you click on Analyze Keywords button, make sure to use the advanced filter to narrow down your search results.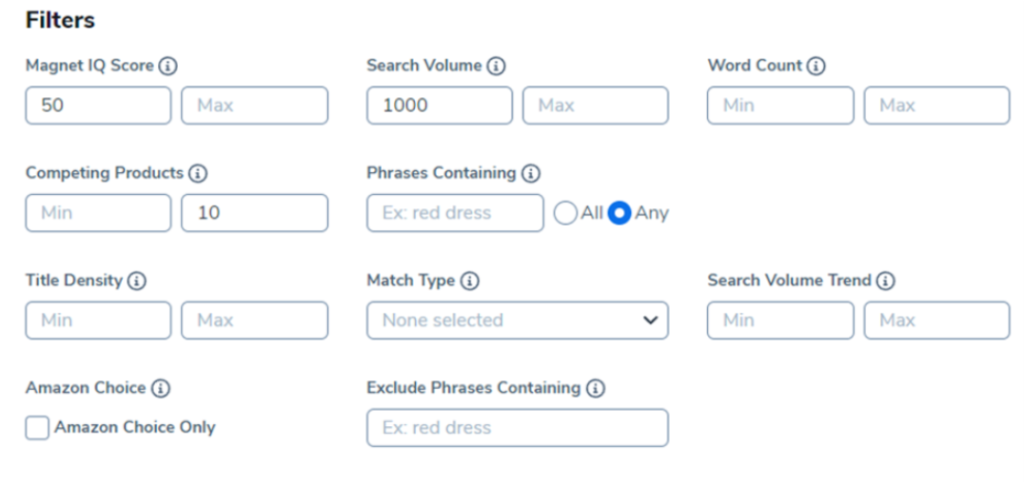 Frankenstein
The Cerebro and Magnet tools generate an overwhelming number of keywords that can be tough for a seller to sort and manage. Luckily, the Frankenstein tool helps sellers edit and refine their keywords so they can create a short and effective list of keywords for PPC ads and product listings.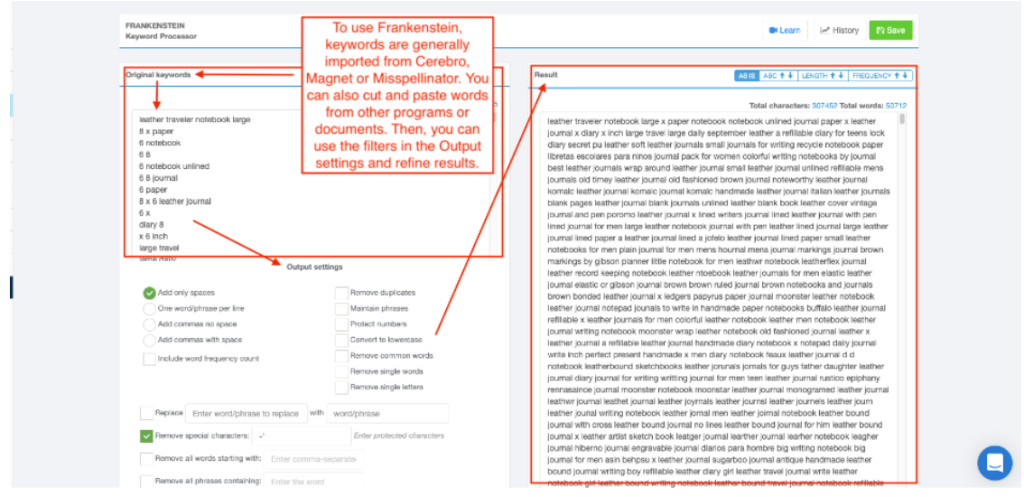 Frankenstein takes out useless words and modifiers from your keywords so you can only get relevant keywords. All you have to do is copy and paste a large batch of keywords that you have derived using Cerebro and Magnet.
You can also select various parameters before shortening your keywords list. The Results section contains all sorts of keywords you can use in your product listing. The best part is that all of them are completely optimized for SEO.
Black Box
Black Box is an exclusive Helium 10 tool that helps sellers find a winning product according to their niche. Even if you have just started on Amazon without preparation, you can find a profitable niche to start with.
Using the Black Box tool is very straightforward; even a beginner can easily use this tool without any help from an expert. You can start by choosing your marketplace. Then, you can fill up specific parameters like this.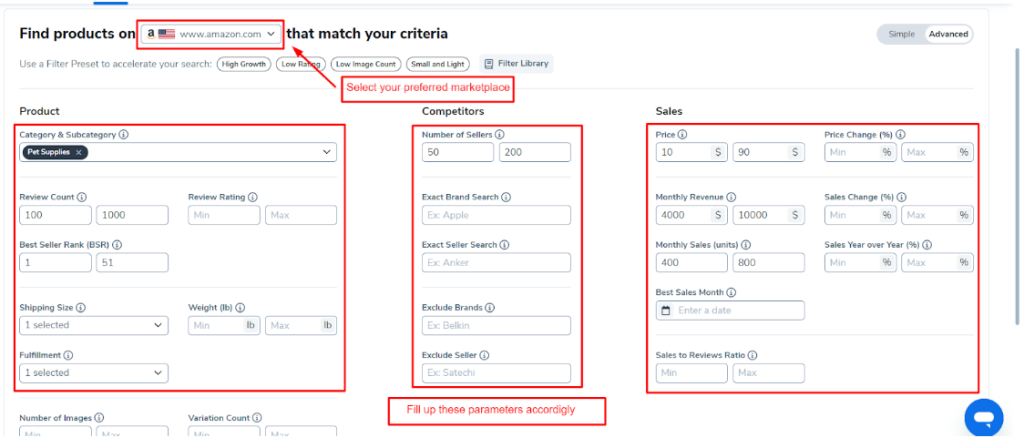 Then you can click on the search button, and the Black Box will show a list of products according to the filter.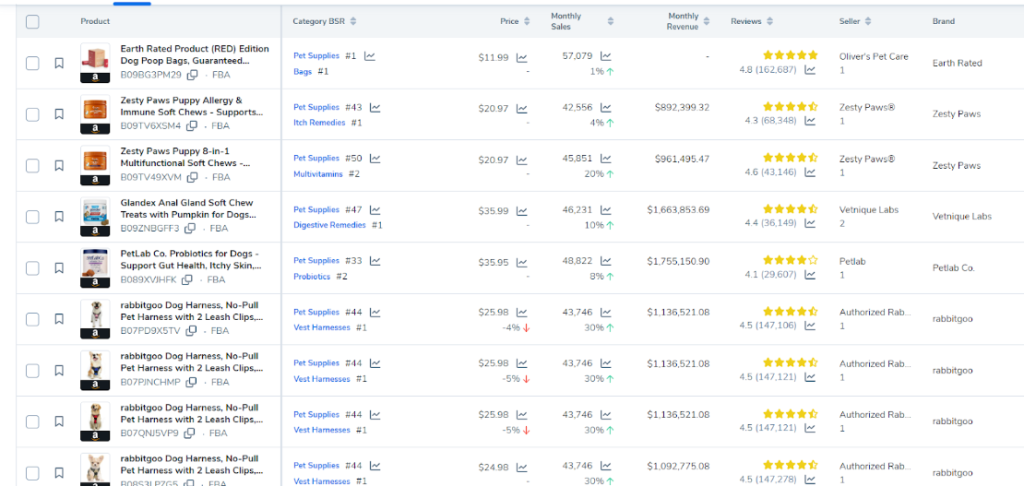 As you can see, the tool has found hundreds of product opportunities with sales data and other key metrics. Finding products like this method is much easier than brainstorming a niche for your business. Once you find the product, all you have to do is find a supplier to source your product.
Listing Analyzer
Amazon's algorithm changes from time to time, so it is hard for a seller to keep up with the change. Whoever adapts to the changes stays ahead of the competition. But how will you do it? Listing Analyzer is the answer to this question.
With this tool, you can compare your product listing with top competitors' listings to identify which areas of your listing you can improve.
First, you can enter your product's ASIN. In the next box, you can add up to 10 ASINs of top competitors. You can fill it up like the following image.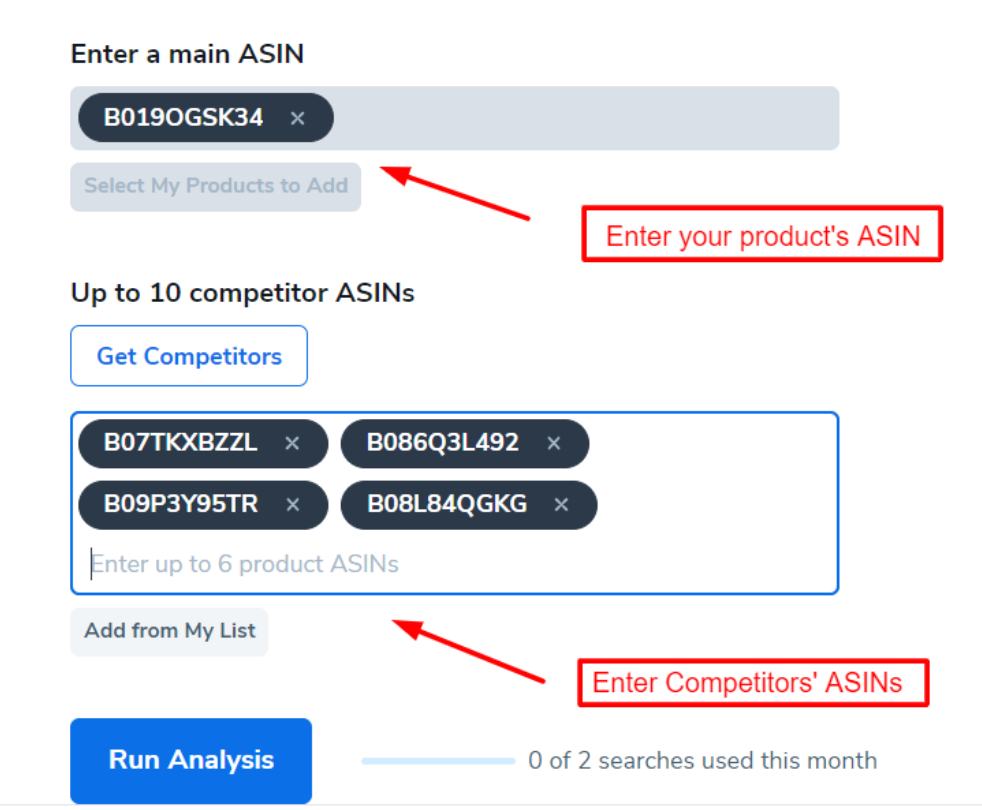 After running the analysis, you will get results like this.

Now, you can compare your listing and find out what you still need to include. This way, you can easily make necessary changes to optimize your listing properly.
Inventory Management
Being out of stock or low in stock is the worst nightmare for an Amazon seller. If you are ranking well or getting sales of your life, it is important to maintain your inventory. Even for once, if your inventory faces any of these situations, you will lose your hard-earned seller ranking and other Amazon privileges.
However, you can replenish your inventory within time or before going out of stock. But make sure you never run out of stocks, especially when you have the Buy Box privileges.
Luckily, Helium 10 offers an Inventory Management tool that handles all the heavy lifting of managing inventory for Amazon sellers. The tool integrates with your Amazon seller account and pulls the data directly from your Seller Central account. Its advanced automation and forecast system helps you analyze how much inventory you will need for a certain period. 
You can also connect your supply chain with the Inventory Management tool to automate inventory replenishment. This feature allows the tool to order the required supplies for restocking. This feature gives the seller advantage over other competitors who control and manage their inventory manually.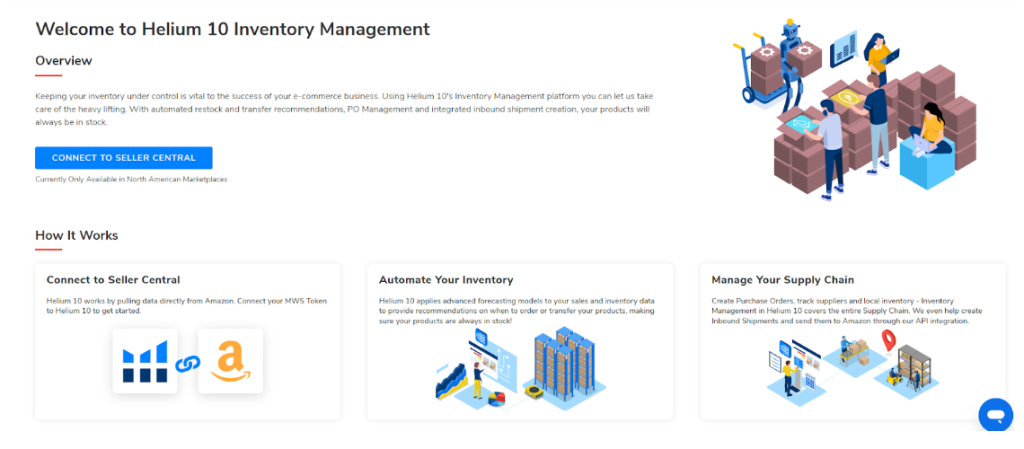 Tip: If you find difficulty using any tool, you can check out the Learn option from the right side of the page.

It includes video tutorials and documentation regarding using a specific Helium 10 tool. You can also check out the Help Center to find step-by-step guides, articles, and video tutorials regarding using Helium 10 tools.
Helium 10 Chrome Extension – A Panacea For Amazon Sellers
As you can see, using these tools requires a lot of manual work and time from sellers in order to retrieve data from Amazon. With Helium 10 Chrome extension, you can use 5 of its tools while simply browsing on Amazon marketplace.
You can simply install the extension from the Chrome Store and enable it from the extensions tab on your Chrome browser. Then you can log in to your Helium 10 account and use Xray, ASIN Grabber, Profitability Calculator, Inventory Levels, and Review Downloader tools.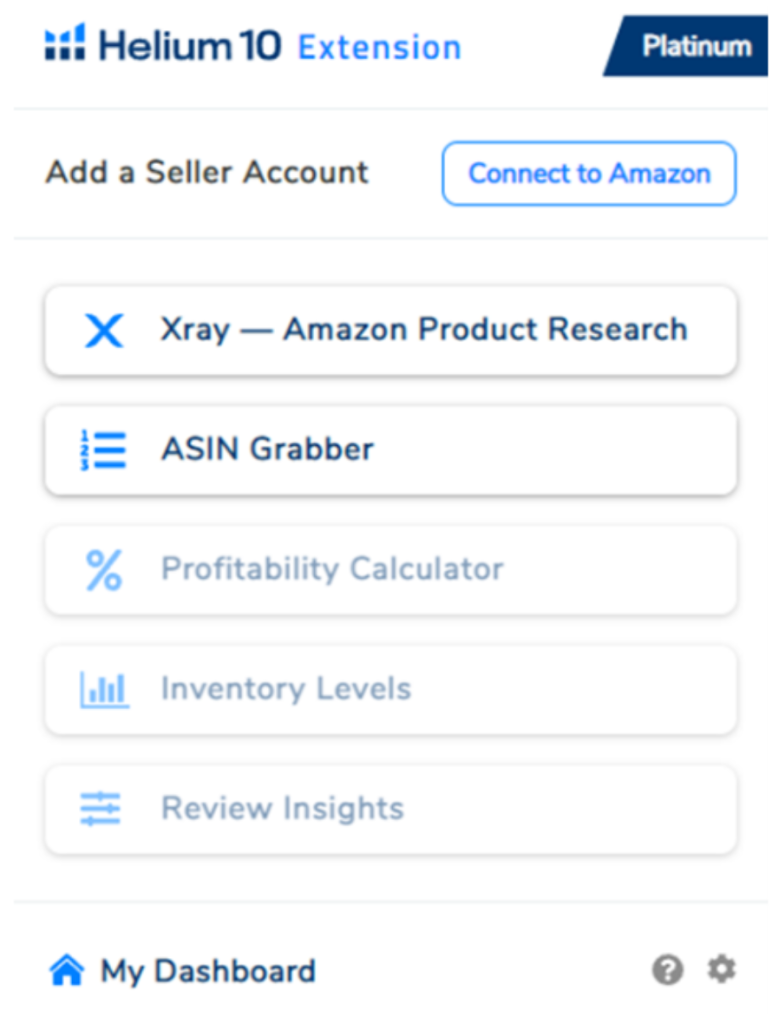 The best part of the Helium 10 Chrome extension is that it is also available with the Helium 10 free plan. The only downside of the free plan is that you will only get limited access to all these tools. If you want to unlock all its features and use it to its full potential, you must subscribe to at least Helium 10 Starter plan.
Note: The Helium 10 extension only works in Chrome extension. So if you are using browsers like Safari, Microsoft Edge, or Mozilla Firefox, you have to switch to Chrome browser in order to access the extension.
Helium 10 Mobile App: Manage Your Amazon From Anywhere
You can't be on your PC or laptop every time whenever you need to take a look at your Amazon account. This is why Helium 10 offers a fully-functional mobile app so you can manage your business from anywhere.
Using Helium 10 app allows you to get notified if anything fishy happens with your Amazon store so you can take necessary actions before the situation gets worse. The app also notifies the seller if their inventory is low on stocks.
Unfortunately, the Helium 10 app is not available for iOS devices. And you can only log into two devices at the same time. 
Helium 10 Academy
If you want to reach your maximum potential as an Amazon seller, then courses from Helium 10 Academy is the best thing for you. Helium 10 gives you everything you will need to excel as a seller, but all of that will be in vain if you don't know how to use Helium 10's tools properly. For that, you can sign up for Helium 10 Academy, and the best part about it is that it is completely free of cost, so that anyone can learn from it.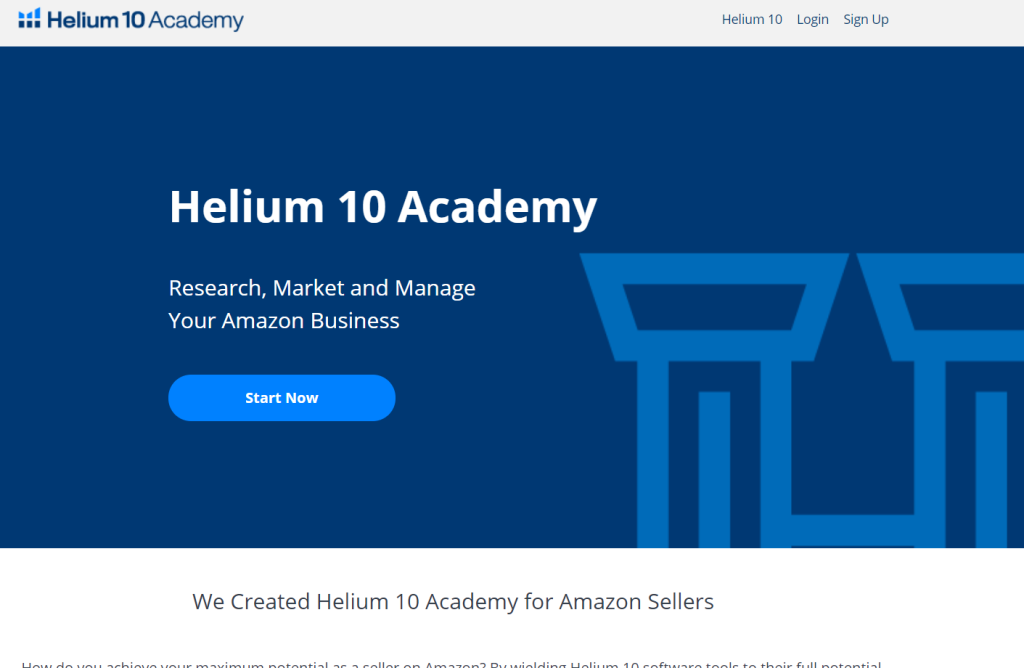 It has courses like "Helium 10's Complete Product Research Course", "Introduction to Helium 10's Software Tools, "Helium 10's Complete Marketing Course", etc. You can also become a Helium 10 certified seller after taking a certification exam on Helium 10 Academy, but it will cost you $77 to take the exam. After taking all the courses, you can use Helium 10 tools properly.
Why Should You Choose Helium 10?
If you are planning to start selling on Amazon, then you will need to do plenty of things like product research, keyword analysis, PPC, CRM, SEO, competition analysis, product launch, performance tracking, and so on. You can't do all these things on your own because it will be time-consuming and frustrating for you; that's why Helium 10 is there to help you with all these things.
Helium 10 is a tool that can be used by any type of Amazon seller, whether they are complete beginners or expert sellers; it caters to everyone's needs. There are many tools available on Helium 10, but you won't be overwhelmed by them because their user interface is smooth. It can be your Amazon selling business manager handling the little things for you while you focus on the bigger picture, such as finding ideas to scale your business. These are a few reasons why you should choose Helium 10 for your business.
Helium 10 Pricing Plans (Exclusive Discounts For New Users)
Now, coming to the pricing part of Helium 10. Currently, the software offers six plans to its users.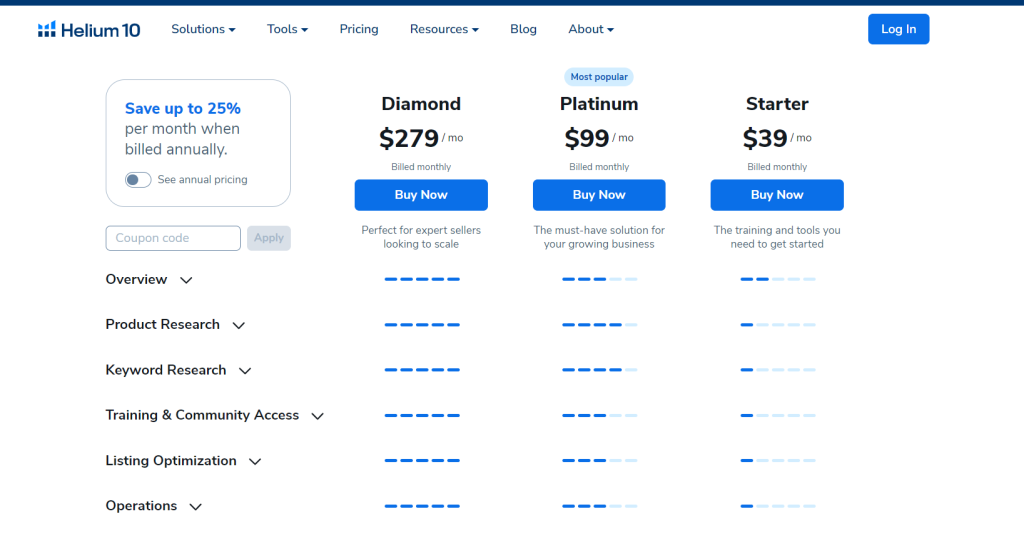 | | | | |
| --- | --- | --- | --- |
| Helium 10 Plan | Price (Monthly) | WYG | Best For |
| Free | $0 | Black Box, Trendester (limited access) | Beginners |
| Starter | $39/month | All tools (except Inventory Management, Multi-user login) with limited access | Beginners |
| Platinum | $99/month | Extended access to Starter plan and Freedom Ticket | SMBs and Intermidiate sellers |
| Diamond | $279/month | Unlock all tools with almost unlimited access (Unlock Adtomic) | Professional sellers |
| Elite | $399/month | Everything in Diamond plan, in-person workshops, monthly expert training and access to exclusive social media groups | Growing businesses |
| Custom | Custom Pricing | Contact for discuss solutions | Industry-level businesses |
If you are interested in Helium 10, you can use our exclusive Helium 10 coupon offer to get up to 20% discount on monthly plans – click here to access the coupons.
If you are already using the tool without any subscription, you can find the "A La Carte" plan, which runs on PAYG (pay as you go) model. You can select the necessary Helium 10 tools and pay monthly fees accordingly.
Which Plan To Start With?
Each plan of Helium 10 tends to serve different types of Amazon sellers. Choosing a plan mainly depends on your business size and specific needs. If you haven't started a business on Amazon yet, you can subscribe to its free plan to brainstorm niche and product ideas.
Or, if you have just started your business on Amazon, you can subscribe to its Starter plan for product research, keyword research, and listing optimization. As your business grows, you can upgrade to a bigger plan to extend access and unlock new tools for various purposes.
If you are still not sure about choosing a plan, go to the Helium 10 pricing page and take their quiz. You have to answer a few questions regarding your business, and they will suggest you the best plan for your business.
Helium 10 Alternatives
There's no doubt that Helium 10 is the #1 Amazon seller tool in the market, but there are many other tools in the market that offers value for money.
There are a couple of tools that offer almost the same features and data points with absolute accuracy. I have already done an in-depth comparison between these tools and Helium 10.
Check these detailed comparisons to know all about its alternatives.
Final Verdict: Is Helium 10 Worth Choosing In 2023?
In conclusion, I would say, Helium 10 is the answer to all your questions as a seller on Amazon. After using the tool for a significant period, I can say it gives Amazon sellers an unfair advantage over other sellers. If it has helped me, who didn't know even the basics of selling online, what can a professional seller do with its powerful suite of tools? The platform's user-friendly interface and excellent customer support have also made it easy for me to learn and master its premium features.
However, there are some drawbacks, such as high monthly costs and steep learning curves. But its overall benefits make it worth the investment. You can use our coupon code to get a few bucks off on monthly costs. And the video tutorials and stepwise articles will help you with every step of using the tool. If you are a newbie on Amazon, you can get access to Freedom Ticket, which is an exclusive Amazon seller course with absolute money-making strategies. You can get this thousand-dollar course for free with the Platinum subscription.
I hope this review clears all doubts regarding Helium 10 and its tools. If you still have other queries about Helium 10 or selling on Amazon, leave a comment below.