Have doubts about Helium 10? Well, check out this thorough Helium 10 review, which will clear out all your confusion.
Helium 10 is an amazing Amazon seller tool that offers the full set of tools. When I started with Helium 10, I was just starting my business in this industry. I was also skeptical about it at first, but after using the tool for quite some time, I came to know that this is one of the best Amazon Seller tools. It fulfills all your needs with features like listing optimization, PPC, product research, and so on.
That's why I decided to share my experience in this Helium 10 review which is based on its features, pricing, ease of use, resources, and so on.
Without further ado, let's begin.
Helium 10 Review: In A Nutshell (2023)
When I was starting my business, I did thorough research on which tool I should start with. I found a lot of tools, but Helium 10 caught my eye with its amazing features. It offers everything you will need to become a successful Amazon seller. Most of you might be wondering if Helium 10 is worth the hype.

Helium 10
The #1 Amazon Seller Tool
Helium is the #1 recommended Amazon Sellers tools with one stop solution for sellers. Seven figure Amazon sellers like Kevin King, Tatina James recommends Helium 10 to Amazon Sellers
After using the tool for over two years, I would say that it exceeds my expectations. This tool is not just for professional Amazon sellers but also a beginner can start with this as well. It works really well for everyone. If you don't know about this business, then Helium 10 offers resources for you to learn as well.
How Helium 10 helps you?
After you start with Helium 10 it gives you access to a lot of tools and some of which are listed below:
Sales Analytics
Amazon Niche Selection
Amazon Index Monitoring
Competitor Research
Fraud Prevention
Listing Optimization
Finding Profitable Products To Sell
Email Automation
Inventory Protection
Refund Management
If you're thinking that how am I gonna use all of these features then read the next section thoroughly to learn how to use each and every tool of Helium 10.
Helium 10 Features Explained (Sharing My Experience)
In this section, I will give details on how you can use all the above-mentioned features in detail. After that, you will a good idea of how to apply Helium 10 to your business easily. I will break down each and every tool of Helium 10 to show you guys how it works. So let's start with the first one.
1. Product Research Tool
The Black Box tool is the product research tool of Helium 10. You can access this tool directly from the dashboard of Helium 10. It has many advanced filters which you can use to filter out the best products among thousands of products. The interface of this tool is very easy to use. You can use filters like review rating, monthly revenue, review count, price, and so on to find the right products for yourself.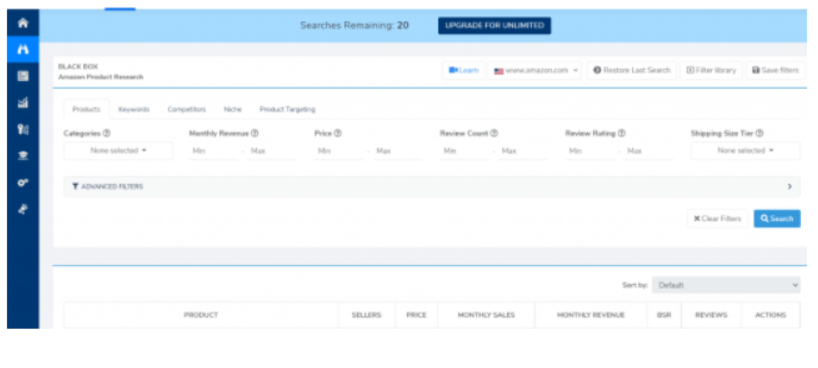 Once you have filtered the right products for you then use the scrape keywords feature to find the competitors for those products. It will help you in product targeting easily.
This is one of the coolest features of Helium 10. This feature helps you in finding the trending products to sell.
You will need to have the Chrome extension to use this feature. To use it you need to find the ASIN of the product to enter. You can add up to 4 ASINs at once. You can also add 4 keywords as well. Once you're done with it just click on the "Start Trendster" button.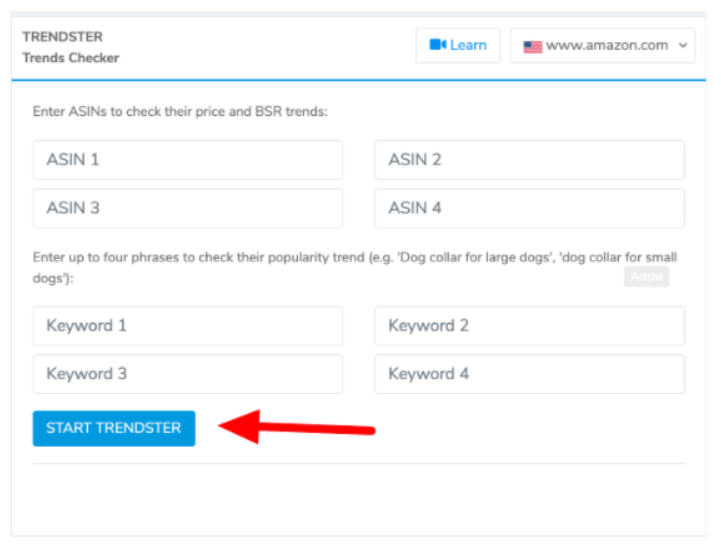 In my list, you can add product ideas for later. After adding products you will be able to see different data metrics such as monthly sales, sellers, price, and monthly revenue. In the my list tool you can save as many products or keywords as you want. You will also get the option to download the list in CSV format.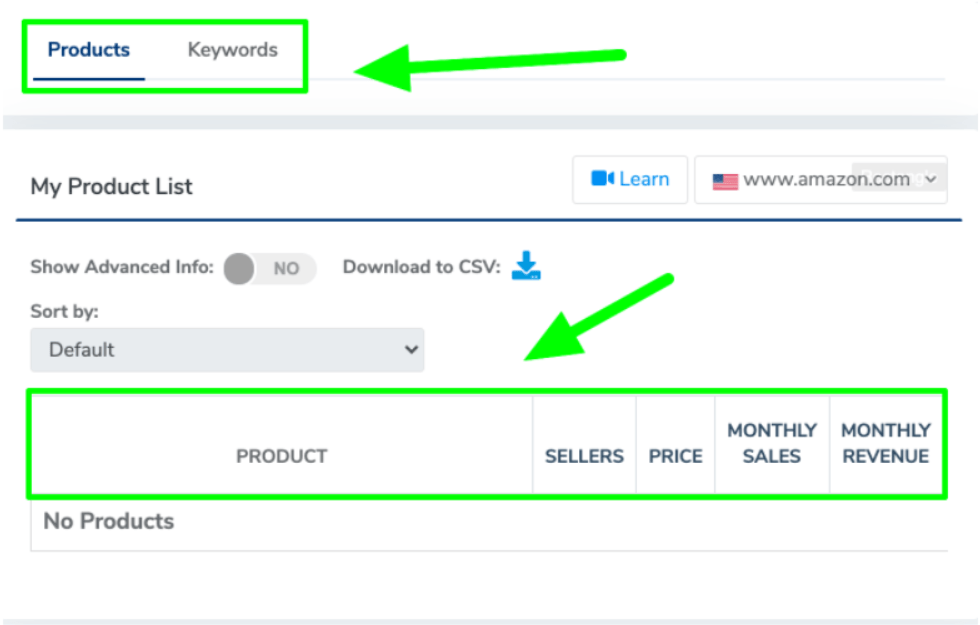 2. Keyword Research Tool
The keyword research tool helps you in carrying out Walmart and Amazon keyword research easily. For keyword research, it offers different features, and these are:
Cerebro is one of the most amazing tools of Helium 10. This tool lets you add up to 10 ASINs of products to carry out the research.
This tool also gives you a peek at competitors' listings. You can follow the same strategy to grow your business.

The magnet tool lets you do product research using only words and phrases. I was having doubts about this tool at first but when I entered some phrases then I got to know how amazing this tool really is.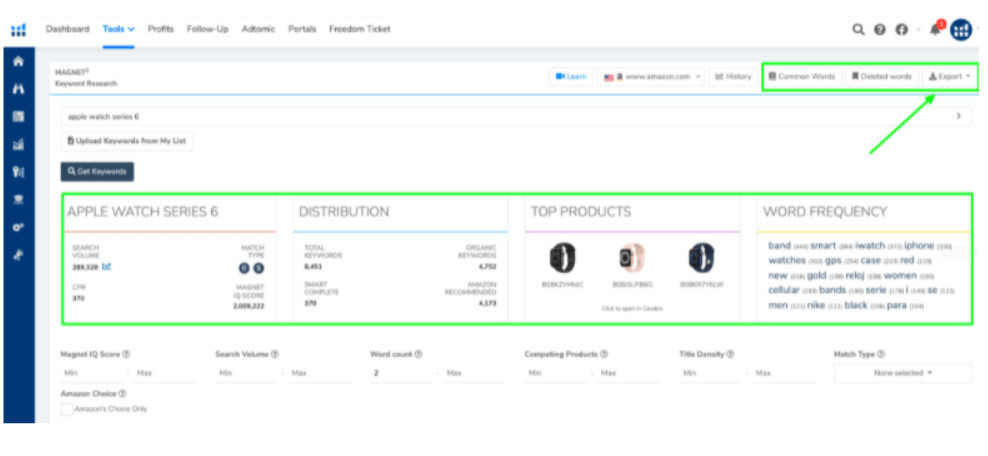 You can use the keywords from my list to save more time. You will get useful metrics with this tool as well.
Most of the time when a customer is searching for a product, they enter misspelled keywords. This tool helps you in extracting those misspelled keywords and then you can use them to give the result the customer is looking for.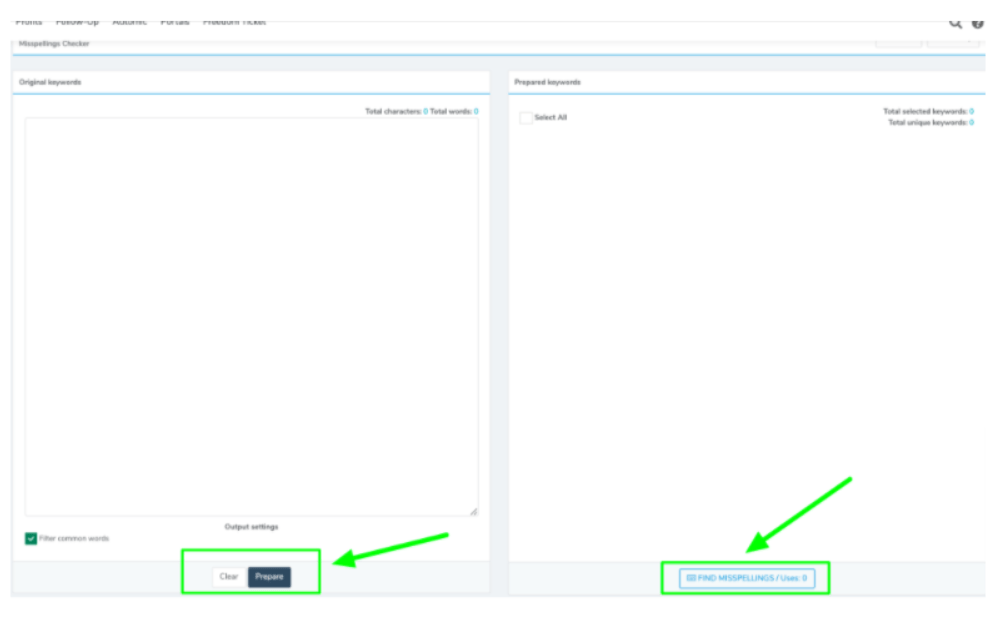 But first, you need to enter the right keyword to find the misspelled keywords. Add words in the tool and then click on the prepare button. Once you're done you will need to click on the find misspelling button and then it will show you the list of misspelled keywords for the original keyword.
3. Listing Optimization
Listing Optimization helps you in optimizing your listing on Helium 10. Let's take a look at all the tools of Listing optimization.
The Frankenstein is a keyword processor tool that helps you in filtering out the best keywords in the long list of keywords. You can filter out more than a thousand keywords in just a few seconds. To use this tool just enter your desired keywords or you can use the keyword list from my list option.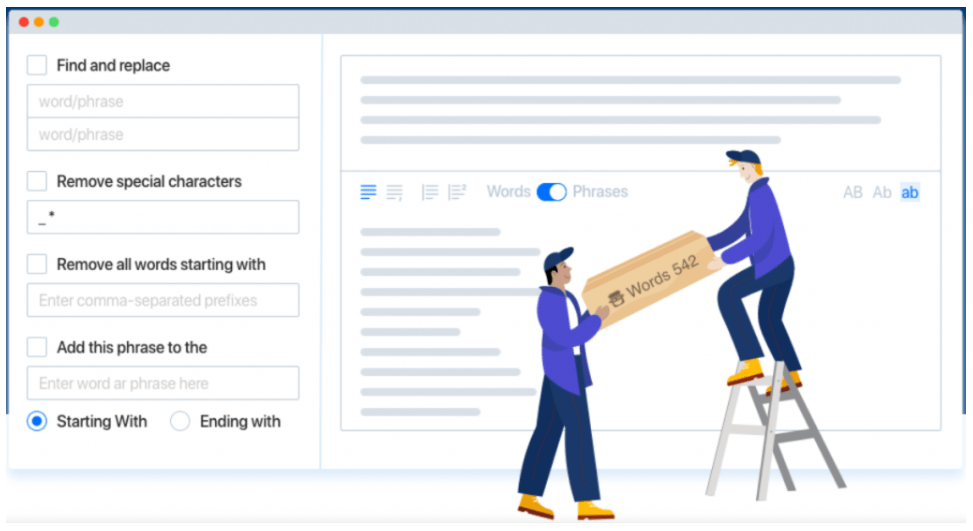 Scribbles is a tool that helps you in optimizing your listing with proper keywords with just one click. If you want a completely optimized listing of products then use this tool.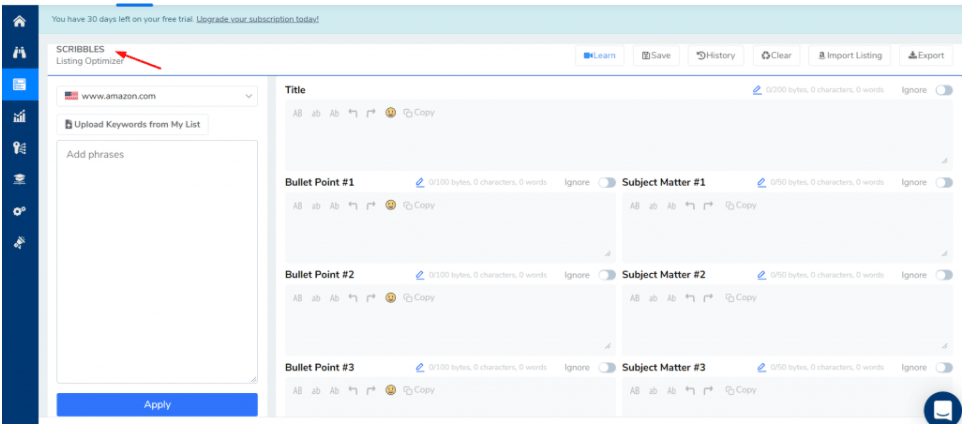 The Scribbles offer many advanced features for listing optimization. You can write descriptions for your product, add bullet points in it and add search terms for it as well.
At first, I added more than 30 products to my listing but I wasn't able to index them manually. Those products weren't showing up in the search box. That's where the Index checker tool comes in.
I used this tool to index all my products with just one click. I was also able to remove bad keywords from listing with this tool. It saved me a lot of time for manual indexing.
You've created the product listings for your business. Now you want to check the integrity of those listings. The listing analyzer tool helps you in analyzing up to 10 Amazon products listings in one go. You can also compare your listings with competitors' listings.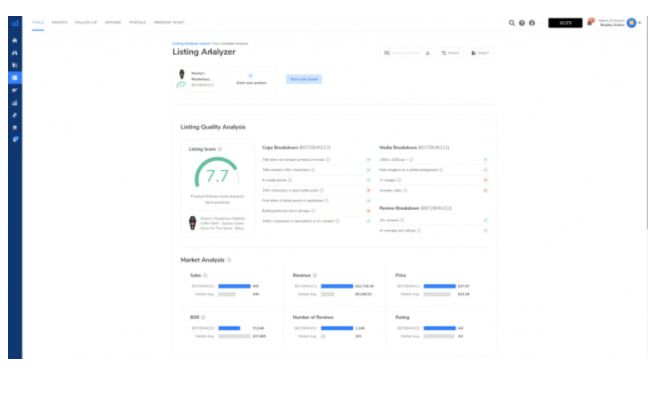 To use this tool you just need to enter the ASIN or URL of the listing then you need to click on the Analyze button. All the data related to your listing will be available on your screen.
4. Operations
The operations feature gives you access to different tools that help you in managing your listings easily. The inventory management tool helps you in managing your inventory in a really efficient way. It gives you updates on the inventory regularly and also alerts you about restocking before the product goes out of stock.
The Refund Genie tool helps you in reimbursing money to your customer. It is always difficult to complete the reimbursement process manually in an FBA business. You need to have an MWS API access token first to use this tool.
The Inventory protector tool protects your inventory from your competitors and coupon hoarders. You can also set a limit on the maximum order quantity of a product. The follow-up tool is a good way to always be connected with your suppliers and customers both. To use this tool you need to connect Helium 10 with your Seller Central Account.
In the follow-up tool, you will get different email templates ready to use. You can also customize those emails accordingly. Helium 10 also started a mobile application. The mobile app helps you in managing your business directly through your mobile device. You can do product research, create product listings, make changes in your existing listings, and so on.
5. Analytics
The analytics feature helps you in analyzing your listings and tracking the performance of your products. It has the profits tool which helps you in analyzing profits for some products of Amazon and Walmart on the go. With this tool, you can analyze sales trends, inventory management, gross revenue, performance matrix, net profit, and so on.
The market tracker tool gives you an overview of your competitors. You can understand the competitive intelligence with this tool and then gain a competitive advantage over your competitors. All you need to do is create targeted markets to see how your competitors are doing and then apply the same strategy to gain over them.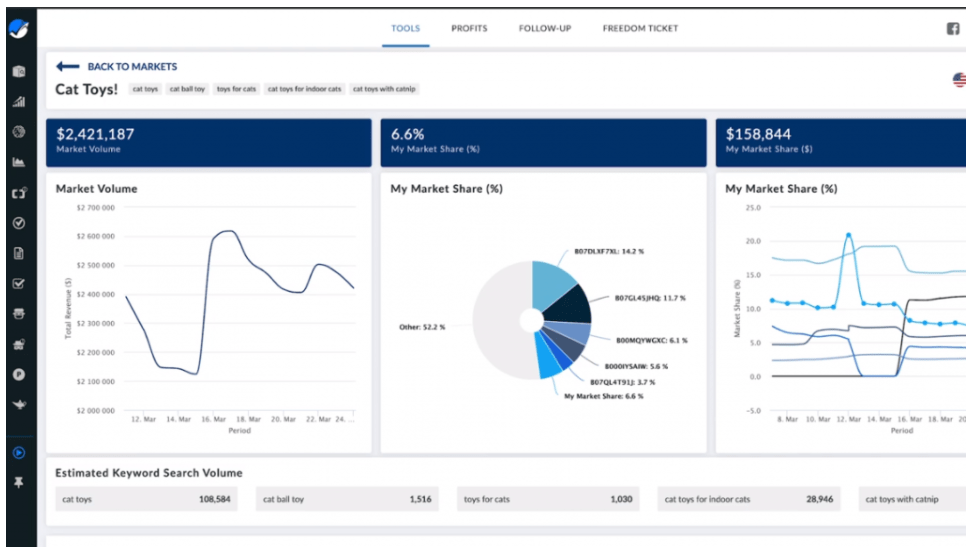 If you want to track how your products are doing then use the keyword tracker of Helium 10. You can monitor the rankings of your Amazon products.
Helium 10 Chrome Extension
With the Helium 10 Chrome Extension, you get access to five core Helium 10 tools which you can use without logging into the Helium 10 account on the web over and over again. These tools can help you with product research, estimating profits, finding opportunities, spying on your competitors, and so on. It is an amazing tool to have in your arsenal where you can access it with just one click of a button.
With Helium 10 Chrome Extension, you can access tools like Xray, Profitability Calculator, ASIN Grabber, Review Downloader, and Inventory Levels. You can use all these tools after logging into your account once to activate your Helium 10 Chrome Extension.
Helium 10 Academy
If you want to reach your maximum potential as an Amazon seller, then courses from Helium 10 academy is the best thing for you. Helium 10 gives you everything you will need to excel as a seller, but all of that will be in vain if you don't know how to properly use Helium 10's tools. For that, you can sign up for Helium 10 Academy, and the best part about it is that it is completely free of cost, so that anyone can learn from it.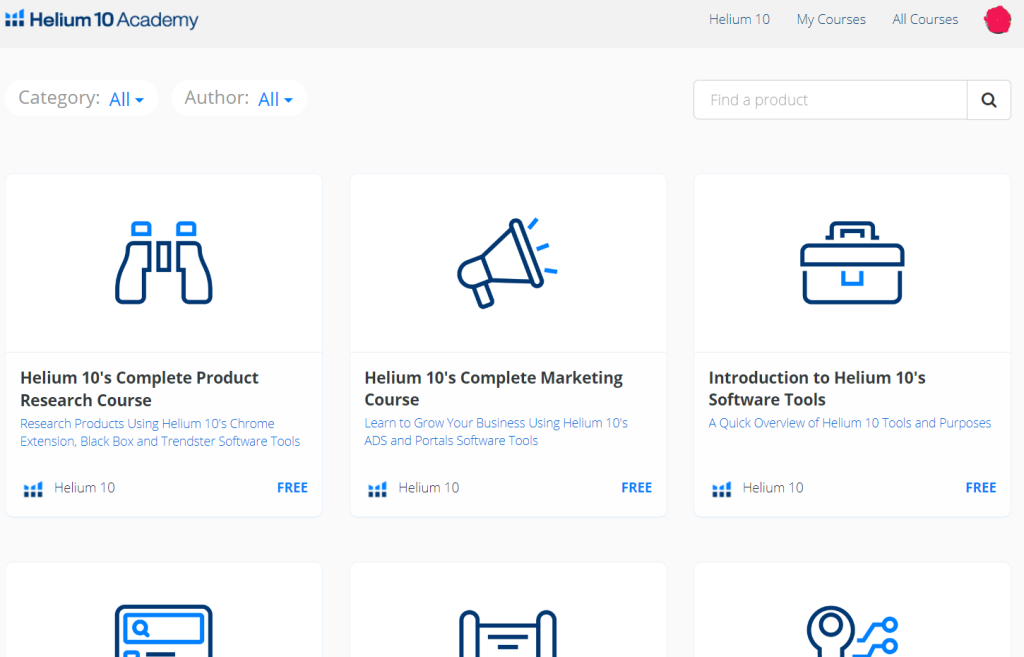 It has courses like "Helium 10's Complete Product Research Course", "Introduction to Helium 10's Software Tools, "Helium 10's Complete Marketing Course", etc. You can also become a Helium 10 certified seller after taking a certification exam on Helium 10 Academy, but it will cost you $77 to take the exam. After taking all the courses, you can use Helium 10 tools properly.
Helium 10 Pros & Cons
Here are the benefits and drawbacks of using Helium 10.
Pros
It is an all-in-one platform that also gives you the flexibility to switch between plans.
It has some of the best optimization, reverse ASIN, and product validation tools.
It comes with a free plan which gives you limited access to most of the features
Its Magnet, Frankenstein, Scribbles, and Cerebro tools are one of a kind.
Access to one of the best Amazon FBA courses called Freedom Ticket.
Cons
It does not offer any information on suppliers because it does not have a supplier database.
The learning curve for using Helium 10 is very steep.
Helium 10 Pricing Plans
Helium 10 offers 5 different plans. The basic plan is free which gives very limited access to Helium 10. The rest 4 are paid plans that offer different features based on their pricing. Let's take a look at them. Well, you can make use of our working Helium 10 discount coupon to save up to 50% on Helium 10.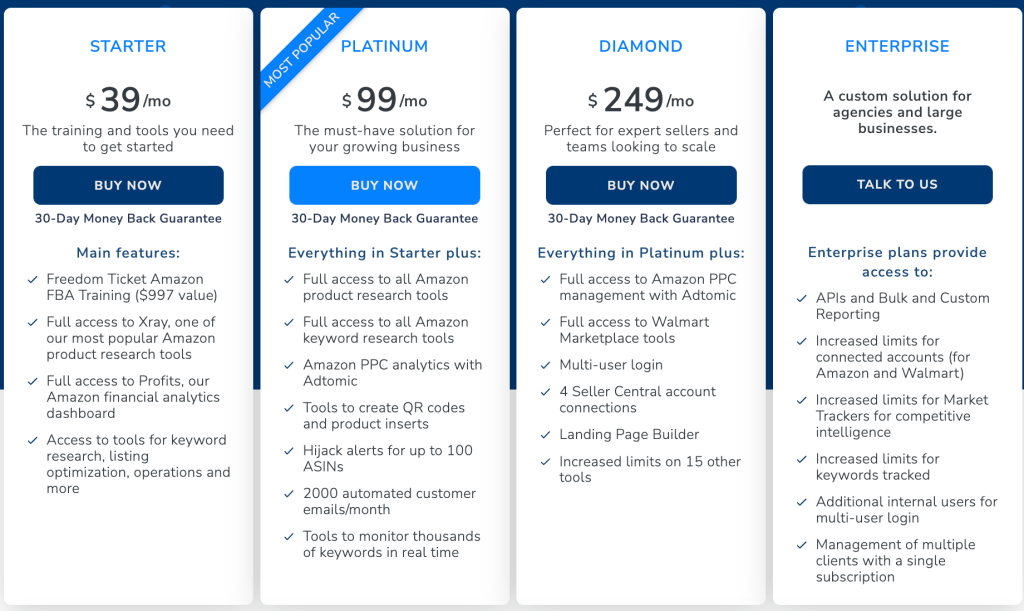 1. Starter Plan:
2. Platinum Plan:
Costs $99/month or $999/year
Includes Starter Plan Features
Index Checker (150 uses/month)
Alerts (100 ASINs/month)
Keyword Tracker (2500 keywords/month)
Follow Up (2000 emails/month)
3. Diamond Plan:
Costs $249/month or $2499/year
Includes Platinum Plan Features
Index Checker (300 uses/month)
Multi-user login
Alerts (300 ASINs/month)
Keyword Tracker (5000 keywords/month)
Follow Up (10000 emails/month)
Add up to 4 Seller Central Accounts
Unlimited Use of Walmart Marketplace Tools
Inventory Management Unlimited SKUs
4. Elite Plan
Costs $399/month
Includes Diamond Plan Features
Learn With Industry Experts monthly live
In-person workshops quarterly
Elite Facebook Group Access
Which Plan is Best for you?
Now if you're wondering which plan will be best for you then I would say that it all depends on at what stage your business is at. If you're just starting then begin with the Starter plan and work your way up to the top. If you're a professional Amazon seller then you can choose the Platinum plan which gives you access to basic and some advanced features.
If you want rapid growth and want to expand your business then select the Diamond plan. If you're already established in this business and want to learn from your top peers then select the Elite Plan.
Helium 10 Alternatives
Yes, there are many reliable alternatives to Helium 10 which offer value-for-money tools for Amazon sellers. Well, we're not going in-depth because we have already compared Helium 10 with its top-notch competitors out there. Check our detailed comparison below:
You can check these comparisons to have detailed insights into the alternatives of Helium 10.
Customer Reviews And Testimonials
Trustpilot has given Helium 10 a rating of 4.3 out of 5. You can also check what the customers are saying about this tool in these screenshots.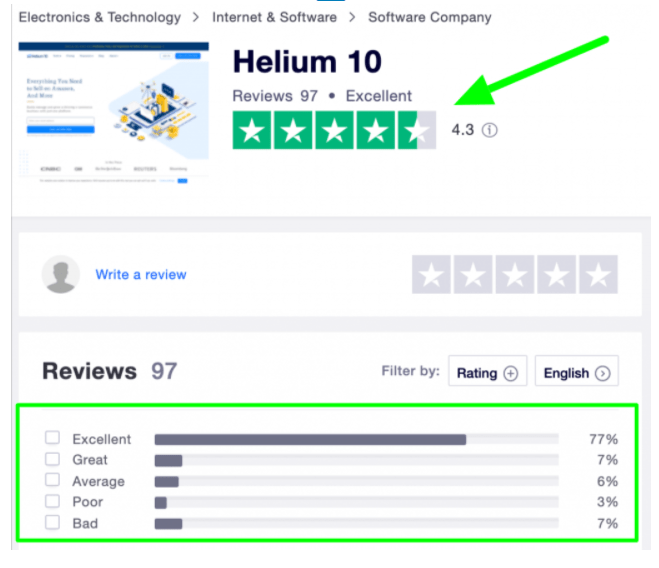 Other Customer Reviews on Helium 10:

Final Verdict Of Helium 10 Review (2023)
To give you a simple shorter version of this review I would just say that Helium 10 is definitely worth every penny. My business has been growing ever since I started with Helium 10. I still remember the day when I was researching all the different tools for Amazon sellers. Not all of them are giving this many features in their pricing plans.
I wanted something which solves all my problems in just one place. After using Helium 10, I knew that I will not need any other tool for business. The Freedom Ticket Training Course helped me in learning a lot about this business. I was just a newbie in this industry without any knowledge whatsoever. Now I know almost everything and still learning about this industry on a regular basis.
I can only hope that this review solves all your queries. If you still have any doubts about Helium 10 then comment down below and I'll get back to you as soon as I can.
FAQs On Helium 10 Review
Can I use Helium 10 for free?
The basic plan of Helium 10 is free of cost and its validity is forever. So, yes you can use Helium 10 for free however access to the Helium 10 tools is very limited.
Does the Helium 10 Chrome Extension come with all the plans?
In the free plan, you can use the Chrome extension but the access will be limited. However, with the premium plan, you will get complete access to the Helium 10 Chrome Extension.
How many users can I add to my Helium 10 premium account?
In the free and platinum plan, you can not add users. But in the diamond plan, you get the option to add three users maximum and in the elite plan, you get the option to add five users maximum.
What is the refund policy of Helium 10?
Helium 10 recently updated their refund policy where they are offering a money-back guarantee for seven days only. However, before this, they used to offer a 30-day money-back guarantee.
Do I need to purchase the Freedom Ticket course separately?
The Freedom ticket course is included in all the premium plans so you don't need to buy it separately. You can use this course to learn everything about becoming a successful Amazon seller.
In which plan does Helium 10 offer the PPC tool Adtomic?
Helium 10 offers complete access to its PPC tool Adtomic in its Elite and Diamond plan. In their Platinum plan, you can only access the analytics & dashboard.