Interested in starting a dropshipping business on the Shopify platform? You've come to the perfect place.
The process of Dropshipping isn't an easy thing, there are a lot of pros and cons associated with it. But with Shopify, you can minimize the chances of risks associated with Dropshipping.
Shopify is one of the best eCommerce platforms available, offering features like an easy-to-use interface, an easy listing of products, payment options, and many more.
What Makes Shopify Best for Dropshipping!
The best part about Shopify is that you can connect the dropshipping supplier directly to your Shopify store by Dropshipping supplier's apps like Spocket, DSers app, Printful Etc. Your only task here is to connect your Shopify store to the Dropshipping supplier, which allows the products to be imported directly into your store.
After reading the entire article you will have a complete understanding of how to dropship on Shopify and also I will be sharing some of the bonus tips which help you to become a successful dropshipper.
How to set up Shopify Store for Dropshipping (Step by Step)
Shopify is one of the most trusted eCommerce platforms wherein it eliminates the hassle of hosting websites for business owners.
Shopify works on monthly subscriptions, Wherein Shopify subscription plans can be chosen according to the number of products you are listing on the website and how many sales you are doing.
The following are detailed instructions for setting up a Dropshipping store on Shopify:
Step #1: Set up a Shopify Account
These are the few steps you need to follow to get started with Shopify:
You can get started with Shopify's 3-day free trial which doesn't require the card details. After the free trial, you can choose the Shopify subscription plans according to your store requirements. 
Get your store's name and logo design. Design your Shopify store from the free themes or paid themes available in the store.
After setting up an account you should add your store name and store address, time zone of the store, currency, and password of your store to keep secure.
The procedure is as follows:
Shopify>Settings>General Settings>Store name(as shown in the image)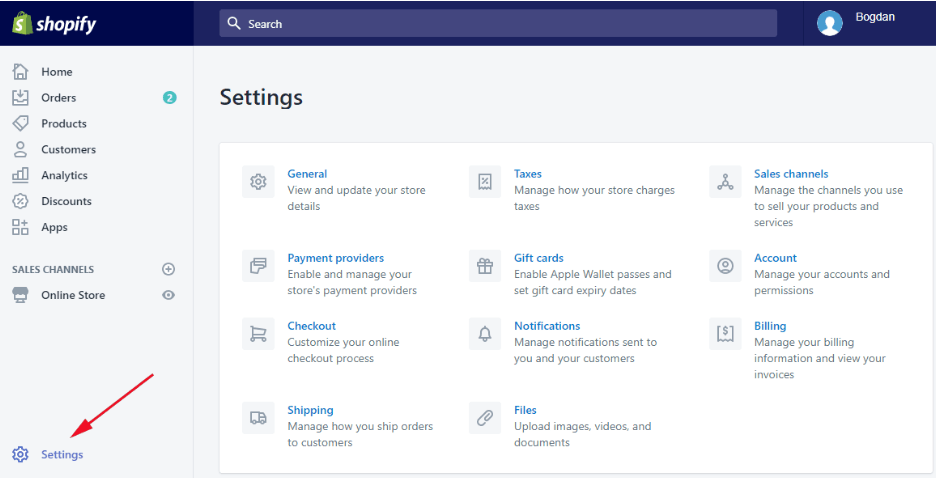 Step #2: Connecting the Shopify store to Dropshipping app
The next step toward building your Dropshipping store is to add the dropshipping app. There are few reliable Dropshipping apps for Shopify, To assist you in selecting the finest Dropshipping app, we've compiled a list of the top 5 performing apps:
Spocket
DSers app
Printful
Modalyst
Dripshipper
We have picked up Spocket for providing the detailed procedure on how to connect it with Shopify.
Go to the Shopify app store, search for Spocket and download it. (Shown in the image)
Install the Spocket on Shopify by clicking on add app
Grant all the necessary permission for the Spocket app to get integrated with your Shopify store
When the app is installed, you will be redirected to the Spocket dashboard.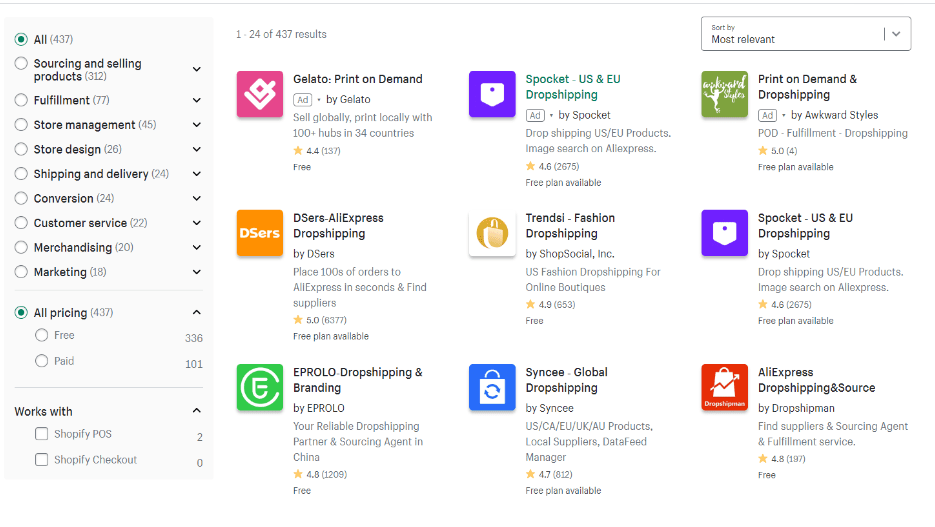 Step #3: Choosing your niche of the product
A merchant must carefully choose the niche of their business since that affects sales rates. Here are a few things to keep in mind while choosing the niche of the product:
It is important to do intensive research on products that are in high demand by comparing them to the products on other eCommerce platforms like Amazon, Walmart, etc. It helps you to find the product which sells more.
Conduct research on social media platforms such as Instagram and Facebook to see which products sell more.
Choose a product that is of high quality. So that it is simple to promote and consumers will choose it again and again.
Maintain competitive rates for your products so that customers can compare and buy them.
Step #4: Listing Your Products.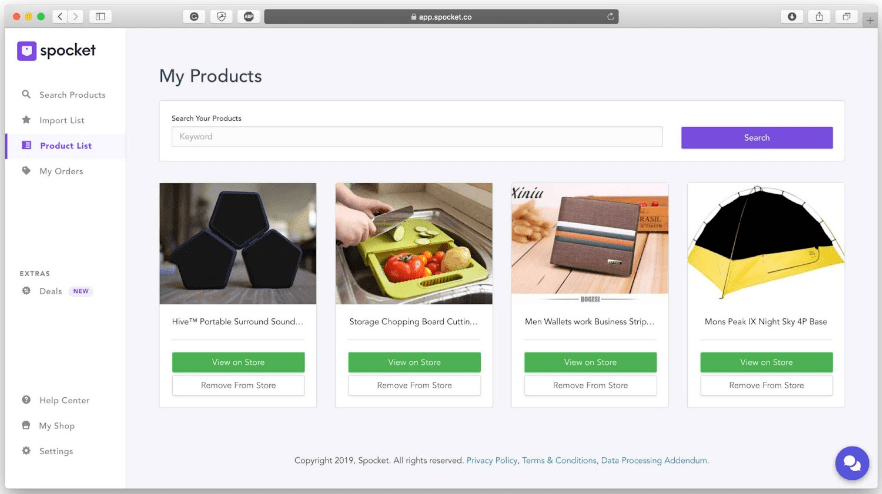 The next step after choosing a niche will be listing the products and importing them from Spocket to your store. The steps are as follows:
Login to the Spocket and search for the products you want to sell.
Add the products you want to sell to your import list in the dashboard shown in the image.
Once you add the products to the import list, You can customize the product details according to requirements.
Once you are done with customization, you can import the products directly to the store by using the 'Push to store' button
Search Products>Import List>Push to Store.
After listing the products successfully, payment gateways need to be configured. (PayPal is recommended)
Set up the shipping rates for your products as follow —
Settings>Shipping>Shipping profile
Choose and set the shipping zones i.e locations where you want to sell your product.
Settings > Shipping and Delivery > Manage rates > Choose Shipping to > Click on 3 dots > edit zones > Choose the countries you want to ship > Done
Once you are done with all the above steps, your store is ready to sell products.
Step #5: Marketing your products apps
Make your Shopify website look attractive and professional to customers
Make your website SEO-friendly to get organic traffic, such as researching the keywords that the targeted audience uses to search the products and including those keywords in your website content will attract more traffic.
Your sales can be improved by using Email marketing by sending discounts, offers, and informative articles to your customers.
You can promote your products on Google, Facebook, or Instagram by running ads depending on where your target audience resides.
You should keep on experimenting with marketing strategies that help you to find out which works well for your business and finally, you can stick on to it.
If you want to get the best results in marketing, you should also conduct A/B testing. This will help you determine which marketing campaign and products are performing well.
Advantages of Dropshipping with Shopify
There are so many advantages to Shopify dropshipping business when compared to a normal eCommerce setup. We have specified them below:
The Shopify eCommerce platform provides almost every feature, which means you do not need to work with an external platform to design, market, sell, engage your clients, collect payments, and run the business.
You can effortlessly understand and use the Shopify app without writing a single line of code. 
Shopify will host the website for you, so you do not have to worry about it. 
Getting orders fulfilled is hassle-free with no shipping partner, generating invoices, tracking orders, etc.
The budget required to start the dropshipping business is less compared to a normal online business.
Your products do not need to be stored in a physical location.
Why Choose Shopify for Dropshipping?
There are hundreds of eCommerce platforms for dropshipping in the market, but why do the majority of sellers choose Shopify for this purpose? Here are some reasons that make Shopify an ideal platform for dropshipping:
Dropshipping Friendly
Dropshipping is all about relieving stress from managing an inventory and order fulfillment process. The best part about using Shopify is that it is designed for all types of sellers, whether you want to sell physical products or digital ones.
The same goes for dropshipping. You don't want to manage an inventory? Not a problem! Shopify's flawless integration will allow you to add your preferred dropshipping supplier. And its automation process and features make things a lot easier. For instance, your customer places an order from your store by paying the listed price, and your supplier will receive the order charging the dropshipping price. Then, the supplier will pack your customer's order and deliver it to their location. In this whole process, you earn a decent profit without making any effort.
User-friendly Interface
Shopify believes in catering to all types of businesses, which is why they keep all the processes of the platform as simple as possible. From creating an online store to selling products, you can manage all aspects without any technical experience or learning curve.
If you are ever stuck with a query, you can check out the Shopify help center, where you can find hundreds of articles related to troubleshooting and other issues. However, when you start with Shopify as a beginner, you will get onboarding assistance that will help you throughout your selling journey.
Advanced eCommerce Features
Shopify is packed with exceptional eCommerce features that help users build a fully-fledged online store. With access to the Shopify App Store, you can add your preferred features to your store to increase your shop's potential. You get enough features to run an online store even without its App Store. When it comes to dropshipping, you don't have to do much on your own. But you still need to promote listed products to your audience.
Hundreds of Integration Options
On Shopify App Store, you can find over 8,000 apps and plugins for various aspects. For dropshipping suppliers, you can find more than 450 apps to integrate with your store. With so many options in the bucket, you can integrate your selected dropshipping supplier with ease.
Many dropshipping supplier apps offer a limited-time free trial, so you can try out an app and check all its features. If you don't think the app is not suitable for your dropshipping business, you can switch to another app without losing your money.
Unparalleled Customer Support
One of the crucial aspects of Shopify is its excellent customer support. This makes it stand out from its competitors. Due to poor customer experience, 50% of consumers abandon their online purchases. That doesn't happen with Shopify. The platform offers 24/7 customer support via email, live chat, forms, etc. This ensures that you can get help from Shopify support staff in various forms whenever you face issues.
Scalability
Shopify is a highly scalable platform, which means you can start with a small store and easily grow it as your business expands. Dropshipping is a hit-or-miss business. If a dropshipping product doesn't work well, you can try more products until you get success. Shopify support and advanced tools will help you throughout your journey.
7 Tips for a Successful Dropshipping Business (BONUS)
To help you get started with dropshipping and grow it successfully, we have prepared some tips:
You should conduct market research to determine which types of products you want to sell in your store.
You should carefully choose your dropshipping supplier, between two types of dropshipping suppliers i.e Dropshipping vendor and Wholesaler. The dropshipping vendors are mostly involved in promoting products. Hence they will charge high for products whereas Dropshipping wholesalers sell the products in large quantities for less price. So It is recommended to choose Dropshipping wholesalers rather than Dropshipping vendors.
After choosing the dropshipping supplier make sure you order some sample products and check the quality of the products
Create a social media community of people with similar interests to help you expand your brand and add more products to your store.
Don't sell the same things as everyone else; instead, find a niche that is in demand and you're passionate about and keep your product prices attractive.
Make your eCommerce store's refund and return policies as simple as possible.
Your marketing strategy is the most important thing you need to focus on to reach the entire target audience and make them customers
Related Read:
Wrapping Up: How to Dropship on Shopify (2023)
We have curated the step-by-step guide on how to dropship on the Shopify store. If you want to get started with dropshipping and succeed at it, this article is the best resource for you.
The tips I have shared in this article will definitely help you to advance in your business. Make sure you are marketing your products consistently to the relevant audience. The information shared in the article is practically tested and the ongoing strategies to skyrocket the sales.
FAQs
Can I dropship on Shopify for free?
Shopify offers a three days free trial to all their new users, but you can not dropship during the free trial period. You need to have a Shopify subscription to start dropshipping. Luckily for you, Shopify is offering its subscription plan at just $1/mo for the first three months; this offer is only for new users.
Is Shopify good for dropshipping?
Shopify is an amazing eCommerce platform for dropshipping because you can easily connect to suppliers to start your dropshipping business here. Platforms like AliExpress will manage stocking, manufacturing, and shipping products to your customers on your behalf.
Are there any risks involved in starting a dropshipping business?
The profit margin of dropshipping business is low, and because of the popularity of this business model, there are many risks involved. For instance, your supplier may not deliver the goods on time or send low-quality products, which will lead to your store getting negative reviews.
Do I need to maintain an inventory to do dropshipping on Shopify?
You need products to sell in your store, but you don't need to maintain an inventory. This is the biggest advantage of the dropshipping model, where the supplier will manage the inventory, do the shipping, and manufacture the products for your store.
Do I need a license to dropship on Shopify?
No, you don't need any kind of license to create a store on Shopify and start dropshipping. But when you start making serious revenue, you might need a business license to establish yourself as an online seller in the eyes of your government.