Looking for a way to try Shopify and its features before you buy its subscription? Then, you're in luck because Shopify offers a free trial of 3 days that gives you access to all the basic features of it.
What's more, Shopify also offers a special 90-day offer after the free trial, where you can access any plan's features for 3 months for $1. Only new Shopify users are eligible for this offer.
Shopify stats show that almost everybody wants to try the exclusive services of Shopify before purchasing a subscription.
In this post, I will help you claim the Shopify free trial with a step-by-step guide. I have explained each step with caution so you can follow the necessary steps and avoid unexpected auto-deducts.
Let's get started here.
Shopify Free Trial Timeline (3, 14, 30, 60, 90 Days)
Shopify has offered multiple trial offer over the past few years, which made it really confusing. But here, we have done thorough research on all the free trials Shopify has offered or currently offering.
Here is a timeline of all the Shopify free trial offers:
| | |
| --- | --- |
| Trial Offers | Availability |
| Shopify 3 Days Trial | Available (No Credit Card Needed) |
| Shopify 14 Days Trial | No longer Available |
| Shopify 30 Days Trial | Discontinued In 2019 |
| Shopify 44 Days Trial | Exclusive for affiliate partners |
| Shopify 60 Days Trial | No longer Available |
| Shopify 90 Days Trial | Available 3 Months For $1/month |
| Shopify 120 Days Trial | Discontinued In 2018 |
| Unlimited Shopify Trial Offer | Only For Shopify Partners |
How to Get Started With Shopify 3 Months For $1?
Before you start Shopify's 90-day trial offer, you need to sign up for the 3-day free trial. You can either use Shopify for 3 days or just get started with the 90 days trial offer.
Step #1. First, you need to visit Shopify's official website. Or click here to reach the homepage directly. Find the "Start Free Trial" button and click on it to start the process.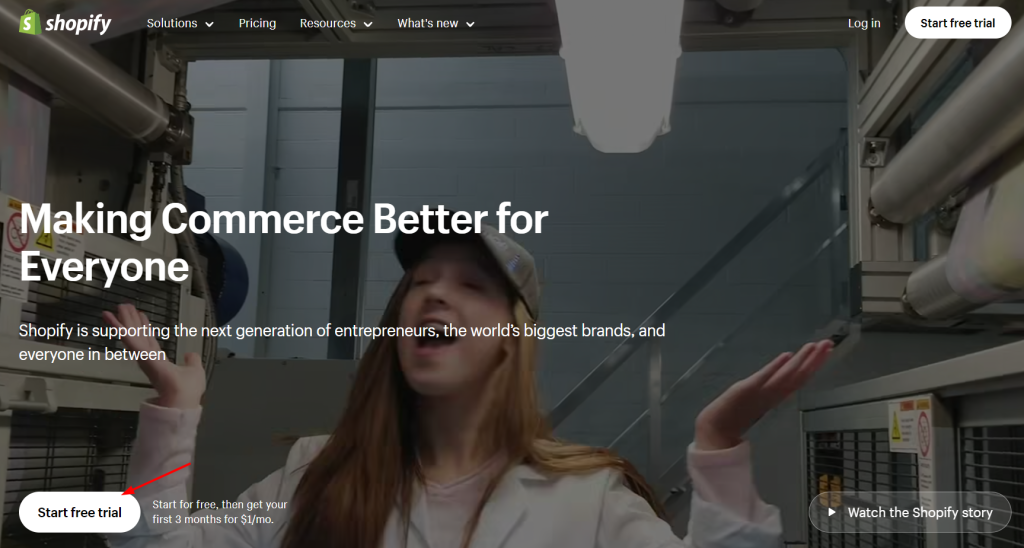 Step #2. The system will ask you to enter your email, password, and store name to create a new account. After filling in all the details, click on the "Create your Store" button to move to the next page.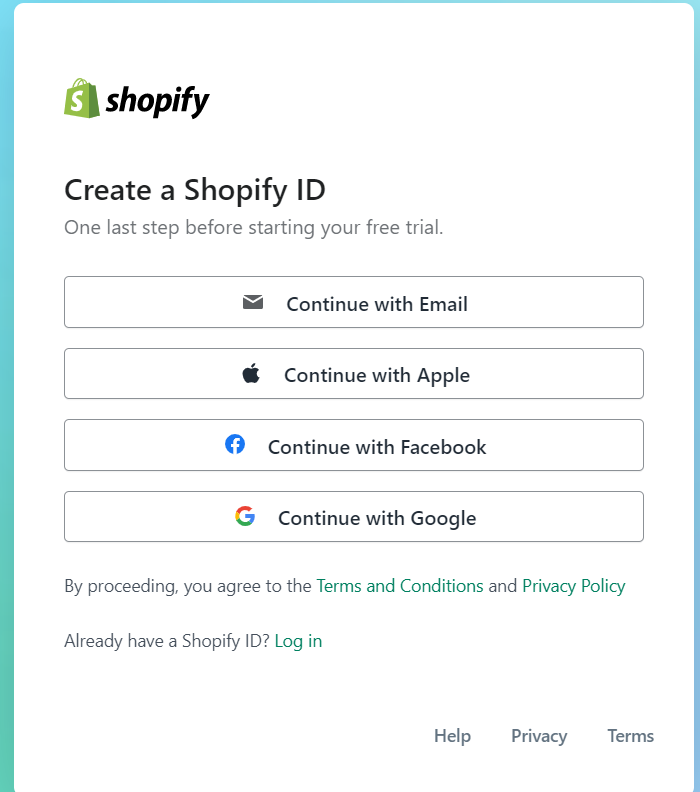 Step #3. Next, the system will ask you a few questions so they can help you get started accordingly. You can either answer the questions and click on the Next button or just click on Skip to move forward.
Step #4. On the next page, you will need to fill in your business address details which include your name, address, apartment, city, region, state, zip code, and phone number. After filling in all the necessary fields, click on Enter my Store.
Step #5. Now, your store is open, and you can add custom themes to give your store a look. You can also add a domain, products, and pages. This is a basic free trial with limited features. If you want to use advanced features, you can choose a plan for your free trial by clicking the "Select a plan" button from the top right corner.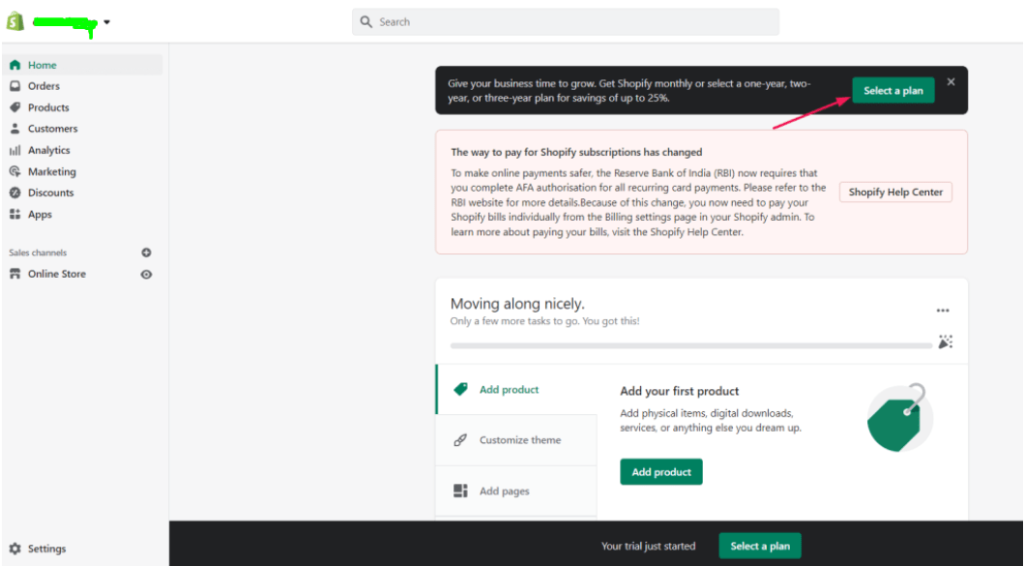 Step #6. On the next page, Shopify's pricing plans will appear. You can compare the features and click on the "Choose this plan" button to get started with your desired plan.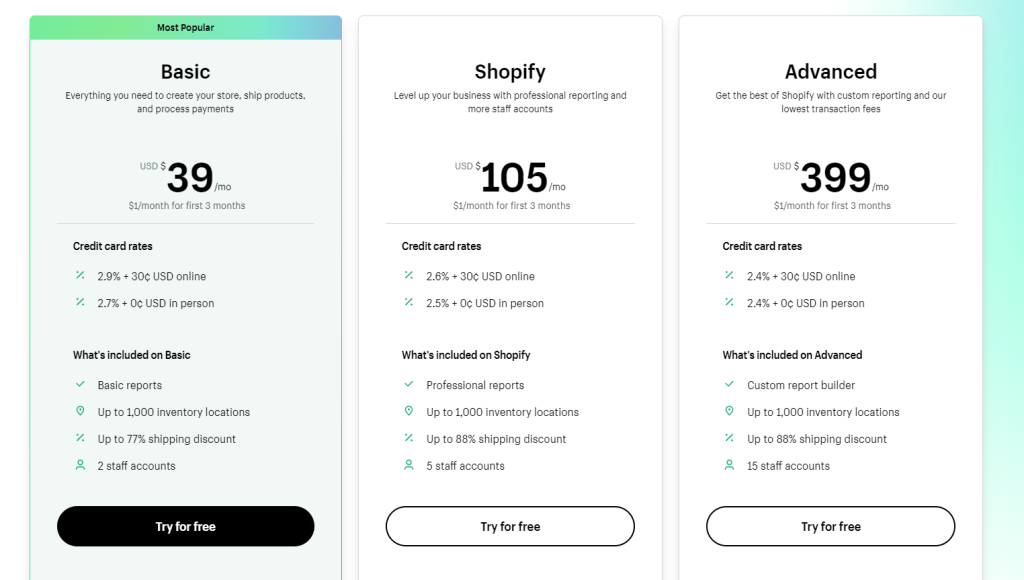 Step #7. Next, you will land on the checkout page. Don't worry; the pricing will stay at $0. Here, you will only need to fill up your credit card and billing address details. It is a mandatory process to start the free trial with a premium plan. Click on Start Plan after filling in the details. 
Note: If you don't want to continue with the plan, I suggest you cancel the subscription before your free trial ends. Otherwise, after the free trial, it will auto-deduct the payment according to your chosen plan.
Shopify 90 Days Trial For $1 (Explained)
Shopify recently introduced a special offer that allows you to use all the features of any plan for 3 months for $1. They introduced this offer after reducing the number of days in their free trial. Now you can try Shopify free trial for only three days.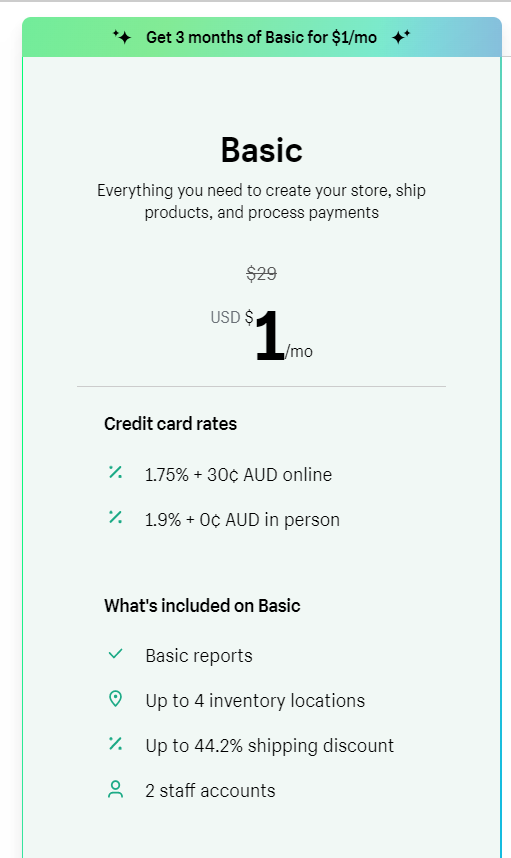 In the basic plan, you can create an online store, create two additional staff accounts, get four different inventory locations, create manual orders, get an abandoned cart recovery feature, get a shipping discount, get Shopify shipping labels on your deliveries, and use the Shopify POS lite feature.
How Can I Extend My Shopify Free Trial?
Recently Shopify has reduced its free trial period from 14 days to three days, and because of that, many people are looking for ways to extend their Shopify free trial. Let me clarify this in simple words, there is no way to extend your Shopify free trial, and if someone is offering an extended Shopify free trial, then they are lying because there is no such thing. I know three days are not enough to test out all the features of Shopify.
That's why Shopify has launched a new offer where you can use the features of any plan for 90 days by just paying $1/month. Usually, the basic plan costs $29/mo, but with this offer, you will only need to pay $1/month for three months. You can get the benefits of this offer after completing your free trial. Remember, this offer is only available for new users only. Now you can enjoy the 90-day trial of Shopify by paying $1/mo.
What Will You Get With Shopify 3 Months For $1?
Here are the features you can access after claiming your free trial.
Create a collection and add your product list
Ability to select a third-party payment provider
Access to Shopify Theme Store and App Store 
Access to Shopify POS app (If you plan to sell in person) 
You will get these basic features with the free trial without selecting any premium plan. The features can vary if you are using a free trial with a premium subscription.
What Can You Do With Shopify Free Trial?
Since the Shopify free trial only lasts for three days, there is not much you can do during your free trial. The number of days on Shopify's free trial can be increased or reduced even further, no one has any idea about it. So it is best to get the most out of your free trial of Shopify. Here are a few things you can do with your Shopify free trial.
You can use any one of Shopify's free themes and create your store out of it in just a few hours.
You can add whatever products or services you want to sell on the Shopify store through the products section. You can also describe your products or services by writing descriptions for them.
To receive payments whenever someone makes a purchase from your store, you can add Shopify's payments option to avoid paying transaction fees.
There are plenty of apps available on the Shopify store, you can find free ones that can enhance the capabilities of your store.
You can also download Shopify's POS app during your free trial and connect your offline and online stores.
You can not publish your store during your free trial. For that, they have a special 90-day trial of their starter and basic plans, which costs only $1/month. You can purchase this offer to use all the premium features of Shopify.
Shopify Key Features
Here are some of the key features and capabilities Shopify offers as an ecommerce platform:
Storefront Website Builder – Customizable store themes and drag-and-drop editing.
Product Management – Unlimited products with variants, inventory tracking, and collections.
Checkout Process – Shopping cart, one-page checkout, Apple/Google Pay, and automatic taxes.
Payments – Accept credit cards, PayPal, and other popular payments. Integrated processing.
Order Management – Process and fulfill orders with shipping labels and tracking.
Discounts – Create discounts and coupons to drive sales and promotions.
Reporting – Integrated store reporting and analytics on sales, traffic, inventory, and more.
App Integrations – Add functionality like email marketing, live chat, and accounting through apps.
Online Selling Channels – Sell through online stores, Facebook, Instagram, Pinterest, and more.
Point of sale – In-person hardware and app options for brick-and-mortar stores.
Abandoned Cart Recovery – Recover lost sales through automatic abandoned cart emails.
With its robust sales channels, payment processing, and marketing features, Shopify aims to offer an all-in-one commerce solution for selling businesses.
Shopify Pricing Plans
Currently, Shopify offers three plans to its users. Each of them is available in monthly, yearly, 2-year, and 3-year formats. You can upgrade to a premium plan once your free trial ends. Before we get into plans right away, we also have an exclusive Shopify discount code that can help you save a few bucks.
Let's have a look at the plans.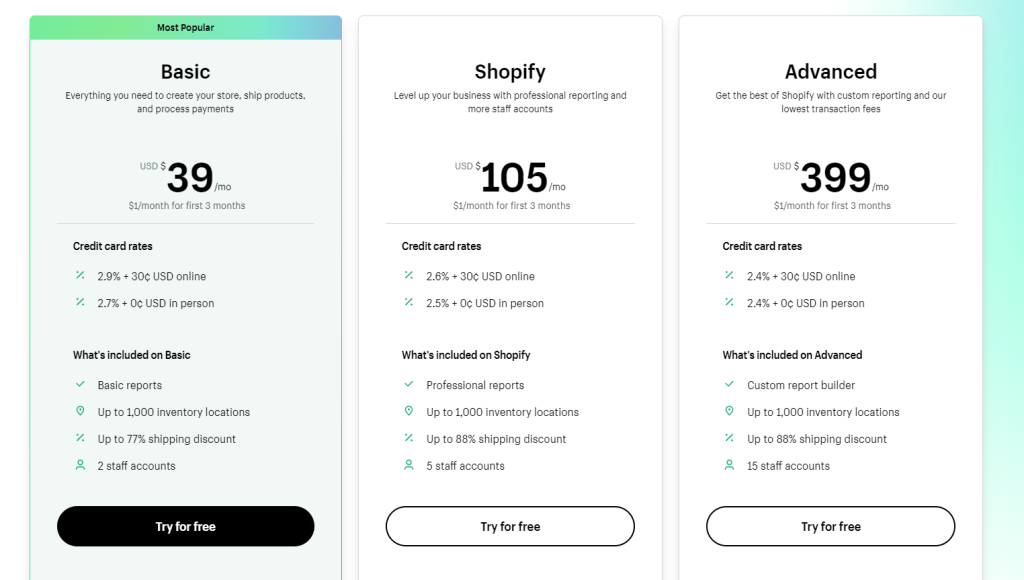 Basic – $39/month or $29/month if paid annually
Shopify's Basic plan is an ideal plan for new eCommerce businesses.
2 User/admin access
4 inventory locations
Unlimited products
Basic weekly reports
Abandoned cart recovery
2.0% transaction fees
Shopify – $105/month or $79/month if paid annually
This is Shopify's most popular plan and best suited for growing businesses.
All Basic plan features
5 User/admin access
5 inventory locations
Standard weekly reports
1.0% transaction fees
Advanced – $399/month or $299/month if paid annually
Shopify's Advanced plan comes with more profitable features. The plan is best for well-established businesses with high-volume sales.
All Shopify plan features
15 User/admin access
8 inventory locations
Advanced weekly reports
0.5% transaction fees
Third-party calculated shipping rates
Duties and import taxes
You can get an additional 20% discount on 2-year and a 25% discount with 3-year plans (when paid upfront).
Related Read:
Conclusion: Shopify Free Trial (2023)
Shopify has decreased its free trial limits to 3 days. It used to be 90 days, then it changed into 60 days, and now it's only 3 days.
Due to their high demand, the trial period may be reduced or completely terminated at any time. So, make sure to grab the offer as soon as possible. Shopify also offers promotional free trials in some particular regions. Keep an eye on those offers as well.
FAQs
Does Shopify still offer a 90-day free trial?
Shopify is currently offering a 90-day trial offer where you can access the features of any Shopify plan at just $1/month. The pricing will go back to normal as soon as your 3 months ends.
Do I need to give my credit card details to sign up for Shopify free trial?
Shopify does not ask for your credit card details when you sign up for the free trial. If you do decide to purchase a plan after the free trial, only then you need to provide them with your card details.
Can I ask for an extension on the Shopify free trial?
Yes, you can ask for an extension on your Shopify free trial, but you need to have a valid reason for asking for the extension. As soon as they approve your request, you will get an extension.
Does Shopify allow you to sell products during the free trial?
Shopify does not allow you to sell products during the free trial. To sell products, you need to have an active subscription to Shopify.