Online businesses have become increasingly popular by their ability to sell products remotely. If you're on the fence about launching your E-commerce store, this is the only guide you'll ever need.
Over the last two years, I've noticed that over 60% of the web is populated with E-Commerce stores, giving this market a market cap of 4.8 billion dollars. Trust me, I have set up 2-3 different E-Commerce stores. To make your process more precise and free of delays, I've created a step-by-step guide to help you get started with your E-Commerce store. It helps you set up your E-Commerce store within the least budget and time and with no technical knowledge.
Once you read the entire instruction from beginning to conclusion, you will be able to start your successful E-Commerce business. Here we go, follow all the steps it helps you to set up your E-Commerce store right away.
How to Start An Ecommerce Business (Step By Step)
Here is a step-by-step guide on How to Start An eCommerce Business there.
Step 1: Find the Right Business Niche and its Market Size
The first move in starting an E-Commerce store is to find a niche in which you want to start your business. There are multiple factors to be considered while choosing a niche of your business. Some of them are Demand in the market, Scalability of the business, Market size of the product, and many more.
To begin, you must first select a huge niche in which you can build your business on a larger scale. As you see your business grow over time, this helps you expand it.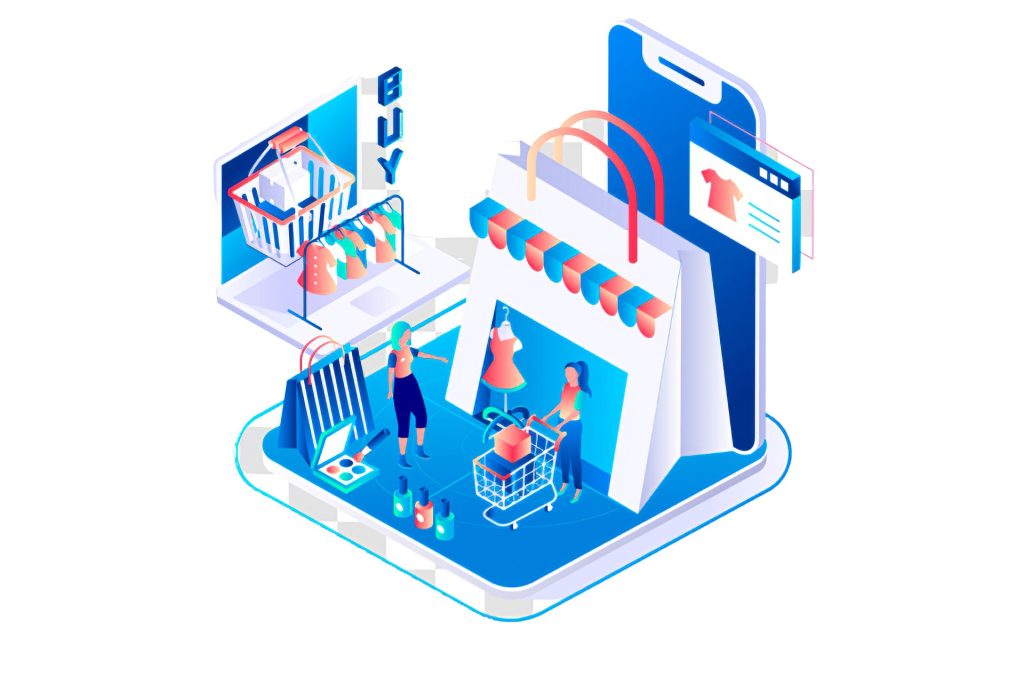 You also need to check the demand for the products you have decided to sell in the market. This allows you to know the product details and potential customers.
Check the scalability of your niche and whether you can scale up your business if you get the chance to grow your business.
These are the few significant steps to steps to follow if you want your online business to be successful.
Step 2: Research and Outline Your Business Model
After choosing the niche of your business, you need to understand the in and out of the niche and figure out the outline of your business model.
Some of the most important things to consider are: What are the entry barriers? What are the risks involved? How to get Traction? What is the earning model of the business if the product is digital or service-based?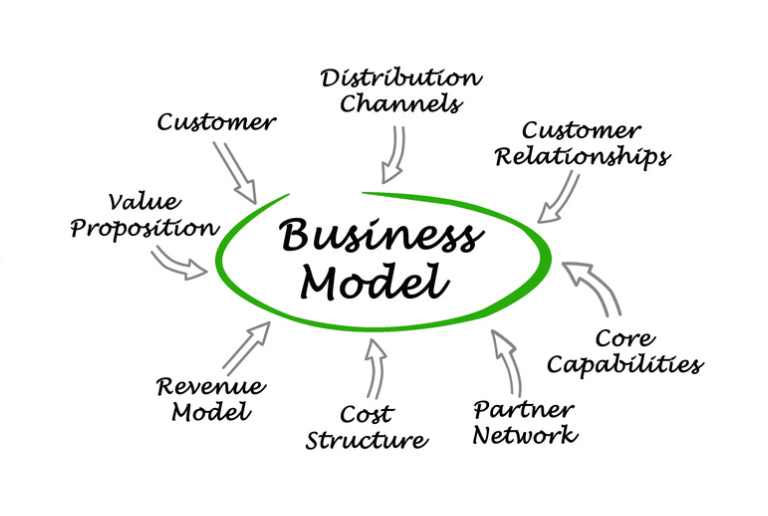 You need to be clear about the process and how exactly it works out. If you choose complicated business models like pet grooming, courses, rentals, tour bookings, etc.
You should identify the entry barriers of the business you have chosen. If there are any you should plan a strategy to overcome the barriers.
Every business will have a certain kind of risk involved in the products they choose to sell. For example, let's say you are running a business of perishable products it needs to be taken care of with extra care of cold storage. This is a major risk if the product is not preserved properly it may get spoiled.
When starting a new business it is important to get traction from the potential customers, which is most necessary to gain some profits in the initial stage.
Again, when it comes to service-based E-Commerce services, so you should plan a strategic earnings model. The earning model should be in such a way that it should be accepted by the customers, so they should be ready to pay you.
Step 3: Get EIN and Get Permit Licenses for Your Store.
If you are in doubt about whether an Online business requires EIN and license? Yes, you need to have a license no matter whether you are running a business online or through a brick-and-mortar store. Because the government needs to be aware of your company's revenue and taxes.
Here are the steps to get your EIN in a single go:
Open the IRS website by clicking on the Apply for an Employer ID Number (EIN).
Check the guidelines on the EIN application page and click on 'Apply Online Now' which will take you to the EIN Assistant page
Click on 'Begin Application
You need to answer all the questions asked in the applications regarding business and personal details.
After the above step, you should submit the application and You will be provided with the Employer ID Number on the spot. You just need to download and print your EIN.
These are the few steps you need to follow to get the Permit License for your online business:
The SBA website provides a list of licenses and where to get them based on your business type.
If you are running your E-Commerce business from home, you will need a zoning permit as well
Submit the required details on the website and apply for the license.
You will get your E-Commerce business license.
You should renew your business license when it expires.
These are the main steps you should follow to get an EIN (Employer ID Number) and License for your online store.
Step 4: Create an eCommerce website
After you've completed all of the previous steps, the most essential element of starting your E-Commerce store is building a website. There are multiple platforms to create an E-Commerce website like Shopify, WooCommerce, Big Commerce, Magento, PrestaShop, etc.
For now, let's consider Shopify as an example. There are certain steps to be followed while creating a Shopify E-Commerce website. You can have a look at the steps below:
Shopify offers a 3-day free trial to help you get started with your E-Commerce store.
Decide a name and prepare a logo for your online store.
After you are done with the above steps you need to add the official name of the store and where it is located.
Shopify > Settings > General Settings > Store name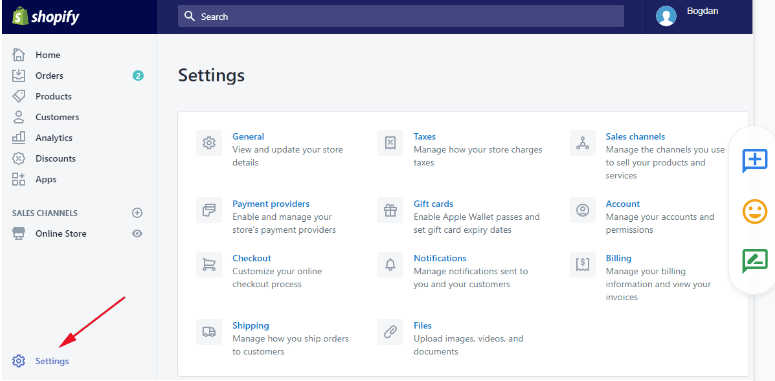 You should set up the basic settings of shipping like the ship from address, Managing rates, Shipping profiles, etc.
Settings > Shipping and Delivery > Manage rates > Choose Shipping to > Click on 3 dots > edit zones> Choose the countries you want to ship
These are the basic steps you need to follow while setting Shopify account.
Step 5: Get the Product Inventory Ready
After the successful creation of the E-Commerce website, you need to add products to the store. To do this, you should have the inventory of the products which you have decided to sell.
Decide whether you will manufacture the products or outsource them from wholesalers. If you want to manufacture the products you should have a dedicated team and production units for production.
If you want to outsource the products ask for the sample and outsource only the best quality products. This will help you to get customer retention. When beginning the store it is better to outsource products, Because it might become messy and risky if you choose to manufacture.
Step 6: Promote Your Products Online
There are several digital marketing options available for marketing your products. Some of them include Social Media, Search Engine Optimization, Email Campaigns, Google Ads, Facebook ads, etc.
After successfully setting up the Shopify store following the procedure in step 2, you need to promote your products online to increase your sales. There are multiple marketing apps you can utilize to market your products. Some of the useful marketing apps you can use are AVADA SEO Suite, Plugin SEO, SocialShopWave, Social Autopilot, Omnisend, Klaviyo, AdScale, etc
Initially, you can choose a low-investment marketing tool or a free version of the tools to market your products. There are indeed many people out there who already sell the same products. So you need to have USPs(Unique Selling Proposition)  to grab the attention of the customers. Below is a brief overview of how to utilize the different types of marketing options available to you.
The best way to get customers organically is through Search Engine Optimization. You just need to create optimized content relevant to your products and publish it on your website. It helps to drive organic traffic to your website. Know which keywords your prospective customers are using to search for your products. Create appropriate content using the keywords. If you follow on-page and off-page SEO procedures, your content will succeed.
Social Media is the best platform to draw the attention of the relevant audience. It helps to create your brand awareness and allows you to reach a large number of consumers. You just need to create engaging content. You can also integrate Social media with your E-Commerce store which helps to get maximum customers out there.
Email Marketing is an amazing way to reach out and find prospects who can turn out as your customers. You can send informational content, articles, and product-related pieces of information with email campaigns. Mail Chimp is one of the most used Email Marketing applications, which also comes with a free plan. Small businesses can try out email marketing for free with the free version of Mail Chimp. Once you get the email ids of your customers, you can also send discounts, coupons, and sale offers, which increase the sales of your store.
Advertising your products on Google ads and Facebook ads is the most effective way to reach the maximum number of potential customers. It is the best way to sort out who can see your ads based on age, location, gender, and many more. So you can target the audience based on the demographic options available. Ads are effective in covering a large audience and increasing sales.
These are the Marketing options you can use to increase your sales. By proper usage of these platforms, you will surely reach more people.
Expenses for starting an E-Commerce store
The following are the estimated costs to start an e-commerce business:
| | | |
| --- | --- | --- |
| Phases | Particulars | Estimated costs |
| Phase 1 | E-Commerce platforms | $16-$35 per month. |
| Phase 2 | Domain name and Host your website | $4 to $5,000 per month |
| Phase 3 | Business licenses and permits | $10 to $50 |
| Phase 4 | Payment Gateway | 2.9 percent plus $0.30 |
| Phase 5 | Inventory and shipping | Depend on the size of the store |
| Phase 6 | Marketing and advertising | Depend on requirements |
Top 5 eCommerce Business Models to Consider
Once you have the perfect blueprint for your online business, you will need to pick the right business model for your business. Choosing a business model heavily depends on your budget and availability. Here are the top business models that you can consider for your online storefront:
1. Private Labeling
In this business model, entrepreneurs have no intention to source products from third-party suppliers or manufacturers. Instead, they manufacture and produce their own products under their brand name. You can also partner with other businesses to promote or sell your product, but you will have full control over your brand as the manufacturer.
A private label business is definitely one of the most profitable business models, but this one also requires huge capital investment. You can expect to invest between $1K to $15K for every product you want to private label. However, you will get full control over your quality, production, and revenue.
2. Dropshipping
In recent times, dropshipping has been one of the hottest business models for entrepreneurs. The reason for its popularity is that it is low-risk and requires a small investment to start. In this business model, you don't have to carry an inventory or handle the fulfillment process. All you have to do is find a dropshipping supplier, and they will deliver the product to your customer.
Finding a reliable supplier is the most challenging part of this business model. Once you find your ideal supplier, you can promote their products in your online store. When a customer places an order, you pay the supplier's price and forward the order to them. Then, they will pack and deliver the order to the customer's doorstep while you receive a profit acting as a middleman.
3. White Labeling
This business model has a similar concept to private labeling. But instead of launching your own unique products, manufacturers launch identical items that are sold by multiple retailers under different brands. Unlike private labeling, third-party retailers sell your products under their brand name instead of yours. Thus, you may have control over distribution and production, but there's almost no control over your brand or product once it is sold.
However, this business model requires less capital investment than the private label. And these types of products are always in-demand. So more demand, more production, and more earning opportunities.
4. Wholesaling
This type of business model involves selling products in bundles or bulk. Typically, wholesalers sell their products to other retailers, making it a B2B business type. Wholesale products are usually in high demand, but the profit percentages are not that high unless you manufacture your own products.
That's why most wholesalers are manufacturers of their own products. You can also start a wholesaling business as an individual, which can be rewarding as well. But you will need to find the best wholesaling website or supplier from where you can purchase products at a cut-rate price.
5. Digital Products
Selling digital products online is one of the most profitable business models. If you are a software developer or gaming designer, you can sell your digital product without worrying about inventory, fulfillment, or the involvement of a mediator. There are hundreds of options to sell digital products, including online games, applications, online courses, eBooks, audiobooks, or music.
This type of business requires a one-time investment to create your perfect digital product. Once completely designed and uploaded to your eCommerce platform, customers can purchase and access it instantly with a good internet network. Once the business is set up, the process will be automated. And you will only have to pay attention when it requires any bug fixing or update.
Tips To Start An Ecommerce Business
Starting a new business can be scary and risky; that's why you need to do proper research before getting into the ecommerce industry. Here are a few tips that you should keep in your mind before starting your business.
1. Start Slow & Simple
The biggest mistake you must avoid when starting an eCommerce business is going all-in. That can be risky, and it might give your better rewards just high risk and high reward theory, but it might not be true for everyone. That's why when you're starting your business, start slow & simple, and work hard to nurture your business. This strategy will definitely help you grow your business. When you're starting a business for the first time, you should always remember this tip; however, if you know the ins and outs of the eCommerce industry, then you can go all in.
2. Know Your Target Audience
You should know who your target audience otherwise, your business will fail miserably. If you know your target audience, you can then create strategies to get their attention. For it, you need to do extensive market research on the niche you're going to open an eCommerce store. This will help you in putting your products in front of the right audience who will actually buy them.
3. Sell A Product Which Is In Demand
It is easy to sell products that are high in demand but then everyone is selling the products which are in demand. So how you're going to differentiate in a saturated market? You need to do extensive product research and find a low-competition, high-demand product to sell, which will increase your chances of getting sales.
Related Read:
Final Thoughts: How to Start An Ecommerce Business (2023)
This is my comprehensive guide to launching your online store. This will definitely help in progressing with the venture of starting a sour E-Commerce Store. If you want to start an online business, the method described above is the most crucial factor to consider. It is critical to remember not to hurry into starting a business. It is important to be patient and analyze the above said steps and proceed further.
FAQs On eCommerce Business
How much does it cost to start an eCommerce business?
To start an eCommerce business, you will need a custom domain for your store, hosting service, developer services, and maintenance services, and they are the bare minimum costs to start. If you want to start a professional eCommerce business, then you can get started with $5k to $10k.
How many types of eCommerce businesses can you start?
Four different eCommerce businesses you can start: B2B (Business 2 Business), B2C (Business 2 Consumer), C2C (Consumer 2 Consumer), and C2B (Consumer 2 Business).
Is eCommerce a profitable business?
Yes, eCommerce business can be very profitable, but you just have to be patient to see visible results. It can take from six months to two years to establish a profitable eCommerce business. The timing varies depending on the strategies you're using to bring traffic to your website.
Is it late to start my eCommerce business?
It's never late to start an eCommerce business because, with the rise of online purchases, the eCommerce industry is supposed to grow more and more in the future. You can start now, but you must be patient to see the results.
Can I start an eCommerce business without any investment?
Many eCommerce business ideas don't require you to invest in the beginning. You can start a dropshipping business, a print-on-demand business, and so on. These businesses don't require a lot of investment to start.