Looking for a discount on your Squarespace subscription? Check out these Squarespace promo code & coupons to save a few dollars.
Currently, there are several promotional offers and Squarespace discounts available for Squarespace premium subscriptions. In this article, I am going to discuss some of those available offers that work in 2023. I will also explain how you can claim the offer.
So without any further ado, let's get going.
Squarespace Promo Codes (2023)
As of now, there are 3 major promotional offers available for Squarespace. Let's have a look:
Standard Discount
Code – GIMME10
Discount – Flat 10%
You can claim this offer if you are planning to buy any of the available yearly plans of Squarespace. After you finish the registration process, simply use the code GIMME10 on the checkout page. You can enjoy a flat 10% discount on your final invoice amount.
The Annual Purchase Discount
Code – Not Applicable
Discount – Flat 30% on the Business plan, 25% on other plans
The next one is the Squarespace Annual Saving Plan. There is no coupon code required for this one. If you purchase Squarespace's most popular Business plan, you are automatically eligible for a 30% discount.
The annual deal is also available on other plans as well, but the discount is 25%. So if you are willing to use the platform for the long term, simply get yourself a business plan and enjoy the flat 30% discount. When you complete the registration, you will see the discounted price on the checkout page.
Student Discount
Code – One-time code
Discount – 50%
Student discount is available only on a new annual subscription. If you are a student, you can get yourself up to a 50% discount on the purchase of any of the 4 available plans. You must meet the student criteria.
How To Claim Squarespace Promo Codes?
Now, let's see how you can claim the discount offers at Squarespace. Check out this step-by-step tutorial:
Step #1. Visit the official page of Squarespace and click on Get Started, located at the top-right corner of the page.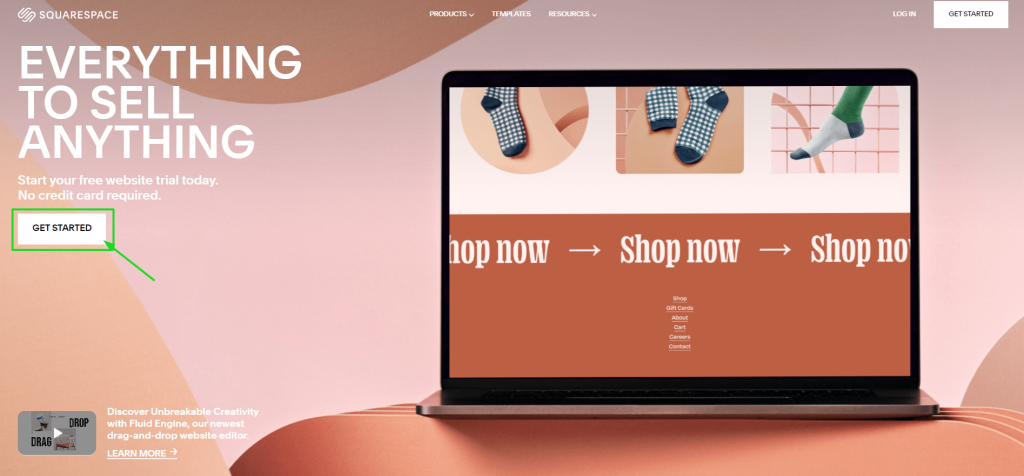 Step #2. On the next page, you will be asked to pick your website category. If you don't find it within the options, write it in the box which says Describe your site… Click on Next.

Step #3. Next, choose what your purpose is behind creating a website. You can also skip this step if you want. Click on Next.
Step #4. On the next page, choose the stage where you are in your business. And then click on Finish.
Step #5. After you finish the introduction process, you will be redirected to the Template page where you can choose the design for your website.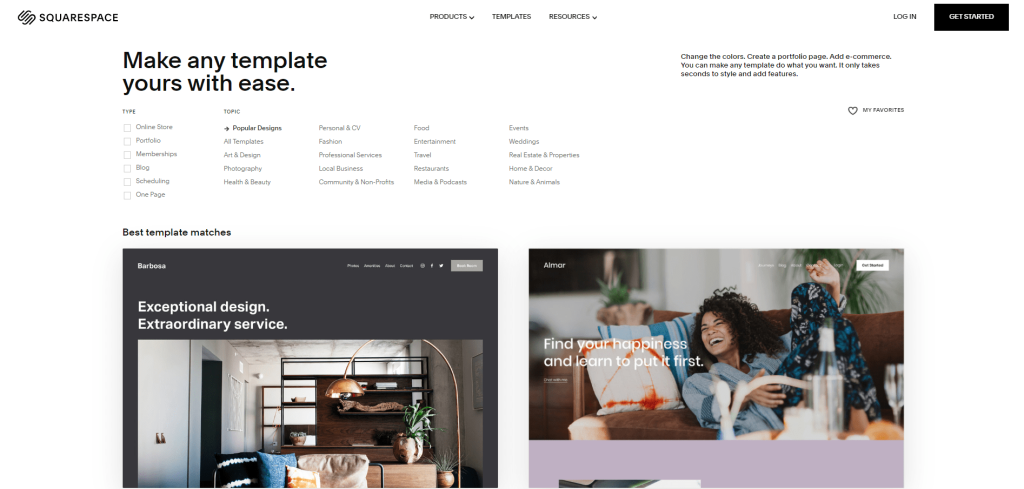 Step #6. Simply browse through the page, and pick the design that suits your business the most. You can also browse for more templates using the Category and Type filters. Additionally, you can add as many templates to your favorites by clicking the heart icon.
Step #7. Once you select the template, you will be redirected to the Sign-up page. You will need to create a Squarespace account using your certified email id. You can also use your Facebook account to process. Step #8. Simply provide your name, and email id, and create a password. Click on Continue to proceed further.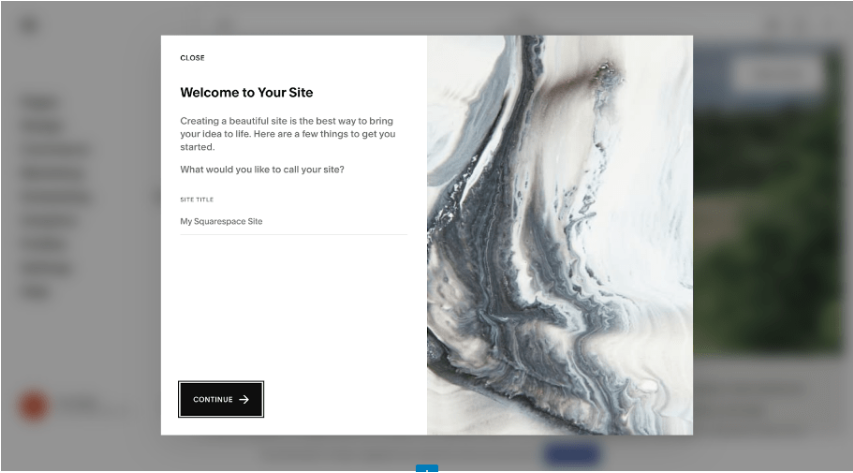 Step #9. On the next page, choose a name for your website and click on Continue to finish the setup.


Step #10. You will be registered for a 14-days free trial. If you want to purchase the premium plan without using the trial, click on the Subscribe button placed at the bottom of the page.
Step #11. On the Plan page., choose your payment cycle (Monthly or Annually) and select the plan you want to purchase.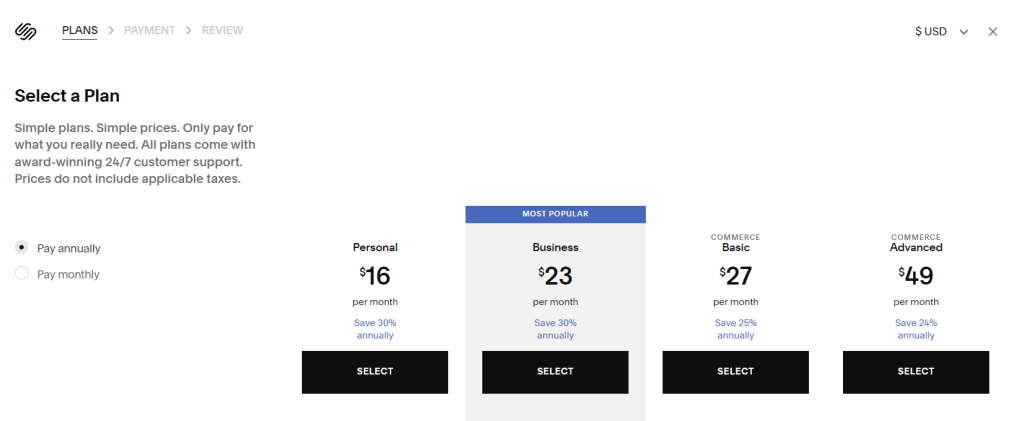 Step #12. Provide the care details, and billing address, and complete the payment by clicking on Save and Continue.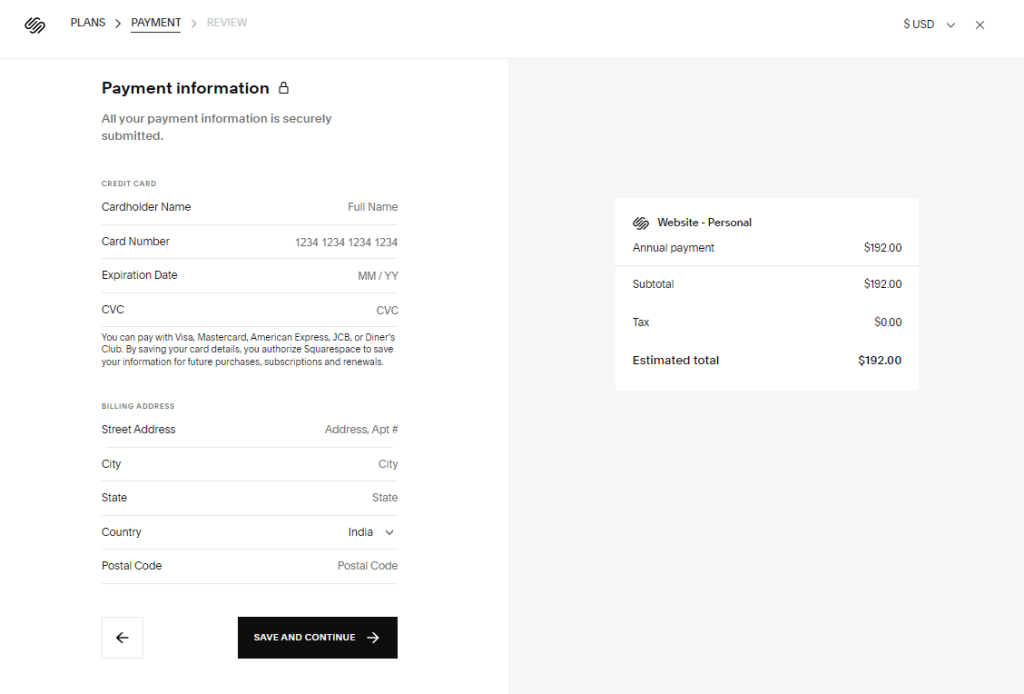 Once the payment is successful, you will get an email containing the purchase and subscription details. You can enjoy the Squarespace premium services now.
What is Squarespace?
Squarespace is a platform that provides you with various design templates and tools to create a website. It's a DIY website design company where you can build a custom website without learning any programming language or website designing.
Anthony Casalena, the company's founder and CEO, created Squarespace in 2003 as a blog hosting service in Maryland, United States. He was the only employee of the business for the first few years, but by the end of 2006, the platform began to experience significant growth. By the end of 2010, it had grown to 30 employees and a $ 78.5 million organization.
The business generated a staggering $784 million in revenue in 2021. There are 1143 people working for Squarespace at the moment.
In addition to website hosting, Squarespace offers a variety of additional assistance, such as domain name service, e-commerce tools, SSL protection, SEO services, and so on.

Here are some key features and services offered by Squarespace:
It offers attractive website design templates suitable for any kind of business, such as blogs, e-commerce, SEO, and much more.
There are easy drag-and-drop editing tools so you can design your website as you want without needing any coding experience.
You can integrate social media accounts into your website to direct traffic smoothly.
Squarespace also provides domain name registration services,
It offers several email marketing tools to build a strong customer base.
There are payment tools available for e-commerce websites, including checkout and taxes.
Squarespace also provides various website analytics and information.
For e-commerce websites, there are exclusive tools available that help you design a smooth shopping website.
SEO business solutions and tools to generate organic traffic.
Squarespace Free Trial
Squarespace also offers a 14-day free trial that allows you to use all the features of Squarespace before you buy its subscription. You can choose any template you want to create for your website during the free trial. You will also get a Squarespace domain for free. But you can't take your website online or connect it with a custom domain without subscribing to a paid plan.
Why Should You Choose Squarespace?
Squarespace comes with a free trial that lasts for 14 days which is more than enough time for you to figure out whether this platform is right for you or not. You can use Squarespace to create a blog website, eCommerce store, or combine both of them. Squarespace offers a lot of templates that are divided into categories and niches. You can use these templates to create your complete website within a few minutes. With its dashboard, you can create & control all the aspects of your website.
If you get stuck somewhere or don't know how to use a feature, then you can directly contact their support team because they are available 24*7 to help you out. With Squarespace's annual subscriptions, you will get a free custom domain that you can directly connect to your Squarespace website. Squarespace's SEO features can help you rank your pages & website on the first page of search engines.
Squarespace: Pricing and Plans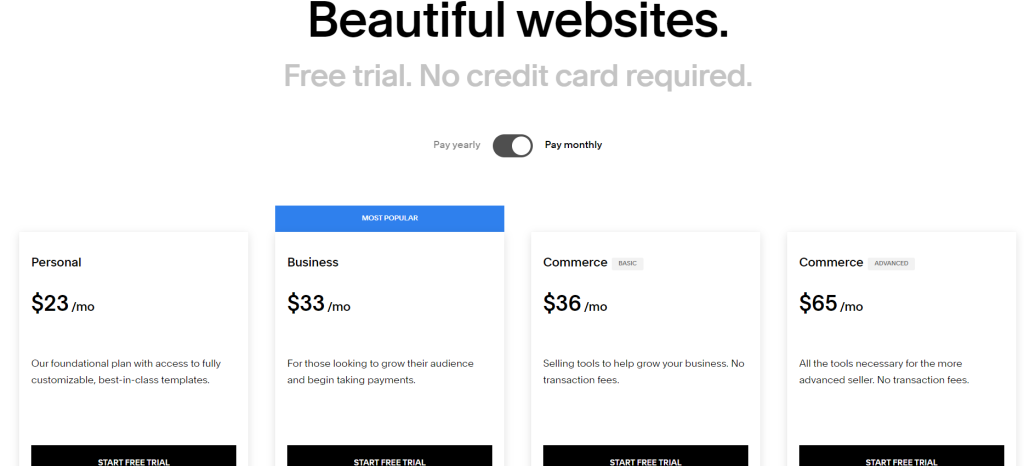 Personal Plan
The personal plans cost you $23/month. You get unlimited bandwidth benefits, up to 30 minutes of video storage capacity, SSL security, and unlimited free templates to begin with.
You also get a 2-user license, round-the-clock customer service, and basic Squarespace extensions. You can save 30% if you purchase an annual subscription to the Personal plan.
Business Plan
The business plan comes at $33/month. Apart from everything from a Personal plan, it provides a multi-user license, email marketing service, premium integrations, CSS and Javascript customization, etc.
You also get advanced website analytics, $500 worth of Google Ads, and the facility to add unlimited products to your e-commerce website. With Business plans, you will be required to pay a 3% transaction fee on every sale. There is a 30% discount applicable on the annual subscription.
Commerce Basic
Commerce basic plan comes at $36/month and includes every feature of both Personal and Business plans. Additionally, you get point-of-sale assistance, the ability to keep customer accounts, own-domain checkout service, etc.
Here, you also get power e-commerce tools, merchandise tools, labels, and a provision to sync your social media account to our website to highlight your products on your social media. There is no transaction fee applicable for Commerce Basic account holders. You get a flat 25% discount if you purchase the annual subscription to the plan.
Commerce Advanced
This plan is tailored for businesses running a lot of websites. It costs you $65/month and allows you to use every premium tool and feature of Squarespace. There are several benefits in addition to everything from the other 3 plans, such as cart recovery, the ability to sell product subscriptions, advanced shipping tools, and much more.
There is also zero transaction fee as well as the facility to offer discounts and promotions on your products. There is a 24% discount on the annual payment of the plan.
| | | | | |
| --- | --- | --- | --- | --- |
| Features | Personal | Business | Commerce basic | Commerce Advanced |
| Free Custom Domain | ✔ | ✔ | ✔ | ✔ |
| Unlimited Bandwidth | ✔ | ✔ | ✔ | ✔ |
| SEO Features & Tools | ✔ | ✔ | ✔ | ✔ |
| Transaction Fee | n/a | 3% | 0% | 0% |
| Users license | 2 | Unlimited | Unlimited | Unlimited |
| Email service | ✖ | ✔ | ✔ | ✔ |
| CSS, Javascript Support | ✖ | ✔ | ✔ | ✔ |
| Sell Products & Gift Cards | ✖ | ✔ | ✔ | ✔ |
| Customer Accounts | ✖ | ✖ | ✔ | ✔ |
| E-commerce Analysis | ✖ | ✖ | ✔ | ✔ |
| Sync with Instagram | ✖ | ✖ | ✔ | ✔ |
| Advanced shipping | ✖ | ✖ | ✖ | ✔ |
| Commerce API's support | ✖ | ✖ | ✖ | ✔ |
| Cart Recovery | ✖ | ✖ | ✖ | ✔ |
| Promotional Pop-ups | ✖ | ✔ | ✔ | ✔ |
| Advanced Analytics | ✖ | ✔ | ✔ | ✔ |
| Sell Subscription | ✖ | ✖ | ✖ | ✔ |
| Merchandising Tools | ✖ | ✖ | ✔ | ✔ |
| 24/7 Customer Care | ✔ | ✔ | ✔ | ✔ |
| Check-out on Your Domain | ✖ | ✖ | ✔ | ✔ |
| Google Ads Credit ($500) | ✖ | ✔ | ✔ | ✔ |
Related Read:
Final Word: Squarespace Discount Code (2023)
If you are thinking about starting your business, Squarespace provides you with easy-to-use website crafting tools as well as pre-designed templates. All you need to do is drag and drop the elements as you want them on your page. A website is a window to your business that allows the customers to see the depth of your brand and the seriousness of your motive.
Also, there are several tools that can help you create a ready-to-go e-commerce/ point-of-sale platform where you can showcase your products, offer discounts to your customers, and keep an eye on your inventory and other business-related activities.
Personally, I will advise you to purchase the annual subscription to the Business Plan. There is a 30% discount which makes it a good value for the money.
FAQs On Squarespace
What is Squarespace?
Squarespace is a website creation platform that allows users to build commercial websites using simple tools and pre-designed templates.
Is there a free version of Squarespace?
Unfortunately, there is no free version of Squarespace as of now. However, you can register on the website for a 14-day free trial period.
Is Squarespace better than WordPress?
WordPress and Squarespace are both powerful website builders with many unique features. WordPress offers amazing plugin services that can enhance your website performance. That's the only difference.
Which Squarespace plan is the best?
The Business plan is the top-selling plan from Squarespace. It costs $23/ month. You can get a 30% discount if you purchase the annual subscription. 
Does Squarespace offer refunds?
Yes, Squarespace offers refunds only on the annual plans. If you cancel your annual subscription within 14 days of the purchase, then you will get a refund. There is no refund available on the monthly plans.
Can I transfer my existing website to Squarespace?
Yes, you can transfer your website and its content to Squarespace, but your search engine rankings will be affected to protect those rankings, you should check out the help page of Squarespace.
Can I buy a domain on Squarespace?
You will get a Squarespace domain for free when you sign up on Squarespace, but if you want a custom domain for your website, then you need to go to the settings option and click on domains and start buying the domains of your liking.