Looking for a Shopify discount code? Don't worry! I have a couple of Shopify discount codes for you.
Shopify is a complete eCommerce hosting platform that helps you start and manage your online store. Shopify offers advanced eCommerce features at a budget-friendly rate. However, it can still be expensive if you have just started your business. Fortunately, they offer a few occasional discount codes for beginners that can save you extra money on available plans.
In this post, I have listed two working discount codes for Shopify plans. I have also included a step-by-step guide on how to claim the Shopify discount code.
So let's dive right into the post with me.
Available Shopify Discount Code (2023)
Shopify usually doesn't offer many discounts, but they are currently offering one discount to their users, and it is the annual 25% discount on all their plans. Here is a quick overview of those plans:
| | | |
| --- | --- | --- |
| Shopify Plan | Original Price | Discounted Price |
| Basic | $39/month | $29/month |
| Shopify | $105/month | $79/month |
| Advanced | $399/month | $299/month |
How to Claim Shopify Discount Code? (Step By Step)
You can get upto 25% discount on Shopify with its annual plans. But everything starts with a free trial. Let's see what I am talking about.
Step #1. Visit the official website of Shopify and click on the "Start Free Trial" option.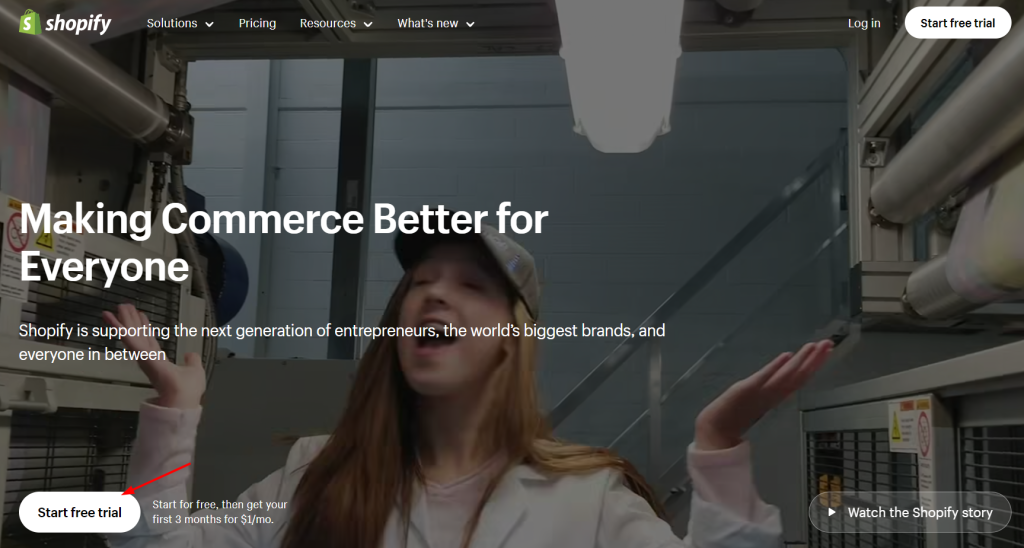 Step #2. Shopify will ask you a couple of questions to personalize your account according to your needs. Generally, these questions ask about your experience and what type of business you want to start with Shopify. You can fill in the details to personalize your account or just skip it.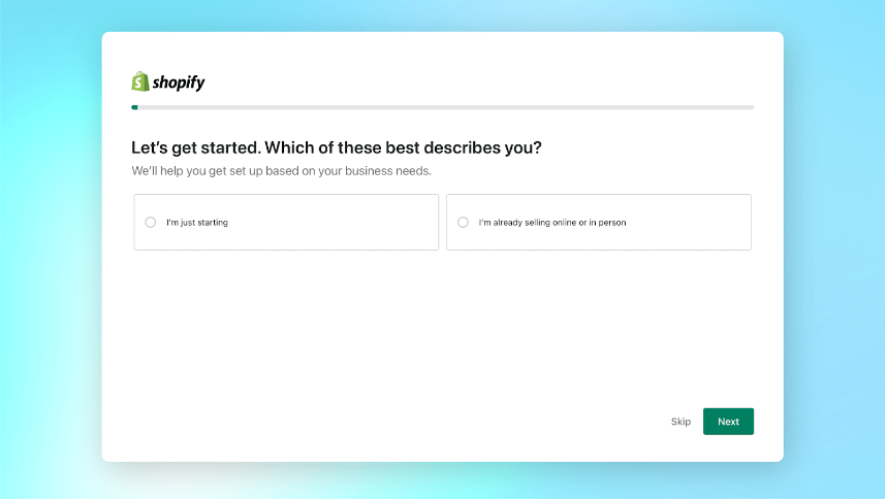 Step #3. On the next page, give your store a name and click on Next. (You can also skip this option)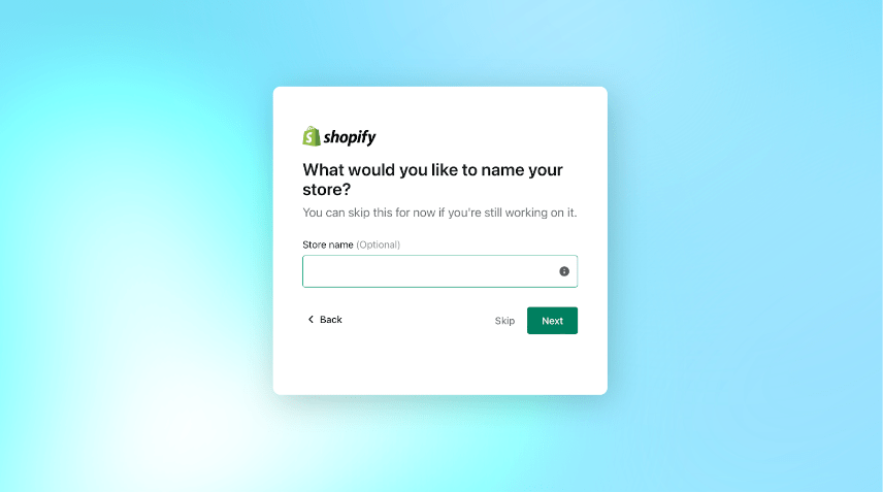 Step #4. Next, you will need to select the region or country where you want to sell your products. Then click on the Next button.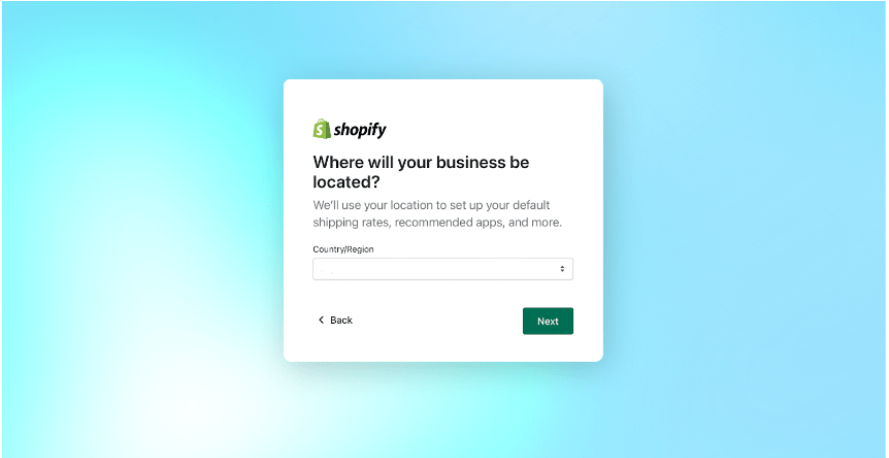 Step #5. The next step is creating an account. Shopify offers you four options for signing up – Email, Google, Apple, and Facebook. You can choose one of the preferred options to create an account.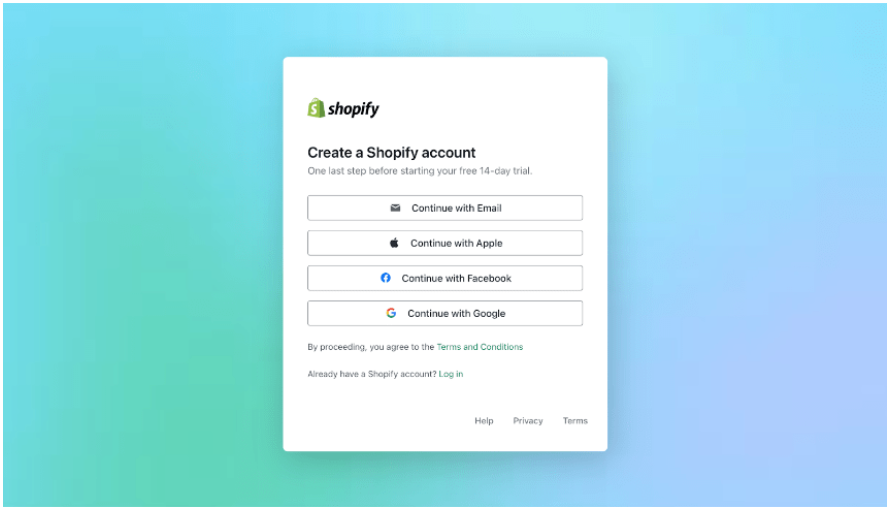 Step #6. After creating your account, you will be redirected to your Shopify store. Now at the bottom right corner of your store, you will see an option saying "Select a Plan." Click on it.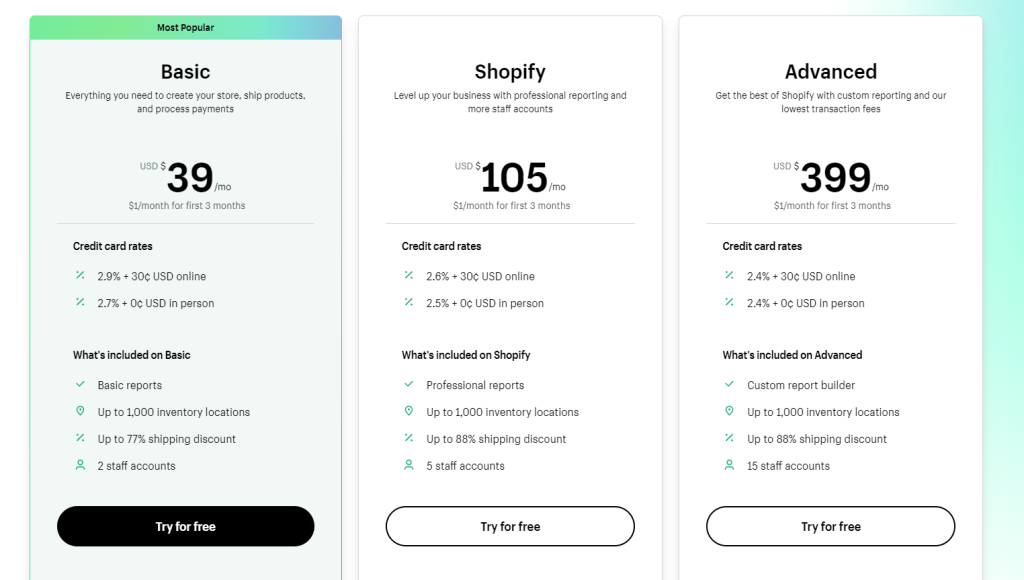 Step #7. Now pick a suitable plan for your online store. (Monthly or yearly plan)
Step #8. In the next section, add your card details. Here you can also see the discount on price according to the plan you have chosen.
Congrats! You have unlocked the free trial for your preferred plan. Shopify won't charge you instantly, even after adding the card details. The discounted price will be auto-deducted once your 3-day free trial ends.
Who is Shopify For?
Shopify is perfect for anyone who wants to start an online business or take their existing business online. Whether you're a budding entrepreneur, small business owner, artist, or staying-at-home parent looking for extra income, Shopify has the tools and resources to help you turn your ideas into reality.
With its easy-to-use platform and powerful features, Shopify makes it easy to build and manage an online store. From setting up a logo, managing inventory, accepting payments, delivering orders, and more – Shopify can help your business grow.
With over 1 million active merchants using the platform worldwide, Shopify is the preferred choice for entrepreneurs of all levels. Their 24/7 customer support team provides assistance when needed, and the platform continuously updates to ensure that you have the latest tools available. With Shopify, you can rest assured knowing your business is supported every step of the way. Using the platform's streamlined design and intuitive tools, anyone can quickly launch and manage an online store with ease.
Shopify Pricing Plans
Currently, Shopify offers three pricing plans that you can choose for your online store.
| | | | |
| --- | --- | --- | --- |
| Shopify Plan | Original Price | Discounted Price | Key Features |
| Basic | $39/month | $29/month | Unlimited products, Two staff accounts, Basic performance reports, Four inventory locations |
| Shopify | $105/month | $79/month | All Basic plan features, Five staff accounts, Advanced performance reports, Five inventory locations |
| Advanced | $399/month | $299/month | All Shopify plan features, Eight inventory locations, Up to 88% discount on shipping rates, 15 staff accounts |
Basic – $39/month
Shopify's Basic plan is an ideal plan for beginners. The Basic plan offers you the best tools to kickstart your eCommerce business if you have just started your business. With this plan, you can add an unlimited number of products and sell limitlessly without any restrictions.
Shopify – $105/month
This is Shopify's most popular plan for small businesses. The plan provides you with powerful eCommerce features, which are enough for growth and increasing sales.
Advanced – $399/month
Shopify's Advanced plan offers the most robust eCommerce features. This is a suitable plan for growing businesses and large eCommerce stores. If you want superior growth and scaling, this is the plan. You will also get additional discounts on shipping rates and control over international pricing.
What is Shopify Plus?
Shopify Plus is Shopify's enterprise ecommerce platform designed for high-volume merchants with complex business needs. The pricing of Shopify Plus starts from $2000+/month, depending on your requirements. Here are some of its key attributes: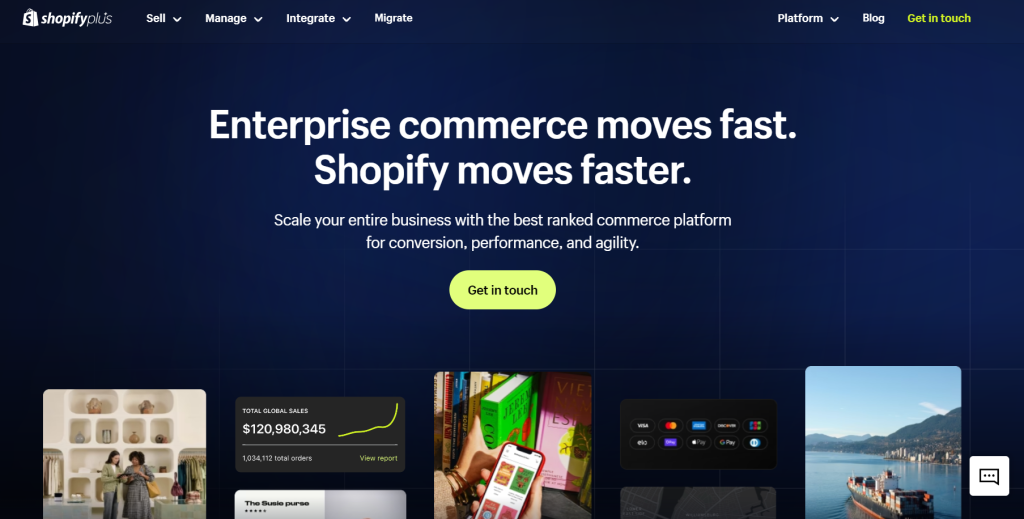 Customizable Platform – Shopify Plus offers an API-driven platform that can be customized for unique branding, workflows, and advanced functionality.
Dedicated Support – Provides a dedicated Merchant Success Manager, 24/7 phone and chat support, and access to Shopify Plus experts.
Volume Discounts – Lower transaction fees starting at 0.4% based on volume tiers up to $40+ million in sales.
International Capabilities – Built-in global commerce features for selling, marketing, and localizing in other countries.
Advanced Reporting – Robust analytics across multiple dimensions like sales channels, customer cohorts, inventory, etc.
Omnichannel Commerce – Unified experience across online stores, retail POS, mobile, web, and social channels.
Enterprise Integrations – Customizable integrations with ERP, CMS, CRM, and other backend systems.
Unlimited API Calls – Higher API limits suit advanced customizations and complex store processes.
Shopify Scripts – Custom scripts automate complex workflows and processes without coding.
Overall, Shopify Plus removes limits for high-scale brands with its customizable enterprise platform, dedicated support, and advanced global commerce capabilities.
Related Read:
Conclusion: Shopify Discount Code (2023)
Shopify is one of the world's leading eCommerce hosting platforms that offer adaptable eCommerce and selling features. Here you can create your custom online from scratch without any coding experience. Shopify already provides affordable prices for individuals and larger businesses, but exclusive seasonal discounts can save you a lot of money on monthly and yearly plans.
You can access any plan of Shopify with the three-month offer at just $1 per month. This offer is valid for all new users, and after that, you can get the 25% discount on the annual plans of Shopify.
FAQs
How long does the Shopify free trial last?
Shopify's free trial only lasts for three days, but you can increase it to 90 days with their exclusive offer, where you can access all the basic plan features for the first three months by paying $1/month.
Does Shopify offer a student discount?
No, Shopify does not offer any specific student discount. But the discount offer mentioned above can be used by students as well. They can also take advantage of Shopify's three months offer.
How much maximum discount can I get on Shopify plans?
You can get a maximum of 25% of the Shopify annual plan for the first year only.
Do I have to pay transaction fees on Shopify?
If you are using Shopify payment options on your store, then you won't have to pay any transaction fees for your sales. But if you use any third-party payment provider, then you will have to pay 2% in Basic Shopify, 1% in Shopify, and 0.5% in Advanced Shopify plans.
What is Shopify POS?
It is a point-of-sale app that allows you to sell your products offline and online together. You can manage your orders, fulfillment, and shipping directly from your mobile device.