Are you looking for an unbiased Temu review? If yes, then you're at the right place.
Temu is an online marketplace that offers low-priced products shipped directly from China. It is one of the fastest growing platforms as it gained lots of popularity within its launch. This is why people usually ask whether it is a reliable platform to shop.
In this review, we will dive into various aspects of Temu to determine its legitimacy, return policy, shipping times, payment methods, cancellation process, and more. By the end of this article, you will be able to decide whether it is a good platform to shop or start a business.
Let's get started.
What Is Temu?
Temu is a US-based online marketplace owned by PDD Holdings, a Chinese company. Launched in September 2022, it quickly gained popularity due to its competitive pricing and effective marketing strategies. It serves as a direct competitor to AliExpress, offering inexpensive products predominantly manufactured in China.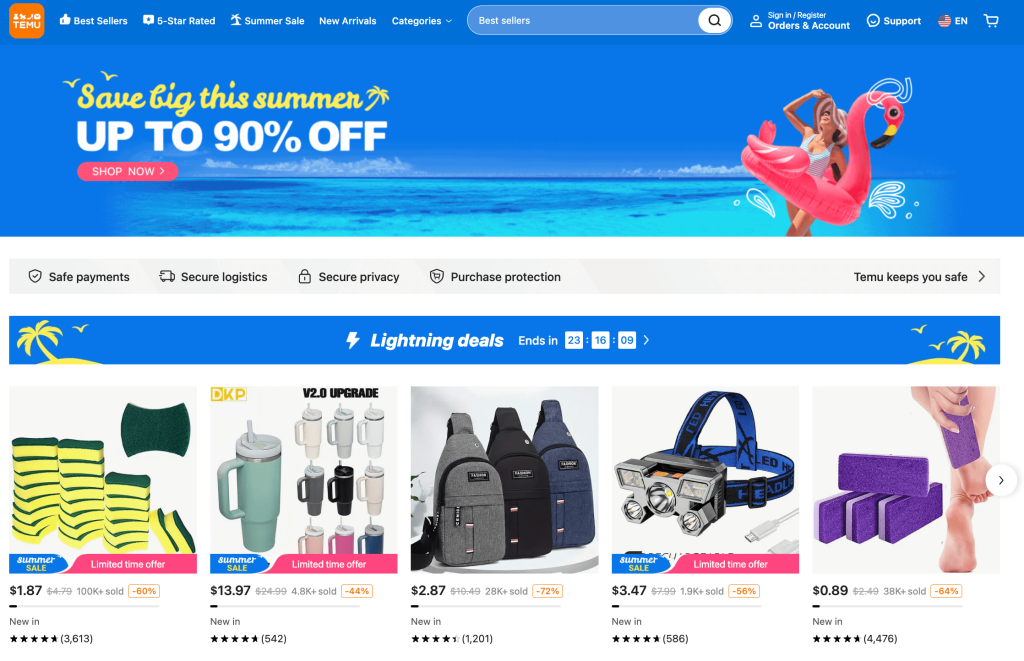 Temu has faced criticism for its low prices, with some alleging that its products are of poor quality or counterfeit. Temu, however, has defended its prices by saying that they reflect the lower costs of doing business in China. it has also been accused of using spam and deceptive advertising to drive traffic to its website. However, Temu has denied these allegations.
Despite the criticisms, Temu has become a popular shopping destination for many people due to its low prices and wide selection of products. This has made it a viable alternative to traditional retailers.
Is Temu Legit?
Temu is a legitimate online marketplace owned by a publicly-traded company listed on the NASDAQ Stock Exchange. However, it is important to note that Temu has mixed customer reviews on the internet. 
While it has a rating of three out of five on Trustpilot and 3.7 out of five on Sitejabber, there are numerous complaints regarding late deliveries, incorrect sizing, and counterfeit items. It is advisable to stick with well-known Chinese brands like Lenovo, Huawei, and Xiaomi to minimize the chances of a negative experience.
Key Features Of Temu
Here are some features of Temu that make this platform stand out from other marketplaces:
1. A Wide Range Of Products
Temu offers a wide selection of products, including clothing, electronics, home goods, and more. The company is constantly adding new items to its inventory, so there is always something new to discover. In addition to traditional products, Temu also offers unique and hard-to-find items that you won't find anywhere else.
2. Unimaginable Low Prices
Temu is able to offer low prices on a wide variety of products because it works directly with manufacturers to source goods at a discounted rate. The company also passes these savings on to its customers. By sourcing directly from manufacturers, Temu can ensure that its products are high-quality and authentic.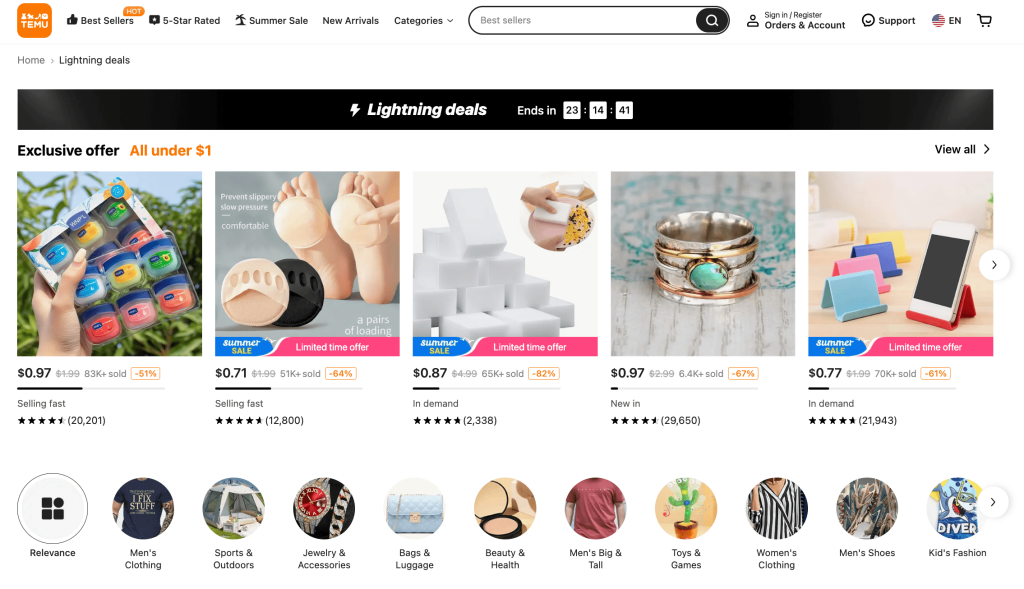 3. Easy-To-Use Interface
The company's website is easy to use and navigate, and it offers a variety of payment options. Temu also offers free shipping on orders over $50. It has a mobile app that allows you to shop on the go and receive push notifications when new items are added to your personalized feed.
Temu uses a discovery-based shopping model, which means that users are presented with a personalized feed of recommended products based on their past purchases and browsing history. This makes it easy to find new and interesting products that you might not have otherwise found. In addition to personalized recommendations, the platform also offers curated collections of products that are on-trend and popular with other users.
4. Various Shipping Solutions
The average shipping time in Temu ranges from 7 to 14 days, but some customers have reported longer shipping times, with orders taking up to a month to arrive. It is important to consider these potential delays when placing an order.
Temu also provides free shipping on almost all orders with standard shipping. Standard shipping usually takes 7-15 business days for delivery. Express shipping is also available, free for orders above $129 and priced at $12.90 for orders below that amount. Upon confirmation of the order, the estimated delivery time and shipping cost are displayed.
5. Payment Methods
Temu accepts various payment methods, including credit cards, debit cards, PayPal, and the option to use Temu's credit balance for refunds. Credit card payments may take up to 18 business days to process, while refunds via Timu credit balance are received within minutes.
6. Secure Shopping
Temu takes security seriously. The company uses a secure checkout process and encrypts all customer data. Temu also offers a money-back guarantee on all purchases. If you're ever unsatisfied with a purchase, Temu will work with you to make it right.
7. In-App Games And Referral Program
Temu offers a number of in-app games that users can play to earn credits and better deals. This is a fun and engaging way to save money on your purchases. In addition to games, Temu also offers challenges and quizzes that allow you to earn rewards and discounts.
Referral program
The referral program on the platform rewards users for referring the app to others. This is a great way to earn extra credits and save money on your next purchase. In addition to referral rewards, it also offers loyalty rewards for frequent shoppers.
8. Flexible Return Policy
Temu allows eligible items to be returned within 90 days from the date of purchase. To qualify for a refund, the physical return of the item must be made within 14 days of submitting the return request. Additional items can be returned as long as the 90-day window has not expired, with a shipping fee of $7.99 deducted from the refund.
To cancel an order on Temu, you can initiate a return by selecting the items you wish to return on the "Your Orders" page. After selecting the return method and indicating the reason, a return label can be printed to ship the package via USPS or UPS.
Refunds are processed within three working days upon receiving the return package, and the refund amount may take seven to thirty business days to be applied to the customer's account, depending on the payment method.
9. Helpful Community
Temu has a strong community of users who share tips and advice on products and shopping. This can be a great resource for finding new products and getting the most out of your shopping experience. In addition to user-generated content, Temu also has a team of experts who curate collections of products and offer advice on how to style and use them.
How To Sell On Temu?
Not only for shopping, but Temu is also a great place to start your online business to sell your products online. If you are willing to sell products on Temu, you can follow these a few simple steps. 
Step 1. Create a Temu account
When you create a Temu account, you will need to provide some basic information, such as your name, email address, and shipping address. You will also need to choose a store name and create a password.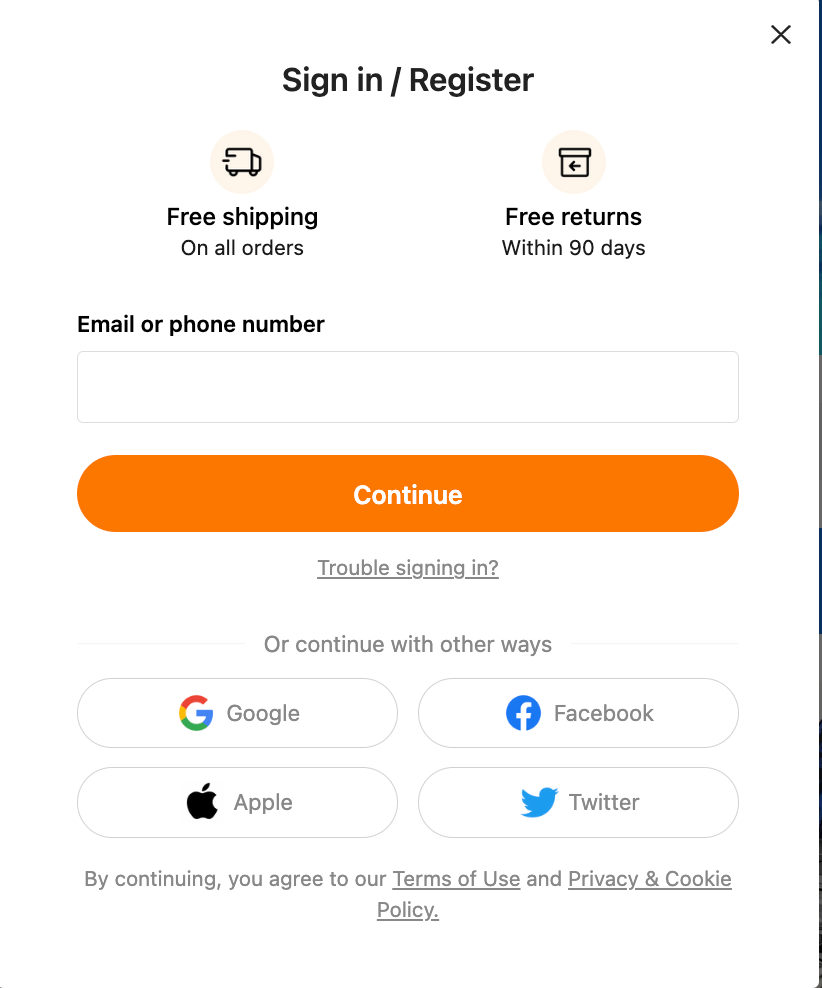 Step 2. Add your products
To add products to your store, you will need to provide product images, descriptions, and prices. You can also add product reviews and ratings.
Step 3. Set your shipping rates
You can set your own shipping rates or use Temu's flat-rate shipping. If you choose to set your own shipping rates, you will need to factor in the cost of shipping, as well as any handling fees.
Step 4. Choose your payment methods
Temu supports a variety of payment methods, including credit cards, PayPal, and Apple Pay. You can choose which payment methods you want to accept in your store.
Step 5. Promote your store
Once you have added your products and set your shipping rates and payment methods, you need to promote your store. You can promote your store on social media, through email marketing, or by running paid advertising campaigns.
Step 6. Fulfill orders
When a customer places an order, you will be responsible for shipping the product to them. You can ship the product yourself or use a shipping service.
Step 7. Provide customer service
Customers may have questions about their orders or the products they have purchased. You should be responsive to customer inquiries and address any issues they may have.
The best part of selling on Temu is that there isn't any upfront cost required to list your products. However, they take a tiny commission after every successful sales just like Amazon. You can check out the platform's policy and regulations before starting your online business on Temu.
Pros And Cons Of Temu
Here are some pros and cons of Temu that you should consider before starting a business:
Pros:
Affordable pricing on a wide range of products
An intuitive website with easy navigation
Free shipping on most orders
Hassle-free and straightforward return process, including free return shipping for the first product
Extensive catalog with millions of product listings and frequent promotions
Cons:
Slow shipping times, with some customers experiencing delays of up to a month
Slow customer service response times and unhelpful representatives
Inadequate packaging leads to damaged items during shipping
Refunds can be slow, taking between one week to one month to initiate, and additional time for processing, depending on the payment method
Is It Safe To Buy From Temu?
Buying from Temu can be considered safe, as the company offers a buyer protection program that covers items not matching the description, damaged items upon arrival, and items lost in the mail. However, it is crucial to exercise caution, read product reviews, and set realistic expectations regarding product quality, considering the low prices and the fact that the products are predominantly from China with limited quality control.
Conclusion: Temu Review (2023)
Overall, Temu is a legitimate online marketplace that offers a huge range of items at incredibly low prices. While it has faced criticisms for late deliveries, incorrect sizing, and counterfeit items, it has also become a popular shopping destination for many due to its easy-to-use interface, secure shopping, and flexible return policy.
With its extensive catalog and frequent promotions, Temu can be an excellent option for those looking to save money on their purchases. However, customers should exercise caution when placing orders and read product reviews to set realistic expectations regarding product quality.