Are you looking for a dropshipping supplier for your Wix eCommerce store? Congrats! You are in the right place.
Wix is a renowned professional website builder that helps you create eCommerce stores by providing you with all the eCommerce-centric tools. If you just created an eCommerce store to run a dropshipping business, you might need a dropshipping supplier that easily integrates with Wix stores.
If you look through the internet, you will find tons of dropshipping suppliers that integrate with Wix stores. But you can't blindly trust every other supplier you see on the internet. It needs a lot of research and communication to find the perfect supplier that handles your complete order fulfillment process. But don't you worry; I will ease up your research process.
In this post, I have compiled a list of the best 10 Wix dropshipping suppliers that will easily integrate your eCommerce store. You can compare all the built-in features, product catalog, shipping services, and membership costs to decide which one suits your business the best.
Top 10 Wix Dropshipping Suppliers: In A Nutshell (2023)
| | | |
| --- | --- | --- |
| S.No. | Wix Dropshipping Supplier | Membership Cost |
| 1. | Spocket | $29.99/month |
| 2. | Modalyst | $35/month |
| 3. | AliExpress | Free |
| 4. | Syncee | $29/month |
| 5. | CJDropshipping | Free |
| 6. | AppScenic | $24/month |
| 7. | Printful | Free |
| 8. | Costco | $60/year |
| 9. | Worldwide Brands | $299 (One-time) |
| 10. | Banggood | Free |
Here's my handpicked list of the top dropshipping suppliers best suited for Wix eCommerce stores.
1. Spocket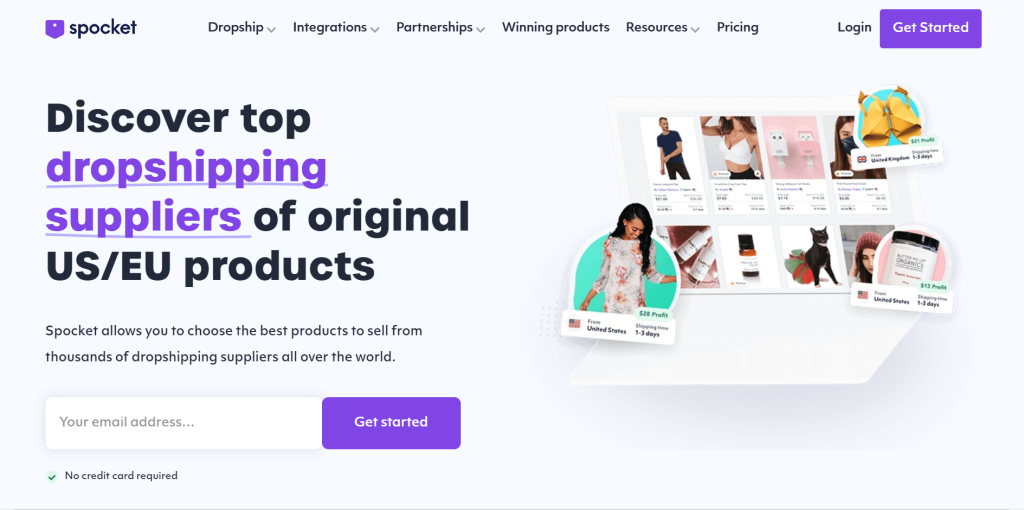 Trusted by more than 60,000 dropshipping merchants, Spocket is one of the biggest dropshipping suppliers that operate globally. And if you are running a Wix dropshipping store, it can be an ideal choice for you. The platform features more than one million products in 18 selected categories, including the top trending products. More than 2000 high-quality suppliers are working with Spocket, and most of them are from the US and Europe. So US and Europe-based merchants can take advantage of free and fast shipping.
Spocket offers two types of products: unique and premium. Unique products are basically wholesale products that are available in a low-cost range, while premium products are listed by top suppliers. You can get up to 60% off on some unique and premium products. Apart from that, the company directed suppliers to reduce their pricing by 25% before listing products so dropshippers could get rooms to make a profit. You can also order samples from the suppliers to check the quality of the products you are about to dropship.
Key Features of Spocket
More than one million dropshipping products in various categories
2000+ vetted and reliable suppliers
Free shipping options in US/EU regions
30%-60% discount on bulk purchases
Track order in real time
Compatible with 11+ major eCommerce platforms and marketplaces, including Wix
Drawbacks
International shipping can take up to 4-5 weeks
You can sell only 10,000 products, even with the highest-tier membership
Membership Cost: Starting at $29.99/month
2. Modalyst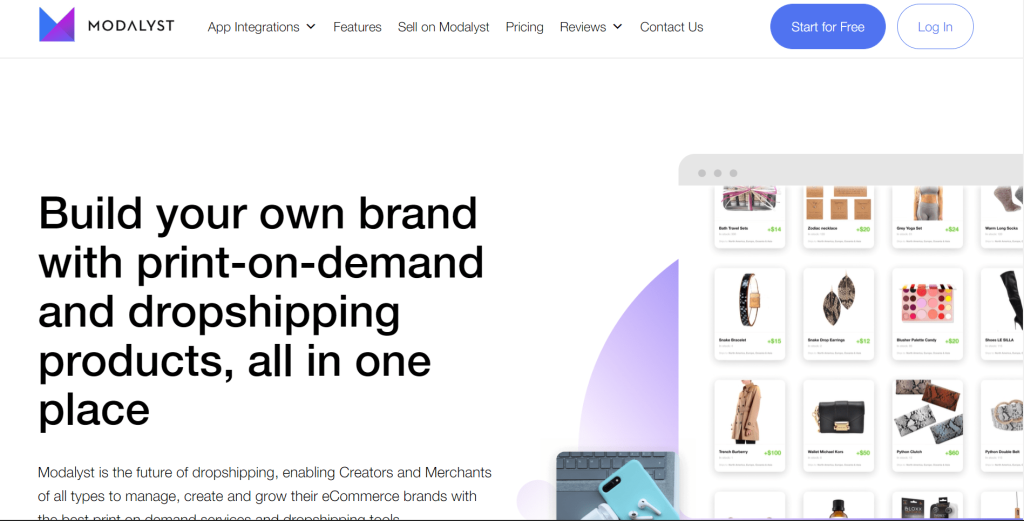 Modalyst is a huge marketplace that features more than 10 million dropshipping and wholesale products. It is a B2B platform that connects business owners directly to suppliers. It works with over 1,000 vetted suppliers, and all of them offer fast shipping and a unique product assortment. Another reason to work with Modalyst is that Wix owns this platform, and it would make a lot of sense to rank your store higher in the search results.
Apart from the dropshipping model, Modalyst also offers POD services where you can find thousands of white-label products. You can upload your artwork and designs on these products and order your desired number to be manufactured. It gives control over branding and profit margin. You can also get heavy discounts on bulk purchases. If you're a beginner, you can start with the free plan and sell up to 25 products per month. Once you start getting enough sales, you can get a premium subscription which allows you to sell unlimited products without any MOQs.
Key Features of Modalyst
Find millions of trending products to sell on your Wix store
1000+ pre-vetted and reliable suppliers
Fast and free shipping services by suppliers
Seamlessly integrates with Wix, BigCommerce, Shopify, and Alibaba
POD services with no MOQs
Free plan for beginners
Drawbacks
The cheaper plan has limited product access
Charges hefty transaction fee
Membership Cost: Starting at $35/month
3. AliExpress Dropshipping Suppliers
If you want to source and dropship Chinese products, you can find AliExpress among the big names. Well, most of them are owned by Alibaba Group, and AliExpress is one of them. But the company runs on a B2C (Business to Consumer), making it the best option for a dropshipping business. Unlike other dropshipping suppliers, you can directly forward your customer's order to the suppliers, and they will handle the rest of the order fulfillment. You just act as a middleman.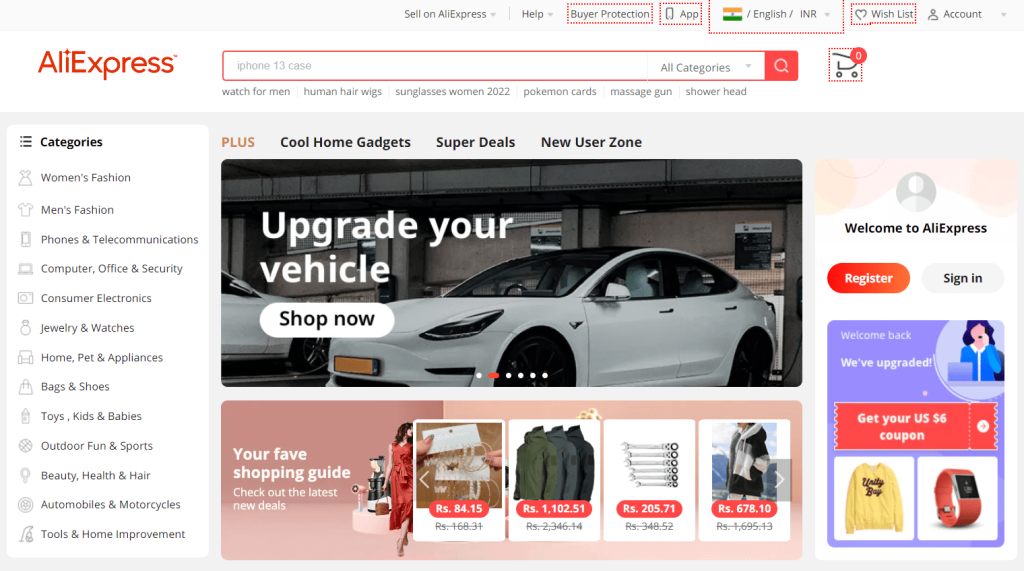 AliExpress features a mammoth product selection of over 100 million products in every possible category. You can order small quantities from AliExpress, but you need to contact your nearest warehouse or supplier if you want to choose the wholesale route. All suppliers already deal in cut-rate prices; still, you can check out AliExpress's Super Deal section to explore hundreds of other deals and sales. 
Key Features of AliExpress
Access to 100+ million dropshipping and wholesale products
Thousands of suppliers from every part of the world
Automated pricing rules for dropshippers
Inventory and price change notifications
Supports 20+ languages
No order minimums
Drawbacks
Slow-loading website due to heavy traffic
No control over the product's quality
Membership Cost: Free
4. Syncee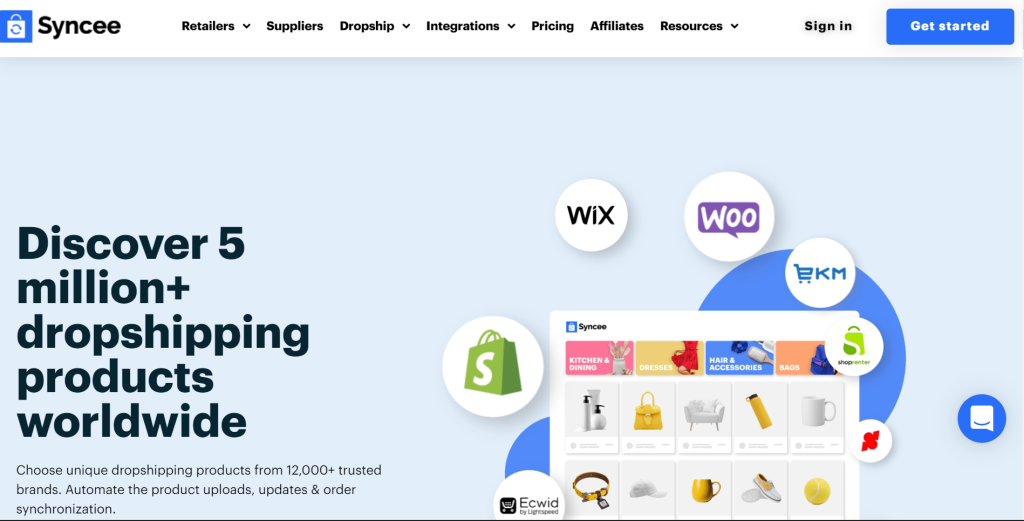 Syncee is one of the most powerful dropshipping suppliers that connects dropshippers to suppliers and retailers. The B2B platform flexibly integrates with a number of eCommerce platforms and sales channels, including Wix. Unlike other platforms, you directly buy from the website at a discounted rate. Syncee is pretty much run by their retailers, which is around 150K. So suppliers from around the world sell their products to Syncee retailers.
On Syncee, you can find products in 20+ categories, including electronics, clothing, fashion, gifts, and many others. If you're a beginner, it can be the best platform to go with, as its setup is minimal, and you can import it to your Wix store within a few clicks. You can sign up for free and start dropshipping products (limited to 25 products). Once you start getting enough sales, you can purchase a premium plan to grow your business.
Key Features of Syncee
A B2B marketplace with millions of dropshipping products
Thousands of verified suppliers and retailers from the UK, US, Europe, and Australia
Automation features available
In-built communication features
Integrates with 15+ eCommerce platforms and marketplaces
No order minimums
Drawbacks
High shipping cost
Not every supplier delivers globally
Membership Cost: Starting at $29/month
5. CJDropshipping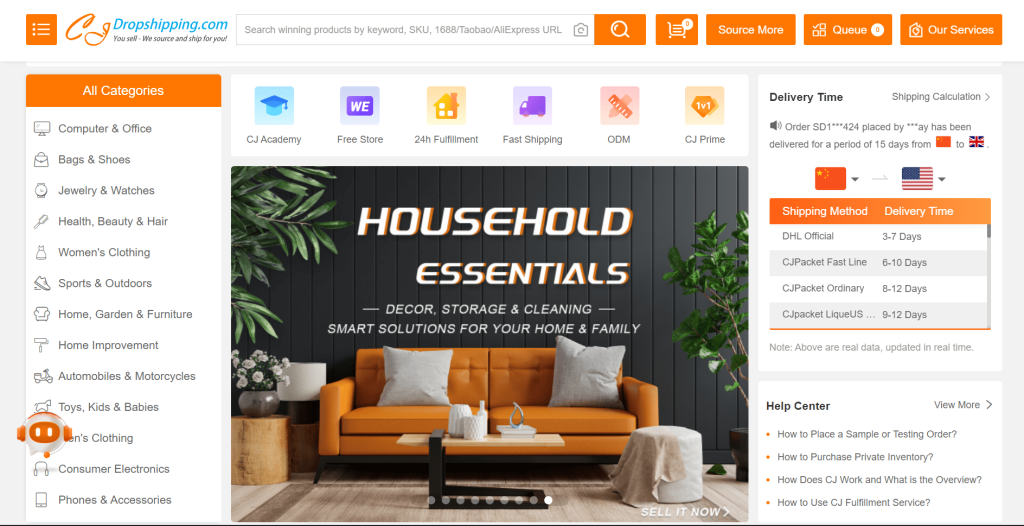 Headquartered in Hangzhou, CJDropshipping is one of the biggest distributors of Chinese products. Despite being located in China, it owns a series of warehouses in Asia, the US, the UK, and Europe. The platform has a catalog of 400K products in various categories, including clothing, electronics, homeware, garden ware, pet supplies, toys, games, etc. The best part is that most of the listed products are available at cut-rate prices, so buying in bulk would definitely be profitable.
The platform integrates with 14+ eCommerce platforms and marketplaces, and Wix is one of them. Importing products from CJDropshipping is a piece of cake. All you need to do is connect your Wix store and upload the CSV file that you have downloaded from CJDropshipping. And then, you can contact the supplier and order the preferred number of products. Apart from dropshipping, you can also find white-label products and use its print-on-demand service to sell products under your brand name.
Key Features of CJDropshipping
Product catalogue of over 400K products in major categories
The company owns over 200 warehouses in the US, Asia, the UK, Europe, Australia, etc.
White-label and branding solutions
14-day product return policy for customers
Fast shipping solutions
It gives you control over the product's quality
Drawbacks
Charges additional processing fees
Limited shipping options
Membership Cost: Free
6. AppScenic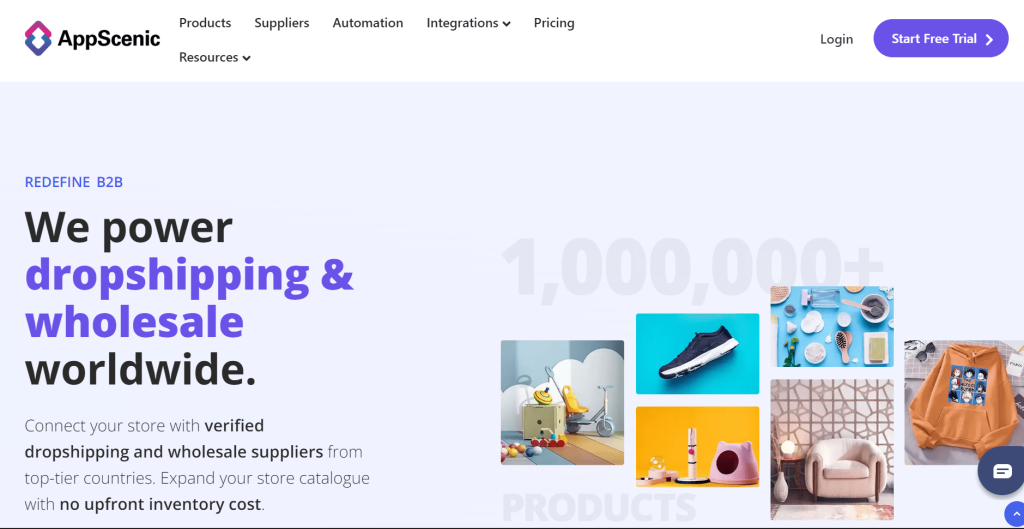 AppScenic is one of the fastest-growing B2B marketplaces that offer more than one million dropshipping and wholesale products. On this platform, you can find trusted and verified suppliers from the US, UK, Canada, and Europe. The platform features products in 100+ major categories, such as fashion, jewelry, furniture, pet supplies, electronics, and many others. You can also use the in-built profit calculator to check your profit margins in real-time.
AppScenic only integrates with three eCommerce platforms, and luckily, Wix is one of them. The platform runs on a membership model. But If you want to source products and test out their features, you can take the 7-day free trial of your desired plans. The free version will only allow you to browse 500 products, but you can't take orders. With the premium subscription, you can take advantage of its automation features for order processing, product syncing, and stock management. However, you need to pay a transaction fee with every order processed.
Key Features of AppScenic
The platform features over one million high-quality products
Access to premium products with Pro & Elite plans
ECommerce automation features
2 to 7 days shipping to the US and Europe
Offers 7-day free trial
Supports all major payment gateways
Drawbacks
Discount is only available with higher plans
Hefty transaction fees
Membership Cost: Starting at $24/month
7. Printful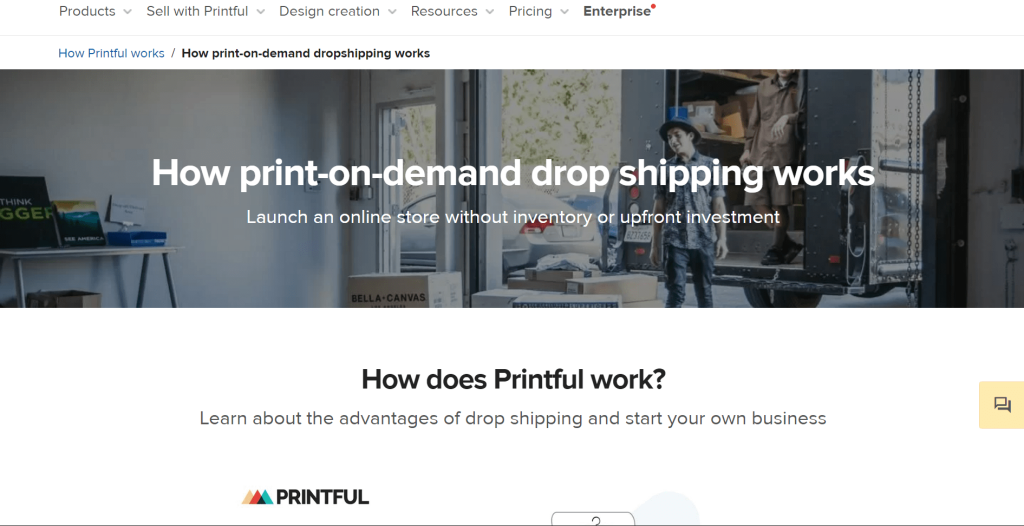 Printful is one of the leading POD (print-on-demand) platforms that handle complete order fulfillment of products. Printful is a great platform for those who want to sell products printed with their own designs and artwork. The platform offers more than 450 white-label products on which you can choose to print your designs. They have an in-built design tool and a mockup generator that helps you design products to the finest details. However, you can also upload your pre-made designs to make them look unique. It gives more control over your brand's exposure.
Once you have chosen colors and printed your designs on the selected products, you can directly import the CSV file from Printful to your Wix store. You can disclose the number of products on the platform, and they will be manufactured within 24 hours and will be delivered to your customers within a given timeframe. If you purchase products in bulk, you can get up to a 30% discount. You can also order samples of your printed products at a 20% discount. This way, you can check the product's quality as well.
Key Features of Printful
450+ high-quality POD products for dropshipping
Integrates with 40+ eCommerce platforms, sales channels, and marketplaces, including Wix
No minimum order requirement
Branding and quality control options
Flat 30% discount on bulk purchases
30-day flexible return policies
Drawbacks
Higher production and shipping charges
Membership Cost: Free
8. Costco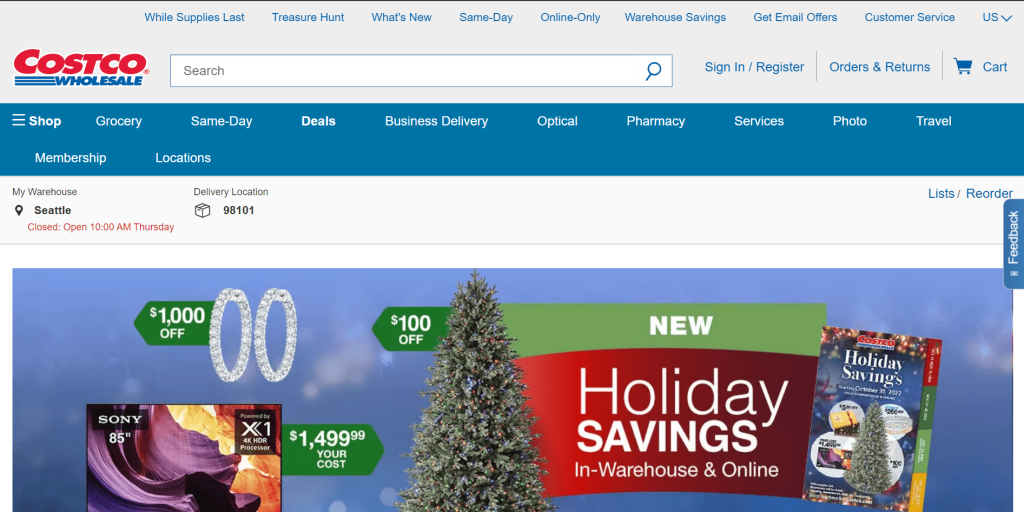 If you want to source wholesale products for your Wix store, Costco is the best answer to your query. It is a well-known US-based dropshipping supplier that only deals in wholesale products. The platform comes with a variety of wholesale products at great deals and fast shipping services. If you are located in the US, you can take advantage of a free 2-day (sometimes the same day) delivery offer. However, you need to purchase orders worth $75 in order to get free delivery.
You don't require a membership or subscription to purchase products at Costco. But if you sign up for a business membership, you can unlock many deals and big discounts on wholesale items. The company has partnered with popular shipping carriers such as UPS, DHL, USPS, FedEx, and many others, so you will have options to choose standard and express shipping for international customers. The global shipment usually takes 7 to 10 days which is considered quite fast. On top of that, it offers your customers a 90-day return and refund guarantee.
Key Features of Costco
Millions of unique products for dropshipping
Cut-rate prices on wholesale products
Free shipping option on orders above $75
Special deals for business members
Flexible 90-day return policy (conditions applied)
Exceptional customer service
Drawbacks
Membership Cost: $60/year (free version is also available)
9. Worldwide Brands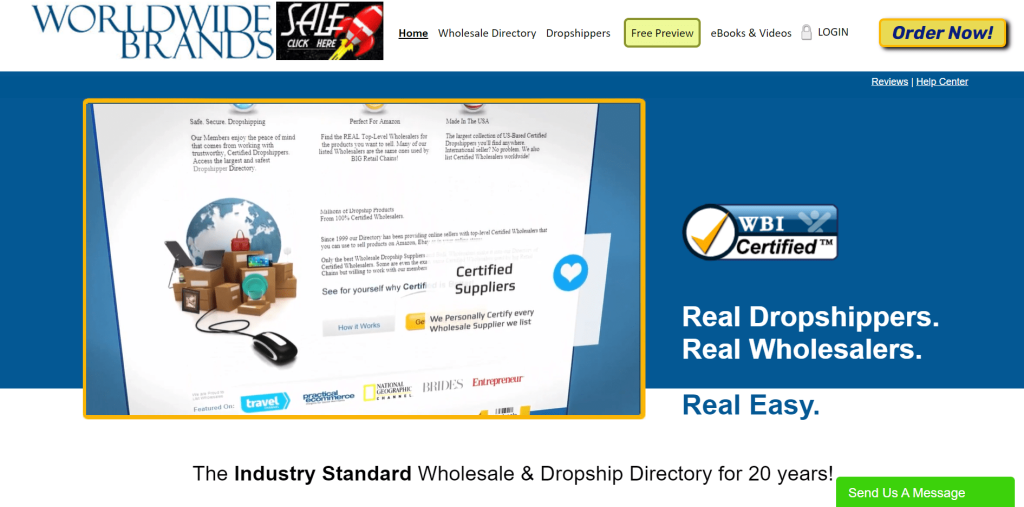 Worldwide Brands is the best option available on the internet if you are looking for a dropshipping supplier directory. It is a US-based company where you find a list of 8000+ pre-vetted dropshipping suppliers and wholesalers. You also get to choose from 16 million high-quality products from tons of categories, such as tech accessories, clothing, electronics, home appliances, toys, gifts, and many more. Each listed supplier has its own contact methods. You can look for a supplier by product name, region, and other specific details.
Worldwide Brands offer products with a competitive pricing range. You can also get discounts on wholesale products. Apart from that, you can explore the deals section to check out daily deals and coupons. The customer support is awesome. You can seek help from the Research Staff if you face difficulty finding a profitable product for your Wix store. In order to browse the Worldwide Brands directory, you will need to pay a one-time fee of $299, which can be really expensive for many buyers.
Key Features of Worldwide Brands
Offer more than 16 million dropshipping products
A directory with 8,000+ vetted suppliers and wholesalers
Competitive pricing on various products
Every supplier is listed with detailed information
No order minimums
Priority customer support
Drawbacks
Expensive membership fee
Order processing can take days
Membership Cost: $299 (one-time)
10. Banggood
Banggoodis a China-based online retailer and dropshipping supplier that offers a vast range of products, including home, fashion, electronics, garden, toys, and many more. Due to its global shipping options and competitive pricing, it is a popular choice for Wix dropshipping business owners. Even being started as a small company in China, the company has quickly grown into one of the biggest B2C companies in China, with over 200K items in various categories.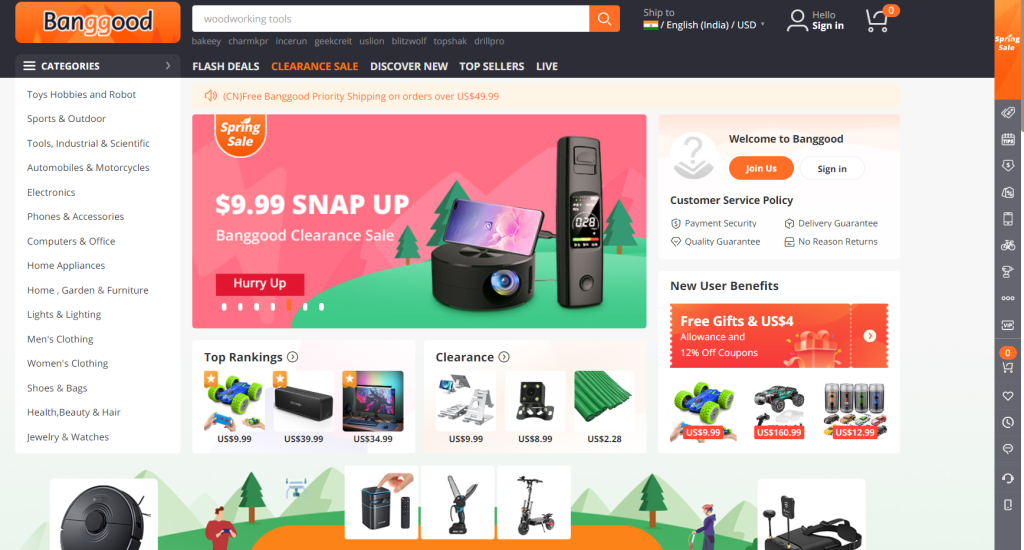 In the beginning, Banggood had manufacturing facilities only in China, but now, it has over 37 manufacturing facilities and warehouses across the US and UK. It makes it easier for overseas dropshippers to dropship their products as quickly as possible. For dropshippers and wholesalers, there is a range of offers, such as coupons, promotions, lightning deals, etc., available every time so they can purchase products in bulk to get exclusive discounts. To build trust with customers, Banggood also offers a 30-day return policy on its products.
Key Features
Over 200K products in various categories
Global shipping options
3-5 day order processing time
Various affordable shipping options
30-day return policy
Exclusive coupons and flash deals are available 24/7
Drawbacks
Customer service can be improved
Quality issues with some products
Membership Cost: Free
Conclusion: Wix Dropshipping Suppliers (2023)
So these are my top recommendations for dropshipping suppliers for Wix store owners. The list contains suppliers based on the specific needs of dropshipping merchants. Whether you want to dropship in clothing, electronics, furniture, jewelry, or other products, these listed dropshipping suppliers are capable of providing the necessary service you need to run a dropshipping store. Make sure to do a little research on the respective website before making a deal with a supplier. 
If you are well aware of the in-&-outs of a dropshipping business, you can comfortably find the best supplier for your Wix store in this list. So which one do you choose? Let me know in the comment section.