Are you looking for pre-made dropshipping stores for sale? Look no further, I have got your back.
Regardless of your budget or experience, buying a dropshipping store is one of the fastest ways to start an online business without holding inventory or making an effort on order fulfillment. Purchasing a pre-made dropshipping store saves you a lot of manual work, such as selecting a niche, finding winning products, and finding trusted suppliers.
There are tons of providers in the market that offer dropshipping stores with all the essential eCommerce features. But finding the best provider is like looking for a needle in a haystack. That's why I brought you a list of the best 12 providers of dropshipping stores from where you can find a variety of pre-made and established dropshipping stores. 
Let's get started.
Top 12 Dropshipping Stores On Sale: In A Nutshell (2023)
| | | |
| --- | --- | --- |
| S.No. | Dropshipping Store Providers | Reason to Choose |
| 1. | Alidropship | The biggest provider of custom-made WooCommerce stores |
| 2. | Exchange Marketplace | Find all types of Shopify dropshipping stores |
| 3. | Flippa | Find SaaS, blog, and eCommerce websites with high-revenue |
| 4. | Dropbuild | Offers the best premium Shopify dropshipping stores |
| 5. | Brandafy | Offers the best low-cost Shopify dropshipping stores |
| 6. | BeBiggy | Offers pre-built and turnkey Shopify dropshipping stores |
| 7. | Wholesale2B | Get custom dropshipping stores at affordable pricing |
| 8. | Fiverr | Hire professional assistants for your turnkey dropshipping store |
| 9. | WooDropship | Find the best dropshipping stores for AliDropship |
| 10. | StartStorez | The best place to find turkey dropshipping stores for WooCommerce and Shopify |
| 11. | Acquire.com | Best place for sellers to list their business and buyers to buy profitable businesses |
| 12. | Ecommerceify | Custom-built Shopify stores stocked with hot-selling products so new owners can launch and grow successful dropshipping businesses |
Here is the list of top providers of dropshipping stores for sale.
1. Alidropship
Alidropship is the biggest provider of custom-made WooCommerce stores for dropshipping. Here, you can also get some exciting deals on established stores with existing traffic, revenue, and sales. The custom-made dropshipping stores of Alidropship start at $299, including domain name, inventory automation, mobile-friendly designs, and 50 handpicked profitable products for your store.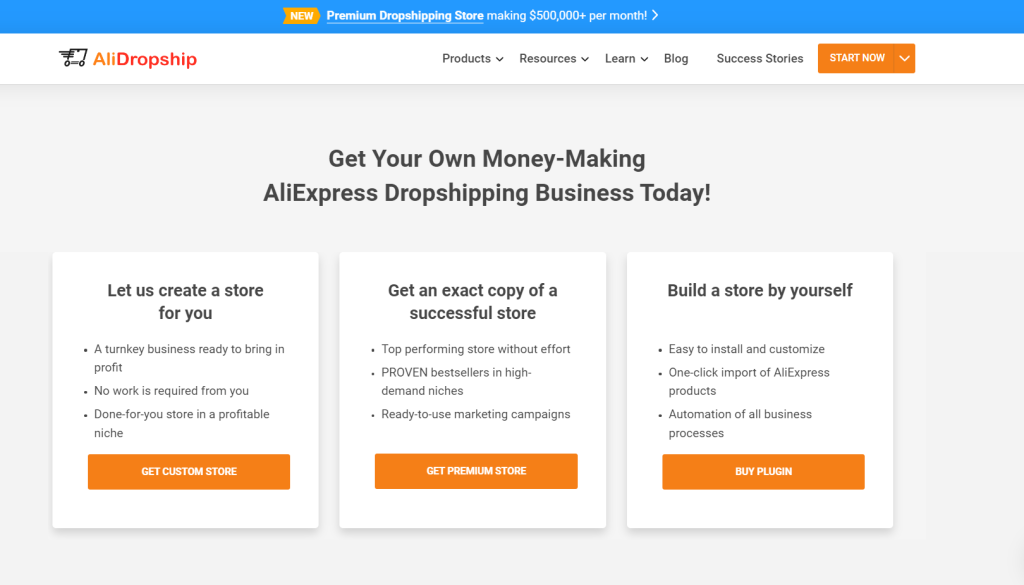 Apart from that, Alidropship offers a plugin that helps businesses create product lists, monitor inventory, and track orders on an eCommerce-centric platform. You can give your Alidropship Plugin access to your staff members so they can utilize the image editor and built-in themes to configure product variations based on material, sizes, and colors. You can check out our exclusive Alidropship coupon to get up to 25% discount on premium and custom-made stores.
Key Features of Alidropship
One of the biggest providers of custom-made, turnkey, and established dropshipping stores
Dropshipping stores includes domain name, professional-looking designs, and payment integrations
Access to verified suppliers and unlimited products with the Alidropship plugin
Established dropshipping stores with 100% average ROI per year
Complete inventory automation
50+ handpicked winning products with custom-made stores
Starting Price: $299
2. Exchange Marketplace
Exchange Marketplace is one of the biggest marketplaces for Shopify dropshipping stores. Here, you can buy and sell Shopify stores in exchange for a good deal. From new to established stores with a readymade customer base, Exchange Marketplace provides solutions for all budgets. Since Shopify owns the Exchange Marketplace, your listings will show verified and non-editable sales data, so there is need to worry about fake data.

With market trends and owner-reported data, Exchange Marketplace sets reasonable prices for the stores. If you want to buy an established store, you can use its advanced filter options, such as business type, monthly revenue, and business size, to find dropshipping stores within your budget. Check out the dropshipping store section to find fresh pre-made stores at a cheaper range.
Key Features of Exchange Marketplace
The biggest marketplace for selling and buying Shopify dropshipping and eCommerce stores
Provides every type of dropshipping stores
Advanced filters for a relevant store search
Verified data points and sales data
Quick and secure transactions
Established stores with thousands of monthly revenue and a customer base
Price: $180 – $1.3 Million
3. Flippa
Flippa is the world's #1 marketplace where you can buy and sell online businesses, eCommerce stores, digital services, affiliate sites, SaaS businesses, and many more. Featuring thousands of new and established dropshipping websites with an existing customer base, traffic, authority, and revenue, Flippa is a comfort zone for individuals looking for growth. In fact, most of the dropshipping stores available on Flippa generate more than $10,000 in monthly revenue.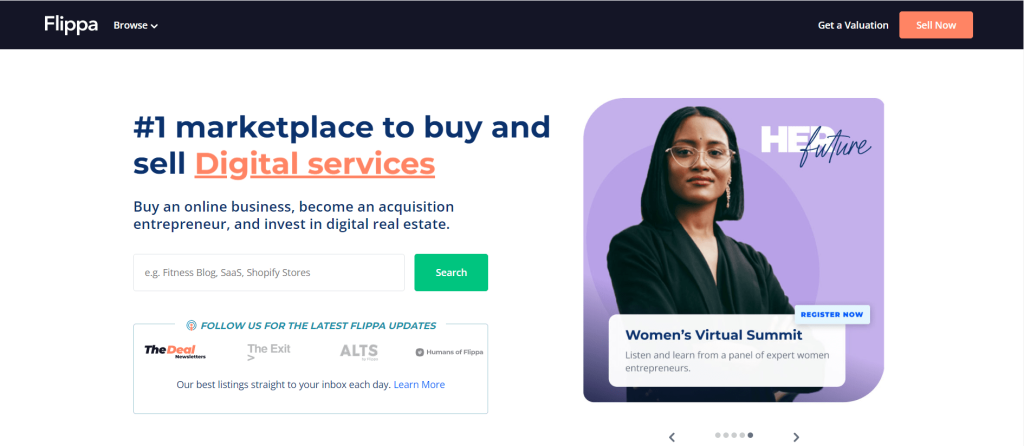 Currently, Flippa has over 6,000 active listings in dropshipping stores, which is just a small part of this huge marketplace. Here the cost of established stores ranges between $400 to over $2 million. That means, on Flippa, there's something for any type of budget. Recently, Flippa partnered with Semrush, so you don't have to worry about SEO and traffic analytics.
Key Features of Flippa
The best platform to sell and buy online businesses, dropshipping stores, FBA stores, etc.
Budget-friendly established stores with traffic, authority, and revenue
Fixed-type and auction-type purchasing options
No membership is required to browse auctions and listings
Browse every type of dropshipping stores
In-built profit calculator
Price: $400 to $2 million
4. Dropbuild
Dropbuild is one of the trusted providers of premium Shopify dropshipping stores. With thousands of favorable reviews and an amazing 4.8 rating on TrustPilot, Dropbuild is loaded with thousands of winning products, unique content, and video ads. All the available dropshipping stores on Dropbuild include a professional-looking Shopify theme with necessary apps and expert branding.
Once you purchase a dropshipping store from the platform, you will get an AI assistant to help you with the onboarding process. Your store will also be integrated with built-in SEO tools and payment processors for secure transactions. With in-house marketing features, you will start generating sales right away, and still, if you face any kind of issues running your business, you can contact their customer support staff at any time. Unlike other platforms, Dropbuild provides you with quality over quantity. This is why your store package will include ten dropshipping products handpicked by industry experts, so you have much better possibilities for growth.
Key Features of Dropbuild
The most trusted provider of Shopify dropshipping stores
Up to 10 winning dropshipping products with your niche-store package
Branding solutions with logos and designs
Access to premium Shopify themes and apps
High-converting video ads
24/7 professional customer support
Starting Price: $449
5. BrandAfy
BrandAfy is a provider of custom-made Shopify dropshipping stores built by industry experts. The platform offers the best low-cost dropshipping stores loaded with profitable products from worldwide suppliers. At a fixed one-time fee, BrandAfy will create a professional-looking dropshipping store with a domain name, responsive design, branded logo, and other essential pages within 24 hours.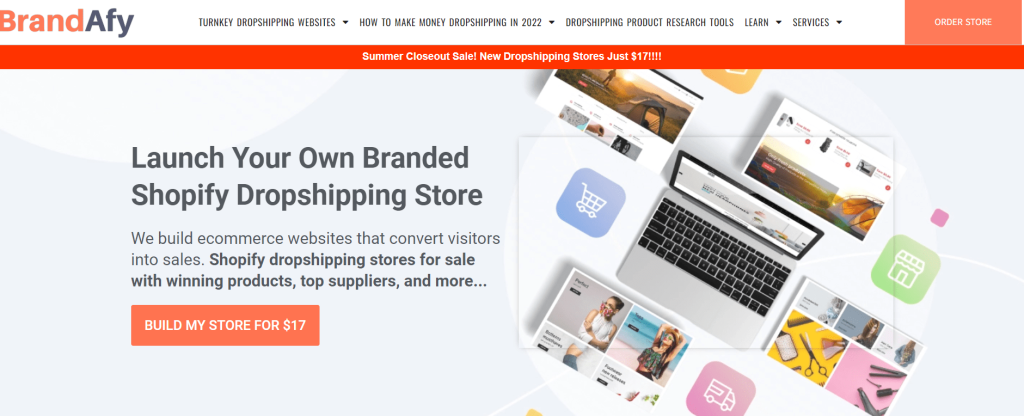 The custom-made dropshipping stores of BrandAfy include complete inventory automation and integration with reliable local and international suppliers. It allows you to import profitable products from thousands of high-quality products quickly. Once you have your dropshipping store, BrandAfy will provide an onboarding assistant to help you get started quickly. You can also check out free guides to learn exceptional skills.
Key Features of BrandAfy
Trusted suppliers of turnkey and custom-made Shopify dropshipping stores
Optimized themes and designs for your store
One-click product importing from various suppliers
Offers branded design and logo for your store
Affordable ranges of stores
Automated inventory management
Starting Price: $67
6. BeBiggy
BeBiggy is one of the biggest providers of high-quality turnkey dropshipping and Shopify stores. The platform ensures its clients' success by providing tailored solutions such as profitable niches, optimized websites, and dropshipping suppliers. Their pre-made stores are loaded with top 100 dropship products that come with the biggest profit margins.

BeBiggy is known for its exceptional customer service. If you face any kind of technical issue, you can contact their customer staff via phone and email. After purchasing a dropshipping store, the platform will guide you through the entire process, such as selecting a niche and finding products and suppliers. On BeBiggy, you will also get exclusive deals and offers from time to time. You can even get up to 90% discount on all available stores.
Key Features of BeBiggy
The biggest turnkey dropshipping store provider
Premium Shopify dropshipping stores tailored for clients
Free guides and courses for beginners
Up to 90% discounts and deals on various occasions
100+ trending and profitable products in each store
24/7 technical support
Starting Price: $299
7. Wholesale2B
Wholesale2B is one of the biggest dropshipping suppliers in the US. It has more than 1 million dropship products in its catalog, from where you can find the winning products for your dropshipping business. Selling dropshipping stores is a side venture of Wholesale2B, but it offers the best-customized stores with premium services. Wholesale2B will create a customizable store loaded with 10,000+ dropshipping products within 24 hours – all these services at $49/month.
With Wholesale2B's dropshipping stores, you can browse your favorite products from leading US-based suppliers with its smart filters. The dropshipping website plan also includes a domain name, a free SSL certificate, hosting services, unlimited bandwidth, and a business email. You can also sync your existing inventory with just one click.
Key Features of Wholesale2B
Fully customizable dropshipping stores
Options to choose from 1 million dropship products
Automation features
User-friendly dashboard and interface
Free SSL certificate, domain name, hosting, and business email
Starting Price: $49.99/month
8. Fiverr
Fiverr is not your ordinary dropshipping store provider. Basically, it is a platform from where you can hire professional freelancers. You can also apply on the platform to offer technical services or gigs. Talking about dropshipping stores, you can hire a full-time assistant to manage your dropshipping business. You can also hire a professional assistant for logo design, customer support, copywriting, etc. You can outsource all kinds of services from Fiverr, so you can let professionals handle your store.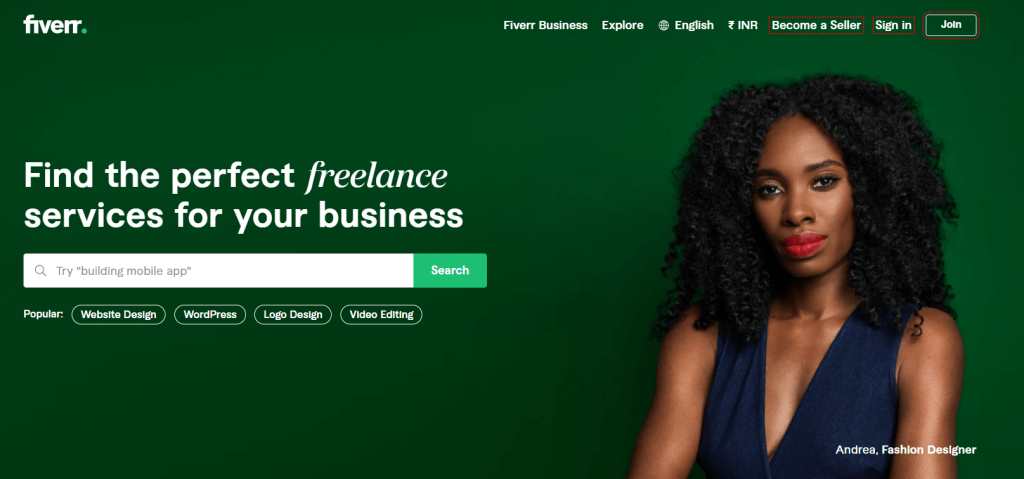 You can also find turnkey dropshipping stores on Fiverr at an affordable range. The platform supports multiple languages so that you can change your website's language according to your target country. Since the prices of freelancers' services are exceptionally low, you will only get what you have paid. So there's a chance you might need to hire more than one freelancer in order to run your dropshipping store.
Key Features of Fiverr
Affordable range of turnkey dropshipping stores
Hire experienced freelancers to manage your dropshipping store
Up to 50 winning dropshipping products with each turnkey dropshipping store
Access to premium plugins
High-converting themes and templates
Multiple language support
Starting Price: $100 to $2000
9. WooDropship
WooDropship is the largest provider of automated and professional AliExpress dropshipping stores. WooDropship offers the biggest product selection, with more than 120 million in its catalog. WooDropship offers two dropshipping store options to their users. If you want to create a WooCommerce store all by yourself, you can purchase its dropshipping plugin for $49. The plugin will help you add products, descriptions, and source products from AliExpress.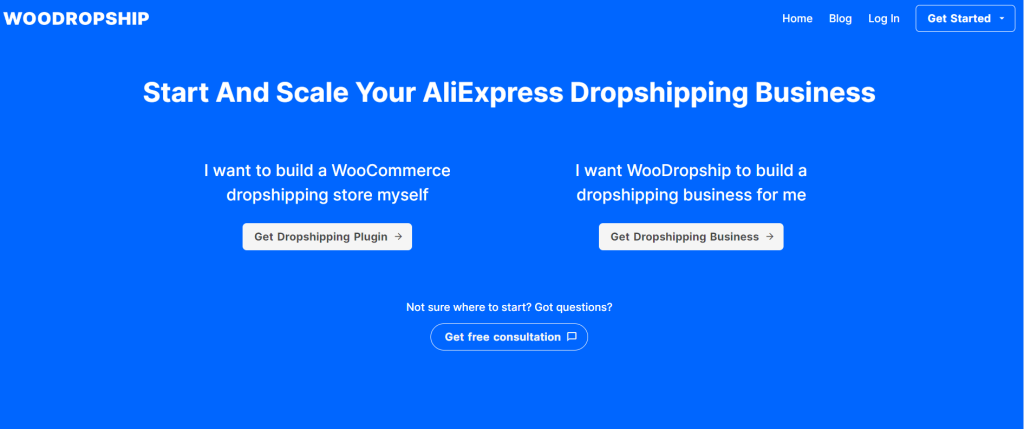 But if you want a fully-fledged dropshipping store, you can purchase a WooDropship store at $199. These stores are tailored according to the client's requirements. You will have 100% ownership, including domain name, hosting, and free access to the WooDropship plugin. You can use its Chrome extension to simplify your workflow. Apart from that, you will also get a free SSL certificate, an in-built SEO tool, preloaded products, and performance analytics with each dropshipping store.
Key Features of WooDropship
Customer-centric dropshipping stores
Browse products and suppliers from AliExpress
1-click product importing from AliExpress
Complete setup, including hosting and domain name
WooDropship plugin for helping new dropshipping sellers
Advanced performance Analytics
Starting Price: $199
10. StartStorez
StartStorez is one of the popular options for dropshippers who are looking for turnkey dropshipping stores. The platform mainly offers Shopify and WooCommerce dropshipping stores for sellers who want to sell one product. StartStorez creates a dropshipping store according to the customer's request. If you want to purchase from the website, you can place an order by filling out the request form so the company can know your project expectations and requirements regarding your business.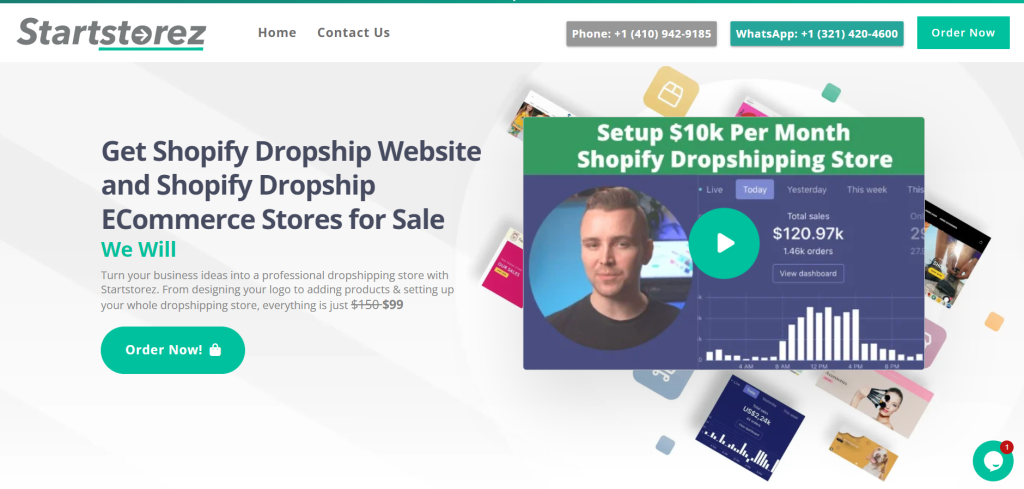 After acknowledging your request, StartStorez will deliver the store in 4-5 working days. The store will include your business logo, payment gateways, and plugins as per your requirements. They will also provide a customer service team to provide support to your customers regarding any issues. With all the services, you will also receive an analytics board from where you can check all your sales metrics in daily, weekly, and monthly formats.
Key Features of StartStorez
Professional-looking turnkey dropshipping stores at a very low cost
Unique designs with professional and high-converting template
1-click importing with full inventory automation
Includes essential plugins, custom logo, and profitable items
Get your store delivered within 4-5 business days
All screens are mobile responsive as well
Price: $99
11. Acquire.com
Acquire.com used to be known as Microacquire, and it is one of the best places to sell and buy startups. You can easily find a profitable dropshipping store to buy and get started with it right away. Thousands of dropshipping stores are available on this platform, and you can easily find the right one for your needs. They connect the buyers and sellers and smoothen the process of acquisition.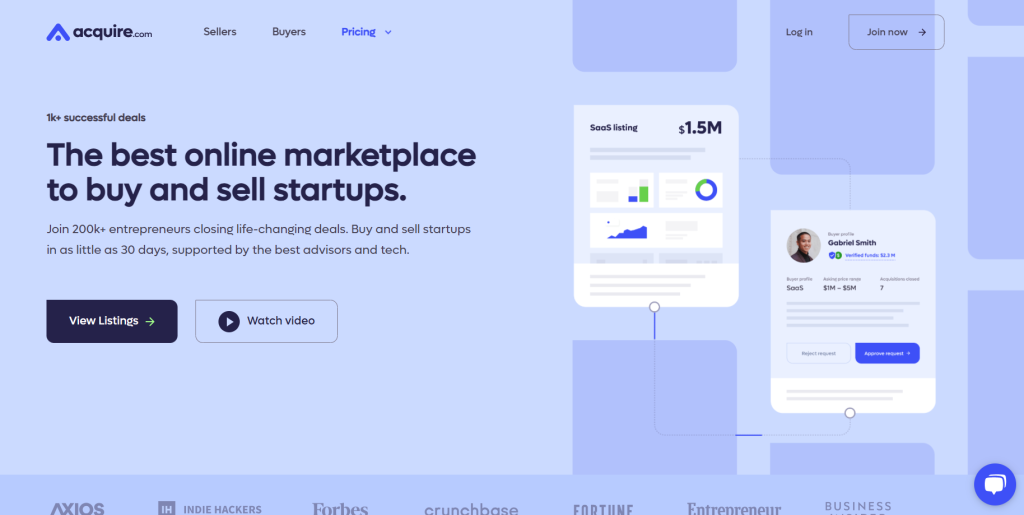 It shows you over 20 financial metrics that are ideal for acquiring any business, including ARR, CAC, MRR, and more. The filtering option allows you to find the dropshipping store you want. Once you find the business you want to buy, Acquire will connect you to the seller and helps both of you in handing over the business smoothly. The pricing for buyers and sellers is completely different.
Key Features Of Acquire.com
Find your dream startup and buy it with ease
Easily sell your dropshipping store at a high price
Acquire gives you a complete overview of a business
Prepare your listing in just a few minutes
Find your ideal buyer to sell your business to
Price: 4% closing fee for sellers and three plans for buyers: free, premium, and platinum costing $0, $390/year, and $780/year.
12. Ecommerceify
Ecommerceify specializes in providing pre-built and custom Shopify dropshipping stores for sale, stocked with winning products from top suppliers. With over 1,000 successful dropshipping website deliveries across 50+ niches, Ecommerceify has helped clients generate over $3 million in revenue. Ecommerceify offers multiple store packages, whether you want a pre-made store with proven bestsellers or a custom store tailored to your niche.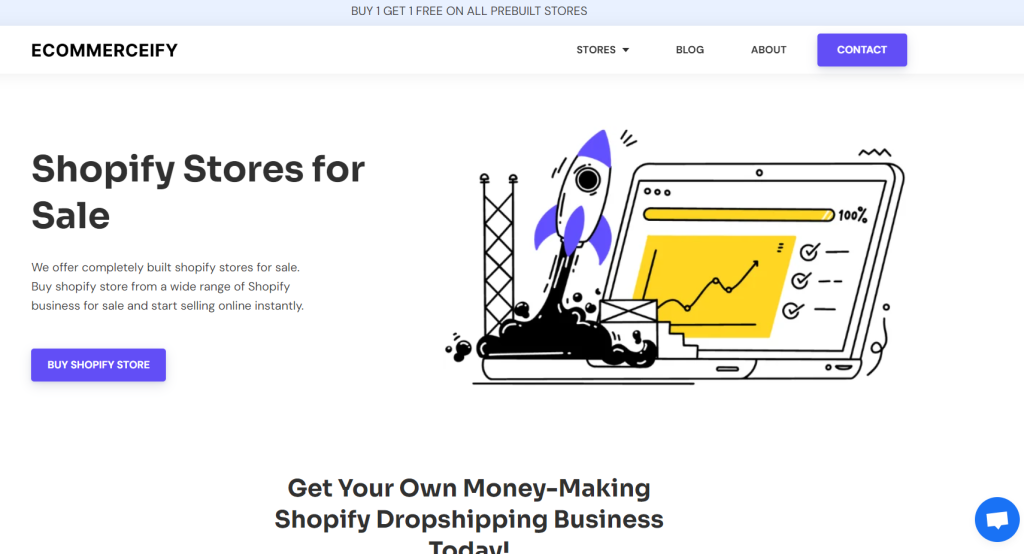 Their turnkey stores include a domain, responsive design, SSL certificate, integrated payments, and full ownership transfer so you can immediately begin marketing and driving sales. With an excellent reputation and outstanding reviews on Trustpilot, Ecommerceify is a reliable source for purchasing established ecommerce businesses ready for growth. Their expertise equips new store owners with everything needed to operate and scale.
Key Features of Ecommerceify
Pre-built stores in 50+ niches loaded with proven bestsellers
Custom store development based on specific product ideas
Domain name registration included
Professional store design optimized for conversions
Integrations for payments, shipping, and suppliers
Starting Price: $149
Types of Dropshipping Stores
Setting up a new dropshipping store is quite a hectic process. That's why most providers offer different types of dropshipping stores. Let's see what types of dropshipping stores you can purchase.
Pre-made Dropshipping Store
Basic pre-made dropshipping stores are brand-new dropshipping stores where most steps, such as setting up the domain, adding products, and store design, are already finalized.
Custom-made Dropshipping Store
Custom-made dropshipping stores are just like the basic ones, but they are tailored according to the customers' specifications. That means the provider will make necessary changes while developing so your website will look as you want.
Turnkey Dropshipping Store
A turnkey dropshipping store is a ready-to-use online website that includes all the essential functionalities and services to run a dropshipping business. However, you need to promote products in your store by yourself.
Fully Established Dropshipping Store
An established store is a dropshipping website of an existing owner that has already been in business for some time. Owners put their websites up for sale due to specific reasons. These websites can cost you hundreds of thousands or even multiple million dollars according to their worth. However, you will have authority, a decent revenue stream, a customer base, and receiving orders & traffic.
Conclusion: Best Dropshipping Stores For Sale (2023)
So this is my handpicked list of the best providers of dropshipping stores. In this list, you will find custom WooCommerce websites, pre-made & premium Shopify stores, and established dropshipping stores with existing traffic, revenue, and customer base. These providers will offer you the best pre-made and established dropshipping stores that save the time you spend on product research and promotion.
Buying an established store is the quickest way to generate revenue among all dropshipping store types. It comes with an existing customer base, traffic, authority, and suppliers. It is like taking over a running business. But you need to invest a lot of money, so make sure to check all the details before purchasing an established dropshipping store.