Are you looking to embellish your e-shop? This article will help you find some best themes that you can use to re-design your Shopify store.
Active in more than 150 countries, Shopify is one of the largest e-commerce platforms in the world. It provides a one-stop solution to sellers where they can create their stores and sell the products.
Shopify has a huge customer base. As of April 2023, it has over 1.7 million e-stores operating across the world, with millions of customers looking for their favorite products to purchase.
Shopify themes allow you to implement various designs and styles in your store. They can give your store a professional touch, projecting you as a serious and reliable seller on the platform. Also, it's a great way to attract new customers. Whether you are just starting your business, or already have a huge product lineup to advertise, you can always find a theme that just suits your style, agenda, and business model.
In this piece, I am going to talk about some of the best Shopify themes designed for different business types and customers you are targeting. Stay tunes.
Shopify Themes: Why Should You Use Them?
Just like on your phone, themes are used to give a special meaning to a platform. Shopify themes come with various color schemes, designing tools, and integration tools that can transform your store from a casual e-shop to a professional and stylish shopping platform.
Apart from the style, they also help you increase the functionality and transition of your store. For example, many themes allow you to add a welcome video on your homepage. You can create your store highlight video, a history of your brand, or simply your top product video and put it on the welcome page and this will be the first thing your customers will see.
These themes come with many pre-designed templates that you can also customize according to your preference and taste. Mind you some themes/designs are more suitable for certain types of stores so it's always a good idea to check as many as you can before you pick one.
Here are a few features of Shopify themes:
Come with various color patterns and themes that can be further customized.
Several homepage design templates to choose from.

Customizable Homepage and Internal pages.

Ability to add pop-ups, image sliders, video advertisements, etc on the homepage.

Social media integration to highlight your Instagram posts.

Allow you to add the Quick Buy option for faster checkouts.
Best Shopify Themes: In A Nutshell (2023)
| | | | |
| --- | --- | --- | --- |
| S.No. | Shopify Theme | Price | Best For |
| 1. | Wokiee | $39 | Books, stationary, pet supplies, and furniture |
| 2. | Universe | $180 | Suitable for all types of products |
| 3. | Icon | $260 | Apparel, handcraft, jewelry, and skin-care products |
| 4. | Pipeline | $320 | Health, clothing, sports, and recreation |
| 5. | Atlantic | $280 | Business equipment and supplies, health and beauty |
| 6. | Flow | $350 | Electronics, smartphones, tablets, and laptops |
| 7. | Shella | $48 | Shoes, clothes, and jewelry |
| 8. | Mobilia | $180 | Wines, beverages, and groceries |
| 9. | Ella | $89 | Electronics and modern gadgets |
| 10. | Impulse | $350 | Fashion, beauty, and lifestyle |
Here are some best themes listed on Shopify here.
1. Wokiee
Let's start with the best one. Wokie is an all-in-one Shopify theme suitable for any type of store. There are more than 80 custom designs available to give your homepage an attractive look and feel.
Other than that, there are layouts for various sections of websites such as item pages, category pages, display pages, and so on. You can customize every page according to your store style and the buyer group you are targeting.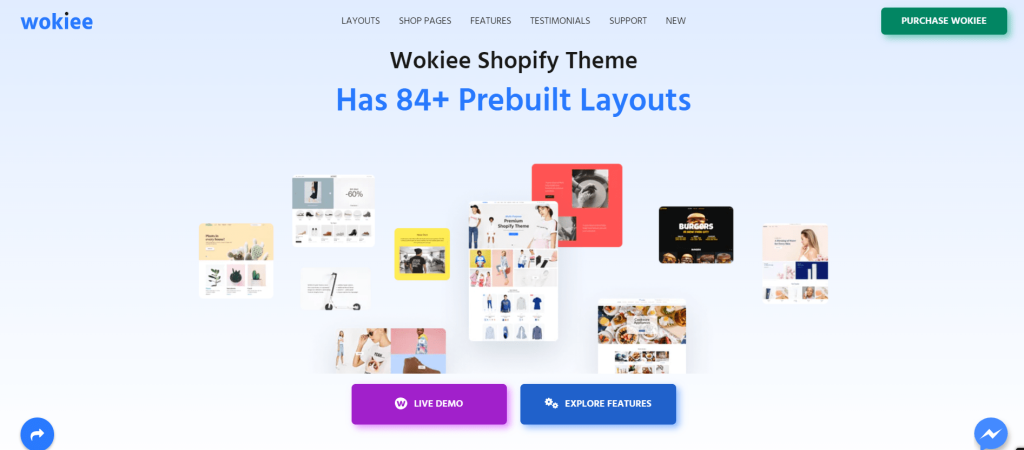 Inside Wokiee, you would find design templates suitable for pretty much every category such as stationary, gadgets, pet supplies, books, furniture, and much more. Not only that, but you can also personalize any theme to give your store a personal touch. 
Apart from the design and look, there are other notable features such as social media integration, AJAX search, etc, allowing you to create a well-oriented and easy-to-navigate store for your customers.
2. Universe
Universe is probably one of the most customizable themes available for the Shopify store. Suitable for pretty much every type of product, this theme makes your store look elegant while allowing a smooth performance.
Universe is known for its templates and pre-defined features that you can directly apply to your store without any customization. For example, there are Dark Mars and Light earth themes for the homepage of your store that looks stunning.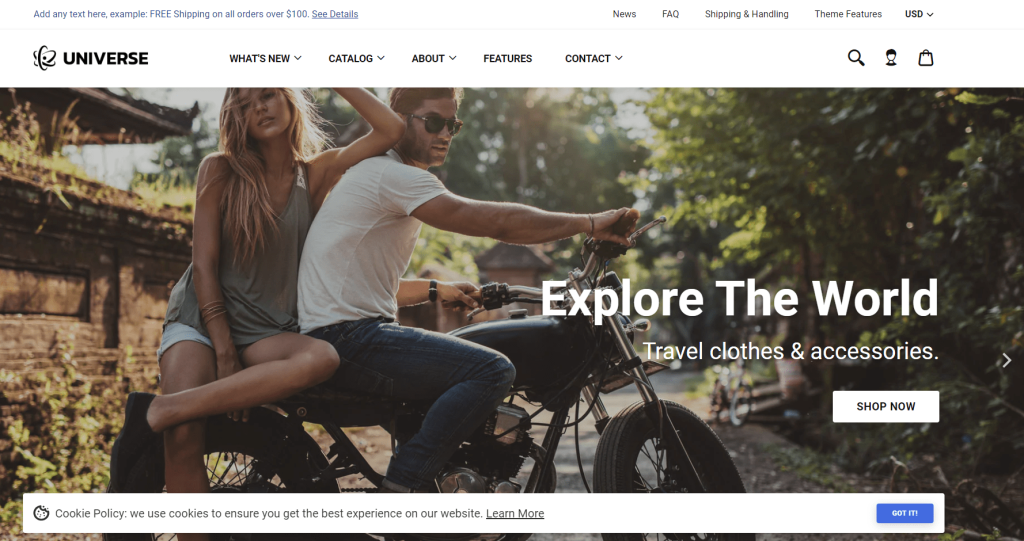 Additionally, you get the main slider on the welcome page where you can use images related to your store, giving your customers an overview of your store. Of course, you can edit the slider content and style based on your personal taste.
You can also add several sections on the homepage where you can highlight your top products, bestsellers, discounted products, and so on.
But the most striking feature of Universe is the ability to run video backgrounds where you can highlight your products in a unique way, along with youtube and map integration. You can also add sections for related products, with an image enlargement feature and an intuitive sliding shopping cart.
3. Icon
Moving on to the more personalized themes, Icon is the one for you if you want to highlight a lot of images and videos on your store. It allows buyers to get a quick peek of the product images without needing to leave the item page.
The theme has a full-width layout where you can stuff a lot of images and video carousels. If you have a lot of social media content to highlight in your store, Icon provides a great platform for that. You can showcase your Instagram feed and images on your store's homepage.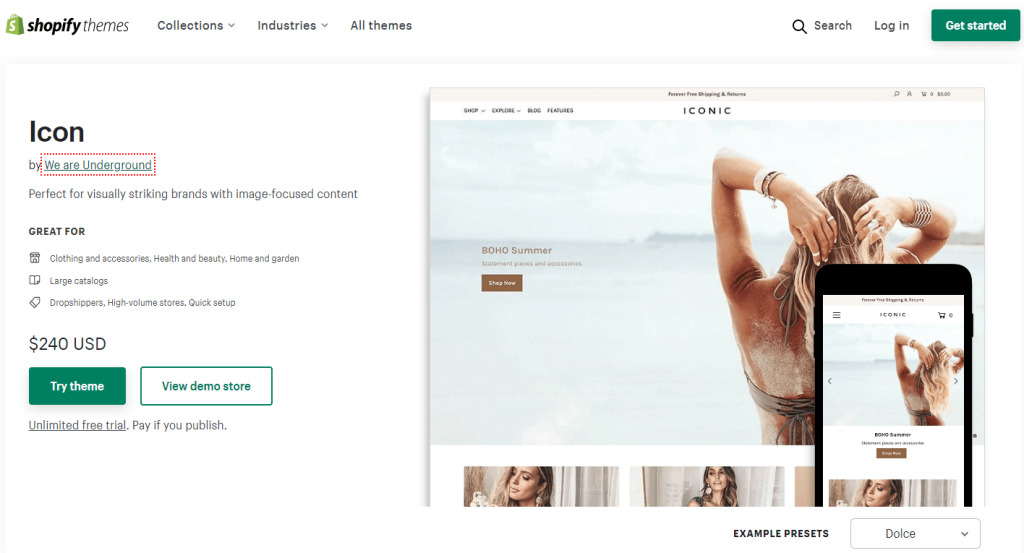 The default homepage alone offers a lot of display features including a full-sized image background, image slider, product grid, quick peek, and much more. You can also opt for a vertical product slideshow tool that allows buyers to navigate through multiple products without moving to different item pages. There are also next and previous buttons to switch between products in a single click.
The theme is perfect for various types of businesses such as handcraft, apparel, household items, furniture, jewelry, skin-care products, and so on.
4. Pipeline
Pipeline is a multipurpose Shopify theme for minimalists. Apart from a very sort-out homepage design, it has a parallax effect for the animated effects while the user is scrolling through the page. This certainly makes it a unique theme for the Shopify store.
You can add several menu columns, meaning if you have a large product catalog, you can easily highlight them using the Pipeline theme. You can take advantage of the full layout to showcase your products in many ways in different sections and categories.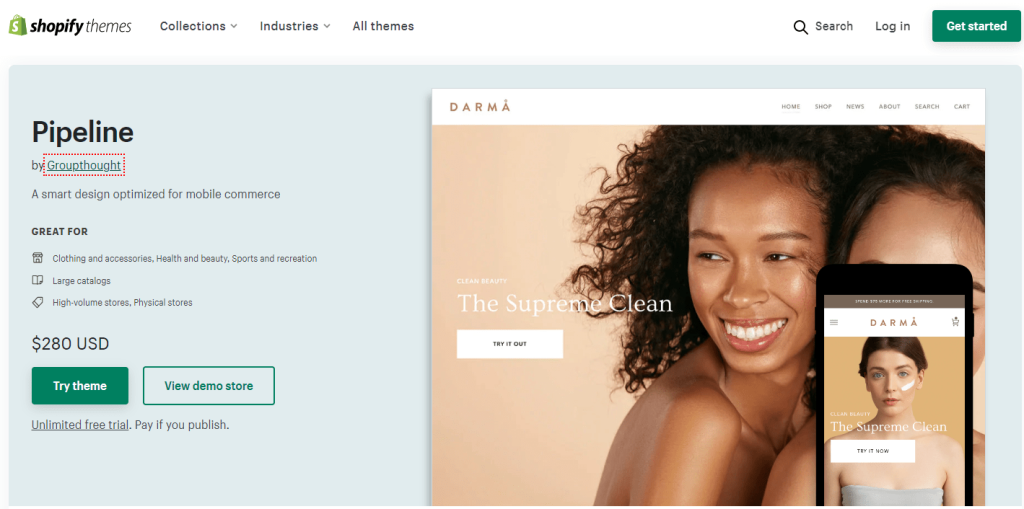 You can also highlight the most visited sections/products of your store by highlighting the links to those pages through the menu column.
Advertising your items with Pipeline is really easy. You can add several media related to your products. Additionally, there is a Related item section where you can highlight a few products related to the current product that the buyer is looking at. Also, a video section allows you to post small video advertisements for your products, giving a better idea to your customers.
5. Atlantic
The Atlantic theme is tailored for newly launched stores. It comes with various homepage layouts that contain the welcome image or video, an image magnifier, and a slider. You can also include an additional image slider where you can add your best product images and the respective link to the product for better engagement.
Atlantic also allows you to integrate your social media accounts so you can bring all the images and posts from your Instagram, Facebook, etc to your store. This gives you a chance to showcase more items to your customers.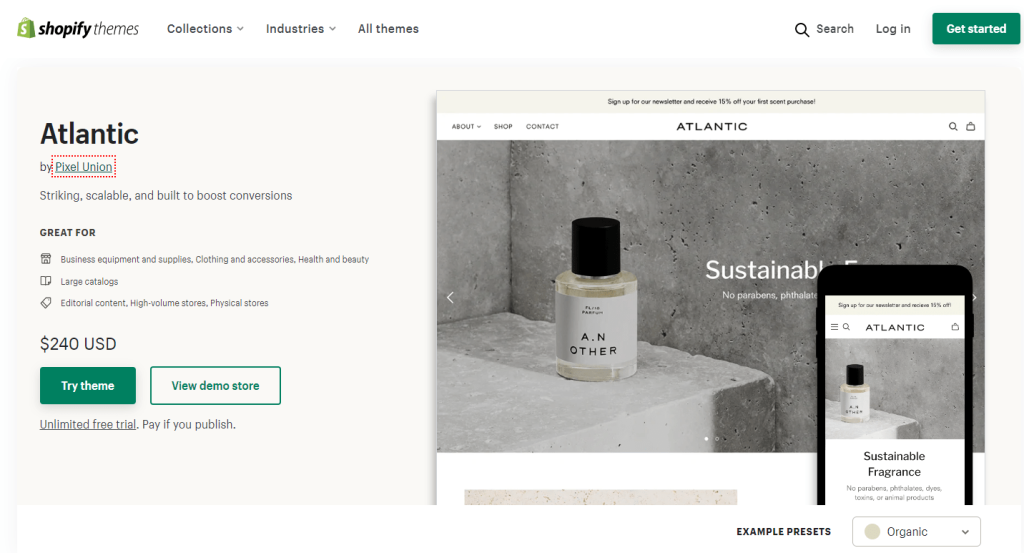 Right on the homepage, there is an option to add the Features Product section. Here you can put your best-selling products, their images, and their links, allowing buyers to know the top items of your store.
There is also an option to add a quick buy option for a better shopping experience for your customers as well as a great chance for you to increase your sales. The theme is suitable for various product categories such as paper supplies, toys, gadgets, fashion, jewelry, and much more.
6. Flow
If you are looking for a minimalist yet modern theme for your Shopify store, Flow can be another great option for you to consider. It has 3 homepage design templates that are designed to entice specific classes of buyers.
If you are selling high-end products such as jewelry, premium gadgets, etc, Flow provides you with a great way to showcase your products. The theme is well-optimized for all kinds of devices such as smartphones, tablets, or a laptop.
You can advertise your premium and top-selling products on the collection page which is accessible right from the homepage. Apart from this, you can customize the product grids to transform your Shopify store into your personal shop.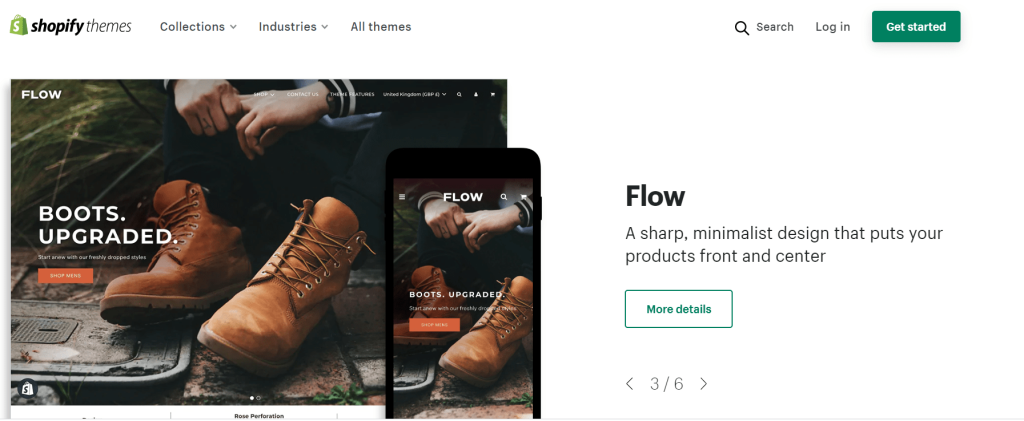 Similarly, to decorate the internal sections and pages of your website, you have several layouts that can be further customized to present your products in a distinctive manner. Flow widget allows you to sync your Instagram feed to your Shopify store, making it easier for buyers to explore your social media posts and products. 
My personal favorite feature of Flow is the pop-up window where you can highlight your store details, such as a subscriber form, specific product details, and images. This is an effective way to grow customer engagement and promote more of your products.   
7. Shella
Shella is mainly designed for fashion stores on Shopify. There are more than 60 design templates to choose from which makes it one of the most versatile Shopify themes available. There are well-over 20 tools available to redesign your homepage as well as the internal pages of your shop.
Right from the start, there is an option to include filters where buyers can search for the products based on their preferences such as price, color, product type, and so on. A feature that will come in handy if you are selling fashion products such as clothes, jewelry, shoes, accessories, etc.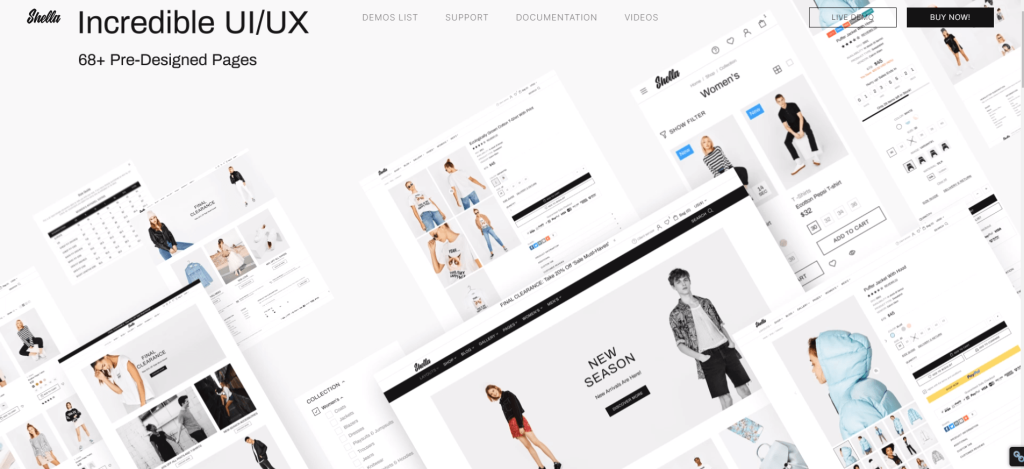 There are other useful tools such as a full-width image slider, video carousels, and other promotional tools where you can highlight your best products. Although there are plenty of templates to choose from, you can also create your own tools to overhaul your store how you want. You can change the color themes, add pop-ups and banners to either showcase your unique products, create a subscription form, or just advertise the promotional offers.
8. Mobilia
The last one on the list is Mobilia – The all-in-one theme for your Shopify store. It comes with 4 templates to restructure the homepage as well as internal sections of your Shopify e-store. The theme is known for its professional and stylish designs and a seamless transition between pages and tools.
You can add a number of menu tabs on your homepage, giving your customers the freedom to explore what they want. You can add an introductory full-screen video on your homepage to add either a welcome video, product video, or simply your store highlight video. Adding a welcome video is a great chance to leave a good first impression on your potential customers.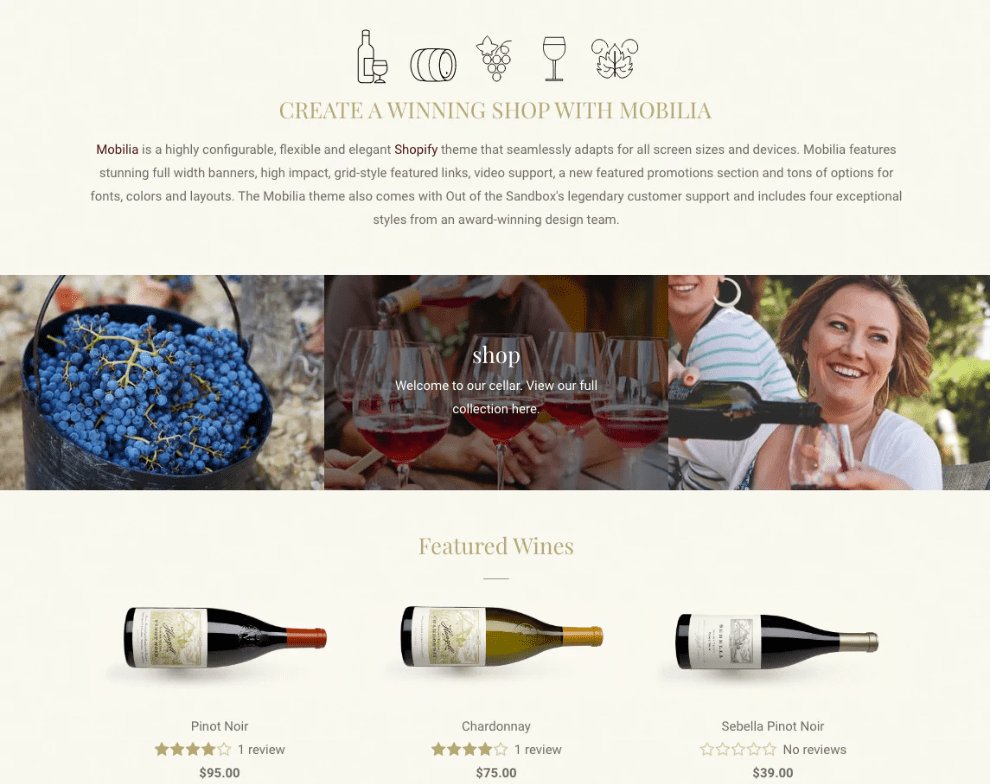 There is also an option to include a Shop Now button on every page. This increases the chances of customers buying the product. It also gives the buyers a better user experience where they can dig into any product without leaving the page they are on currently.
Additionally, you can create a FAQ section to increase customer engagement and connect your Instagram through the social media widget to bring your Instagram posts right on your Shopify homepage.
9. Ella
Ella is another great theme of Shopify, and according to Themeforest, it is the #1 best-selling Shopify theme of all time. The seller of this theme is Themeforest, and you can use it to design your Magento, Shopify, or BigCommerce store. It has more than 50 layouts that you can use to sell clothes, electronics, high-end jewelry, swimwear, sports, and so on.
You get plenty of in-built premium features in this theme which you usually buy in add-ons. This theme saves you plenty of money while you're making money. This theme gives you access to many responsive and well-designed templates. Ella theme keeps updating the current themes available in it and also introduces new ones every month.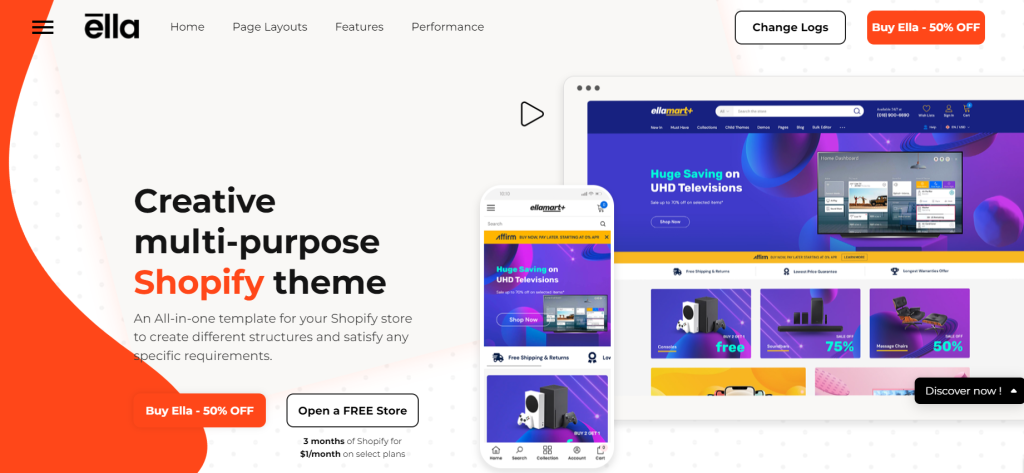 It also offers amazing child themes where it inherits the complete functionality of the parent theme and some of its own traits. You will see no changes in the child themes even if you make changes in the parent theme. The regular license of Ella costs $89, and it gives you six months of support from Halothemes; you can increase it to 12 months by paying an additional $25.38.
10. Impulse
Impulse is a sleek and modern Shopify theme designed for businesses that prioritize visual storytelling and creating an exceptional brand experience. With a clean and minimal design, the Impulse theme is a perfect option for businesses in beauty, fashion, and lifestyle niches. The theme allows sellers to showcase their products in a sophisticated and visually appealing way.
Impulse allows users to customize their homepage so they can highlight their unique brand story and create an engaging shopping experience for their customers. The theme already includes 20+ pre-designed layouts and sections, such as slide shows, featured collections, and product grids, so you don't have to work your way up to customize your store.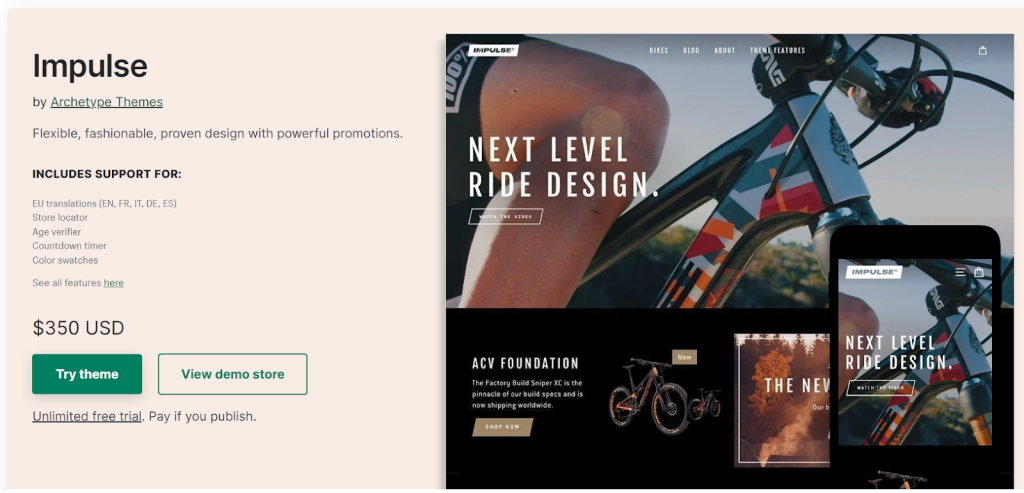 Additionally, Impulse also offers several practical features, such as an optimized checkout, responsive design, and advanced product filtering. These features not only help sellers create a solid online presence but also reduce cart abandonment, so they don't lose sales for no reason.
Related Read:
Final Word: Best Shopify Themes (2023)
One must wonder – How does it matter which theme I choose for my store? Well, think of it from the customers' point of view. As a Shopify seller, your first priority is to bring the customer to your page. No matter how much of the quality stuff you sell, it all starts with the traffic.
Shopify themes help you recast your Shopify store into an eye-catching e-shop where buyers are most likely to visit.
But how to choose the perfect theme for your store? For example, if you are a multi-category store, you can go with any modern design theme where you can highlight as many products as you can on your homepage. On the other hand, for fashion stores, it's a great idea to use some flashy theme with punchy colors and attractive designs.
If you own a fashion store where you are selling jewelry, clothing, and styling accessories, Shella is a perfect option for you.

Flow and Pipeline give more of a professional look to your store. So if you're selling paper supplies, office accessories, stationary, gadgets, etc, go with either of those.

If you want to have a big choice with designs, Wokiee and Shella are good options to consider. Both themes have more than 60 templates to choose from.