Starting as an Amazon Seller is an excellent way to launch a business and earn money. And if you're going to sell anywhere, Amazon is the place to do it. Fortunately, the Amazon market is massive, and it's growing faster than ever as more people shop online for almost any product.
When I started selling on Amazon back in 2015, I still remember the mistakes I made. The #1 mistake was not learning from the Industry Experts who generated millions of dollars of revenue. After failing, again and again — I decide to pay for the one-to-once Amazon seller coaching. And guess worked like a charm — I learned where I was making mistakes. In this article, you will get to everything you need — to sell on Amazon as a beginner.
Selling on Amazon is not a "set it and forget it" type of business, but if you plan ahead of time and have the right data and tools, you'll be well on your way to success. In this post, we'll go over some strategies for keeping your business running smoothly and profitably. But before that, let us first understand the concept of Amazon FBA.
What Is Amazon FBA?
"Fulfillment by Amazon" or simply "FBA" means the process in which Amazon stores your products in its inventory, fulfills your orders, and provides customer service. If you want to use the Amazon FBA service, you must first create an Amazon seller account and then add FBA to it. It is critical that you set up your business in accordance with the guidelines on the website.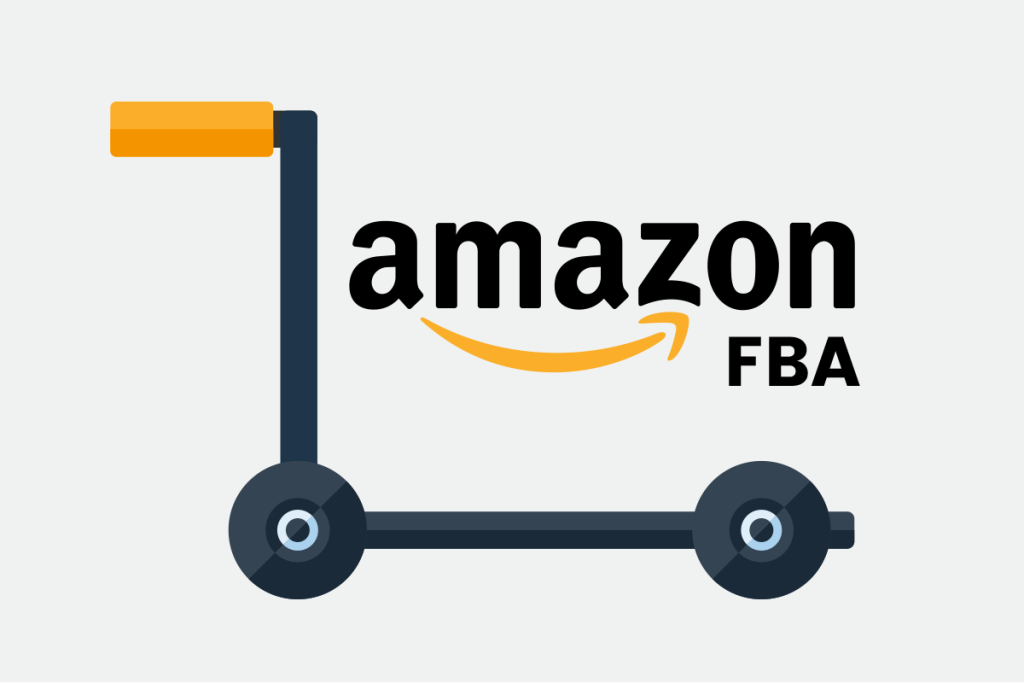 The Growth of Amazon and FBA!
Amazon is a global marketplace that provides a fantastic opportunity for both established and new traders to reach the top. So, start selling and profiting. To start selling on Amazon, you can use the Fulfillment-by-Amazon (FBA) program.
You simply ship your products to Amazon's warehouses using FBA. Amazon will then store your inventory, and when an order comes in, Amazon ships the product to the customer (via 2-day Prime shipping), and Amazon handles all customer support. If you're not sure how to go about it, this guide will help you get started.
Selling with Amazon FBA
Create the product listings and inventories for your brand, or upload the data of your inventory to Amazon. Prepare your products for delivery and ship them to the Amazon warehouse. Once a customer places an order, Amazon FBA will fulfill the order and send the customer all the necessary information for shipping and tracking the product. Both sellers and customers have access to customer service 24 hours a day, seven days a week.
You will no longer have to handle the processes associated with inventory and shipping of orders as a seller. This system makes it very simple for you to get started. Amazon's solid FBA model also supports and enables you to grow and expand your brand globally. Furthermore, if you are an Amazon FBA seller, you are eligible for free shipping on order values more than $25 (books) and $49 (other items).
Furthermore, you are eligible for the Amazon Prime program, which provides customers with unlimited free shipping in two days or the same-day shipping service. When compared to other order fulfillment centers, the Amazon FBA fee is quite reasonable. Furthermore, the Amazon FBA program allows you to sell through multiple channels.
How Does Amazon FBA Work?
It is fairly easy to understand how the Amazon FBA process works. On the most basic level, you ship your merchandise to Amazon, and they handle the rest. Looking into the specifics, here's how Amazon FBA works:
Amazon will tell you which warehouse to send your products to; all you have to do is ship them there. Work with your supplier to have them shipped directly to the Amazon fulfillment center to cut one more step out of the process.
Amazon stores your products in their warehouse until they are ready to ship.
When a customer purchases something from you, Amazon FBA processes the payment and updates your inventory.
Amazon locates the item, packages it, labels it, and ships it to your customer.
Any delivery issues, returns, refunds, or exchanges are handled by Amazon.
Amazon direct deposits your earnings into your linked bank account.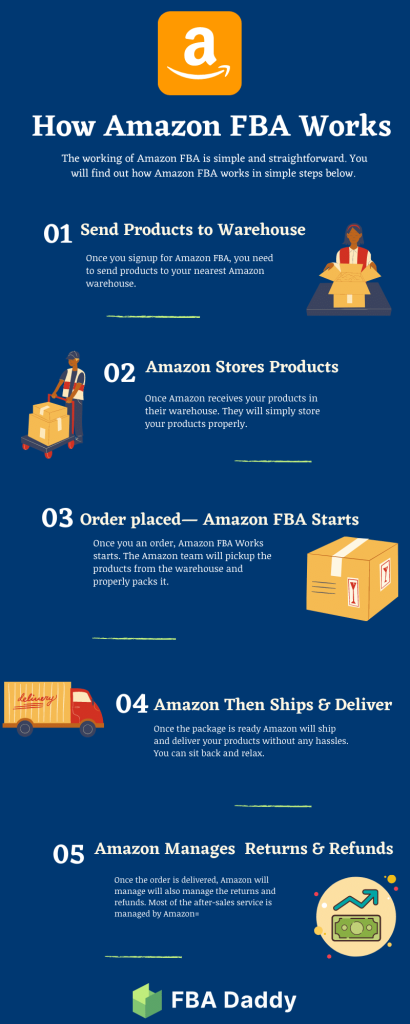 Different Business Models Of Amazon
There are five different business models of Amazon, which you can choose to sell with. We have explained all of them in brief below.
1. Private Labeling: In this business model, you create your own brand of products and choose to sell on Amazon. For example, Amazon also has private label brands called Amazon essentials and Amazon Basics.
2. Retail Arbitrage: In the Retail Arbitrage model, you purchase products in retail and then sell them for a profit on online marketplaces like Amazon, eBay, and Walmart.
3. White Labeling: In the White Labeling business model, you take a product from a different brand but start selling it under your brand.
4. Affiliate Marketing: If you don't want to become an Amazon seller, then you can become an Amazon affiliate. For that, you need to sign up for Amazon's affiliate program and, after that, select the products you want to promote on your website to earn commissions.
5. Dropshipping: You don't need to keep products in your hand in the dropshipping model. You can leave everything to manufacture, such as shipping, packing, and fulfilling the order. All you need to do is receive the order from customers and then place an order with the manufacturer.
How to Sell on Amazon with Amazon FBA?
Let us now go over this in detail and walk through all of the necessary steps to becoming a successful Amazon FBA seller. There are numerous things you should be aware of. You must research the market, look at trends, get to know your competitors, and decide what kind of products you want to sell and how much money you want to spend on product sourcing, marketing, and promotion. Make a rough plan for your company's schedule and relevant business activities.
Free Access to #1 Amazon Seller Course (Freedom Ticket by Helium 10)
Yes, get access to the number one Amazon seller training course for FREE!
Helium 10 is offering this training for FREE with the starter PLAN! The course is worth $1000 (Now it's FREE)
Don't wait, grab the opportunity and have a solid foundation for becoming a successful Amazon Seller!
1. Create Your Business Plan
If you are just starting out, you have come to the right place to learn more about Amazon FBA. Let's get this party started. To begin an Amazon FBA business, you must have a plan in place to ensure that everything is on track. Your business plan must include your company's mission statement, analysis of the market, services, and products, marketing and sales strategy, financial projections, and so on.
2. Figure out your Niche
To sell on Amazon FBA, you must first identify a suitable niche that will be profitable for you. To run a business profitably, you must research the market and identify relevant trends and products that are aligned with your interests and passion. Learn about the product trend and investigate its practical value, emotional impact, visibility, as well as recognition. To go viral on the market, try to figure out the selling point of your product or create a trendy selling point.
3. Market & Product Research
Once you've determined your niche, you must validate it in the market through market research. Keep track of your competitors' sales over time. Following your competitors will provide you with a more accurate picture of the market, niche, or segment. You can make use of these keyword research tools for Amazon sellers.
It is preferable to conduct research on products that can be sold quickly and with a high turnover rate. Through its sales rank feature, Amazon does provide this facility for determining which products are selling quickly. Any rank greater than 50 is acceptable, and you may select that product. If you are just getting started in trading, you should do some research to find the best product category for you.
4. Find & connect with suppliers
Communicate with various customers or suppliers to learn about their feelings about the products; a survey could be used. You can contact retail malls to find out what products are being disposed of in bundled offers or at steep discounts. Purchase these at a low cost and resell them at the printed price or a slightly lower discount.
Contact wholesale distributors to form a long-term partnership and negotiate special pricing. You may be required to purchase a certain number of items within a certain time frame. There may be a minimum order quantity.
5. Place Orders
After you've decided on a supplier, you'll need to place an order. In most cases, the first order should be small. You can place a small order and use it to test the market and gather relevant customer feedback. This type of testing is an excellent way to learn about the market for your products.
Remember to keep in touch with your supplier on a regular basis to avoid misunderstandings and to receive product manufacturing updates. Keep the main specs in black and white, and make any revisions as soon as possible.
6. Create an Amazon Seller Account
If you do not already have an Amazon seller account, you must first register for one. There are two kinds of accounts available: individual sellers and professional sellers. The former is free, but you will have to pay a nominal fee of about $1 for each item you sell on Amazon. The Pro seller offers additional features and is priced at $39.99 per month. You can select the account type based on your company's budget.
7. Create Product Listing
After creating an account, the next step in learning how to sell products on Amazon is to create a product listing. For each item, you can either create a new product listing or add it to an existing one. A pre-existing list indicates that you can search for a product similar to yours and find the listing.
You use the seller central dashboard to add your product to that list, along with your price and terms, and then click on sell yours after you've added your product. Fill out the form and then press the save and finish button. If you come across multiple listings, choose the one with the highest ranking to learn more about the price and other details.
8. Managing Inventory
Inventory management is required, and Amazon automatically tracks inventory, reducing item count as products are sold off. You even have the option to manually adjust inventory by modifying available units via the seller central dashboard. Inventory feeds and bulk uploads can be used to manage inventory. You may use the inventory software or the e-commerce platform, as well as Amazon seller tools, to manage inventory.
5 Pro Tips for Amazon FBA sellers
You may find it difficult to generate sales right away, especially if you charge for shipping. Price yourself competitively, make those first few sales, and earn that positive feedback, and you'll start to see more success. Here are five pointers to help you sell on Amazon like a pro.
1. Start with a single product and scale slow
You may be eager to get started with Amazon FBA but take your time. Taking your time will allow you to adjust to the processes, minimize errors, and use data to make future decisions. Begin with one product. Figure out how to ship your products to Amazon and how to move inventory in and out of their warehouses.
Scale your business if you're making a consistent profit. Add more products to FBA (one at a time) and see if it still works. It will take some time to get used to things and learn best practices. You may discover that certain products have a high return rate through FBA and decide to sell them through self-fulfillment.
2. Hire an expert to scale better
Consider hiring help to help your company grow. You'll still need help writing products listings, selling products, analytics reviewing, merchandise pricing, and researching future products to ensure everything runs smoothly. It's a lot to handle, especially if you're doing it on your own.
3. Build Your Brand Reputation
Your brand's reputation becomes extremely important, especially if your products do not currently have Buy Box status. When a customer searches for potential sellers, they are looking for a brand that they are familiar with and trust. Improve your reputation by:
Ensure timely delivery
Obtaining favourable feedback
Competitive pricing for your products
Providing high-quality products in a timely manner
Responding to customer inquiries and feedback
Building your brand's reputation first and foremost will ensure that your existing customers spread positive word-of-mouth to others, allowing potential customers to trust your brand and its services.
4. Price to Maximize Profitability
There's no way around it: Amazon FBA will eat a portion of your profits. You must price yourself competitively while also ensuring that FBA does not cause you to lose profit. Don't fall into the trap of operating on razor-thin margins, which causes you to lose money on product sales. Understand your profit margins and adjust your prices accordingly.
This could imply that you need to reduce your manufacturing costs or raise your prices. However, if you overprice yourself, you will not make sales; if this is the case, that product may not do well on Amazon FBA.
5. Bundle Items When Possible
Buyers are searching the platform for everything from soccer jerseys to toothbrushes, but dozens of near-identical sellers are selling the same items. Bundling can help your products stand out.
Bundling items allows you to create a distinct product listing so that your brand can stand out from others. You'll almost certainly discount items in your bundle to make it more appealing to buyers, which can help you earn more buyers—and, if the margins are correct, higher profits.
Pros & Cons Of Selling On Amazon
A lot of third-party sellers are selling their products on Amazon and running successful businesses. But there are always two sides to a coin; if there are benefits to selling on Amazon, there are surely drawbacks to selling on Amazon.
Pros
The process to start selling on Amazon is straightforward and easy for beginners to follow.
If you have found the right product to sell and you know your audience, then you can easily build a profitable business from selling on Amazon.
Since you're selling on Amazon, there is a possibility of getting more sales because of the traffic on Amazon.
You don't have to spend a lot on marketing.
You don't have to worry about holding your inventory if you use the FBA service of Amazon.
Cons
Other sellers can easily hijack your listings using your ASIN and take advantage of your marketing efforts as well.
If your margin is not good, then you might end up paying more to Amazon than you're earning.
You will be responsible for customer care service even if Amazon is handling all your operations.
Alternative To Selling On Amazon
If you have tried selling on Amazon and failed miserably at it, then don't worry because there are other marketplaces you can start selling on Amazon. Here are some of those marketplaces you can start selling on:
1. Walmart: Walmart is also a great platform for sellers to start selling on, but the only issue with selling on Walmart is that you need to have a registered business in the US to sell on the Walmart marketplace. We have also done a comparison of selling on Walmart vs Amazon here. If you're interested in selling on Walmart, then check our guide to start selling on Walmart.
2. eBay: eBay is one of the best eCommerce platforms to start selling on. We have prepared a detailed guide on how to start selling on eBay here.
Related Read:
How Much Money do You Need to Start selling on Amazon?
This is dependent on a variety of factors, but even with a small budget (less than $500), you can source products and launch an Amazon FBA business. Begin with an individual account and then progress to a Pro account as your sales increase. The key is to find profitable products and then reinvest your profits.
Why Should you sell on Amazon with Amazon FBA?
While Amazon FBA is a game-changer for startups, it is not without flaws. It has advantages and disadvantages that make it appropriate for some businesses and inappropriate for others. Let us now discuss the benefits and drawbacks of Amazon FBA so that you can manage it as the best fulfillment method for your company.
Amazon is visited by over 150 million people: With millions of customers worldwide, Amazon is the largest and most trusted online marketplace, with a global presence that allows you to reach more buyers.
Fast and stress-free shipping: Amazon uses the best software and practices to ensure that your product listings are fully visible and that you have every opportunity to sell.
There are no fixed costs. When you sell, you pay. Their rates are the most competitive for merchants.
Payments are secure and timely.
Professional services to assist you with every step of the online selling process. Amazon provides a number of fulfillment options, including fulfilled by Amazon, fulfilled by merchants, and pick up from select Amazon associates in a number of cities.
The Amazon seller dashboard is simple to use and packed with features.
FAQs On How to Sell on Amazon
Is Amazon FBA still profitable in 2023?
If done correctly, Amazon FBA will be well worth it for sellers in 2023. Before you can determine whether it will be a profitable solution for your company, you must first calculate how much you are likely to spend. You could even test Amazon FBA with a few different types of products to see if it works for your company.
What is the difference between FBA and FBM?
Fulfilled by Amazon or FBA is Amazon's warehousing and fulfillment service, which allows you to send your inventory to an Amazon warehouse and then Amazon takes care of shipping the orders to your customers. Fulfilled by Merchant or FBM on the other hand, is a fulfillment method where the seller assumes full responsibility for inventory storage and order fulfillment.
Amazon charges a fulfillment fee as well as a monthly fee for the inventory storage fee when you use FBA. You can store and ship items yourself using FBM, or you can outsource fulfillment to a third-party that isn't Amazon.
Should I use FBA or FBM?
When you sell something on Amazon, you must fulfill the order. If you sell your products through Amazon FBA, Amazon will handle fulfillment and ensure that your customers receive your products. However, if you sell your product through Amazon FBM, you will be responsible for handling and shipping your own orders.
Which are the best Amazon FBA tools for sellers?
There are hundreds of seller tools available in the market developed to help brands sell on Amazon via Amazon FBA. Some of the most recommended tools from the lot are Jungle Scout, Helium10, Viral Launch, etc.