Amazon FBA (Fulfillment by Amazon) is one of the popular ways for eCommerce businesses to sell their products through the Amazon marketplace. However, managing an FBA store on your own can be exhausting for a seller, especially when it comes to listing optimization, product research, keyword research, and inventory management.
Luckily, there are a variety of FBA tools available in the market that allows sellers to streamline their business operations without much effort. But choosing the right one is not easy as you think. Every tool tends to cater to a different set of sellers. So it is important to find the right tool that offers features that fit with your business well.
In this post, I have compiled a list of the 9 best Amazon FBA tools for sellers with different needs. I have also included key features, drawbacks, and pricing with each tool so you can easily compare and choose what's best for your business.
Let's get started.
Best Amazon FBA Tools: In A Nutshell (2023)
| | | |
| --- | --- | --- |
| S. No. | Amazon FBA Tool Name | Best Feature |
| 1 | Helium 10 | Comprehensive all-in-one Amazon FBA Solution |
| 2 | Jungle Scout | Best for Product Research and Analytics |
| 3 | AMZScout | Best for Keyword Research |
| 4 | Viral Launch | Best for Product Sourcing and Launching |
| 5 | Sellics | Amazon Seller Analytics and Optimization Platform |
| 6 | Feedback Whiz | Best for Feedback and Review Management |
| 7 | Keepa | Amazon Research and Pricing Tracker |
| 8 | Inventory Lab | Amazon Inventory and Financial Management Tool |
| 9 | CamelCamelCamel | Product Price Tracker and Product History Tool |
Here is my hand-picked list of the best Amazon FBA tools. Each tool is unique and offers various benefits to its users. Let's know more about them.
1. Helium 10
Helium 10 is one of the best Amazon FBA tools that helps a seller in all possible areas. It offers a suite of seller tools designed to help FBA merchants with product research, listing optimization, inventory management, etc. With one premium subscription to Helium 10, you get access to 22 different tools that help sellers build their Amazon business from scratch. Helium 10 also includes a keyword research tool that comes with an advanced filter that helps sellers find high-volume and relevant keywords for listing optimization and PPC campaigns.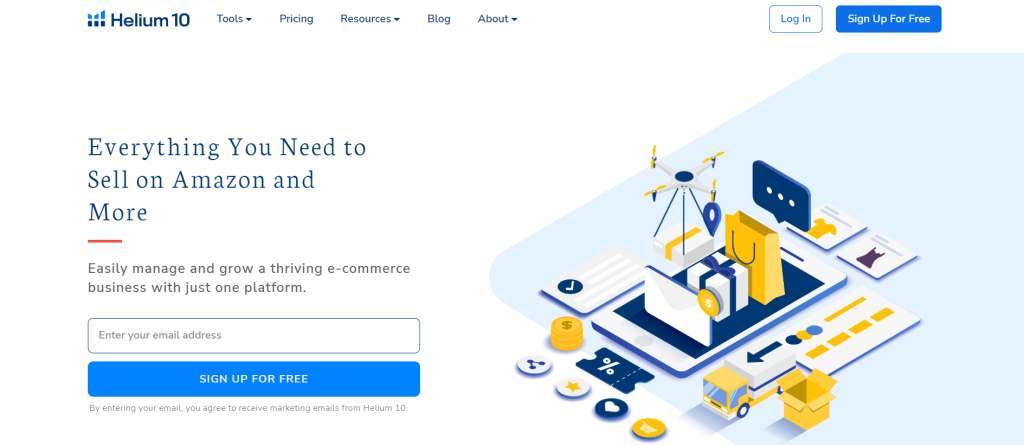 Inventory management is one of the crucial aspects where most sellers fail. Thanks to Helium 10's cutting-edge inventory management features that help sellers manage inventory levels and even forecast future supplies according to the product's sell-through rate. The platform also offers launch tools for promotions and PPC campaigns, as well as tools that help Amazon sellers monitor their competitors' products, pricing, and sales performance. We also have an exclusive coupon to help you save big on Helium 10 plans.
Key Features
Product research tool with advanced filters
Listing optimization tool for new and existing product listings
A keyword research tool to find high-volume keywords for various purposes
Launch tools for PPC campaigns and product promotions
Inventory management and forecast tools
Competitor analysis and monitoring tool
Drawbacks
Reports can take time to generate results
Some tools have a learning curve
Starting Price: $39/month
2. Jungle Scout
Jungle Scout is another all-in-one FBA tool suite for Amazon sellers. The platform is known for its unparalleled product research capabilities. In fact, no other tool can beat in this section. Apart from finding profitable products, Jungle Scout also helps you with listing optimization and conducting market research. With its premium membership, sellers can get access to features and tools that will help them at every stage of their Amazon business. Most of its tool works similarly to Helium 10. For example, its product research tool allows you to set filters and parameters so you can find the most profitable product in a specific category.'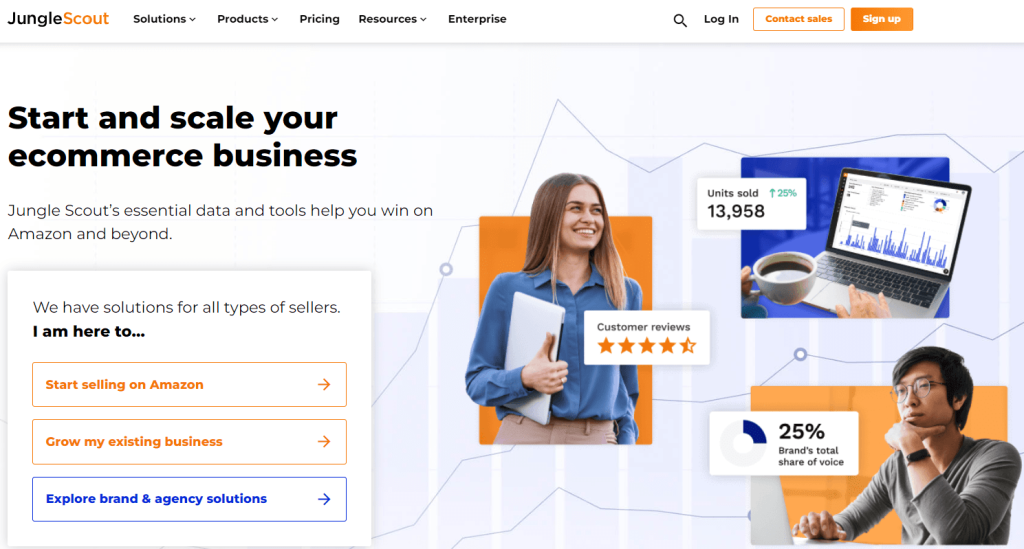 Besides other features, Jungle Scout's two tools are unique and worth mentioning: promotions and supplier database. With the Promotions feature, you can promote and advertise your Amazon products within Jungle Scout. It allows you to fetch early sales without setting up expensive PPC campaigns. On the other hand, the supplier database tool helps sellers find a vetted supplier for the products they have selected. The database contains essential information about suppliers, such as contact details, delivery times, ratings, etc. You will also get a self-explanatory sales analytics dashboard that shows products' performance and provide insights so sellers can make necessary adjustments. You can save a lot on Jungle Scout with our exclusive coupon here.
Key Features
Exclusive product and keyword research tools
Extensive product database with advanced search parameters
Sales analytics dashboard
Inventory management features
Opportunity finder tool for niche research
A supplier database that offers information on thousands of vetted sellers
Drawbacks
Quite expensive compared to other tools
Some features require separate add-ons and subscriptions
Starting Price: $49/month
3. AMZScout
AMZScout is a premium Amazon FBA tool that provides sellers with product research and data analysis tools. It allows sellers to find profitable niche opportunities and products by analyzing data from different Amazon marketplaces. AMZScout's product research tool derives data points such as estimated sales, competitive prices, and other key metrics before finding a winning product to sell on Amazon.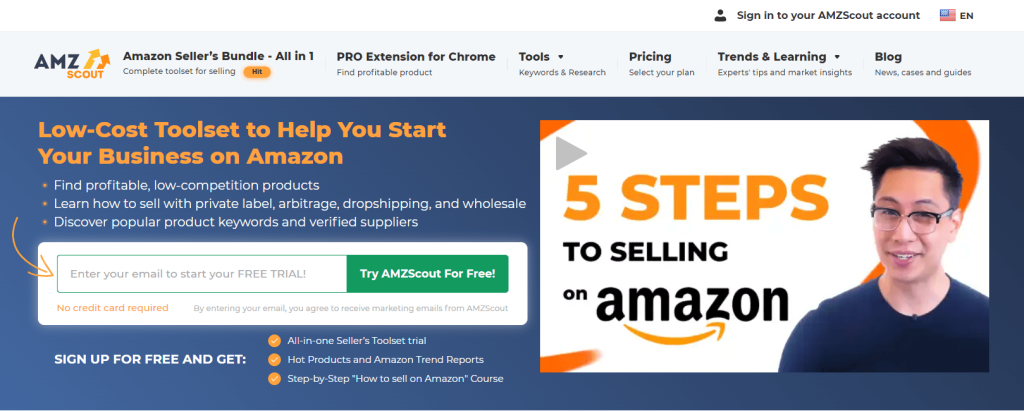 AMZScout offers only two plans to their users that are easily affordable for any type of seller. With each plan, you get hands-on experience with its exclusive FBA Calculator tool that helps you calculate complex FBA fees. The tool also offers a Chrome extension that you can use to see data points of products while browsing the Amazon marketplace. You can also use the extension to compare similar products for a particular keyword search.
Key Features
User-friendly dashboard
Offers all-in-one bundle
Chrome extension to use all the features in the real-time
In-build academy to learn how to use the tools efficiently
Extensive product database
Niche scouting tool
Drawbacks
No built-in tools for competitor analysis
Limited features compared to other tools
Starting Price: $29/month
4. Viral Launch
Viral Launch is one of the fastest Amazon FBA tools that help sellers take their business off the ground. It offers a range of powerful seller tools that users can use to improve their sales and profits. Product Discovery is one of its standout features that allows sellers to find profitable product opportunities based on different factors, such as keyword difficulty, sales trends, and competition levels.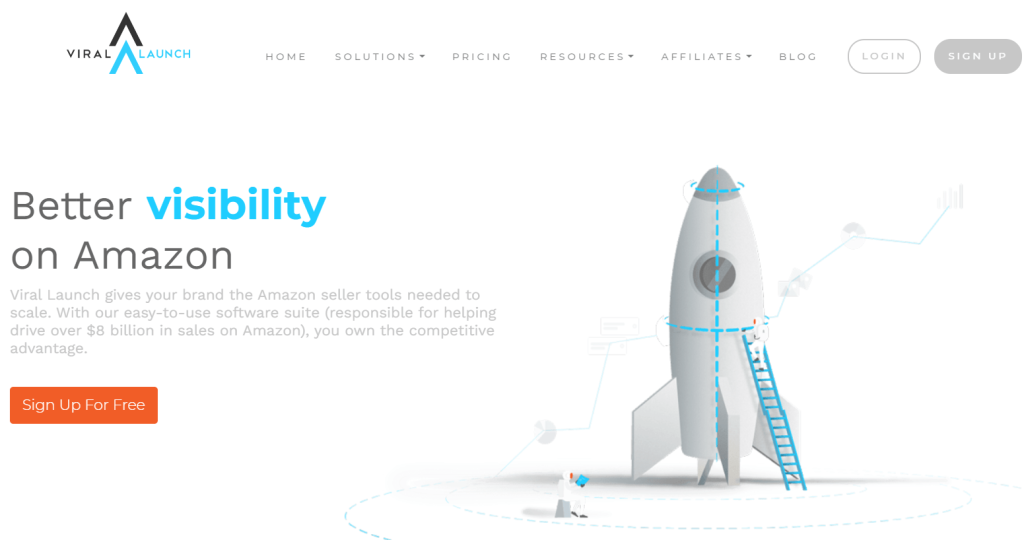 With a Viral Launch premium subscription, you get an all-in-one solution and tools, including keyword research, sales analysis, and listing optimization. These tools enable sellers to make data-driven decisions to improve their rankings and conversions. Additionally, the platform also offers a premium tool, Kinetic PPC, that helps sellers manage, track, and monitor PPC campaigns. Unlike AMZScout, you get a competitor analysis tool that lets you monitor all aspects of your competitors' listings. Save on your purchase of Viral Launch with our coupon here.
Key Features
Offers an all-in-one seller tool-suite
Keyword research tool for detailed insights into keywords
Fully-furnished Chrome extension to ease up the product and keyword research process
Kinetic PPC tool to manage PPC ad campaigns
A helpful support team that solves any queries
Best tool for sellers who are looking to launch their business immediately
Drawbacks
A learning curve for beginners
Limited support for international Amazon marketplaces
Starting Price: $69/month
5. Sellics
Sellics is a comprehensive Amazon FBA tool suite that covers everything from product research and listing optimization to inventory management and PPC management. It offers a standout feature, the Amazon SEO tool, that offers an extensive analysis of a seller's product listings and provides actionable insights to improve sales and rankings. Its inventory management tool not only just helps you manage your inventory levels but also forecasts when and how much inventory you will need for replenishment.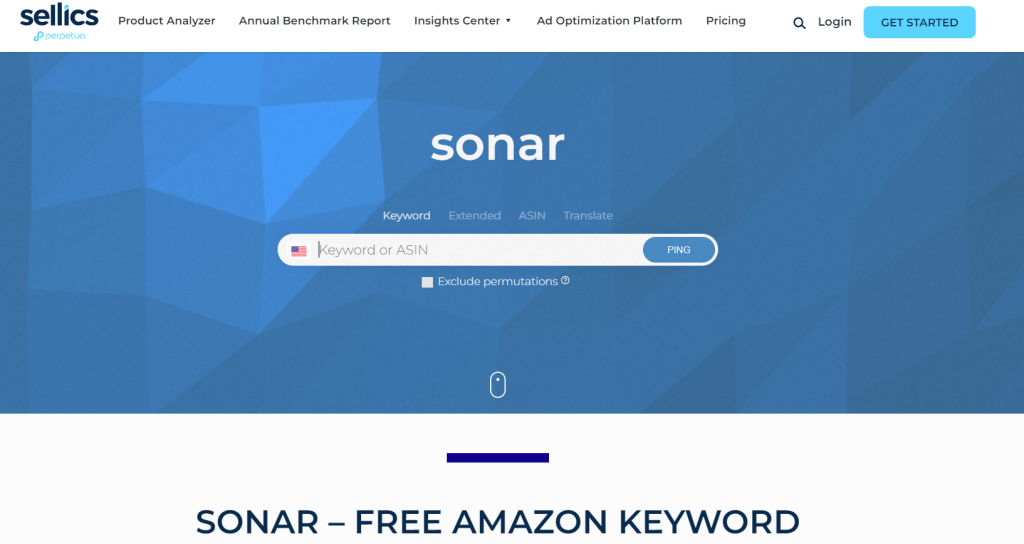 Sellics is a great option for FBA sellers who want to have all the stats and data in one place. This feature eliminates the need to purchase separate tools or extensions for deriving data. In fact, it pulls up the data points directly from your Seller Central in real-time. Too much data in one place can exhaust a seller for sure. Thanks to Sellics' user-friendly dashboard that shows visual layouts of all the data so you can easily analyze and compare according to your needs.
Key Features
Track and measure all your profits in real-time
Use Sellics PPC manager to optimize your PPC campaigns
Get notified when a customer leaves a feedback
Access to Sellics Product Database to choose from over 10,000 best-selling products
Plenty of automation features
Offers solutions for sellers, vendors, and agencies
Drawbacks
It needs you to be tech-compliant unless you use automation
Pretty expensive for beginners
Starting Price: $250/month
6. Feedback Whiz
Feedback Whiz is not your common Amazon seller tool. It is a unique communication and automation tool that helps you track your product reviews and helps you engage with your customers. It simply automates communication between your Amazon store and your audience. The tool allows you to create different messaging scripts that react to various triggers, which include feedback, shipment, delivery, refunds, and repeat purchases. Since the company is incorporated with Amazon FBA rules, it responds to a customer accordingly.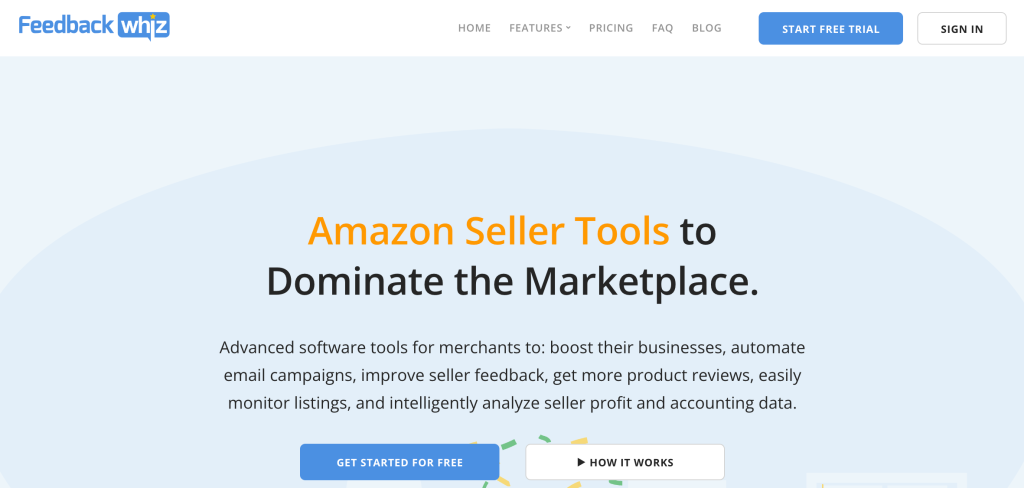 Feedback Whiz also has an automated feedback request system that helps sellers request feedback from shoppers. The monitoring system track all types of reviews, including negative one, so you can provide the necessary solution to customers' queries. Apart from that, you will also get access to tools like the analytic dashboard, inventory management, order management, etc.
Key Features
Integrates with multiple Amazon marketplaces at the same time
Built-in communication feature
Automated email system for reviews and feedback requests
Product review monitoring tool
Customizable email templates
Free plan available with limited functionality
Drawbacks
Limited language support for intonational marketplaces
Limited product research and listing optimization capabilities
Starting Price: $19.99/month
7. Keepa
Keepa is an intuitive tool for Amazon FBA sellers that provides them with valuable insights and data to help them optimize their sales and profits. The tool allows them to track the prices and sales rank of any specific product on Amazon. The price history chart is one of its notable features, in which sellers can see how the price of a product has fluctuated over time. These charts help you determine the optimal pricing strategy of competitors' products. And it also identifies potential opportunities and current trends in the marketplace.

The main reason many sellers choose Keepa is because of its handy browser extension. It directly integrates with Seller Central and lets sellers price history charts and other important data points right on Amazon product pages. It saves sellers plenty of time and effort and also eliminates the need to search pricing charts manually. Additionally, you can also see the fluctuation in the sales rank of products which helps you identify why products are gaining or losing popularity over time. It is a useful strategy for making informed decisions to keep up with the trends.
Key Features
Check price history charts of every product on Amazon
Track products' sales rank and prices
Browser extension to track prices and rank history in real time
A free plan is available
API access for developers
Get email alerts when a competitor makes a change in pricing
Drawbacks
Pretty complex for new users
The free plan has a very limited feature
Starting Price: $99/month
8. Inventory Lab
As the name suggests, Inventory Lab is an inventory management tool for FBA sellers. The tool offers a range of inventory, tracking, and bookkeeping features that help sellers streamline the listing optimization process without integrating other third-party tools. With its premium plan, you get features that allow you to seamlessly create shipments, analyze sales data and track profits & expenses. Most of the processes are automated, so you don't have to do much manual work managing your store's various aspects.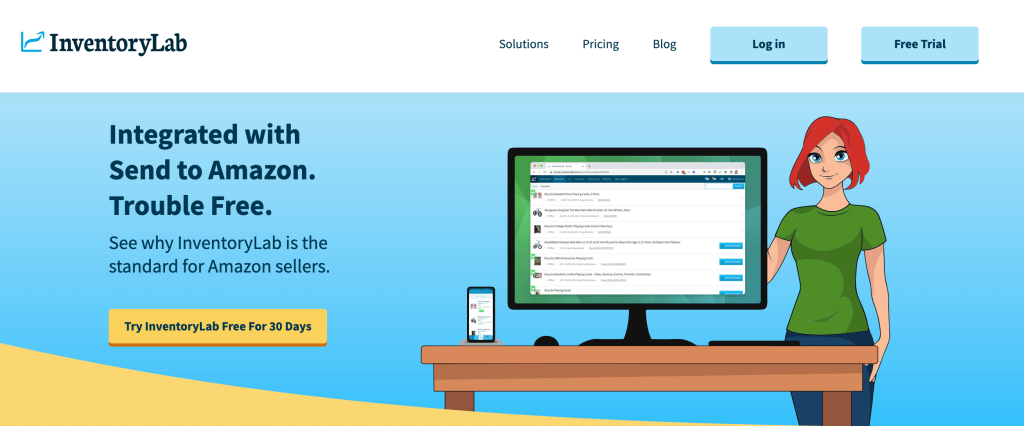 Inventory Lab also integrates with other tools such as Xero and Quickbooks in case you want to track your finances and accounts linked with your Amazon store. Once you integrate the tool with your FBA store, it will help you forecast demands for future supplies. This way, your store will never face any out-of-stock circumstances in the future. It is a premium tool, but new users can try their preferred plan for 30 days to check out all its features and tools before investing.
Key Features
Get financial and accounting reports
Calculate profits and future expenses
Access to accounting and bookkeeping tools
Supply chain management features
Reduce your workload with automation tools
30-day free trial
Drawbacks
No forums or documentation for new users
Reports and accounting formats can be confusing
Starting Price: $69/month
9. CamelCamelCamel
CamelCamelCamel is a free FBA tool for Amazon sellers that help sellers track sales rank and historical pricing data of Amazon products. Unlike Keepa, it is much easier to use and provides sellers with accurate pricing data. You can copy the links of your competitors' products and paste them into the tool. When your competitor makes a change in pricing, you will get alerts via email.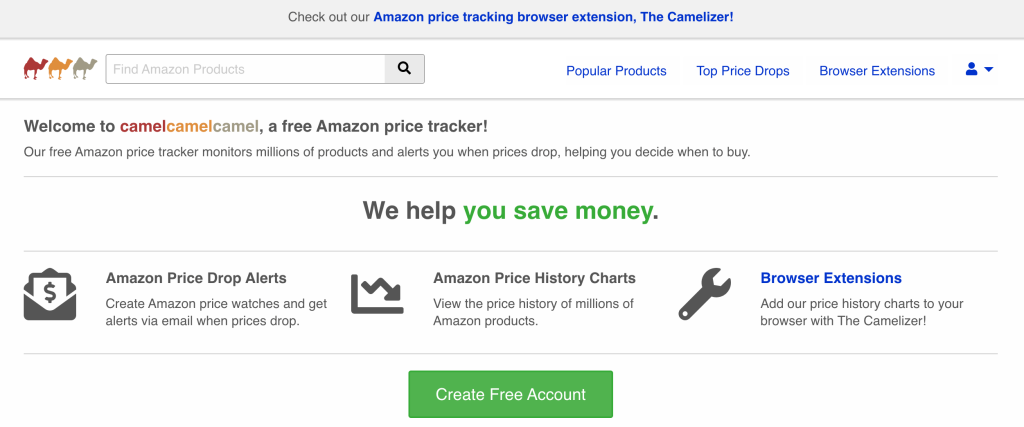 CamelCamelCamel offers a quickly installable browser extension. It enables users to use all the tool's features while browsing the Amazon marketplace. Camelizer is one of its unique features that allows you to view the price history charts without leaving the retailer product pages. Unlike other FBA tools, it is also mobile-responsive, which means you can use the tool when you are on the go.
Key Features
Simple yet powerful price tracking abilities
Offers accurate and in-depth historical pricing data of products
Browser extension (compatible with Chrome and Firefox)
Mobile-responsive
Free-forever plan available with advanced features
Email alerts on price fluctuations
Drawbacks
Limited FBA features
The extension doesn't support all browsers
Starting Price: $0
Related Read:
Conclusion: Best Amazon FBA Tools (2023)
Choosing an FBA tool for your store on Amazon is a crucial decision, so you need to carefully research the market before buying one. Before you finalize an FBA tool, you need to be aware of your certain business needs, as your success on Amazon thoroughly depends on this decision. The list mentioned above is a mixed list of FBA tools catering to the audience with specific needs.
These tools can be a game-changer for Amazon sellers who are looking to scale their FBA business. So it is important to choose the right tool according to your specific business needs and budget. I hope this list helped you narrow down your options and find the right FBA tool for your business. But remember to do your own research before purchasing right away.