Are you thinking about selling on Amazon Handmade? You might need a helping hand to start with this program.
People often think of the Amazon marketplace when it comes to starting an eCommerce business. There are different types of sellers on this platform, selling a variety of products and trying to build a brand. Apart from selling on Amazon.com, there is an artisan-only program that only allows artists and crafters to sell unique handmade items.
Thousands of artisans have joined this program to sell their handmade items at their preferred rates. If you possess such skills, you can create a seller account on Amazon Handmade and list your products to sell on Amazon. But before that, you need to submit an application for approval. Once it gets approved, you can take advantage of all the benefits of this special program.
In this post, I will share a step-by-guide that will help you create an account on Amazon Handmade so you can effortlessly sell your products without any hurdles.
Let's get started.
What Is Amazon Handmade?
Amazon Handmade is an artisan-only community where creators, crafters, and artists can list their one-of-a-kind products to sell. It is a separate division of the Amazon marketplace, less crowded with sellers, and has a less competitive environment. And the whole process of creating a seller account on Amazon Handmade is different from a regular Seller Central account.
Since the selling approach follows a different method, you need to understand requirements and policies. The first and most important thing you should consider is that each product you are going to list must be handmade, hand-assembled, or hand-altered. You can't list anything that can be mass-produced. If you are a team of crafters or artisans, the numbers should be less than 20.
What Products Can You Sell On Amazon Handmade?
Amazon allows you to sell in 14 selected categories. Here are the categories that you can select to list your products.
Artwork
Beauty & Personal Care
Accessories
Party Supplies
Clothing, Shoes & Handbags
Baby
Kitchen & Dining
Outdoor & Home Care
Home
Sporting Goods
Jewelry & Watches
Pet Supplies
Stationery
Toys & Games
After deciding a category that your products belong to, make sure you produce products by using the following methods:
Handcrafted: A product that is entirely handmade or crafted using hands and small accessories.
Handmade Customized: You can sell customized handmade products at the customer's request, such as a hand stamp or a piece of jewelry.
Hand-altered: Customizing or altering an existing product to give a completely new look. For example, custom-painted t-shirts or denim jackets,s or jeans.
If your products are being produced using these mentioned methods, then you will be able to list your products on Amazon Handmade. If not, consider creating a regular Seller Central account.
How To Sell On Amazon Handmade (2023)
Once you have decided on your category and your production method, you can start the registration process. It is an application form that needs to approve by Amazon officials before you start selling. Follow this step-by-step guide to register as Amazon Handmade seller.
Step 1. Create a Seller's Account on Amazon Handmade
Visit Amazon Handmade to begin your registration process.
Here, you can join the artisan-only community. You can click Sign Up to create a new account on Amazon if you are a new seller. If you have an existing seller account on Seller Central, click on the Apply Now button.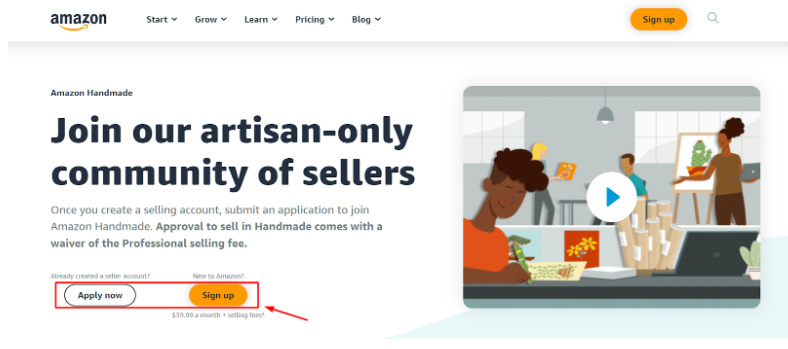 You can create a new seller account on Amazon using your email address. (Or use your login credentials to log in to your Seller Central)
Step 2. Tell Amazon About Your Business
The first page of the registration is Business Information. On this page, you fill in the following information: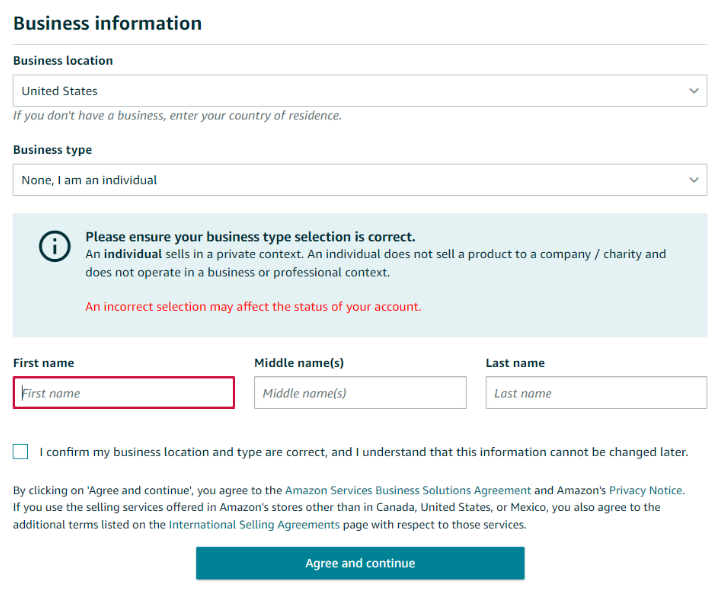 Business Location: Select the country where you conduct your business. (If you don't have a legal business, just select the country of residence)
Business Type: Select the business type you are doing. There are five options to select from. For Amazon Handmade, consider choosing "No, I am an Individual."
Your Name: Your complete name
After filling in all the details, check the "terms & conditions" box to confirm your selected business information. Then, click Agree & Continue to move forward in the registration process.
Step 3. Provide Complete Seller Information
On the next page, you need to provide all the necessary information as proof of identity. Here are the details you will be filling in: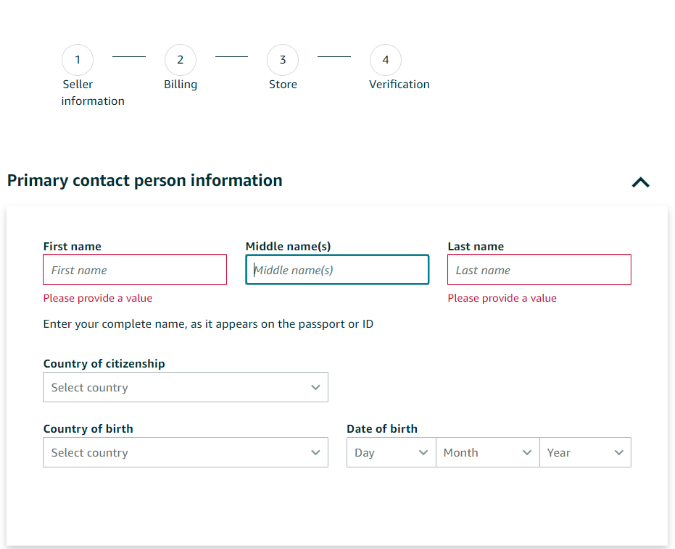 Country of citizenship
Country of birth
Date of birth
Government-issued ID
Complete address
Phone number (It will be verified via a 6-digit verification code)
After filling in all details, click Next to move to the next page.
Step 4. Add Billing Information
On the next page, add your credit details, such as card number, cardholder name, and expiry date.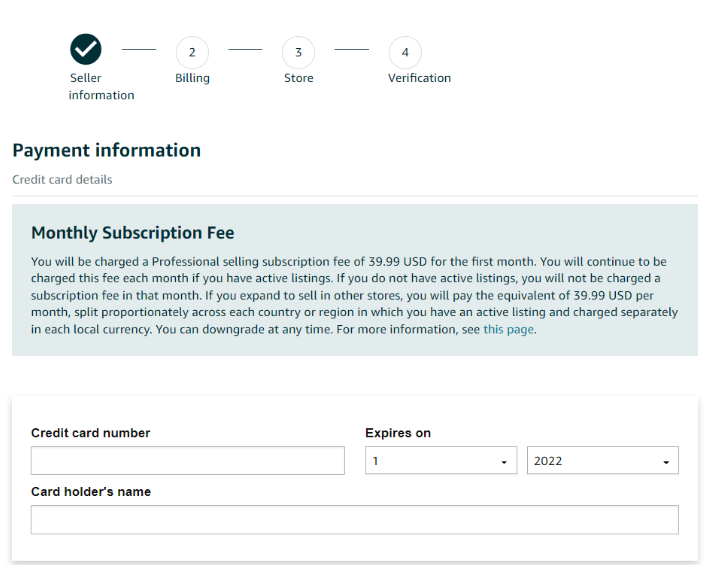 Once you have filled in all the valid information, click on Next.
Step 5. Add Information About Your Store
On the next page, you will be adding information about your store. Here's what you will be filling in:
Store Name: Enter your store or business name. Make sure to add a name that represents you or your work.
URL: Amazon will recommend you a custom URL using your store name. It will help your customer reach your store.
Craft: You can describe your niche within a few words.
Inspiration: In this section, you can add a few sentences about your inspiration or why you started this business. It is a quote that will display your artisan profile, so make it crisp and effective.
Biography: Tell your audience about you and more about your business. Showcase some values that make your product unique.
Production Process: In this section, add what materials and small tools you use to make your product. Add a short description within 150 words.
Location: Share your address and the location of your business. With this information, local Amazon shoppers will be able to support your small business.
Step 6. Get Verified
This is the last step of your registration for Amazon Handmade Seller. Here, you need to add your bank details where you want to receive the amount made from each sale.
Add bank account details and click on Verify. Amazon will send a notification to the bank to verify your account. Once your registration is completed, your account will be submitted for approval.
Note: After registration, Amazon will deduct $39.99 if you list a product for sale. However, the professional fees will be waived after your application gets approved by Amazon.
Step 7. List Your Products
After registration, your store will be officially created on Amazon Handmade. Now, it is time to create a listing for your product. Go to your Seller Central and head over to the Inventory tab. Open this section and click "Add a Product." Here's what you need to fill in to create a product listing.
Product Category: Select a product category to that your product belongs. For example, if your product is a unique pottery item, you can select the Artwork category.
Product Title: Give a proper title to your product.
Description: Write a description portraying all the key features.
SKU: Provide a custom SKU (optional)
Product Quantity: Add how many products you have in your possession.
Expected Production Time: Tell how much time it takes to craft a piece.
Search Terms: Enter the search terms that customers can use to find your item on Amazon.
Product Price: Set a standard price for your product.
Product Images: Add a set of product images from every angle.
Additional Information: You can also add product weight and materials you have used in that specific product.
Customizations: You can offer up to 10 customizations to your customers, such as colors and sizes.
If you have different types of products to sell, you can create a new listing for each product by filling in the same details.
After creating a product listing, your product will appear on Amazon Handmade page in no time.
How Do You Fulfill Orders On Amazon Handmade?
After creating your store on Amazon Handmade, you will start receiving orders soon. Then what will you do to complete order fulfillment? How are you going to deliver your item to your customer's doorstep? Don't worry! Amazon offers solutions for this problem too.
Basically, Amazon offers two ways to fulfill your orders.
Fulfillment by Amazon (FBA)
FBA is an in-house fulfillment service provided by Amazon to its sellers. You can choose this service, and Amazon will handle all your order processes, such as storing your products, packing, shipping, and providing customer service to your customers. Amazon also takes care of the returns made by the customer. In this whole process, all you need to do is only ship your inventory to Amazon warehouses or fulfillment centers. You can leverage this service by paying small fees. The FBA fee is not fixed. Instead, it depends on your product size and the number of units in your inventory.
Fulfillment by Merchant (FBM)
As the name says, the FBM method is used by those merchants who want to handle order fulfillment by themselves. In this method, they pack and ship to their customers or use other third-party fulfillment services to complete their orders. If you use the FBM method as your fulfillment service, Amazon will not charge any additional fulfillment fees.
Selling Fees On Amazon Handmade
When you are selling on Amazon Handmade, there are three possible fees Amazon may charge you. However, it can depend on the services you have selected. Let's have a look at the selling fees on Amazon Handmade.
Referral Fees: This is a mandatory fee that Amazon charges on each sale. For Amazon Handmade sellers, the referral fee is 15% per sale. It will be deducted after the sale is made.
Professional Seller's Fee: Sellers who are using a Professional seller account need to pay $39.99/month upfront. This fee depends on how many products you are expected to sell in a month. If you are selling less than 40 products per month, consider choosing the Individual plan. Select the Professional plan if you are selling more than 40 products per month. If your application gets approved by Amazon, you can use the Professional plan without paying any fee.
FBA Fee: Merchants who want to use Amazon's fulfillment service for storage, shipping, and customer service will be paying this fee. Individual FBM sellers don't have to pay these fees.
Why Should You Sell On Amazon Handmade?
Amazon Handmade is a one-stop hub for artisans and crafters who likes to craft beautiful items as a profession. With this program, they can create their own store where they can promote their products to make thousands of dollars each month. Artisans can also customize their stores, showcasing their brands and products. This feature is not available with the regular Seller Central account. Let's have a look at the other benefits you will get with Amazon Handmade.
Artisans Only Program: This program is a private community. No regular seller can register for this program unless they have handmade items to sell.
Less Competition: Since there are not many sellers in this section, you don't have to face heavy competition. With some keyword research and advertising, you can make your products appear at the top of the search results.
Selling Fees Waiver: Once your application gets approved by the officials, Amazon will waive the professional fee from your account regardless of how many products you sell in a month. It will help you save $480 per year, and you will be able to leverage all the benefits of a professional account.
Brand Registry Waiver: If you are an Amazon Handmade seller, you can use Amazon A+ Content without a brand registry on Amazon. All you have to do is apply for a brand registry waiver, and you will be able to create aesthetic and eye-catching product content to attract customers to your store.
No Transaction Fee: Apart from a 15% referral fee per sale, Amazon doesn't charge any transaction fee for selling products on Amazon Handmade. In fact, there are any hidden fees either, so you keep a complete 85% amount of each sale.
Pros and Cons of Selling on Amazon Handmade
Here are some benefits and drawbacks of selling on Amazon Handmade:
Pros
Massive Global Reach: Amazon sees over 3.3 billion visits every month from all around the world. And over 89% of US consumers shop at Amazon at least once a month. According to a survey, 85% of businesses and startups think of Amazon when they plan to sell online.
Profitability: According to Amazon Statistics, the Amazon Handmade category is the most profitable category among all categories. Handmade sellers have a profit margin of above 20%.
No Selling Fee: Once you get listed as an approved Handmade seller on the platform, Amazon waives the selling fees from your account. That means you can sell your products under the Professional plan without paying $40 every month. However, there's no exception for the referral fee that Amazon auto-deducts after every sale.
Flexible Fulfillment Services: Whether you start as an individual or as a team, you don't have to look for third-party resources to fulfill orders on your own. Amazon's FBA service will handle all the fulfillment processes on your behalf. Using this service also has other advantages, such as the Prime badge, two-day delivery, and exceptional customer service.
Exclusive Platform: Amazon Handmade is an exclusive program for artists and creators. So you can't apply for the program unless you are an artist. And also, you will need to apply for the program with certain evidence and documents that will prove you are actually a handmade seller.
Customizable Storefront: Once sellers are approved on Amazon Handmade, they can create a custom storefront by adding their profile and products created by them. They can also share their story of starting their business.
Cons
Steep Learning Curve: Amazon Handmade has a steeper learning curve, as it requires a lot of time to learn the function and the process of listing. For beginners, starting with Amazon Handmade can be a bit overwhelming.
Slow Approval Process: Amazon Handmade is an artisan-only platform, so they want you to prove that you are an artist and actually make your products by hand. Even if you submit all the documents as soon as possible, Amazon will take up to 2 weeks or more to give you approval. And until you get approved, you will have to pay a monthly fee upfront for using the Professional plan.
Delayed Payment: Sellers only get paid when their products get marked as shipped. And they have to wait until money gets deposited in their linked bank account.
Limited Scope: As an Amazon Handmade seller, you are only allowed to sell in 14 specific categories. If your product doesn't match the category, you won't be allowed to list your products.
Amazon Handmade vs Etsy
Amazon Handmade is a side venture of Amazon that started in 2015, while Etsy has been in this business for a very long time. Etsy is a unique online marketplace for handmade and vintage goods that operates in almost every country. Started as a small shop in Brooklyn in 2005, Etsy has now turned into an eCommerce giant catering to over 98 million buyers around the world. It also has more than 8 million active seller accounts.
I have already described how to sell on Etsy in previous articles. Now let's compare both platforms to see which one is better for business.
| | | |
| --- | --- | --- |
| | Amazon Handmade | Etsy |
| Custom Storefront | Yes | Yes |
| Fees | 15% referral fee per saleNo listing feeNo monthly subscription requiredNo transaction fees | 6.5% transaction fee$0.20 per product listing (only valid for 4 months)3% + $0.25 processing feeNo monthly subscription required |
| Product Categories | 14 product categories available to list products (List is mentioned above) | 160+ product categories to list products |
| Advertising | PPC advertising (sponsored products)Can advertise only on Amazon | PPC advertising external advertisement is allowed |
| Artisan Approval | Need to submit an application for the approval audit process to sell only teams with less than 20 members are allowed | No approval is needed for quick account setupNo production partners' limitations |
| Payments | Payment can take 15 days funds don't show in your seller account until the product is marked as shipped | Funds immediately show on the account after each saleCan request for daily payments |
The table shows potential growth on both platforms. It is up to you to choose which one is best for your business. However, you can sell on both platforms at the same time. In fact, 13% of Amazon Handmade sellers are already selling on Etsy. Both platforms have a loyal customer base. Selling on both platforms will give you a much larger customer base and global reach that will help you build your brand.
Related Read:
Conclusion: How To Sell On Amazon Handmade
Nowadays, people believe in handmade products over mass-produced items from machines. This mindset of buyers gives you an opportunity to create your own brand by creating products using simple equipment and some skills. So whether you sell on Amazon Handmade or o Etsy, your goal should be to make money and reach a global audience. Both platforms offer exceptional opportunities that you can use to turn your part-time skills into a full-time business.
Amazon Handmade is quite new in this field which is why it is less competitive than traditional Amazon.com. So use this huge opportunity to grow your sales and revenue. No selling fees are required to join and sell in this community. So don't wait for a specific time and start today. The guide mentioned above will definitely help you with your purpose.
If you have any other queries regarding selling on Amazon, leave a comment in the comments section.