Are you looking forward to selling your handmade products on Etsy? Don't look further, you have just landed in the right place.
Etsy is currently catering to over five million sellers around the world. With its unique selling proposition, creators and artisans can create their own storefronts and turn their side hustle into a full-time business. However, first-time users can find difficulties creating their store on Etsy, so they might need a helping hand. And that's why I am here.
In this post, I will share a step-by-step guide on "how to sell on Etsy?". I will help throughout the whole process, from store creation to setting up payments and launching your store.
So let's get started here.
About Etsy
Etsy is a huge eCommerce marketplace that specifically features handmade goods, vintage items, and arts and crafts. Independent creators, artisans, craftsmen, and collectors can sign up on the platform and create their own storefronts to list their products.
Setting up a store on Etsy is easy, and as you add product listing and payment methods to get paid, you are good to launch your store. As soon as your store features on Etsy, you will start receiving orders from your targeted audience.
Sign-up and registration on Etsy are completely free. It charges the least amount for the number of listings you create for your products. Once you start selling, it will also charge a little transaction and payment processing percentage, but it will not hurt your profit margins as you are free to set up your own pricing.
How To Sell on Etsy: A Beginners Guide
Selling on Etsy is easy. All you have to do is follow a few necessary steps and set up your store, and then you are good to sell. I will help you on every step of your journey, and you will open your Etsy store without much effort.
Step 1. Create a New Account on Etsy
The first step starts with creating a new seller account on Etsy.
In order to create a seller account, you need to visit the official website of Etsy. Click here to reach the official page directly. Then, scroll all the way down and click on Sell on Etsy.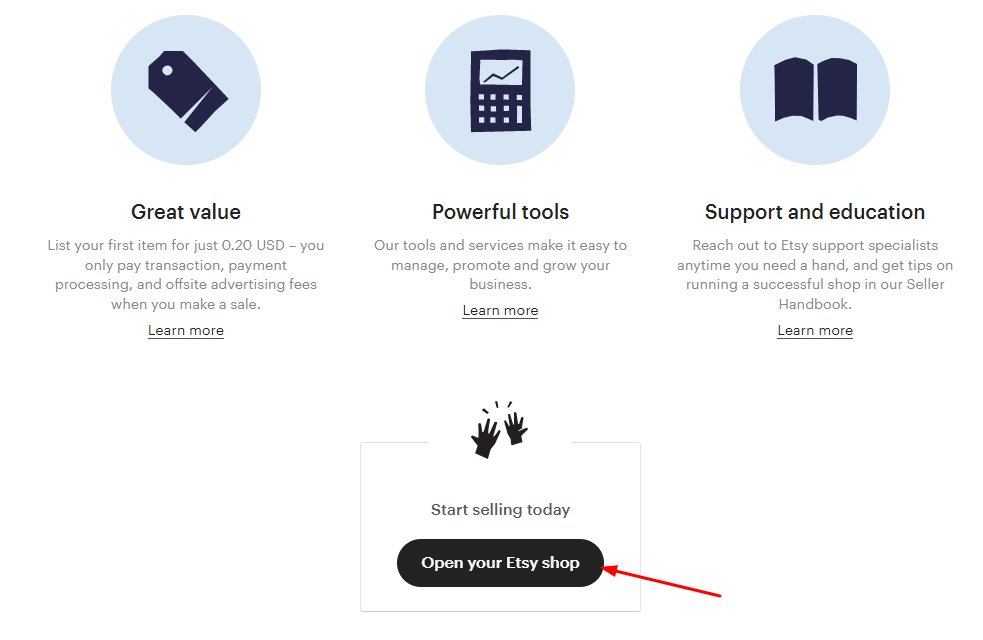 On this page, you will find an option saying Open your Etsy Shop. Click on it to create a seller account.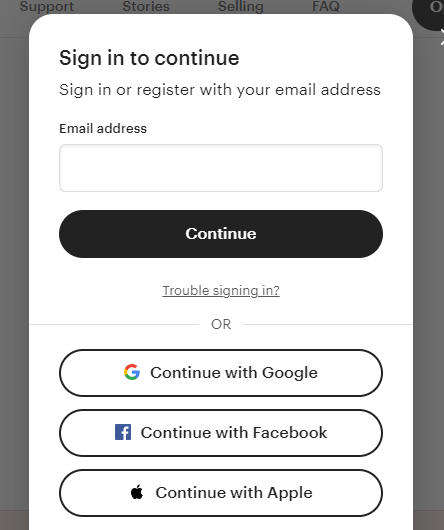 Sign in using your email address and click on Continue. Then, it will ask you to enter your name and password. Fill it in, then click on Register to create a new account. And don't forget to confirm your account from your email.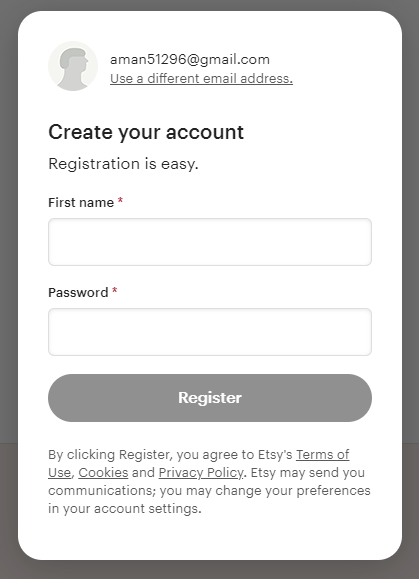 Alternatively, you can also create a new account using your Facebook, Google, and Apple ID. If you're an existing Etsy customer, you can use your consumer account credentials to create your Etsy shop.
Step 2. Set Up your Shop Preferences
Next, it will redirect again to the Etsy page, where you can click on Get Started to start creating your account. Then it will ask you a few questions to understand your needs. You can select or skip to the next step.
The main shop creation process starts here. Here, you have to set your shop preferences.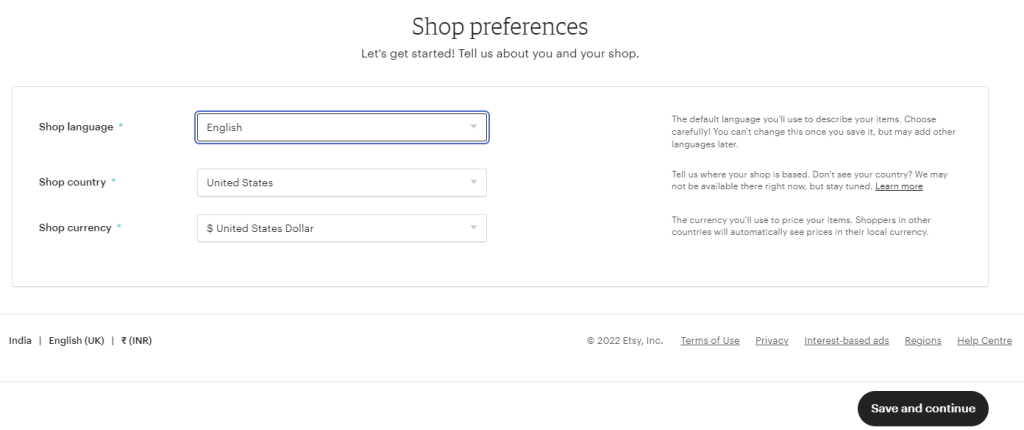 Shop Language: Choose the default language you prefer and use it to portray your items. Make sure to select carefully, as you can't change your shop language later.
Shop Country: Select the country where you want to target an audience.
Preferred Currency: Select the currency that you will use to tag prices on your items. Make sure to choose according to the shop country you have chosen so people can buy in the local currency. If you choose a different currency that is not the country, a 2.5% conversion fee will apply to each sale.
After filling in all the details, click on Save & Continue.
Step 3. Give Your Shop a Name
Now, the system will ask you to name your Etsy shop. You can choose a name that defines your business, niche, or style.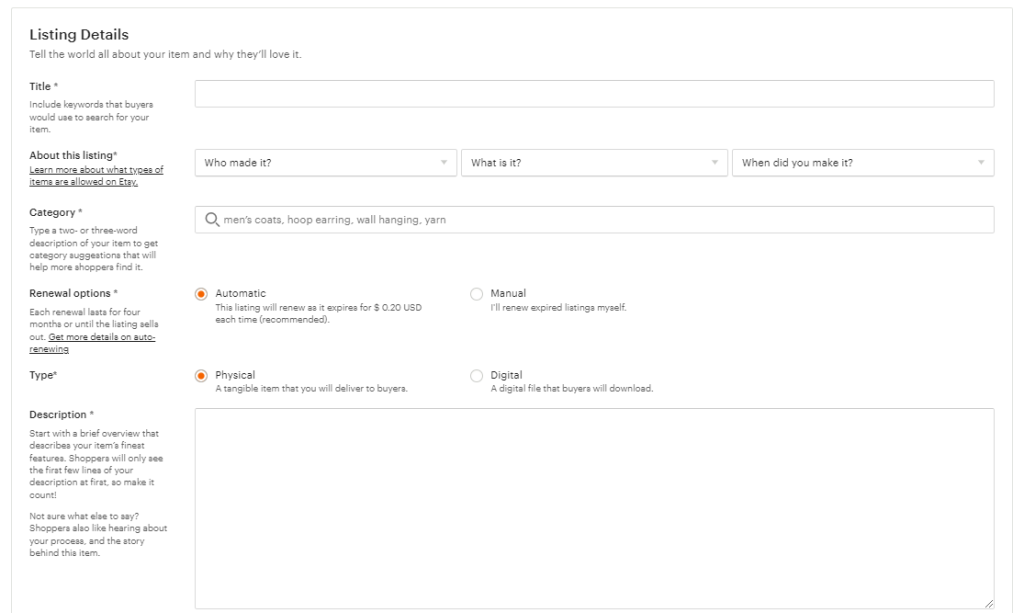 Set up a name within 20 characters. If you haven't decided on your shop name yet, you can set a temporary name as you can change it later. Or you can click on Check Availability to get a few suggestions from Etsy for free. Then, click on Save & Continue.
Step 4. Create a Product Listing
This is the most important part of your Etsy store. You have to carefully add the details of your products to create an effective product listing.
Add Images & Video: You can add photos directly from your computer's File Explorer. You can add up to 10 images related to your product and its details. You can follow the given names to add photos.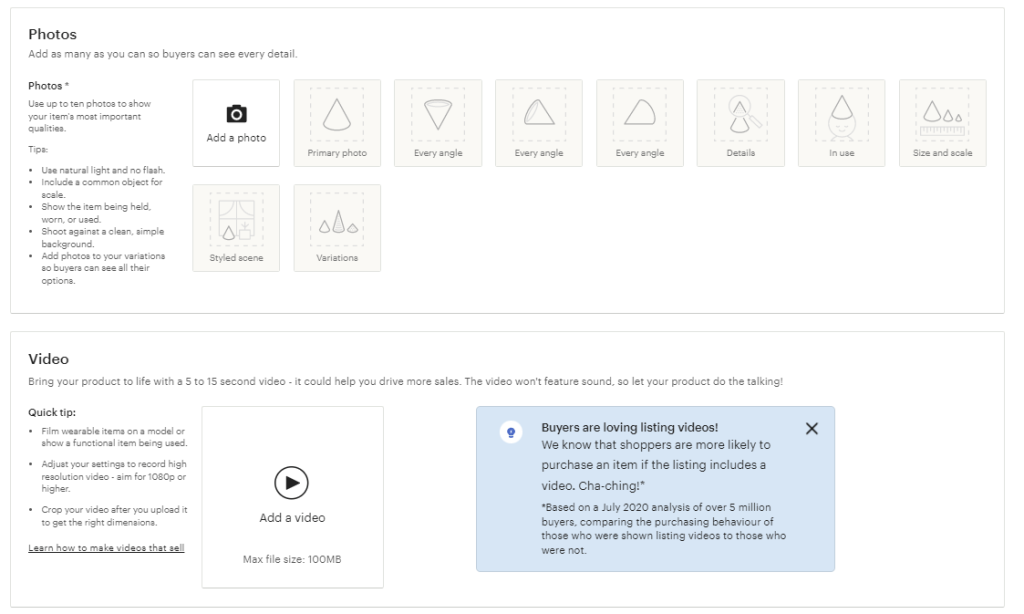 Make sure to add the primary image with a white background so customers can easily see what they are buying. You can also add a video (around 5 to 15 seconds) regarding how it will look in real life.
Listing Details: In the next section, you can add the product title, manufacturing details, category, product type, and product description.
You can also add tags and materials, which are optional. All the filling boxes are self-explanatory, so you don't find difficulty filling them in.
Add Pricing and Inventory Details: In this section, you can add your product's pricing and how many units you have in your inventory.

You can add SKU (Stock Keeping Unit) if you have one. You can also add variations and personalization according to the product category you have chosen.
Set up Shipping Options: In this section, add proper shipping details, including fees, taxes, processing time, weight, size, etc.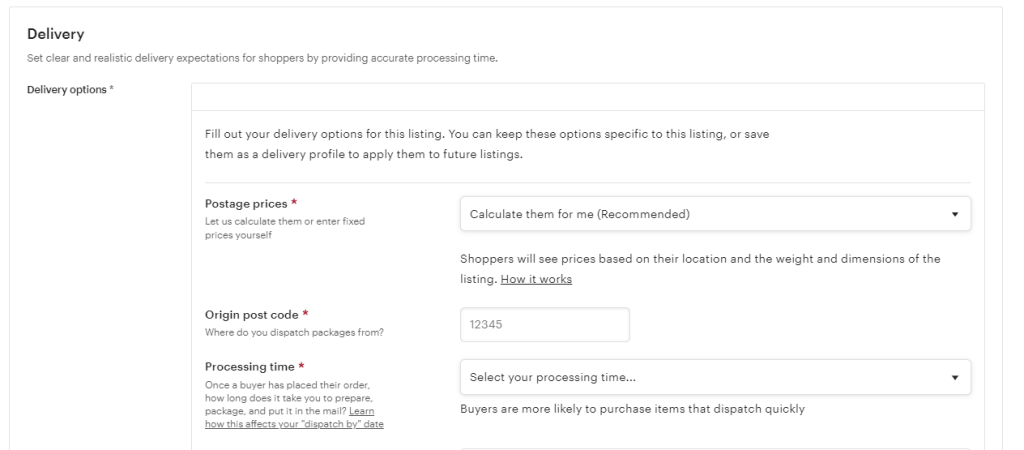 If you want to offer your customers a return, exchange, and refund option, you can set up the policies according to your preferences.
After filling up all the necessary details, pricing, shipping, images, etc., you can save your listing and move to the next page. Each listing will cost you $0.20 and will be valid for four months. (You can also add more listings if you want)
Step 5. Set Up Payment Methods
After creating a product listing, it is time to add payment details for how you will like to get paid. Make sure to add a method that is supported by Etsy Payments.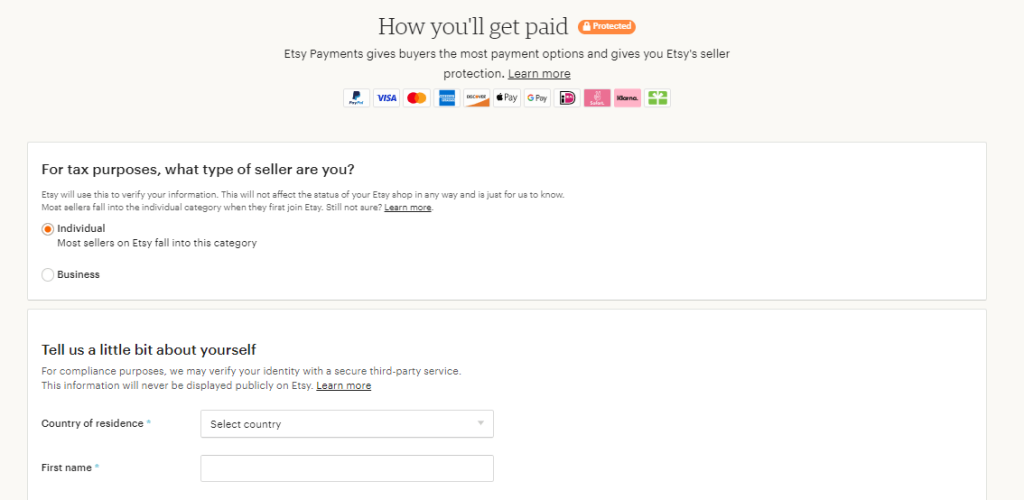 Select the type of seller and add personal details such as name, date of birth, address, and country. Also, add complete details of your bank where you want to receive the money. And then click on Save & Continue.
Step 6. Set Up Billing Options
This option needs to be filled in according to your country.
For some countries, Etsy requires you to provide your card details for authorization and validation purposes. If you reside in the US, you can enroll for auto-billing, and Etsy will automatically charge the selling fees for each sale.
Step 7. Customize Your Store
Now it is time to give an aesthetic look to your store. You can design your shop from the Shop Manager icon you find beside the search option.

The landing page of your store will be the same as you have seen on the official page of Etsy. However, you can add more about your products, company, policies, updates, and other details. Here's how you can customize your store.
Banner & Featured Products: In the header section of your homepage, you can upload your store banner, featured products, and everything you want to display on the top.
About Section: In the About section, you add details about you and your brand so shoppers can know about the person behind the amazing products you have listed. You can also add members, manufacturers, stories, and pretty much everything about your shop and business.
Shop Policies: In this section, you can add common FAQs your shoppers may ask, such as order processing time, shipping times, return policies, and accepted payment options.
Step 8. Launch Your Shop
After completely setting up your store, you can preview your store to see how it will look from the shopper's perspective. Once you are fully satisfied, click Open Your Shop, and the store will be launched.
Soon you will start receiving the orders. To give your shop exposure, you can use marketing campaigns or promote your products so they can reach your target audience.
What is the Seller's Fee on Etsy?
Like other eCommerce platforms, Etsy also charges fees for selling on its platform. However, the seller fees on Etsy are relatively cheaper than other platforms. You don't have to pay separately. Just set your preferences and billing information, and it will automatically be deducted from your account.
Listing Fees – $0.20 per listing
The listing fee will automatically be added to your payment account. You need to pay a listing fee, even if you get a sale or not. The listing will be valid for four months.
Transaction Fee – 6.5% for each sale (product cost with shipping charges included)
The transaction fee will be deducted whenever you get a sale. It can differ according to various regions.
Payment Processing – 3% + $0.25 for each sale
This payment processing fee will only apply If you use Etsy Payments as your payment processor. It can also vary depending on the country.
You can also view the seller fees and taxes from Shop Manager > Finances > Payment Account.
Etsy Pricing Plans
Etsy currently offers its users two pricing plans: Standard and Etsy Plus. The main difference between these two plans is discounts, premium perks, customization, etc.
Standard – $0
The Standard subscription of Etsy is a free forever plan. Basically, this subscription includes all the eCommerce features and tools you need to get started. Etsy doesn't charge an upfront cost for this subscription, but you need to pay $0.20 for each product listing.
Etsy Plus – $10/month
The Plus is a premium subscription to Etsy that offers additional features you can use to skyrocket your sales. Here's what you get from this plan
All the Standard plan features
Credits for product listings and Etsy Ads
Access to custom shipping boxes, discounts, and business cards
Restock request option for shoppers
Advanced store customization options
Etsy doesn't prioritize sellers to subscribe to their paid plans. It is totally up to you. When you set up your store, it will start with the Standard subscription. Once you completely set up your store, you can upgrade your account from Shop Manager > Settings > Your Subscription > Upgrade.
Why should you sell on Etsy?
Not a very long time ago, artisans and creators used to sell their items at open markets, fairs, and consignment shops because they didn't have the resources to reach national or global audiences. But now, the time has changed. There are thousands of eCommerce platforms available on the internet that lets you create your own online storefront. Having an eCommerce store helps your products reach interested customers across the world, and it also increases your brand awareness. With a huge customer base and global shipping options, Etsy can be your way to go.
Etsy currently has over 90 million active buyers, and millions of new customers visit different Etsy stores to purchase handmade, vintage, crafts, pottery, and many other items. You get all the eCommerce-centric features with its Standard plan, which is completely free to use. Etsy recently introduced a Purchase Protection Program (for orders worth $250) for buyers. If your product gets damaged or never received by the customer, Etsy will give a 100% refund to your customers, and you will keep your earnings.
With such a huge customer base and advanced features, Etsy can be a great platform to sell your creative products. So it is worth giving it a try. 
Proven Tips to Succeed on Etsy
Here are some tips and strategies you can apply in your Etsy store to get better results and sales.
1. Create an Attractive Logo and Banner
Selling on Etsy is different from other eCommerce platforms. Here you are selling your own designed handmade products, like your own brand. Unlike other marketplaces, Etsy allows you to design your storefront with your own design and graphics. So your shop must be unique and have a strong visual impression. After all, it will be the first thing that is going to attract new customers.
For that, you can create an eye-catching banner or brand logo. If logo designing is not one of your strong suits, you can try free tools like Canva, Gimp, and Inkscape to find unique designs and clipart to create a new logo for your store.
2. Add High-quality Product Images
Product photography is one of the important aspects of selling on Etsy. Most shoppers on Etsy are hobbyists or collectors, so they weigh product images over the item's cost. In fact, 90% of shoppers prioritize the quality of product images over other aspects. So as a seller, it is your responsibility to upload compelling and high-quality images to your product listing.
To click a scroll-stopping image, you must have a good camera, tripod, and white paper roll for proper lighting and white background. If you are not a professional in this field, you can hire a budget-friendly photographer to capture your products' images for your listing.
3. Make Your Store SEO-optimized
Like Google and Amazon, Etsy also has its own algorithm for product search. That means whenever a shopper uses a keyword to search for a product, the search results appear with relevant products based on the keyword. So it is crucial for sellers to know everything about the products they are listing.
To make your products SEO-optimized, you can find highly-relevant keywords to include in your product title, description, and features. You can also try a few ways to increase your product's ranking in the search results:
Use attributes like detailed characteristics while listing an item
Use keywords, phrases, and tags in your product listing
Keep your content up-to-date
Provide an exceptional customer experience
Encourage customers to leave reviews
4. Create a Unique About Me Section
Every seller on Etsy has a unique story of starting their creative business. Sharing your story and highlighting your product's unique qualities can make your products stand out from others. That's why Etsy allows sellers to add everything about their products and business story in the "About Me" section.
Here's what you can add to the About Me page:
Share how you started your business and the struggles you have faced
Point out the unique features of your products
Add your picture to show the face behind the brand
Add links to your social profiles
Make everything brief; don't add long paragraphs in any section
5. Promote Your Products on Social Media
Promotion and marketing are integral parts of eCommerce platforms. Sellers can advertise their products through paid campaigns and social media promotion. Paid campaigns make sense who focus on selling a couple of products in a competitive market like Amazon. Etsy is a unique place for creators, so you don't need to set up paid campaigns to sell your products.
Instead, you can promote your listings on popular social media platforms like Facebook, Instagram, and TikTok for free. You can also use the power of influencer marketing to find micro-influencers and promote your products to an established audience.
6. Manage Your Inventory Properly
No shopper wants to browse their favorite online store only to find the "out-of-stock" message on the product. This can negatively affect your business on Etsy. So it is crucial to keep your inventory stocked every time. You can use an inventory management tool to track your inventory so you can manage it accordingly.
Conclusion: How To Sell On Etsy (2023)
Whether you are an artisan or a collector that has been collecting vintage and rare items for years, Etsy is definitely the best platform for you to start a business. In fact, people who are interested in handmade goods and vintage products prefer to shop from Etsy as it offers a flexible shopping experience and a protected payment environment.
If you are a beginner, this guide will help you create an Etsy store without taking much stress. If you have a marketing strategy, you will start getting sales on Etsy faster than other merchants. You can also use its in-built marketing features to promote your products on various social networks.