Are you having difficulty choosing between Squarespace and Bluehost? Don't worry, I will help with your confusion.
Squarespace and Bluehost are two popular platforms that offer their users a range of website-building and hosting features. However, there are tons of factors that set them apart. Squarespace is a complete website builder, while Bluehost specifically handles the hosting side. Well, there is a lot more that you might be unaware of.
In this post, I will share a detailed comparison between Squarespace and Bluehost. By the end of the article, you will be able to decide which platform suits your business the best.
Let's get started.
Squarespace vs Bluehost: In a Nutshell (2023)
Both Squarespace and Bluehost are two highly-rated platforms on the internet. Despite having a lot of dissimilarities, both serve almost the same audience. Let's know about the factors that make them unique. 
Squarespace Overview:
Squarespace is an all-in-one website building and design tool (SaaS) that allows you to build websites, blogs, and eCommerce stores. It also provides the necessary features and access that you need to run an online business properly. Squarespace is one of the best tools for beginners as it doesn't require any specific website-building or coding skills in order to create a fully-fledged website.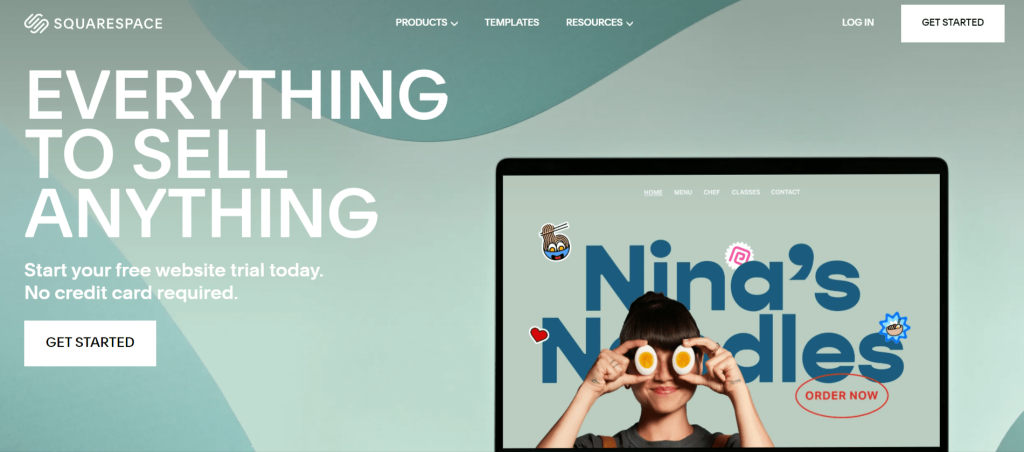 Apart from that, Squarespace also offers reliable hosting solutions along with website-building tools. If you create a website using the platform's hosting services, you will get an incredibly fast page-loading speed. You can't use its hosting for content built on an existing website, but you can rebuild your website and import your content on a Squarespace server.
Bluehost Overview:
Bluehost is a well-known web hosting provider that caters to millions of websites, especially WordPress. It offers a range of hosting services, including shared hosting, WordPress hosting, dedicated hosting, and VPS hosting. All hosting services come with tons of features, access, and bandwidth, which is enough to manage a WordPress website to its full potential.

Bluehost offers a simple UI and UX that goes well for both beginners and professional web designers. Like Squarespace, it also offers eCommerce hosting features that allow individual sellers to create a professional-looking online store where they can sell unlimited products or services. Compared to other hosting providers, Bluehost offers an affordable range of services with additional access and security measures.
Squarespace vs Bluehost: Features Comparison
Let's compare all the similar features that Squarespace and Bluehost offer.
Ease of Use
Squarespace is a beginner-friendly tool that doesn't require any prior coding knowledge. With this tool, you get everything in one place, so you can quickly set up your website. First, you need to choose a pre-built template, and after that, you can enter your account details and start customizing your website within no time. You can start website building at the very first minute, but you need to get grips with user testing. However, if you are stuck with any queries, you can contact Squarespace's excellent customer support to resolve your problems.
Bluehost offers a drag-and-drop builder that you can use to create websites. It offers automatic WordPress installation with all its hosting plans. With the power of WordPress, you can create a standard website up and running within minutes. Bluehost also offers a range of free WordPress themes that you can use to design and customize your website according to your business needs. All Bluehost plans also include a free domain for the first year. But you will also get options to purchase new domain names from the store.
Winner: Tie
Website Design & Templates
Squarespace offers a range of professional-looking templates and designs to choose from. Since you are creating a website using WordPress, you will get access to the WordPress theme directory, where you will get options to choose 10,000 themes and third-party apps. Your website design starts with picking up a theme. Whether you purchase or choose a free theme, the system will give you access to a tutorial, and you can start customizing your theme. However, you will get fewer customization options compared to other website-building tools.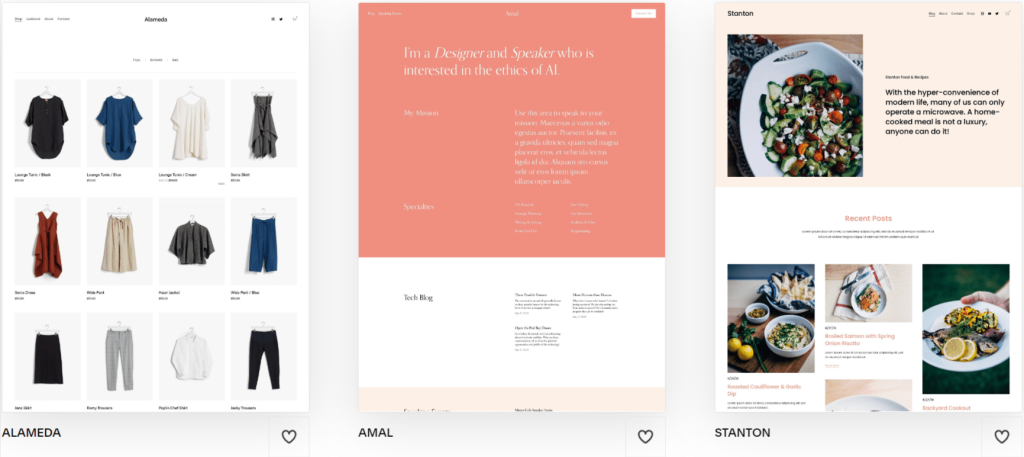 In terms of templates and website design, Bluehost is no less than Squarespace. Bluehost's website builder is compatible with almost all web browsers, such as Google Chrome, Safari, Mozilla Firefox, and Microsoft Edge. If you want to create a niche website, using Bluehost with WordPress will let you create a specific website with a professional touch. However, when it comes to customization, Bluehost lets you customize any theme to its full potential. This very feature gives Bluehost an edge over many other website builders.
Winner: Bluehost
eCommerce Features
Do you want to create an eCommerce store? With Squarespace, it is easier than ever. It offers in-built eCommerce features with every plan except the Personal. With its fully integrated eCommerce capabilities, you can sell unlimited products with no bandwidth limit. Apart from selling online, you get a POS feature with a commerce package that lets you sell both online and physical stores. And you can manage both under a single dashboard. If you find difficulty finding a product to sell, Squarespace suggests winning products to sell on your online store.
Bluehost, on the other hand, combines with WooCommerce to offer seller eCommerce features. WooCommerce is a free WordPress plugin that offers powerful eCommerce-centric features. With WooCommerce, you can create online stores for small, medium, and large businesses. If you want to manage a large business, consider subscribing to Bluehost's VPS hosting plan. It will give you great control over your business, and you can scale your business.
Winner: Squarespace
Marketing
Luckily, Squarespace comes with tons of in-built marketing features, such as pop-ups, SEO tools, email marketing campaigns, etc. Apart from that, it also offers a library of third-party extensions where you can find tons of accounting and shipping tools to integrate with your store. However, if you want to add an external integration to your store, you need to have some coding knowledge as things get a little technical, and you will not find support for this matter from customer support.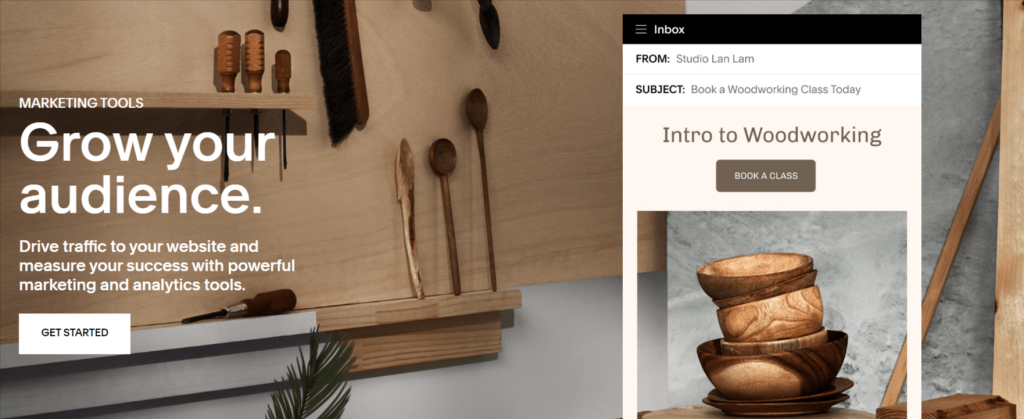 Bluehost depends on WordPress when it comes to marketing and SEO. WordPress offers over 60K plugins made by top-class developers. You can install these plugins to unlock marketing features on Bluehost, but you don't get the same level of control as Squarespace. Additionally, you have to pay some extra penny to install marketing apps on your website.
Winner: Squarespace
Integrations
When it comes to integrations, Squarespace offers tons of integrations regarding blogging, commerce, marketing, domains and email, shipping, etc. You can find free and paid options and select according to your business needs. Squarespace's subscriptions include access to almost all integrations, but some integrations require paid subscriptions. To know more about its integrations and extension, you can check out Squarespace's help center.
Bluehost integrates with 350+ third-party apps and plugins for various purposes. And since Bluehost uses WordPress to create websites, you get options to integrate with thousands of third-party apps and plugins. To unlock the custom dashboard feature on the platform, you need to integrate cPanel integration. It gives you more control over advanced settings and CMSs.
Winner: Bluehost
Website Performance and Security
Website performance and security measures are the keys to ensuring a good user experience regardless of what platform you choose. Luckily, both Squarespace and Bluehost go above par in terms of website response time and page loading speed.
Squarespace has a 99.99% uptime with an average response time of 300ms, and its page fully loads within 2.1 seconds, which is pretty fast compared to many other websites. The company has a dedicated hosting and security team that handles development, server maintenance, and implementation. Here are the security measures Squarespace follows:
SSL certificate
Password hashing
Regular pen testing
Web Application Firewall (WAF) technology
Bluehost also has a 99.99% uptime and 200ms average response time. Compared to Squarespace, it only takes 1.8 seconds to reload a page fully. And when it comes to security, the company takes it very seriously. They have included several advanced security measures to make sure your content and site stay secure. It offers every security measure that Squarespace has included with its plans. It additionally offers:
Spam Experts
Apache Spam Assassin
Spam Hammer
A free SSL certificate
HTTPS protocol
Winner: Bluehost
Customer Support
Squarespace offers industry-specific customer service to its users. From website building to designing and customizing, you can get help from technical staff 24/7. In fact, they offer onboarding assistance at the start of your website creation process. If you are ever stuck in any situation, you can use the live chat feature to solve your queries. You can also contact the customer staff over the phone within office hours. However, when it comes to custom codes or troubleshooting, you won't be able to get help from Bluehost by any means. In that case, you need to take help from third-party sources.

Bluehost also offers a range of customer support, such as email support and phone support. They are pretty responsive and helpful. However, there are limitations to customer support. The support staff quickly responds when it comes to technical and site maintenance. But you don't get much help in managing plugins or theme customization. In that case, WordPress won't be much help either, as it doesn't have its own support staff. Still, you can find the solutions to your most queries from forums and communities on the internet.
Winner: Squarespace
Pricing
Pricing is one of the deciding factors for a user. Both platforms offer competitive pricing. But Bluehost is much more affordable than Squarespace. However, with Squarespace, you get everything in one place, while Bluehost has various plans for different purposes.
Squarespace offers tier-based pricing plans. Currently, it includes four packages in its pricing. The cheapest plan starts at $23/month, and the most expensive plan charges $65/month. The cheapest plan includes basic website-building features. But if you want to create a website for eCommerce purposes, you need to at least subscribe to its Business plan. If you want a long-term membership, you can subscribe to a yearly plan, and you will get a flat 30% discount.

| | | |
| --- | --- | --- |
| Squarespace Plans | Pricing | Features |
| Personal | $23/month | Unlimited bandwidth, SSL Security, SEO features, 24/7 customer support |
| Business | $33/month | All Personal plan features, Advanced website analysis, Squarespace Studio app, Fully integrated eCommerce |
| Basic Commerce | $36/month | All Business plan features, Premium integrations, Google Ads credits, No Transaction fees |
| Advanced Commerce | $65/month | All Basic Commerce features, Sell unlimited products, Powerful eCommerce tools, Abandoned cart recovery |
Bluehost, on the other hand, is not just limited to website building. It offers a range of hosting plans such as self-hosted, shared hosting, virtual private server, and dedicated hosting. Each hosting plan comes with a website-building feature and sufficient storage & bandwidth to run a website properly. All the plans are available in 1-year and 3-year formats. That means there is no place for short-term users. The cheapest hosting plan starts at $4.95/month, while online store plans start at $12.95/month.
| | | |
| --- | --- | --- |
| Bluehost Plans | Pricing | Features |
| Online Store | Starting from $12.95/month | 30 GB web storage, Free domain, Yoast SEO, Malware scanning, Unlimited Products, WooCommerce Installed |
| Hosting | Starting from $4.95/month | Free domain, Free SSL, Free CDN, 15K visits per month, Free WP Migration |
| VPS | Starting from $19.99month | 2 CPU cores, 30 GB SSD storage, 2 GB RAM, 1 TB bandwidth |
| Dedicated | Starting from $79.99/month | 2.3 GHz CPU clock speed, 4 CPU cores, 4 CPU threads, 4 GB RAM, 5 TB bandwidth |
Winner: Bluehost
Key Differences Between Squarespace and Bluehost
Here are the main differences between Squarespace and Bluehost:
Squarespace is a complete website builder that offers hosting solutions, while Bluehost is a hosting provider that offers website-building tools.
Bluehost is much more affordable, whereas Squarespace offers comparatively expensive plans.
If you use Bluehost with WordPress, you will need some assistance. On the other hand, Squarespace is designed to work with WordPress websites with no learning curve.
When it comes to customizations, Squarespace has some limitations, while Bluehost offers a lot of customization with no limitations.
Squarespace offers an in-built email marketing tool, while you will need a third-party email marketing tool with Bluehost.
Bluehost doesn't have a monthly plan, while Squarespace offers monthly and yearly plans to their users.
Squarespace vs Bluehost: How to Create a Website?
Squarespace and Bluehost offer both follow a set of simple steps to create a website. But remember, Bluehost is a complete website builder. It is mainly a web hosting provider that offers you resources to install your own website. Let's have a look at the differences between Squarespace and Bluehost when it comes to creating a website.
Squarespace
Squarespace is a complete website builder. That's why it is much easier to set up and use. You can follow these steps to create a website with its tools:
Sign up for a Squarespace plan (You can also start with it 14-day free trial)
Choose what type of website you want to build.
Then, you will find a list of hundreds of pre-built templates. Select one that matches your niche.
If you have started with the free trial, you need to create an account using your email. After that, you will be redirected to its visual editor.
You can use the drag-and-drop features with the visual editor to create a website in real time.
Once you have created your website, you can preview the website from the visitor's perspective.
Bluehost
Using Bluehost to create a website is a little bit tricky, but you can follow these steps to create a website easily.
Sign up for a Bluehost hosting plan.
Install the regular WordPress by following the setup wizard.
If you are a beginner, use Bleuhost's custom builder that follows the same setup as Squarespace, like the type of website and niche.
Next, choose a website theme, and then you can add details like logo, fonts, colors, etc.
Next, you can use the drag & drop editor to edit your website.
After website creation, you will be redirected to the WordPress dashboard. Here you can manage your content and add features or plugins according to your business requirement.
Squarespace vs Bluehost: Pros & Cons
Every platform has its own benefits and drawbacks, and so do Squarespace and Bluehost. Let's have a look at the ups and downs.
Pros & Cons of Squarespace
Pros
Easy-to-use user interface and no coding skills required to create a website
Modern and aesthetic templates that are compatible with desktop, tablet, and mobile
Drag & drop editor for flexible website creation
Multilingual features
Unlimited products to sell
Built-in marketing and SEO tools
Free SSL certificate
14-day free trial
Zapier integration
Cons
Slightly expensive compared to other website builders
No multi-currency selling functionality
Limited payment gateways
No phone support
Pros & Cons of Bluehost
Pros
Affordable hosting plans (Includes all types of hosting)
Unmetered bandwidth
Lightning-fast page loading speed with 99.99% uptime
A free SSL certificate with all available plans
Automatic WordPress installation
A free domain name for the first year
Plus and Choice Plus subscriptions allow you to create unlimited websites
Offers industry-specific eCommerce features with the Online Store plan
Cons
Poor customer service
Offers discount only for the first year—renewal cost is much higher
No free migration
No good backup options
Alternatives to Squarespace and Bluehost
If you think both Squarespace and Bluehost aren't the best options for your online business, you can try the following alternatives.
1. Wix
Looking for a hassle-free website-building experience? Wix has got your back! With its innovative drag-and-drop editor, the platform makes it easy for beginners and pros alike to create stunning websites. You'll find a wide range of customizable templates to choose from, so you can easily find one that matches your style. And the best part? Wix also offers reliable hosting services, so you don't need to worry about finding a separate hosting provider. It's a one-stop shop for all your website needs!
2. WordPress
If you're more of a hands-on person and love diving into the nitty-gritty details, WordPress might be the perfect fit for you. As an open-source platform, WordPress gives you complete control over your website's design and functionality. With thousands of themes and plugins available, you can customize your site to your heart's content. While you'll need to find a separate hosting provider for your WordPress site, there are plenty of options out there that specialize in WordPress hosting. So, if you're up for some coding adventures, WordPress is your go-to choice!
3. Shopify
If you're planning to set up an online store, look no further than Shopify. This platform is specifically designed for e-commerce, making it a breeze to create and manage your online store. With the help of the platform, you can set up your store quickly, manage inventory, process payments, and even customize the look and feel to match your brand. Plus, Shopify takes care of hosting, so you don't need to worry about the technical aspects. If you're an e-commerce enthusiast ready to take your business online, Shopify is the way to go!
Related Read:
Final Verdict: Who is the Ultimate Winner In 2023?
After a long debate, now you have come to a conclusion. Bluehost is the winner of this comparison. But does it really? Squarespace and Bluehost are two different platforms that have common features and a set of tools. If you are specifically looking for a website builder, I recommend you go with Squarespace. With its plans, you will get eCommerce and hosting features as well.
But if you want a powerful hosting provider, consider choosing Bluehost as it is structured to provide unmetered bandwidth and security measures you need to run a website. With its hosting plans, you get WordPress website builder and WooCommerce installation that allows you to create online websites for blogs, eCommerce stores, and business websites.
Overall, both platforms offer an excellent range of features but for different fields. So, it all depends on your specific need. Choose the one that fulfills your business needs.