Are you looking for an FBA course that will help you learn everything there is to know about the industry? Stay tuned to find out what the best Amazon FBA courses are in 2023.
Online trading is a vast ocean. As viable as it might seem on the surface, the truth is that it's a difficult business to break into. Not only do you need a high-selling product but it's also important to understand the pulse of the market.
Amazon, the world's largest marketplace for sellers and buyers, provides enormous opportunities for entrepreneurs to make their own fortune. It's entirely up to you how you cash them. There are sellers, former 9-5 job holders, who are earning 5 figures just by selling their products on Amazon.

But the bigger opportunities bring stiffer competition. Currently, there are millions of sellers on Amazon, trying to sell their products, most of which will hardly make any money in the future. Why?
According to market research from 2020, 50% of new Amazon sellers close their doors within the first 5 years. The reasons for this are a lack of planning, poor strategies, or simply a lack of motivation due to the low margin.
If you want to start a career as an FBA seller, you must avoid the mistakes that most merchants make. And here, as in any other job or business venture, proper training is necessary. I'm referring to the FBA training program. But what exactly is it?

FBA training program teaches you the fundamentals of Amazon business. How to target the buyers, choose the right product, assess your competitors, and much more. It gives you a head start and puts you at least 6 months ahead of the competition in just a few weeks of learning.
There are currently more than 15 FBA courses available on the market, but not all of them are worth the expense. Furthermore, some of them are tailored to specific aspects of the FBA business, such as product launch, global outreach, product research, and so on.

In this article, I will assist you in choosing the best program for you. I've handpicked some of the best FBA courses available based on their features, cost, and overall value. All of the reviews are influenced by FBA sellers' perspectives as well as industry experts' analyses.
Amazon FBA Course: What To Look for?
Although the Internet is filled with How to FBA kinds of videos and articles, accessible for free but the FBA training program is designed in a systematic manner. Starting from the basics, it teaches you the step-by-step process of selling on Amazon.
A good FBA training program can be a game changer for you since it will give you insights into the marketplace as well as the techniques to make the best out of available possibilities.
Here are some important attributes to look for in an FBA training program:
The most important factor is the cost of training. Starting an FBA business is expensive enough and you don't want to spend loads on a training program.

A detailed introductory program for beginners is a must.

Another important factor to consider, when looking for an FBA course, is the ease of use and accessibility. The training structure should be easy to understand and must be accessible from multiple platforms such as smartphones, tablets, and computers.

A training program with a decent evaluation system will always benefit you and encourage you to learn faster.

You should be able to access the video guides, written materials, blogs, and so on as many times as you want.

Private sessions with experts are an additional advantage if available.

The duration of the course

FBA training programs are not cheap by any means, so it's added advantage if you get a money-back guarantee. This will help you try different courses and invent the one which suits you the most.
FBA Training Program: An Overview
An FBA course provides you with the education you need before you start your business on Amazon. Online business is complicated, especially on Amazon where millions of users are eyeing the same goal – A minimum 5-figure income. But proper planning and market understanding separate the ordinary sellers from the great ones.
The FBA training teaches you how the Amazon ecosystem works, how the products move to the first page, and how a buyer chooses a particular product. Additionally, you will learn the tactics to beat the competition and create a successful FBA business on your own.
These training programs usually consist of educational videos, slide shows, reading material, etc. Some of them also allow you to access exclusive communities as well as social media pages.
You also get to communicate with popular Amazon sellers where you can learn about their experiences and strategies. It may sound mundane, but the lessons are priceless.

Here are some common features you would find in any decent FBA course:
Sessions on Amazon framework and how things move in the e-commerce world.

Educational videos on various aspects of Amazon's business such as product research, keyword analysis, listing creation, Inventory, and PPC.

Special classes on product launch and promotion strategies.

Some training program also teaches about importing the inventory, labeling, and packaging the orders, etc

Access to private social media pages, exclusive communities, blogs, etc.

Access to discussion forums as well as video conferences.

Video sessions with trainers/Amazon sellers/marketing experts.
8+ Best Amazon FBA Courses 2023
Here are my top picks for the best Amazon FBA course in 2023. Each program is special in its own way in terms of features,
1. Freedom Ticket: The Best Overall

The freedom Ticket program is a comprehensive learning guide offered by the popular FBA seller platform Helium 10. Whether you are beginning to sell on Amazon or looking to launch a private label product, the Freedom Ticket will walk you through each aspect right from the outset.
The program provides you with several hands-on videos, and even in-person labs so that you can experience real-life scenarios of the Amazon ecosystem. Apart from this, you get tons of reading material, hand-written notes, exclusive blogs, case studies, video guides, etc to familiarize yourself with the Amazon marketplace.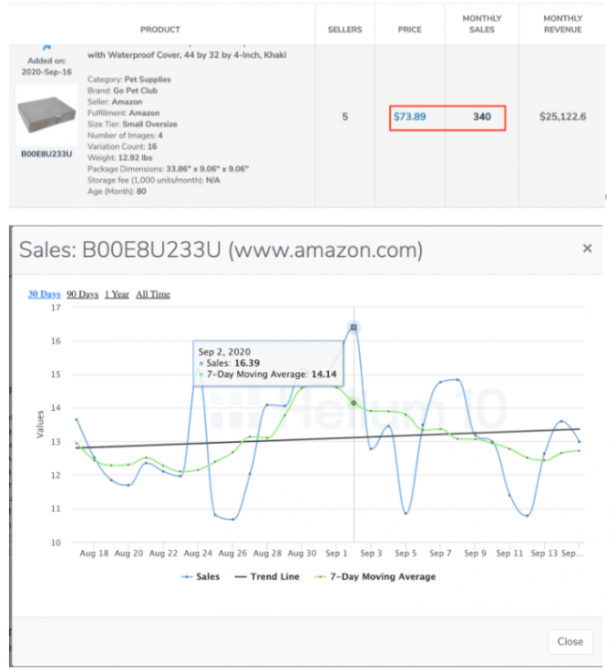 My personal favorite feature of Freedom ticket is the personal sessions with marketing experts. This is really a big opportunity to gain some valuable information regarding sales and competition that you will ve facing while selling on Amazon.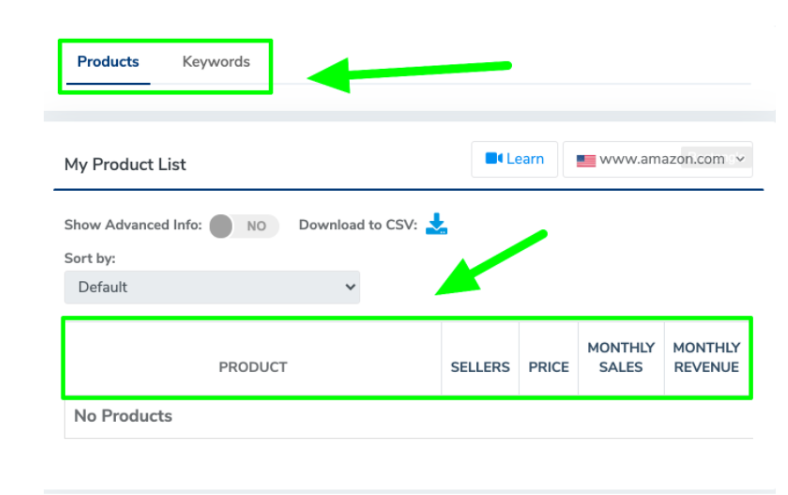 Course Details
The freedom Ticket training program provides you with:
8 weeks of daily training

60+ video tutorials related to product research, keyword management, Inventory protection, competition analysis, and so on.

More than 30 handouts

Full suite of FBA seller tools

One-on-one sessions

Pricing Information
Freedom Ticket program costs 997$ as a standalone purchase but you get free access to it if you sign up for Helium 10's Platinum, Diamond, and Elite plans. The respective cost of these plans is $84, $209, and $399. If you wanna save a few extra bucks on Helium 10, check our working Helium 10 Coupon Code here.
Who Is It Best Suited For?
Freedom Ticket FBA course is suitable for beginners as you get to learn the Amazon business from the scratch. Also if you are looking for a complete package that includes a training program as well as a complete set of seller tools, Freedom Ticket is the one for you.

2. Jungle Scout Academy: Learn How to Sell
Jungle Scout Academy was launched in 2019, with the idea of helping Jungle Scout users to understand the seller tools within the platform. Later the program was transformed into a full-on Amazon business guide.
Jungle Scout Academy is designed by Greg Mercer who is the founder and CEO of Jungle Scout and also happens to be one of the most successful Amazon sellers of his time.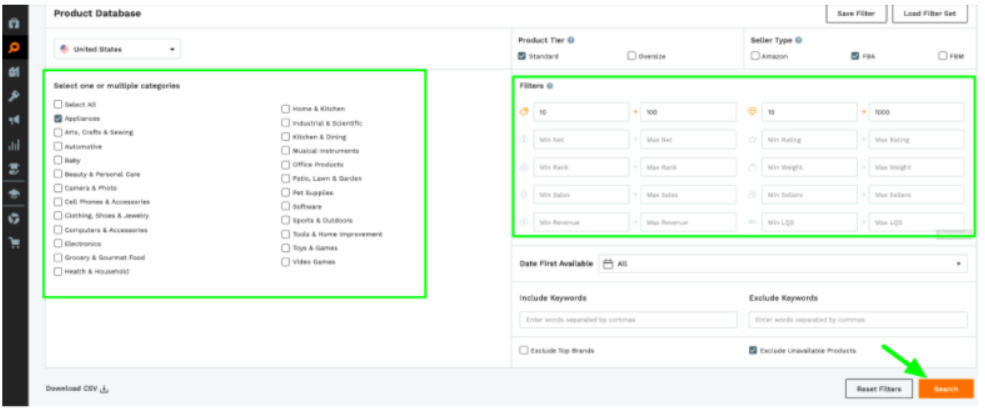 It's the second-best FBA course after Helium 10 that offers comprehensive tutorials on how to sell on Amazon. So if you are thinking about starting your Amazon venture, Jungle Scout can give you the much-needed platform to succeed. Also, for newbies, there are small-size tutorials available to make the learning easy and impactful.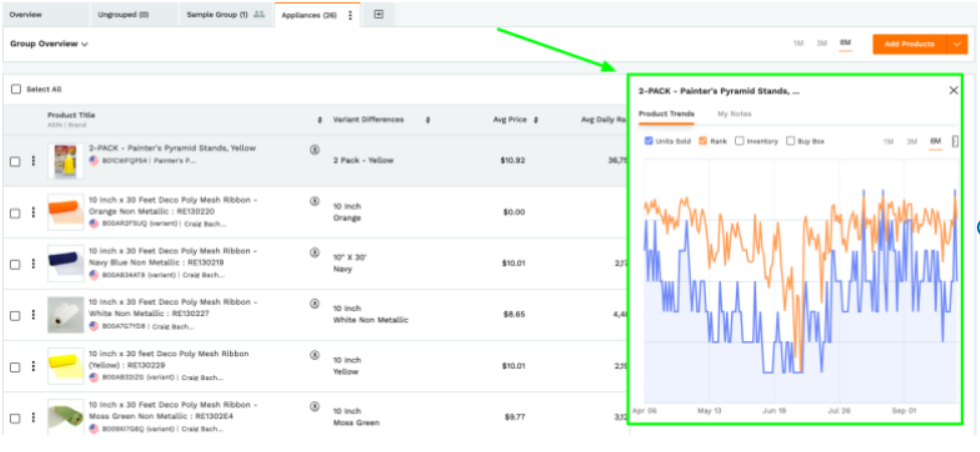 It includes over 130 video guides related to product discovery, Inventory management, list building, keyword analysis, and much more. Also, you get to study the real-life case studies and past scenarios of some notable Amazon sellers that ended up becoming successful businesses.
Course Details
Jungle Scout Academy training program consists of:
6 weeks of training

130+ videos including the beginners' program

Live Q&A sessions with experts

Jumpstart sessions for new sellers

Access to community forums and exclusive live stream training

On-demand learning material

Real-time data from Jungle Scout seller tools
Pricing Information
You can access the Academy training with any of the Jungle Scout's premium plans.
Basic – $29/month, $349/year
Suite – $49/month. $589/year
Professional – $84/month, $999/year
Mind you that the training program is the same for all the plans. The price depends on the number of seller tools and features offered by Jungle Scout. Also, there is a 7-day unconditional money-back guarantee if you are not satisfied with the quality of training.
Who Is It Best Suited For?
Jungle Scout Academy is a good FBA course for beginners. It comes at starting price of just $29/month where you can learn some really needed basic fundamentals of the Amazon environment.
3. Marketplace Superheros: Tips for Worldwide Build-up
Marketplace superheroes are designed for sellers looking to launch themselves on a global scale. It features various lessons on how to locate and launch a low-competition profitable product on a larger scale. The course was developed by the popular Amazon duo Stephen Somers and Robert Rickey who themselves have sold products worth over $1 million worth on Amazon.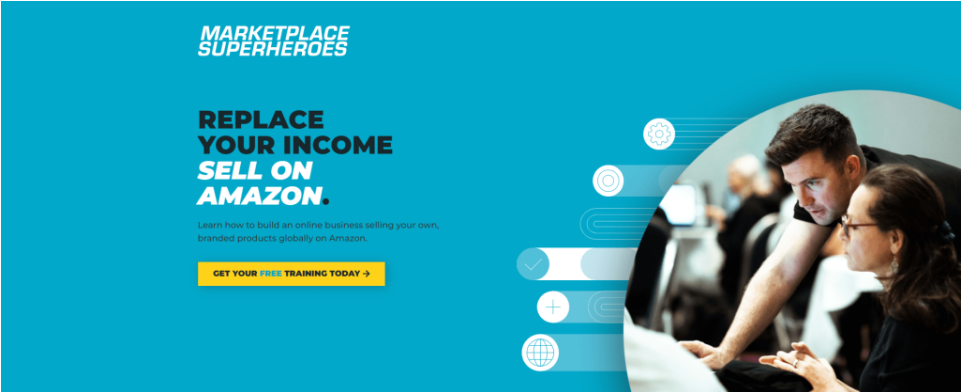 During the course of 8 weeks, you will learn how to find fruitful products, import them and sell them under your own name across the Amazon platform. Apart from the practicum, you will also get access to a product discovery tool that you get a 4S product finder tool that simply helps you search, shortlist, select and source the high-converting products on Amazon.
The main attractions of the course are :
Lessons on how to build your business with 5 products
Mistakes to avoid for beginners
How to get your first sale within 3 months
The product finder tool
Secret strategies to extract the highest profit from the lowest competition product.

The program is spread over 8 weeks, covering 2 phases with 6 modules in each. Phase one accentuates the Amazon and FBA ecosystem and what one can do to survive the initial period as a seller. In phase 2 you will learn about several tips and strategies to create your brand on Amazon and ways to achieve success. Each module includes 5-7 video tutorials, screen-shares, along downloadable study material for you.
Course Details
8-week training in 2 phases

12 modules containing over 100 video guides

4S product discovery tool

Tips on finding, importing, and selling internationally
Pricing Information
Marketplace Superheros FBA course will cost you $997. You can also pay in small monthly installments of $97 for 1 year.
Who Is It Best Suited For?
Our experts have mixed reviews on the Marketplace Superheros FBA course. While the program seems like a great opportunity to learn international e-commerce environment, the $997 is still a big amount to pay for. However, you can opt for a 7-day free trial and proceed to the purchase only if you are 100% satisfied.
With Amazing Selling Machine, we are talking about a premium FBA course that has the highest success rate and has helped sellers across the globe. Yes, the ASM is probably the fastest way to learn Amazon business from the bottom to the top.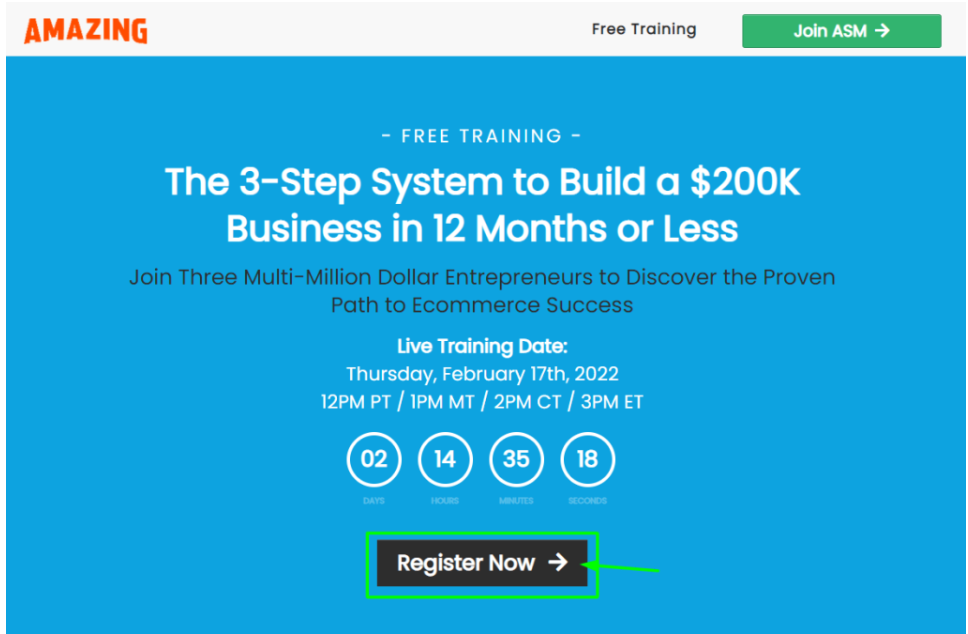 All ASM experts have been former Amazon sellers, making more than $200 million just by selling on the biggest online mall in the world. In this training program, you will get to know their secret strategies and tricks to beat the competition. As of now, more than 35,000 aspiring sellers have gone through ASM training, making the sales worth over $9 Billion on Amazon.
During Amazing Selling Machine training, you would learn:
How to dream big and set yourself bigger goals as an entrepreneur.

How to discover the winning products out of nowhere.

How to create the most attractive product listing.

How to rank on the first page of Amazon search.

Where to look for reliable vendors to purchase the inventory, and how to settle profitable deals.

How to create your brand, starting from a product.

Make the best out of Amazon business in the minimum amount of time.
The ASM promises you your first sale before even finishing the 8 weeks training program. The course contains 8 modules including the Welcome pack, 102 tutorials on various strategies, business plans, and so on.
The program is highly reputed and often cited as the best business builder tool by some of the biggest brands including MSN, Forbes, Business Insider, CNBC, etc. Many former ASM users have claimed it was ASM that actually made them believe they could achieve the unimaginable on Amazon.
Course Details
8-weeks of training

102 FBA tutorials including working methods and strategies

20+ hours of Amazon business content

Product finder tool: Zoof (for 6 months)

Product Analyzer and Keyword locator tools

Access to the exclusive ASM community

Product, Listing, and PPC reviews

Pre-Launch strategy sessions, Brand expansion sessions

Pricing Information
Currently, ASM is offering 2 types of training programs:
Foundations – $997 – Full Training + ASM tools
Amazing Selling Machine – $2997 – Full training + tools + Community access + Monthly coaching calls with mentors, and personal sessions
Originally, the programs cost a whopping $2497 and $4997 respectively. Currently, there is a 40% discount on memberships.
Who is it best suited for?
There is no doubt about the quality of training with ASM. However, it's an expensive training program, suitable only for those with good capital money to start with.
5. Seller System: Understand Private Label Business
Created by Brandon Young, a popular Amazon mastermind, The Seller System program primarily educates you on private labels, PPC management, and Product launch. Along with the standard Amazon business masterclass, the program also provides you with proven strategies on product discovery, wholesale marketing, and online arbitrage.
The training program is designed with basic teaching and learning methods in mind and you would actually feel like a student at university while going through the course. You get weekly assignments that will be regularly assessed by the Seller System's experts. Apart from the video lessons, you get access to the private Facebook page of Seller System to connect with hundreds of ambitious Amazon sellers to share your experience.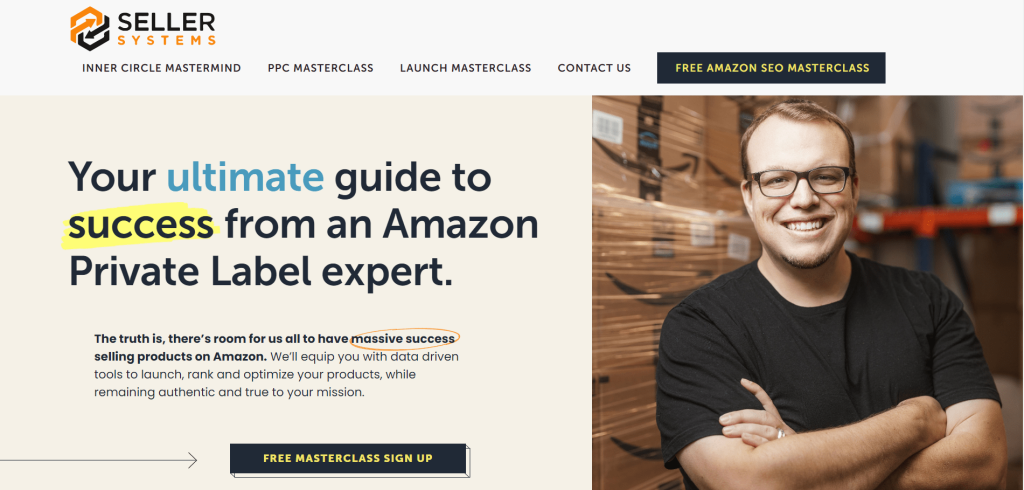 There are a little over 100 video tutorials that will help you learn about Amazon's working environment and about finding, listing, and selling your products at maximum profit. Also, there are weekly video conferences with experts where you can put all your doubts in front of the trainers.
The Seller System training program includes:
Techniques to find glory products with low competition and high-profit margin.

SEO strategies to attract organic traffic to your seller page.

Useful strategies to prepare successful product listings.

Tutorials on successful product launches and PPC campaigns

Amazon's secret algorithms for FBA business
You also get to study the past business scenarios and bargains based on the real Amazon sellers. Not only it will help you learn the business tactics, but will also help you get inside the minds of buyers as well as your competitors. There are several templates available where you will learn which action to take in specific circumstances.
Furthermore, you will learn how to locate the most profitable product, the tips for making a profitable deal with the suppliers, product promotion, labeling and packaging, how to use social media for advertising, and much more.
Course Details
6 weeks of training

Approximately 100 tutorials

Weekly assignments

Video sessions

Workshops on PPC, product launch, etc

Pricing Information
The Seller System's PPC masterclass and Workshop tutorials are available to purchase at $59-$297, depending on the ongoing offer.
However, if you want to access the premium features of the training program, it will cost you as much as $997

Who Is It Best Suited For?
If you want to learn about product launches and PPC campaigns, the Seller System is the way to start with. Yes, there are cheaper FBA courses available such as Freedom ticket and Jungle Scout, where you also get access to the FBA tools. Make an informed decision.
6. Proven Amazon Course: The Complete Amazon Guide
If you are planning to create a business on Amazon, then the Proven Amazon Course is the right online course you're looking for. The best thing about PAC is that it does not teach you only one strategy to sell products on Amazon but several strategies that you can use to make money on Amazon. In training, you will also learn about non-Amazon topics such as accounting practices and how to sell on Shopify.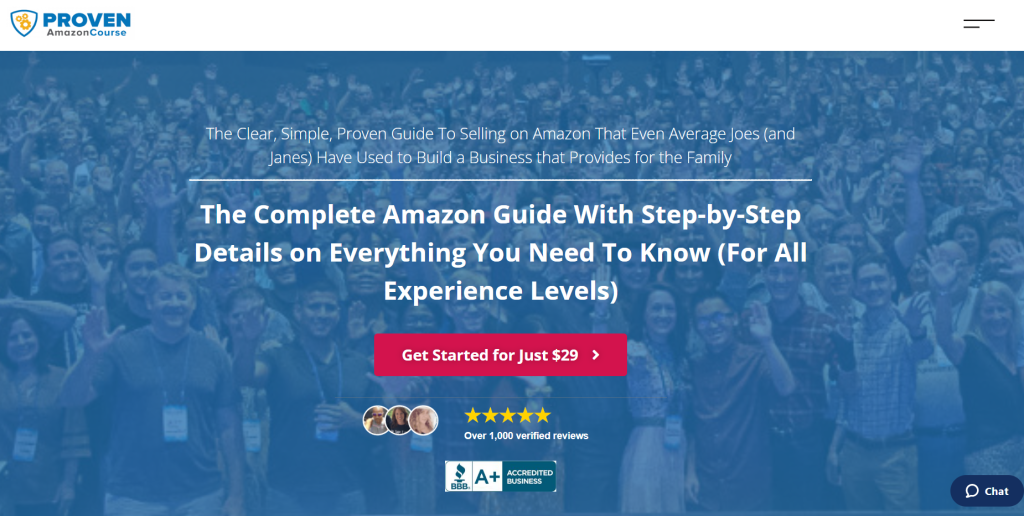 According to the testimonials available on the sales page of PAC, it is safe to say that if you follow all the learnings religiously, then you will definitely get results. The three core aspects of this course are Shipping, Sourcing/Buying, and Listing. You will learn about these three areas thoroughly in this course.
The Proven Amazon Course Includes:
Learn about Proven Wholesale Sourcing
Learn low-budget Arbitrage sourcing
Learn to create long-term strategies
You can enroll in live webinars
Learn about international sellers
PAC busts four myths with success stories. The first myth states that you need money to start a business, and there are plenty of success stories available that say they have started with less than zero. The second myth states that this business will take much longer to support my family and me. Many started getting results within a few weeks.
The third myth states that you don't have enough time to start a business. You can start with this business by just investing 2-3 hours daily. The fourth myth states that it's too late to start a business. It's never too late to start investing and believing in yourself.
Course Details
Library of different courses
Dozens of hours of video content for training
Lifetime membership to the MySilentTeam.com forum
Access to monthly webinars of PAC
Access to future updates on the course
Pricing Information
There are two payment options available on PAC. You can either pay $29/mo and get access to the complete library of courses, or you can do a one-time payment of $499 to get lifetime access to PAC.
Who Is It Best Suited For?
This course is for everyone who is just starting their business. It has different strategies which you can use to earn money, such as Wholesale, Private Label, Online Arbitrage, Product Bundling, Merch By Amazon, Replenishables, Kindle Direct Publishing, and Selling on Amazon using FBA.
7. Amazon Boot Camp: Make Money Reselling On Amazon FBA
The creators of Amazon Boot Camp, Cliff Larrew and Jessica, who go by the name The Selling Family, are established Amazon resellers. They have been making profits in six figures by working only part-time. They have brought the latest version of this course: Amazon Boot Camp 4.0, where they have added new techniques and tips for you to get better results.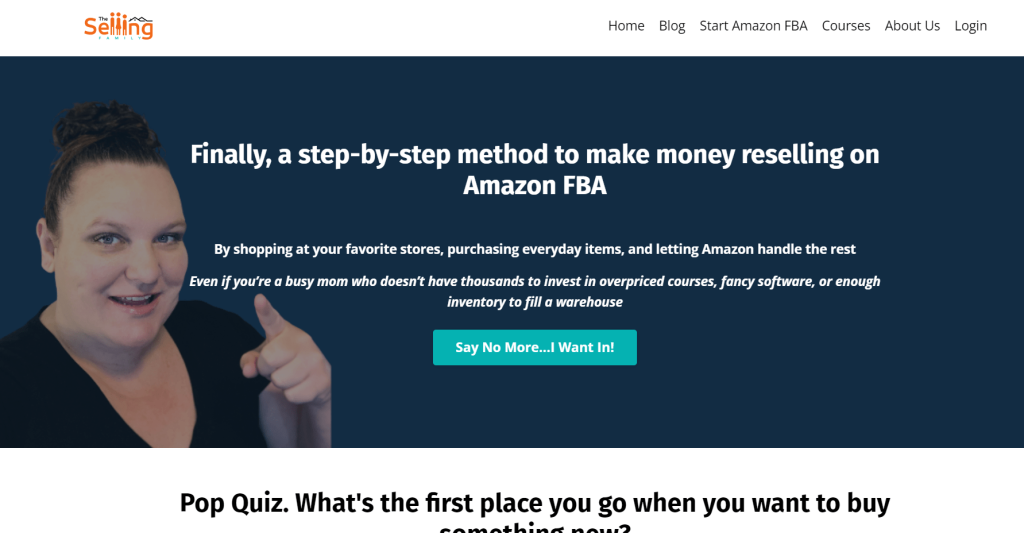 They have already taught over 10,000 students how to start selling on Amazon and earn good profits. Their students are now earning four to five figures within six months of starting an arbitrage-selling business on Amazon. Most Amazon FBA courses tell you to start selling on Amazon with private-label products, which would require you to invest heavily, whereas Retail arbitrage can be started with a small investment.
With Amazon Boot Camp, you will learn the following:
Business basics of selling on Amazon.
How to create an Amazon seller account and set up your app.
Learn to find profitable items in online & retail stores which you can flip for a profit.
Learn about profitable Amazon categories, the buy box & best seller ranks (BSR).
How to evaluate products like a pro.
How to get your inventory sold out quickly.
Learning retail arbitrage is very simple; you just have to find the products which are on discount, either online or offline. You buy those items and then sell them for a profit on Amazon. It may take you some time to learn everything about Retail Arbitrage, but once you do, you can start earning good profits from it.
Course Details:
Lifetime access to the course
Nine different course modules
Full lesson transcripts and captions in the videos
Bonus materials
Access to the private member community
Pricing Information
The Amazon Boot Camp course costs only $345 and gives you lifetime access to all the course materials.
Who Is It Best Suited For?
It is best for sellers who are in the USA and want to start selling on Amazon using the retail arbitrage method.
8. The Wholesale Formula
Dylan Frost and Dan Meadors are the two creators of the Wholesale Formula course. They started this course 8-9 years back, and since then, they have made over $36 million using their own formula and helped over 960 customers in generating over $1 billion in sales. Basically, in this course, they teach you how to find the best products, scale your Amazon wholesale business, and find the right suppliers.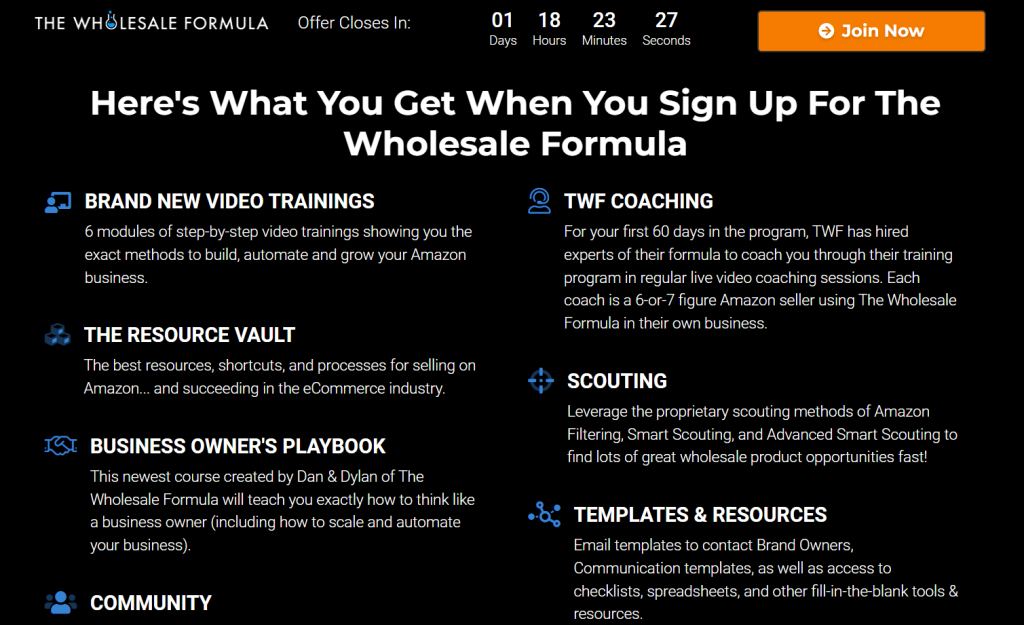 This course can help you generate good profits from wholesale, it can become a good income of source for you. I believe all Amazon sellers should include wholesale in one of their sourcing strategies. At first, wholesale may seem like a lot of investment, but once you start getting steady returns, it will definitely be worth it.
With The Wholesale Formula course, you will learn these things:
Dynamics of the course and how to set up a wholesale business
How to find the best products to sell on Amazon
How to use leaf sourcing, Amazon filtering, and targeting to find wholesale products
How to get brands to approve your account
How to contact suppliers and negotiate the best prices
The course also comes with a lot of bonuses, such as access to a private Facebook group, plenty of email templates to contact suppliers, and access to FBA tools like Seller Labs Pro, Jungle Scout, live webinars, and FAQs to help you out.
Course Details:
Five modules with plenty of videos
TWF Coaching
Templates & Resources
Brand new video trainings
Lifetime access with updates
Pricing Information
The Wholesale Formula costs $2997 or 4 payments of $874 and gives you lifetime access to all the course materials.
Who Is It Best Suited For?
This course is perfect for anyone who is interested in the wholesale business model and wants to start their own wholesale business on Amazon.
Related Read:
Final Word: Best Amazon FBA Courses (2023)
The best thing about Amazon is that there is something for everyone. Now, How deep can you dig, depends entirely on you. From the sellers' perspective, the only thing between you and your success is proper education. As many sellers have demonstrated that selling on Amazon is a real and fruitful career, why not begin with proper research and training?
All the above-mentioned FBA courses work on a basic principle – How to sell on Amazon. Some courses might be trickier to understand due to their content and pace, but the efforts are worth making.

To sum up, here is an example to understand the importance of an FBA training program. A nursery kid with prior knowledge of alphabets and numbers always holds a better chance of performing in school than the one with no understanding whatsoever.
Learn your alphabet and numbers before you hit the Amazon marketplace.

If you are still confused, here are my top picks::
As I mentioned earlier, if you have a big budget to start with, go with Amazing Selling Machine without a second thought. It's the most up-to-date FBA course with the highest proven win percentage. With the ongoing 40% discount, it's a great deal.

If you are a new FBA seller, pick Freedom Ticket by Helium 10. Yes, it's a bit pricey as a standalone product, but if you purchase a premium plan of Helium 10, you get free access to the complete training program.