Looking for a detailed Freedom Ticket review? Don't look further, you have reached the right page.
Currently, Amazon's FBA business is rocking the world with its mojo. You must have seen people making fortunes just by selling products on Amazon. But they must have invested years of struggle and effort before reaching this feat.
To become a successful FBA seller, you need to understand Amazon's ecosystem and marketing strategies. You can do a lot of research here and there in order to have a deep understanding of FBA. Or you can save your energy by finding the right training program for Amazon FBA business.
Freedom Ticket is one of those courses that provide you with in-depth knowledge and expertise to quickly adapt to the process of becoming a successful Amazon seller. That's why I brought you a detailed Freedom Ticket review covering all the critical aspects.
So, let's get started.
Freedom Ticket Review: In a Nutshell (2023)
The Freedom Ticket is an ultimate Amazon FBA course designed to help Amazon FBA sellers and merchants across the globe. The course is a collection of in-depth lessons, strategies, and tips. With this course, you learn to sell on Amazon using the best practices used by industry experts.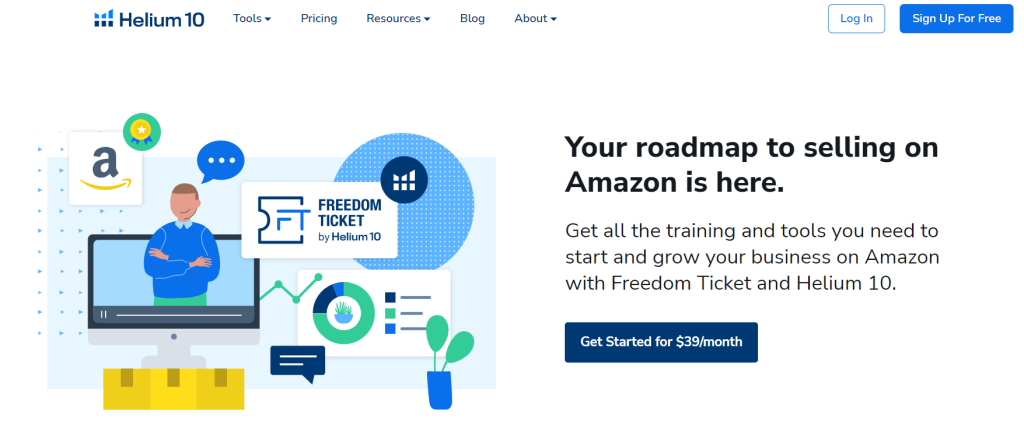 The Freedom Ticket was initially started by famous eCommerce sales expert Manny Coats and Helium 10's co-founder, Guillermo Puyol, in 2017. However, the newest 3.0 version of the course was created by successful eCommerce entrepreneur Kevin King. The latest 3.0 version contains the best and trending strategies to ace Amazon FBA business.
What is Included In The Freedom Ticket Program?
The Freedom Ticket is designed to motivate committed FBA sellers so that they can learn exceptional skills to master Amazon FBA business. Eventually, the Freedom Ticket is your one-way ticket to switch careers by ditching boring nine-to-five.
The course will give you major insights into a product's profitability, ranking, and marketing. Let's see what Freedom Ticket has to offer:
Ten-week exclusive Amazon FBA business training
A complete guide on private label and eCommerce sales
Stepwise guide on selling on Amazon
Video guides in multi-language subtitles
Access to Helium 10's seller tools 
Access to Helium 10's real-time data
Strategies to drive more traffic and sales 
Private sessions with successful Amazon sellers and marketing experts 
Bonus week for selling on the Walmart marketplace 
100+ detailed videos 
Freedom Ticket Program: Course Details
The Freedom Ticket's long-term training is divided into ten weeks which includes in-depth video guides and private sessions.
Let's dig deeper into the course.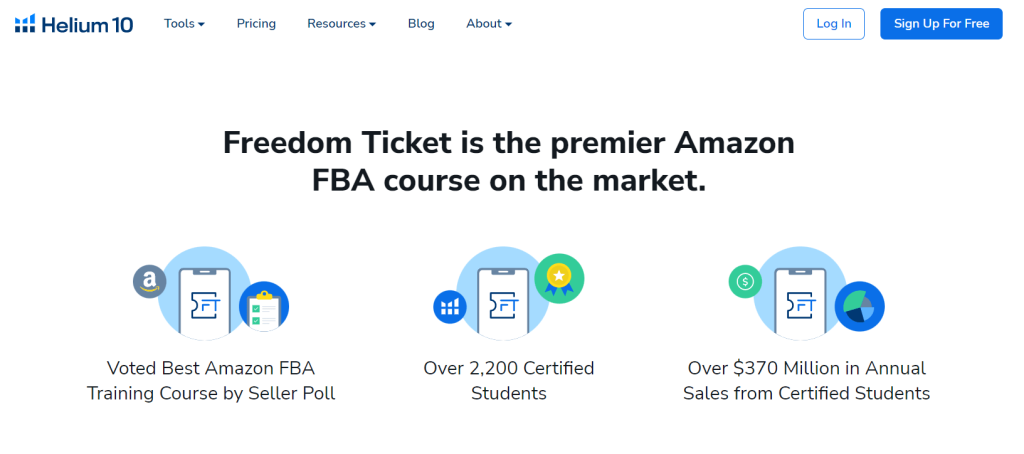 Week 1: About Selling on Amazon
The first week of this course starts with Kevin's introduction and about this course. Kevin talks about Amazon's business environment setting up the scene so you get cozy with the Amazon FBA business and look forward to grabbing the awaited opportunities.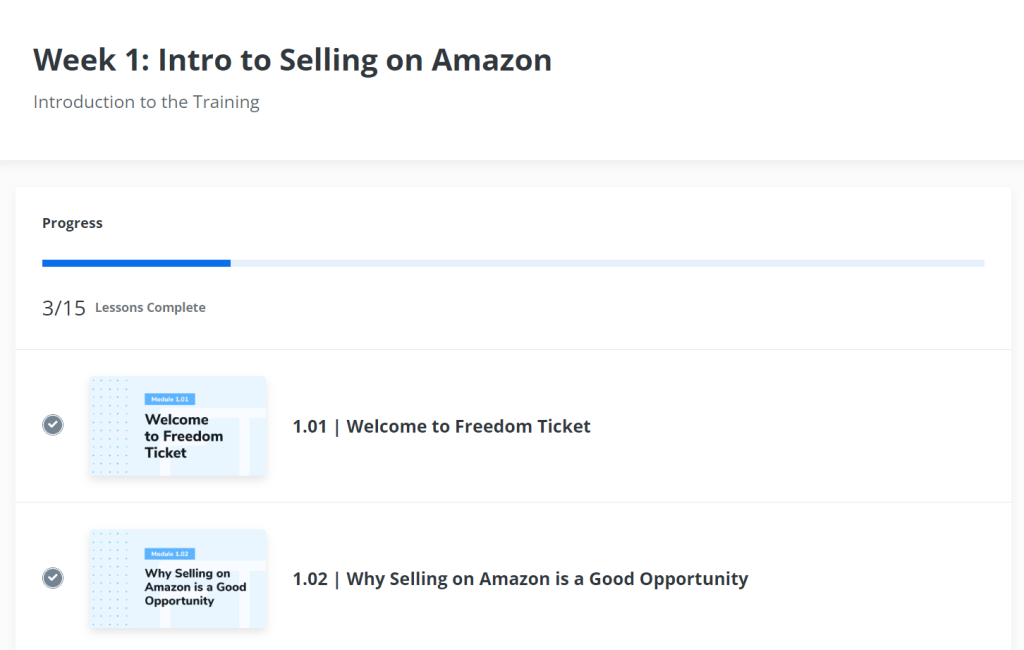 Kevin deeply explained about FBA business and cleared that this one requires sheer will and commitment in order to achieve success. Kevin himself has been doing FBA for a very long time, so he is not sugarcoating anything. Except he seemed realistic and spitting out the actual facts as being a long-time merchant of FBA. Let's see what more is included in the first module:
Freedom Ticket overview
FBA business opportunities
Different ways to sell on Amazon
How much investment is required to sell on Amazon
What to do if you are low on budget
About Private Label selling
Business valuation spreadsheets
Summary of the course
Week 2: The Basics
This week has 15 modules, along with two upcoming new chapters. The lessons contain the strategies to set up an FBA business from scratch. You will also learn about other important factors and walkthroughs of Amazon Seller Central. Let's see what's more in this module: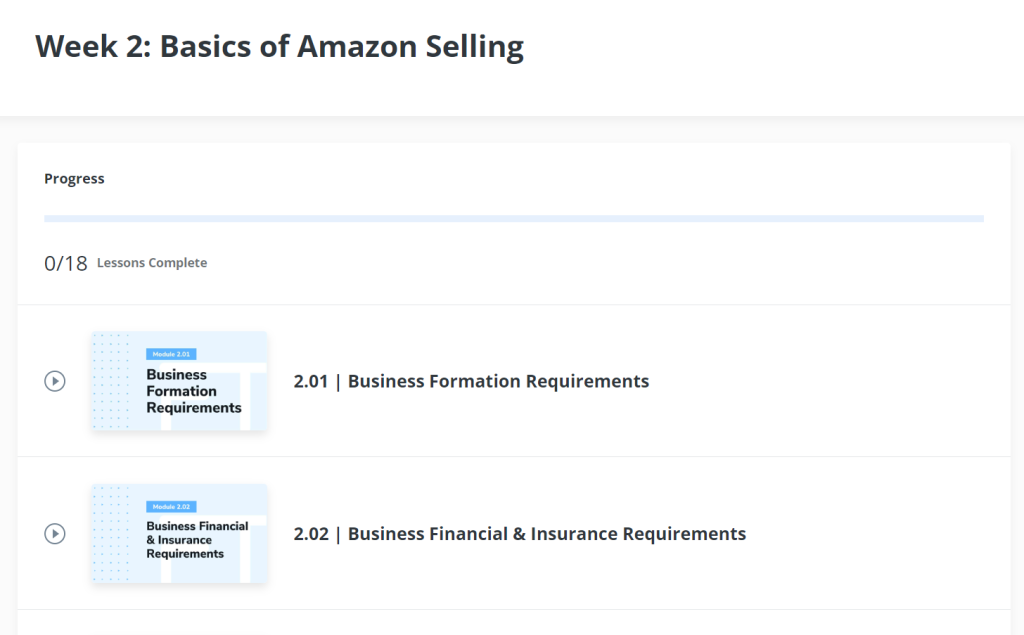 About Amazon Seller Central
Business formation requirements
Financial requirements
Managing foreign currencies
Intellectual property patents and trademarks
Brand registry
Ladder of Loyalty
What to expect at the beginning of your FBA journey
Week 3: Investment and Profit Calculation
In this week's training, Kevin teaches you all about making money. In this module, you learn about investment, cost estimation, and finances. There are 15 chapters included in this week. Here are more details about this module: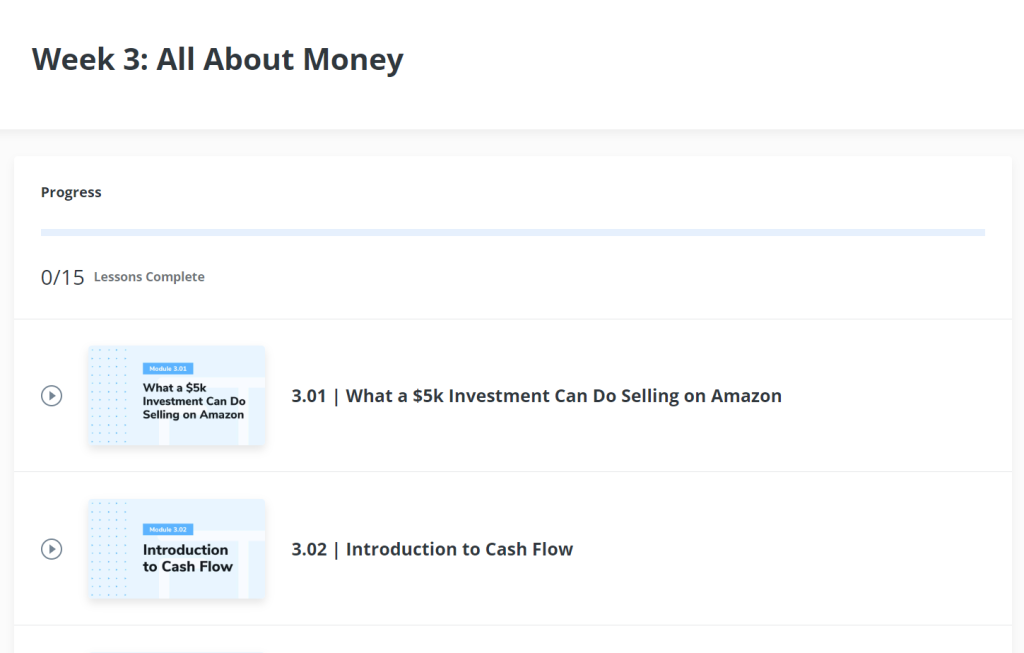 What can you do with a $5,000 investment in Amazon
Cash flow introduction
Costs you need to sell on Amazon 
Using the Profit Calculator
How to get paid fast
Overview of sponsored ads
Things to consider selling on Amazon
Exit goals
About Kevin's own products 
Week 4: Finding the Right Product to Sell
This is one of the most important weeks of all as you are about to find out the strategies for finding the winning products for your Amazon FBA business. You might already know that Freedom Ticket is affiliated with Helium 10 subscription. So in this module, Kevin teaches you how to use Helium 10's seller tools to find the best profitable product within your niche.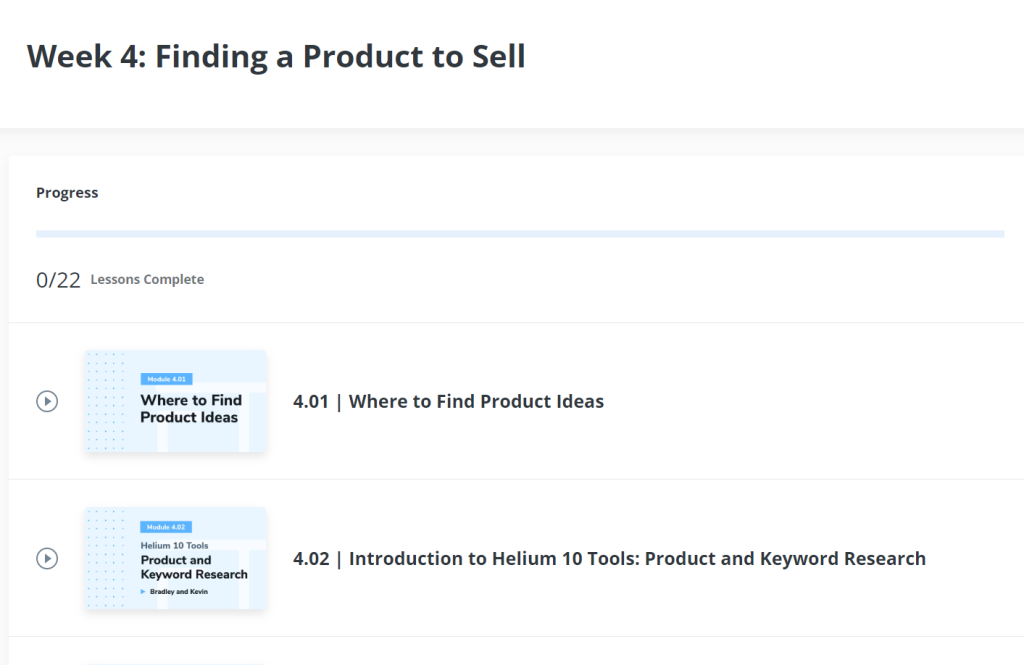 Helium 10's Black Box is one of those tools that may come in handy in finding you the right product for your business. Let's see what this module consists of:
Where to look for product ideas
Overview of Helium 10's Seller Tools
Keyword and product research
Using Black Box to Find Winning Products 
How to choose a product for selling
About product differentiation
What is product compliance
Competitor research and reviews 
Bonus modules from FTX
Product opportunity test
Licensing basics
Product evaluation spreadsheet
How to get data from Amazon 
Week 5: Sourcing the Product
After choosing the dream product for your business, you need to find ways to source it to sell on Amazon. So this week's going to be a real deal as you will learn about core information on product creation and sourcing. Let's see what's more included in this module: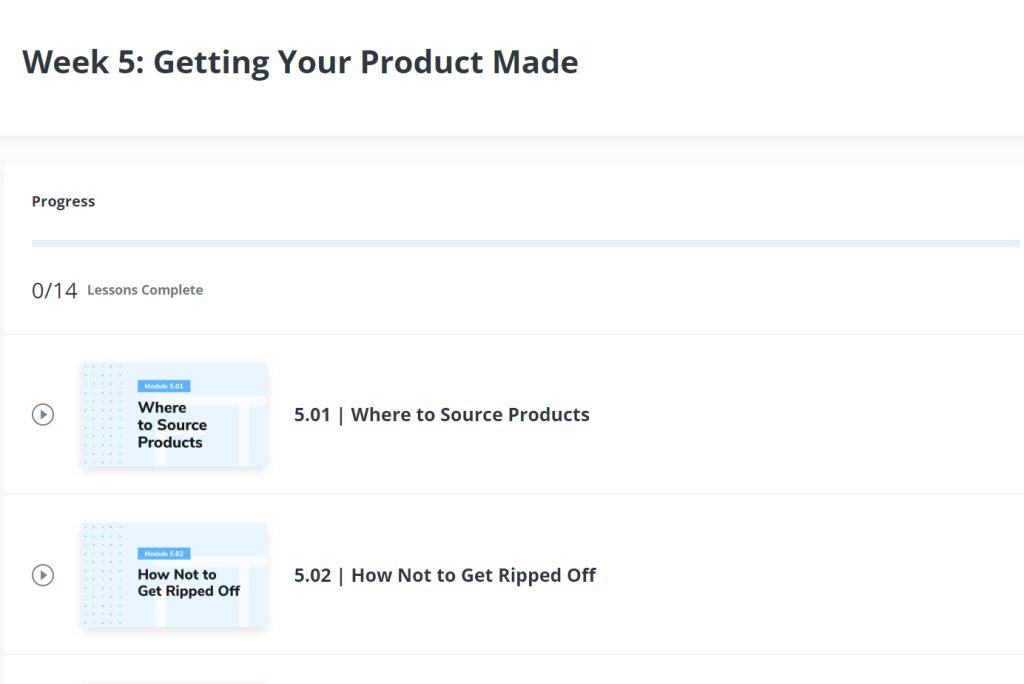 How to source products
How to avoid getting ripped off
12 common rookie mistakes while sourcing products
Sourcing from China
Using YiwuGo for sourcing
How much to order
Manufacturing unique products
How to source private label products
The biggest challenge Kevin faced while selling on Amazon
Week 6: Shipping Terms
Most of the topics covered in this week are already included as a part of the previous week. However, Kevin realized that compliance modules on taxes, customs, shipping, and import regulations need a separate week for learners to abstract the content.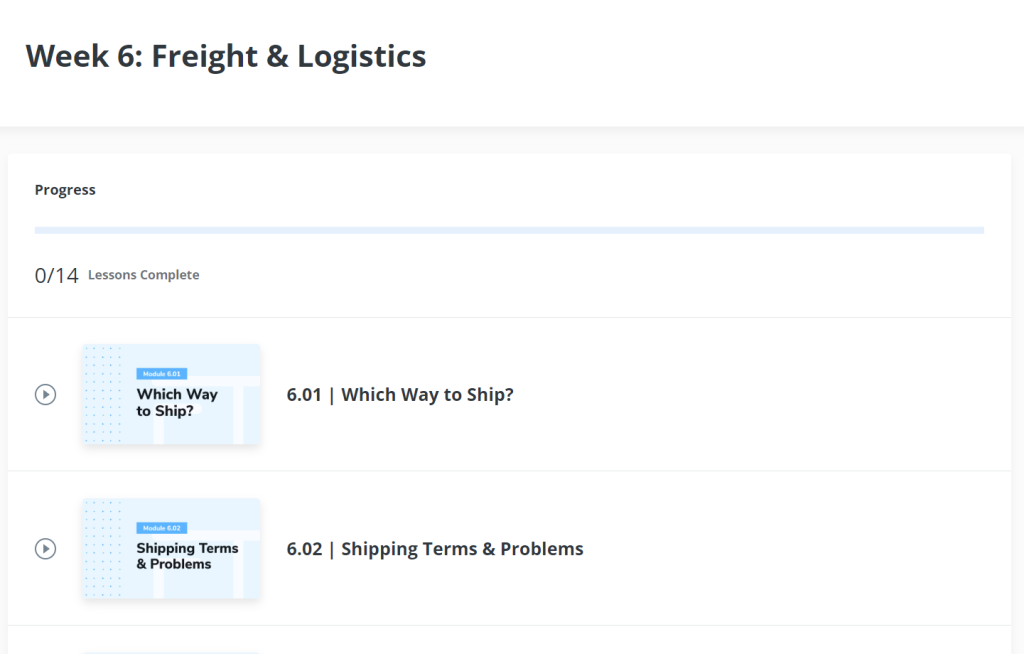 The week also contains shipping strategies from famous industry experts. This module requires utter concentration as you might start to feel overwhelmed by the lessons. It is better to take notes seriously if you don't want to make any rookie mistakes while running your business. What's more, included in the module:
Ways to ship
Shipping terms and problems
Creating shipment in Seller Central
About FBM fulfillment
Introduction of Shipping Master Class
Save money using three master strategies
Shipment modes
Ten common mistakes you should avoid
Packing for international shipping
Shipping and logistics
SPD vs. LTL
Week 7: Learn about Sales and Ranking
After an overwhelming yet crucial week 6, the lessons in the 7th week are going to be a little comfortable. In this module, you will finally learn about selling your products. So Kevin will be covering more specific topics such as brand registration and how to secure trademarks and patents. Furthermore, you will also learn about product listing, keyword research, and more. Let's see what this module includes: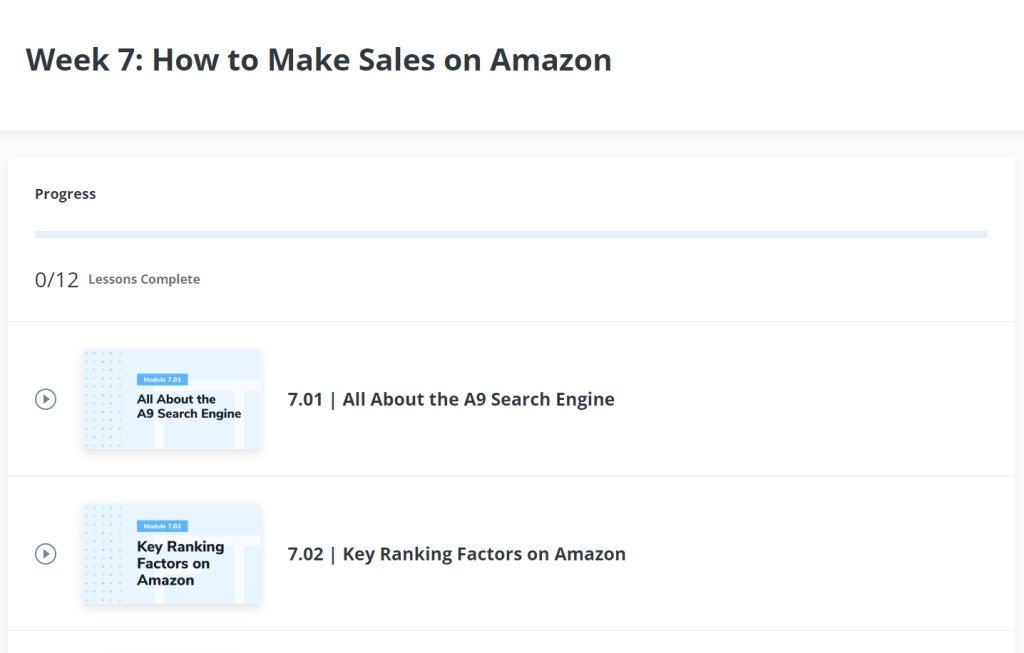 Overview of A9 Search Engine
Important ranking factors
Basics of making sales
Ways to get discovered on Amazon
Prohibited seller activities
Sales stopped checklist
Using Brand Analytics and Cerebro to find keywords
Bonus module
Week 8: Creating Product Listing and Sales Page
This week's module teaches you about creating a sales page and product listing on Amazon. You'll learn how to use Helium 10's tools, such as Magnet, Cerebro, and Scribble, to create a successful product listing. You will also learn about driving traffic toward your sales page using proper keywords. Here's more about this module: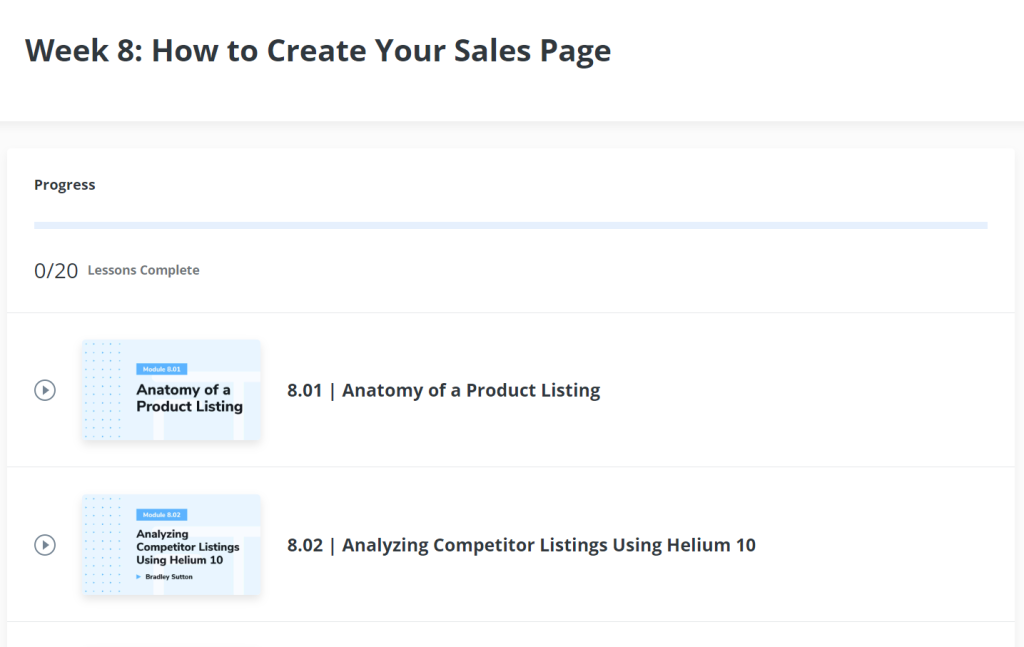 Structure of a product listing
Analyzing competitors' listings
How to write a compelling title, description, and bullet points
Completing backend keywords
Creating descriptive images
Copywriting strategies to sell more
Keys to a good product listing
Creating A+ content
Using Listing Builder and Frankenstein tools
Inventory management
Bonus modules
Week 9: Launching the Product
Week 9 and 10 used to be in a single module in the previous version. Now there are two separate parts covering your business's critical phases.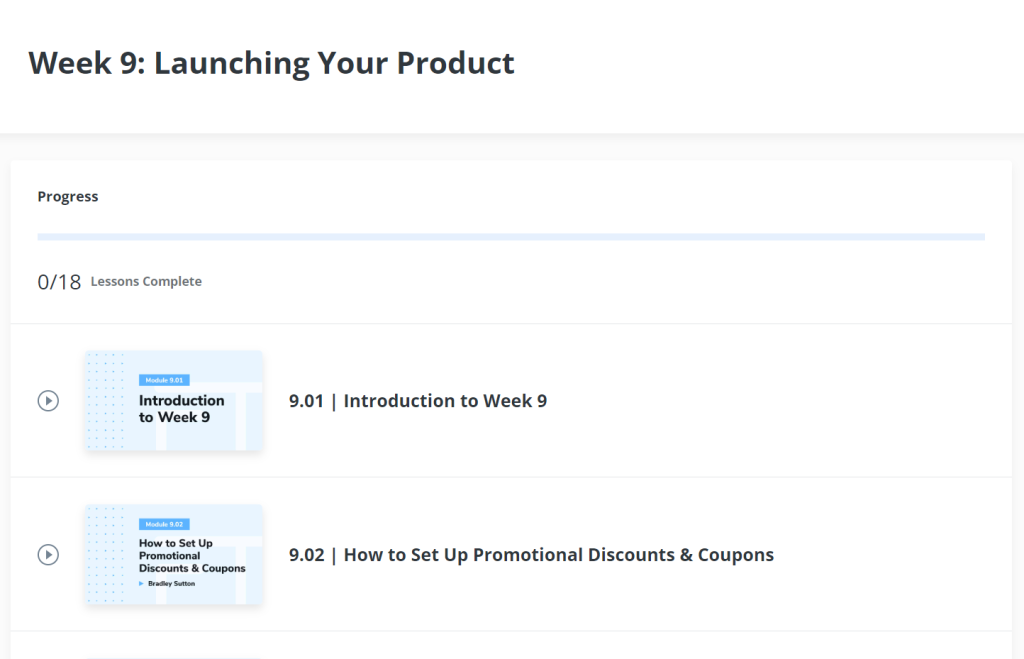 This week's module talks all about launching your first product, promotions, and internal advertising options. You will learn how to set up discounts and promotions on your sales page to turn visitors into customers. Here's more about this module:
Setting up promotional discounts
How to set up follow-up emails
Using Amazon posts
Using press releases
About Amazon Live
Launching your product
Tactics for Amazon ranking
Facebook for Amazon
Product launch strategies
Chatbot basics for sellers
Influencer partnership
Week 10: Marketing and Promotion
The final week is all about outside promotions and marketing the products using Amazon's PPC campaigns. Some sellers might think that Amazon is now double dipping even after taking a piece of profits for warehousing and shipping. And now, why will you need PPC advertising to stay in the competition?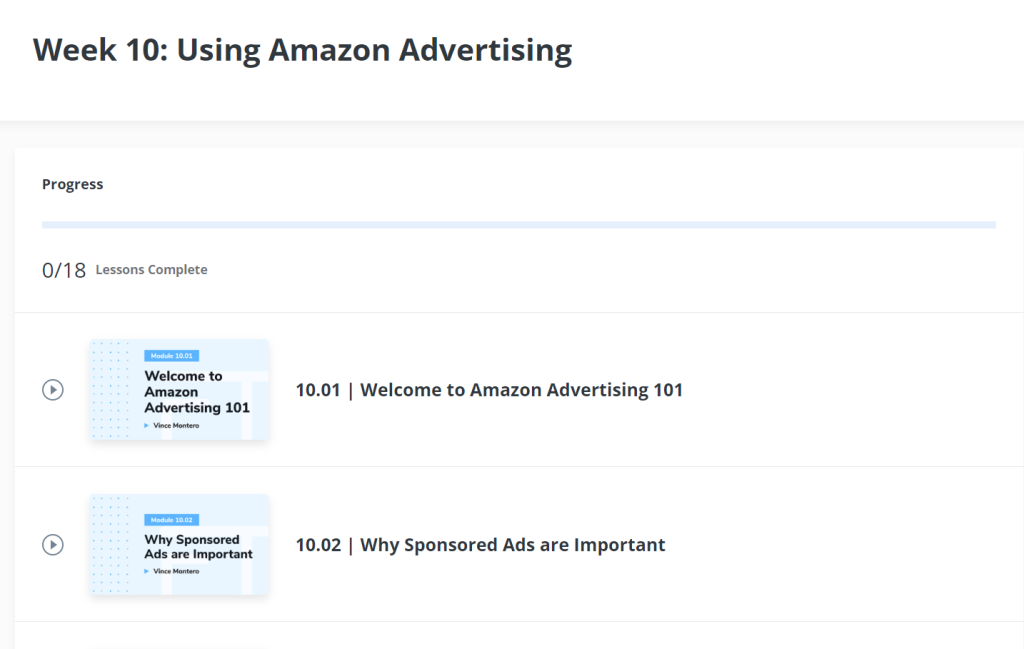 To help solve this tricky topic, the experts take you to the depth of this module, explaining all the essentials to achieve better ROAS (Return on Advertising Spend). You will also understand crucial metrics like TACoS. Let's see what's in this module:
Amazon Advertising 101
About sponsored ads
Overview of Amazon PPC
Understanding campaign framework
PPC terminology
Campaign placements
Bidding strategies
Best practices for initial campaigns
Campaign optimization
Ten common mistakes
Wrapping up
During the last two weeks' lessons, you will get to meet Manuel Suarez, one of the finest social media marketing experts. He and Kevin will be covering a few additional topics, such as social media marketing, Facebook Ads, and sales funnel creation. The purpose is to give sellers a non-Amazon marketing perspective so they can leverage all the marketing options out there in the market.
Bonus Week: Selling on Walmart
"Selling on Walmart" is a brand new section that has been added to Freedom Ticket's exclusive training program. Walmart records around 120 monthly visitors, which makes it another best options to sell your products. Experienced sellers can take advantage of this opportunity and expand their online business to this massive marketplace.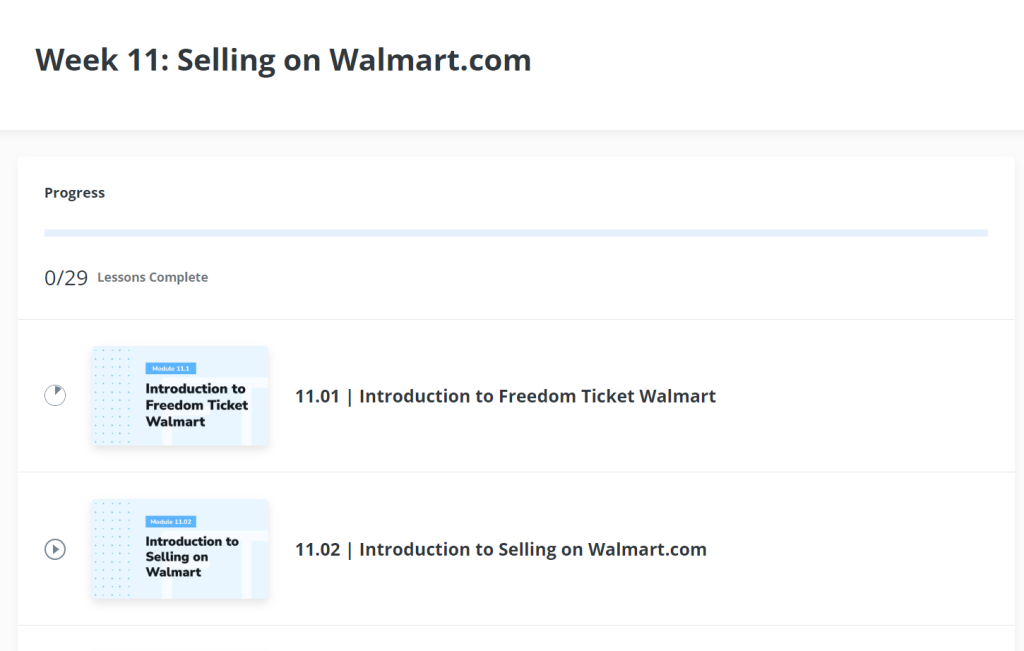 The module is run by Carrie Miller and Tim Jordan. In this module, they will take you through a step-by-step guide on taking advantage of Amazon products and selling them on Walmart. Let's see what's more in this module:
Freedom Ticket Walmart introduction
Selling on Walmart
How to get approved for selling on Walmart
Setting up a current account
Determining products to sell on Walmart
Listing optimization
Walmart maintenance files
Walmart fulfillment services
Setting up campaigns on Walmart
Fundamentals of Walmart PPC
Ranking your products
Daily management
How to get the Freedom Ticket Certificate?
In order to get the Freedom Ticket Certification, you need to complete the course. You need to watch all the videos, or you can mark all the lesson videos as completed. But that's not how you get the certificate.
Once the course is 100% completed, you will unlock the Freedom Ticket certification test. The test includes quizzes based on the videos, interviews, and lessons you have learned from the course. You need to score at least 70% or higher on the certification test to get certified as a graduate of Freedom Ticket. Eventually, you will also get a digital degree.
Who Should Use Freedom Ticket?
If you are a beginner Amazon seller and want to learn everything about selling on Amazon, then the Freedom Ticket course is the best option for you. Now Freedom Ticket course is a part of Helium 10, so you get access to all the tools of Helium 10 along with this course in just one subscription. The course teaches you to sell private-label physical products on Amazon.
This course also helps experienced sellers take their business to the next level. You can learn the basics of selling on Amazon and make your FBA business foundation strong. If you are having difficulty finding the right product to sell, then you can use Helium 10's product research tool to find the best products to sell.
Freedom Ticket: Pricing Plans
The course comes free with Helium 10's Amazon tool suites. So if you are going to start an Amazon FBA business and want to use sellers' tools, you can begin with Helium 10's Starter plan. You will get access to the exclusive FBA seller's tool along with the Freedom Ticket training program.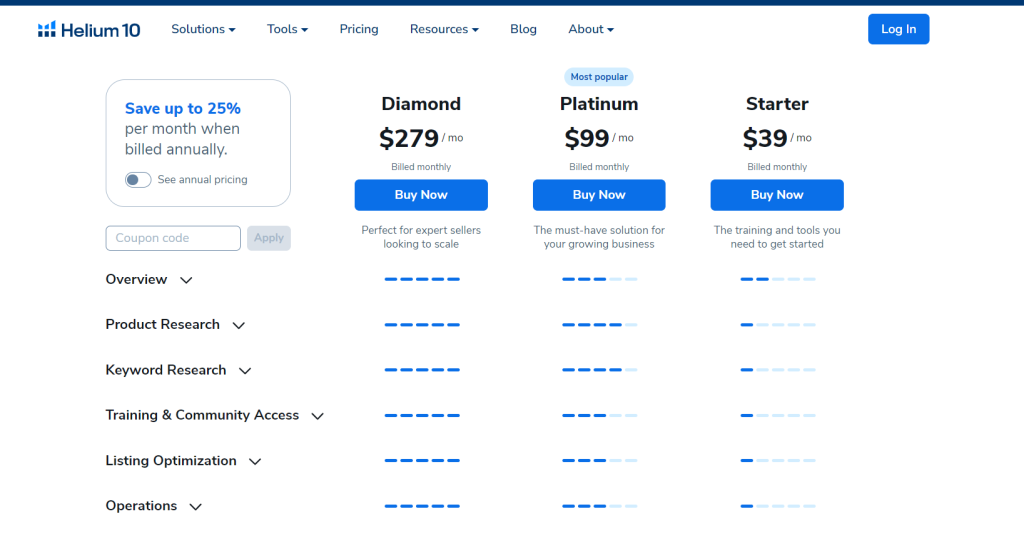 Freedom Ticket is accessible for free with all Helium 10 plans. So, no need to worry about purchasing a specific plan. Just pick a plan that suits your business and get access to the course without any additional cost. There is a 20% discount available on Helium 10, which you can check out on our Helium 10 coupon page.
Freedom Ticket: Pros & Cons
Freedom Ticket is all about learning and gaining knowledge about the FBA business. But every course has its own advantages and drawbacks, and so does Freedom Ticket.
Pros
An in-depth eCommerce education and training
One-on-one training from Amazon experts
Long-term income approach
Structured course schedule
Investment and profit strategies
Kept updating according to the trend
Cons
Singular perspective
Various startup costs
Related Read:
Final Verdict: Freedom Ticket Review (2023)
Amazon FBA is becoming one of the most profitable business models in the world. So being an Amazon seller is a serious job. Like other professions, you need to have a proper understanding of the FBA business before you become a part of this. That's where the Freedom Ticket comes into play.
Freedom Ticket provides the essential factors and strategies you need to get along with the Amazon FBA business. Once you start the program, you will eliminate all the guesswork and finally take the right steps to make seven to eight figures. Not only will it guide you through launching your first product, but it will also help you find the best marketing ways to grow your traffic and sales.