The podcast is one of the hottest terms in the digital world. As an Amazon seller, you might not get the time to go through countless articles or videos on how to run a successful Amazon FBA business. That's where podcasts come into play. 
Listening to podcasts is the best way to stay in the trend. Even if you have just started or have been running your business for years, you can always learn from the best through Amazon FBA podcasts. Books won't be very helpful since Amazon changes its prospects from time to time. But listening to trending podcasts will help remain in the competition in this changing e-commerce world. 
In this post, I have listed the 10 Best Amazon FBA Podcasts for Amazon FBA sellers. All the podcasts are free to listen to and surely help you run a successful Amazon FBA business. 
Let's get started.
Top 10 Amazon FBA Podcasts: In A Nutshell (2023)
| | | |
| --- | --- | --- |
| Sr. No. | Amazon FBA Podcast | Rating |
| 1. | Serious Sellers Podcast By Bradley Sutton | 5.0 |
| 2. | The Full-time FBA Show | 4.9 |
| 3. | Rock Your Brand Podcast | 4.8 |
| 4. | My Amazon Guy By Steven Pope | 4.7 |
| 5. | My Wife Quit Her Job By Steven Chou | 4.5 |
| 6. | Ask Jordan Podcast By Jordan Malik | 4.3 |
| 7. | PPC Den Podcast | 4.3 |
| 8. | AM/PM Podcast | 4.2 |
| 9. | Women on Amazon By Regina Peterburgsky | 4.1 |
| 10. | Wholesale Made Easy | 4.0 |
Here is the list of the top Amazon FBA podcasts that you should listen to. 
1. Serious Sellers Podcast By Bradley Sutton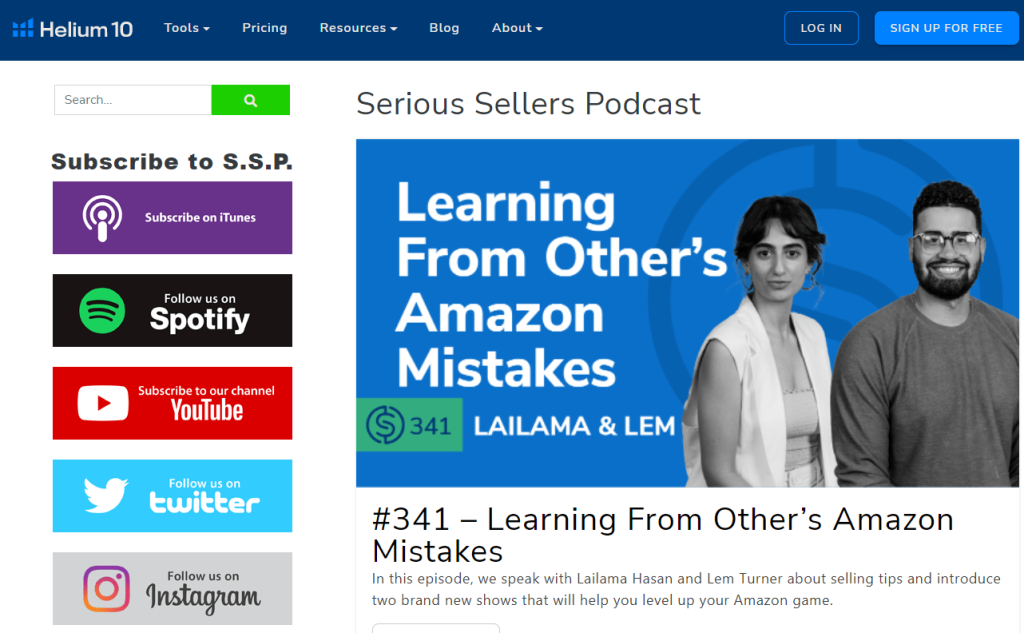 Hosted by Bradley Sutton, Serious Sellers is a podcast series for Amazon FBA and Private Label sellers. Previously, the podcast was hosted by Manny Coats. In this show, Bradley talks about his experience with Helium 10 and how it helped him become one of the best sellers on Amazon. He often interviews professional Amazon sellers and discusses their journeys as a seller. His mission is to provide valuable strategies to the sellers that will help them boost their sales without any hassles. Listen to the free 300+ episodes on Helium 10.
---
2. The Full-Time FBA Show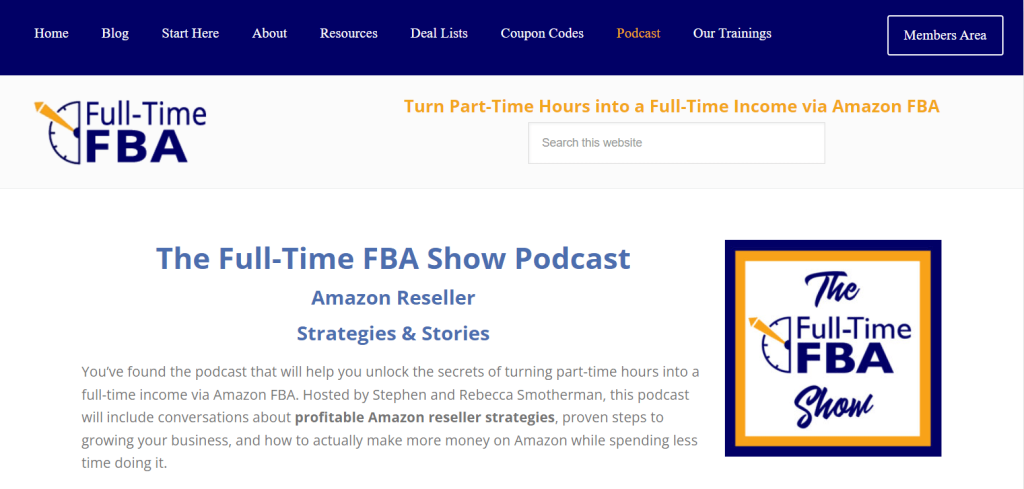 The Full-Time FBA show is a podcast hosted by Rebecca and Stephen Smotherman. This podcast talks about successful Amazon reseller strategies that will help you raise your value in the market. The proven strategies will actually help you make more money by spending less money and time. Even working part-time, you can turn your revenue into a full-time income. The show also features interviews with successful Amazon sellers who share their success stories. At the end of the podcast, they often share "podcast perks," including coupon codes or free gifts. Start listening to the free 130+ episodes.
---
3. Rock Your Brand Podcast

The Rock Your Brand Podcast is hosted by Scott Voelker, a successful businessman, and brand-building expert. Over the years, Scott helped thousands of people unlock their full potential and take necessary actions to build freedom businesses. Now, he is helping and inspiring Amazon sellers by providing valuable knowledge and marketing strategies through his own experiences and interviews. Listen to his free podcasts to unlock your hidden skills in your free time. 
---
4. My Amazon Guy By Steven Pope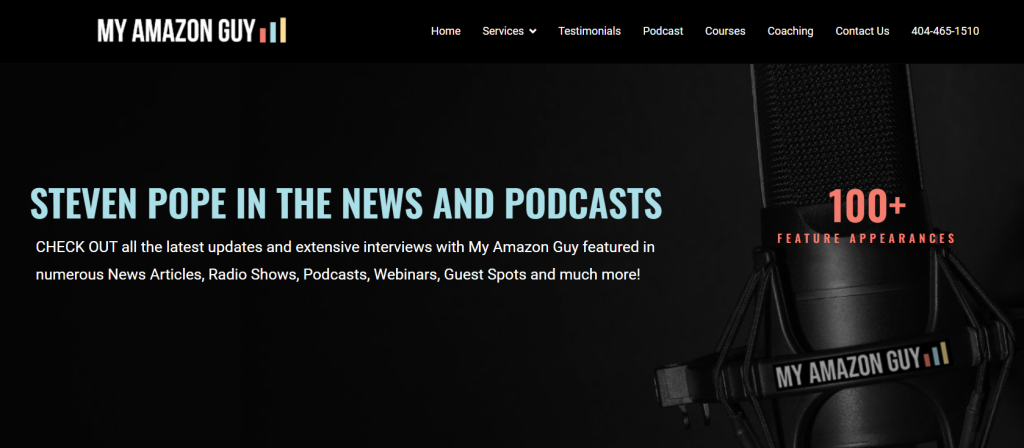 My Amazon Guy, hosted by Steven Pope, is a trending podcast series that primarily focuses on Seller Central sales. Steven was a famous TV reporter, and now he is running the show with the help of Amazon experts who help Amazon sellers and brands optimize successful listings on Seller Central. Each podcast provides valuable tactics and tricks to sellers that help them manage their SEO, PPC, and catalogs. There are hundreds of video tutorials along with podcasts that help you find solutions regarding Amazon sales. 
---
5. My Wife Quit Her Job By Steve Chou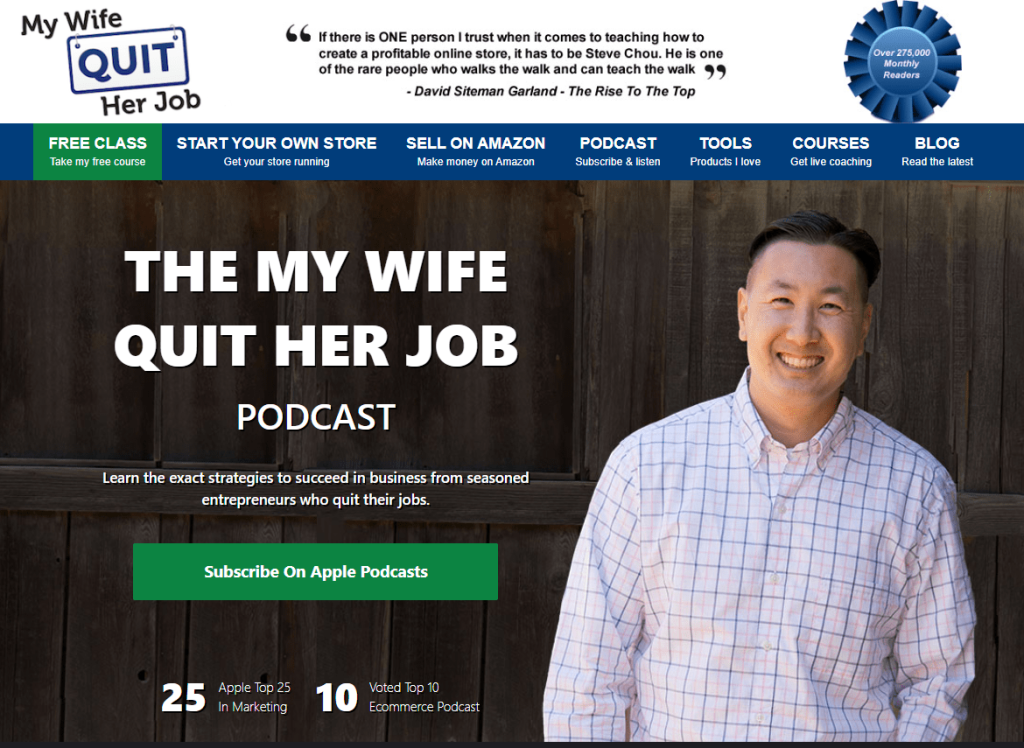 The "My Wife Quit Her Job" is a famous podcast series hosted by Steve Chou. In this show, Steve interviews successful Amazon resellers and entrepreneurs who are running successful businesses after quitting nine-to-five jobs. There are 400+ episodes in this podcast that are best for beginners who just started selling on Amazon. You can also find proven tactics and strategies that you can use in your e-commerce business to make it successful. 
---
6. Ask Jordan Podcast By Jordan Malik
| | |
| --- | --- |
| Host | Jordan Malik |
| Duration | 5-20 Minutes |
| Listen On | Spotify |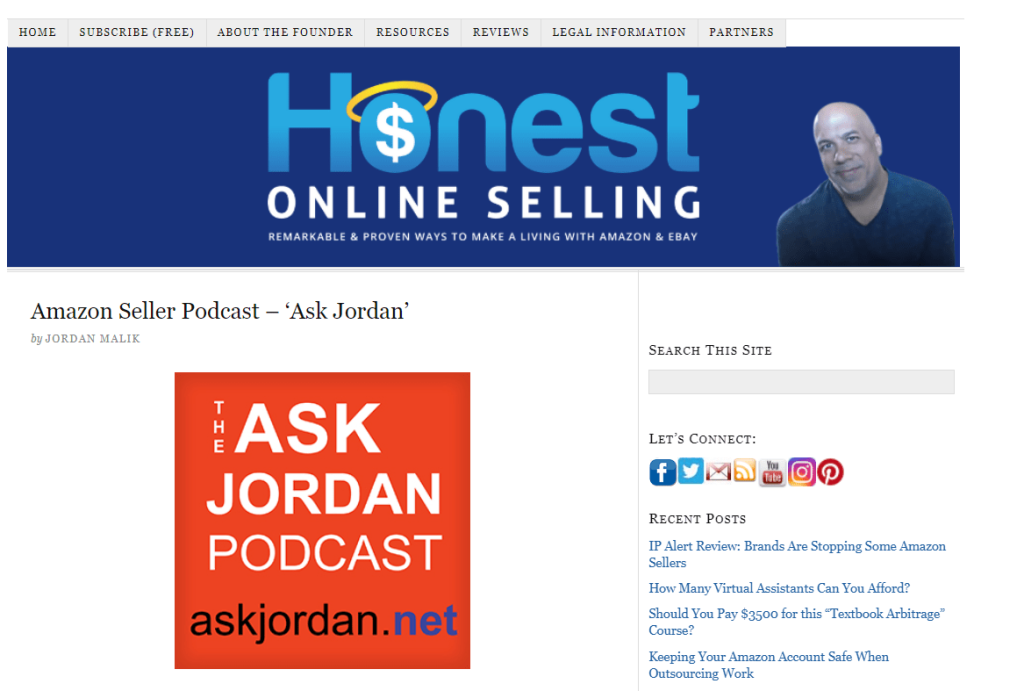 The Ask Jordan podcast is a series of short-minute episodes. The podcast is run by Jordan Malik, a famous digital marketing geek interviewed by The Wall Street Journal and CNBC Time. He was also featured in newspapers and business magazines as a strategy expert for beginners. Now, he is offering his money-minded strategies to Amazon sellers through his podcasts and interviews. Listen to his 100+ episodes for free.
---
7. PPC Den Podcast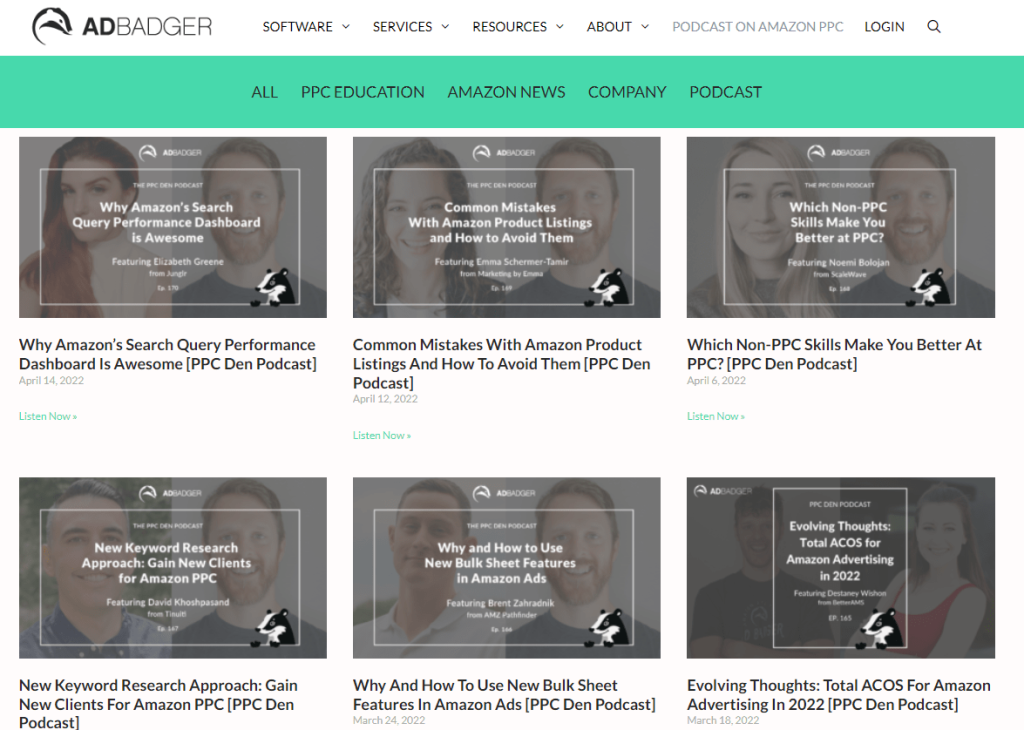 PPC Den Podcast is a podcast series hosted by Ad Badger,  a reliable PPC tool for Amazon. While Ad Badger helps you run PPC campaigns for your products, on the other hand, the PPC Den podcast helps you minimize efforts and get maximum results. The podcast shares precious information and insights with Amazon sellers so they can scale their business and increase sales. Even if you're a beginner, you can use their strategies to start from scratch. Listen to all their free episodes. 
---
8. AM/PM Podcast By Kevin King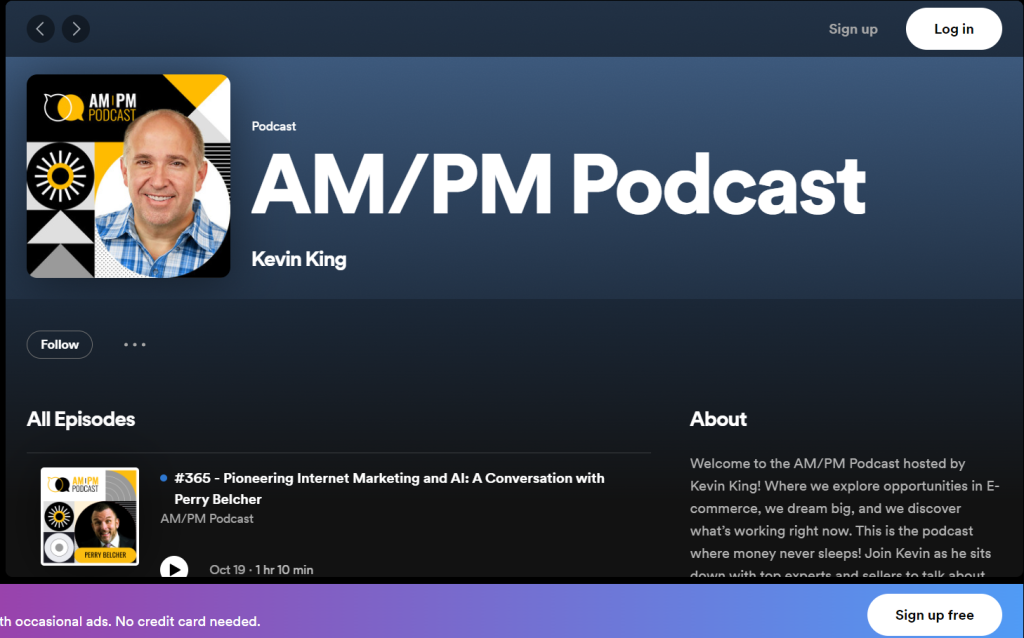 The AM/PM podcast is the longest-running podcast of all time. Kevin King is hosting the show and sharing his knowledge about Amazon FBA. Previously, the show was run by Manny Coats, and Tim Jordan was one of his guests on the show. Tim used to interview famous entrepreneurs and Amazon sellers to extract their strategies for his fellow listeners. Now, Kevin King is the host, and there are 360+ episodes full of insightful content. Listen to all the episodes for free. 
---
9. Women on Amazon By Regina Peterburgsky
| | |
| --- | --- |
| Host | Regina Peterburgsky |
| Duration | 30-60 Minutes |
| Listen On | Spotify |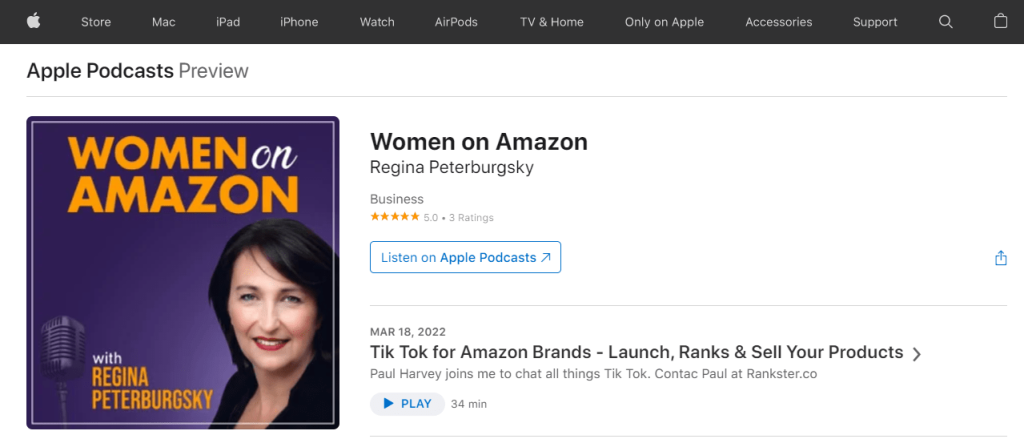 Women on Amazon is one of the best podcast series hosted by Regina Peterburgsky. Regina is a famous Amazon Seller selling on multiple marketplaces and also owns a Shopify store. She tries to become a voice for women selling on Amazon. She inspires women and beginners to change their lives through her business strategies and experience. The podcast includes interviews of successful businesswomen and influencers who took their business to a new level by standing on their own feet. Listen to the 50+ episodes for free. 
---
10. The Wholesale Made Easy Podcast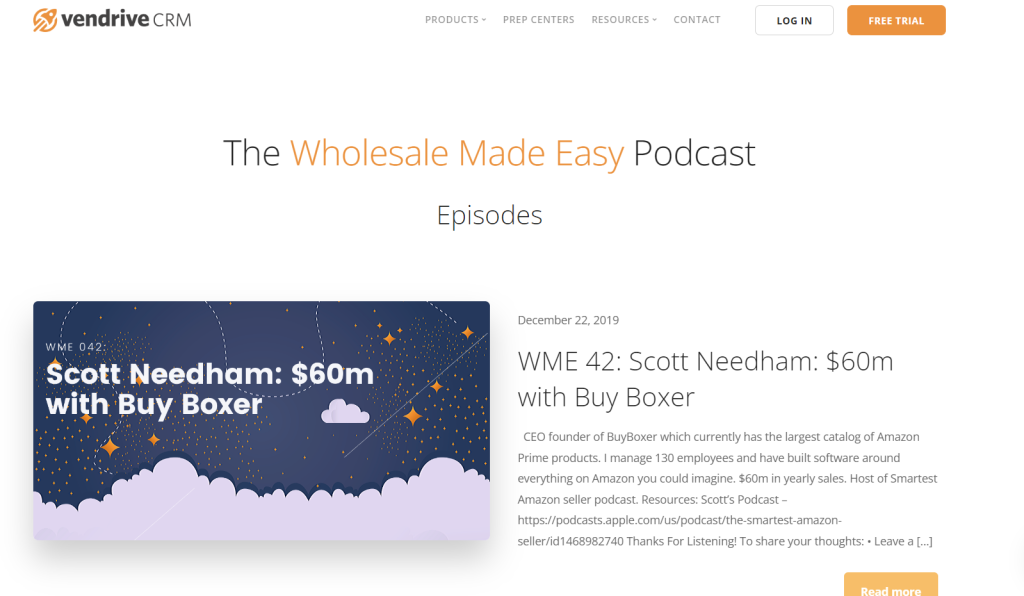 Vendrive CRM presents the Wholesale Made Easy podcast, and the host of this podcast is Dillon Carter. He is a famous Amazon seller who is one of the best in the industry. If you're planning to start a wholesale business, then you can learn all the basics of wholesale from this podcast. With this podcast's insights, you can create your own Amazon brand and sell it on Amazon successfully. This podcast is a great option for all types of Amazon sellers. This podcast has 42 episodes, and the average time of a podcast episode is 30-45 minutes. You can listen to this podcast for free on Vendrive's website and Apple Podcasts.
---
Related Read:
Conclusion: Best Amazon FBA Podcasts (2023)
Since the e-commerce business is growing day by day, you must upgrade yourself to stay in the competition. And what would be better than Amazon FBA podcasts? These podcasts contain the knowledge and journey of professional Amazon business people and entrepreneurs. You can listen to your favorite podcasts in your free time. With their strategies, you will be able to make the right decisions that will help you grow your sales and scale your business within no time.