Looking for the best Amazon PPC software? You're at the right place because I've prepared a hand-picked list of some of the best Amazon PPC software available in the market.
With Amazon PPC software, you can easily manage your Amazon PPC campaigns. It will help you in saving your time & money. So you don't have to waste a lot of money on managing Amazon PPC campaigns. Many PPC management tools are available to give you an edge over your competitors based on your target customers.
That's why I brought you this list of the best Amazon PPC software and tools to help you decide which will be best for you in the long run.
Let's get right into the list.
Top 12 Amazon PPC Software: In A Nutshell (2023)
| | | |
| --- | --- | --- |
| S.No. | Amazon PPC Software | Best For |
| 1. | Adtomic By Helium 10 | Businesses of all sizes |
| 2. | Sellics | Intermediate sellers |
| 3. | Zon.Tools | Businesses that required full automation |
| 4 | Teikametrics | Sellers who sell across multiple sales channels, including Amazon |
| 5. | Kinetic PPC By Viral Launch | Growing sellers |
| 6. | Ignite By SellerLabs | Tried and tested Amazon PPC software |
| 7. | SellerApp | Cost-effective PPC solution |
| 8. | Perpetua | Comprehensive performance and report |
| 9. | PPC Entourage | Beginners Amazon sellers |
| 10. | Sellozo | Amazon and Walmart sellers |
| 11. | Ad Badger | All-in-one PPC solution |
| 12. | Pacvue | Best for enterprises and large businesses |
1. Adtomic By Helium 10

Helium 10 (Adtomic)
Best Amazon PPC Softwaree
Adtomic by Helium is the #1 recommended PPC research for Amazon Sellers. Seven figure Amazon sellers like Kevin King, Tatina James recommends Helium 10 to Amazon Sellers
Note: To get more detailed insights into Adtomic, make sure to check our detailed Helium 10 Review here.
Helium 10 is undoubtedly an all-in-one tool for Amazon sellers. They recently launched a brand new AI-powered Amazon PPC management tool called Adtomic. It becomes really easy to manage complex Amazon PPC campaigns with Adtomic. It derives its strategies based on the data that it collects from expert Amazon sellers.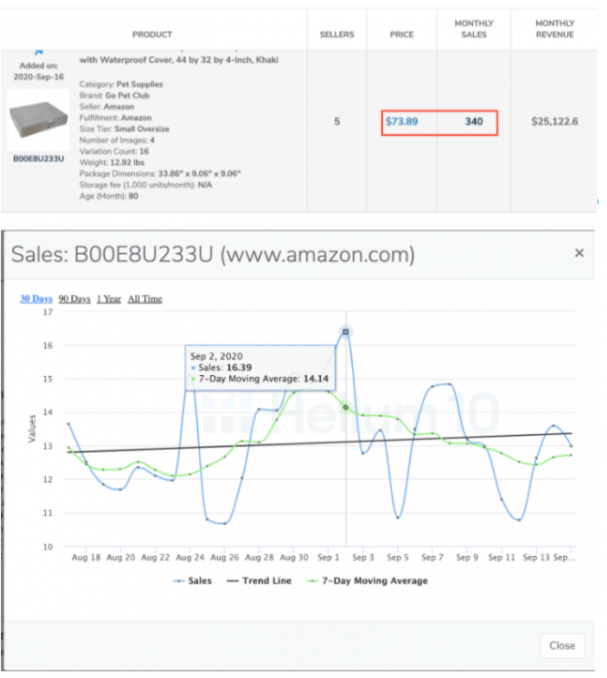 It offers you different templates to help you quickly build your Amazon campaigns. You also get some additional AI features like Keyword Bid Management. This feature saves you hours of keyword research with its automatic keyword suggestions. With Helium 10, you get access to over 23 tools that can help you scale your business to the next level.
Pricing: The Adtomic tool is available with the Diamond, Elite of Helium 10. The Diamond plan starts at $249/mo, and the Elite plan starts at $399/mo. To help you save up to 20% on Helium 10 plans, we have listed the working Helium 10 discount here.
---
2. Sellics
If you want to become good at Amazon advertising, then Sellics is the best choice for you because it is one of the most popular advertising tools on the internet. It allows you to automate your campaign management based on the rules you set, or you can let the AI decide. You get a lot of features such as target ACoS settings, smart ad scheduling, bid management automation, and sophisticated keyword research.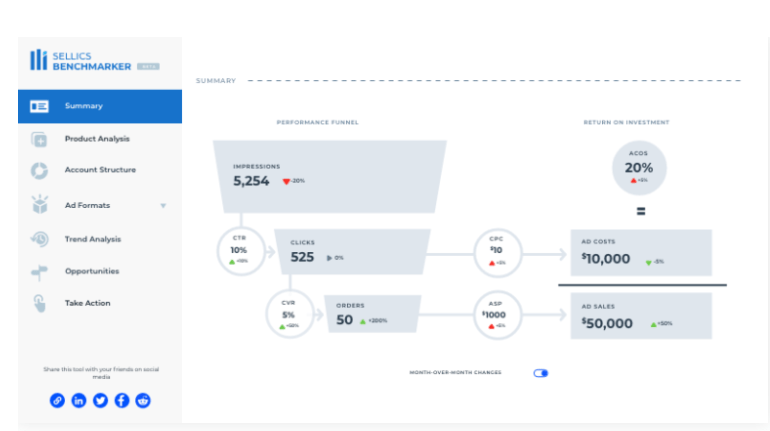 Sellics' proprietary AI algorithm can quickly evaluate sales, peak keyword clusters, and manage your campaigns based on various parameters. You can spy on your competitors with Sellics and compare the performance of your campaigns with your competitors' campaigns. It also gives you access to some additional tools, such as SEO optimization and reviews management tools.
Pricing: Sellics offers two pricing options. The Advertising Advisor plan starts at $349/mo quarterly or $259/mo annually, and the Managed Services plan starts at $1599/mo quarterly or $1249/mo annually.
---
3. Zon.Tools
Zon. tools is one of the best Amazon PPC management software because it makes it easier for you to manage your Amazon PPC campaigns. You automate your product campaigns with the proven strategies of expert Amazon sellers. That's why this tool is considered the most advanced Amazon PPC automation tool in the market.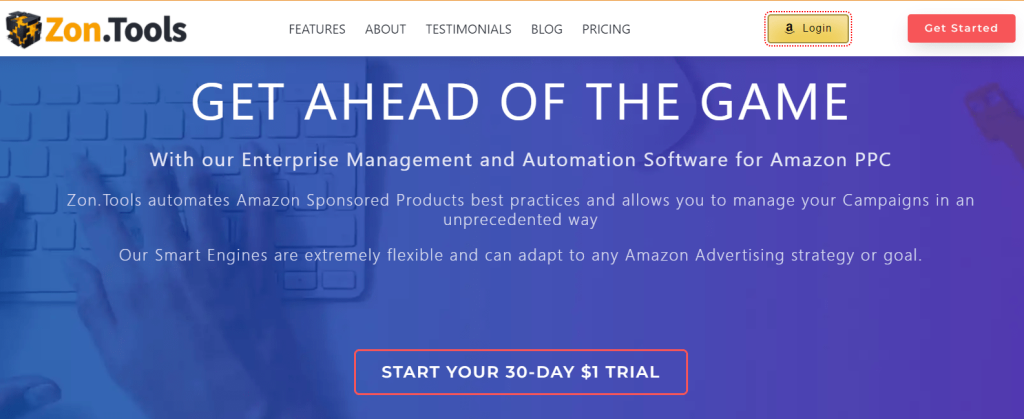 You get training resources to learn how you can set this tool up, and they also provide you with a walkthrough of the tool. However, this is not the ultimate solution for one-click automated PPC campaigns because PPC campaigns take a lot of time to show a noticeable increase in ACOS. Advertising on Amazon is constantly changing, and Zon.Tools keep up with it to keep their users updated all the time.
Pricing: Zon.Tools offer three pricing options. The pricing of these plans depends on your monthly advertising budget on Amazon. If your budget is $0, then the Analyzer plan costs $9/mo, the Masterer plan costs $19/mo, and the Dominator plan costs $25/mo. They also offer a 30-day trial for all their plans at just $1.
---
4. Teikametrics
If you want a simple & dedicated Amazon PPC software, then Teikametrics is the best choice for you. Many Amazon seller software focuses on offering an all-in-one solution to sellers, but Teikametrics purely focuses on Amazon advertising. It can manage your keywords, set up your campaigns, automate your bid management, etc. You can even let the AI of the tool make optimization decisions for you.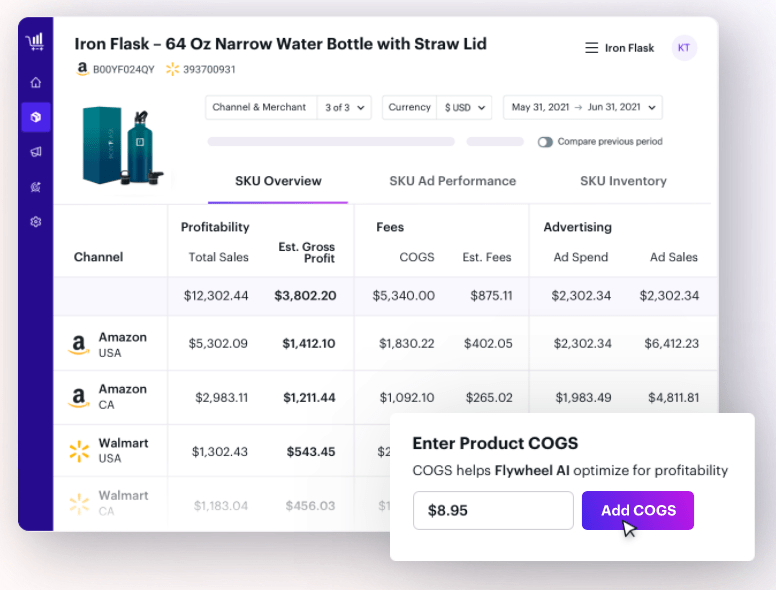 Teikametrics can create an entire sponsored product campaign for you automatically. The campaign will depend on your product's life cycle and the goals you set up. If you are still not familiar with PPC, then Teikametrics can help you with it. Its algorithm also identifies which bid offers the best price and performance based on your goals.
Pricing: There is one pricing option available on Teikametrics. The AI-powered plan charges you 3% of your monthly ad spend on Amazon. This will only apply when your monthly ad spending budget surpasses $10k. You also need to pay $.30/tracked search term on market intelligence.
---
5. Kinetic PPC By Viral Launch
Note: If you wanna get detailed insights into the Kinetic PPC of Viral Launch, then check our detailed Viral Launch Review here.
The Kinetic PPC tool of Viral Launch is also one of the best Amazon PPC software. It claims that this is the only tool you will need to manage your Amazon campaigns. It allows you to control your results with customizable rules that can get you the highest returns on ad spend. You can create these customized rules for automation easily.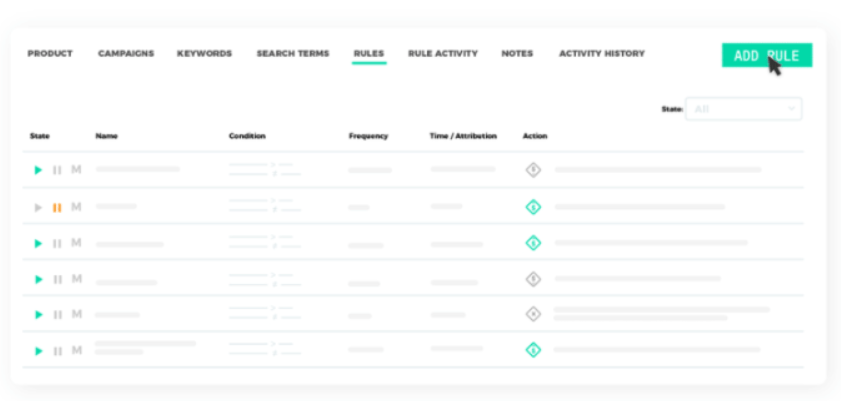 It gives you access to more data, such as campaign analysis, reports on immediate positive impact, and PPC vs organic sales data. You can also set up one-on-one setup calls for free of cost with the experts at Viral Launch. It also gives you access to features like monitoring keywords, managing campaigns, tracking changes, creating automation, etc.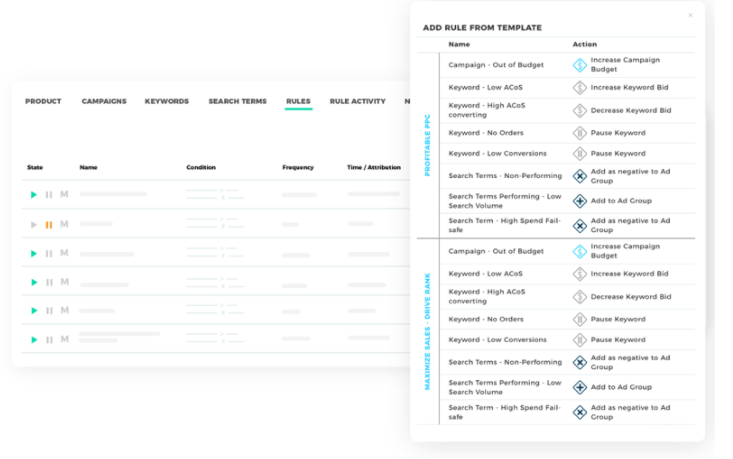 Pricing: To get access to the Kinetic PPC tool, you need to buy Viral Launch's Pro Plus Ads plan, which costs $199/mo or $166/mo annually. They also offer a 14-day free trial for all of their plans. You can save up to 30% on Viral Launch plans with our Viral Launch coupon codes.
---
6. Ignite By SellerLabs
SellerLabs offers a complete suite of tools to help you in your Amazon business. It has a dedicated tool for PPC management called Ignite. It can help you in decreasing your ACoS percentages and maximize your profit. It gives you keyword & intelligent bid suggestions for your Amazon campaigns.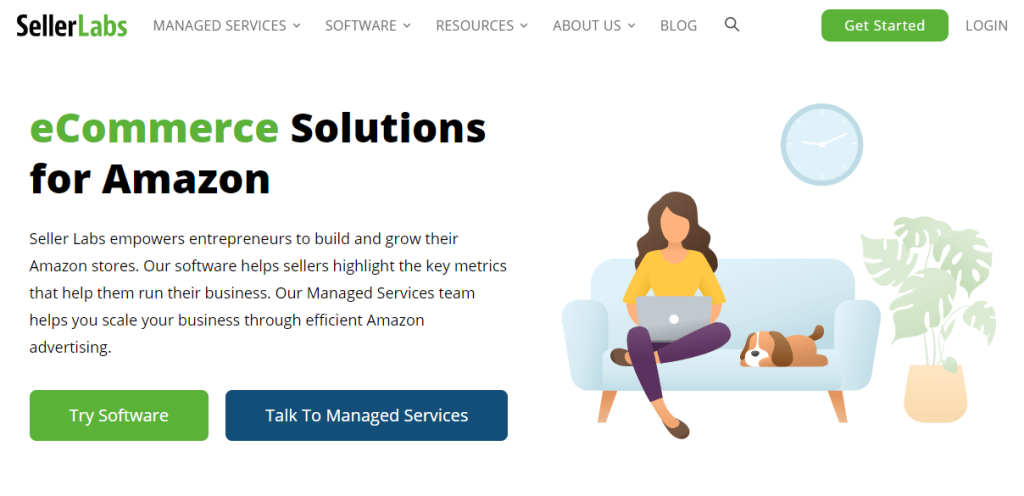 It has an automated campaign creation feature that is based on your target, budget, and goals. It will create different campaigns based on these factors. All your campaigns will be evaluated by their AI algorithm. If you don't want AI to control all your actions, then you can use the intelligent suggestion feature and make your choices based on that.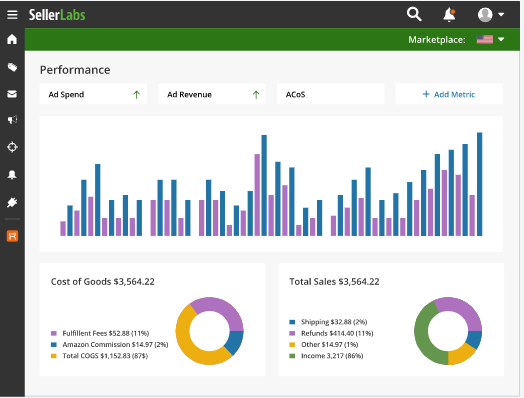 Pricing: The pricing of SellerLabs is based on your annual sales on Amazon. The pricing ranges between $49/mo or $39/mo annually to $999/mo or $799/mo annually. You can also try this tool out with its 30-day free trial.
---
7. SellerApp
SellerApp is a dedicated Amazon PPC management software that also offers some additional tools for listing optimization, product research, and more. It uses machine learning algorithms to automate your Amazon campaigns. It helps you in reaching your ACoS targets based on the data of your campaigns.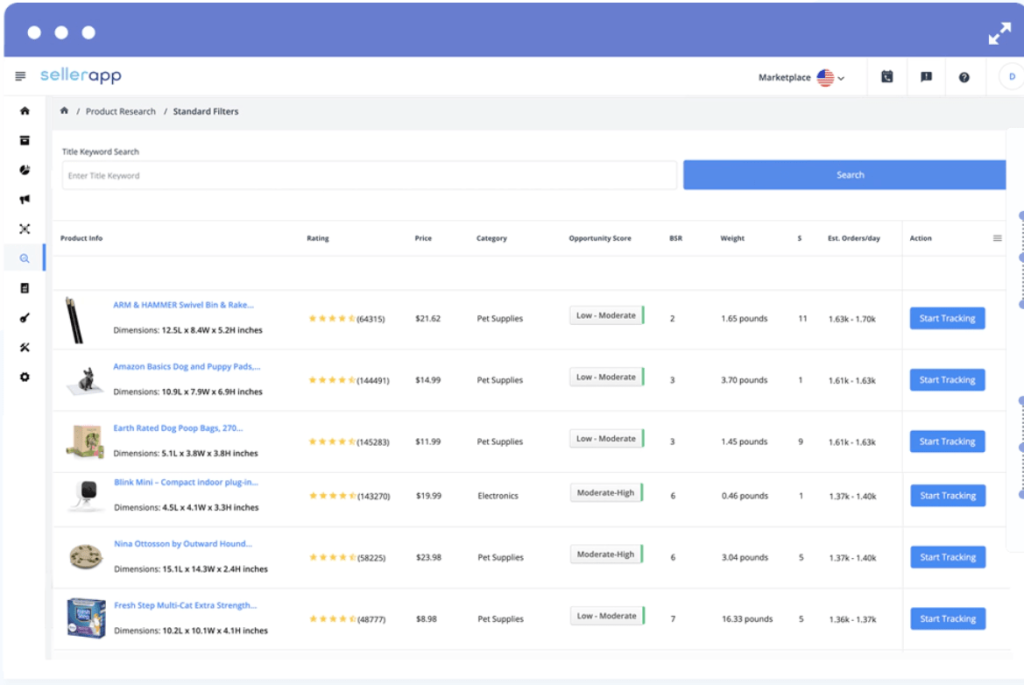 It offers robust features such as Amazon seller analytics, product listings, Amazon competitor lookup, product research, keyword research, product alerts, PPC analyzer, and product listing quality. It also alerts you about negative keywords that decrease your campaigns' profits. It has a very streamlined dashboard, making it really easy for beginners to use.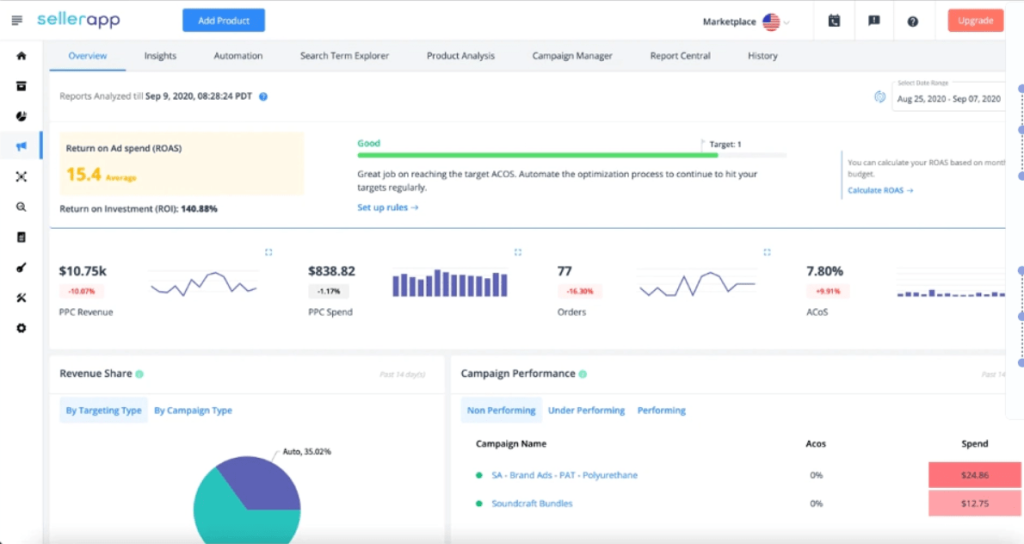 Pricing: SellerApp has two pricing options. The Pro-Lite plan starts at $49/mo or $39/mo annually, and the Professional starts at $99/mo or $79/mo annually.
---
8. Perpetua
Perpetua is another great PPC tool that you should consider. It is a multichannel tool for eCommerce, which means that it can help you manage not only your Amazon advertising campaigns but also campaigns from other marketplaces such as Walmart, Target, and more. This is the only platform you will need to boost your growth to the next level.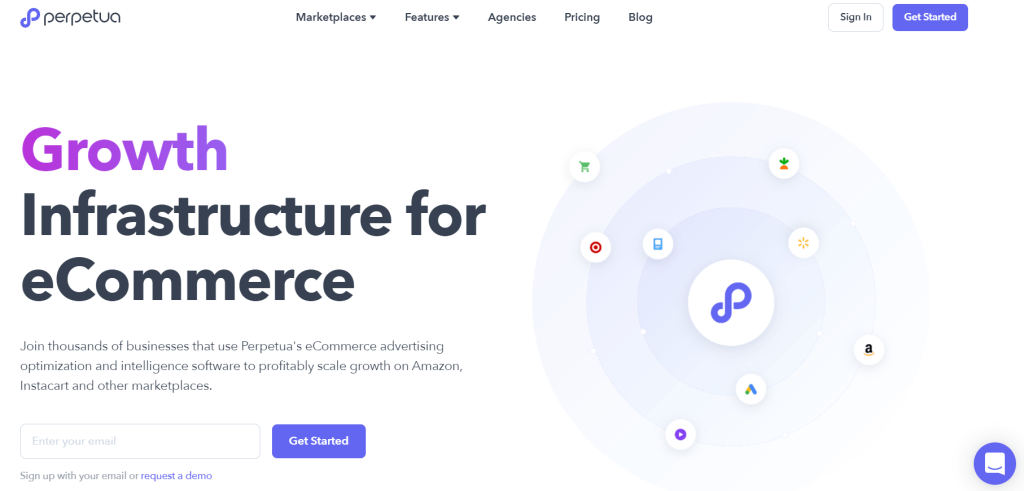 Its automated campaign creation, optimization, and execution also save you time. All you need to do is input the objectives of your campaign, such as profitability, growth, awareness, and brand defense, and leave the rest to the ad engine of Perpetua. It comes with features like marketplace advertising optimization, video advertising, display advertising, and market intelligence reporting.
Pricing: There are three plans available on Perpetua. The starter plan costs $250/mo, which gives single marketplace access. The growth plan costs $550/mo, which gives access to two marketplaces. The pro plan costs $550/mo + %of ad spend, which gives access to unlimited marketplaces.
---
9. PPC Entourage
If you want to build a successful brand on Amazon from scratch, then PPC Entourage is the best tool to have because it can help you improve your profit margins, maximize your ad revenue, and slash ACoS. Entourage offers three software & services: Ad coaching, Entourage tool, and PPC management services. With the help of their Entourage tool, you can easily expand your Amazon ads campaigns and optimize them for better results without wasting time in creating complex spreadsheets.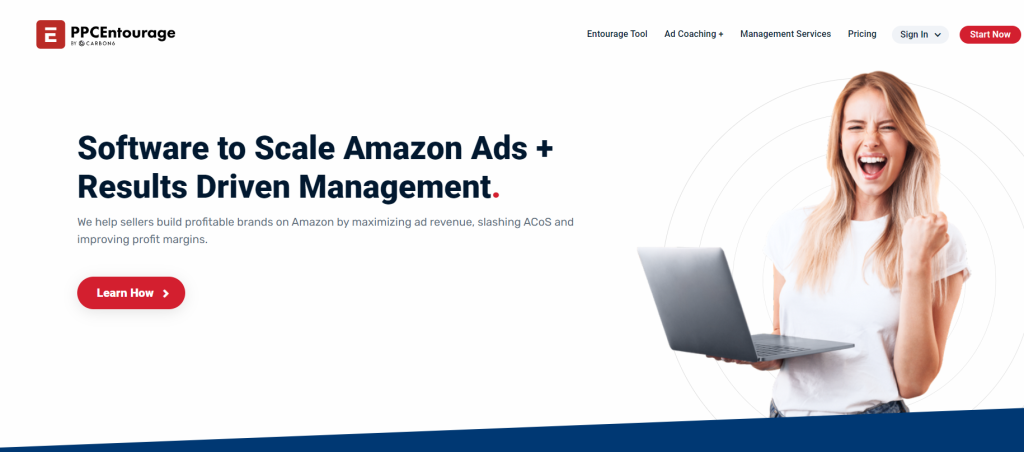 You can have complete control over your ad campaigns, or you can use as many automations as you want. Entourage also offers a bulk optimizer tool that you can use to optimize multiple ad campaigns within a few minutes. You can also find those search terms that customers are using on Amazon, but they've never been used by Amazon sellers, kind of like an untapped well. You can turn these search terms into keywords and then optimize your campaigns around them to get more sales.
Pricing: PPC Entourage has three pricing for their three software & services. The pricing of Entourage 2.0 depends on your ad spend; you will have to pay 2.9% of your ad spend. For ad coaching, you have to pay $197 for one session with their PPC experts. The pricing of their PPC Management services is $1500/mo+ 4.5% of your ad spend.
---
10. Sellozo
Sellozo is an amazing PPC platform that helps you optimize and automate your Amazon PPC campaigns for better growth. It is the only PPC platform that does not charge you any percentage of your ad spend, you just need to pay a simple subscription fee. Sellozo's AI software helps sellers lower their ACoS, increase sales, increase profit margins, and automate the optimization of campaigns.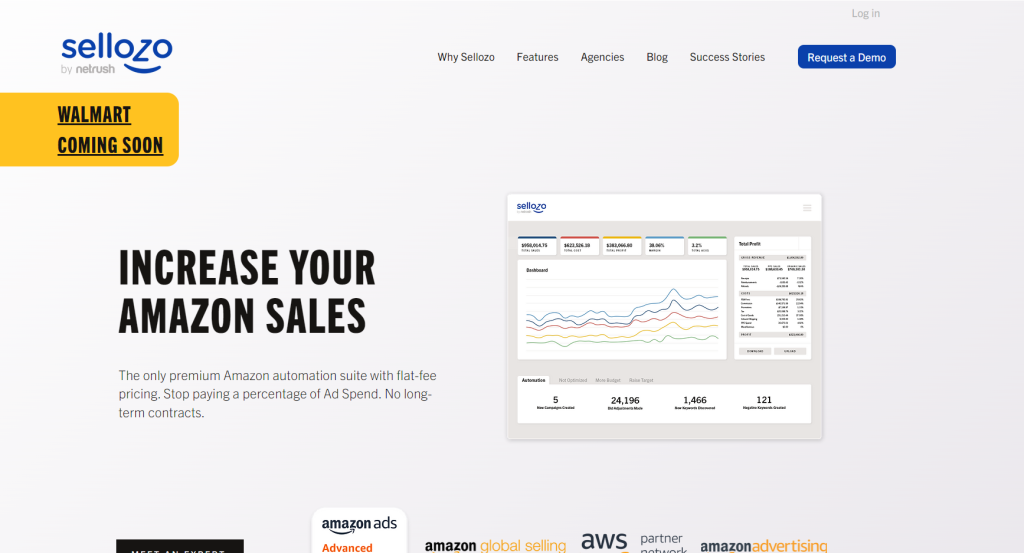 Sellozo's automation features help you optimize your ad campaigns to perform their best to increase your sales & revenue. You can always get help from Sellozo's expert team to optimize your campaigns properly. You can completely visualize your campaign strategy on Sellozo's campaign studio. It also offers features like Ad Automator and Performance Marketing management.
Pricing: There is no pricing description given on the official website of Sellozo. You will need to talk to their marketing expert or take a demo to check the pricing.
---
11. Ad Badger
Ad Badger is a robust Amazon PPC software that helps sellers optimize their advertising campaigns and increase their sales on Amazon. The software utilizes advanced algorithms and machine learning to analyze campaign data and make intelligent recommendations for improving campaign performance. It offers a keyword finder tool that helps sellers identify the best keywords to bid on and optimize their campaigns.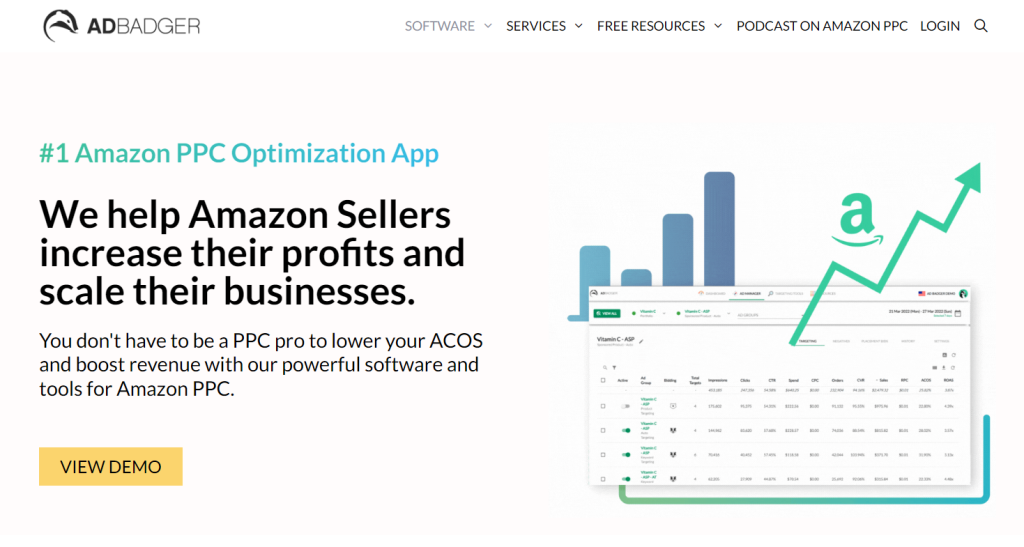 Ad Badger also includes an automated bidding system, which adjusts bids in real-time based on performance data to ensure maximum ROI. Additionally, you will also get powerful reporting and analytics tools that allow sellers to track campaign performance and monitor spending. You can use the A/B testing feature to experiment with multiple campaigns to check which one suits your business the best.
Pricing: Ad Badger doesn't have a significant pricing plan. But you can get a demo of their service, and then they will offer tailored solutions according to your business.
---
12. Pacvue
Pacvue is a PPC management platform designed specifically for vendors advertising on Amazon. It provides campaign organization, bid automation, insight reporting, and optimization tools to maximize ROI from Amazon-sponsored ads.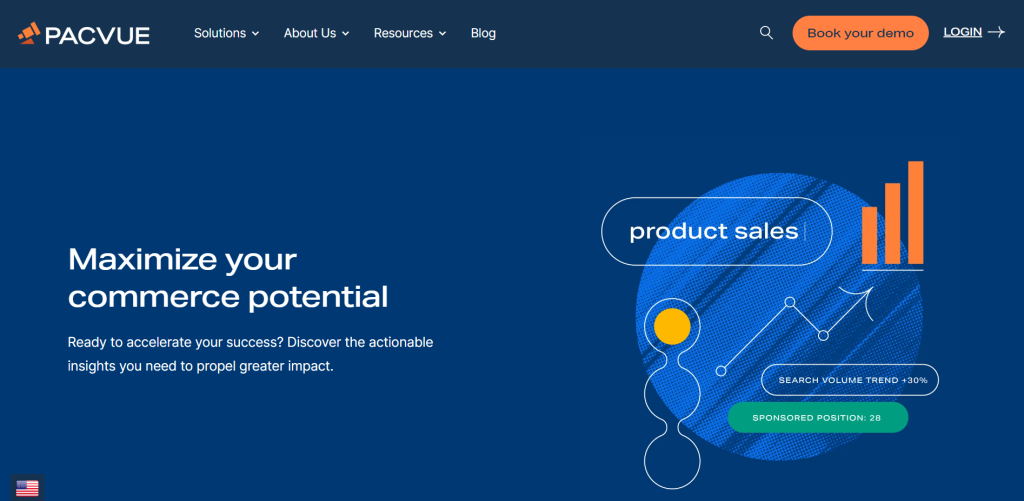 Pacvue offers campaign management capabilities to group products into campaigns with shared targets and strategies. This allows better organization and reporting compared to Amazon's base PPC interface. Automated bidding uses algorithms to optimize bids based on performance and targets.
Insight reporting in Pacvue provides visualization of granular metrics on campaign performance, including spend, ACoS, impressions, CTR, conversions, and keywords. This enables identifying high-performing products, ads, and keywords to scale and cut inefficient elements.
Pricing: The pricing of Pacvue is custom, and they design the plan according to your needs. According to a few sources, the pricing of Pacvue starts from $500/month.
---
Conclusion: Best Amazon PPC Software (2023)
So this is my list of the best Amazon PPC software. Now the only question remains: Which one to choose?
I use Adtomic by Helium 10 because of its rich features & immense capability. The Kinetic PPC tool of Viral Launch is also a good choice for beginners. But it all comes down to your requirements. The best part about these tools is that they offer free trials. You can try out these tools and decide for yourself.
I hope with this list of the best Amazon PPC software, you can choose the perfect PPC management tool for your business. Let me know your thoughts on these PPC software in the comment section below.