Are you looking for one of the best Amazon Seller tools? Well, you've reached your destination because Viral Launch is one of them.
When I was looking for an Amazon Seller tool, I found Viral Launch, but I didn't know about the platform back then. So I started looking for a Viral Launch Review on the internet to see what this platform could do.
After thorough research, I started with Viral Launch, and since then, I have become an experienced Amazon Seller. I have been using this tool for three years now, and Viral Launch has never let me down, even for once.
That's why I am here to share my Viral Launch experience and explain to you guys how this tool actually works. In this Viral Launch Review, I will explain its features, pricing, ease of use, interface, and so on. Before we go, here's an exclusive perk for our visitors.
Let's get into more details.
Viral Launch Review: In A Nutshell (2023)
When I started as an Amazon Seller, I wanted to work with a tool that fulfills all my requirements, and Viral Launch was that tool.
In my three years of experience using Viral Launch, I can definitely say that Viral Launch is the best tool among all Amazon Seller tools.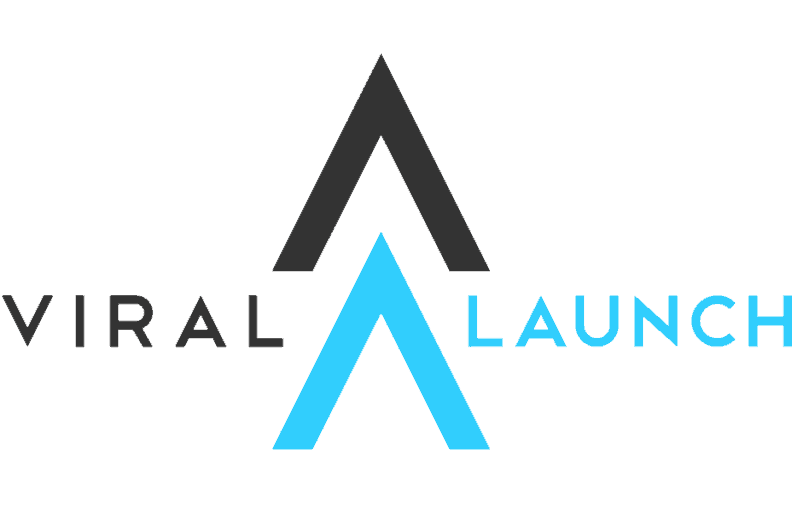 Viral Launch
#1 Amazon Seller Tool
Viral Launch is one stop solution for Amazon sellers. It has all the essential and advanced features like — product research, competitor tracking, keyword research, Amazon PPC advertising, keyword tracking and so on.
Most beginner Amazon Sellers are starting their FBA journey with Viral Launch because this tool gives features like listing management, product launch, product research, keyword research, PPC automation tool, etc. This tool can also help you in setting foot in the FBA business.
It is one of the best competitive intelligence tools because it gives you the edge over your competition. You can always stay ahead of your competitors and also track all the moves of your competitors.
They also introduced the Kinetic PPC feature that allows you to automate your Amazon PPC. The only downside to this tool is that it is more costly than tools like Jungle Scout and Helium 10.
But all the advanced features of this tool validate its pricing, so if you can afford it, then it will do all the work for you.
Now I will explain all the features of Viral Launch so that you can understand how this tool actually works.
Data Accuracy Of Viral Launch
Many people believe that Viral Launch is not accurate and reliable. Data accuracy is the one thing an Amazon Seller needs. If the data provided by a tool is not up to the mark or accurate, then there is no point even investing in it. In my experience, Viral Launch hasn't always been accurate.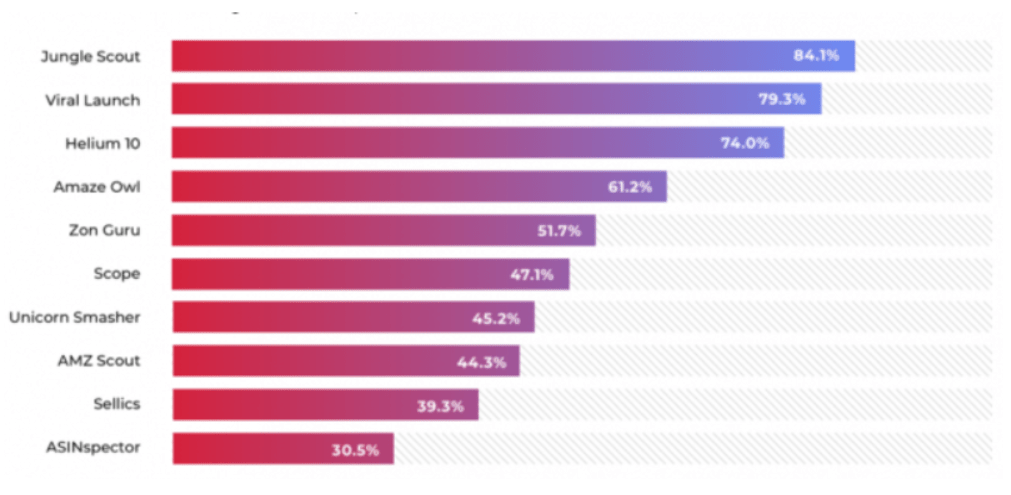 Research also shows that Viral Launch has an accuracy of 79.3%, which is pretty good if we compare it to other Amazon Seller tools. It is also considered the second-best accurate tool among all the other tools. In the below screenshot, you can see that Viral Launch is the second-most accurate tool.
But the margin for error is still 20.7% which is quite a lot. I hope they work on their data accuracy and reduce the margin for errors.
Ease Of Use & User Interface
To begin with Viral Launch, all you need to do is purchase a membership plan, and your account will be activated. You can start using the dashboard of Viral Launch once you log in with your account details.
When I opened the dashboard for the first time, all the features were there on the dashboard. To access any feature, all I need to do is click on it. You will get the instructions on how to use a feature as well. Within a few days, I mastered all the features of Viral Launch. So If a beginner like me can do it, then you can also do it.
If you want to do thorough research on products, then you can use the Product Research tool. This tool also helps you in finding the best products for your business. If you don't have the time to do research on the dashboard of Viral Launch, then simply use the Viral Launch extension to carry out research on the go.
With the browser extension, I found a lot of product ideas. It allows you to do keyword research in just a few clicks. To sum it up, all I can say is that Viral Launch is made for beginner, professional, and expert Amazon sellers.
Viral Launch Tools & Features Explained
Now I will explain all the tools & features of Viral Launch, so you get a complete idea of how Viral Launch actually works. So let's begin.
Product Discovery
The Product Discovery tool helps you in finding the right product for your business. With this tool, you can get insights on many products and make your choice from them.
To access this tool, you need to go to the dashboard of Viral Launch, and there you will see the tool, so just click on it to start using it.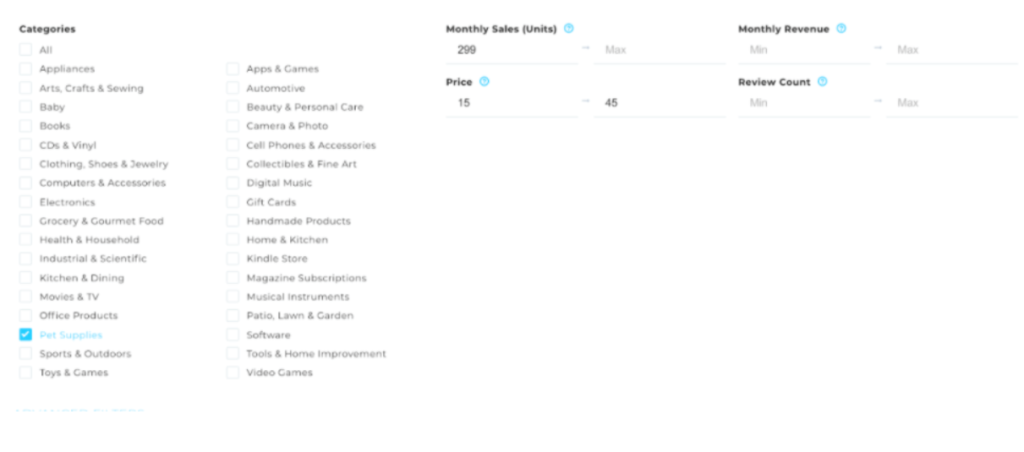 A streamlined dashboard will show up on your screen. All the options of this tool will be available on one screen. Enter your desired keywords and use the advanced filter option to filter out the best of the best products.

You can use different options such as brand search, category scan, category search, keyword search, and pinned ideas to get more product ideas.
If you want to find more profitable products, then use sales and profit filters that will show you best-selling products.
Market Intelligence (Validating Product Ideas)
You got the product ideas from the product discovery tool now, and you need to validate those product ideas. To do that, you will need to use the Market Intelligence tool. It will show you all the data metrics you will need to sell those products on Amazon.
To access this tool, just go to the Viral Launch dashboard and click on the Market Intelligence option. After that, just enter a product name in the search box to get all the insights into it.
On your screen, you will see all the data metrics related to that product. Those metrics will be a comprehensive analysis, market trends, sales estimates, competitor data, and so on.

The product idea validation system is a helpful tool to have as an Amazon seller. You will see the product rating and product score as well, which will give you a clear idea about the product. It helped me a lot in identifying the best products for myself.
Keyword Research
To find the products of a niche, you need to enter a keyword in the Keyword Research tool. To complete your product listing on Amazon, you will need keywords of the products.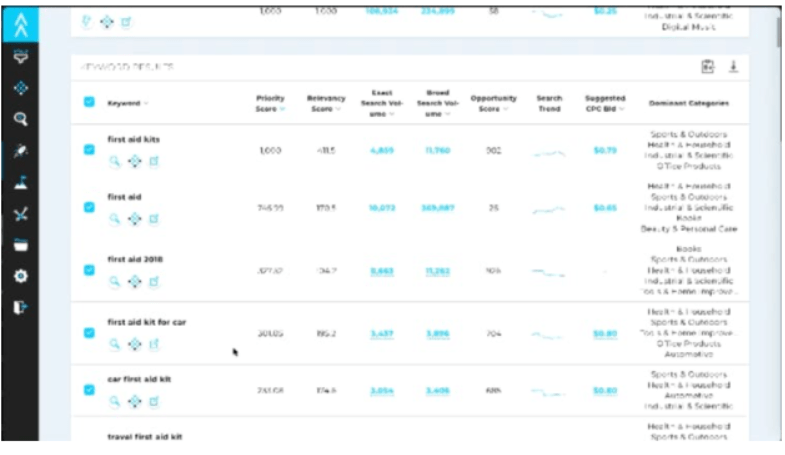 The keyword research tool of Viral Launch is reliable and robust. It provides all the reliable metrics which you probably won't find on any other Amazon seller tool.
Keyword Research tool can directly be accessed from the Viral Launch dashboard. To get all the data metrics, just enter the keyword in the search box.
Use filters to find relevant keywords and keep only a handful of them. You can also find missing keywords from your competitor's listing so that you can get the upper hand over them.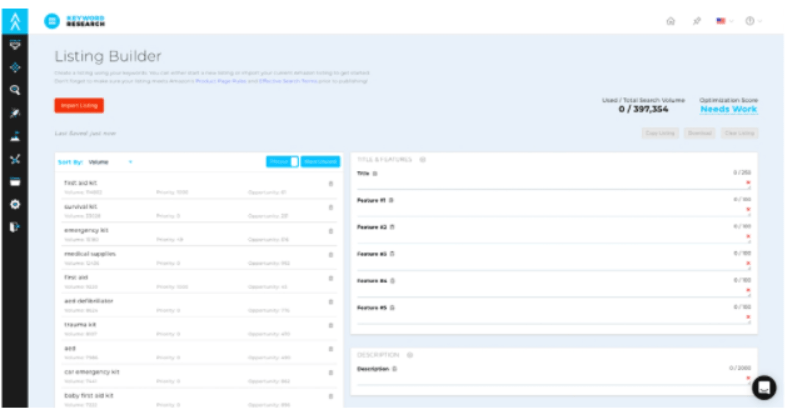 Competitor Intelligence
If you want to know how your competitor is performing, then use the Competitor Intelligence tool of Viral Launch. It is an advanced reverse ASIN lookup tool that allows you to monitor your competitors.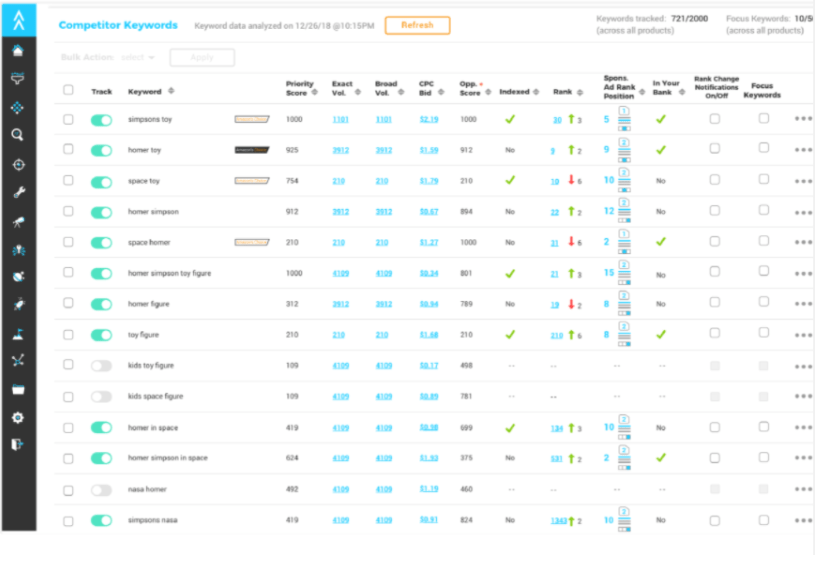 Go to the dashboard of Viral Launch and access the Competitor Intelligence, then enter an ASIN of a product. It will show you a vast list of the top keywords of your competitors. You will also get essential metrics such as sponsored ad ranks, analysis & track indexation, price, sales, reviews, search volumes, keyword ranks, notification options, and so on.
The competitor intelligence tool allows you to:
Automate Keyword Research
Hourly Keyword Tracking
Index Checker
Keyword Notification
Product Notification
Deep Product Analysis
Suggested PPC Bid
Best Seller Detection
Sales, Price, and Reviews
Keyword Search Volume
Product Comparison Module
Keyword Rank Tracker
Listing Builder & Analyzer
The Listing Builder tool allows you to create and optimize your Amazon product listings in just one click. It also allows you to import and optimize your existing listings, so you won't need to create a new one every time.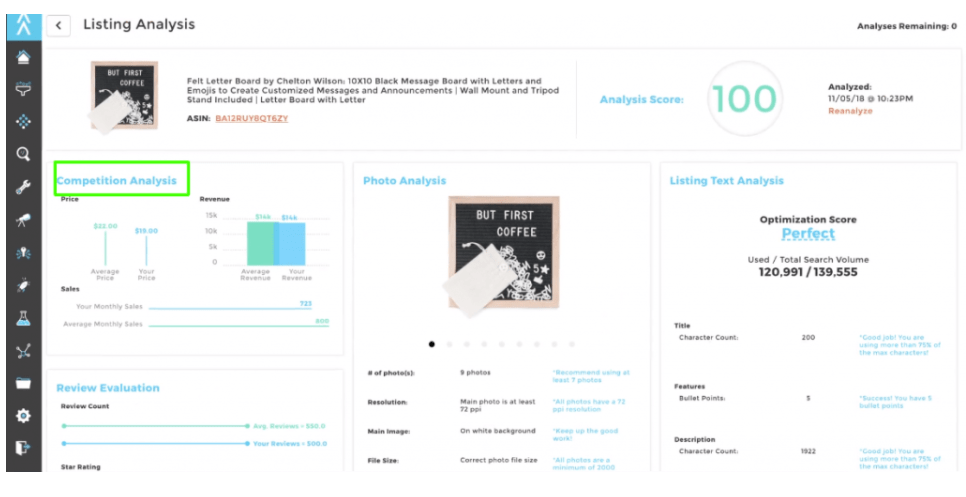 Similar to all the other tools, Listing Builder can also be accessed directly from the dashboard of Viral Launch. Now you can create your very first listing from there. It also gives you a competition analysis metric so that you can optimize your listing in the best way possible.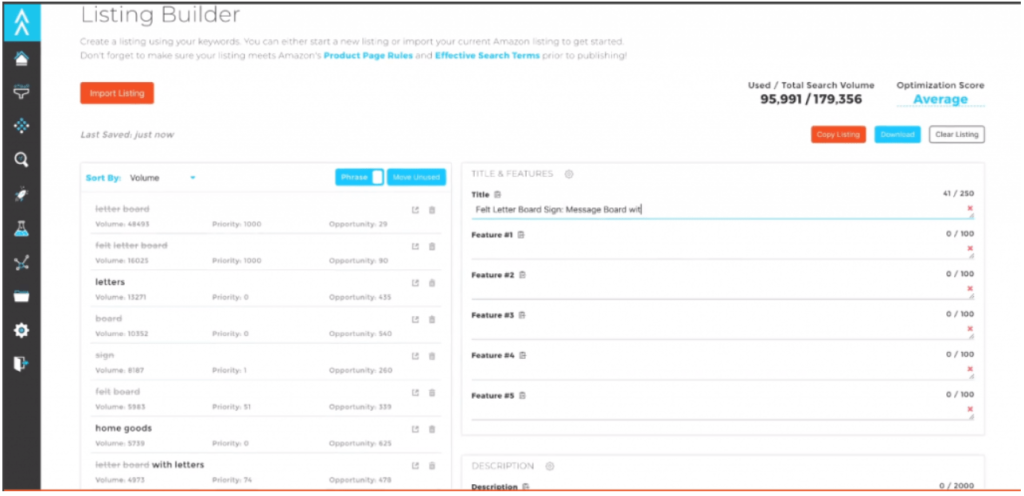 You will also get metrics like listing test analysis and photo analysis. Once you complete your listing, it will show you an optimization score similar to Jungle Scout on the screen.
You can also compare your listing with your competitors' listings so you will get an idea of which one is best or what changes you need to make in your listing.
Keyword Manager (All Keywords At One Place)
Found a lot of keywords for your products. Now you will need to manage all of them in one place. That's where the Keyword Manager tool comes in.
There is no need to note it down in a notebook; just add your keyword directly on the Keyword Manager. Add as many keywords as you want and then manage them directly from the dashboard of Keyword Manager. If you want to share your keyword list with a friend, then download them in the CSV format and share it anywhere.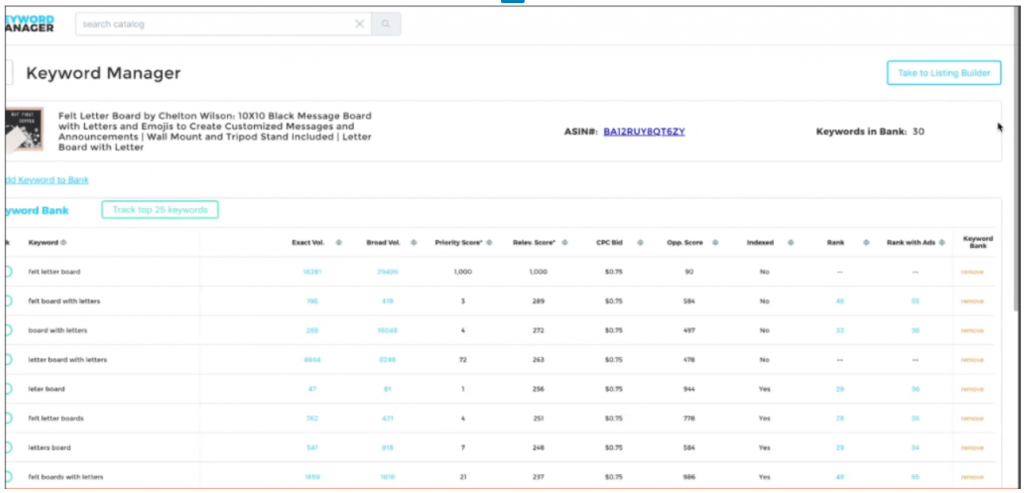 Track all your important keywords, see how they perform in the market, and adjust your list accordingly on the Keyword Manager dashboard.
PPC Automation (Kinetic PPC)
If you want to access the PPC automation feature then you have to buy the Pro plan subscription of Viral Launch.
PPC Automation tool will fulfill all your Amazon PPC needs in one place. This tool works similarly to the Adtomic tool of Helium 10. To start, you can use a pre-made template and also set automation rules. All you need to do is select a template and customize the trigger rule of PPC Automation.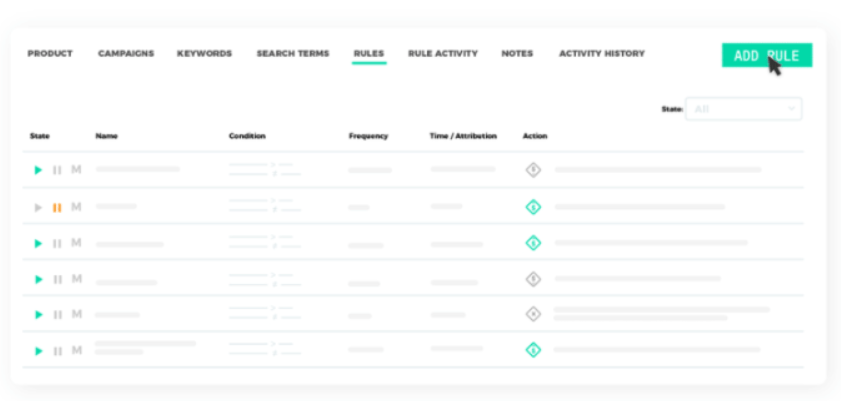 You can add different rules such as keyword targeting rules, product targeting rules, campaign rules, search terms, and so on.
Product Launch Service
You will get the Product Launch service additionally with all the plans of Viral Launch. You've selected the products from the product research and now you will need to launch them. Access the Product Launch tool directly from the dashboard of Viral Launch and start launching your selected products.
The tool is really easy to navigate, you just need to follow three steps which are adding a product, creating the launch, and then viewing the launch analytics. Now you can track everything related to that product.
Unlike other Amazon Seller tools, Vira Launch does not charge you extra for product launch services.
Chrome Extension of Viral Launch
Viral Launch also offers Amazon browser extensions similar to Helium 10 and Jungle Scout. I used the extension to do product research on the go.
To get started with it, all you need to do is install the extension on your Chrome Browser. You will see the install option on the dashboard of Viral Launch. From the chrome extension, you can do keyword research, and product research, validate product ideas, and find useful metrics for different products.
You can also change the marketplace for products with just one click. It will also show you detailed metrics such as categories, products, niches, and so on.
FBA Calculator
Viral Lunch includes an FBA Calculator tool in its inventory that help FBA (Fulfillment by Amazon) sellers calculate their FBA fees and profit margins. The calculator takes into account various factors such as weight, product dimensions, and product type to provide accurate fee estimates.
The FBA Calculator is a great tool to analyze the overall Amazon and FBA fees of a specific product. It helps sellers set competitive pricing of their products, so they don't overprice their products and still make a profit after selling them.

Even if you don't have a premium subscription to Viral Launch, you can use this tool for free directly from its website. All you need is your product URL or ASIn, and the landed cost (final price) of your product.
Split Testing
Split Testing is Viral Launch's core feature that helps sellers optimize their listings for better performance. The split testing tool is known as Listing Dojo. This premium tool allows sellers to test their product listings by creating multiple variants. After that, you can test variants against each other or your competitors to check which version performs better in the Amazon marketplace.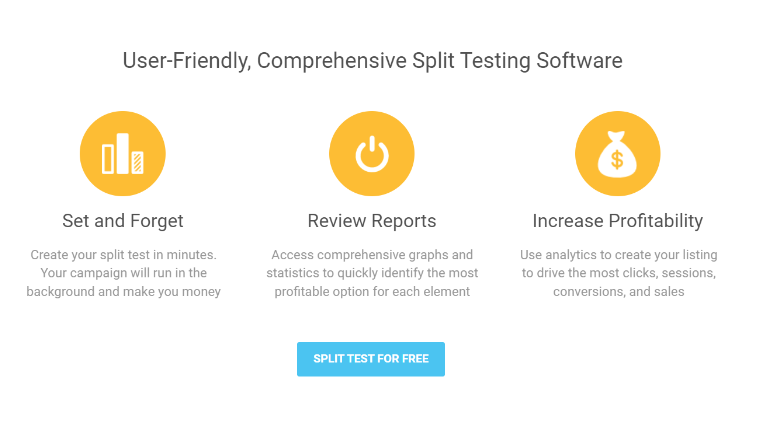 The Listing Dojo also provides detailed information with each split test which helps sellers improve conversion rate, sales, and organic search ranking. You don't have to be a pro in order to use this tool. If you find difficulty using this tool, you can check the step-by-step guides to use this tool efficiently.
The best part of Listing Dojo is that it is completely free to use, even if you don't have an active subscription. You can test up to 7 variants of listings, including titles, images, descriptions, prices, etc. This tool can give you an edge over your competitors.
Viral Launch Review: Pros & Cons
Here are the benefits & drawbacks of using Viral Launch.
Pros
If you want detailed insights into keywords, then the keyword research tools are a great tool to use.
Viral Launch is a complete suite of multiple tools designed to help Amazon sellers.
You can use Market Intelligence Chrome Extension to do product research on the go.
Viral Launch offers a great PPC tool to help you manage your ad campaigns.
Viral Launch's product launch service is great for those Amazon sellers looking to launch their products immediately.
You can contact the Viral Launch support team to get support whenever you get stuck somewhere.
Cons
Viral Launch has a learning curve that might be too much for beginners.
Viral Launch provides a lot of data that can overwhelm beginner Amazon sellers.
Pricing Plans of Viral Launch
I explained how the tools and features of Viral Launch work in the above section. Now I will explain the pricing plans of Viral Launch and what they offer in each plan. So let's get into it. Yes, I have also listed some of the working Viral Launch coupon codes here, to help you save a few extra bucks on Viral Launch.
1. Essential Plan:
Bottom Line
Viral Launch is a one stop solution for Amazon sellers to help them scale. If you're looking to checkout Viral Launch use our code "GROWTHDEVIL" to get extra 15% off on Viral Launch plans.
Costs $69/month or $58/month yearly
Global Data
Product Research Tool
Browser Extension
Advice and Guidance
Keyword Search Volume
2. Pro Plan:
Costs $99/month or $83/month yearly
Includes all the features of the Essential plan
Product Tracking ( 350 products/month)
Analyze ASIN Listings (50 listings/month)
Track Keyword Ranking (2000 keywords/day)
Track Keyword Ranking (30 keywords/hour)
Competitor Monitoring
Historical Data
Monthly Revenue
Price Trends
3. Pro Plus Ads Plan:
Costs $199/month or $166/month
Includes all the features of the Pro plan
Product Tracking (1000 products/month)
Analyze ASIN Listings (100 listings/month)
Track Keyword Ranking (5000 keywords/day, 100 keywords/hour)
Organic + Keyword Tracking
Robust Automation
Detailed Advertising Analytics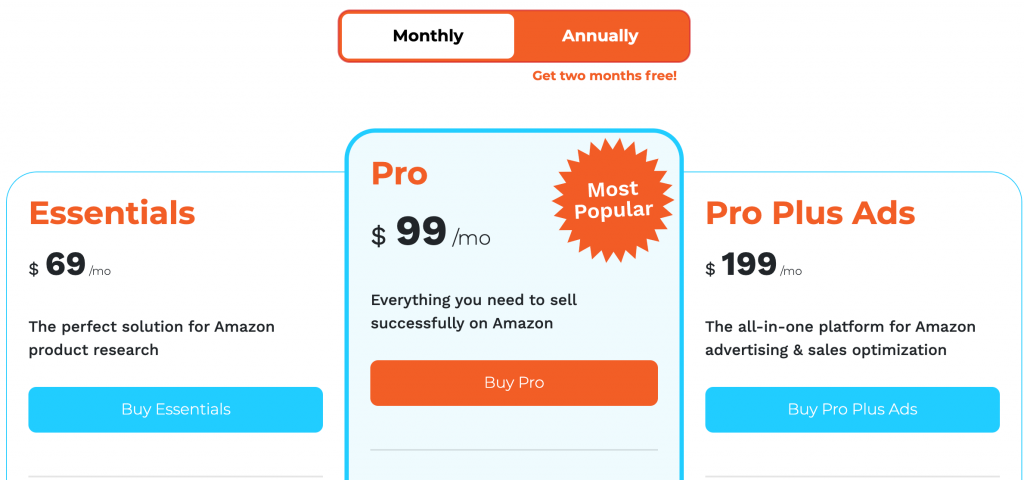 You know the pricing plans of Viral Launch and now you can make a decision based on your requirements.
Supported Marketplaces on Viral Launch
Viral Launch supports more than one marketplace of Amazon. The list of supported marketplaces is:
United States
United Kingdom
Canada
Germany
France
Italy
Mexico
Spain
Japan
China
India
Brazil
Viral Launch Alternatives
Yes, there are other Amazon seller tools available that offer value similar to Viral Launch. I have tried many popular tools such as — Helium 10, and Jungle Scout. These tools have got a lot to offer, well to check a detailed comparison of these tools, we suggest checking the detailed comparison below.
You can check the detailed comparison above to have detailed insights into Viral Launch alternatives.
Conclusion: Viral Launch Review 2023
So I've shared everything I know about Viral Launch in this review and how you can use it properly. I hope this review gives you a complete insight into this tool.
Now you might be wondering is Viral Launch worth the hype?
In my 3 years of experience, Viral Launch solved a lot of problems for me and helped me in growing my business substantially. So I would say it is definitely worth the hype.
I hope that you find everything you were looking for about Viral Launch in this detailed review. Let me know what do you think about Viral Launch in the comment section below.
FAQs On Viral Launch Review
What is the accuracy of Viral Launch?
In the Jungle Scout research, it is mentioned that Viral Launch is about 79.3% accurate. It is the second-best accurate tool after Jungle Scout.
Who is the founder of Viral Launch?
The founder and current CEO of Viral Launch are Casey Gauss. It was founded in 2014.
Is there a free trial available on Viral Launch?
Yes, you can try Viral Launch for 14 days. After that, you will need to pay for the plan you've selected. 
Is there any available Viral Launch Coupon Code?
Yes, I have listed a working Viral Launch coupon code that helps you save a few extra bucks on Viral Launch. Check our post to know more about it.
Will I get a refund If I cancel my Viral Launch subscription?
Sadly, All Viral Launch plans are non-refundable, so even if you cancel your Viral Launch subscription, you still won't get a refund. That's why it is best to use the 14-day free trial of Viral Launch before buying any subscription plan.
Does Viral Launch offer a Chrome Extension?
Yes, there is a Chrome Extension available on Viral Launch, which is called Market Intelligence, and it allows you to review the sales estimation data and market data while you're browsing products on Amazon.
How do I decide which Viral Launch plan is right for me?
It completely depends on the stage your business is in because then you can understand your needs and decide on a plan according to that. If you still can't decide, then you can contact the customer support of Viral Launch, and they will help you choose a plan.