Are you looking for the best dropshipping suppliers in the USA? Don't look further because you have reached the right page.
Dropshipping business is one of the hottest business models at the current time. You don't have to manage inventory, and you don't have to take responsibility for order fulfillment as well. You act as a middleman that promotes suppliers' products in your eCommerce store, and you get a decent profit for each successful purchase in return.
Poor product quality and longer shipping times badly affect your revenue stream in a dropshipping business. So it would be best to look for a better dropshipping supplier that offers high-quality products with minimal shipping time. And what's better than USA-based dropshipping suppliers?
US-based suppliers offer much better product quality and less shipping time than other suppliers. That's why I brought up a list of the nine best dropshipping suppliers in the USA.
Why USA Suppliers?
If you don't want to deal with unwanted long shipping times, absurd products, or suspicious sellers, you might want to avoid Chinese dropshipping suppliers. US-based dropshipping suppliers are much better than China-based.
Here are some crucial benefits of choosing a USA-based supplier:
High-quality products manufactured in the US
Fast shipping across the globe
Easy returns and refunds
Better communication
If you consider these benefits useful for your business, you might want to know about the best USA-based dropshipping suppliers.
Top 10 Dropshipping Suppliers in the USA: In A Nutshell (2023)
| | | |
| --- | --- | --- |
| Sr. No. | Dropshipping Suppliers USA | Pricing |
| 1. | Spocket | $29.99/month |
| 2. | Sellvia | $39/month |
| 3. | Wholesale2B | $29.99/month |
| 4. | SaleHoo | $27/month |
| 5. | Modalyst | $35/month |
| 6. | Greendropship.com | $149/month |
| 7. | BrandsGateway | €295/month |
| 8. | Dropified | $47/month |
| 9. | Inventory Source | $99/month |
| 10. | Worldwide Brands | $299 once |
Here's the list of the best US-based dropshipping suppliers that support major eCommerce platforms and marketplaces.
1. Spocket:
Spocket is a well-known dropshipping supplier in the US. It offers a variety of items such as clothing, toys, homeware, beauty & care, kids, etc. The majority of the products are manufactured in the US and Europe, and suppliers offer 25%-60% cheaper than their market prices. It allows you to make better profit margins without setting up higher pricing tags.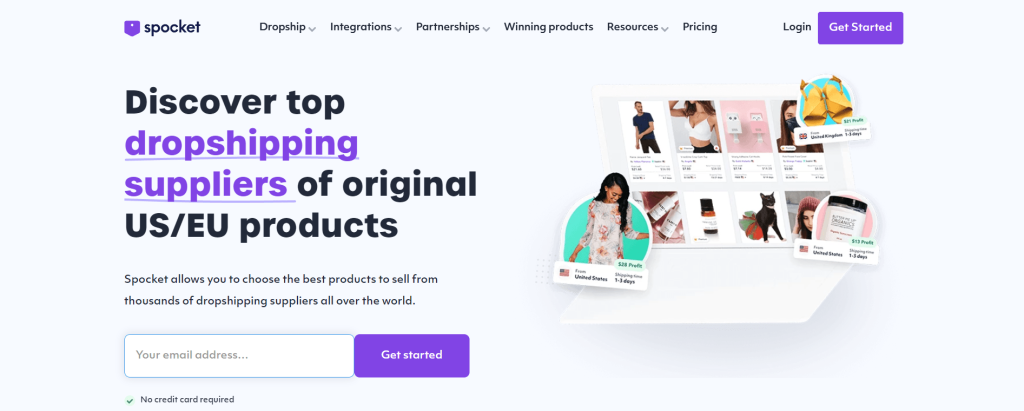 On Spocket's catalog, you can find thousands of unique and premium products. It also allows you to see how many products are in stock so you can quickly contact suppliers to buy products for your store. In addition, the whole product importing process is automated, so you don't have to worry much about order management. It integrates with 11 major eCommerce platforms and marketplaces such as eBay, Shopify, Wix, WooCommerce, etc. You can also integrate the Spocket app directly from the Shopify App Store.
Key Features
Over 2,000 dropshipping suppliers in the USA
Cross-platform software
Over 1 million unique and premium products
Offers a free plan
Integrates with major eCommerce platforms
Starting Price: $29.99/month
2. Sellvia:
Sellvia is another US-based dropshipping supplier. Unlike other platforms, it owns several warehouses across the USA, specifically in California. It offers a remarkable 1-3 days shipping time across America. Since Sellvia manufactures its own products, you will never face any out-of-stock situation.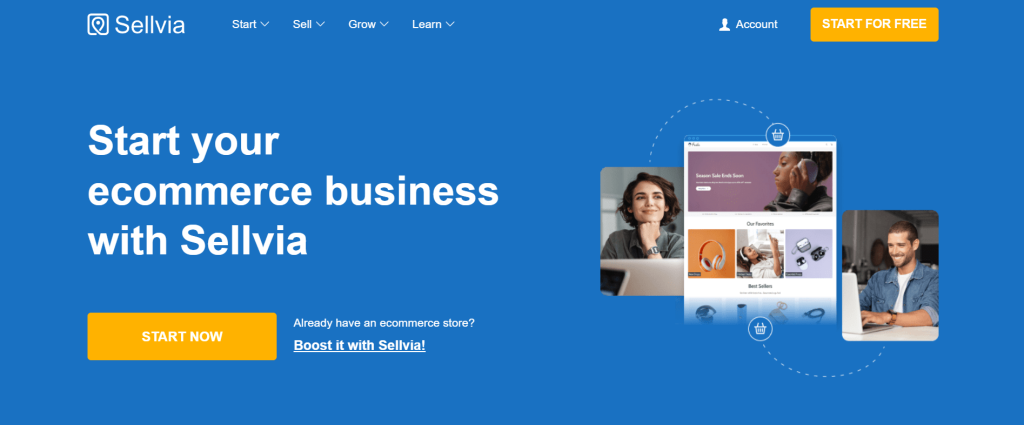 Sellvia offers much cheaper products compared to AliExpress's similar products. Sellvia has created a product directory of a few handpicked and trending product categories which is particularly most demanded in the US – like fashion, home, gadgets, outdoor, sports, pets, and many more. Sellvia also offers ready-made resources for product listing to their users so they can attract customers and make sales quickly.
Key Features
High-quality products manufactured in Sellvia warehouses
Custom store services
In-built marketing features
1-3 days delivery-time across the US
Trending products categories for various niches
Starting Price: $39/month
3. Wholesale2B:
Wholesale2B is a house of more than 1 million dropship products. It offers access to 100+ product categories where you can find products in clothing, electronics, baby items, costumes, garden decor, etc. As the name says, it offers most of the products wholesale at a discounted rate compared to market rates. It gives you an opportunity to make better profit cuts.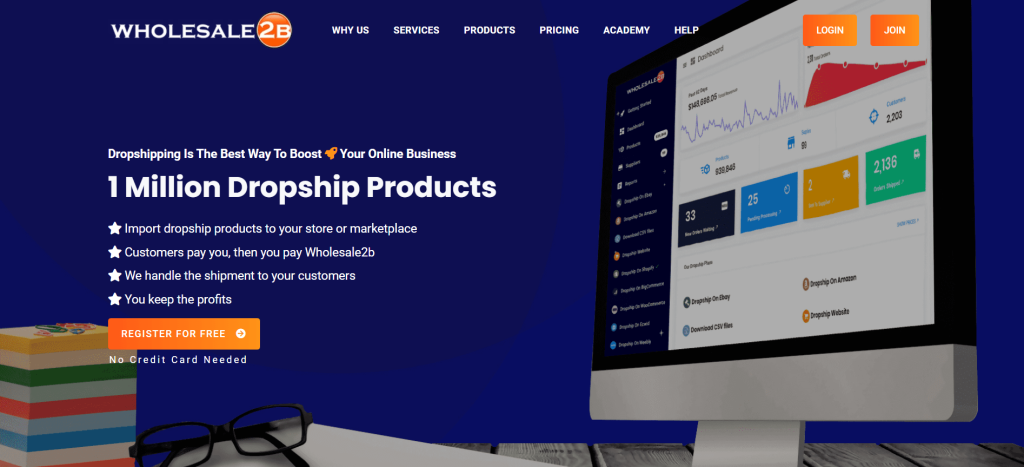 With Wholesale2B, you can sign up for free with no credit card required. You can view all the products and their wholesale prices for free. Once you review the products and finalize a specific product to go with, then you can make a purchase to activate a dropship plan. As a US-based wholesale supplier, it has partnered with many popular eCommerce, social platforms, and marketplaces such as Amazon, eBay, Shopify, Facebook, Ecwid, WooCommerce, etc.
Key Features
Free drop shippers directory
Integrates with 40+ major platforms
Free dropshipping academy
Streamline your workflow with in-built automation tools
Discounted wholesale prices
Starting Price: $29.99/month
4. SaleHoo:
SaleHoo has one of the largest global networks that offer dropshipping suppliers and wholesalers of 1,600+ branded products. It provides a directory of 8,000 suppliers in the US, Australia, and New Zealand. All listed suppliers are verified, and most of them are high-profile brands such as Adidas, Disney, etc.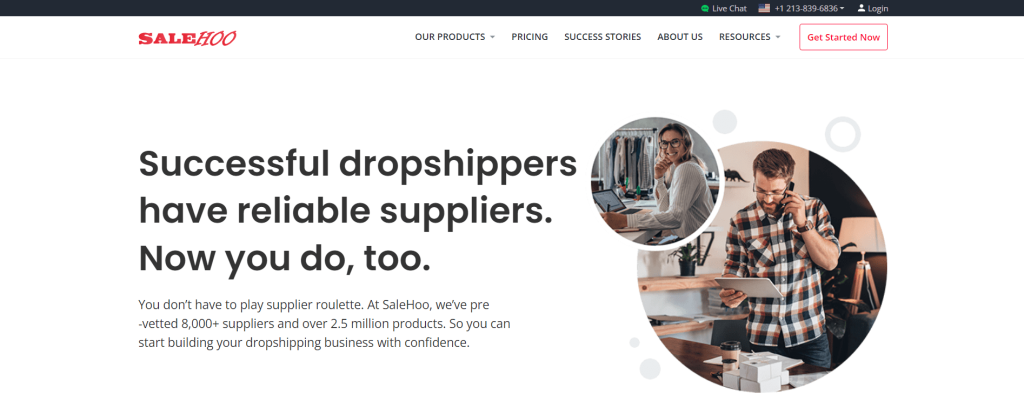 Since its launch, SaleHoo has guided 130,000 business owners in finding their ideal wholesale partner, which is why it has been featured in renowned magazines such as Forbes, CNBC, and Huffington Post. It offers a one-on-one interaction feature that allows drop shippers to negotiate directly with the suppliers. SaleHoo also offers a 60-day money-back guarantee on the paid plans.
Key Features
Huge product catalog with a high-profit margin
Access to 8,000 trusted dropshipping suppliers
Run your store on autopilot
Product and supplier details
60-day money-back guarantee
Starting Price: $27/month
5. Modalyst:
Modalyst is one of the best white-label dropshipping suppliers located in San Francisco, California. It focuses on providing designer brands manufactured with eco-friendly fabrics and materials. Here you can find 10 million high-quality products to choose from.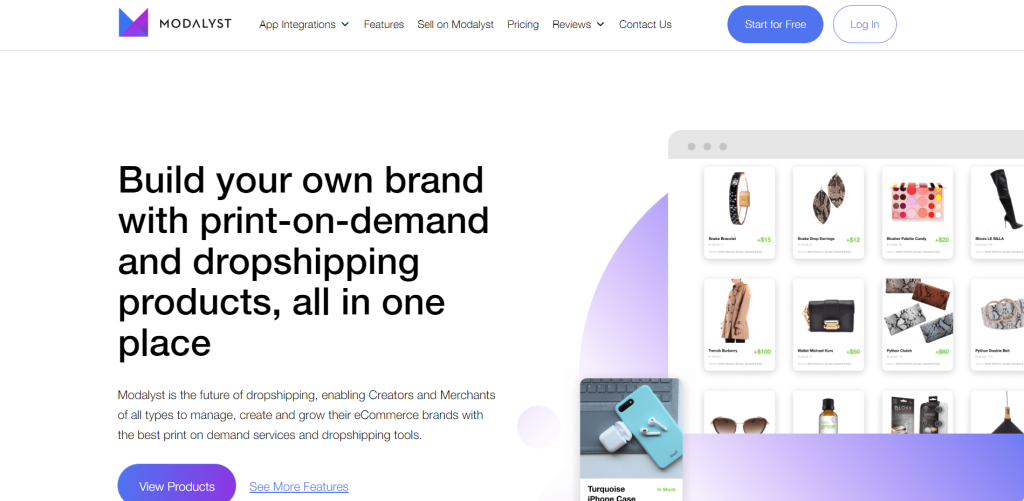 The white-label products of Modalyst are best suited for businesses looking for a print-on-demand company. That means you can also order your own designed products to be drop shipped by the suppliers. The platform regularly gives you updates on inventory and products that are about to go out of stock. Beginners can start with its free plan, which allows you to sell 25 products each month.
Key Features
List products in bulk within one click
Real-time product updates
Import product descriptions, variants, and images
In-built profit calculator
Free plan for beginners
Starting Price: $35/month
6. Greendropship.com:
GreenDropShip is a unique dropshipping supplier that focuses on natural, organic, and eco-friendly products. It gives access to 20,000 products from 800 different USA brands. It mainly covers categories like beauty, vitamin products, baby oil, health & wellness, etc. The best part about this platform is that it manufactures its own products within three warehouses across the US.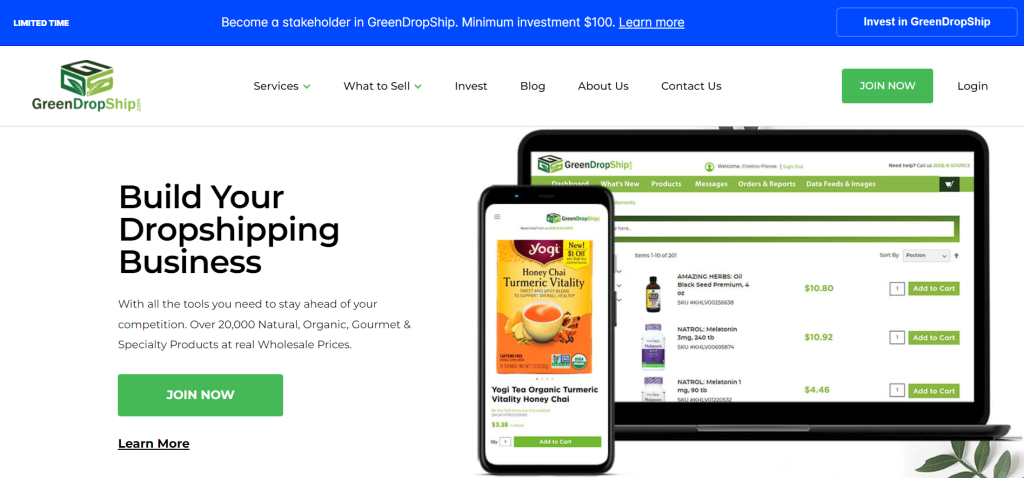 Since GreenDropShip manufactures its own products, it offers a high-quality product guarantee and faster shipping. You can expect 1-3 day shipping time if the orders are placed within the state. Apart from eCommerce integration, it also integrates with marketplaces like Amazon and eBay. It uses the Fulfillment by Amazon (FBA) method to ship orders for Amazon sellers.
Key Features
Organic and eco-friendly products
An individual and wholesale pricing structure for products
Fully functional mobile app
Inventory feed updates
Integrates with Amazon, eBay, Shopify and WooCommerce
Starting Price: $149/year
7. BrandsGateway:
BrandsGateway is one of the most popular online B2B high-end clothing marketplaces. Here you can find the best fashion items in wholesale for your dropshipping business. The platform features over 100 luxury brands, including Gucci, Dolce and Gabbana, Versace, Calvin Klein, Cavalli Class, Jimmy Choo, and many more.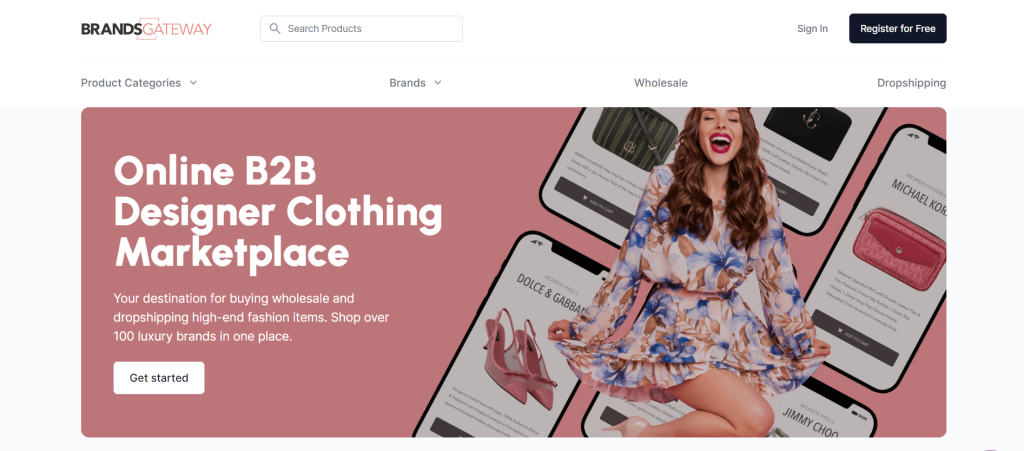 BrandsGateway's dropshipping plan offers you a personal account manager that takes responsibility for SEO, marketing strategies, webshop feedback, etc. That's probably the main reason for its expensive plans. However, you will get complete control over its quality, and you can even visit its manufacturing facilities to check the product's authenticity.
Key Features
Low-risk business and high-profit margins
Seamless product import
Automated fulfillment
Personal account manager
Premium marketing guides
Starting Price: €295/month
8. Dropified:
Dropified is a dropshipping application that efficiently sources products from distinguished eCommerce platforms. However, it sources products from both the US and China. It automates most of the dropshipping tasks so you can only focus on marketing and growth. Dropified has a collection of private-label and FDA-approved products that you can promote on the online store under your brand.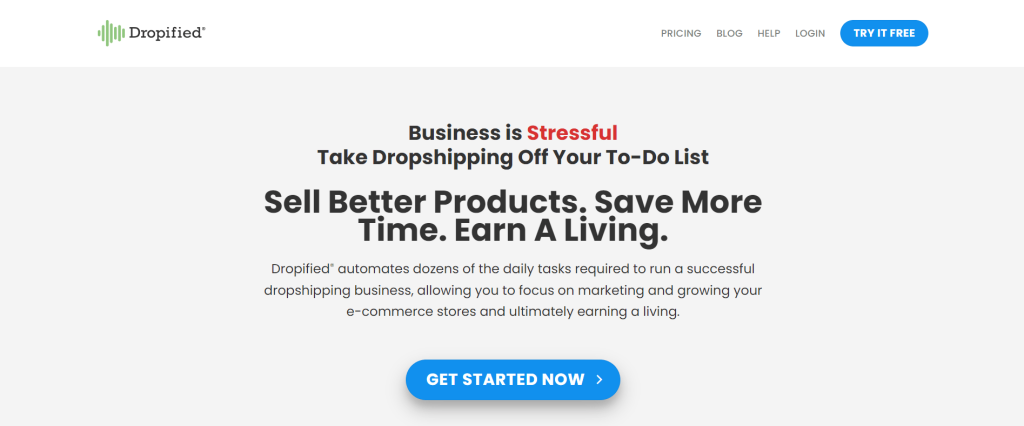 Dropified gives you direct access to the suppliers and wholesalers that ship your order within given timeframes. It also provides access to a unique feature, Insiders Report. This feature gives you weekly reports on trending and proven products sourced by the Dropified team so you can increase your product listing to earn extra income.
Key Features
Flexible automation features
Sell products for free on the Facebook marketplace
Customize orders without any hassle
Branding options
Offers a free plan
Starting Price: $47/month
9. Inventory Source:
Inventory Source is a powerful dropshipping supplier best known for its automation features. You can use its automation tools to sync your eCommerce store to its dropship products and suppliers. So whenever a customer places an order, it automatically forwards the order to your dropship supplier. You will also get notified of the order's tracking information.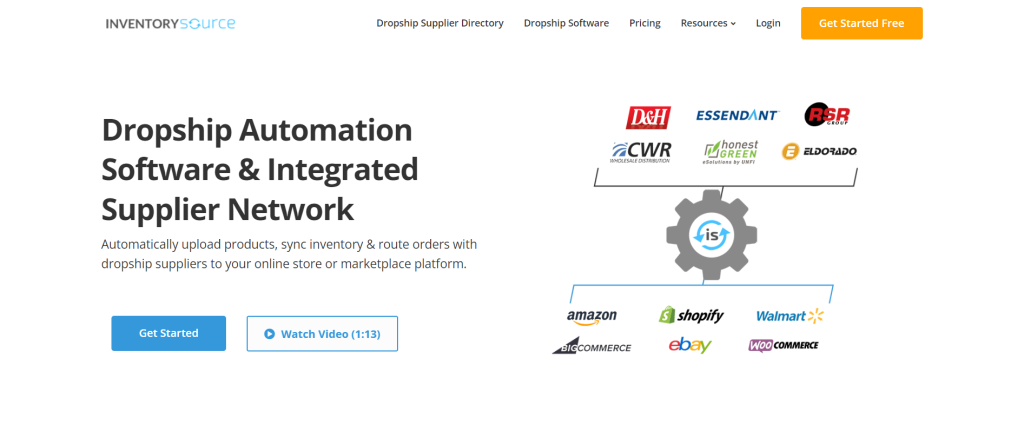 Inventory Source offers you integrations with 20+ eCommerce platforms and marketplaces. The platform offers you a free directory of profitable products, drop shippers, and wholesalers. It covers various niches by offering a huge product category to dropshipping business owners.
Key Features
Access to great automation features
Order tracking and analysis
Supports more than 20 eCommerce platforms and marketplaces
Bulk feed management
View all dropship products and suppliers with a free Directory account
Starting Price: $99/month
10. Worldwide Brands
Worldwide Brands is not a dropshipping supplier, but it is a directory of certified dropshippers and wholesalers. In the directory, you can search for the products you want to sell, and it will show you the suppliers for those products along with the location. You can contact these dropshipping suppliers directly, and there is no intermediary involved. You can also negotiate the pricing of the products from wholesalers and get amazing profit margins.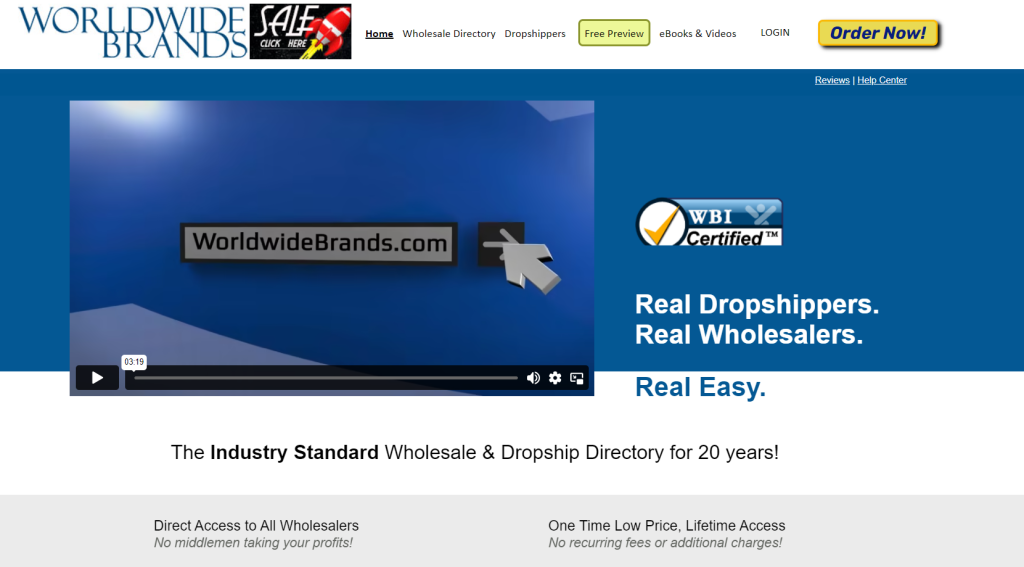 You can add those products to your online store and sell them across marketplaces. These suppliers also offer amazing refund policies. Worldwide Brands also offer you support with dropshipping. For a one-time fee, you will get access to this directory for a lifetime. All the suppliers listed in the directory are 100% genuine and scam-free.
Key Features
16 million+ certified wholesale products
Lifetime access to the directory
Direct access to all the wholesalers
Mobile apps for members
No hidden fees
Starting Price: $299 once
How to choose the Best Dropshipping Supplier for your business?
You can find hundreds of dropshipping suppliers in the USA, but choosing the best for your dropshipping business can be stressful. However, you can look for the following features to select the best one.
Product Quality
The quality of the products should be your top priority while picking a drop shipper. Every supplier has different prices and qualities for products. You can find one that has decent quality – not cheaply made like Chinese drop shippers'. Furthermore, the uniqueness and diversity of items are worth considering.
Fast Delivery Time
The main reason you might be looking for a US-based dropshipping supplier is fast shipping time. Shipping depends on two main aspects: order handling and delivery time. An ideal dropshipping supplier ships the orders to third-party delivery companies within 48 hours of the orders. The delivery time depends on the customer's location. Still, shipping products can take 1-4 days across the US.
Great Profit Margins
Make sure you get a decent cut for being the middleman, no matter what platform you choose or how pricey their subscription fees are. The drop shippers must offer the products lower than market rates so you can calculate whether it is worth taking the risk. If you don't want to face challenges, you can select a platform that offers a free plan, limited trial, or money-back guarantee.
Easy Returns and Refunds
Dropshipping suppliers offer three return and refund models to their users: no return, 14-days, and 30-days. Lots of suppliers accept returns within 14-30 days of purchase, but you may have to pay 20%-30% of the product cost as a restocking fee. Some companies charge additional costs from the customers for the return shipments.
Related Read:
Conclusion: Dropshipping Supplier USA (2023)
So this is my handpicked list of the best dropshipping suppliers in the USA. While creating this list, I have listed various platforms for different niches and perspectives. I have examined other platforms as well, but not all are good enough as these. However, before choosing a platform for your business, make sure to go through all products and prices using their free plan or trial.