Christmas is approaching, and so does holiday sales. People like to buy gifts for their loved ones during this holiday season. Some people wait for this occasion to grab exclusive discounts from their favorite shopping websites, while others start their holiday preparations and shopping before a couple of weeks.
In 2020, the holiday season completely changed the shopping scenario. Due to the COVID-19 pandemic, most holiday shoppers preferred to purchase online rather than avoid contact and crowds. Even after the restrictions are lifted, most people opt for online shopping as they can compare thousands of offers and choose the best deal for holiday preparations. And they don't even have to leave their house to get their items. So you can say shopping data for the holiday season took a dramatic turn after 2020.
In this post, I am going to share everything you need to know about Christmas shopping statistics so you can forecast what to expect in this upcoming Christmas sale.
Let's get started.
Christmas Shopping Statistics (2022) 
Here are some mind-blowing holiday season shopping statistics and spending figures you want to know about.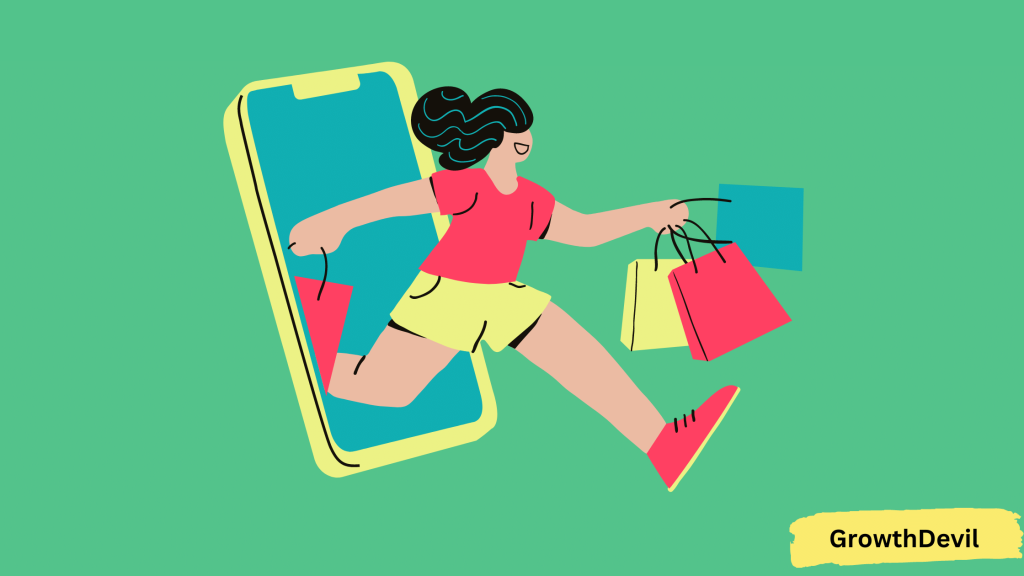 1. Top 10+ Christmas Spending Statistics
The USA is expected to spend over $6.2 billion on Christmas Trees.
32.9 million real Christmas trees were sold during last year's holiday season.
41% of American shoppers are willing to take debt to buy gifts for their loved ones.
10% of people return their gifts to the stores.
9.8% of Europeans run into debt for Christmas shopping.
Parents spend an average of $275 per child on Christmas gifts.
66% of households are planning to shop online for Christmas gifts.
Women spend an average of 20 hours shopping for Christmas preparation and gifts.
56% of in-store shoppers use their smartphones to compare prices during Christmas shopping.
85% of shoppers prefer free shipping while purchasing online.
2. US Christmas Spending Trends
During every holiday season, Americans spend an average of $886 on Christmas. It is a combined average of online stores (56%), discount stores (29%), department stores (24%), and specialty stores (18%).
25% of shoppers like to shop early, while 45% wait for the holiday sales, and 20% do shopping a week before Christmas.
Despite the pandemic and recession, the US saw a significant increase of 9.3% in holiday sales. Retail holiday sales hit a whopping $889.30 billion in 2021.
21% of Americans plan to spend less money on Christmas gifts, while 13% are willing to spend more on holiday gifts. 48% of Americans will continue o spend the same as the last year.
People spend almost $15.2 billion on unwanted presents. Clothes (43%) and household (20%) items are at the top of the unwanted gift lists.
57% of Americans set a budget for Christmas shopping, and only 64% of them actually stick to it.
Men spent an average of 10 hours on holiday preparations, of which three hours were spent on shopping or waiting in lines, and three hours were spent on gift preparations for their loved ones.
44% of Gen-Xers dislike what they receive as Christmas presents. However, Gen-Xers also spend an average of $122 on Christmas presents that are considered unwanted.
Friends are considered the worst shoppers when it comes to Christmas gifts. 23% of people have marked their friends for giving them unwanted gifts, whereas in-laws (14%) come second in this list.
56.3% of US consumers desire to receive gift cards as a Christmas present so they can buy whatever they want. That's why Americans spend $28.2 billion on gift cards during holiday sales, of which restaurant gift cards (32%) were purchased by the shoppers the most.
3. Global Christmas Shopping Statistics
British people spend an average of $725 on Christmas presents, of which 69% have an ordinary budget. 14% of all British shoppers reuse old gift packaging, while 17% spend on inexpensive and second-hand gifts.
15% of Europeans receive unwanted gifts, and 1 out of 10 return or replace them.
According to Statista, 47.7% of all shoppers used smartphones for shopping during holiday sales, while 57.3% used desktops and others.
Global online shoppers are expected to spend $239.7 billion during this holiday season. Black Friday and Cyber Monday sales are already happened and generated $20.41 billion in sales in 2022.
Average UK households spend an additional $1,020 during the Christmas season. The UK also see a significant 38% rise in alcohol expenses on this occasion.
If we talk about Southern Hemisphere, 37% of Australians and 56% of South Africans cut their holiday spending from their budget.
Romania tops the list in terms of most spending per person. The average income of a Romanian household is $6,471, and they spend 32% of their income on Christmas preparations and gifts.
According to The First News, 63% of Polish people are planning to reduce their spending on the holiday season.
In Italy, 42% of people prefer to receive shoes and clothing as their Christmas gifts, while 32% love to receive books and toys.
Almost 6% of Hungarians plan to buy everything related to Christmas shopping online, while 50% plan to buy from both offline and online stores.
4. Christmas eCommerce and Social Media Statistics
All eCommerce industries are expected to hit $910 billion in sales during holiday sales, including the Christmas season.
Since millennials spend the most during holiday sales, global companies like Amazon, Target, and Walmart target their group for the most marketing campaigns.
46% of shoppers have started their shopping earlier than usual for Christmas gifts.
Social media ads for Christmas shopping influence 58% of online shoppers.
37% of Gen-Zers use Instagram for their holiday shopping inspiration.
65% of online shoppers are concerned about their product's quality which is why they prefer to buy their Christmas gifts from known brands.
85% of holiday shoppers plan to purchase online, of which 11% will purchase everything online, and 74% will prefer to purchase from both online and offline stores.
In 2020, 65% of shoppers preferred online shopping to do their Christmas shopping to avoid crowds in physical stores.
The gift card is the most purchased item on Amazon as a Christmas present.
66% of US holiday shoppers research online for Christmas presents but end up buying those items from physical stores.
60% of consumers prefer to use chatbots to find and purchase their favorite products from eCommerce websites.
Conclusion: Christmas Shopping Statistics (2022)
The holiday season is probably the best time for both online shoppers and sellers. Sellers list specific items to grow their sales and increase profits while shoppers purchase from them to save a lot. Shoppers might not as prefer shopping for shopping as they used to. But still, brick-and-mortar businesses attract customers with eye-catching deals on holiday season items and Christmas presents.
Overall, the Christmas season is one of the busiest weeks for shopping and sales. And these stats are proof of it. The US is experiencing one of the biggest inflations of all time. Despite this economic downturn, US shoppers are expected to spend $209 billion this upcoming holiday season. It will be interesting to see how this year's holiday sale pans out. We will update the stats as soon as they are announced.