Just started a new business but can't reach your potential audience even after trying everything? Why not try listening to growth-hacking podcasts?
Growth Hacking comes in many formats, such as books, articles, tools, courses, videos, or any methods that engage entrepreneurs. But what I like most is listening to a podcast. It is short-formed and doesn't require a specific time to listen. You can also listen to a podcast as easily as listening to music. You can listen to podcasts before going to bed, doing chores, or walking in a park.
In this post, I am going to list the best 10+ Growth Hacking Podcasts you can listen to and learn about great strategies professionals use to boss the market. 
Before moving to the list, let's talk about Growth Hacking first.
What is Growth Hacking?
The meaning of Growth Hacking is as simple as it sounds—using strategies, tactics, others' experiences, or any informative data to grow your business at a minimal cost. Big names like Facebook, OYO, Airbnb, and Uber are some of the best examples of Growth Hacking. 
Growth Hacking also extremely depends on the nature of your business and start-up. You can't use copywriting tactics in a clothing business. So it is essential to search for relevant growth hacks for your niche.
Now, let's move on to the list.
Best 10+ Growth Hacking Podcasts
Here's the list of the top 10 Growth Hacking Podcasts people love to listen to. 
1. Marketing Over Coffee
Marketing Over Coffee, hosted by John Wall and Christopher Penn, is a podcast show recorded every Wednesday at a coffee shop in Natick. In this podcast, the hosts interview successful entrepreneurs, influencers, and marketers while having a cup of coffee. They discuss their business journeys and secret tactics they have used to reach this milestone.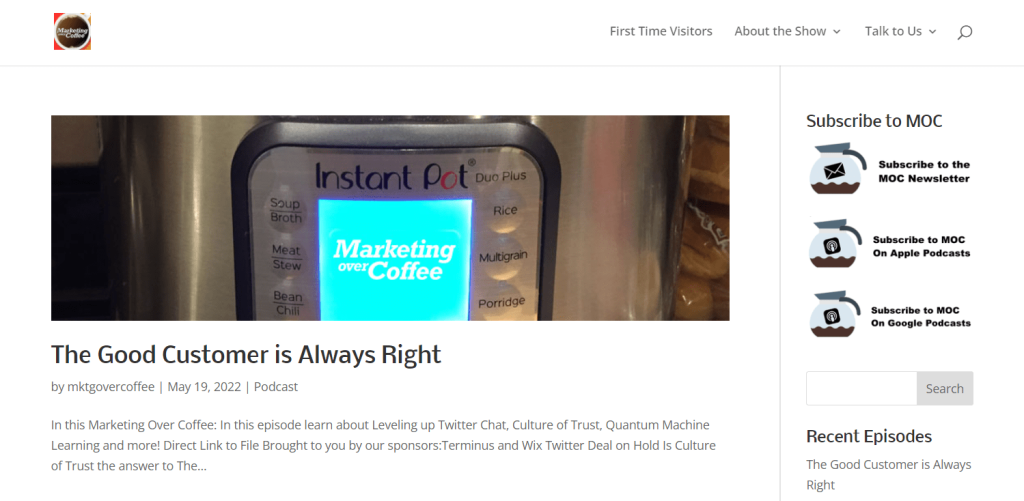 Apart from that, Christopher also runs a YouTube channel where he talks about "Mind Readings" & marketing and shares his experience with his audience. Within the last ten years, 100 episodes have been aired in this podcast series that you can listen to for free.
2. The Growth Show
The Growth Show is a podcast series that runs under a popular CRM platform, The HubSpot. The show is hosted by the vice president of marketing at HubSpot, Meghan Keaney Anderson. The podcast is famous for the sensible talks about the marketing and growth industry.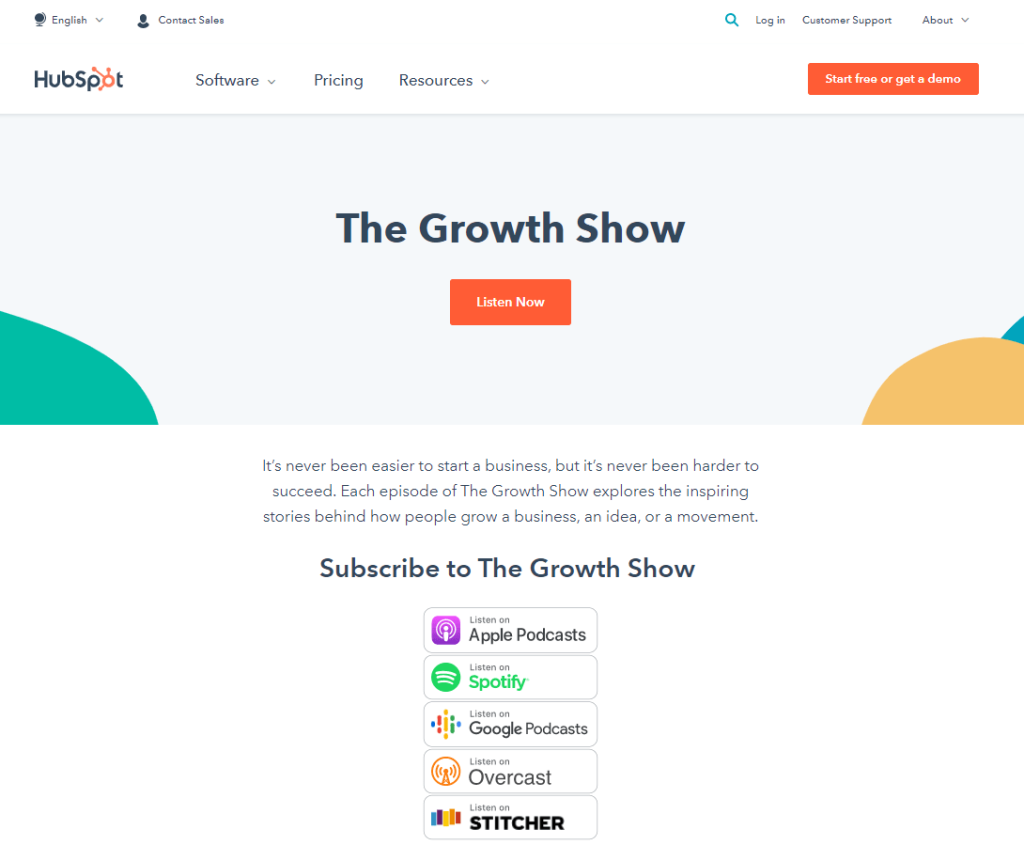 Meghan inspires youth and entrepreneurs with her short and crisp talks with business experts and successful eCommerce business people. You can explore all the podcasts for free and listen to professionals' journeys. Each episode comes with something new that you can apply to your business to increase the new heights.
3. Growth by Drift
The Growth podcast is best for you if you're seriously concerned about rapid growth. The podcast is run under a company, Drift, that offers conversational solutions for people to connect with businesses. The show is hosted by Matt Bilotti, Senior Product Lead of Drift.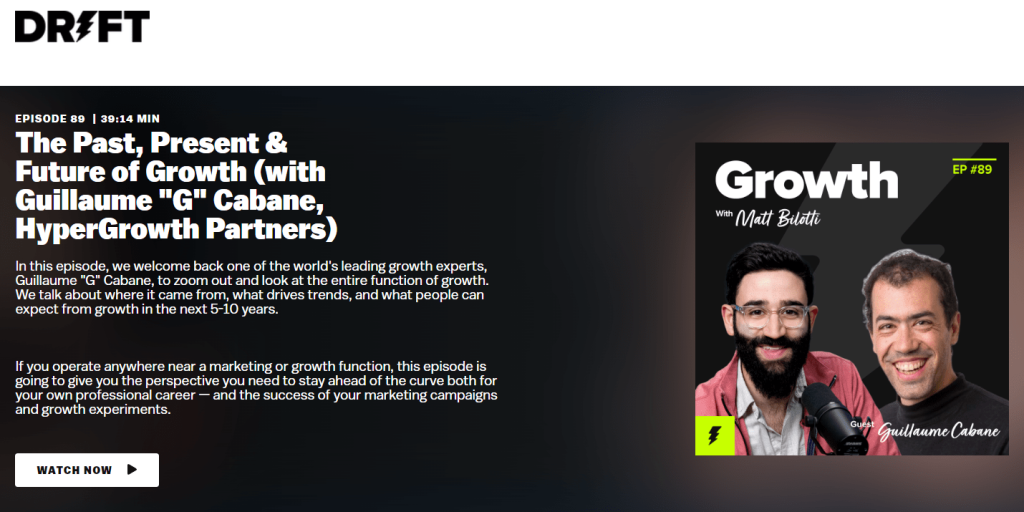 Matt meets with growth experts every other Wednesday for 30 minutes. In this duration, he talks about how they drive insane revenue and what tactics and growth strategies they use to grow. Listen to the free 90+ podcast series and experience exclusive interviews to learn something new.
4. SaaS Growth Whisperers
SaaS Growth Whisperers is an exclusive podcast show hosted by UserGuiding's Growth Manager, John Ozuysal. John refutes the orthodox thinking of people about having coding knowledge to run a successful business. He encourages entrepreneurs to use SaaS platforms to boost growth marketing efforts.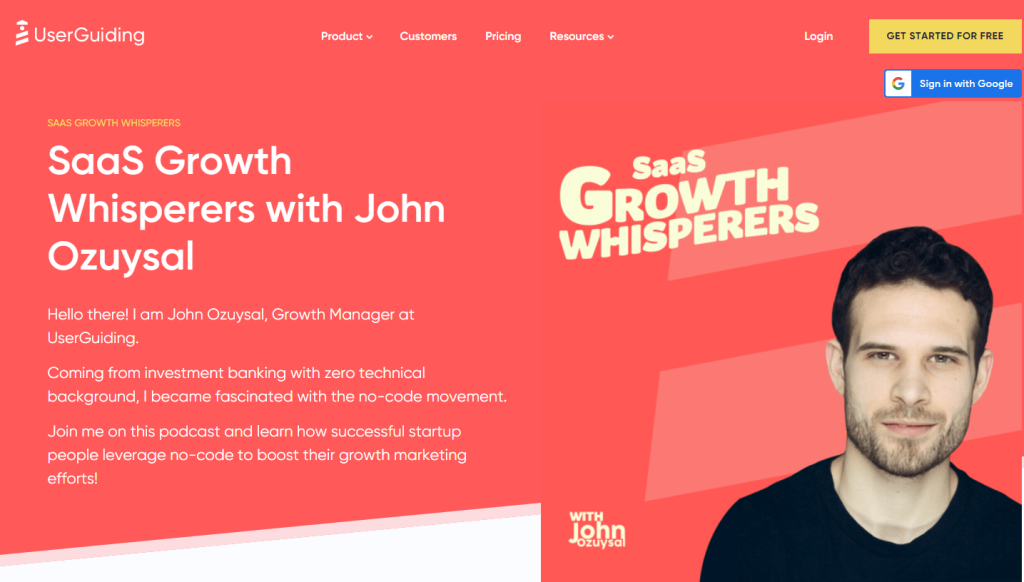 John interviews successful entrepreneurs who believe in no-code businesses and support SaaS platforms. You can listen to his life-changing podcasts for free and give a whole new perspective to your business.
5. People of Marketing
The People of Marketing is an inspiring podcast series that runs under Planable, a social media collaboration tool. The show is hosted by the CEO of Planable, Xenia Muntean, who loves to talk with top marketers. Till now, she hosted two seasons of this amazing show and still inspires youths with her experience every Wednesday.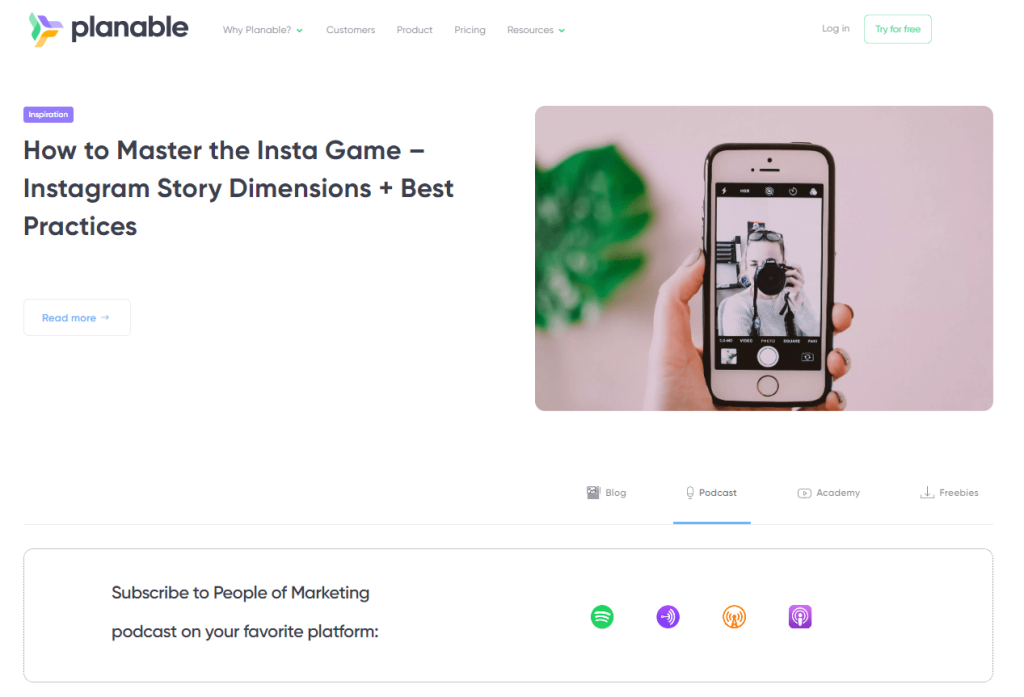 The show is best for marketing, advertising professionals, and communication managers. Explore real-life stories and growth tactics by listening to interviews with successful marketers and entrepreneurs.
6. Seth Godin's Startup School
Seth Godin's Startup School is a 15-episode podcast series for newcomers. It is literally a school where Godin teaches the key points and basics of building a startup. If you are looking forward to building a startup, you can listen to his podcast lesson to know the steps you need to take before making a decision.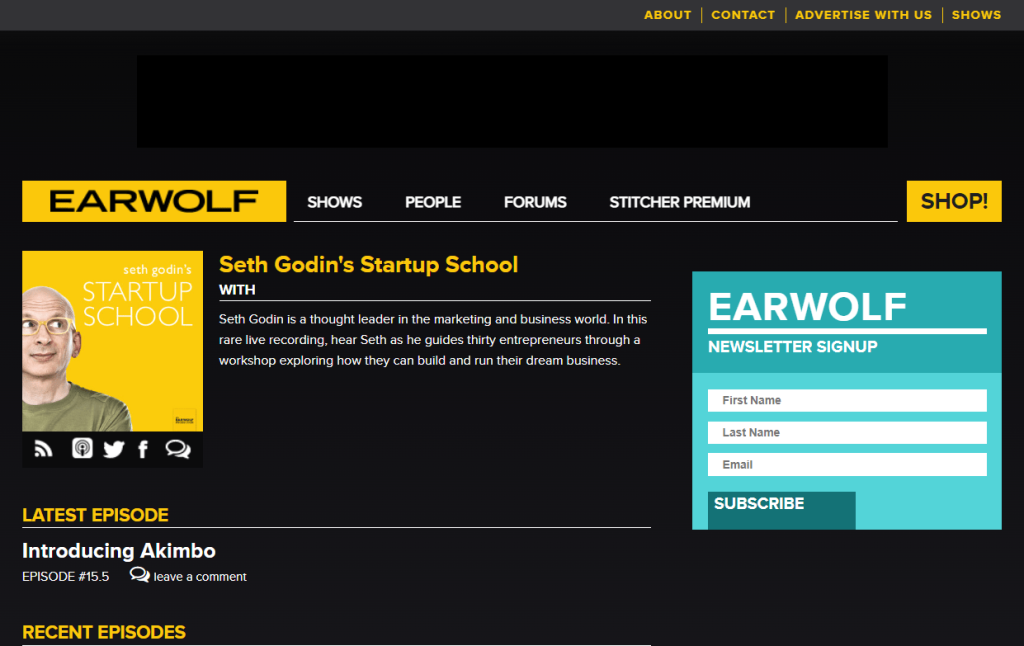 The podcast has been on the internet since 2012 and hasn't been updated since then. But it's still helping the youth since it highlights the fundamentals necessary for building a startup. Listen to all episodes for free.
7. The Growth TL;DR
The Growth TL;DR is a unique podcast series hosted by Kieran Flanagan and Scott Tousley. In this podcast, they talk about essential marketing topics that no one talks about. To make the podcast more fun and engaging, they ask about weird experiences entrepreneurs faced during their struggle days.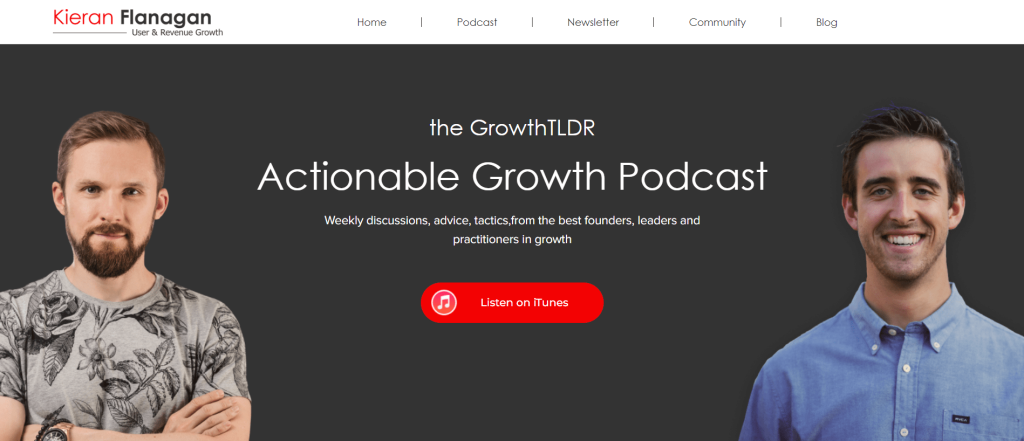 Kieran and Scott come up with a new episode every week interviewing industry leaders, growth strategists, and founders. Explore new business growth and content marketing tactics by listening to each episode. You can also listen to all episodes on Spotify and iTunes.
8. Copyblogger
If you're a copywriter or related to content marketing, Copyblogger is the best podcast series for you. Show hosts Sonia Simone and Stefanie Flaxman talk about various insights you need to focus on as a content marketer.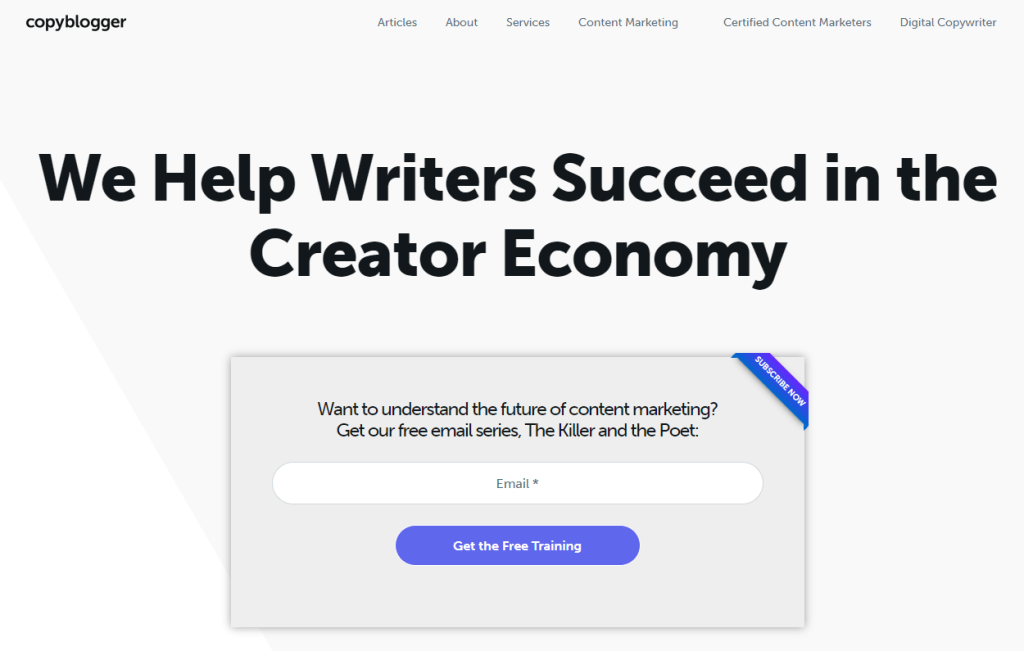 Within this podcast, you can learn about a lot of important things related to copywriting, such as how to overcome writer's block, persuasive writing techniques, and fire tips to become a successful freelance writer. Listen to exclusive weekly episodes for free.
9. The Science of Social Media
Love to post on social media platforms? Listen to "The Science of Social Media" to make better content. It is a social-media-marketing-based podcast series hosted by Dave and Heather Mae. The show talks about posting content on various social media platforms like Instagram, Facebook, Twitter, Pinterest, and many more.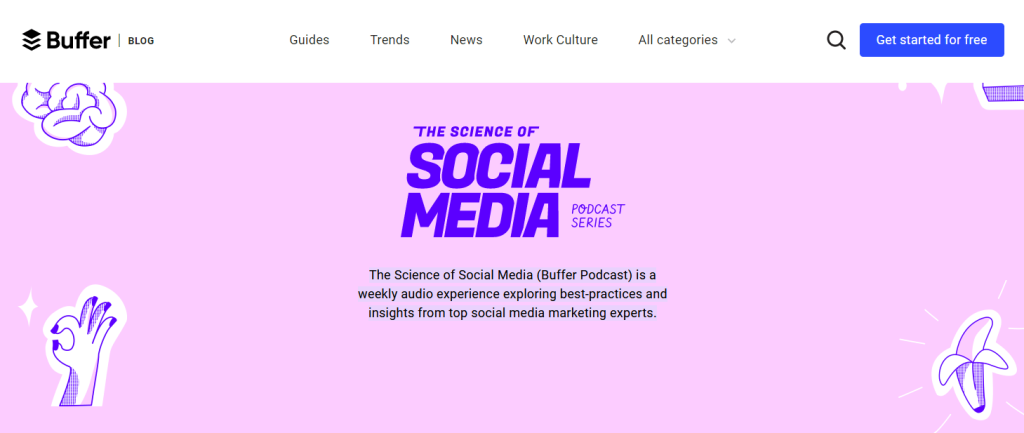 This is a 48-episode series where the hosts interview popular social media influencers and their success on their relative platforms. You can learn great tactics and strategies from the best to get fame on your favorite social media platform. 
10. Growth Marketing Toolbox
This is a weekly podcast on growth hacking, and the host of this podcast Nicholas Scalice explores different growth hacking tools & technologies and shares his experience with the tool on his podcast. He also interviews the founders of these marketing tools and shares their insights with his listeners through his podcast.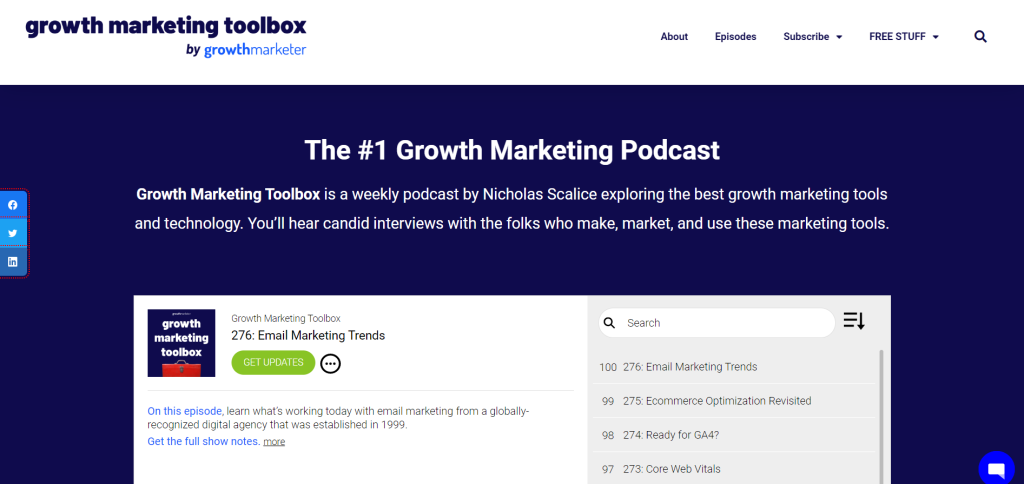 He has already interviewed the founder of Active Campaign, the head of product marketing of Zapier, and many more. The main focus of his podcast is sharing marketing & tech tips with his listeners. This podcast is ideal for marketers, growth hackers, marketing managers, business owners, and anyone who wants to learn about marketing and its related tools.
Related Read:
Conclusion: Growth Hacking Podcasts (2023)  
Growth Hacking podcasts are not a quick thing that you can just listen to and get success overnight. What you listen to and learn on the show takes time to adapt before you apply it to your business. Most of the podcasts are available on Spotify and iTunes, so you can easily find and listen to all episodes in your spare time.