Looking for a Product Research tool for in-depth analysis? Look no further because the Helium 10 X-ray tool has got your back.
A well-designed product research tool always helps you choose the right product for your eCommerce store. But when it comes to Amazon, there aren't many product research tools that provide you data with accurate information.
Well, there is a tool known as Xray that you can find with the Helium 10 suite. As the name indicates, it does in-depth research and finds all the details that you're missing. You can also check our review of Helium 10 here.
In this post, I have done a quick review of the Helium 10 Xray tool. I have also included the key points and features that will help you choose the right product for your business.
Without further ado, let's get started.
What is Helium 10 Xray?
Helium 10's Xray is the ultimate Amazon Product Research tool that partners with Helium 10's Black Box tool and helps you disclose the confidential data of the products that you're looking for. The tool provides you with a reliable source of market data that helps you find the best winning products for your niche. With this tool, you get access to 450+ million ASINs that allow you to see your fellow competitors' exact monthly revenue.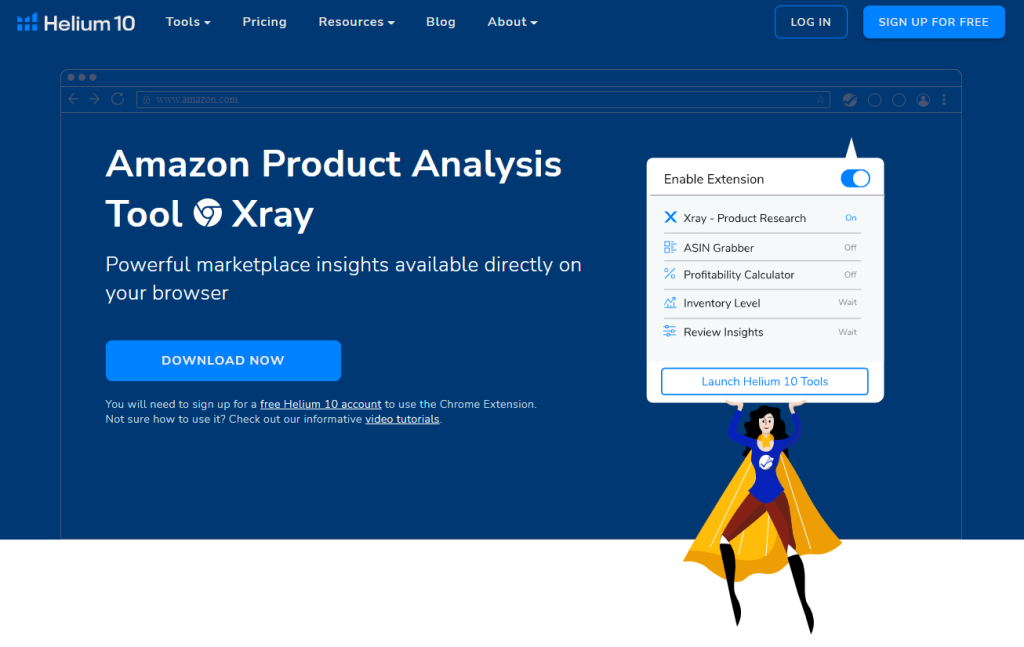 You can use Xray as standalone software or add a Chrome extension, making your product research a lot easier. You can surf Amazon through the Xray Chrome extension and retrieve the maximum data of the products shown in the Amazon search results. Xray tool pins a "Success Score" feature that indicates the overall worth of a specific product. The Success Score is considered a significant factor in finding a winning product. However, you can examine all the Data Points in detail. 
Helium 10 Xray Pros & Cons
Here are the pros & cons of using Helium 10 Xray.
Pros
You can easily install the Helium 10 Chrome extension and use it with your free account.
It lets you do product research on the go on Amazon.
You can get various data metrics on products, such as average BSR, average revenue, success score, reviews, and average price.
It comes with built-in marketing and SEO tools.
You can directly pull data from products on Amazon.
Cons
Chrome Extension lags at times which can be really annoying.
To get more data from Xray, you will need a subscription to Helium 10.
How to Set Up and Use the Helium 10 Xray Tool?
The Xray tool comes with the Helium 10 Chrome extension. Let's see how you can set up the Chrome extension and use the Xray tool.
Step 1. Download the Chrome extension of Helium 10 from the official website. You can click here to reach the download section directly.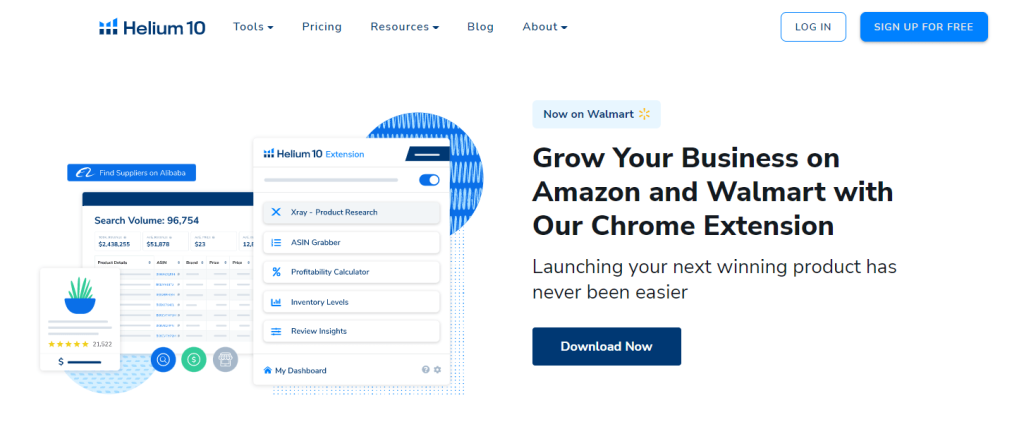 Step 2. After downloading the extension, pushpin the Helium 10 extension to the extension bar. Click on the icon and log in to your Helium 10 account.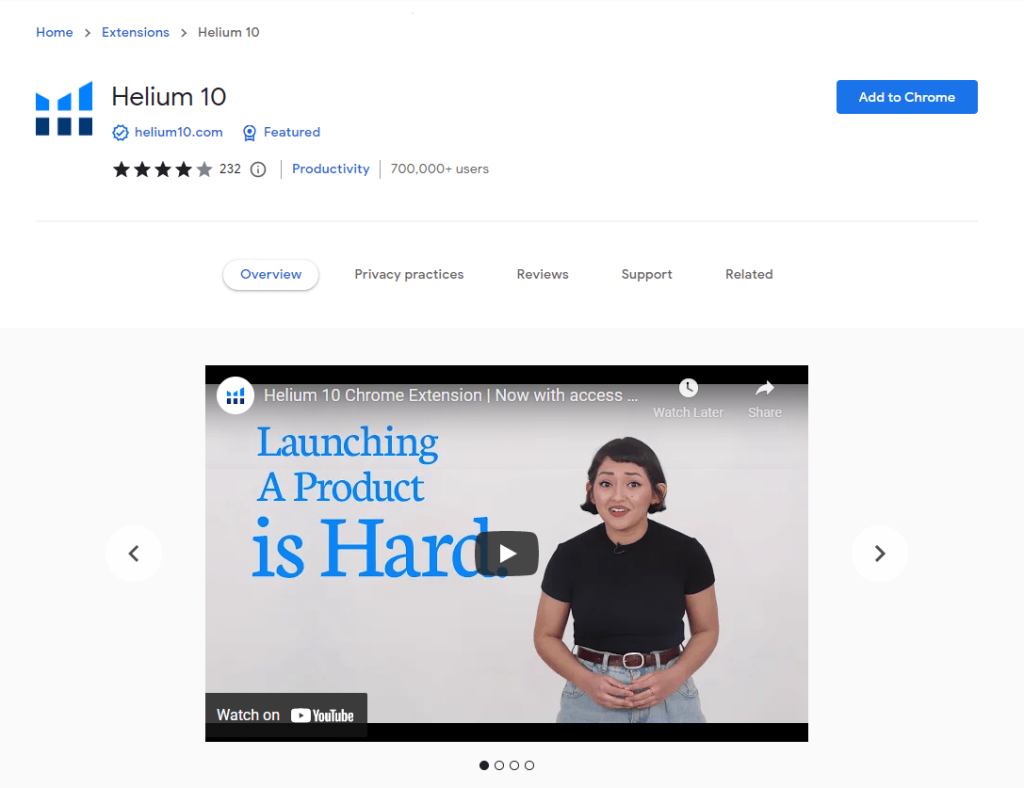 Step 3. Next, it will ask you to connect your Amazon Seller account to the Helium 10 extension.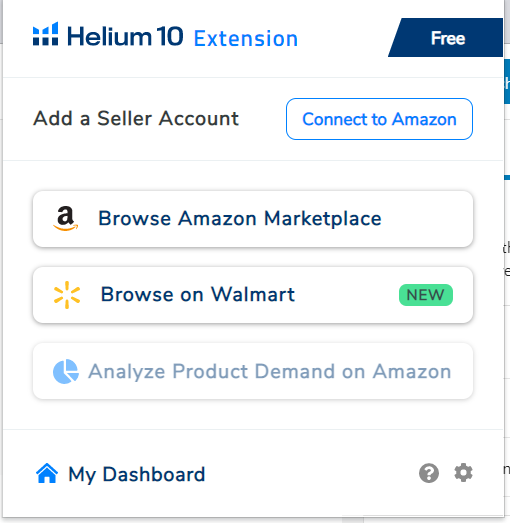 Step 4. Now, you can visit the official Amazon page and search for a particular product. But with these settings, it will only show ASIN number, BSR numbers, and the number of sellers of the products in a search result. Go to the extension bar and turn on the Xray tool to see the detailed analysis.
Step 5. After turning on the Xray tool, you can refresh the page to see the detailed insights of each product. For example, I have used Xray keywords feature to search for related terms for the keyword "Dog Beds."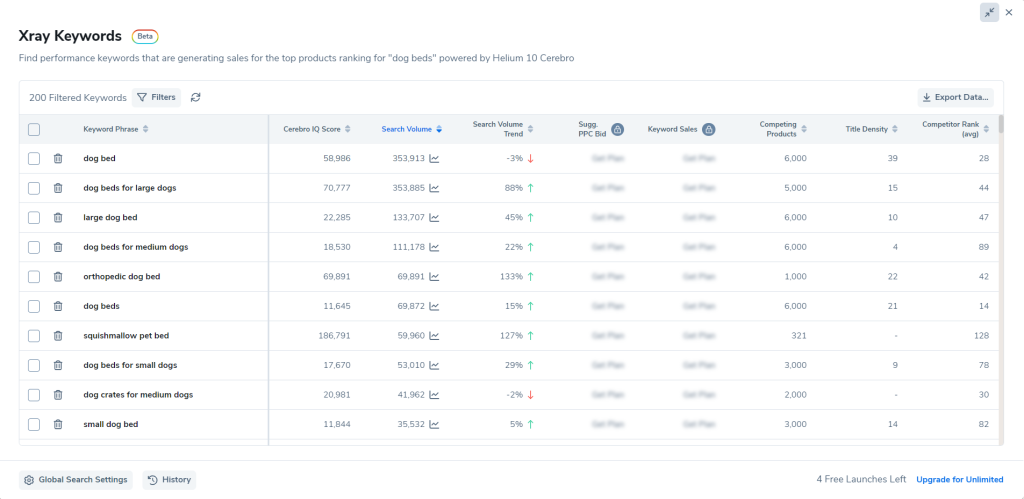 You can customize the Success Score setting from the Settings you can find at the bottom of the Helium 10 extension. You can also select a product to see the history of Search Volume in monthly, quarterly, and yearly aspects.
What are the Data Points in Helium 10 Xray? 
The Data Points include six detailed metrics columns for a researched product.
Total Revenue: This column shows a specific product's total revenue in a month. It helps sellers understand the market size and what are the chances of starting their business with a similar product.
Average Revenue: This column shows the average revenue the listed sellers are getting in each month. It helps sellers understand how much income to expect from a product if they start with that specific product. 
Average BSR: The Average BSR shows the current and historical best sellers ranking of all products listed in a specific category. This column indicates how well a product is performing compared to other products in that category.
Average Price: This column shows the average prices of similar products. Sellers can use this metric to set their own prices on a product.
Average Reviews: This column shows the average number of reviews a seller is getting in that category. Sellers can guess the worth of the product based on average reviews. High average reviews also indicate the product is in a competitive market.
Success Score: The Success Score evaluates the possible success of a specific product in a category. It is displayed in stars. Products above three stars are considered adequate and can be a potential option for your business.
Along with these features, the Xray tool also shows all the metrics you can find with the Black Box tools. You can also check out the Black Box tool in your Helium 10 dashboard. 
Additional Key Features included with Helium 10 Xray
Here are some extra features that are included with the Xray tool.
ASIN Grabber
With ASIN Grabber, you can select and copy multiple ASINs at the same time. It is used to do additional research on competitors. It is also used to find target audiences for Amazon PPC or third-party advertisements.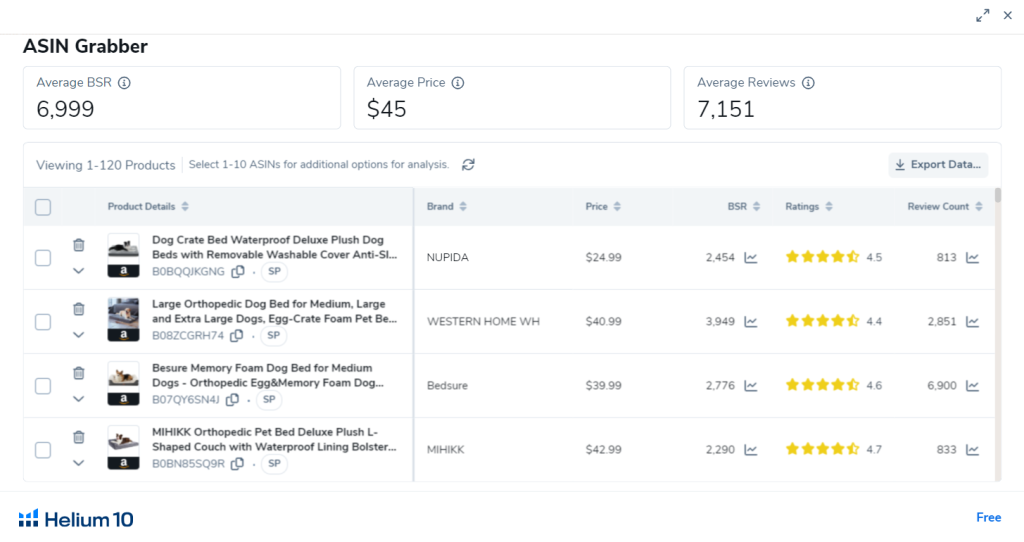 Profitability Calculator
With this feature, you can discover one's net profit or loss based on the cost factor. It allows you to make necessary decisions while setting the final price of your product. You can also use this tool to calculate the initial price of goods, storage fee, shipping cost, taxes, etc.
Inventory Levels
This feature shows the stock inventory fluctuations over time. However, this feature is not commonly used by the sellers since most of them set a quantity limit in their inventory.
Review Downloader
Review Downloader shows valuable reviews of the customers that you can tally with other competitors. You can also export reviews in a phrase that will help you find trending products in the future.
How Accurate is Helium 10 Xray?
The Xray tool figures out all the relevant metrics based on the sales, BSR, and revenue of a product. Amazon never reveals its algorithms publically. That's why the data can never be 100% due to some privacy policy. However, the X-ray tool came very close by showing 95% accurate data. 
After doing a test on a specific product in the baby product category. Here's the result of the analysis. 
Actual Units Sold: 657
Units Shows in Xray: 627
Sales Accuracy: 95.4%
FBA Fee Accuracy: 98.6%
Compared to other famous Product Research tools like Jungle Scout, Viral Launch, and AMZ Scout, the results and accuracy are far better. So it is worth trying. You can also get a 20% discount on plans of Helium 10 with our exclusive coupon.
Helium 10 Xray Pricing Plans
You can use the Xray tool of Helium 10 with the free plan, but you can use it up to 5 times only after that; you will need to upgrade your account to access this tool. There are three main pricing options available on Helium 10, and they are as follows: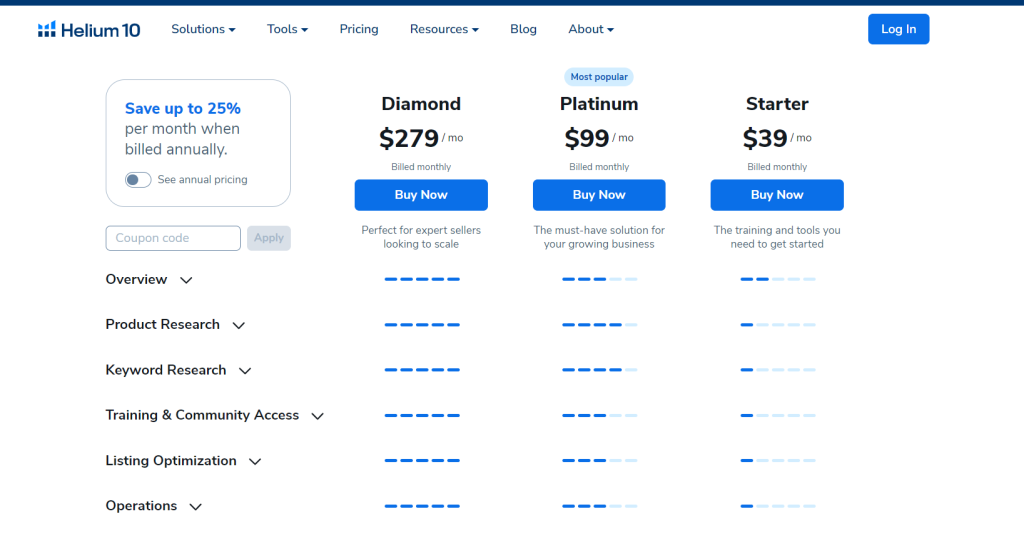 Starter Plan – $39/month or $29/month, billed yearly
Platinum Plan – $99/month or $79/month, billed yearly
Diamond Plan – $279/month or $229/month, billed yearly
Apart from these plans, Helium 10 also offers a few powerful add-ons, such as:
Adtomic – $199/month
Market Tracker 360 – $500/month
Elite – $399/month
Related Read:
Conclusion: Helium 10 Xray (2023)
Helium 10's Black Box is a decent tool for product research, but consider using the Xray tool if you want comprehensive results and discover hidden factors. Beginners will surely find this intriguing if they use this tool for their product research.