On the fence about choosing the best Helium 10 alternatives?
If so, we have got your back!
Its evident, that Helium 10 is a reliable Amazon seller tool available. However, it couldn't be the perfect tool for all Amazon sellers. There could be various reasons why you're looking for an alternative to Helium 10. Before you look for an alternative, make sure you check out every detail about Helium 10. You can get detailed insights into Helium 10 through our detailed review.
The best part, there are many reliable Helium 10 alternatives available. To help you choose the right alternative, we have curated an absolute list of the best Helium 10 alternatives to choose from.
Note: If you're looking for Helium 10 alternatives because of the pricing structure, we suggest checking our working Helium 10 coupon to save extra bucks on Helium 10.
So without further ado, let's get straight to the list.
Top 7 Helium 10 Alternatives: In A Nutshell (2023)
Here we're going to do a quick review of these Helium 10 alternatives so that you can have detailed insights into them.
| | | | |
| --- | --- | --- | --- |
| S.No. | Helium 10 Alternative | Price | Best Feature |
| 1. | Jungle Scout | $49/month | Product and keyword research |
| 2. | Viral Launch | $69/month | Best for small and medium-sized businesses |
| 3. | AMZ Scout | $29/month | Best for beginners with low budget |
| 4. | SellerLabs | $39/month | Complete suite with affordable options |
| 5. | SixLeaf | $47/month | Growing businesses |
| 6. | Sellics | $250/month | Advertising manager |
| 7. | Teikametrics | $59/month | AI-based planning and forecasting tool |
1. Jungle Scout — The #1 Alternative to Helium 10
As per our experience with Jungle Scout, we'll say it's the best alternative to Helium 10. The thing is, Jungle Scout comes with all set of tools that helps start, scale and grow as an Amazon seller.
Related Read: We have already done a detailed comparison of Jungle Scout vs Helium 10 here.
Compared to Helium 10, Jungle Scout comes with an all-in-one tool for Amazon Sellers. No matter where you're in your seller journey, Jungle Scout has a one-stop solution for you.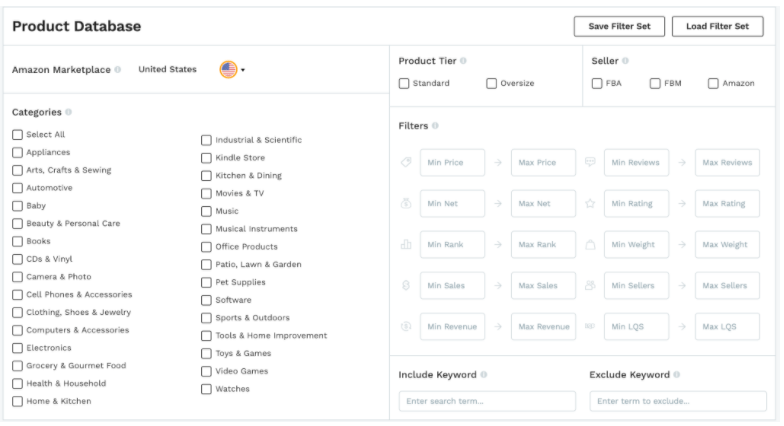 Jungle Scout helps you from product research to product launch, and they have different tools available. The interface of Jungle Scout is pretty simple; you can follow the given module to get started. With Jungle Scout, you can start with Product Database >>Product Tracker >> Supplier Database >> Keyword Scout >> Sales Analytics >> Inventory Manager.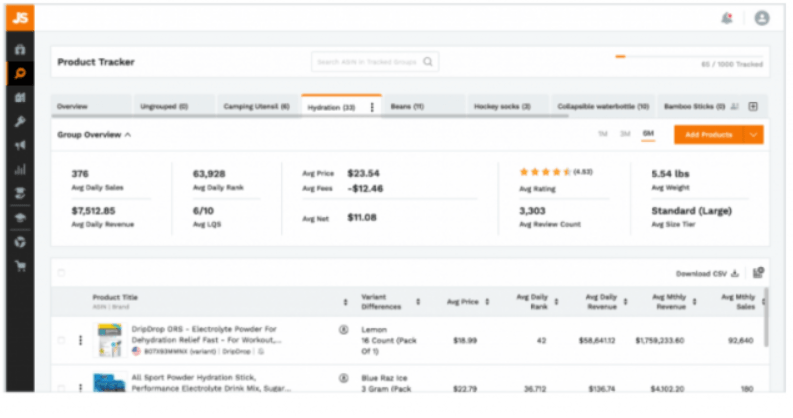 Overall, Jungle Scout is a robust alternative to Jungle Scout; it has all the tools that you will need to grow and scale as an Amazon seller.
Price: The pricing plans of Jungle Scout are flexible. The Basic Plan of Jungle Scout costs $49/month. We have listed a working Jungle Scout discount code to save upto 40% off.
---
2. Viral Launch
Viral Launch is a well-known Amazon seller tool with robust tools and features. Needless to say, Viral Launch is another reliable alternative to Viral Launch. Even the founder of the tool is a former six-figure Amazon seller, and they market it as a "complete suite of tools for Amazon sellers."
Related Read: We have already done a detailed comparison of Helium 10 vs Viral Launch here.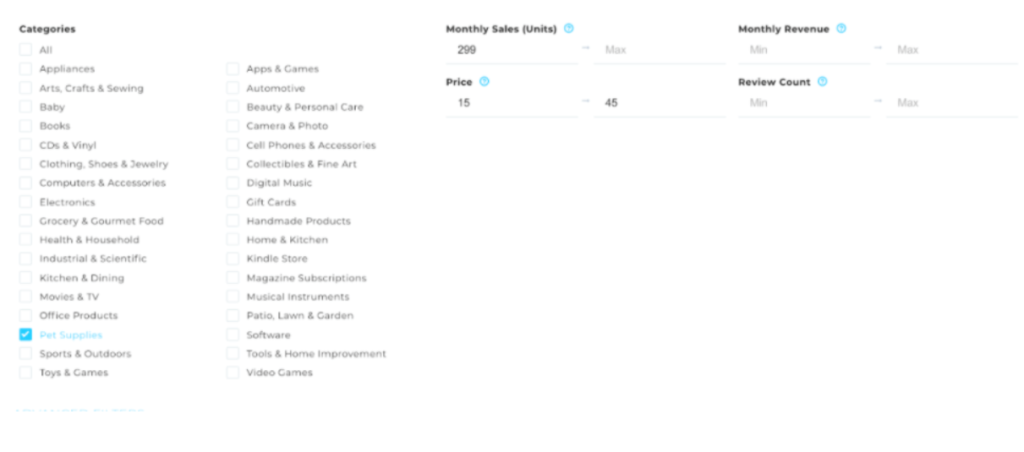 When we compared Viral Launch to Helium 10, we found, Viral Launch comes with robust features. Such as they have the most advanced competitor intelligence tool. What's more, Viral Launch will help you with — competitors analysis, product research, listing management, and powerful analytics. Helium 10 has one of the best keyword research modules available out there.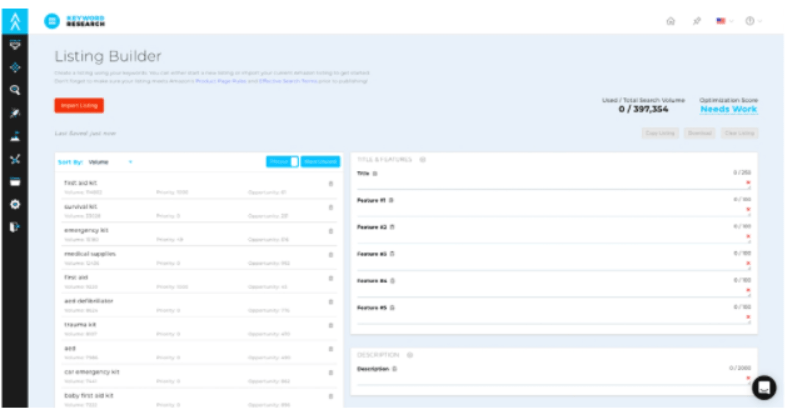 Also, the product research tool of Viral Launch has the edge over the Helium 10 product research. Coming to data accuracy and metrics, Viral Launch has a better edge over Helium 10.
What's more, the interface of Viral Launch is simple so anyone with little knowledge can get started with it.
Price: The Essential plan of this tool starts at $69/mo, which comes with all essential and advanced features. You can make use of the working Viral Launch coupon to save a few extra bucks.
---
3. AMZ Scout
No doubt, AMZ Scout is one of the finest Amazon seller tools with a flexible pricing structure. When comparing Helium 10 with AMZ Scout, we haven't found that much difference. However, the AMZ Scout product research module is more robust than Helium 10.
AMZ Scout mainly comes with a complete set of tools that help you start selling on Amazon. It also helps you locate and find suppliers of the products from finding profitable products to sell. Once you find the supplier, you can conduct keyword research and launch the product listing.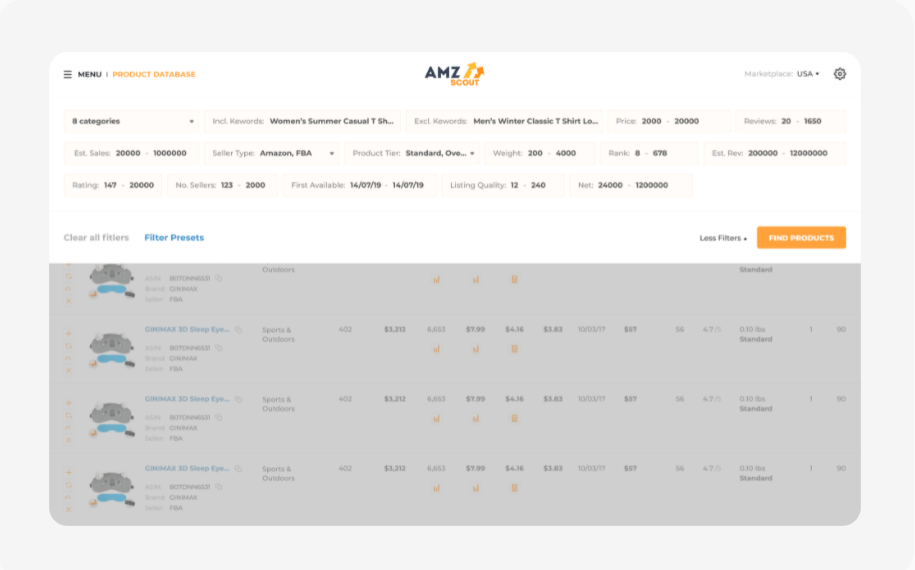 Like Helium 10, AMZ Scout also offers a reliable Chrome Extension. Using the AMZ Scout chrome extension, you can research with flexibility. In addition to this, AMZ Scout also provides in-depth resources you can use if you're a beginner seller on Amazon.
Price: The Amazon seller bundle of this tool costs $29/month with all the essential features of AMZ Scout.
---
4. Sellerlabs (Complete Suite of Tools for Amazon Sellers)
Sellerlabs is a hub where you find tools and services for selling on Amazon. With Sellerlabs, you can easily and effectively manage all your Amazon selling business. It has robust software that helps you start, manage and grow your business.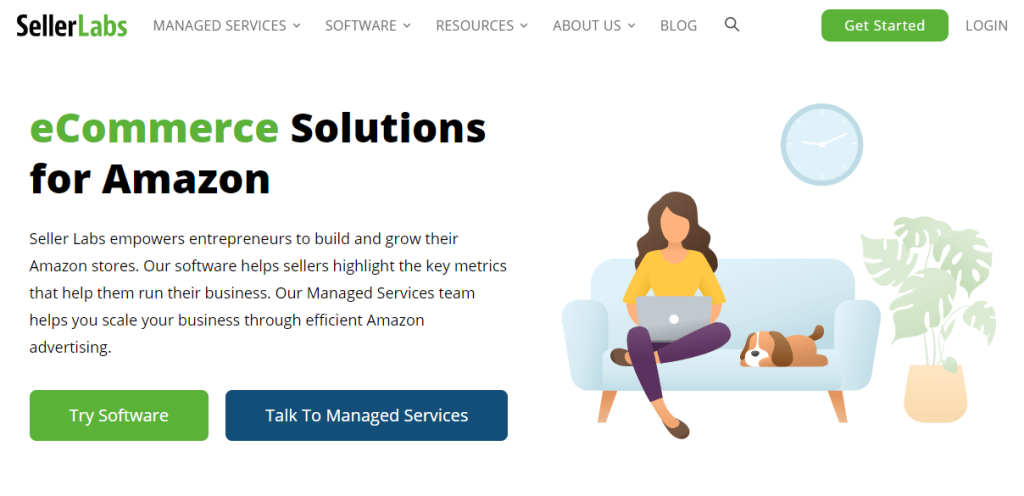 Compared to Helium 10, Sellerlabs comes with an easy and intuitive dashboard. Yes, from the dashboard itself, you can manage all the stuff easily. Just like the Kinetic tool of Helium 10, Sellerlabs also offers a robust — Amazon PPC Advertising module.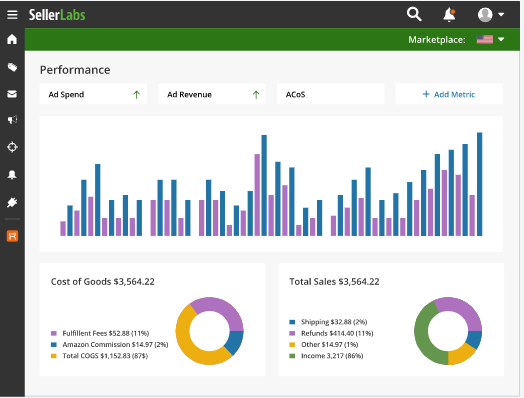 Some of the standalone features of Sellerlabs are the Amazon seller dashboard, PPC advertising, product reviews, Amazon keywords, real-time business notifications, etc.
Overall, if you're looking for a reliable yet affordable alternative to Helium 10, Sellerlabs is worth a try.
Price: Sellerlabs annual plan costs $39/month if paid annually.
---
5. Sixleaf – Formerly ASINpector
Sixleaf is another reliable alternative to Helium 10. In fact, it's the complete alternative to Helium 10. The best part about Sixleaf it comes with all the essential and advanced tools you need to scale your selling on Amazon business.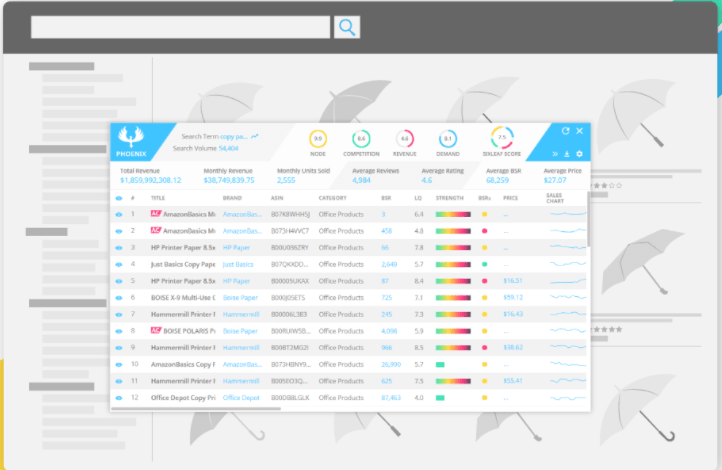 What's more, Sixleaf helps you with various aspects such as — finding products, doing keyword research, product launch, URL creator, inventory protection, and more. It also comes with some advanced features such as — ASIN metrics, automated validation of the order, profit forecast, etc.
Like Helium 10, SixLeaf also comes with a robust chrome extension that helps you research on the go.
Price: The Acron plan of Sixleaf costs around $47/month. You can check plans on the official site of Sixleaf.
---
6. Sellics (Perpetua)
Sellics, currently known as Perpetua, is an all-in-one analytics and optimization tool for Amazon sellers. Compared to Helium 10, it is more beginner-centric and user-friendly. Like other tools, it can also help sellers build a successful eCommerce business from scratch. It also provides sellers with advanced tool access that improves their online presence and helps them stay ahead of the competition.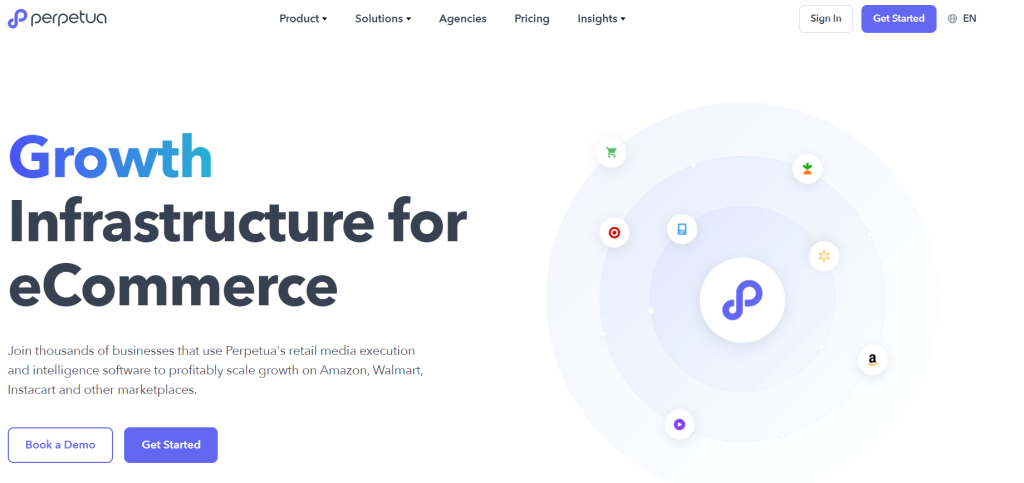 Since Sellics mainly focuses on providing advertising solutions to Amazon sellers, you can up your PPC game with its exceptional automation features. Its competitor analysis tool lets you sneak into your competitors' advertised listings and help you fetch juicy keywords for bidding. This feature allows you to analyze your total advertising cost of sales (TACoS) and gives you full control over advertisement expenditure.
Apart from that, it also provides access to the Customer Review Management and Negative Review Alerts tools which Helium 10 lacks. If you are targeting the Buy Box, it can give you an edge over your competitors. However, new pricing can be a little overwhelming for new sellers.
Price: The Starter plan of Sellics starts at $250/month, and other plans are tailored according to business sizes. All plans include every eCommerce features you need to run and grow an Amazon store.
---
7. Teikametrics
Teikametrics is an AI-powered Amazon seller tool that offers one-stop solutions to sellers so they can manage various aspects of selling on Amazon. The platform provides an extensive database containing ASINs and profitable keywords that helps seller optimize their listing to increase their product's ranking on the search results page. Sellers can also use these data points and the powerful tools of Teikametrics to set up effective PPC campaigns to promote their products.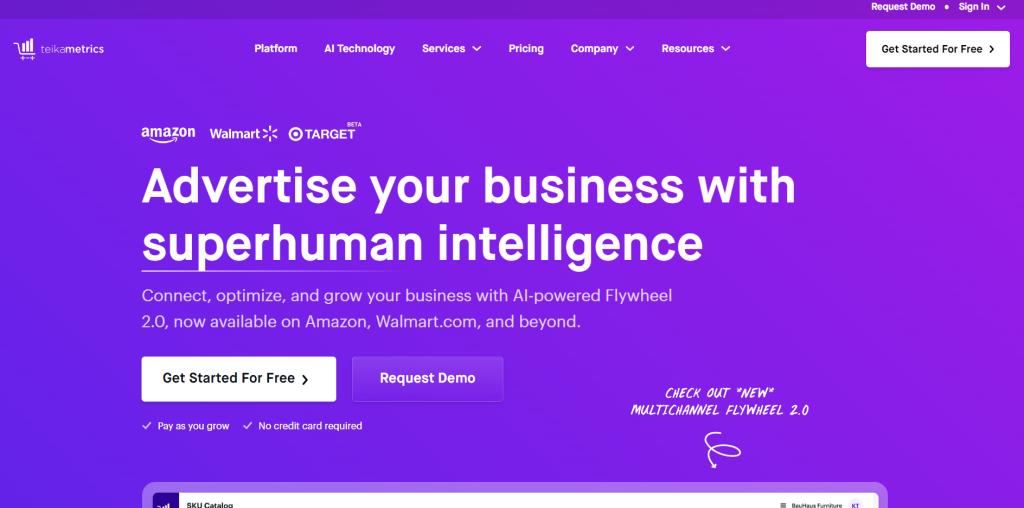 Most of the Teikametrics tools run on AI and top-notch machine-learning techniques, which allow users to manage various aspects with human-like automation. Tools like sales management and keyword automation eliminate sellers from executing time-consuming operations. In terms of trend finder, profit estimation, and listing creation, many sellers prefer Teikametrics over Helium 10 since it offers better automation tools. You will also find crucial features like SEO management with Teikametrics that Helium 10 lacks.
In addition, the platform helps sellers to manage their ad spending by giving them access to tools like budget planning and forecasting. Its Profit Dashboard allows you to track revenue, costs, and profits in real time.
Price: The premium plan of Teikametrics starts at $59/month. First-time users can get a 30-day free trial to check all its features.
---
Conclusion: Best Helium 10 Alternatives (2023)
So this is the complete list of the best alternatives to Helium 10. You can choose any tools listed above — based on your needs and requirements.
The #1 alternative to Helium 10 is undoubted — Jungle Scout. The best part is that Jungle Scout comes with an easy interface that allows you to navigate through all the tools easily. Also, it offers more tools compared to Helium 10.
Now over to you, which tool will you choose from the above list? Feel free to share your thoughts in the comments section below.
Frequently Asked Questions
Which is the best Helium 10 alternative?
After testing all the top players in the e-commerce market and writing comparison articles for each, I think Jungle scout is the best Helium 10 alternative as of 2023.
How much does Helium 10 cost?
Helium 10's plans start from $99 and range to $2499. You can save big on these plans with our Helium 10 Coupon Code.