When you have an old furniture or electronic appliance to sell or buy a used one, the Facebook marketplace is what comes to mind. But many are unaware of How to sell on the Facebook Marketplace.
Today, Facebook Marketplace has exploded in popularity as a way for everyday people to buy and sell items locally. With access to over 2.5 billion active Facebook users every month, sellers have an incredible opportunity to turn clutter into cash through the app.
But successfully selling on Facebook Marketplace takes more than just creating a basic listing and waiting for responses. You need attractive listings, fair prices, solid buyer communication, and a streamlined process to make sales happen.
You will learn everything in detail through this guide on how to successfully sell on Facebook Marketplace. You'll learn:
What Facebook Marketplace is and how it works
Who can sell items on Marketplace
Step-by-step instructions for listing your first item
Tips for sourcing high-quality inventory
How to write effective listings that convert browsers into buyers
Strategies for marketing your listings to interested buyers
Best practices for providing 5-star customer service
The types of items that sell best on the Marketplace
Common questions sellers have about Marketplace
So to make some extra cash from unused items around your home, this guide will help you.
What Is Facebook Marketplace?
Facebook Marketplace is a section within the Facebook app that allows users to browse and purchase items for sale nearby. Introduced in October 2016, Marketplace has grown rapidly as a convenient way for people to buy and sell goods locally.
Marketplace lets sellers list items for sale in a variety of categories, including vehicles, furniture, clothing, electronics, and more. Listings contain photos, descriptions, prices, locations, and seller information. Buyers can browse listings, message sellers, and arrange to meet up locally to complete transactions.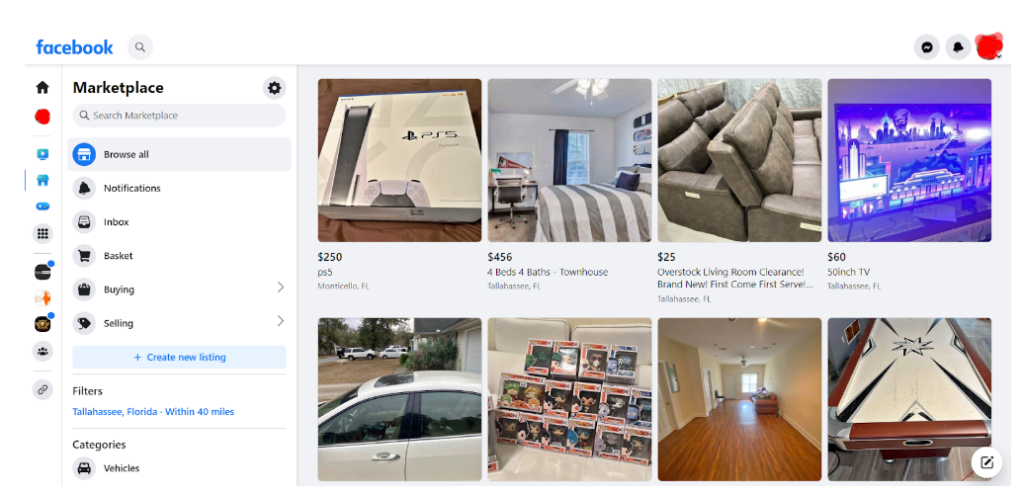 Unlike sites like Craigslist, Facebook Marketplace is tightly integrated with users' Facebook accounts, profiles, and networks. This allows buyers and sellers to view each other's profiles and make more informed decisions about who they are dealing with.
Who Can Sell On Facebook Marketplace?
One of the best things about Facebook Marketplace is that anyone with a Facebook account can use it to buy and sell items locally. You don't need a business account or seller fees to get started.
To sell on Marketplace, you'll need:
An active personal Facebook account in good standing. Business pages cannot access Marketplace.
To be at least 18 years old. Facebook requires sellers to be adults.
To enable location services so items show up for nearby buyers.
To agree to Facebook's Commerce Policies, which prohibit illegal and restricted items.
That's it! Once your profile is set up, you can start listing items for sale in just a few taps. Facebook designed Marketplace to be simple and accessible to everyday users.
How To Sell on Facebook Marketplace?
Selling items on Facebook Marketplace is free and easy to do right from the Facebook app. Follow these steps to get your first item listed:
Step 1. Create A Facebook Account
If you don't already have one, sign up for a personal Facebook account using your real name and identity.
Fill out your profile completely, including profile and cover photos, work and education history, and interests. This helps build trust with potential buyers who will view your profile.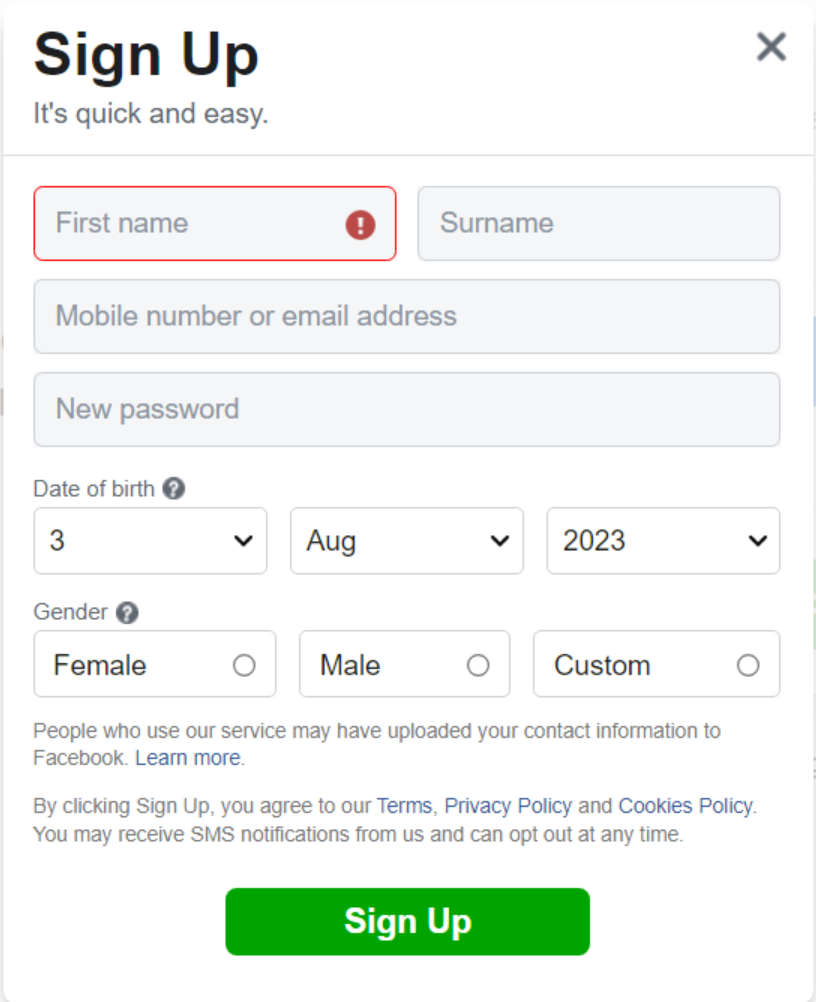 Note: It would be better if you use a Facebook account that already has engaged with a lot of potential customers. With a new account, it would be hard to convince new customers to buy from you.
Step 2. Decide On A Niche To Sell Products in
Consider categories that match your interests, knowledge, or current possessions. Great niche options include: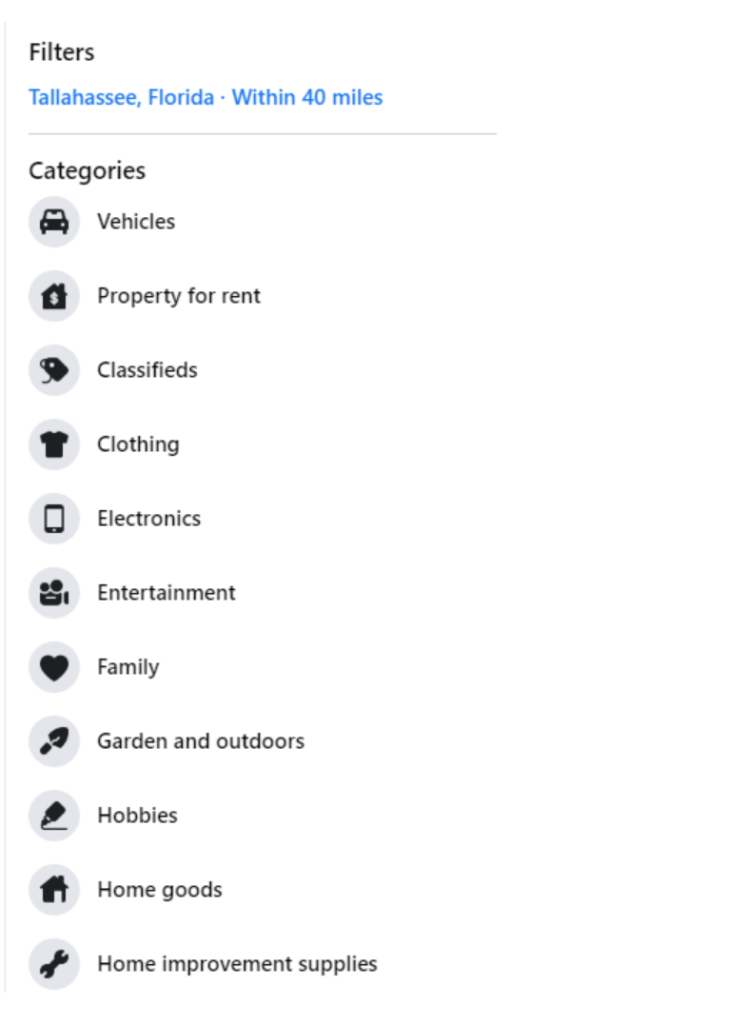 Clothing & accessories like women's fashion, kids' clothes, and men's shoes
Home goods like furniture, artwork, kitchenware, vintage decor
Toys & games like board games, video games, dolls, puzzles
Media items like books, records, DVDs, CDs
Handmade crafts like jewelry, candles, soap, paintings
Sporting goods like golf clubs, bicycles, tennis rackets
Auto parts like tires, car stereo equipment, hubcaps
Choose a niche you're passionate about and have access to quality inventory in. This makes the selling process much easier.
Step 3. Conduct Thorough Product Research
Analyze Marketplace listings in your chosen niche to identify popular brands, item conditions, pricing, keywords, and other details. Make notes on what sells well and for how much. Search sold listings to see historical sales data. This research will inform what to look for when sourcing valuable inventory.
Step 4. Source High-Quality Inventory
Build up your inventory using methods like:
Yard/garage sales: Arrive early and scan for valuable niche items. Negotiate deals on multiple pieces.
Thrift stores: Search shelves meticulously for hidden gems. Inspect items closely for defects.
Wholesalers or liquidators: Research reputable companies to buy new or used inventory in bulk.
Your home: Sort through closets, attic, and garage for unused niche items in great shape.
Facebook groups: Join local groups and watch for people selling related items.
Focus on obtaining high-quality items in your niche that are in very good condition and offered at great prices. Original packaging and accessories add value. If you want to boost your sales.
Also, Check our detailed How To Sell On Amazon Without Inventory guide here.
Step 5. Create Appealing And Detailed Listings
In the Facebook Marketplace tab, tap "Create New Listing," then select the appropriate category for your item. Add an eye-catching main photo showing the condition and details. Include 8-10 photos from all angles.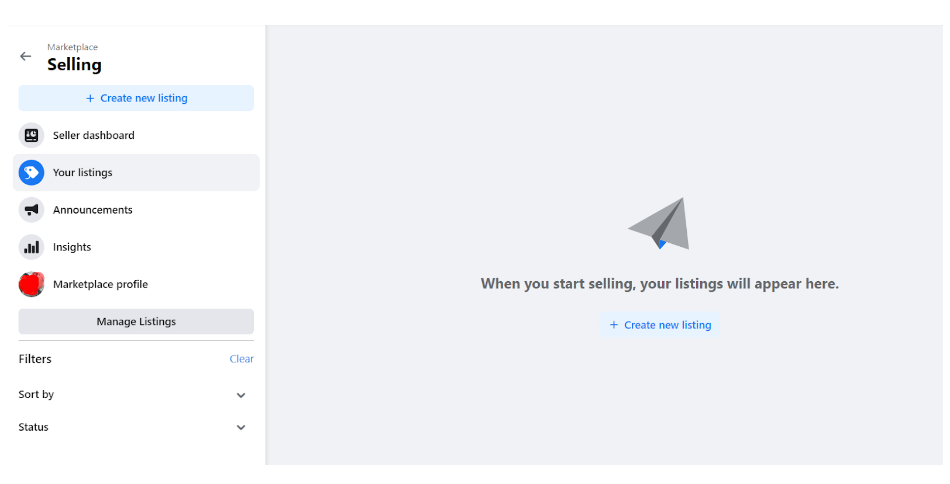 Write a detailed description covering the condition, model name/number, dimensions, materials, damage, original price, age, etc. Check for typos! Hence this helps to build trust.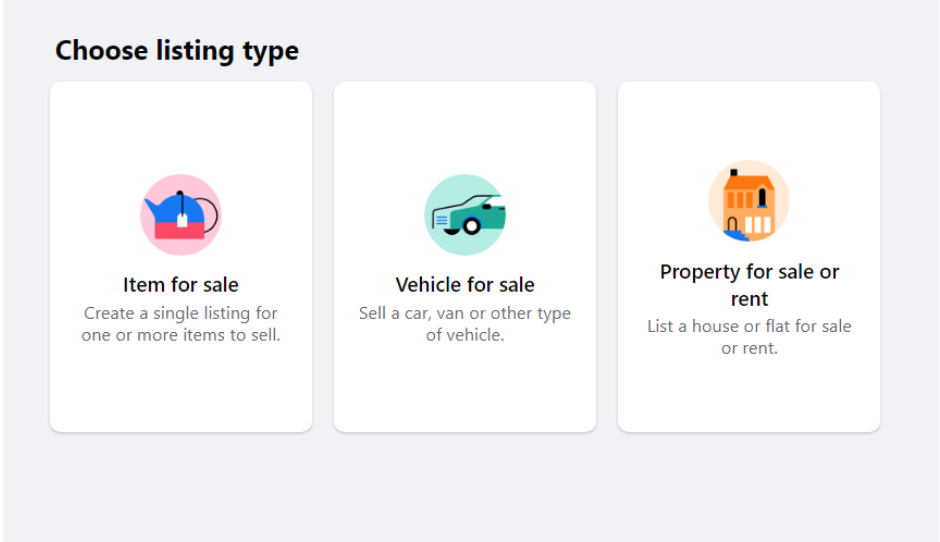 Price items competitively based on your research. Higher-value items can guarantee higher prices. Enable delivery options if you plan to ship items.
Step 6. Market Your Listings Effectively
Get more visibility on your Marketplace listings by:
Sharing listings to your profile feed so friends see them
Posting in relevant local Facebook groups with large memberships
Creating Facebook ads targeting buyers interested in your niche
Cross-promoting on Instagram and Craigslist
Sending messages to friends you think may be interested
Refresh old listings frequently so they show up as "new" again in Marketplace. Respond to inquiries within an hour when possible.
What Type Of Products Can You Sell On Facebook Marketplace?
One of the best aspects of Facebook Marketplace is the huge range of products you can buy and sell. Typical categories include:
Vehicles – Cars, trucks, motorcycles, RVs, boats
Housing – Apartments, rooms, office space, parking spots
Furniture – Tables, couches, desks, shelves, beds, chairs
Clothing & Accessories – Men's, women's, children's clothing, shoes, jewelry
Electronics – Cell phones, computers, TVs, video games, cameras
Home Items – Decor, kitchenware, artwork, lamps, bedding, appliances
Sporting Goods – Bicycles, weights, treadmills, gear, hunting equipment
Toys & Games – Board games, video games, dolls, puzzles, playing cards
Media – Books, DVDs, music CDs, video games, records
Handmade Items – Crafts, jewelry, candles, soap, artwork, knitted goods
Auto Parts – Tires, doors, engines, stereo equipment, wheels
Musical Instruments – Guitars, drums, pianos, horns, woodwinds
The key is finding items in your niche that are high-value, unique, and in demand in your local area. With over 4 billion Facebook users, there's an audience for almost anything!
Best Tips For Selling On Facebook Marketplace
Succeeding on Facebook Marketplace means making your listings stand out and providing excellent customer service. Here are some top tips:
Take clear, well-lit photos: Great photos attract more interest than anything else. Show details and use natural lighting.
Write detailed descriptions: Don't skimp on listing descriptions. Include measurements, materials, damage details, model names/numbers, and more.
Price competitively: Check comparable listings to price yours fairly. Items priced too high won't sell.
Respond quickly: Answering buyer inquiries within a few hours or less will earn trust as quick response matters.
Meet locally & safely: Choose safe, public meeting spots. Many police stations have "safe trade" locations.
Get reviews: Ask happy buyers to leave you a nice review. This builds trust and credibility.
Share listings: Post your listings on your profile, in groups, on Instagram, etc., to reach more buyers.
Offer bundles: Package items together to increase average order value and save on shipping.
Provide great service: Be kind, honest, and helpful with buyers to get repeat business and referrals.
Related Read:
Conclusion: How To Sell On Facebook Marketplace (2023)
Selling on Facebook Marketplace provides an exciting opportunity to make money in your spare time. By following this guide, you now have the key strategies to set up a Marketplace seller account, source valuable inventory, create high-converting listings, promote your items effectively, deliver excellent customer service, and ultimately turn a profit.
The advantages of Marketplace are clear – zero seller fees, access to an enormous buyer base, and streamlined selling right within the Facebook app. As long as you offer unique, high-quality items at fair prices and provide a smooth transaction process, you can build a successful Marketplace business.
Don't let unused possessions or handmade products go to waste. Tap into the massive demand on Facebook Marketplace to supplement your income. With the right approach, you can connect with motivated buyers, earn 5-star reviews, and make consistent sales month after month.
Get started listing your first item today! Carefully review any questions or concerns from potential buyers, provide quick responses and fair deals, and exceed expectations to become a top-rated Marketplace seller.
FAQs
How much does it cost to sell on Facebook Marketplace?
Facebook Marketplace is completely free to use. You won't have to pay any fees or commissions.
How do I get paid when I make a sale?
All transactions are done directly between buyers and sellers. It accepts cash, check, Venmo, PayPal, or any other payment method you agree to.
Is a Facebook Shop required?
No, Facebook Shops are different from Marketplace. You can sell successfully on Marketplace without a Facebook Shop.
Do I have to ship items sold on Marketplace?
Most Marketplace transactions are local pick-up only. However, you can ship items if you arrange delivery with buyers.
Can businesses sell on Marketplace?
Facebook Marketplace is for personal accounts only. But some entrepreneurs do use their profiles to sell.
What if I have a problem with any buyer?
Attempt to resolve disputes amicably first. For serious issues, report them to Facebook as violations of Commerce Policies.