Are you looking for the best UK dropshipping suppliers? Don't look further, you are in the right place.
The UK is the sixth-largest economy in the world. It has a market-oriented economy with highly developed emerging markets. If you are going to start a dropshipping business in the UK, it is important to find a UK-based supplier so you can easily manage your business.
In this post, I have compiled a list of the top 10 UK dropshipping suppliers. This list includes a variety of different dropshipping suppliers, from general to those that specialize in specific niches. So whether you are looking for a supplier that dropships in clothing, furniture, or cosmetics, I have got you covered.
Let's get started.
Top 10 UK Dropshipping Suppliers: In A Nutshell (2023)
| | | |
| --- | --- | --- |
| S.No. | UK Dropshipping Supplier | Best Feature |
| 1. | Avasam | Offers over 120,000 dropshipping products in various categories |
| 2. | CJDropshipping | Multiple warehouses and fulfillment centers across the UK |
| 3. | Modalyst | Offers white-label and POD solutions |
| 4. | SourceLow | A global directory of verified suppliers |
| 5. | BrandsGateway | Millions of products from 120+ popular brands |
| 6. | Syncee | All-in-one marketplace for wholesaling and dropshipping |
| 7. | SaleHoo | A directory of over 8,000 vetted suppliers in the UK and US |
| 8. | DK Wholesale | One of the oldest and most trusted dropshipping suppliers in the UK |
| 9. | AW Dropship | Best place to source and dropship giftware |
| 10. | DSers | helps eCommerce businesses manage their inventory and shipping needs |
Here is the list of top UK-based dropshipping suppliers.
1. Avasam
Avasam is one of the best dropshipping suppliers in the UK. The platform features a vast source inventory from reliable UK-based suppliers that are fully vetted. Experts do the vetting procedure so you can ensure the best quality for your customers. Here you can find a variety of different product categories featuring over 120K products, so you are more likely to find anything to sell on your online store.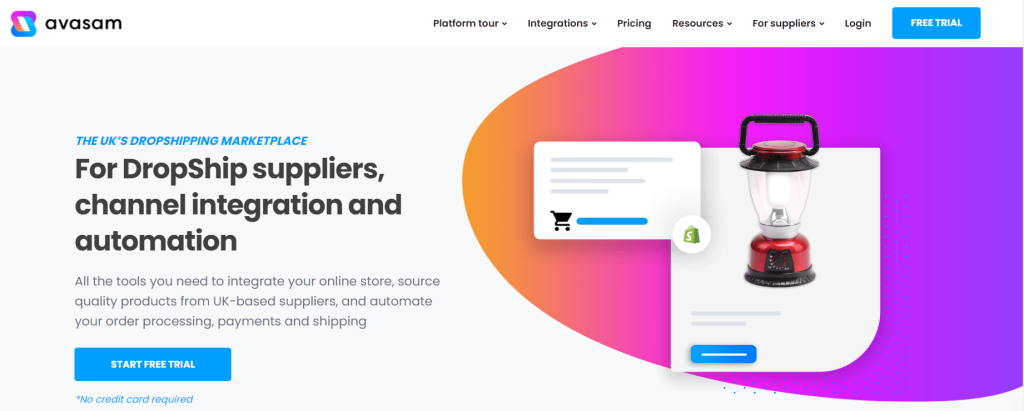 Most of the products on Avasam have a margin of 40%, which leaves opportunities for dropshipping, marketing, and advertising. Avasam also displays Recommended Retail Price (RRP) along with the price of the product, which makes it easier for dropshippers to estimate the final sale price. Avasam's integration possibilities and customer service are second to none. Since it only ships within the UK, the shipping time is only 1 to 3 days.
Key Features of Avasam
Reliable and fully vetted UK-based suppliers
High-profit margins
Order management automation
Integrates with 60+ eCommerce platforms and marketplaces
Multi-channel selling
24/7 customer support via email, live chat, and phone
Drawbacks
No shipping options outside the UK
You can't pay suppliers using PayPal.
2. CJDropshipping
CJDropshipping is one of the trusted suppliers that you can use to source products in the UK. It has multiple warehouses in Britain, which makes it possible to ship over 2,000 products globally for dropshipping store owners. This might seem like a lower number, but you can request a specific product, and the team will try to source that product for you.
Compared to other dropshipping suppliers, CJDropshipping has a combination of fast shipping, better rates, and eCommerce integration. Since most of the products are imported from China, you can also get wholesale options to increase your revenue stream. However, the navigation and user interface aren't that user-friendly for beginners. So they offer an onboarding guide to their users so they can easily set up their store and navigate properly.
Key Features of CJDropshipping
Multiple warehouses to source and ship products in the UK
Product sourcing request option
No monthly or set-up fee for browsing products
Integrates with almost all eCommerce platforms through API
Fast shipping via different carriers
Supports 25+ major payment gateways
Drawbacks
No certain return policy
Moderate customer service
3. Modalyst
Modalyst is a web and mobile app that offers advanced dropshipping tools to work with a particular eCommerce store. It is quite popular for offering the best dropshipping products in known brands such as Dolce & Gabbana, Calvin Klein, DSquare, and many others. Here you can find one of the best and fast shipping suppliers in the UK, US, and Europe. Apart from sourcing dropshipping products, you can also use its POD (Print-on-demand) service to order products printed with your design.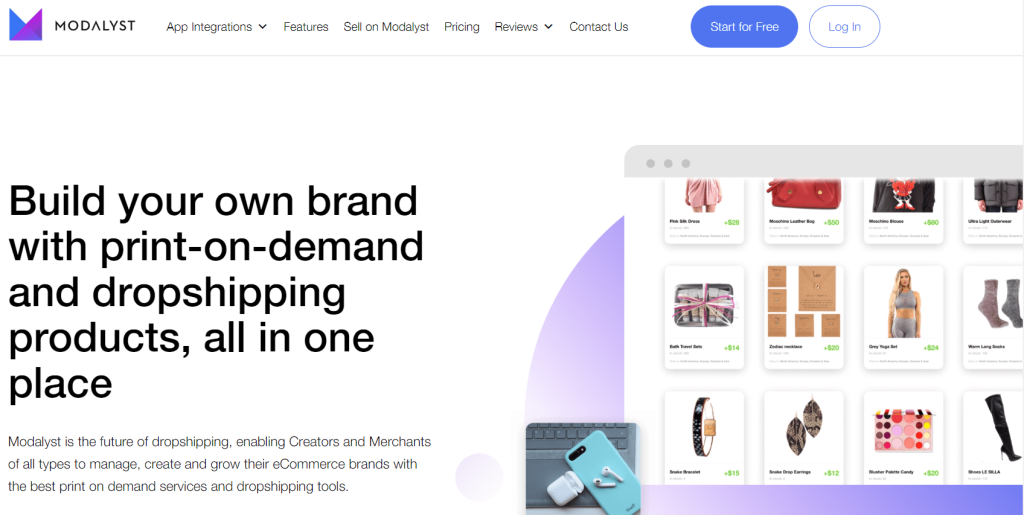 Modalyst offers one of the best automation services to its users. You can automate your entire business using its automation tools, from connecting to suppliers to tracking shipped orders. However, the platform runs on a membership model that starts at $35 per month. It does offer a free version, but you will be limited to selling only 25 products a month without access to automation features. And it also charges a 5% transaction fee with all available tiers.
Key Features of Modalyst
Millions of high-quality products for dropshipping
White-label and print-on-demand solutions
Automation tools available
Fast and free shipping options
Integrates with major eCommerce platforms
One-click product syncing
Drawbacks
A hefty transaction fee
Only limited products have cheaper pricing
4. SourceLow
Are you looking for a free-to-use dropshipping directory? Don't worry, SourcLow is here. It offers a free directory of trusted B2B suppliers in the UK, US, and China. The directory of SourceLow features a variety of wholesale, dropshipping, and print-on-demand suppliers, so you will never run out of options. The listed suppliers offer a range of high-quality yet low-cost products in various categories and niches, so you will always have something for everyone.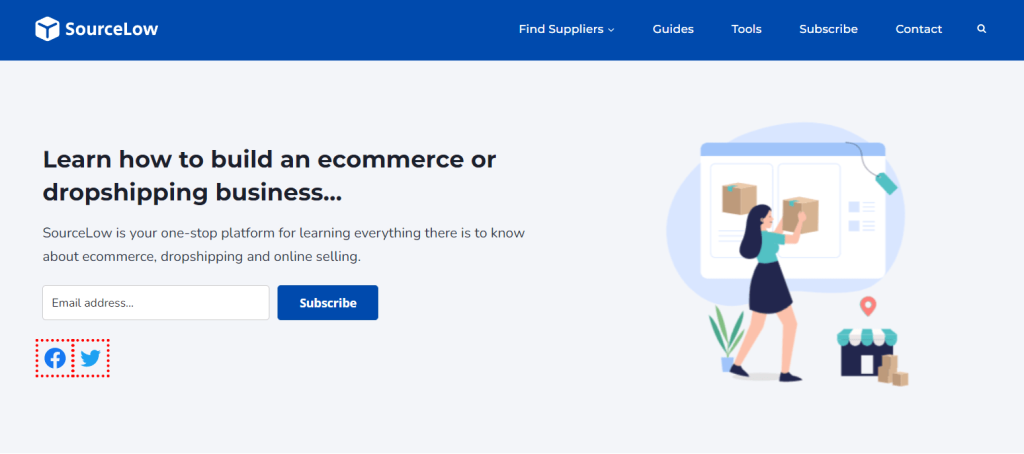 On SourceLow, you can use the search box to search for a specific product and niche to find suppliers in your nearby locations. Apart from that, you will also get access to a collection of tutorials, videos, and free guides on building and running a successful dropshipping business. After being fully vetted, the platform frequently adds new suppliers to the directory, so you can regularly check the website for new opportunities.
Key Features of SourceLow
Global directory of trusted suppliers
Completely free to use
Suppliers are fully vetted and verified before being added to the directory
Millions of products to choose from
Free access to tutorials and guides
Advanced search option
Drawbacks
Relatively small directory compared to others
Basic customer support
5. BrandsGateway
BrandsGateway is a well-known supplier that specializes in luxury accessories and clothing. The company is headquartered in Sweden and offers suppliers in various regions, including the UK. On the platform, you can get to choose from prestigious brands like D&G, Jimmy Choo, Versace, and Gucci for your dropshipping store. The platform offers 100% authenticity assurance so you can ensure customer satisfaction.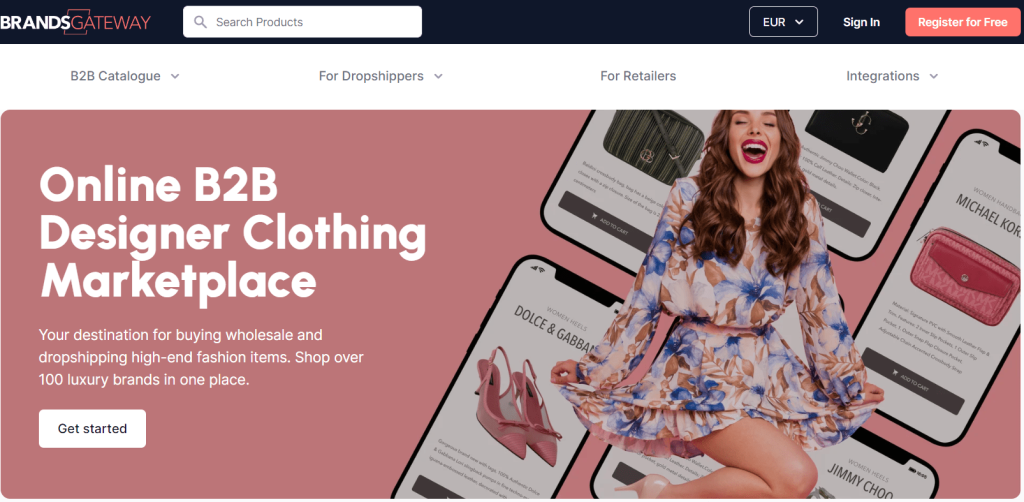 The best part of using BrandsGateway as your go-to dropshipping supplier, you can increase your profit margins to 2.5X higher than other platforms. However, in order to earn that much profit, you need to order products in bulk so you can get discounts on branded items. They own multiple warehouses in the UK, so it is easier to ship products fast and with the lowest shipping cost possible. It also offers a decent return policy to your customers without having you pay additional charges.
Key Features of BrandsGateway
High-quality products from 120+ known brands
No order quantities
Integrates with Shopify, Wix, and WooCommerce
Discounts of up to 60% on bulk purchases
14-day flexible return policy
Premium customer support
Drawbacks
An expensive platform for beginners
Products usually get out of stock
6. Syncee
Syncee is a renowned supplier that offers hundreds of thousands of products for dropshipping. It is more likely a marketplace that connects B2B buyers to verified suppliers from around the world, including the UK. The platform features most of the products in general categories such as houseware, kitchenware, beauty & health, garden ware, etc.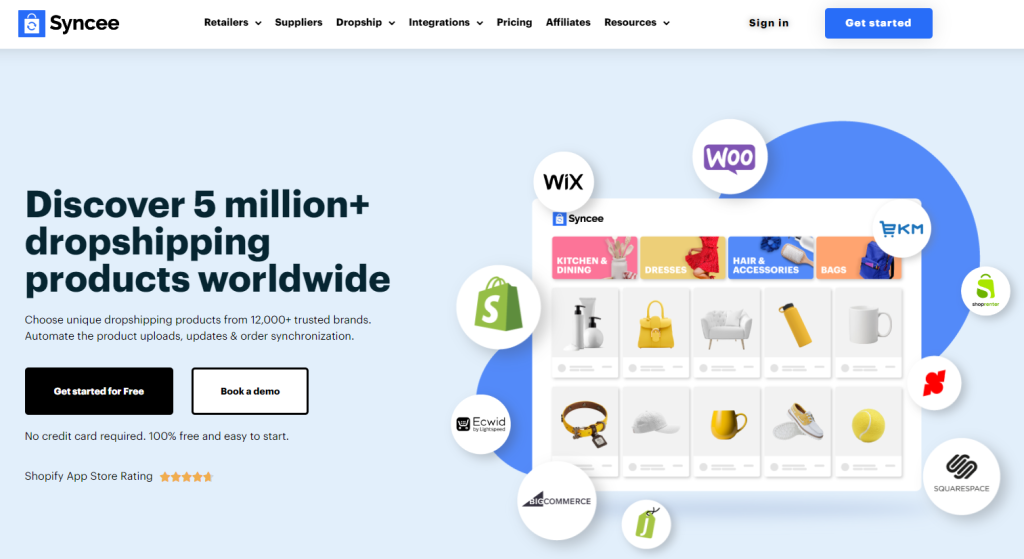 Syncee seamlessly integrates with 15+ eCommerce platforms, including the major ones like Shopify, WooCommerce, Ecwid, etc. After connecting your eCommerce store to Syncee, you can import top-selling products within a few clicks. You can also use its automation features for inventory management, profit calculation, and order management. You can also try all the features with the free version with limited access. 
Key Features of Syncee
All-in-one marketplace for dropshipping and wholesaling
Millions of products in major categories
One-click product importing
Integrates with major eCommerce platforms
Fully vetted suppliers from across the world
Fast shipping solutions
Drawbacks
Not suitable for selling on marketplaces such as Amazon and eBay
Complex navigation system
7. SaleHoo
SaleHoo is another directory of wholesale and dropshipping suppliers, but it runs on a membership model. It similarly works to SourceLow, but it features a much larger directory featuring more than 8,000 suppliers from across the globe – mostly located in Europe and the UK. Suppliers have listed almost 2.5 million products in various categories in general, sports, clothing, and boutique.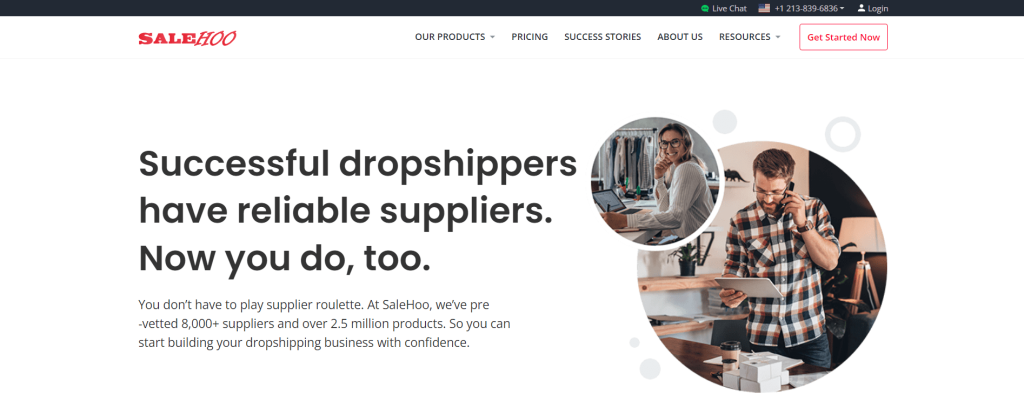 SaleHoo is not like other typical mediators that charge you for connecting to the suppliers. Instead, it lets you contact the supplier and source products directly, which means higher resale profits. Apart from that, you will also get access to exclusive SaleHoo Educate with the membership, which contains some inside knowledge of how to launch and scale an online store successfully. It also contains a few guides that will help you find profitable products on SaleHoo.
Key Features of SaleHoo
Over 2.5 million products to choose from
8,000+ dropshipping and wholesale suppliers 2
Suppliers are vetted and certified
100% satisfaction guarantee
Direct communication with the suppliers
Access to SaleHoo Educate
Drawbacks
You can't browse products without a membership
8. DK Wholesale
Established in 1983, DK Wholesale is one of the UK's leading distributors of domestic appliances, consumer electronics, and accessories from known brands such as Morphy Richards, Casio, Daewoo, Quest, and Swan. The name shows it is a wholesale company, but they have no minimum order quantity so that you can order your desired number of units.
DK Wholesale is a hub of branded and designer watches and clocks, so if you are interested in dropshipping watches, this would be the best place to source. The listed suppliers have a reputation for shipping products within the given timeframe. However, you may have to pay a hefty shipping fee if you want same-day delivery. On the bright side, you can take advantage of its Black Friday and Christmas deals to get up to 50% discount on listed products.
Key Features of DK Wholesale
35 years of experience in the dropshipping and wholesale industry
Thousands of products in electronics, appliances, and home accessories
A range of watches and clocks to choose from
No minimum order quantity
Flash sales and deals on various occasions
Owns multiple warehouses in the UK
Drawbacks
Charges a hefty shipping cost for a 1-day delivery option
Not many global shipping options
9. AW Dropship
If you are particularly looking for a dropshipping supplier of gifts, AW Dropship (Ancient Wisdom) is the best one you can find in the UK. It is basically a manufacturer and wholesaler of giftware, but It also allows suppliers to list their products for dropshipping purposes. The company has been manufacturing and sourcing products for buyers for almost 20 years, so you can ensure the quality by their reputation.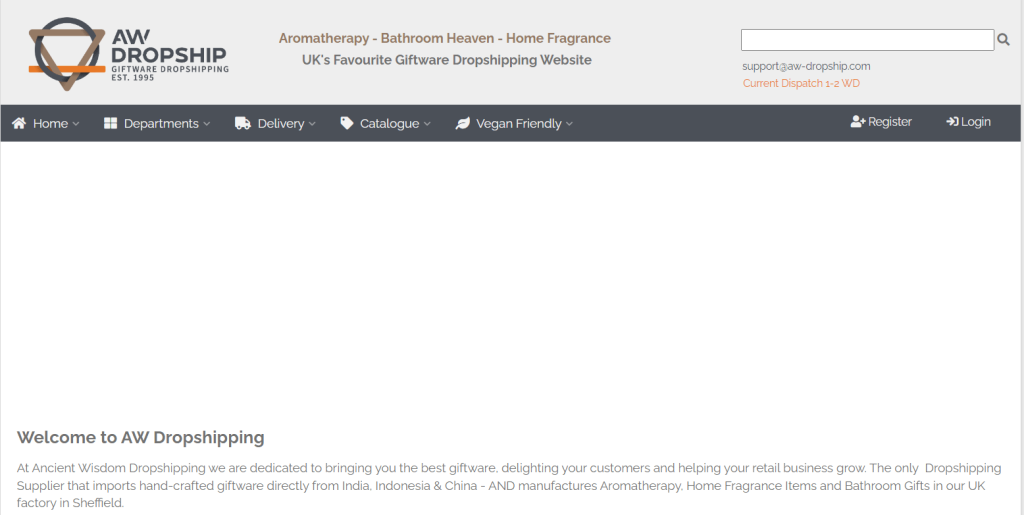 AW Dropship allows online sellers and small businesses to dropship a range of high-quality products with no minimum order quantity. They are allowed to contact the buyers directly. Most of the gift products are hand-made and directly imported from India, Nepal, Indonesia, and China. Apart from all the giftware, you can also source products in aromatherapy, bathroom gifts, and home fragrance that are manufactured in the UK.
Key Features of AW Dropship
More than 5000 unique products for dropshipping
Trades with only genuine suppliers
High-profit margins
Fast shipping solutions (same-day shipping is also available)
No membership required
Caters to any type of businesses
Drawbacks
10. DSers
DSers is a popular UK-based dropshipping supplier that offers a range of services to help eCommerce businesses manage their inventory and shipping needs. The platform is a popular dropshipping app integration option for eCommerce platforms such as Shopify, Wix, and WooCommerce, which makes it easy for businesses who want to automate their fulfillment process. With DSers, you can manage and process orders directly from your stores.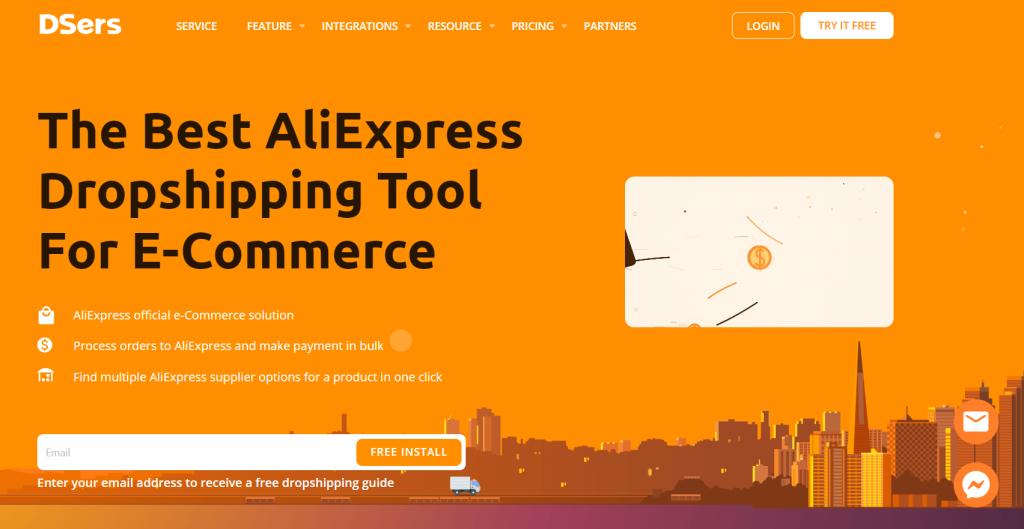 One of the key features of DSers is its ability to connect businesses with reliable suppliers from around the world. The tool enables sellers to source high-quality products at competitive pricing ranges. Additionally, the platform offers a range of tools and features to help businesses optimize their listings, manage inventory, and track their orders. The platform is also available as Android and iOS applications making it easy for users to manage their stores' processes on the go.
Key Features of DSers
Integration with top eCommerce platforms such as Shopify, Woocommerce, Wix, and Squarespace
Ability to connect businesses with vetted and verified suppliers from around the globe
Automate the order fulfillment process
14-day free trial for new users
Competitive pricing and discounts on bulk orders
Place orders to AliExpress suppliers
Drawbacks
Limited range of suppliers on its own platform (but you can integrate top supplier's directories)
Some features may not be suitable for businesses with high-volume orders
Related Read:
Conclusion: Best UK Dropshipping Suppliers (2023) 
So this is my handpicked list of the best dropshipping suppliers in the UK. You can find the best suppliers in specific niches and categories in this list. However, before choosing a supplier for your business, you should consider looking at a few points, such as their product selection, customer service, and minimum order quantities. If you're choosing a supplier that is located in the UK, try to make contact in person so you can easily check the quality of the products they are going to drop ship for you.
Owning a successful dropshipping business mainly depends on your supplier's trustworthiness and better customer service. So make sure to do proper research before partnering with one. This list contains one of the few platforms that offer reliable and trusted supplier directories in the UK. You can easily contact them to negotiate your prices as well.