Nowadays, eCommerce retailers have a number of opportunities for selling their goods online. Amazon and eBay, on the other hand, are two platforms that have been around for decades.
But, which one of the two is best for sellers?
It's a difficult question to answer because every marketplace has its own set of upsides and downsides. Amazon is presently the world's largest online retail marketplace, with eBay coming in third after Walmart. While sellers get access to a growing number of alternative marketplaces, these two shopping behemoths continue to outperform the competition.
Let's discuss more on how these online market giants are placed against one another!
Growth of Amazon and eBay
By gross merchandise value, Amazon and eBay are perhaps the largest and most trusted e-commerce marketplaces in the world. They may appear similar on the surface, but their growth paths have been drastically different. eBay has evolved much more slowly and remains a small company in comparison to Amazon. In 2020, eBay's GMV was only $100 billion, compared to Amazon's $475 billion ($295 billion of which came from third-party sellers).
About Amazon
Amazon is a multinational e-commerce company that offers digital content, online retail, consumer electronics, computer services, and other local services such as daily specials and foodstuffs. It was the largest e-retailer in America in 2021, with a net sale of almost $469.8 billion dollars. Most of the company's revenue comes from e-commerce sales of several products including electronics, tech gadgets, and more, as well as third-party subscription services, seller revenues, and AWS.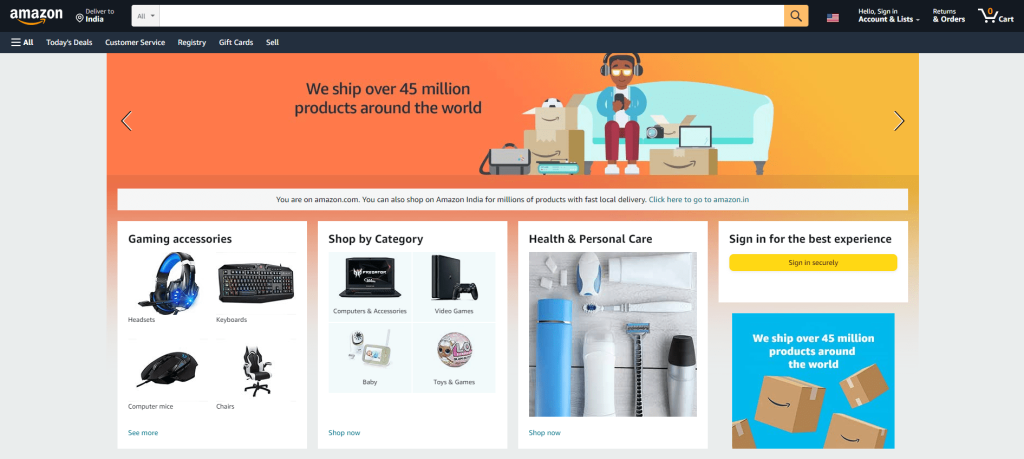 About eBay
eBay is one of the most reputed global eCommerce companies that specialize in consumer-to-consumer (C2C) online commerce. eBay is known for its auction system as well as its shopping website. The company helps individuals and companies across the globe to buy as well as sell a variety of goods and services. eBay's business involves "Buy it now" shopping options, online classified ads, and trading tickets for digital events. In 2021, the eBay market generated a total net revenue of $2,501 million, with the transaction fees accounting for the majority of this revenue.

Amazon vs eBay: Key Differences
As you must be well aware, Amazon and eBay are two of the most trusted and profitable marketplaces in the world. But they still possess features that set them apart from one another. Let me discuss with you some of the key aspects that differentiate them.
Market Size
Here we are going to compare the market size of these two e-commerce platforms.
Amazon's Market Size
In 2019, Amazon's customer base accounted for about 14% of the global eCommerce retail market. This translates to a huge 40% market share in the USA. Also, in terms of actual traffic, the company received about 2.5 billion visits from both mobiles as well as devices in May 2021. Furthermore, over 40% of households in the states have registered for Amazon Prime services, which is their premium subscription program. 
eBay's Market Size
eBay holds up about 5% market share of the US eCommerce industry. They are placed third behind only Amazon and Walmart, the latter covering about 7% of the market share. eBay is used on a monthly basis by around 167 million people. These people are particularly choosy, opting to buy only from suppliers who have the best feedback ratings.
Competitiveness
In this section, we will compare the competitiveness of Amazon and eBay.
Amazon's Competitiveness
Amazon functions around a product catalog. The goal here is to provide a single listing for every unique product. This implies that regardless of the number of people selling a product, a client looking for it will, in theory, be directed to the best possible result. Only after you navigate to the product page will more potential sellers appear.
eBay's Competitiveness
eBay's origins as an auctioned platform are reflected in the ability for customers to compare multiple listings for the same product. Some will be new, while others will be used, a few will be in better condition than others, and the majority will have various delivery options.
Further, because of eBay's auction capability, your continued item listings will allow you to compete with others who are currently available to purchase for fixed prices. This ensures that eBay sellers have a much smarter and more detailed eBay purchasing experience.
Fulfillment Options
Let's take a look at the fulfillment options of Amazon and eBay.
Amazon's Fulfillment Options
Fulfillment by Amazon (FBA) is a platform that allows users to store their items at an Amazon warehouse that is close to them. When a purchase is completed, Amazon will choose, pack, then ship on your behalf.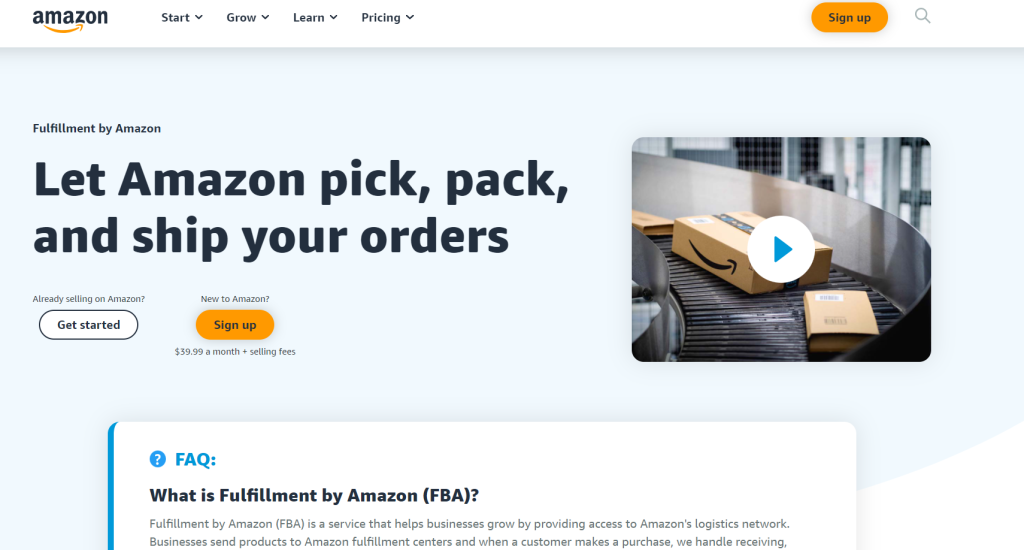 Customer service is handled by them, and they can even ship products sold through other channels. Yes, eBay is included. It's not the least expensive, but it gets you the Amazon Prime badge, which moves you further to the Buy Box.
SFP (Seller Fulfilled Prime) is a less expensive option. Despite the fact that you deliver through your own facilities, you are still eligible for the Amazon Prime label.
eBay's Fulfillment Options
Domestic sellers currently have no access to eBay's shipping and fulfillment services. It does, however, have a Global Shipping Program, that I will discuss later. You are currently responsible for selecting, packaging, and shipping your individual items if you are selling on eBay to people in your own country. If you are willing to take damage to your business margins, there have been lots of service providers who will do it for you.
It could be a significant key barrier for first-time sellers. It's evident that trying to set up shipment and fulfillment from scratch without platform support is expensive.
Seller Fees
Check out the seller fees of eBay and Amazon in this section.
Amazon's Seller Fees
Professional Seller certification charges a fee, along with a referral charge per unit sold. If you use FBA, this can be considered an extra voluntary seller cost. A Premium subscription for Sellers on Amazon costs $39.99 per month, which gives you instant access to 100,000 free listings, and much more if you continue to generate consistent sales.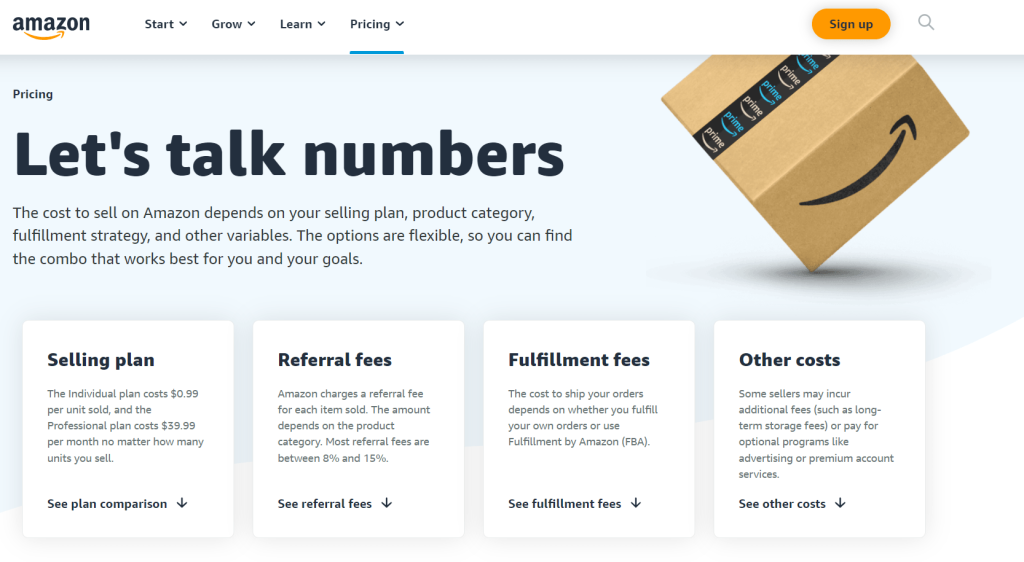 Amazon's referral fees vary greatly depending on the category. As a starting point, consider a 15% markup with a $0.30 minimum per item. You will also be charged a $1.80 closing fee for media products.
eBay's Seller Fees
On eBay, insertion fees are $0.35 per listing and category. You are entitled to a monthly listing allowance when you open an eBay Store. Basic Store costs $28 per month and will include 250 listings for free, with Anchor Store plans ranging from $28 to $350 per month.
The eBay final amount fee is calculated as a percentage of the product's price. The exact percentage varies depending on the product category, but it is typically around 10%.
PayPal service fees for eBay sales average 2.9% of the item's price plus a $0.30 flat fee. When eBay Managed Payments is implemented, sellers will no longer be reliant on PayPal and the fees that come with it.
Are Buyers Loyal to eBay or Amazon?
As you may see, the audiences of eBay and Amazon are different. There's no doubt that eBay and Amazon both have a large audience, but each platform caters to a distinct demographic!
Amazon
Selling on Amazon can be advantageous for you because the FBA option simplifies the logistics. The products are being shown to a big number of people in a short amount of time, which is difficult to understand.
Apart from that, selling items at a premium cost and in huge quantities on Amazon is rather straightforward. Amazon is a better alternative than eBay if satisfying strict restrictions isn't a key worry as much as a seller continues to deliver good sales.
eBay
One of eBay's most valued advantages is the increased flexibility to sellers. The design of product listings, shipping cost, and return policies are all completely under the hands of the seller. Moreover, the charge is less, allowing products to be available at more competitive pricing.
If a seller wants total control over how the goods are listed and the flexibility to create his or her own product limits, eBay is the finest choice.
Is it Easier To Sell On eBay or Amazon?
When it refers to listing your things, as well as selling and collecting payments, eBay is faster and easier. You may list in minutes, pick your listing format, and when your goods sell, the revenue from eBay purchasers will be deposited immediately into your PayPal account, which you can then physically withdraw when needed.
Amazon also accepts payments on your behalf, but they are held for 14 days before being sent to your bank account. It's a complex listing procedure, but it's still simple. Your product's simplicity of sale would also be a factor!
On Amazon, excellent products that appeal to a broad audience, such as new apparel, baby items, health and beauty products, nutritional supplements, exercise equipment, and toys, are popular.
Sellers can post used, unique, or uncommon things on eBay among cheaper alternatives of products with low margins but huge volume.
The big difference is that Amazon has the extra benefit of their FBA services, which take care of all the storage, packaging, and shipping for you, saving you a significant amount of time and work. There are, of course, additional costs.
Pros & Cons of selling on Amazon
Amazon is a beast, with millions of prospective customers, providing online retailers with a high-traffic potential. Amazon is a well-known online buying platform, and your goods may appear in recommended lists if you learn to categorize them.
Fees are a disadvantage, and unlike eBay, you don't develop any bond with the customers, and your goods and business are swallowed by Amazon, so you don't really get the chance to build a brand.
Pros:
High reach
A trustworthy platform for buyers
Your items can be listed under Amazon's recommended products.
More branding opportunities
Fulfillment services
Cons:
You cannot grow as a brand
Less visibility due to a large number of products.
High fees
Limited categories
Extra FBA charges
Difficulty in listing products
More competition
Pros & Cons of selling on eBay
Selling on eBay can be a simple way to make money from items you no longer use or to sell items you create. The majority of buyers and sellers are familiar with eBay, and the site's search engine makes it straightforward to know what you're looking for.
However, there are several downsides to using eBay rather than Amazon.
Pros:
Worldwide reach
It is easier to list
Setting up an eBay account is pretty easy
Less competition
Customer loyalty
Fewer category limitations
Cons:
Fees are charged, and fee structures may vary over time.
You'll have to compete with merchants who are similar to you.
If a consumer fails to pay, you run a high risk of not being paid for your goods.
Smaller audience
Buyers do not trust you
No fulfillment service.
High fees
Related Read:
Conclusion: Which Marketplace Should You Sell On In 2023?
Over the years, eBay has made it much easier to sell on its website by introducing a simpler system for determining the charge for things sold.
Amazon's pricing structure is a little more complex, with varying referrals as well as closing fees, the latter being determined by the weight of the product.
Customers can purchase directly from the Amazon website, and merchants can even have Amazon fulfill the purchase if they decide to keep it at one of Amazon's warehouses.
eBay now allows sellers to create more personalized listings and also have eBay personnel create listings for them.
When you trade on Amazon, you will get paid by having more money transferred straight into your bank account, whereas eBay still mostly uses PayPal. Furthermore, your customers pay you directly.