Are you looking forward to getting the Helium 10 free trial? Don't worry, I will help you get it with ease.
Helium 10 is a powerful Amazon seller tool that helps you with every step in your selling journey on Amazon. With Helium 10, you can find profitable products to sell on Amazon. Apart from that, you can also do keyword research, create & optimize product listing, analytics, and competitor research—all of these with a single Helium 10 subscription.
Luckily, Helium 10 offers a free trial that comes with limited access to almost all the advanced tools. You can use this free tool to test out all the available features and tools. We have also done a detailed Helium 10 Review for you to check out.
In this post, I am going to share a step-by-step guide that will help you claim the Helium 10 free trial. I have also included the features and pricing plans in case you need an upgrade after the trial.
Let's get started.
How to Claim Helium 10 Free Trial (Step-by-Step Guide)
Signing up for the Helium 10 free trial is a piece of cake. Follow these steps and get started with the Helium 10 free trial in no time.
Step 1. Visit Helium 10's official website. Or click here to redirect to the official page directly.
Step 2. Click on the Sign Up For Free option to start your free trial claiming process.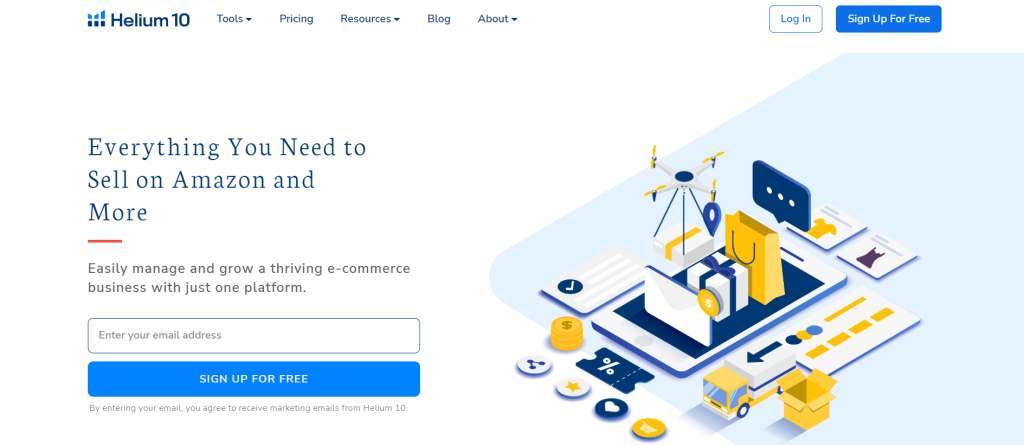 Step 3. Fill in your name and email address on the next page. Then create a strong password & check the privacy policy and terms & conditions. Click on the Sign-Up button to create a new Helium 10 account.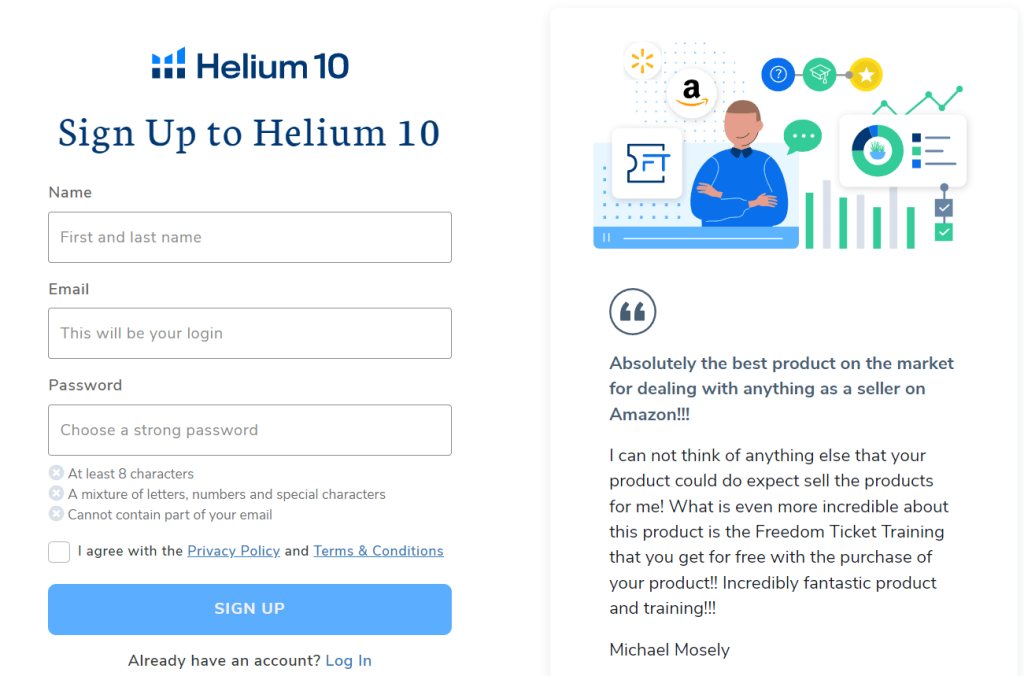 Step 4. Next, answer a few questions regarding your current Amazon business, and then click on Next.
Step 5. After that, you will be redirected to the Helium 10 dashboard. Now, you can simply connect to your Amazon store and start using the Helium 10 tools for absolutely free.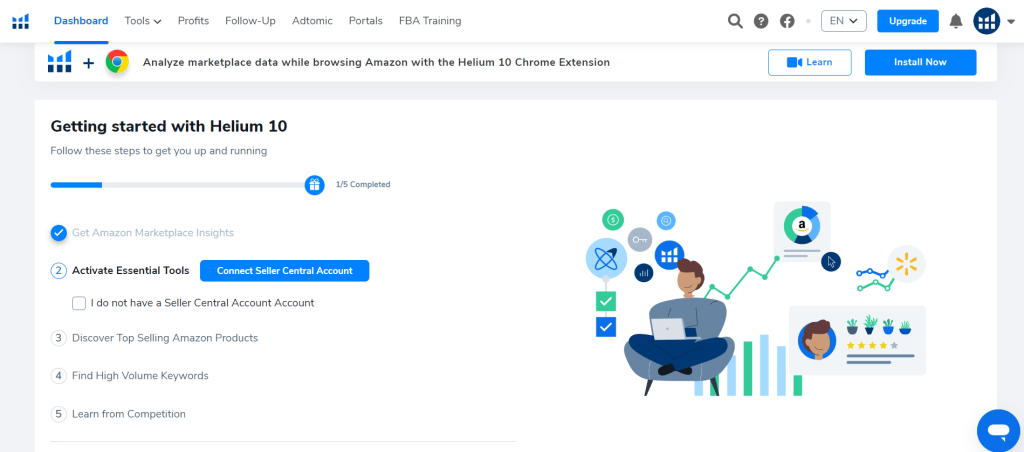 For more convenience, you can install the Helium 10 Chrome extension and use the tools while browsing Amazon product pages to explore product ranking, search volumes of various products, BSR (best sellers rank), and many more.
Note: Helium 10's free trial comes with lifetime access. However, it comes with a lot of restrictions and limited access. So if you ever decide to upgrade to a premium plan, you can find the Upgrade option at the top right corner of your dashboard. Choose your preferred plan and use Helium 10 like never before.
Helium 10 Pros & Cons
Here are the pros and cons of Helium 10:
Pros
Comprehensive suite of tools for product research, listings, rankings, and more
Filters and sorts product databases efficiently to identify opportunities
Keyword tracking provides search volume and competition data
Listing Score grades listings and suggests optimization improvements
Chrome extension allows quick access to Helium data while browsing
Index Checker monitors listings for rankings across keywords
Cons
Steep learning curve with many features to learn
Lots of data but can require effort to extract actionable insights
Ranking and sales estimate data are not always fully accurate
What will you get with the Helium 10 Free Trial?
Though the Helium 10 free trial comes with lifetime access, you will still have limited access to advanced tools. You will also be missing some premium features and benefits that are only available with a paid subscription.
Let's see what you will get with the Helium 10 free trial.
Black Box – Limited to 20 uses
Cerebro & Magnet – Only 2 uses per day (limited functionality)
Trendster, Frankenstein, Scribbles, & Profits – Free for first 30 days
Xray Chrome Extension – 50 launches
Inventory Protector and Misspellinator – Unlimited usage
Index Checker – 6 uses
Review Downloader – 100 views
Keyword Tracker – 20 keywords
Refund Genie – Limited views
Market Tracker – 1 market
Alerts – 2 ASINs
Here are the Helium 10 tools and features you will miss with the free version.
Freedom Ticket Course (Exclusive Amazon FBA seller course which is available with every paid plan)
Multi User Login (With paid plans, you can have multiple user access)
Portals (page builder tool)
Follow Up Email Automation (for marketing purposes)
Expert Training (monthly one-on-one training and seminars)
ADS (for PPC Campaigns)
Private Facebook Group
In-person Workshops
Only premium members can take advantage of these perks and training. By upgrading to a paid subscription, you can get access to these missing features and tools.
Helium 10 Pricing Plans:
Once you check out all the features of Helium 10 using the free trial, you might want to upgrade to a premium plan so you can unlock its full capability. Currently, Helium 10 offers four plans to its users. Compare these plans and choose what is best for your business. You can also check an exclusive coupon on Helium 10.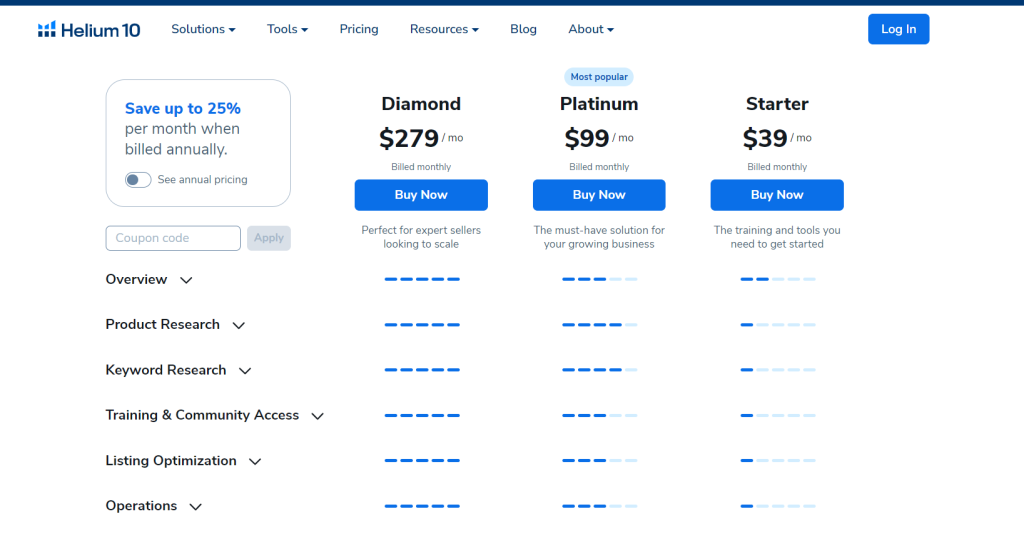 Starter Plan – $39/month or $348/year
2 Connected seller accounts
1 User
Access to Xray
Limited access to Cerebro and Magnet tools
Access to Freedom Ticket Course
Set up alerts for 2 products
Market Tracker for 1 Market
Platinum Plan – $99/month or $948/year
Everything from the Starter Plan
Track 20 products and 500 keywords
Access to Black Box and Xray
Access to Magnet and Cerebro
50 Uses of Listing Analyzer
20 Products Alerts and 5,000 Emails
Market Tracker For 3 Markets
Diamond Plan – $279/month or $2748/year
Everything from the Platinum Plan
Track 200 products and 2500 keywords
5 Users
Advanced Brand Analytics
Insights & Recommendations
Business Valuation
Listing Optimization
Keyword Sales
Elite – $399/month
The Elite plan is not for regular Amazon sellers. It is tailored for advanced sellers with years of experience.
All the Diamond plan features
Monthly online training with industry experts
In-person workshops quarterly
Access to the private Facebook group
If you purchase a yearly subscription to the Starter, Platinum, or Diamond plans, you can get up to a 25% discount on monthly plans. And all the plans come with an unconditional 7-day money-back guarantee. So if you think the plan isn't the right fit for your business, you can contact Helium 10 customer support within seven days of purchase to get a full refund.
Helium 10 Add-Ons
Helium 10 has three add-ons that you can buy with any subscription plan. These add-ons can enhance your subscription and help you take your business to the next level. Here is a brief overview of those add-ons: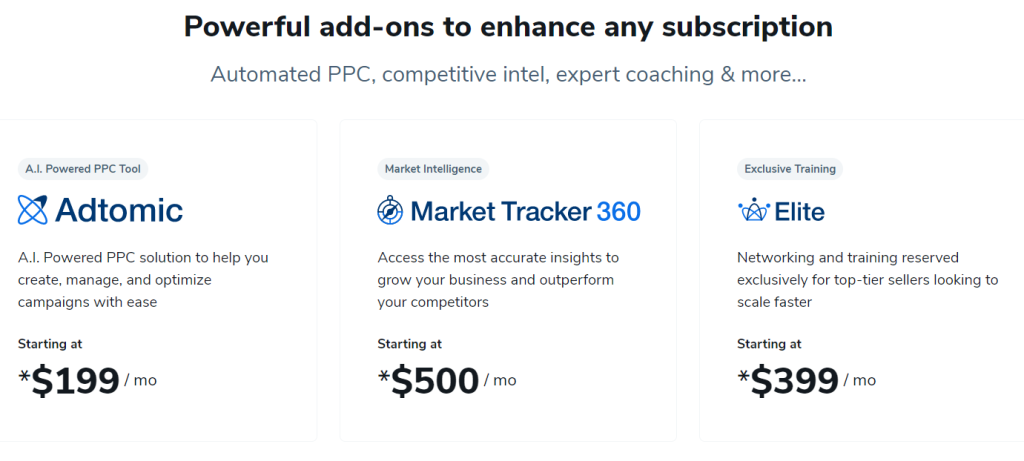 Adtomic: It is a PPC software that helps you maximize ROI on your Amazon advertising campaigns. Adtomic offers advanced automation & optimization that can help you level up your campaigns. The pricing of this add-on is $199/month.
Market Tracker 360: This tool lets you analyze competitors to determine how you can get ahead of them and take control of your Amazon market. You can get actionable insights to boost your brand. The pricing of this add-on is $500/month.
Related Read:
Conclusion: Helium 10 Free Trial (2023)
Helium 10 is a perfect all-in-one suite of tools for Amazon sellers looking for exceptional growth. Helium 10 tools give you an unfair advantage in this heavy competition and help you stay two steps ahead of your competitors. Despite offering a premium set of tools, Helium 10 still offers a free trial with unlimited access to help Amazon sellers find their perfect product for their Amazon store.
So if you just started out and purchasing a premium subscription is out of your budget, you can start with the Helium 10 free trial and use its advanced tools for as long as you want. Whenever you think you need an upgrade, you can go for a paid plan using your current account and use leverage all the premium features and training courses.