Are you looking for the Jungle Scout free trial? Don't look further, we have got your back.
Jungle Scout is an all-in-one tool suite optimized for Amazon sellers. FBA sellers can use its tools for keyword research, rank tracking, and sales analytics. You can even find a profitable product to sell on Amazon using the Opportunity Finder tool. All these tools are centralized in a user-friendly dashboard. It also offers a browser extension that lets you use most of its tools while browsing Amazon product pages.
But does Jungle Scout offer a free trial? This question is usually asked by new Amazon sellers.
In this post, we will help you answer this question. We will also clear all your doubts by providing you with an actionable solution.
Let's get started.
Does Jungle Scout offer a Free Trial?
To be honest with you, the answer is No!
Jungle Scout is a premium product research tool with tons of powerful features. They used to offer a 7-day free trial to their users, but due to heavy demand in the market, it got removed recently.
Luckily, Jungle Scout offers a 7-day Money Back Guarantee on standard plans to new customers. You can purchase any standard or package plan of Jungle Scout and use it for seven days. If you think the Jungle Scout services aren't the right fit for your FBA business, you can cancel your subscription within seven days of purchase.
If you want to get more detailed insight about Jungle Scout, then check out our in-depth Jungle Scout Review here.
So even if you don't have a free trial, you can still go with the money-back guarantee. And you will get a full refund with no questions asked. That's a win-win situation for you.
How to get a Free Trial on Jungle Scout?
In order to get the 7-day money-back guarantee, you need to get a Jungle Scout subscription. Follow these steps to claim your free trial using the money-back guarantee method.
Step 1. Visit the pricing page of Jungle Scout and browse the pricing plans.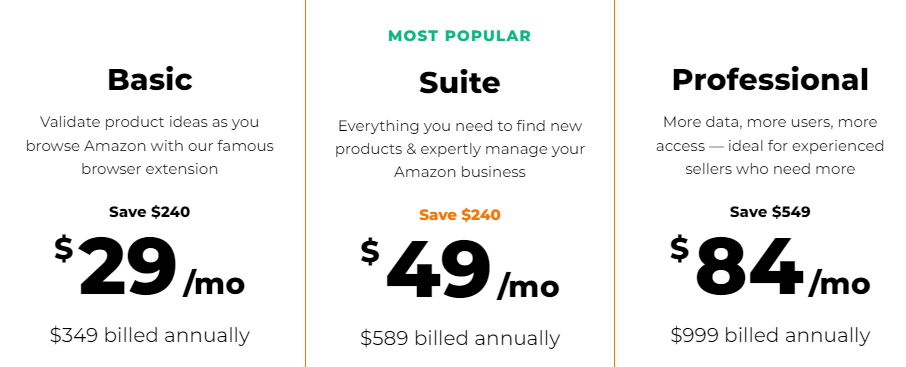 Step 2. Click on the Buy Now button under your preferred Jungle Scout plan.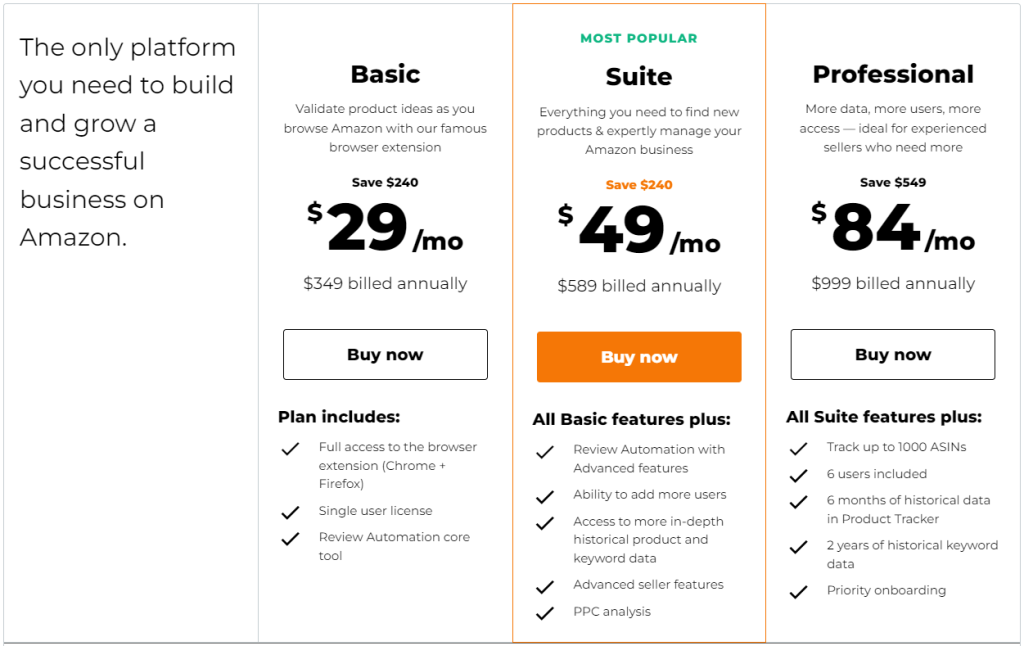 Step 3. Next, create an account using your email address and then click on Next.
Step 4. On the next page, enter your card details and fill in billing address information with name, address, country, and zip code. After filling out all the details, click the Create Your Account button.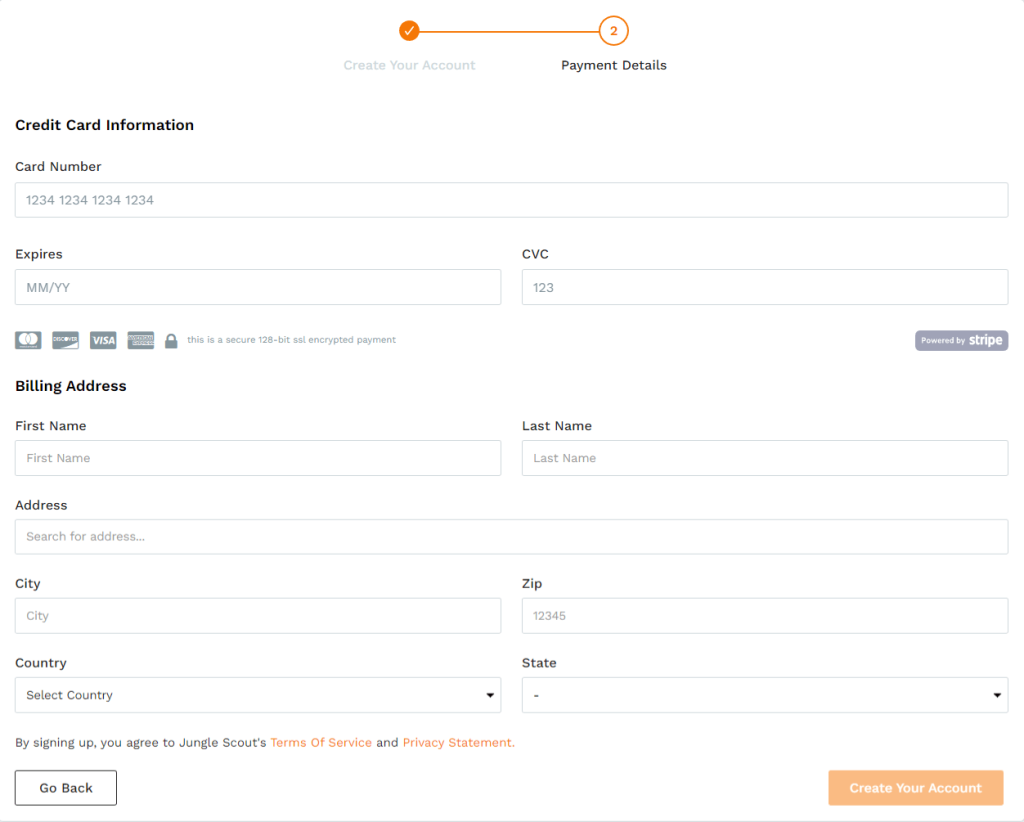 Once your payment is successful, you can start using Jungle Scout tools. You can use all the features for at least seven days. If you think Jungle Scout tools are helping your business in some ways, you can continue using the subscription and upgrade the plan anytime you want.
But if Jungle Scout isn't helping your business or you don't see any results, you can reach out to support@junglescout.com within 7 days of purchase and request to cancel your subscription. You will receive a full refund within 2 or 3 business days.
Jungle Scout Pricing Plans:
Jungle Scout features three pricing solutions keeping any business size in mind: Standard Plans, Packages, and Enterprise Solutions. Standard and Package plans are best for individual sellers or SMBs, whereas Enterprise Solutions caters to bigger brands and agencies.
You can go for the Standard and Package plans if you are looking for a money-back guarantee. Let's have a look at the pricing structure of both plans.
Standard Plans:
Jungle Scout's standard plans feature three tiers covering beginners and professionals. All plans are on a monthly and yearly basis. Monthly plans are slightly pricey, but if you go for the yearly subscription, you can save up to 55% with each plan.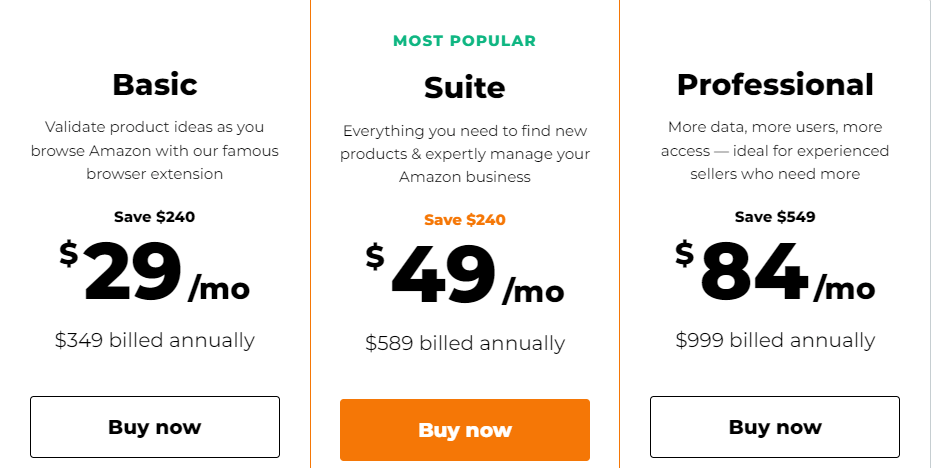 1. Basic: $49/month
Single user access
Access to browser extensions (Chrome and Firefox)
Track 20 products
500 estimates/month
1-month historical data
3 searches/day for each Jungle Scout tool
Access to 10 marketplaces
Review Automation
Academy training
7-day money-back guarantee
2. Suite: $69/month
All Basic plan features
Add members ($49/month/user)
Track 150 products
1,000 estimates/month
3-month historical data of product tracking
1-year historical data of keyword tracking
Rank tracking of 3,500 keywords
Inventory Manager
Supplier Tracker
3. Professional: $129/month
All the Suite plan features
Six user licenses
Track 1,000 products
1,500 estimates/month
Six-month historical data of product tracking
Two-year historical data of keyword tracking
Rank tracking of 5,000 keywords
Customized Review Automation
Priority Onboarding
Package Plans:
The Package plans of Jungle Scout are a bundle package of standard plans, but it includes exclusive training and one-on-one sessions with FBA experts. These bundle plans are suitable for sellers who want to launch and sell products as soon as possible. It also has three packages.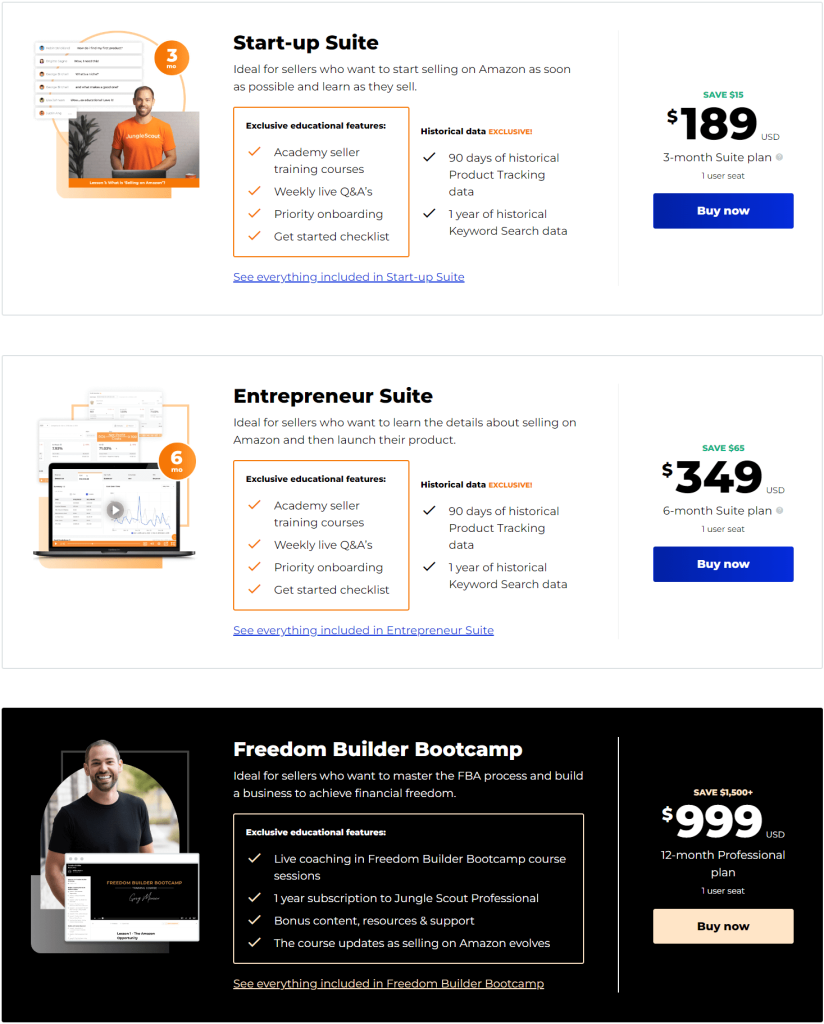 1. Start-up Suite: $189 for 3 Months
Single user license
Access to academy seller courses and training 
Q&A's every week 
1-year historical data of keyword research 
Priority onboarding
7-day money-back guarantee 
2. Entrepreneur Suite: $349 for 6 months
Everything in the Suite plan for six months
Access to academy seller courses and training
Q&A's every week
1-year historical data of keyword research
Priority onboarding
7-day money-back guarantee
3. Freedom Builder Bootcamp: $999 for 12 months
Single user license
Everything in the Entrepreneur Suite package
Live coaching and one-on-one sessions
Access to Jungle Scout Professional plan for a year
Additional resources and bonus content
Priority support
14-day money-back guarantee
Related Read:
Conclusion:
Jungle Scout is one of those premium Amazon Seller tools that offer assured success by providing top-notch services for FBA sellers. Unfortunately, they don't offer a free trial which can be a bummer. But they do offer tons of powerful features and access to advanced tools. Still, you can use their money-back guarantee to try out any of their plans. It allows you to figure out whether Jungle Scout is the right tool for your Amazon FBA business or not. With our guide, you can easily try out any Jungle Scout plan using the 7-day money-back guarantee.