Are you still having difficulty finding perfect keywords for your Amazon product listings? Well, your quest ends here with the Helium 10 Magnet tool.
Helium 10, one of the best Amazon Seller tool-suite providers, came up with a new keyword research tool known as Magnet. The Magnet tool offers a huge database of potential keywords for your product listings on Amazon. The high-volume keywords help you gain traffic and customers to your Amazon store.
Here's a quick review of the Helium 10′ Magnet tool and a user guide. The guide will show you how it can help you improve your product's exposure.
Let's get started.
What is Helium 10 Magnet Tool?
Helium 10 Magnet is a premium Amazon Keyword Research and Planner tool. It is designed to search high-volume keywords for your business. You can use these keywords to boost the rank of your product listings in the search results.
The Magnet tool allows you to add up to 200 keywords to analyze them all simultaneously. You can also use advanced filters to get an in-depth summary of keyword phrases. Apart from Amazon, the Magnet tool also finds high-volume keywords and intel for the Walmart Marketplace.
How to Use the Helium 10 Magnet Tool?
Using the Magnet tool is quite straightforward. All you need is to have multiple keywords in your mind for your niche and products. Let's see how you can use the tool properly.
Step #1. Go to your Helium 10 dashboard and open the Magnet tool from the Tools section.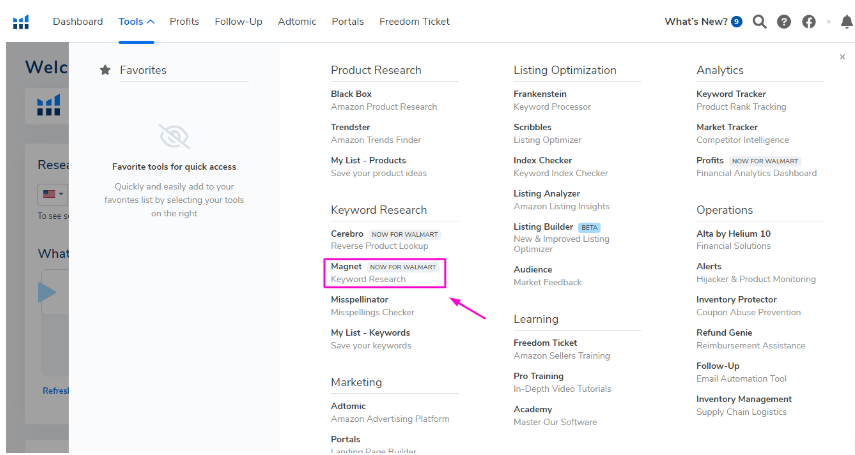 Step #2. Now you will see two sections: Find Suggestions and Analyze Keywords. If you are looking for the best high-volume keyword suggestions, go with the Find Suggestions option.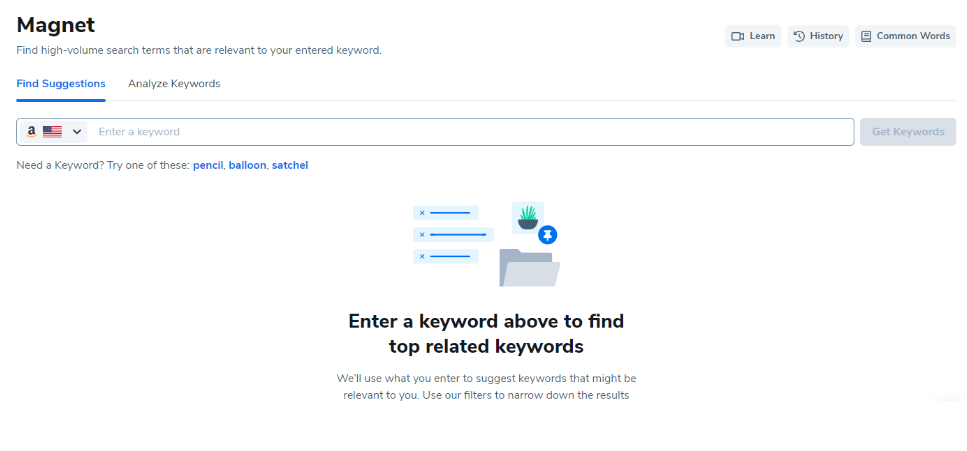 Step #3. Select your preferred marketplace and put the relevant keyword category such as "Pet Food". Click on the Get Keywords, and within a few seconds later, you will get thousands of keyword suggestions with their volume, Magnet IQ score, and sponsored ASINs.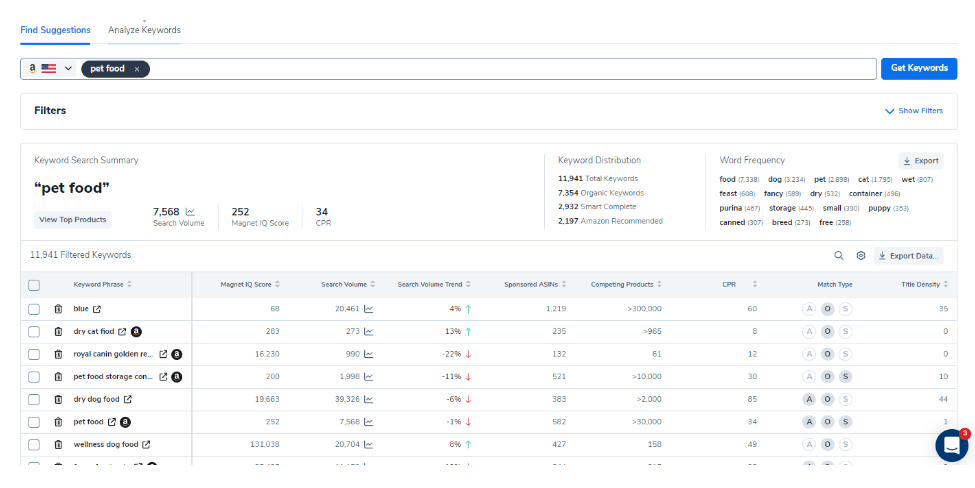 Step #4. If you have a particular keyword in mind for your product listings and want to check the search volume, go to the Analyze Keywords option. You can put up to 200 keywords and click on the Analyze Keywords button. Your keywords come up with search volumes and other keyword summaries within a moment.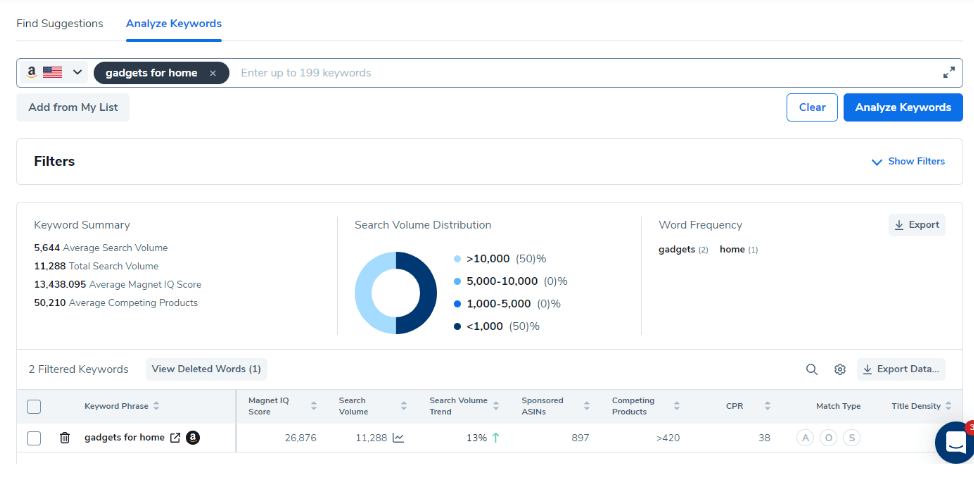 Step #5. If you want to cut down your keyword suggestion list and find the keywords based on your preferences, you can use the advanced filter option to get suggestions related to your niche.

Step #6. If the word suggestions and analyzed keywords seem relevant, click on the check and add them to your list. You can also click on check and delete unrelated keywords from the suggestions.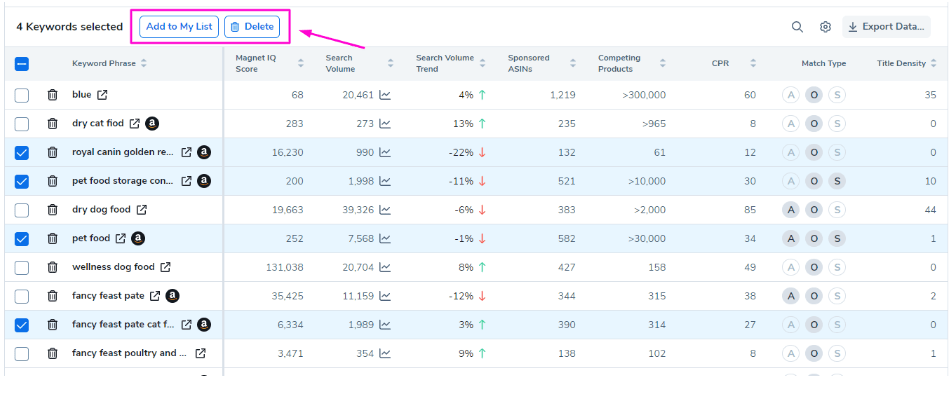 While looking for keyword suggestions, you can exclude common words from your search results. You can go to the Common Words section and add the keywords you want to exclude. If you still don't understand the process of using the tool, you can click the Learn button, where you can find video tutorials and articles related to using the Magnet tool.
Note: It would be best for your product listings if you select Amazon's choice keywords from the suggestions. You can find those keywords attached with an Amazon logo right next to the link for the Amazon page.
Features of Helium 10 Magnet Tool
Helium 10's Magnet is a feature-rich tool designed to conduct proper keyword research for Amazon sellers. It also allows you to customize your search results so you can get only relevant keywords for your product listings. Here are some amazing features you can get with this tool.
Seed Keyword Research
Helium 10's Magnet tool lets you search results for the related keyword faster than other tools. You just need a Seed Keyword, and you can add it to Analyze Keywords, and you will get accurate results within seconds.
Multiple Keywords Research
Apart from the Seed Keyword research, you can also search results for bulk keywords. The Magnet tool allows you to add up to 200 keywords to the search bar. Adding multiple keywords doesn't slow down its research speed–you will get the results at the same usual speed.
Magnet IQ Score
The Magnet IQ Score is a computed rating that comes as a result after comparing the keywords' search volume number against the competing product's number. The sellers profoundly use this advanced feature to get an advantage over the competition. A high IQ score indicates high popularity and less competition.
Actionable Keywords
If you want to search for working keywords for your product listings, you can put a particular category and hit the Get Keywords button. Within seconds, you will get 10,000+ keywords for that particular category. You can add multiple actionable and high-volume keywords to your list.
Keyword Distribution
The Keyword Distribution feature gives a quick overview of the keyword you have searched for. In this section, you will see the total numbers of keyword suggestions, organic keywords, and Amazon recommended keywords.
Word Frequency
This feature is typically associated with search results. It is listed as other words that help sellers understand which single word has the most search volume.
Reverse ASIN Search
Each Amazon product has a unique ASIN which is used to manage the Amazon product catalog. While doing keyword research, ASINs usually come in random order. You can reverse your search results by clicking on the Sponsored ASINs. This way, you can find the keywords with the highest number of ASINs. It is an intelligent tactic to reverse engineer your competitors' strategies.
For more effective results, you can use the Magnet with Helium 10's Cerebro and Misspellinator tools. Check out the detailed Helium 10 Review here to know more about the premium tools.
Generate Keywords with Helium 10 Magnet Tool for your PPC Campaigns
Helium 10's Magnet tool also comes in handy while finding relevant keywords for your PPC campaigns. If you bid on proper keywords for your PPC campaigns, you can skyrocket your sales in a short time. With the Magnet tool, you can save hours of finding the right keyword for bidding.
The Magnet tool works smoothly with Helium 10's popular PPC tool, Adtomic. The AI-powered Amazon PPC tool automates your PPC campaign with the help of the Magnet tool.
Related Read:
Conclusion: Helium 10 Magnet Tool
Helium 10's Magnet tool gives an unfair advantage to sellers. It can save you a lot of time and energy you spend on finding the right keywords for your product listings and PPC campaigns. Now, the Magnet tool is also available for Walmart.