Are you a victim of Amazon's phishing scam or received a counterfeit product? If so, you must take appropriate action by reporting the responsible Amazon seller.
Well, Amazon is one of the most reliable and secure platforms to buy and sell products online. Millions of sellers from across the globe are working with Amazon to make money online. So there's no wonder some of them competing each other to win the best seller badge for their products. But sometimes, third-party sellers can do some shady things in order to succeed on Amazon. That's why they get reported by shoppers or other Amazon sellers.
If you have recently come across such situations as receiving a product that is damaged, counterfeit, or different from the picture you have seen on a seller's listing. In that case, you are eligible to report a seller. If you don't have any idea about reporting a seller, this post is for you.
In this post, I will share a couple of methods with a step-by-step guide on "how to report a seller on Amazon." I have also included what actions you need to do before reporting an Amazon seller.
Let's get started.
Different Types Of Violations That A Seller Can Commit
You can report a seller for different types of violations, but it has to be valid. Let's have a look at some violations for that you can report a seller.
1. Product Information Violation
When a seller lists a product with misleading or false content, images, or description that doesn't match the product, you are free to report that seller. You can also report a seller if your purchased item doesn't match the listed model number, weight, or dimensions.
2. Counterfeit Items
This is one of the main reasons sellers get reported on Amazon. When a customer receives a false or counterfeit item from an Amazon merchant, they report a seller under Amazon's Anti-counterfeiting Policy. Selling counterfeit items on Amazon not just violates the company policy but is also a subject of legal action. If you are a victim of such a violation, you must report such sellers on Amazon.
3. Pricing Violation
When sellers list significantly higher pricing of a product than other competitors, you can report them for violating the guidelines. For example, a product is usually sold for $30, but a merchant is selling a similar product at $50 or $60. This can happen when a product has a high demand (or a natural disaster situation). 
4. Poor Customer Support
This situation can happen in various ways, such as sellers replying with inappropriate messages, not responding to your queries, or do not accept returns or refunds (if they offer them). You can contact Amazon's customer service if you face any of these situations.
5. Suspicious Reviews
Sometimes, sellers manipulate new customers with automated or fake reviews to increase their sales. They also do that in order to hide bad reviews from the top and artificially increase their product's ranking in the search results. If you suspect such a situation, immediately report the seller.
6. Inappropriate Content
If you ever come across a listing that contains offensive content, it can be reported to Amazon. Offensive or inappropriate content can include offensive language, sexually explicit images, or profanity.
7. Trademark or Intellectual Property Infringement (For Sellers)
If you are a seller who comes across another seller's product page that includes your trademark, company name, or anything related to your personal business. In that case, it will be a subject of copyright and trademark infringement. You can report that seller for violating the trademark law.
8. Hijacking (For Sellers)
If a seller intentionally hijacks or copies your listing without your permission, you can report that seller. Deceitful sellers usually check out the Buy Box listings that have loyal customers and good sellers. So they use a bootleg version to replace your products and images to look like their own products.
If you find any of these violations, as mentioned above, on the Amazon marketplace, you can report sellers with proper evidence. If Amazon finds it to be true, they will suspend that violator's Seller Central account. If a seller gets reported multiple times for violating guidelines, Amazon will ban their account permanently from their site.
Things To Do Before Reporting A Seller On Amazon
Violating a policy or guideline is an awful act for an Amazon seller. If sellers are aware of these rules and the outcome of violating them, no one will do it intentionally. So before you report a seller on Amazon, consider going through the following remarks, as directly reporting to Amazon can jeopardize a seller's whole career.
Determine The Policy Violation
Now, you know what kind of policies can be violated by a seller. If you find something that you think that inappropriate or is violating Amazon's policy, you can consider reporting that seller.
Remember that a customer can only report sellers if they are violating the selling policies of Amazon. You can't report a seller out of rage or you simply dislike a product.
If you are a seller, you must consider these facts to avoid getting reported by a customer or other sellers:
Deliver accurate and up-to-date information to Amazon while creating a product listing
Do not try to harm other sellers' ratings, listings, or reviews
Do not try to incite your product reviews, ratings, and feedback
Use Amazon's services and features fairly
Do not add statements like "endorsed by Amazon" or "sponsored by Amazon" to your listing
Do not try to contact customers directly except through Amazon's internal messaging platform
Do not mislead shoppers with fake images or features
Do not sell counterfeit products to your customers
Do not copy other seller's product listings without their permission
If you intentionally or accidentally violate the code of conduct, you will be reported eventually. And it can affect your Amazon business badly. So make sure to run your business within the guidelines.
Gather Evidence Of The Policy Violation
Once you have realized that a seller has violated Amazon's selling policies or you have become a victim of a fraudulent act, you can gather documentation regarding the policy violation. When you report a seller, Amazon will ask you some questions and provide proof of the violation. If you can't provide satisfactory proof, Amazon might not take further steps toward reporting.
The evidence may include order IDs, pictures of the item, messages, receipts, etc. Make sure you have enough information about the policy violation so Amazon can take action. You can also report a seller if they ask to leave a positive review in exchange for a special reward.
Solve Your Query By Reaching Out To The Seller Directly
If you think the seller might have broken the rules unknowingly or by mistake, you can contact them first before reaching the higher authorities. For example, if you received a different product while you ordered something else, you can inform the seller with the evidence. If they didn't do it intentionally, they would revert back to you. The seller will also help you return or exchange your product.
In most cases, you can solve your issues by contacting the seller—if it is not a very concerning violation. Many sellers' source of income totally depends on Amazon, and your one report can ruin their business. So it is better to solve the matter without involving Amazon.
Contact Amazon Customer Service
If contacting the seller doesn't work out, you can take a step towards reporting the individual for policy violation on Amazon. If you think the seller committed a violation or broke the seller's code of conduct, make sure you have enough documentation to convince Amazon to take proper action against the individual. You'll know about reporting a seller further in this article.
How To Report An Amazon Seller On The Website?
Once you have collected pieces of evidence regarding the policy or product violation, you can report the related seller from the official Amazon website. Follow these steps to report an Amazon seller for a violation.
Step 1. Log in to your Amazon account and click the three stacked lines on the top left corner of the homepage.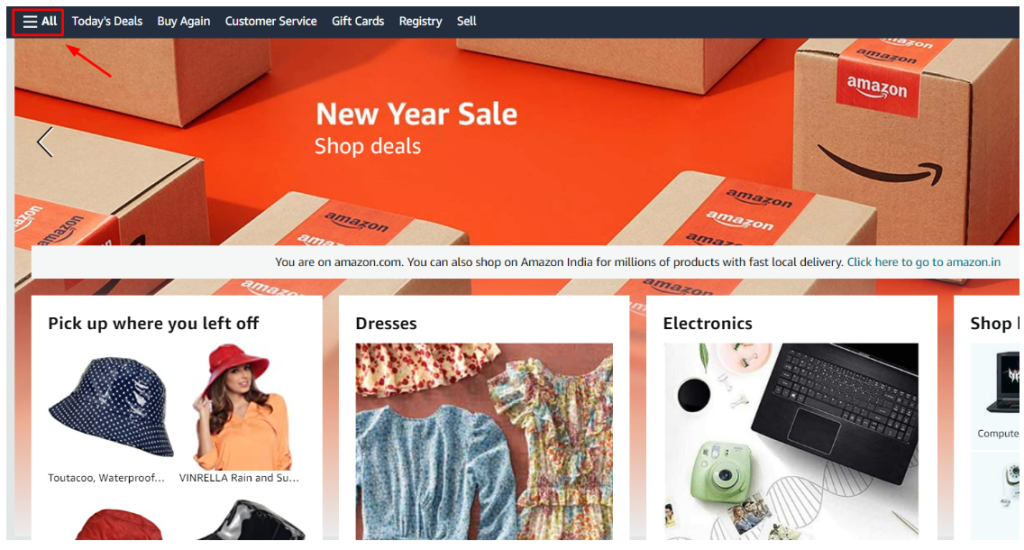 Step 2. Scroll down and click on the Customer Service option under Help & Settings.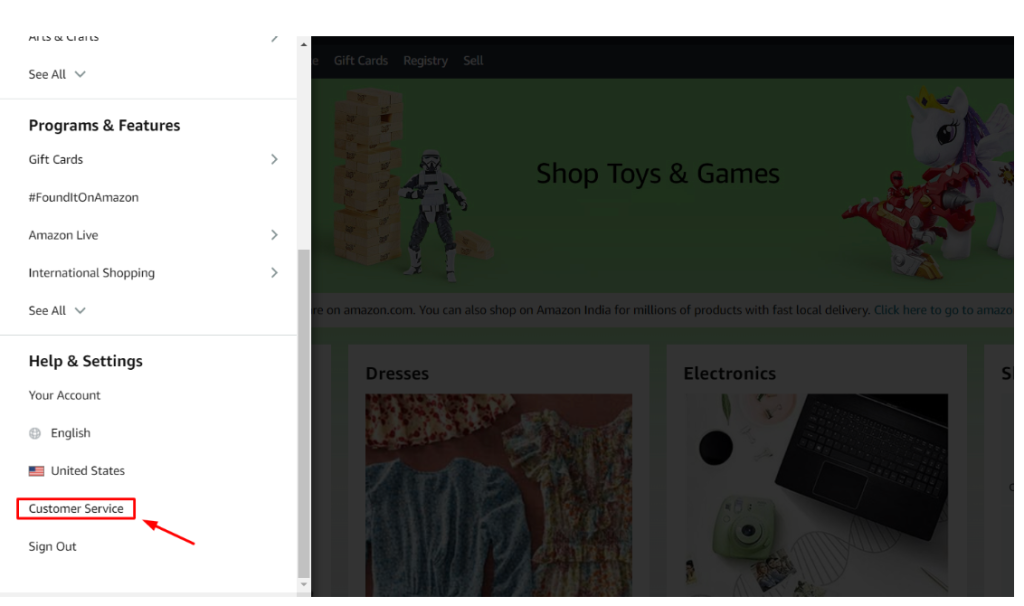 Step 3. Soon, you will be taken to the Browse Help Topics page. Here, click the Contact Us option. If you can't find the contact us option, you can type "how do I contact you" in the search box and click the enter button.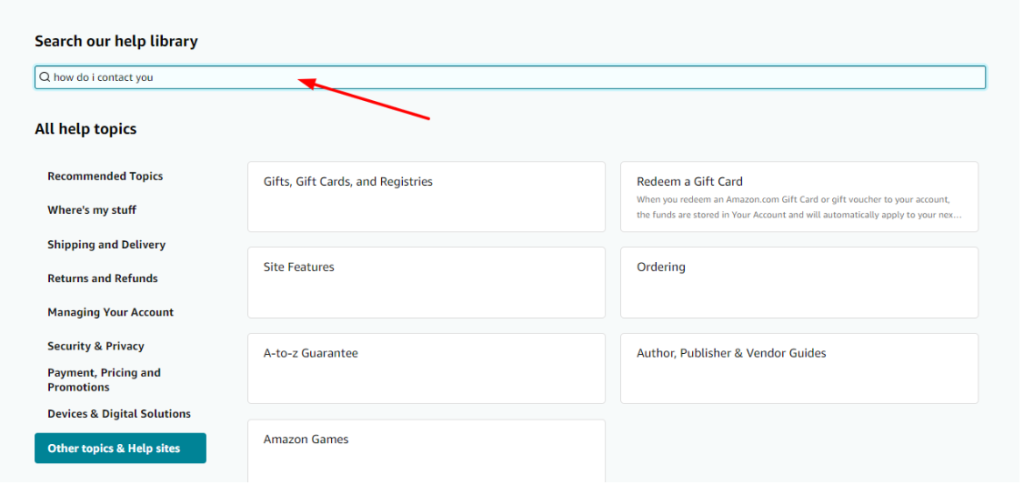 Step 4. After searching, you will be redirected to the Help & Customer Service page. On this page, click the Contact Us option.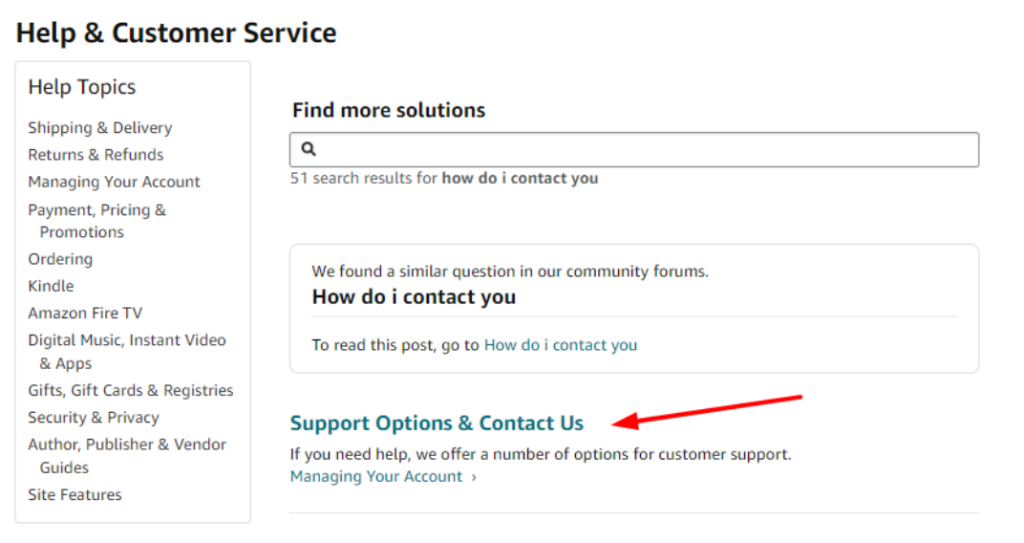 Step 5. On the next page, you will get two options to contact Amazon. You can use live chat service to message customer staff about your issue. Or you can directly contact them via phone and tell them about your issue.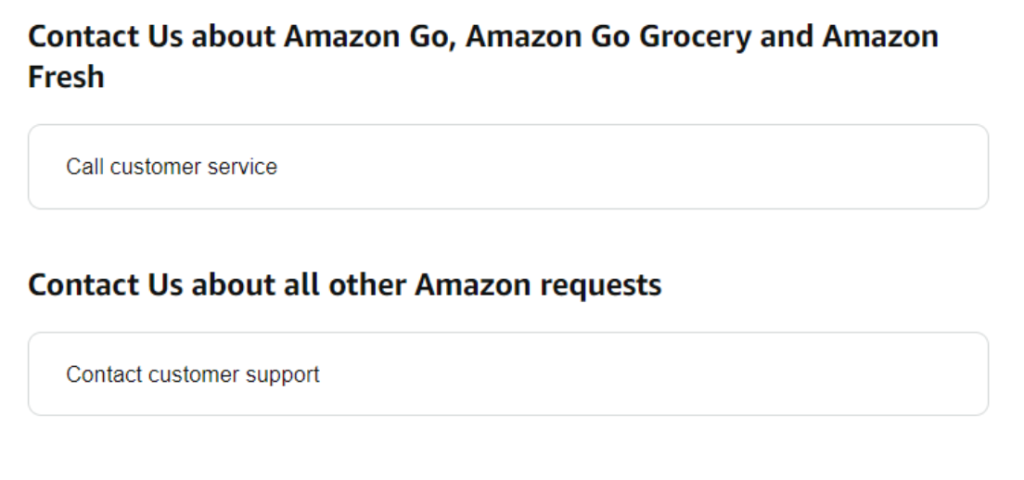 If they are convinced about your issue, you can report a seller by providing the documentation you have collected before.
How To Report An Amazon Seller On Mobile App?
You can also report an Amazon seller using Amazon's mobile app. In fact, reporting with the mobile app is easier than the website method. Let's see how you can do it.
Step 1. Log in to your account on the Amazon app.
Step 2. Click the stacked line from the bottom right corner. (If you are using the old version of the Amazon app, you will find the menu option at the top left corner)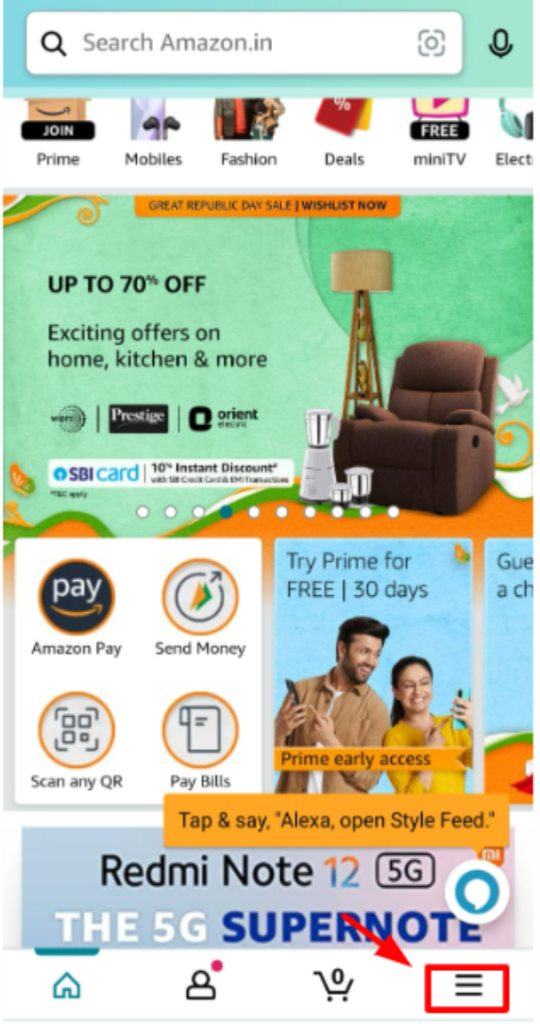 Step 3. On the next page, scroll down and click the Customer Service option.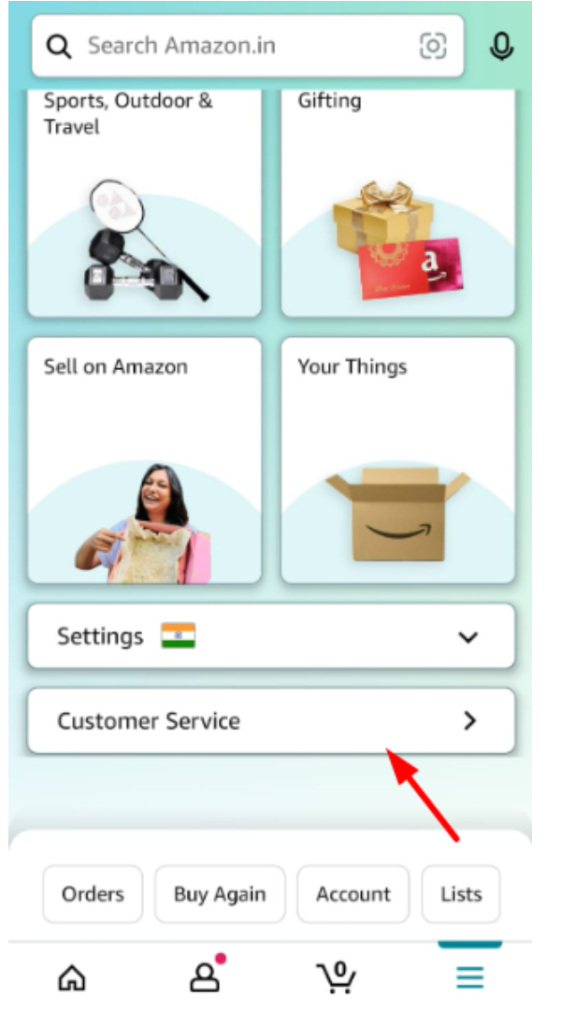 Step 4. Now, on the next page, scroll the page to its bottom. You will see two options to contact customer service. First, you can use the Chat with us option to talk to the customer executive in real-time. And second, you can click the Talk to us option to directly call the customer support executive.
Notify Amazon Via Seller Abuse Report Form (For Sellers)
Yes, you heard it right. Not only do shoppers have the right to report a seller, but one seller can also report another for several reasons. Amazon is a huge platform for all types of sellers. Millions of sellers work with Amazon, so obviously, there will be competition. Every seller wants to be on top. Some work very hard to get that position, while others use unethical tactics to overcome their competitors.
There are many reports of sellers getting fallacious negative reviews and hijacked listings. As a seller, if you think you are a victim of such actions, follow these steps to report a seller via Seller Abuse Report Form. For that, you have to submit a report form against the seller. Let's see how you can do it.
Step 1. Open your Amazon Seller Central account and find the Report Abuse tab. And then click on the Report option.
Step 2. Now, the system will ask you to enter the details of the seller you want to report. Here enter the business or store name of the individual.
Step 3. Next, fill in the ISBN or ASIN of the product and select the marketplace where infringement has occurred
Step 4. On the next page, select the policy violation type or code of conduct according to the evidence you have collected.
Step 5. Now the system will ask for proof of the policy violation. Attach the documentation, such as messages, receipts, or order IDs.
Step 6. After filling in all the information and details on the form, click on the Submit Form option, and your form will be submitted to Amazon. They will also send you a confirmation message in your email.
You can check the status of your report from Amazon customer service. The team will investigate your matter, and if they find your report legit, they will take the necessary against the reported seller.
Related Read:
Conclusion: Report An Amazon Seller
Whether you are a seller or buyer, Amazon customer service helps you report an Amazon seller for violating the seller code of conduct. It helps Amazon maintain safety and trustworthiness in its marketplace. As a shopper, if you receive a package with something you have not expected or it got damaged, you can contact the respective seller and try to solve your issue without involving Amazon. If you are a victim of an unethical scam or they don't reply, you can contact Amazon with proper evidence. Amazon will take necessary action against the individual.
If you are a seller, it is important for you to run a business within Amazon guidelines and seller code of conduct. Do not use something that is considered unfair means to avoid being reported by any buyer or seller. However, if you are an honest seller who got hijacked by another seller, you can also report the individual to Amazon. They will probably remove the individual's current listing or suspend them from selling on their platform.
I hope this guide helped with your purpose well. If you have any other questions regarding selling on Amazon, let us know in the comments section.