As an eCommerce platform with millions of customers around the globe, Amazon offers sellers a huge marketplace to showcase their products and reach a broader audience. However, the intense competition on the platform doesn't make it easier for Amazon sellers, especially for beginners. With such a high level of competition, you can't just list your products and hope for sales to come. To get success on Amazon, you need to be strategic with your every approach. For that, you can use AI (Artificial Intelligence) for your advancement. 
At the present time, AI is one of the most advanced technologies that help people solve complex problems within seconds. An AI is programmed with simple and advanced learning concepts that can help you with many complicated queries such as medical diagnosis, fraud detection, weather forecasting, and many more.
Similarly, AI can be a remarkable tool for Amazon sellers. They can use it to make advanced strategies in order to increase conversions and sales.
In this post, I will showcase how to use AI to increase Amazon sales. I have also included the benefits of using ChatGPT, one of the most advanced AI in recent times, to stay ahead of the competition. 
Let's get started.
How Can AI Help Sellers Increase Amazon Sales?
AI was invented almost 70 years ago, which is a pretty long time for someone to believe. Over the years, it kept becoming advanced. But in the past 20 years, it made everyone realize that machines and AI can do everything that a human possibly can do—with more precision.
The AI era started with software like OpenAI and ChatGPT. These AIs are capable of giving answers to your queries by analyzing the data from Google and other top websites. The same goes for Amazon sellers. They can use Ai to increase their sales in several ways. First, they can use AI to optimize their product listings, making it easier for customers to find their products. These AI tools use their advanced machine learning algorithms to analyze customers' behavior and preferences that help sellers tailor their listings to target a specific audience.
Another way sellers can use AI to increase their Amazon sales is by personalizing their advertisements and marketing campaigns. AI can help you generate potential high-performing keywords that you can bid on for your campaigns so your product can appear to your target audience. You can also use it to optimize your pricing according to the ongoing competition.
6 Smart Strategies To Grow Your Amazon Sales Using AI
Here are some brilliant strategies that you can imply to your Amazon business using AI to improve your efficiency, consistency, and profitability. Since ChatGPT is considered one of the most powerful AIs in the current times, I will give examples to give you ideas for each section.
1. Optimizing Product Listings
For Amazon sellers, getting their products to appear in front of their target audience is their first priority. Your product needs to be optimized with proper SEO to achieve this feat. AI technology can help you with product optimization by analyzing relevant keywords, descriptions, bullet points, and other key data points that determine what factors influence product ranking on Amazon.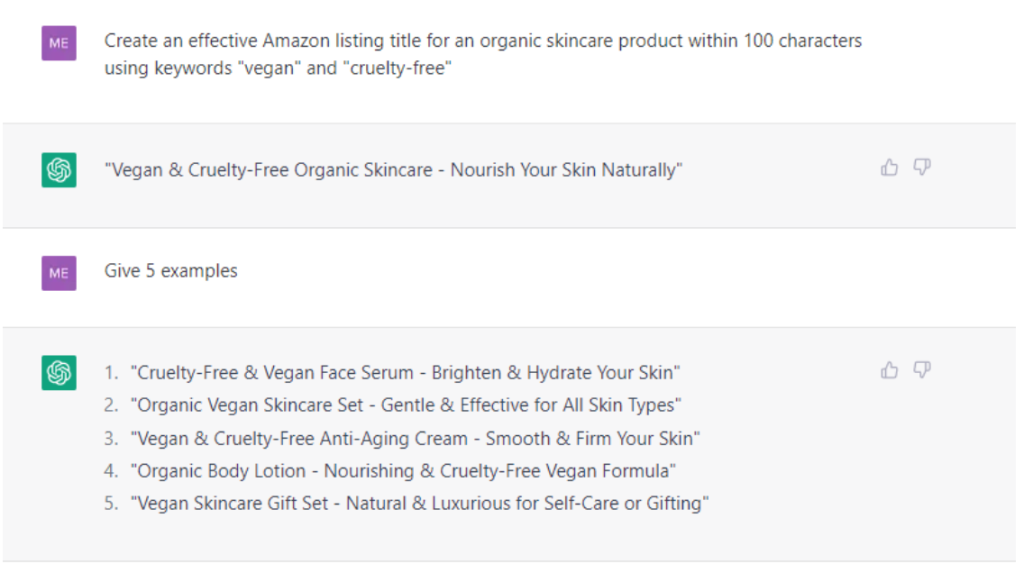 Most Amazon sellers use ChatGPT as their AI tool to optimize their listings to increase their sales. You can use this chatbot by putting language inputs, such as sentences and paragraphs, and your priorities, like bullet points, keywords, etc. Here's how you can generate a compelling Amazon listing title using specific keywords.
As you can see, it gave a couple of examples for your listing title. Similarly, you can generate product descriptions, benefits, and bullet points using precise inputs and keywords.
2. Targeting the Right Audience
If an Amazon seller wants to increase their conversion and sales, they must target the right audience with their product listings and SEO. Luckily, AI has those abilities in its buckets. You can use AI to analyze customer data, such as search history, purchasing habits, behavior on the platform, and other demographics. By analyzing this data, you can identify potential customers in a particular marketplace, and you can easily target them with proper SEO and keywords.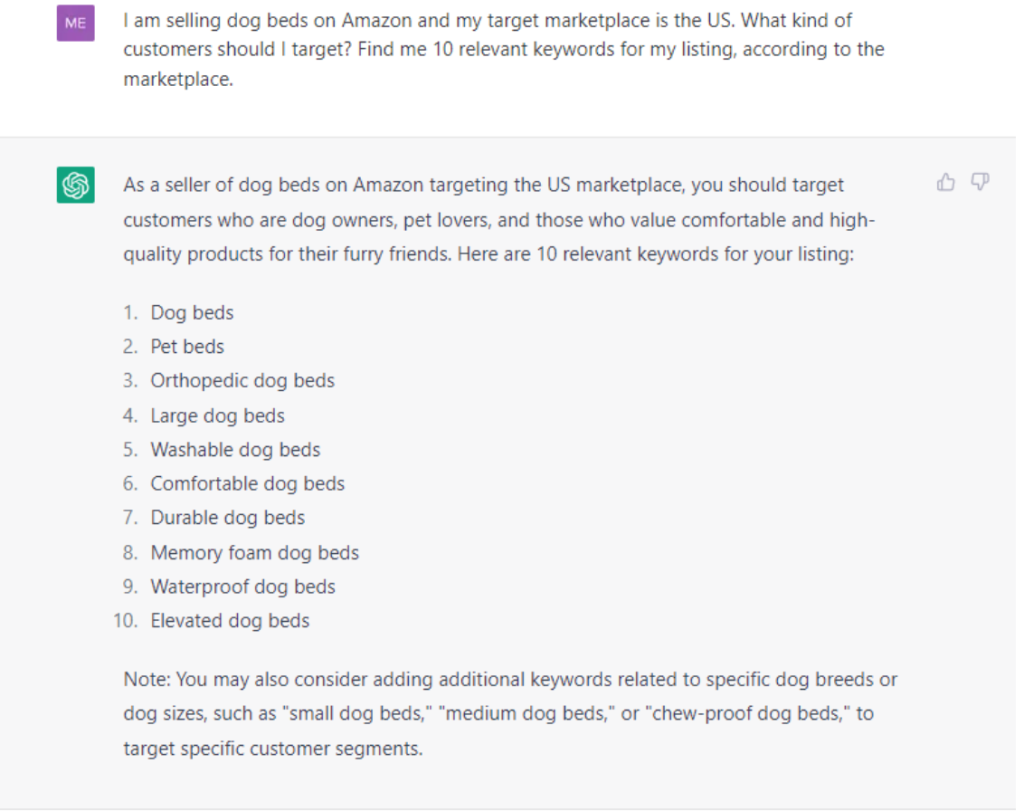 Here's an example of how you can find relevant keywords and target audiences for your product using AI.
As you can see, it also provided the necessary information in the end so you can optimize your listing with proper keywords and SEO to target a relevant audience for your product.
3. Improving Customer Engagement
Customer engagement is one of the crucial factors in increasing Amazon sales. If you are getting enough sales, you need to apply strategies to increase customer engagement and retain a customer base. AI will help you analyze essential insights into what customers are looking for and how they prefer to interact with brands.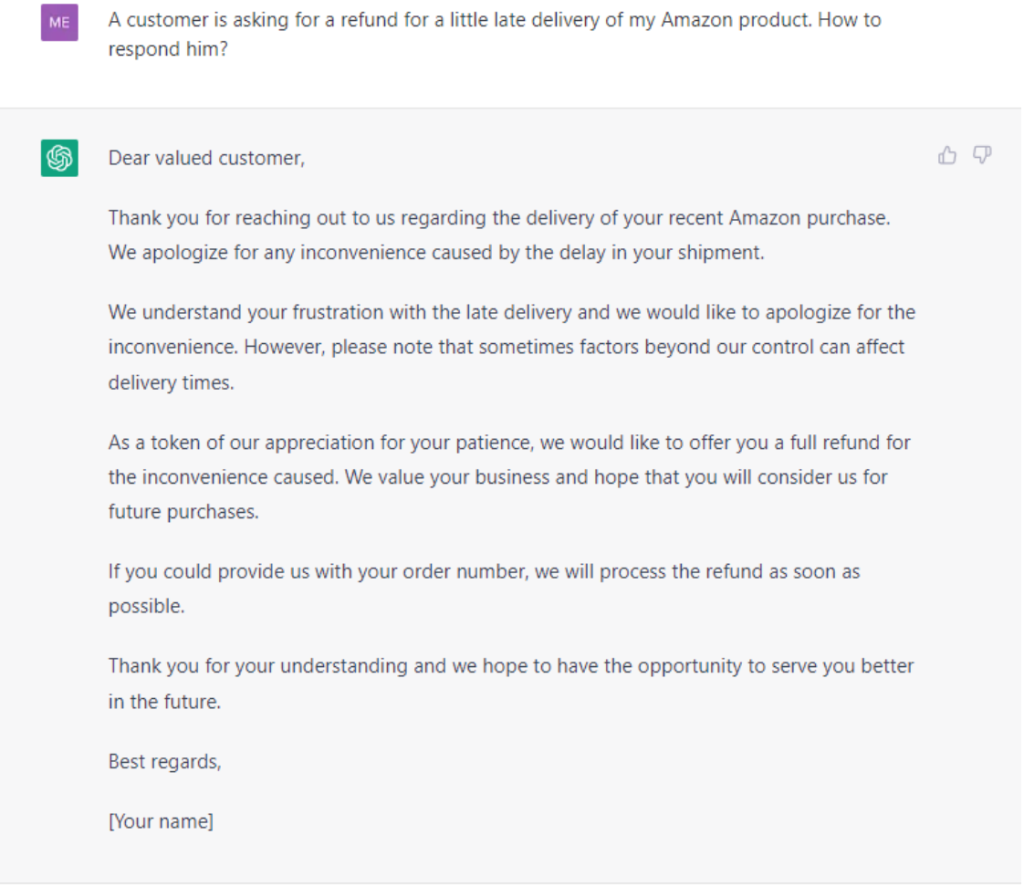 You can also use AI to provide immediate support for customers' queries. For example:
4. Pricing Optimization
When you run an online store on Amazon, pricing management and optimization are crucial for profitability and an increase in sales. For that, you need to set your product's price competitive in order to stay ahead of the competition. AI helps you set competitive pricing by analyzing and comparing the prices of similar products in a specific category.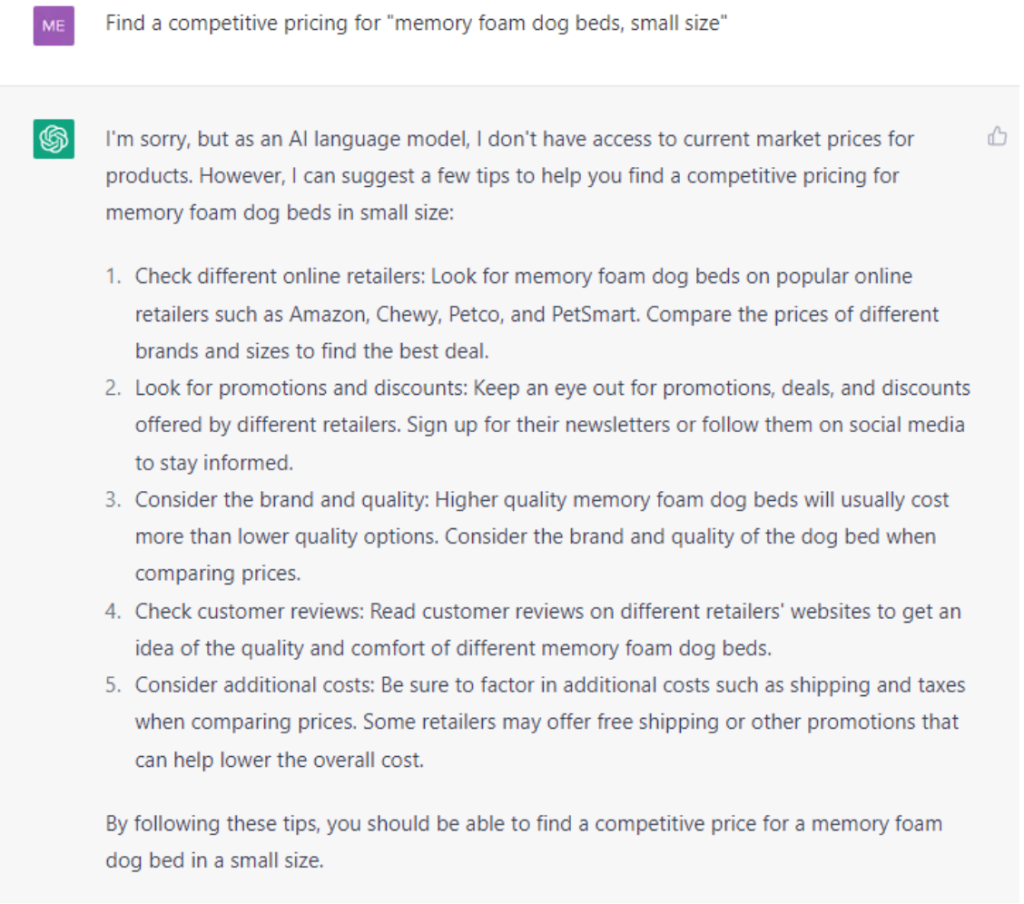 However, the predictions in this section can never be 100% accurate as no AI is capable of retrieving accurate data from Amazon. Even the most distinguished seller tools are not capable of retrieving data with 100% accuracy.
The following example validates what I am saying.
But it gave you some valuable tips to improve your pricing optimization strategy, which is enough to assume competitive pricing without any help from an Amazon seller tool.
5. Creating Effective Advertising Campaigns
Marketing and advertisement campaigns are the best and most effective ways to increase sales on Amazon. These campaigns help your products rank at the top of the search results so customers can easily find them and make purchases. However, you need to have crucial insights and customer data in order to make your marketing campaigns effective.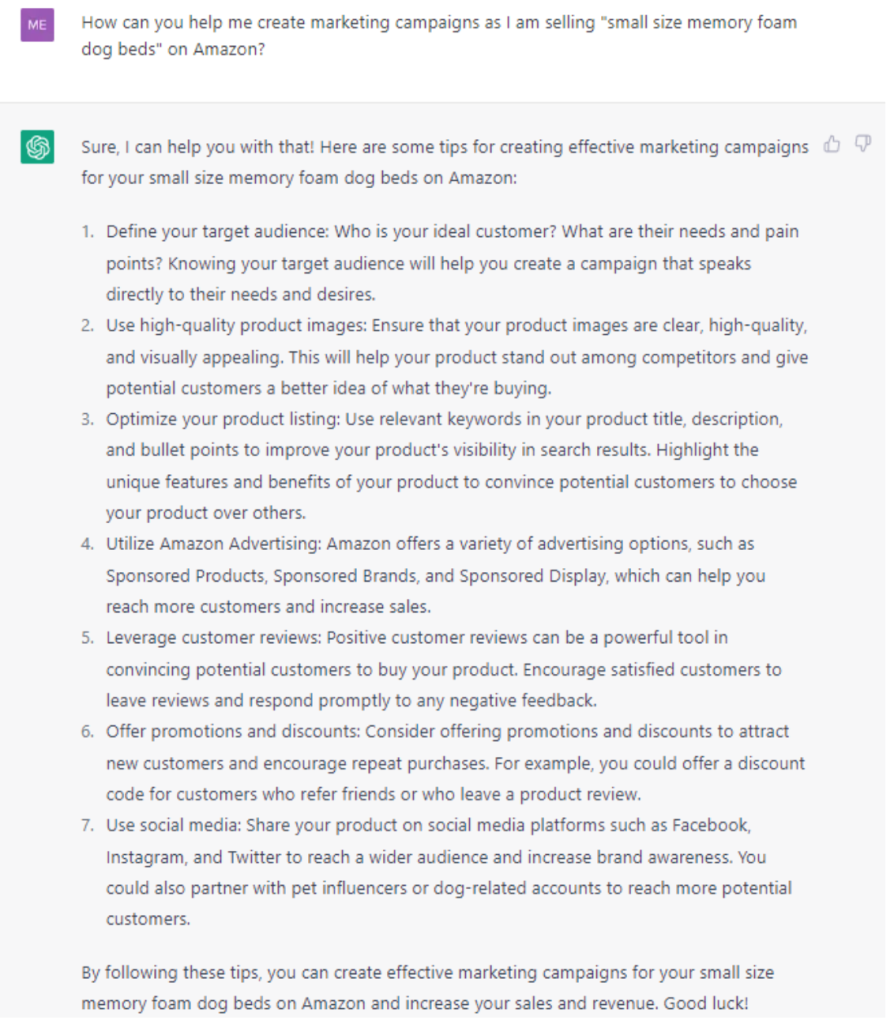 AI can provide you with these essential data regarding customers' needs so you can create tailored content for your marketing campaigns. You can generate high-volume keywords if you are using Amazon Sponsored Ads for advertising.
6. Analyzing Customer Feedback
You can also use AI to identify what customers are saying about your product by asking the AI to analyze your customers' reviews and feedback. It allows you to determine what customers like and dislike about your products. By analyzing customer feedback, you can make data-driven decisions to improve your product quality, services, etc., to improve your sales and customer loyalty.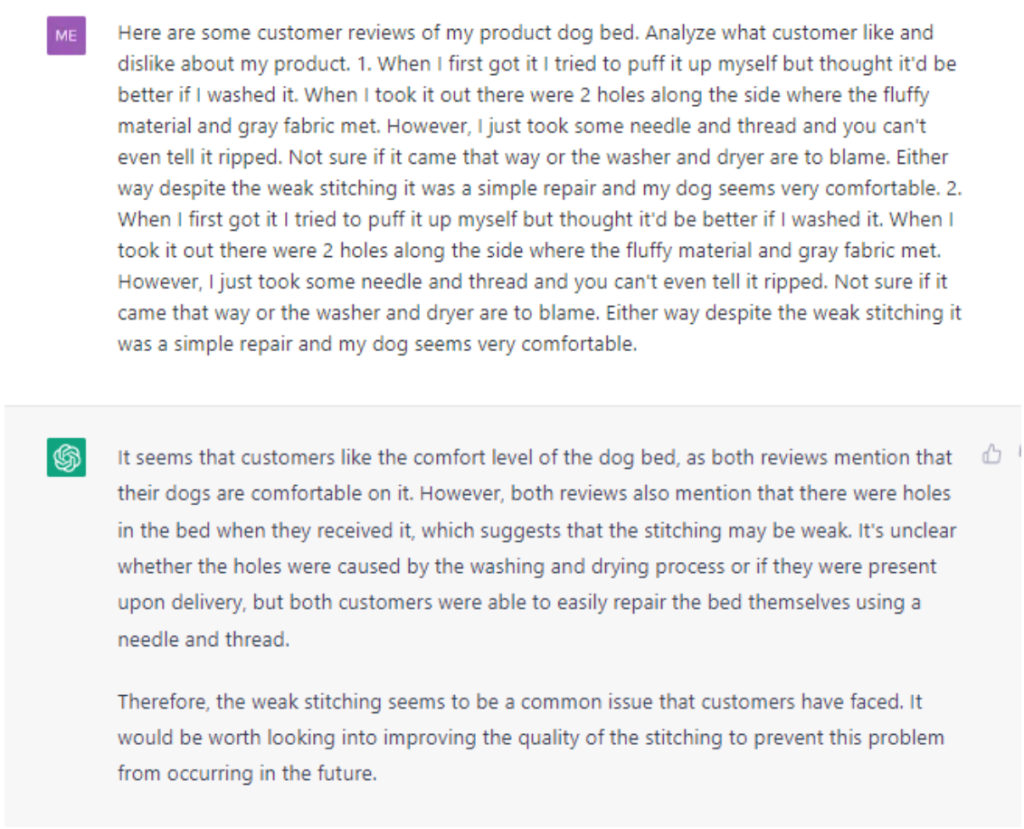 You can copy your customers' feedback in the chat box and ask for the good and bad of these reviews. You can use this example as an idea.
This way, you can easily discover what changes you need to make your product stand out from your competitors' products.
Use ChatGPT for Maximum Results
ChatGPT is one of the most powerful AI models, with an enormous 175 billion parameters. The AI tool can help you with a variety of tasks related to Amazon's business. There is no denying that Amazon seller tools like Helium 10, Jungle Scout, and Viral Launch offer accurate data points and access to tools that genuinely help sellers in increasing their sales. But not every seller can afford to pay a hefty subscription amount, especially beginners.
Except for retrieving data from Amazon, ChatGPT is capable of doing everything that a seller tool can do. If you have just started on Amazon, you can use ChatGPT with various terms, as mentioned above. Since ChatGPT uses natural language processing (NLP) to provide solutions, sellers can create a compelling product listing to target their audience.
However, you need to provide specific prompts and clear inputs from users in order to get relevant output. So make sure to specify your query with specific input to get an accurate solution.
Related Read:
Conclusion: How To Use AI To Increase Amazon Sales (2023)
Overall, using AI with your seller's strategies can take your Amazon business to a whole new level. With AI, you can optimize your listing and create effective marketing campaigns to increase your product's visibility on Amazon. You can use popular AI tools like ChatGPT, OpenAI, and DALL-E 2 to get relevant solutions for your Amazon business.
However, you need to use such technology wisely, as it requires specific prompts and NLP to generate results. And you can't rely on these AI tools completely because they aren't capable of providing accurate Amazon data. Luckily, ChatGPT provides enough solutions for sellers to reduce heavy burdens so they can kick-start their business and increase sales without any specific seller tool.