Are you having doubts related to the Jungle Scout? Well, this Jungle Scout review will solve all your doubts.
Jungle Scout is one of the industry's best Amazon seller tools, and I am saying this based on my own experience. This is a one-stop solution to all the problems you will face related to the FBA business.
I am going to share my own experience of working with Jungle Scout in this Jungle Scout review. Along with that, I will explain the working of its tools & features. In the end, I will explain their pricing plans in detail so that you can make a decision as well.
Let's begin the review without wasting any time!!
Jungle Scout Review: In A Nutshell (2023)
Jungle Scout is the helping hand that you will need to start your FBA journey. At first, this tool was all about product research which was good, but it was not enough for everyone. After some time, they expanded their features and made it a full suite of tools. Now it is a viable choice for beginners, professionals, and even experts.
Jungle Scout not only helps with product research but also with launching & optimizing product listings, helps you find suppliers, manages all the analytics, and provides you with accurate data metrics.
It helped me find the best products to start my business, spy on my competition, get resources from trusted suppliers, track keywords and their performance, and so on. I love the interface of Jungle Scout because it is easy to use and beginner-friendly. I didn't know about this business in the beginning, but Jungle Scout helped me learn about this business with its resources.
I researched many Amazon Seller tools, but Jungle Scout is the only tool that is flexible, reliable, and affordable in pricing.
Jungle Scout Data Accuracy: Is it accurate?
Every Amazon seller tool will show you different data metrics of different products, but the main question is whether it is accurate data or not.
I was also a little skeptical about data accuracy, and when I used Jungle Scout for myself, then I found out it is not only accurate but also the most reliable tool. In research, it was found that Jungle Scout has an accuracy of 84.3%. There is no other tool available in the market which has data accuracy like Jungle Scout.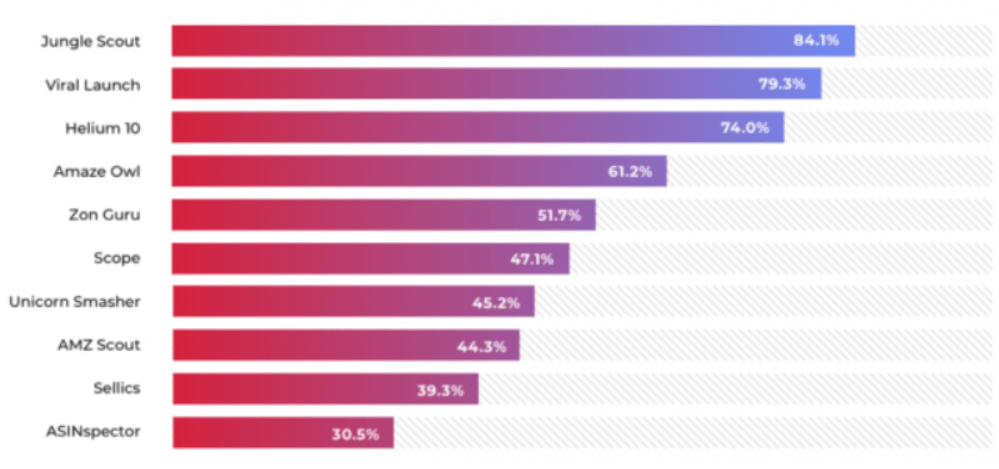 In the above screenshot, you can see the data accuracy of most of the Amazon seller tools available in the market right now.
Jungle Scout Features Explained
In this section, I will introduce you to all the features of Jungle Scout, and I will also explain the working of each and every tool. Let's get started.
1. Product Research
Product Research is one of the best features offered by Jungle Scout. This is the feature you will need to find the best products to start your business. Let's take a look at all the tools of the Product Research feature:
Product Database
The product database of Jungle Scout is huge. You will get the option to search for the best products among 475 million products. You can use this tool directly from the dashboard of Jungle Scout. At first, you need to select a marketplace to sell products. Since I wanted to sell products in the US marketplace, so I selected that one.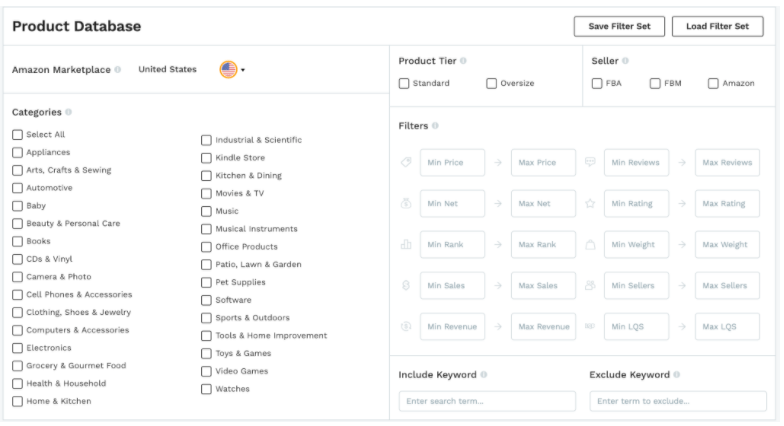 There are three seller-type options to choose from. You can select Amazon FBA or FBM as a seller type. There are multiple categories available for products. Once you select categories, then it will show you the products of those categories. Click on the "+" button to add these products directly to the Product Tracker. You can also get the list of all the products in CSV format.
Product Tracker
All the added products will show on the Product Tracker tool. This tool tracks the performance of all the products you've added. Using this tool, you can monitor the sales of these products and see which products are the potential for your business. The tool can be accessed directly from the dashboard of Jungle Scout.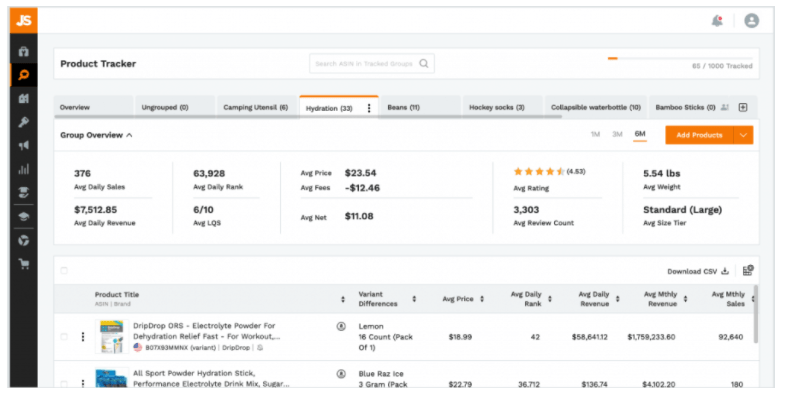 You will also get the option to add products manually. You can only add up to 10 ASINs of products at once on this tool. All the products you've added from its product database it will show here. You can check the sales trends of those products. Add a quick note in front of any product to mark those products.
Opportunity Finder
Want to find product niches with just one click, then use the Opportunity Finder tool directly from the dashboard. All you need to do is enter high-demand or low-demand keywords in the search box to find the best niche ideas for your own business. You can also select product categories before running the search to narrow down the opportunities.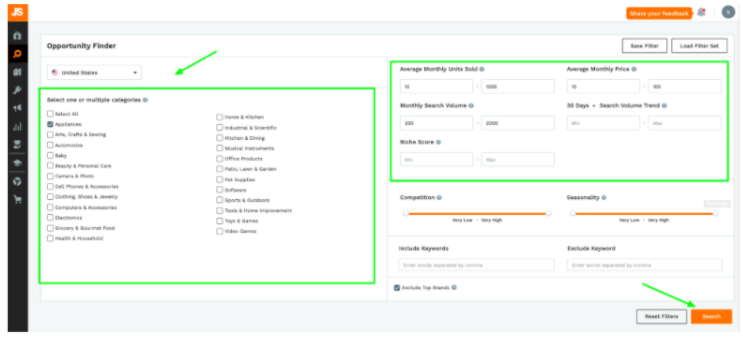 You will also get data metrics like monthly search volume, niche score, average monthly units sold, seasonality, monthly sales, competition, and so on. Click on a product to get the bar graph details, such as shown below in the screenshot.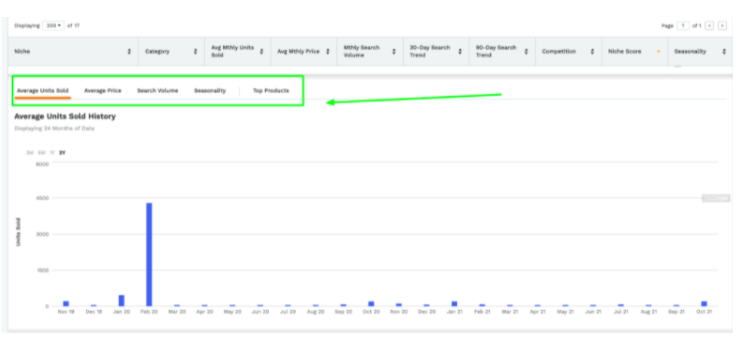 Category Trends
Want to see which category is in trend on Amazon, then use the Category Trends tool of Jungle Scout. You will also get the option to select a category from many categories, and it will show you the trending subcategories. You follow the trends based on the time and date as well.
2. Supplier Module
You already know that Jungle Scout has a huge list of suppliers, but you want to know how the supplier module actually works. So I am gonna explain all the tools of the Supplier module.
Supplier Database
Similar to the Product database, Jungle Scout also has a supplier database that you can directly access from the dashboard. You can search for suppliers based on 4 options, and they are ASIN, Supplier Name, Company, and Product. After you enter all the inputs it will show you the output on your screen, which will look something like this.
You can save a particular supplier by clicking on the "save supplier" button. Just as you can see in the below screenshot.

Supplier Tracker
If you are selecting more than one supplier, then you will need to do something to track all those suppliers as well. That's where the Supplier Tracker tool comes in. Here you will see all the suppliers you will add from the supplier database. It helped me in managing multiple suppliers at once.

3. Keyword Module
You have done the product research and found the supplier for those products. Now you wanna find the best converting keywords. The keyword module of Jungle Scout has many tools that help you in finding the best keywords as well as manage them easily. Yes, Jungle Scout comes with one of the best keyword research tools available out there.
Keyword Scout
Create an Amazon listing filled with the best keywords using the Keyword Scout tool. You will find this tool under the keyword section on the dashboard of Jungle Scout. All you need to do is enter a particular keyword or add up to 10 ASINs to get another keyword list for your listing.
Once you hit the search button, it will show you all the important metrics related to those keywords on your screen. If you're looking for something specific in data metrics, then you can use the filters.
Keyword List
In the keyword list, you can create an Amazon listing using the keywords you found on the Keyword Scout tool. You just need to enter keywords, and it will show you all the related metrics such as category, 30 days search volume, PPC bid exact, recommended promotions, the difficulty of the keyword, and PPC bid broad. Download the list in the CSV format to use it later.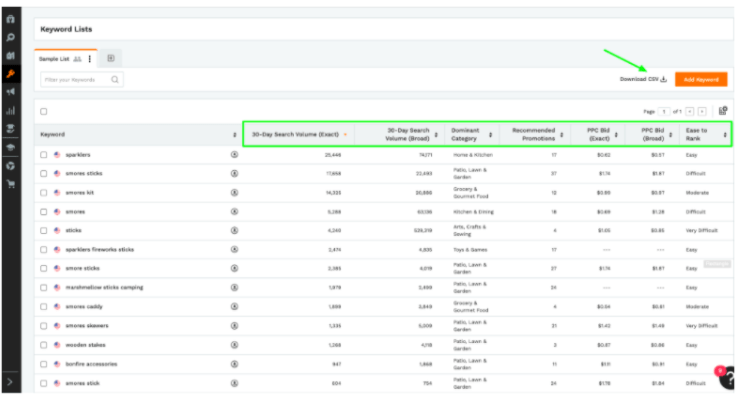 Listing Builder
The listing builder allows you to build a listing based on your keyword and product research. Use the listing builder directly from the dashboard of Jungle Scout and top keywords to create listings.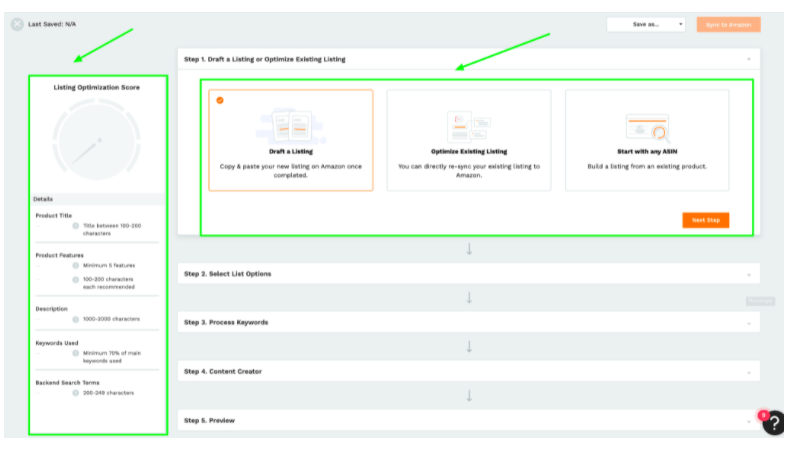 Just click on the "Create listing" button to start creating the product listing. You can also optimize any existing listing from the Listing Builder. As you add the products to your listing, on the left side of the screen, you will see the listing score as well.
Rank Tracker
The Rank Tracker of Jungle Scout works similarly to other rank-tracking tools work. You can track the ranks of your selected keywords. You can also spy on the ranking of your competitors' keywords. You need to add products manually to start the tracking.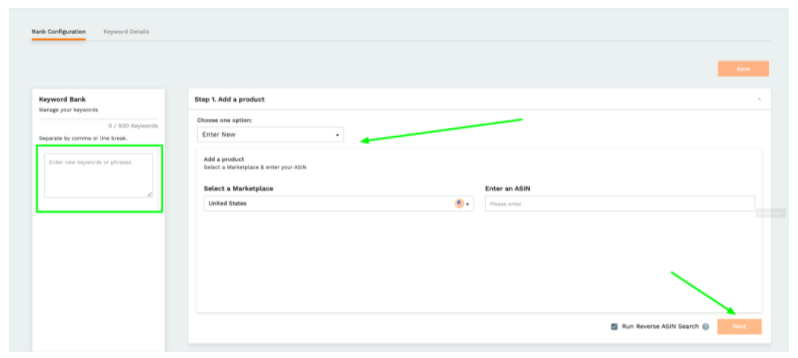 4. The Seller Module
This module of Jungle Scout helps you in tracking your business without any hassle. Let's take a look at all the tools of the Seller Module of Jungle Scout.
Sales Analytics
The sales Analytics tool helps you in getting all the insights related to sales in real-time. This tool helps you in analyzing historical cost breakdowns, current profit data, sales metrics, and trends in sales. All of your data can only be analyzed by you, and it is protected with 256-Bit AES Encryption.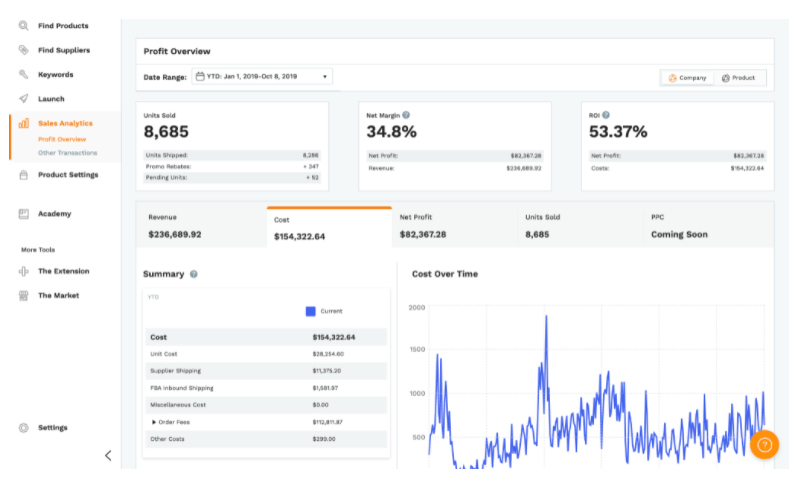 Inventory Manager
Every business owner wants to know details of their inventory on a regular basis. The Inventory manager tool of Jungle Scout helps you in managing your inventory in real-time. It also reminds you of remaining stocks and gives you an alert if it needs to be restocked. You will also be able to calculate Amazon inventory needs and predict FBA sales & analytics.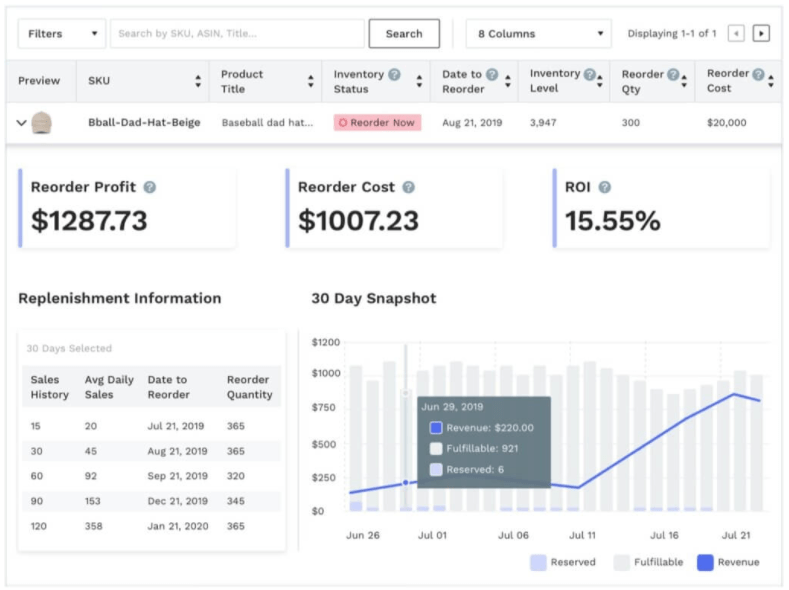 Launch
This promotion and launch tool helps you in launching products to start your business. With this tool, you can boost your product listing, prevent any promotion abuse, and acquire customer reviews for the products you launched.
Jungle Scout Extension
If you are on the go and want to keyword or product research then use the Jungle Scout browser extension. This extension is only available for Chrome and Firefox. You can install the extension directly from the official website of Jungle Scout.
Uses Of Jungle Scout Browser Extension:
Customize overlays on Amazon search pages
Validate Product Ideas
Get key Product insights
Request Reviews
Robust Data directly on the product page
Grade Potential opportunity score
Get a sales overview on your seller central account
Jungle Scout Academy
Similar to any other academy, Jungle Scout Academy is also full of resources that help you in becoming an amazing Amazon seller. Once you open the Jungle Scout Academy dashboard, it will look something like this.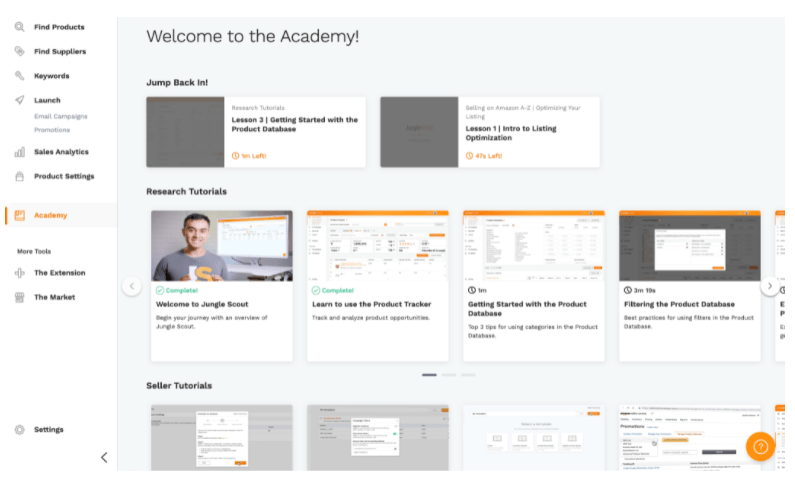 If you don't have any knowledge of being an Amazon seller then don't worry just the resources of Jungle Scout Academy to excel at being an Amazon seller. All the information is available at Jungle Scout Academy. I have learned so much through this and I am still learning on a regular basis. They regularly update their content as well.
Why Should You Choose Jungle Scout?
If you are one of those Amazon sellers who is doing all the manual research to find a profitable product to sell, then it's time to get started with Jungle Scout. It is the only Amazon seller tool; you will need to find the best product to sell, analyze your competitors, find a great supplier for that product, and launch your first product on Amazon. Those days are long gone when you have to spend hours and hours in manual research to do all these things.
It is the era of Amazon seller tools, and these tools can help you automate your Amazon selling business in just a few hours. Isn't that sound fantastic! You can just use these tools to find what your competitors are doing that is helping them in growing their business. Your complete business depends on finding the right product to sell, so why spend hours in manual research when you can just enter a keyword on Jungle Scout and apply some filters to get the right product to launch and sell in just a few minutes.
Jungle Scout Review: Pros & Cons
Here are the advantages & disadvantages of using Jungle Scout.
Pros
Offers in-depth data on product sales and revenue
Trend analysis through product tracking
Gain the upper hand on your competitors using the data on market intelligence
Check historical data on keywords such as trends in search volume
Predicts future demand for products
Choose your suppliers from a huge supplier database
Cons
Does not offer a lot of flexibility in inventory management
It doesn't have any free trial or a free plan
Jungle Scout Pricing Explained
There are two types of pricing plans available on Jungle Scout. The first one is standard plans which offer 3 different pricing plans, and the other one is package pricing. The package pricing also comes in 3 different pricing plans. Let's take a look at all the plans of Jungle Scout.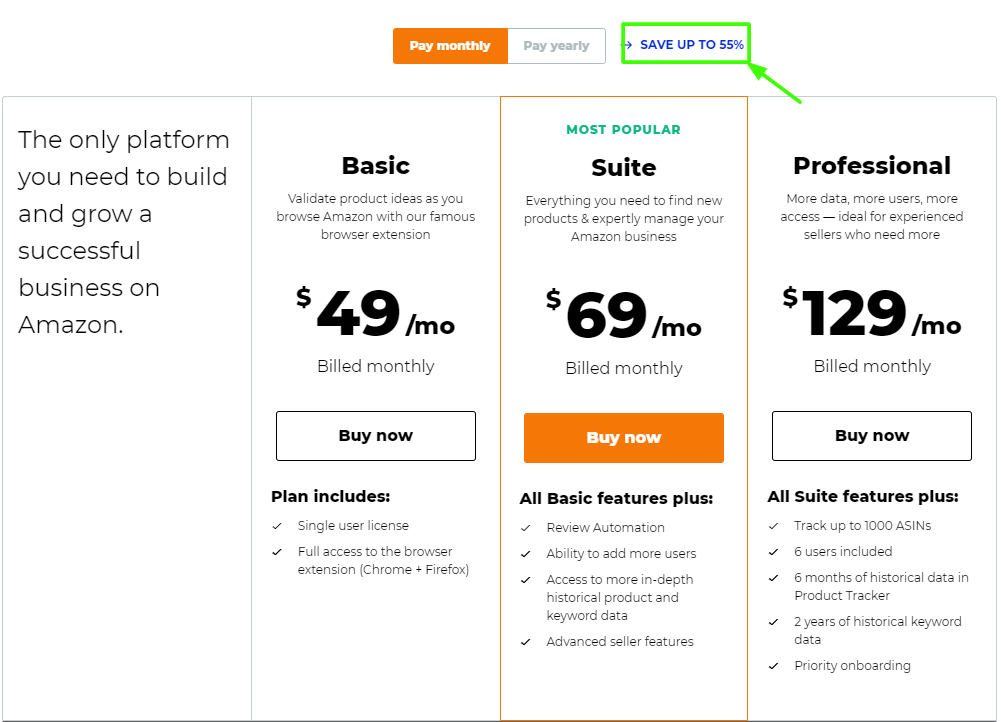 Yes, we have listed some of the working Jungle Scout discount codes, which can help you save upto 40% on Jungle Scout plans.
Standard Plans:
Let's take a look at the Standard plans and what they offer:
1. Basic Plan:
Costs $49/month or $29/month yearly
Browser Extension
Opportunity Score
Product Tracker (20 products/month)
Amazon Sales Estimator (500 estimates/month)
Opportunity Finder (3 Searches/day)
Product Database (3 search/day)
Supplier Database (3 search/day)
Keyword Scout (3 search/day)
AccuSales Estimates
Manual Review Requests
Sales Analytics
Listing Grader (100/month)
2. Suite Plan:
Costs $69/month or $49/month yearly
Includes all the features of the Basic Plan
Add addition user at just $49/month
Product Tracker (150 products/month)
Amazon Sales Estimator (1000 Estimates/month)
Historical Product Tracking up to 3 months
Historical keyword data up to 1 year
Rank Tracker (3500 keywords/month)
Listing Builder
Inventory Manager
Alerts
Supplier Tracker
Promotions
3. Professional Plan
Costs $129/month or $84/month yearly
Includes all the features of the Suite plan
Product Tracker (1000 products/month)
Amazon Sales Estimator (1500 estimates/month)
Historical Product Tracking up to 6 months
Historical Keyword Data up to 2 years
Rank Tracker (5000 keywords/month)
Listing Grader (500/month)
Priority Onboarding
Package Plans:
Let's take a look at the pricing plans of Package plans and what they offer: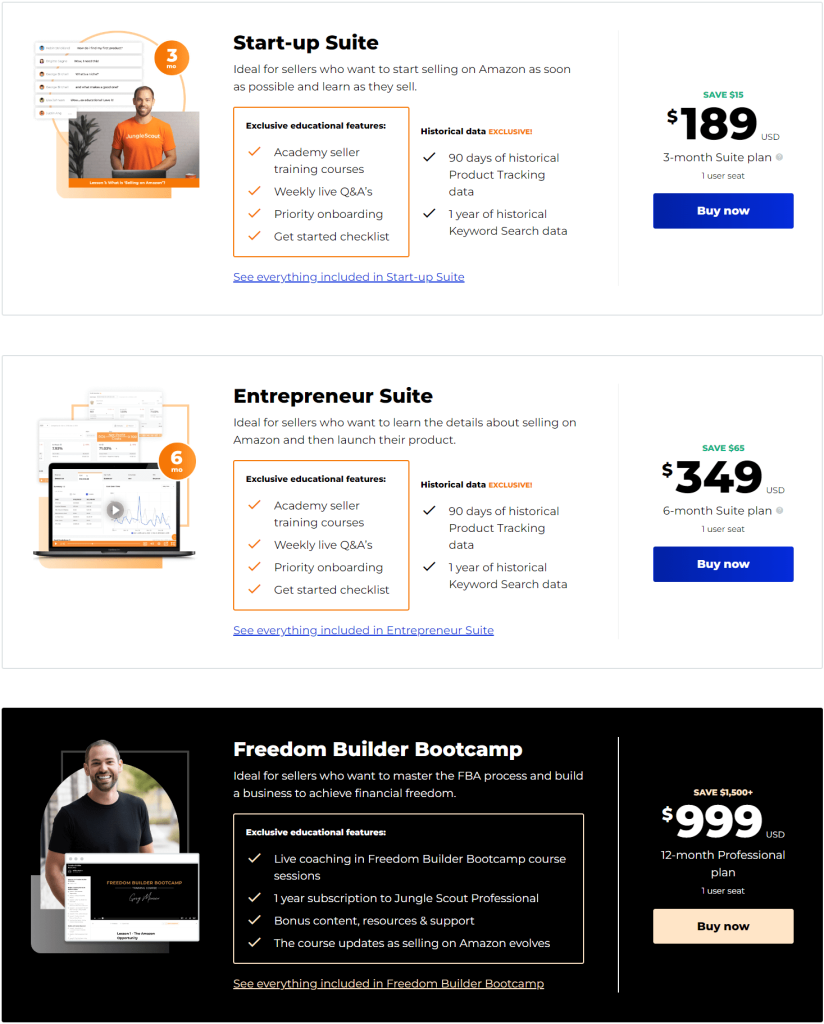 1. Start-up Suite Plan:
Costs $189 and offers 3 months of Suite plan features
90 days of Historical product tracking data
1 year of Historical keyword data
Academy seller training courses
Get Started Checklist
Priority Onboarding
Weekly Live QnA
2. Entrepreneur Suite plan:
Costs $349 and offers 6 months of Suite plan features
Rest features are similar to the start-up suite plan
3. Freedom Builder Bootcamp:
Costs $999 and offers 12 months of Professional plan features
Live coaching
Bonus content & resources
Regular updates in the courses
So these are 6 plans of Jungle Scout. Choose any one of them based on your requirements.
Jungle Scout Alternatives | Is There Any?
There are many Amazon FBA tools available that you can use as Jungle Scout alternatives. In fact, we have curated a handpicked list of some of the best Jungle Scout alternatives. Yes, Helium 10 and Viral Launch are the top-notch alternatives to Jungle Scout. Check our detailed comparison below.
Final Verdict: Jungle Scout Review 2023
I hope you're still with me because we reached to end of this Jungle Scout review. I have covered almost every detail of Jungle Scout.
I have used many tools before using Jungle Scout because I want to compare Jungle Scout to other tools. After that, I started with Jungle Scout and never looked back. The best part about Jungle Scout is that they offer a 7-day money-back guarantee to their new users. That means if you're not satisfied with it then get your money back.
But I am sure it will happen very rarely because if you're serious about your Amazon-selling business, then you will stick with Jungle Scout. So if you want to discuss Jungle Scout more, then comment below in the comment section, and I'll get back to you ASAP.
FAQs On Jungle Scout Review
How accurate is Jungle Scout?
Jungle Scout is fairly accurate than most of the Amazon seller tools available on the market. It is not always accurate, but if you have proper knowledge of selling on Amazon, then it will work really well for you.
Is Jungle Scout Worth it?
Yes, Jungle Scout is definitely worth every single penny you spend. It does the most work for you, such as finding the right products to sell. Along with that, it also offers a lot of tools such as keyword research, competitor research, data history, and more.
Does Jungle Scout offer a money-back guarantee?
Yes, there is a money-back guarantee available on Jungle Scout, where you can apply for a refund within 7-days of the purchase.
Is Jungle Scout free?
No, Jungle Scout is not free. You will have to purchase a subscription to Jungle Scout to use all of its tools. You can also save up to 40% with our exclusive Jungle Scout discount codes.
What are the alternatives to Jungle Scout?
Some of the best alternatives to Jungle Scout are Helium 10, Viral Launch, AMZ Tracker, AmazeOwl, and Unicorn Smasher.