Thinking about starting Amazon to eBay dropshipping? Don't look further, you came to the right page.
Dropshipping from Amazon to eBay has been one of the profitable business models since 2011. Thousands of dropshippers are selling millions of Amazon products on eBay at a great profit margin. Before 2019, running this kind of business was easy, but new sellers might find it challenging due to some changes in eBay's sellers' policies.
To solve this sole purpose, I have brought an Amazon to eBay dropshipping guide for beginners. I have included all the crucial aspects and challenges, from finding Amazon products to selling them to eBay customers.
Let's get started.
What is Amazon to eBay Dropshipping?
Amazon to eBay dropshipping is a kind of online arbitrage in which you purchase products from Amazon and resell them on eBay. Meanwhile, you earn profit by calculating the difference between the final eBay price and Amazon's price (including the selling fees). As a dropshipping model, the drop shipper purchases from Amazon and delivers it to eBay customers.
Therefore, as an eBay dropshipping seller, you won't need to manage an inventory to run your online store. Besides, the arbitrage (the price difference) makes it possible to sell Amazon products for a much cheaper price than other eBay sellers that are selling the same product. 
As a matter of fact, the term "arbitrage" came from the stock market. In the stock market, a company's stock price can be different in two trade markets. Likewise, the price of the same product can be different in two marketplaces. Dropshipping is somewhat similar to arbitrage, but in dropshipping, you don't have to worry about shipping or keeping inventory of a product.
Listed dropshipping products on eBay appear in the search results organically. It is because of the free traffic you are getting from the huge marketplace. Dropshipping on eBay is a low-risk business model, which makes it suitable for beginners. 
Is Amazon to eBay Dropshipping Even Legal?
This is one of the most generally asked questions by beginners. The answer is yes, Amazon to eBay dropshipping is undoubtedly a legal business practice. In fact, thousands of eBay dropshippers are making a solid profit from this business model.
According to eBay and Amazon's policies, both support dropshipping, but you can't do it from one marketplace to another. You are permitted if you have a deal with private dropshipping suppliers. So how is this different? Isn't it against the policies?
Money is the simple answer to these questions. Amazon and eBay both are making millions of profit from arbitrage and dropshipping. However, they also keep an eye on inexperienced dropshippers so they can filter out those who violate the rules. Customer satisfaction is more important for both platforms, which is why beginners are put on the radar to make sure they take care of the customers.
While doing Amazon to eBay dropshipping, avoid using gift vouchers and discount cards while purchasing from Amazon, or else your account will get locked. This is one of the common mistakes beginners do to make extra profit. So learn from others' mistakes and make sure to avoid such situations.
Does Amazon To eBay Dropshipping Work?
We have established that Amazon to eBay dropshipping is legal, but does it really work? To make it work, you have to know how you can do it in the right way. It is not possible to list whatever Amazon product you find on your eBay store because it will result in your eBay account getting banned or getting negative reviews from customers. You need to do proper product research to find the most popular products to dropship.
After you find the products to dropship, now compare the pricing of those products from eBay sellers to see whether there is a margin on sales or not. After doing these things, you can now list those products at an affordable price on your eBay store to compete with other eBay sellers who are also selling the same products.
You need to list the price of these products higher than their Amazon prices, precisely 20-30% higher, because this way, you will be able to cover the expenses of selling on eBay and also earn a good margin on the sales. Many eBay sellers are doing this and earning a good margin on sales. But there are some issues that can arise, such as when a customer wants to return the product, the problem will be who will handle the returns: you or the Amazon seller from whom you bought the product and then dropshipped it to your eBay customer.
How to Start Amazon to eBay Dropshipping?
Dropshipping from Amazon to eBay is simple. On the other hand, setting up accounts and following policies can be a hectic process. But I am here to ease up your headache. Follow these steps in order to start Amazon to eBay dropshipping.
1. Create an eBay Seller Account
The first thing you need to do is set up a seller account on eBay. Opening a seller account on eBay is a very simple process. Let's see how to do it.

Visit the official website of eBay and click on the Sell option from the top right corner.
Click on the List an Item button and select the type of product you are going to sell.
On the next page, write the description of the product and its condition.
Upload the images of the product.
After listing your product, the system will ask you to choose the account option. Select the business account for dropshipping.
And finally, fill in your information and your EIN (Employer Identification Number) to finish setting up your business account.
2. Setup Your Business and Shipping Policies
You need to set up your shipping times and return policies, so eBay shoppers can easily understand things while shopping from your page. Business policies are also not automatically enabled since each country has different business policies. Make sure to set up region-specific business policies.
Make sure to set up shipping times according to the standard shipping policies of your country. However, you can set up return policies on your terms.
3. Create an Amazon Prime Account
If you are going to engage in arbitrage or dropshipping from Amazon to eBay, you must have an active Amazon Prime account.
Having a Prime account gives you the perks of fast shipping. And while dropshipping from Amazon to eBay, you must find ways to reduce shipping times so you can ship orders within given timeframes. With Prime, you get free and two-day shipping options with most orders.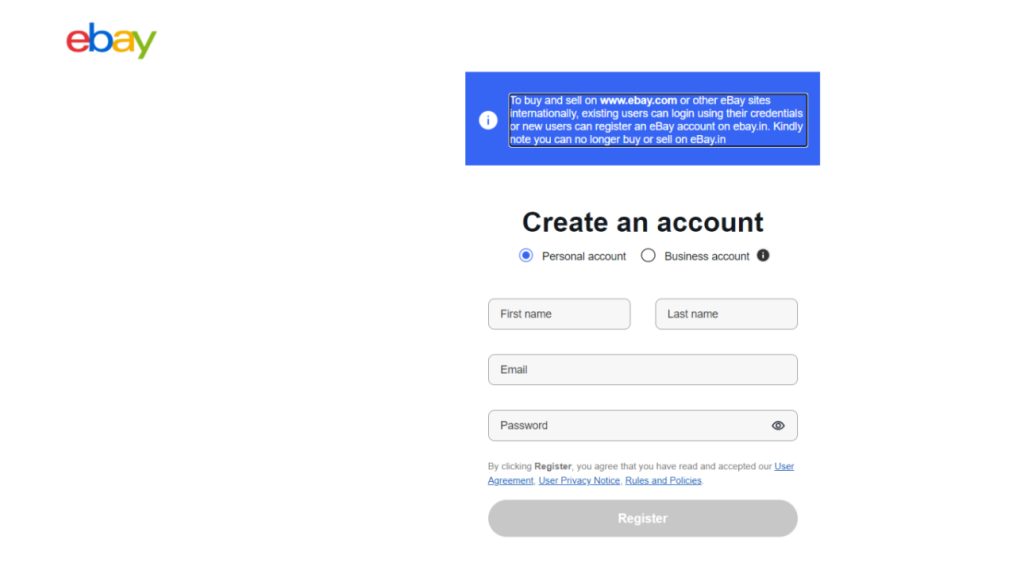 Keep one thing in mind, signing up for an Amazon Prime subscription comes with a cost. You can choose a monthly or yearly plan for Prime access. However, you can go with a standard account without paying any monthly fee. But on a standard Amazon account, you will get uncertain shipping times on products which can harm your dropshipping business in many aspects.
4. Find Products on Amazon to Sell on eBay
After setting up an eBay seller account and taking an Amazon Prime subscription, you need to find a product to sell on eBay.
You can go through top-selling merchants to browse what kind of products they are selling. Before purchasing a product, compare the prices of similar products on eBay so you can calculate the profit by deducting the original price and order fulfillment fee from the final price.
5. List Products Your Selected Products on eBay
You can skip this step if you have already listed the products while setting up your eBay account.
After finding a product(s) for reselling, go back to your eBay account and select a product listing by creating a descriptive product name. Once you search using a descriptive title, you find an eBay listing page for your products. Make sure the listing page has an appropriate category for your products.

Don't forget to mention the condition of your product. Since you are reselling a product without even touching the package, you can choose the condition as new.
6. Add High-quality Product Images
Now, you need to upload the images of your product. It can be a tricky process because you might not be aware of how the final product looks alike. Since you don't have the actual images of the products, you can try to pull out images from existing eBay listings. Make sure the images aren't branded and don't have watermarks or backgrounds of a certain brand.
You can upload up to 12 images of a specific product. Try to upload images with different angles to make your listing more appealing.
7. Add Descriptions With Each Product
Next, you need to add descriptions with each product you have listed. First, select the brand or add the brand name from the dropdown option if it is self-branded.
Add proper specifications and properties under the title of your product. Don't lie in the specifications to make it look better, or else you will receive negative reviews from eBay customers.
After adding features:
Add an explanatory product description.
Use proper keywords while writing the descriptions.
Don't overstuff keywords in the description – write short but descriptive.
8. Create a Schedule for Upcoming Orders
After listing products on eBay, you might start getting orders soon. The best way to stay on top of orders is by creating a regular schedule so you can process orders on the same day.
While ordering from Amazon, make sure to leave a note for the Amazon seller requesting them not to add product information or other inserts which show them as a seller. Few sellers might identify as you are dropshipping but don't add anything which directly points to you as a distributor. Ordering products from Amazon and then shipping them to eBay customers is the hardest part of the process. This is where possibilities of you getting flagged arise, so make sure to do your best to avoid such situations.
How to Find the Best Products for Amazon Dropshipping
Finding the best products on Amazon to sell on eBay is a little bit tricky. But if you do some research and make strategies, you will definitely find a profitable product to sell on eBay.
You can follow these proven ways to source products from Amazon.
First, you must identify a niche market with high demand and low competition. Then, look for average sellers with a good sales rank and the least number of reviews.
Focus on items that have higher values in other eCommerce platforms and marketplaces.
Anticipate how can that product can be rebranded or marketed to attract buyers to your eBay store. Read the reviews of real customers and figure out the current flaws that you can correct before selling.
While looking for products, you can also look for product listings of current sellers, where you can find many other listing errors and drawbacks that you can capitalize on in your product listing.
Fewer product images or low-quality images of products can be easily modified.
Missing or poor choice of keywords can be an opportunity for you. You can do some research to find strong keywords for your products.
Sometimes sellers shorten words to make them fit in the description and title. Most buyers skip those listings because of such mistakes, but you can take advantage of those products by purchasing them and listing them properly in your store.
What Products are not on eBay for Dropshipping?
eBay is very concerned about customer satisfaction and safety. They protect their platform from merchants willing to sell dangerous and unauthorized products. So as a beginner, you must avoid selling such products to stay out of trouble.
Don't think of adding products related to firearms, tobacco, or drugs. Even avoid adding accessories related to those products. It would be best not to resell products from patent or known brands.
To know more about what products to sell, visit eBay's Rights Owner Program page. It will give you a deeper understanding of legitimate products for selling.
Amazon to eBay Dropshipping: Pros and Cons
As a dropshipping seller, it is crucial to be aware of the benefits and drawbacks of this business before starting your own.
Pros Amazon to eBay Dropshipping
More than 12 million Amazon products are available for dropshipping
Free shipping options on millions of Amazon products (with Amazon Prime only)
Same day or 2-day delivery times with most products
Access to multiple marketplaces
30-day return policy with Amazon Prime
Extended holiday returns
24/7 premium customer support via phone, email, and live chat
Cons of Amazon to eBay Dropshipping
No control over products' quality since you are directly reselling products through a supplier.
A potential risk of customers finding out that you have shipped an Amazon product at a marked-up price.
No control over shipping either as your contract with a third-party supplier.
You might face issues finding product images while listing.
Related Read:
Final Verdict: Amazon To eBay Dropshipping
Amazon is loaded with arbitrage and dropshipping opportunities. And what's better than reselling dropshipping products on eBay? However, new sellers usually make common mistakes by following guides or courses made before 2019 while starting Amazon to eBay dropshipping. eBay has set new policies for sellers, which makes these courses and guides useless for any seller.
If you do it the right way, you will find this business profitable. Otherwise, only a few sellers dare to go with Amazon to eBay dropshipping as it comes with a lot of uncertainty and risks. With this business, you might avoid paying upfront or inventory management costs. Still, there are some potential risks of getting complained about by eBay customers, which can lead you to suspend. Still, if you play within the rules, you are good to continue this business.