Are you looking for various ways to make money on Amazon? Look no further, I have got your back.
Amazon is undeniably the #1 marketplace in the world. In 2021, Amazon bagged more than $469 billion in revenue, of which 47% was fueled by third-party services and sales.
No one comes closer to Amazon in offering ways to generate passive income when it comes to making money online. You can only make money by selling products online on other eCommerce companies like Shopify, eBay, and Etsy. But on Amazon, you are not bound to one profession – use as many methods as possible to earn passive income.
In this post, I will list the top 10 ways to make money on Amazon. Most of them are remote work, so you can earn money by simply using your laptop or smartphone while wearing pajamas in your home.
Let's dig right into the post.
10+ Best Ways to Make Money on Amazon (2023)
Here is the list of the top 10 proven ways to make money on Amazon.
1. Amazon Affiliate Marketing
Earn up to $3K – $10K per month
The first and the best way to make money on Amazon is to promote Amazon's products with affiliate marketing. Eventually, you can create a website where you can start promoting or reviewing products that are already selling on Amazon. When a visitor clicks your link on your page and places an order, you get a handsome commission of 1%-10%, depending on the categories. 
The best part is that even if the buyers purchase a completely different item than you have promoted, you will still get a commission as they are making a purchase through your link. This is how Brian Lamb started an affiliate website, Wirecutter, that got sold to the New York Times for a whopping $30 million.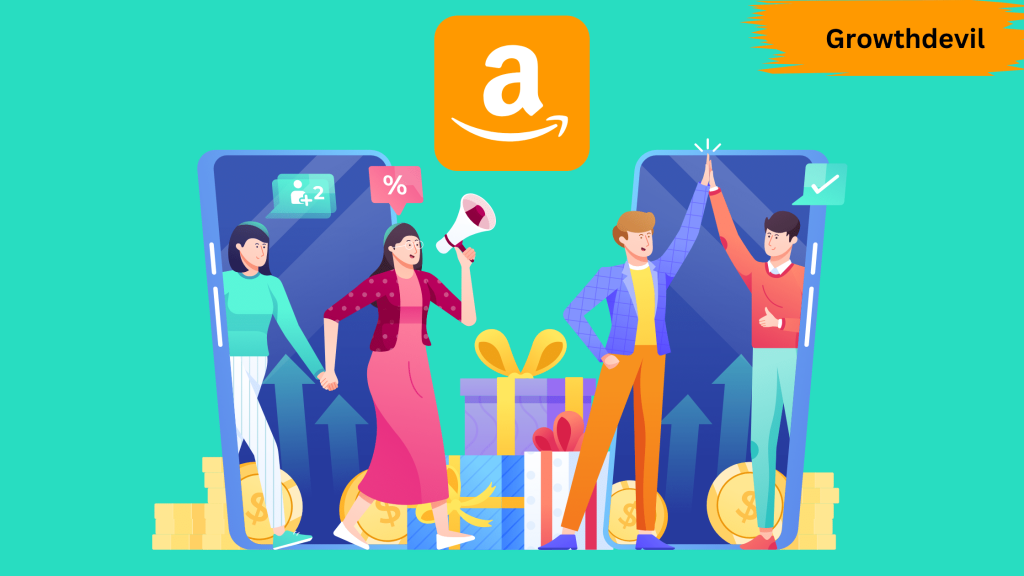 Not only blog or niche websites, but you can also promote the products on social media platforms such as YouTube, Instagram, Facebook, TikTok, and others. You can promote products in the form of product reviews, video reviews, comparisons, and how-to guides.
Starting with the Amazon Affiliate Program requires zero investment money. You can do it from anywhere, and eventually, it generates sufficient cash flow that you can even ditch your nine-to-five job.
2. Publish eBooks on Kindle Direct Publishing
Earn up to $40K per month
Another profitable way to make a lot of money from your home is publishing your own online courses or books on Kindle Direct Publishing (KDP). If you love to write stories, drama, or courses and want to share with an audience, KDP is the platform you were looking for.
KDP is basically a self-publishing website of Amazon that allows writers to publish and sell their books to Amazon's pre-made audience. And you don't have to necessarily roam around marketing your books anywhere. KDP is a similar service to Merch by Amazon. But with KDP, you get full rights over your books, eBooks, and content which is something you typically won't get with other publishing platforms.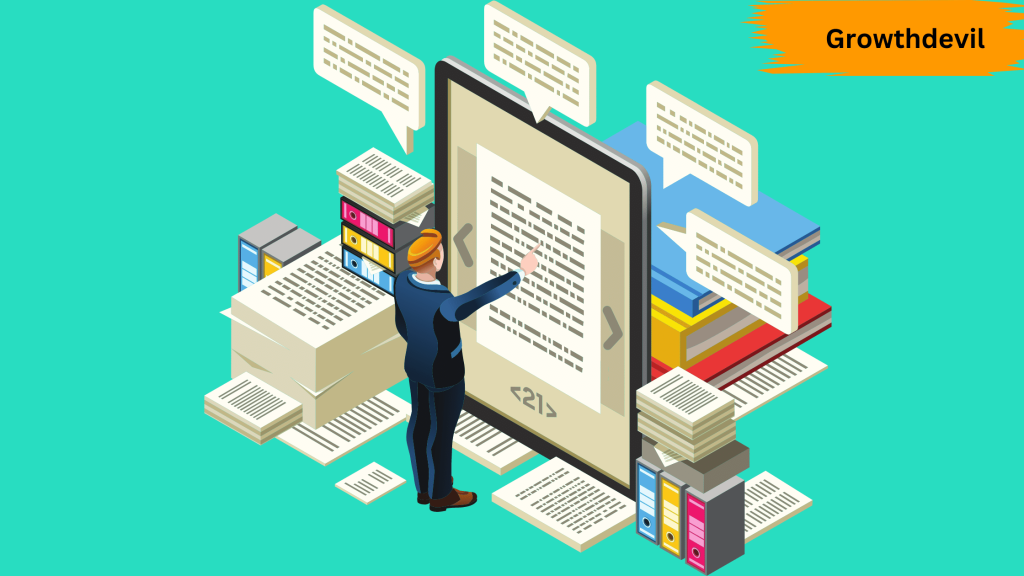 The only catch is that you need to write something fruitful or interesting in order to get results. Publishing two hot popular books will be enough to earn enough money for a year. But the more you publish, the more you can earn.
3. Online Arbitrage
Earn up to $30K to $50K per month
The next method is making money by flipping retail products through online arbitrage. If you want to become an Amazon seller but don't have much experience selling items, the best way to get started is through online arbitrage.
Online arbitrage is a process of buying products from local online retailers at a discounted price and then reselling those products with a profit on Amazon. Now you might be thinking, is this type of business even legal?
Fortunately, it is legal. As per First Sale Doctrine, if you have purchased a product legally, you have the right to resell it as long as you sold it in the same condition as you have purchased it.
There are thousands of online websites on the internet from where you can purchase individual and bulk items at a discounted rate. However, l, making money depends on how many units you have purchased. You won't be able to make much by selling one or two units even if you have purchased them from a great deal. Purchasing in bulk surely makes a decent revenue stream.
4. Retail Arbitrage
Earn up to $5K to $15K per month
Retail arbitrage is almost similar to online arbitrage. But in retail arbitrage, you purchase discounted items from physical stores instead of buying from online retailers. However, you need to stretch your legs in order to purchase from local stores.
There are a lot of advantages to buying discounted products from physical stores, such as you can check the product's quality without even purchasing it and also bargain prices when purchasing in bulk.
To be honest, retail arbitrage is much more competitive and less scalable than online arbitrage as people can easily buy those products from local stores or discounted stores such as Walmart. But still, this is a quick and low-cost method to start making money on Amazon.
5. Merch by Amazon
Earn up to 100K per year or 13%-37% royalties
Do you have graphic designing skills, or are you great at making art or beautiful designs? Then, you can start earning a lot of money with Merch by Amazon.
Merch by Amazon is basically an in-house print-on-demand service by Amazon where you can sell your branded merchandise. With this amazing service, you can sell t-shirts, mugs, hats, and other items. All you have to do is start an Amazon Merch account and upload your cool designs and artwork on various white-label products. You can even upload trending punchlines or one-liners on products.
After uploading the designs, you need to wait for Amazon's approval before you promote them on your online store. As soon as you get approved, Amazon will create a listing on a specific product page. They will also handle printing and shipping processes along with customer service. After successful purchases, you will get royalties or fixed percentages of each sale in return.
Merch by Amazon is a truly passive income source as you don't have to manage an inventory or order fulfillment. And you take a big piece of the profits.
6. Amazon Dropshipping
Earn up to 5K to 15K per month
Dropshipping is one of the most proficient business models in the eCommerce industry. You can start this business even with the lowest investment of $1000.
Luckily, Amazon offers dropshipping on its platform. You can list various items for sale without owning an actual inventory. And when a customer makes an order, you simply purchase that product from a dropshipping supplier at a lower price, and the supplier will also ship that order to the customer. This way, you make a profit by acting as a middleman without touching the product. The supplier will do all the logistics work for you.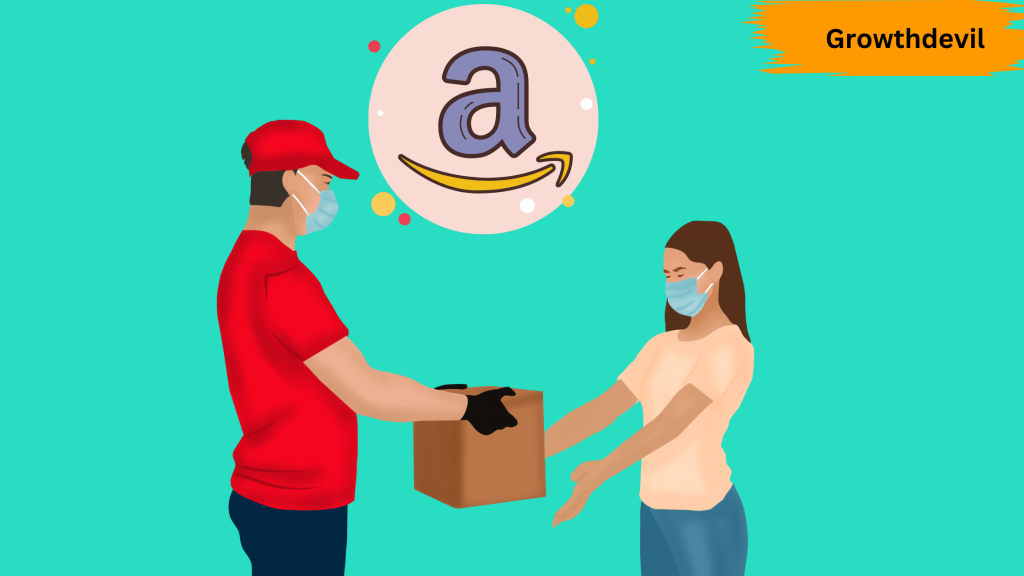 The only headache is finding a reliable dropshipping supplier. Without a trusted supplier, signing up for the Amazon Dropshipping model won't make any sense. If you want to find the best dropshipping suppliers for Amazon, you can check out the best dropshipping suppliers guide on our page.
7. Sell Private Label Products
Earn up to $50K to $1M per month
The best and the most profitable way to make money on Amazon is obviously selling private-label products. More than 67% of Amazon sellers are running their businesses using this method.
Private label is the procedure of manufacturing existing items in your manufacturing facilities. You put your brand and logo on your items and sell them to customers on your preferred pricing ranges. Private label is also referred to as brand creation or white labeling. 
If you are already running a business selling products in physical stores and want to expand your business by selling your products on Amazon, you can create an Amazon Seller account and list your products. The reason why private label businesses are successful is that they can manufacture better products than competitors and sell under a more affordable range. However, starting a private label business requires a lot of investment and strategies.
You can choose Amazon's FBA service to deliver your products to your customers. Choosing FBA as your order fulfillment relieves you from storage, packing, shipping, returns, and other customer services. However, you need to pay monthly charges for your order fulfillment which depends on your product sizes and units.
8. Become an Amazon Representative
Earn up to $1000 a week
You can work as a Customer Service Associate on Amazon from your home. You can join Amazon's virtual customer service team by applying on the website. Amazon offers customer services in 16 languages, so they hire associates in 130 locations across 40 countries.
Joining Amazon's virtual customer team gives you the flexibility to work remotely from your home, and Amazon will pay you handsomely for delivering professional customer service to their customers.
This is a professional career, so you must be qualified enough to apply for this post. Amazon seeks action-oriented associates, so make sure you have all the cutting-edge technologies so you can easily solve customers' queries.
9. Sell Wholesale on Amazon
Earn up to 3K to 5K per month
Selling wholesale on Amazon is quite similar to the private label, but you will be selling products under other brand names in this method. As a result, you don't have to take stress about manufacturing or branding the products. However, selling wholesale on Amazon is not an easy job, but still, it can make a lot of profits.
You can purchase branded products in bulk from various established suppliers and resell them on Amazon. You can start with consumer electronics, toys, kitchenware, and other high-demand products. This model works similarly to retail arbitrage, but you need to contact verified suppliers to buy wholesale products at a discounted rate. But it is much more scalable and less competitive than retail arbitrage as you are selling branded items on a sale.
In order to start wholesaling, you might need a wholesale license, resale certificate, and sales permit since most brands demand these legal certificates before opening a wholesale account for you. It is definitely a time-consuming process, and you will require a lot of research to find a high-demand and low-competitive product.
If you are facing difficulties finding the best wholesale website, check out our list of wholesale websites on our page.
10. Sell Handcrafted Items on Amazon Handmade
Earn up to $1K to $25K per month
The last method for making money on Amazon is selling handmade products. Amazon Handmade is an artisan-only program for artists and creators who wants to sell handcrafted goods on Amazon. Here you can list your handmade products and easily make thousands of dollars each month. It is a private community for sellers and shoppers where you can find an established customer base who likes to buy handmade products. So you don't have to make a lot of effort finding customers for your business.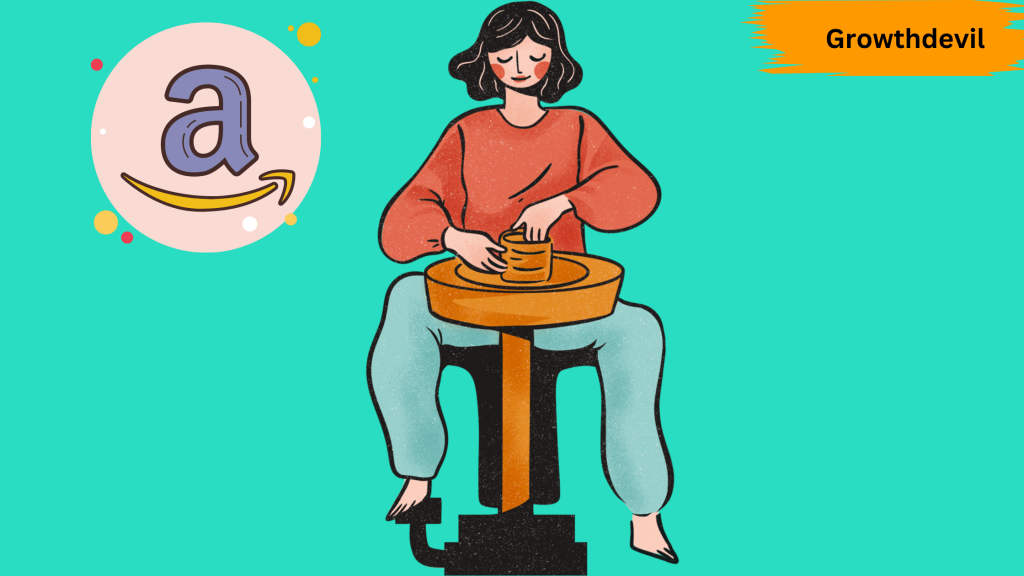 Amazon Handmade is quite similar to Etsy. Both offer a way to reach thousands of potential customers. You can sell various handmade products such as pottery, bracelets, artwork, cutting boards, etc. But it is obvious that you need to do a lot of hard work in order to maintain your inventory, so you don't get out of stock.
For all handmade-approved sellers, Amazon offers access to the Professional selling plan without charging you any monthly fee. It can save you $480 per year. However, Amazon will deduct a 15% referral fee on every successful sale of your handmade goods. But in return, the platform will give you exposure and branding solutions.
Related Read:
Conclusion: How To Make Money On Amazon (2023)
So here are all the top legit ways you can follow to make money on Amazon. You can also make money using other ways like selling used goods. You can sell used goods such as accessories, cell phones, electronics, cameras, books, musical instruments, etc., on Amazon to earn money. However, selling used goods on Amazon requires a lot of terms and conditions, so you need to be very careful while listing used products on Amazon.
Luckily, all the listed methods of earning on Amazon require no terms and conditions or limitations, so you can choose the one that suits you best.
So which one do you choose? Let me know in the comments section.
FAQs
How to make money on Amazon realistically?
To make money on Amazon, you can sell ebooks, self-published books, private-label products, and flip products that you buy at retail. These are a few realistic ways to make money on Amazon with ease.
Which are the most profitable categories to sell on Amazon?
Some of the best-selling categories on Amazon are photography equipment, video games, electronics, gift cards, self-care products, jewelry, clothing, shoes, etc. If you decide to sell products of any of these categories, then you can easily make money on Amazon.
How to earn passive income with Amazon?
To earn passive income with Amazon, you can sell private label products through Amazon FBA, Amazon dropshipping, promote Amazon products and earn through affiliate marketing, or sell ebooks on Amazon KDP.
How much money can a beginner Amazon seller make?
On average, Amazon sellers are earning in-between $1k to $25k every month. If you are a complete beginner, then it will take you some time to start earning any money on Amazon.
What are the reasons sellers leave Amazon?
The biggest reasons why Amazon sellers leave Amazon are people don't understand the rules of selling on Amazon properly, they get negative reviews on their products, and they can not find the perfect product to sell on Amazon.