Amazon is a great place to sell but it's a tricky business to handle. Especially, at the financial end, there are a lot of estimations, calculations, and documentation to be done, in order to keep all the activities in check. Once you start expanding your product line ups and selling more, it's not easy to monitor the financial activities such as profit, cash flow, taxes, etc.
According to a business report, more than 65% of new sellers close down their Amazon business within the first year. One of the main reasons for the failure is the difficulty they face to assess the data and manage the finances.
Yes, you can hire professionals to do the job but it's time-consuming and the chances of error will be very high.
This is where you need accounting software to manage your Amazon business. Such software are designed to streamline the process of all the financial activities such as estimating costs, distributing staff salary, managing inventory levels, and much more. Using accounting software is very convenient and saves you a lot of of time which you can allocate to other business requirements.
It's tricky to choose the right accounting software for you as there are more than 20 such programs available. In this article, we will talk about the best ones in the market. We will discuss their price, beast feature, and overall functionality.
Let's get started.
What Does Accounting Software Do for Amazon Sellers?
Amazon accounting software is a one-stop solution to monitor the financial activities of your e-commerce business. These activities include tax estimation, invoicing, sales management, customer management, etc.
Traditionally, you hire experts with professional knowledge in accounting and business but it costs additional money. Also, manually doing the numbers takes some time and there are fewer chances to have 100% accuracy.
The accounting software can handle monetary operations such as accounting, sales, marketing data, product advertising, and so on.
Here are some common features you will find in accounting software:
Preparing custom invoices and sending them to customers.

Tax estimation and calculations.

Employee management and payroll services to manage the staff salaries.

Access to past financial data such as sales, profit, and expenses.

Preparing expense reports.

Inventory management system to monitor your stocks.
Top 7+ Amazon Accounting Software: In A Nutshell (2023)
| | | | |
| --- | --- | --- | --- |
| Sr. No. | Platform | Best Feature | Pricing |
| 1. | Jungle Scout | Up to 2 years of past data | $29/ – $84/month |
| 2. | Quickbooks Online | Online Stock Tracking | $12.50 – $90/month |
| 3. | Xero | Third-party integrations | $9 – $60/month |
| 4. | Account Edge | Best for Mac Users | $499 one time |
| 5. | Helium 10 – Profit | A Complete Seller Suite | $39 – $399/month |
| 6. | GoDaddy Bookkeeping | Budget Friendly | $5, $10, $15/month |
| 7. | FreshBooks | Send unlimited invoices | $15 – $55/month |
1. JungleScout
Jungle Scout is a popular name amongst Amazon sellers and its financial management services are used by hundreds of thousands of sellers worldwide. It allows a centralized management system to track and manage your expense, profits, and sales.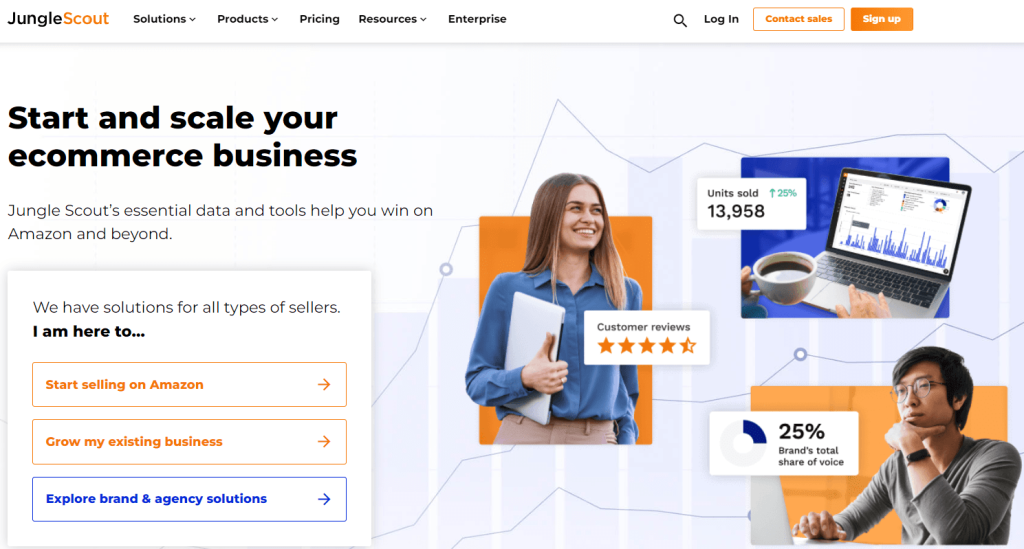 You can easily sync Jungle Scout with your Amazon Seller account and the tool will extract all your financial information such as your past expenses, sales records, PPC data, refunds, and so on. You can easily calculate the tax, dues, and other bills to be paid. Apart from financial service, Jungle Scout provides FBA training for new sellers and 10+ seller tools to oversee your Amazon business smartly.
Create optimized listings based on the data fetched by the Jungle Scout product research tool.

Implement intelligent marketing tactics to improve your sales.

Send automated invoices, and track expenses, and taxes.

Review requests automation

Jungle Scout Academy training to learn the Amazon ecosystem.
Jungle Scout has 3 plans for its users – basic, Suite, and Professional.
The basic plan comes at $29/month with a single-user license. It gives access to the Jungle Scout browser extension with basic bookkeeping features as well as a review automation tool.

The suite plan costs $49/month and allows you to add multiple users to your account. It offers review automation with advanced tools, historical data access, PPC analytics, and premium seller features.

The professional plan will cost you $84/month and offers up to 6 user licenses, up to 2 years of historical data, and all the premium financial tools such as tax analysis, invoicing, sales tracking, and so on. Check some of the working Jungle Scout discount codes here if you're considering Jungle Scout.
2. Quickbooks Online
Quickbooks online has been designed to facilitate small-medium Amazon sellers with tax assistance, expense and profit bookkeeping, invoicing, and much more. You can monitor account activities such as sales, track down potential sales opportunities, and access the inventory across the locations.

You can also send customized invoices to your customers, track the stocks online, track your payments, and dues, prepare sales reports, manage payroll, etc. The user interface is fairly easy to navigate, especially for newbies with no prior accounting knowledge, so if you are willing to manage your finances by yourself instead of hiring a professional accountant, Quickbooks online is the right platform to go with.
Quickbooks Online allows you to track stocks online.

Manage and document your expenses, and profit over time.

Prepare customized invoices for your customers and track them easily.

Offers an employee management solution and payroll service to manage a small team, salary distribution, and so on.

Keep an eye on your inventory level throughout the sales

Can be synced with multiple bank accounts easily.

Tax calculations and deductions
Quickbooks online offers 4 plans – Simple at $12.50/month, Essentials at $25/month, Plus at $40/month, and Advanced at $90/month.
Simple and Essentials plans offer the same premium bookkeeping features except the latter has a three-user license, and the ability to manage and pay the dues.
Plus plan offers up to a 5-user license and additional features of inventory management. The Advanced plan is more suitable for bigger organizations as it offers employee management and payroll features, training, etc.
3. Xero
Xero is a financial technology company based in New Zealand that provides cloud-based account management services to small and medium organizations. Recognized by Forbes itself as one of the fastest growing innovative companies, Xero can make your Amazon business keeping hassle-free.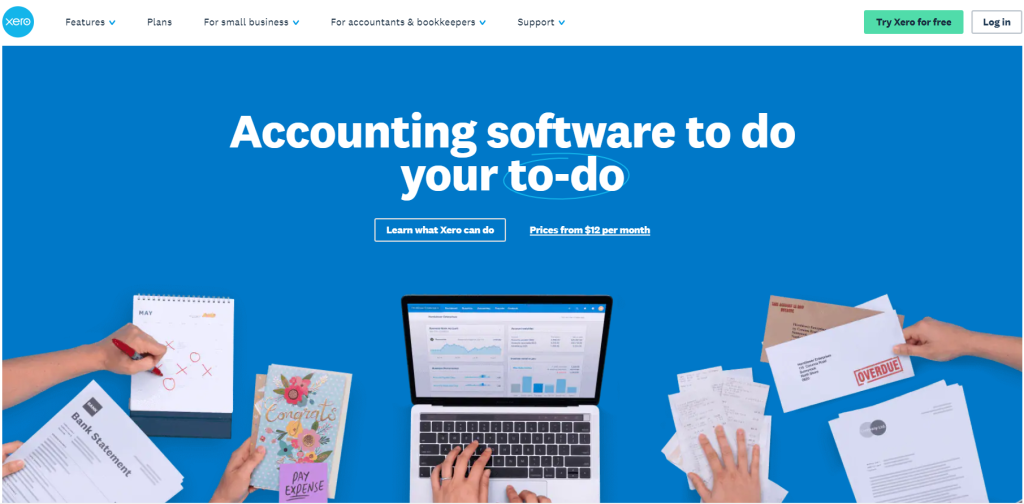 You can sync your Amazon seller account with Xero and track and pay your due bills, claim expenses from Amazon/supplier, accept payments, and keep your bank transactions in check. As of 2022, more than 1.8 million Amazon Sellers have been using Xero services to manage their Amazon finances and operations.
Easy Tax estimation and tax filing

Access to your past translation reports with a few clicks

Connect Xero with your bank and manage your account activities online

A variety of add-on support

Integrates with Shopify, A2X, and Stitch Labs to create a customized ecosystem for Amazon sellers.

Xero offers a month of free trial before you choose either of its 3 premium plans – Early, Growing, and Establish.
The early plan will cost you $9/month, allowing you to reconcile up to 20 banking transactions and input 5 bills. You also get up to 5 invoices and price quotes.
Growing and Establishing plans cost $30/month and $60/month respectively. There is no limit for bank transaction reconciliation, invoices, and bill generation in both plans. You get to monitor your short-term cash flow with Establish plan in addition to multi-currency support.
4. AccountEdge
Account edge is one of the oldest and more reliable account management solutions in the market. Active since 1989, the company provides an intuitive user interface, especially for Mac users to handle the financial end of the Amazon business.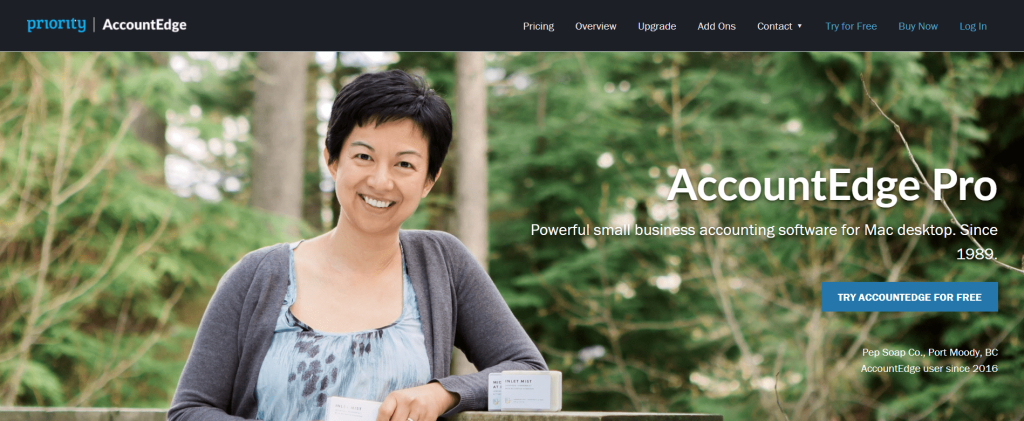 You can crunch your sales numbers, prepare customer data reports, send invoices, handle bank transactions, and much more directly from the dashboard of the AccountEdge website on your computer. There are other bookkeeping features, necessary for Amazon business such as invoicing, sales tracking, and inventory management.
Rich add-ons support to handle your due bills, payments, and banking transitions.

Handle your supply orders, billing, purchases, and inventory stocks.

Automatic sales tax estimation according to the geographical location.

Does the tax estimation while protecting your tax and sales data confidential?

Integrates with your bank account to streamline payment processing.

Multi-platform support such as Windows, Mac, and Android apps.
Account Edge comes in 2 plans – AccountEdge Pro and Priority ERP.
AccountEdge Pro comes at a one-time cost of $499 but sellers are required to purchase the licenses separately. The license will cost you $10 for 1 users/month, $25 for 5 users/month, $50 for 10 users month and $100 for 50 users.
5. Helium 10 – Profits
Moving on to the next one, Helium 10 – Profits is one of my personal favorite accounting solutions for Amazon finances. It's a part of Helium 10's Amazon seller suite that shows you every bit of information regarding your financial activities and requirements. You can also check our Helium 10 Review to know more about this tool.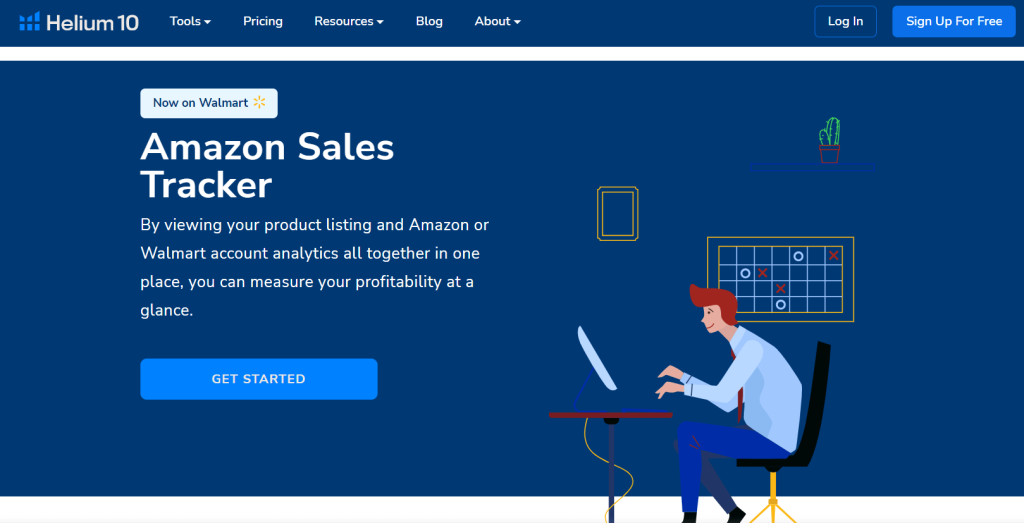 The platform features a powerful tax estimator where you can calculate and track sales tax based on the region. The profits tool extracts your Amazon data every 5-30 minutes depending on the premium plan you purchase. You can access past financial data such as product information, expenses, refunds, inventory levels, and much more. What makes Helium 10 a great pick is that apart from the financial tools, you also get more than 15 seller tools such as product research tool, keyword manager, listing optimizer, etc to manage your entire Amazon business.

Training and personal sessions with business experts.

Intuitive interface, perfect for sellers with less prior accounting/business knowledge.

Access all the tools directly from the centralized dashboard on your computer, mobile application, or tablet.

15 additional seller tools to handle Amazon FBA activities.

Competition analysis tool to track your rival's financial strategies, and profits.

Forecast the expense and profit before implementing a strategy with a profit estimation tool.

Helium 10 has 4 premium plans:
The starter plan comes at $39/month with access to all the basic Profits tools. The platinum plan will cost you $99/month where you can automate up to 2000 customers' emails as well as get access to entire Helium 10 Profits features.
Diamond and Elite plans are tailored to facilitate organizations operating on a higher level. Coming at a monthly price of $249 and $399 respectively, the Diamond and Elite plans provide a multi-user login and access to Helium 10 profit analysis. You get entry to exclusive Facebook groups and monthly workshops with the Elite plan.
Note: If you're considering, we suggest checking our working Helium 10 Coupon Codes, which help you get around 20% off on Diamond and Platinum plans.
6. GoDaddy Bookkeeping
If you are an Amazon seller with limited to no accounting and business experience, GoDaddy Bookkeeping is a perfect platform for you to handle the numbers. It started as an online financial solution, named Outright before Godaddy acquired it. Although the services are available only for online use, it's still one of the best business-handling websites for beginners.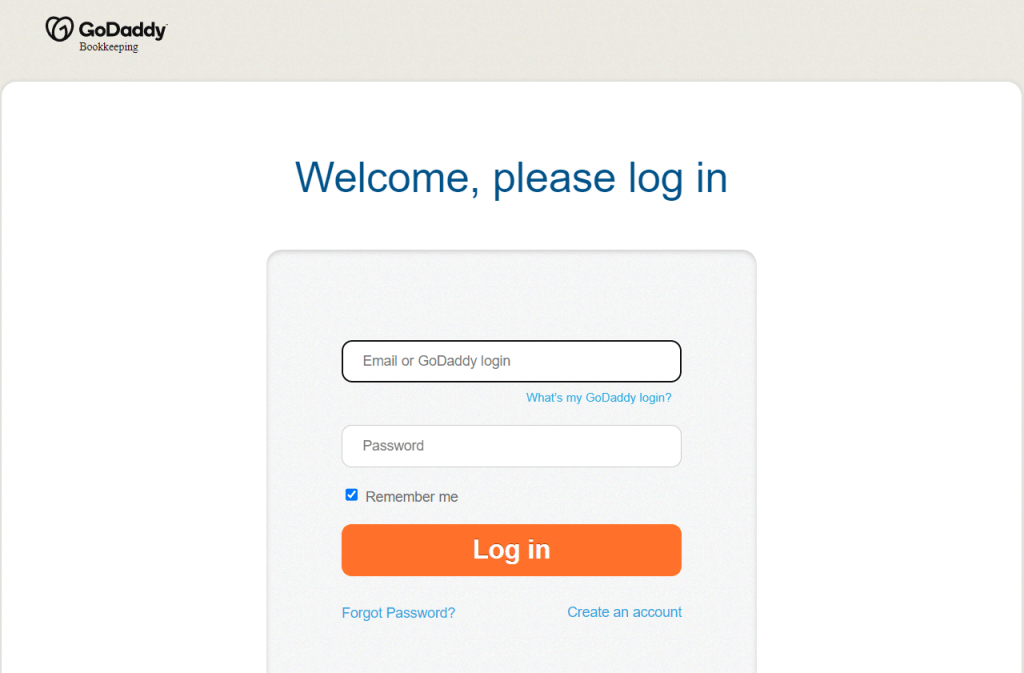 The platform integrates with numerous third-party financial services, making sure you have access to every possible tool to supervise your financial activities. GoDaddy offers tax assistance, business analysis, expense and profit reports, and much more. However, there is no option to reconcile your seller account to your bank which may prove a deal breaker for many, but the platform provides seamless data flow and customer privacy, and other security options.

Keeps your monthly expenses, profit, and sales records documented for future use.

Tax analysis provides a fantastic overview of all your tax deductions and charges.

Find out your net profit, loss, profit margin, and overall income with a single click directly from the dashboard.

Prepare and send customized invoices to your customers and track them easily.

GoDaddy Bookkeeping offers 3 premium plans:
Get Paid plan comes at $5/month and provides basic bookkeeping features such as payment retrieval, time tracking, cost analysis, and invoicing. Essentials plan costs $10/month and offers a tax database, unlimited financial reports, synchronization with your bank accounts, and sales data from e-commerce platforms.
The Premium plan comes at $15/month and offers recurring payment and invoicing, apart from all the premium features offered by the GoDaddy bookkeeping platform.
7. FreshBooks
FreshBooks is an accounting software that is great for small to medium size Amazon sellers. Any seller who is using either FBA or FBM can use FreshBooks for their accounting needs. It is one of the easiest software to set up. It offers amazing features that sellers can use to grow their businesses. The ledger option of FreshBooks provides all the accounting features that any business needs, and it can also track your sales tax throughout the year.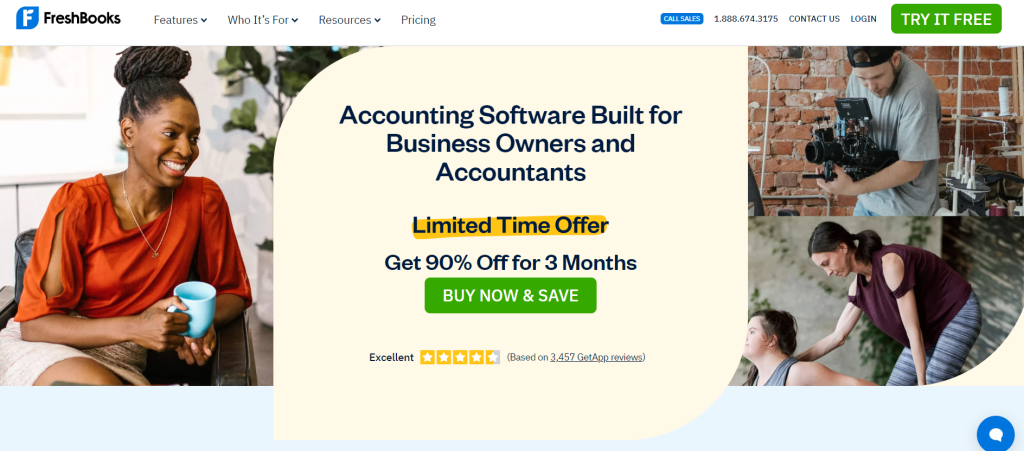 The invoicing module of Freshbooks is much better compared to other accounting software for Amazon sellers. You can easily send invoices and receive payments through this module. Freshbooks uses simple language so that its users can easily understand its interface and use the tool properly.
It can automatically track your expenses to make it easier for you to keep track of your expenses.
Get email receipts of the invoices directly to your email.
Migrate from any other accounting software directly to FreshBooks.
Use the Whitelabel feature to remove FreshBooks branding when sending invoices to your clients.
Get financial and accounting reports.
FreshBooks comes with three different pricing options – Lite, Plus, and Premium.
The Lite plan costs $15/month or $180/year, which allows you to send unlimited invoices to up to five clients.
The Plus plan costs $30/month or $360/year, which allows you to send unlimited invoices to up to 50 clients.
The Premium plan costs $55/month or $660/year, which allows you to send unlimited invoices to unlimited clients.
Final Word: Best Accounting Software For Amazon Sellers (2023)
As an e-commerce seller, you have plenty to manage, starting from product research, and keyword selection to inventory management. Yes, it may all appear easy as we see Amazon sellers making tonnes of money each month.
Handling the financial end of your business is probably the trickiest aspect of Amazon's business since you are dealing with a lot of data to sort out. Also, accurate data analysis is required to size up your competitors and implement better strategies for the future.
The accounting software will save you a lot of time and provide you with 100% accurate estimations, calculations, and predictions.
GoDaddy bookkeeping is the most economical software on this list. The starting plan is for $5. So if you are looking to get a feel of accounting software, go for this one without spending a lot.
Helium 10 – Profit is the complete software in my opinion. It comes with a bunch of other seller tools for product research, inventory management, PPC campaign, and much more. At a starting price of just $29, it's not a bad deal to make.