Are you looking for the best furniture dropshipping supplier for your eCommerce store? Don't look further, I have got your back.
In this digital era, the dropshipping business model is thriving in the eCommerce industry. According to Statista, the furniture market is estimated to hit $650 billion in 2023, so dropshipping furniture products can be a profitable niche. 
If you're thinking about dropshipping furniture products, you need to find a reliable dropshipping supplier that handles your complete order fulfillment process.
Finding a furniture dropshipping supplier on your own can be a difficult task. This is why I compiled a list of the top 10 furniture dropshipping suppliers. With this list, you can compare product catalogs, shipping services, discount options, and membership costs so you can decide which one is the best for your business. 
Let's get started.
Top 10 Furniture Dropshipping Suppliers: In A Nutshell (2023) 
| | | |
| --- | --- | --- |
| S.No. | Furniture Dropshipping Supplier | Membership Cost |
| 1. | Syncee | $29/month |
| 2. | DHgate | Free |
| 3. | BigBuy | €69/month |
| 4. | GeekBuying | Free |
| 5. | Geko Products | £30/year |
| 6. | AppScenic | $24/month |
| 7. | Artisan Furniture | Free |
| 8. | FastFurnishings | $49/month |
| 9. | DropshippingXL | €30/month |
| 10. | SaleHoo | $27/month |
Here is the handpicked list of the best furniture dropshipping suppliers.
1. Syncee
Syncee is an all-in-one dropshipping marketplace that offers a range of trusted and vetted suppliers. It is a B2B platform that offers millions of dropshipping products, including furniture. Unlike other dropshipping suppliers, Syncee's dropshipping business is managed by retailers (more than 150K retailers) that source directly from suppliers around the world. That means there are opportunities for both buyers and suppliers. Suppliers can sell their products to Syncee retailers, and buyers can buy directly from the website–no need to contact third-party suppliers.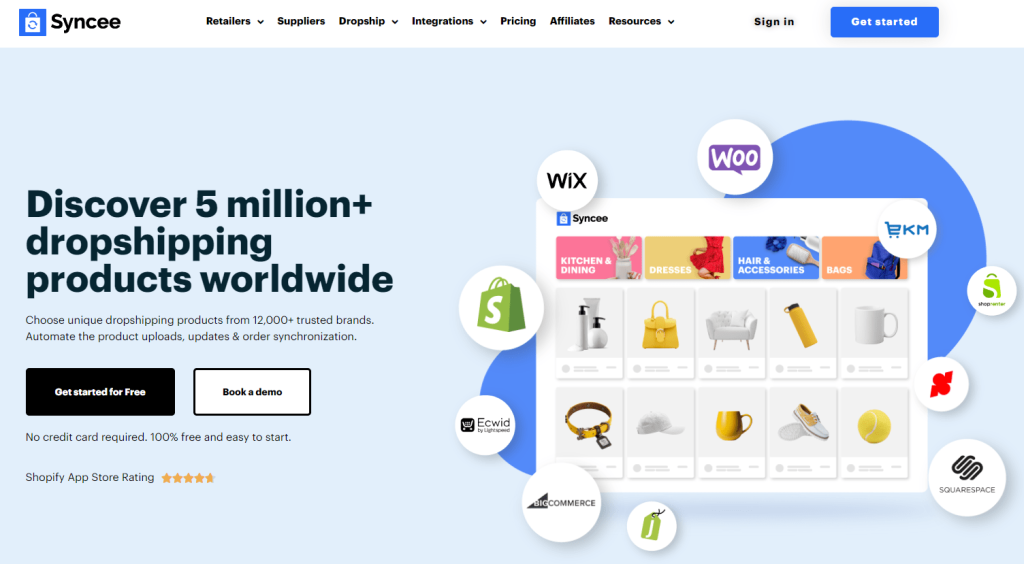 Syncee offers a range of furniture such as couches, shoe cabinets, chairs, bookcases, tables, and many more. You can import products from Syncee with just one click. Syncee offers a free plan, but if you go for the premium subscriptions, you will get access to automation features that automatically update inventory, order processing, price change, etc. There is no minimum order quantity, so you can just order your preferred number of products, and Syncee will handle the rest of the order fulfillment.
Key Features of Syncee
Access to thousands of retailers and dropshipping suppliers
Built-in communication tools
Exceptional automation features
Integrates with 12+ major eCommerce platforms
Free membership available with limited access to the features
Offers fast shipping solutions
Drawbacks
Complex user interface
No marketplace integration (like Amazon or eBay)
Membership Cost: $29/month (Free plan is also available)
2. DHgate
If you want to source furniture products directly from China, DHgate is one of the reliable dropshipping suppliers you can go with. The platform offers an insane library of 32 million products and over 2 million dropshipping & wholesale suppliers. Here you can find products in more than 100 categories. Regarding its furniture category, there are more than 6,500 dropshipping products, including tables, chairs, beds, shoe racks, and many more. However, you don't have to check out every page to find your specific product. Just use the advanced filter to find your dropshipping products.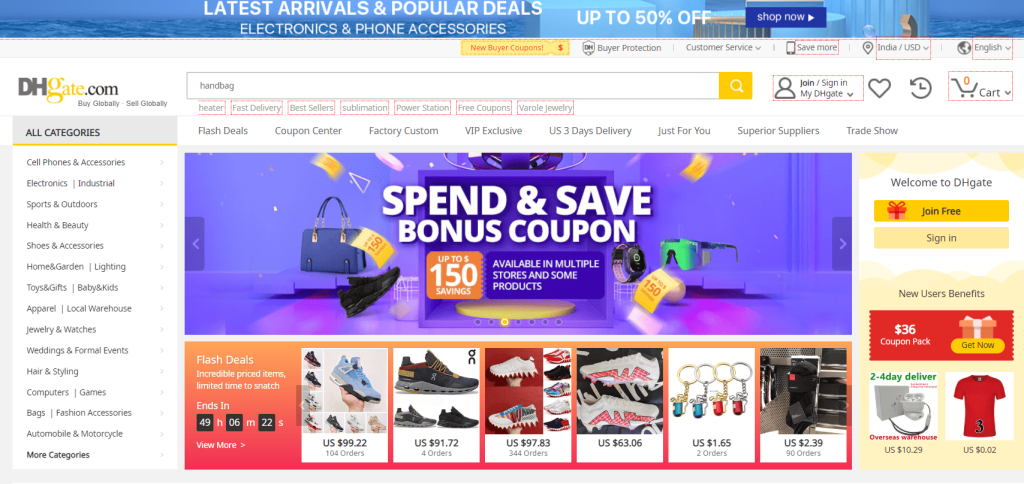 On DHgate, you can find a range of high-quality products at cut-rate prices. And since they have a no MOQ policy, you can purchase items in bulk to skyrocket your profit margin. On every category page, you will find a discount section where you can explore exclusive sales and deals to save extra bucks. Apart from dropshipping products, the platform offers POD (print-on-demand) and white-label solutions, which give you opportunities to extend your brand.
Key Features of DHgate
Over 6,500 dropshipping products in the furniture category
Multiple warehouses in the US, UK, and Europe
Offers advanced filters to find winning products
Fast shipping solutions at an affordable range
Buyer protection program
Occasional discounts, coupons, and flash sales
Drawbacks
All suppliers are not vetted
Standard shipping can take weeks for global shipment
Membership Cost: Free
3. BigBuy
BigBuy is one of the biggest Spanish wholesale and dropshipping suppliers that trades in all kinds of dropshipping products. BigBuy offers more than 200K product selections, of which over 5000 dropshipping products are in the furniture category. The platform includes items from 100+ well-known brands such as Versa, InnovaGoods, Comfortime, Gift Decor, etc. In the furniture section, you can explore unique items such as Baño, Bar, Comedor, Cocina, and many others to sell in your dropshipping store.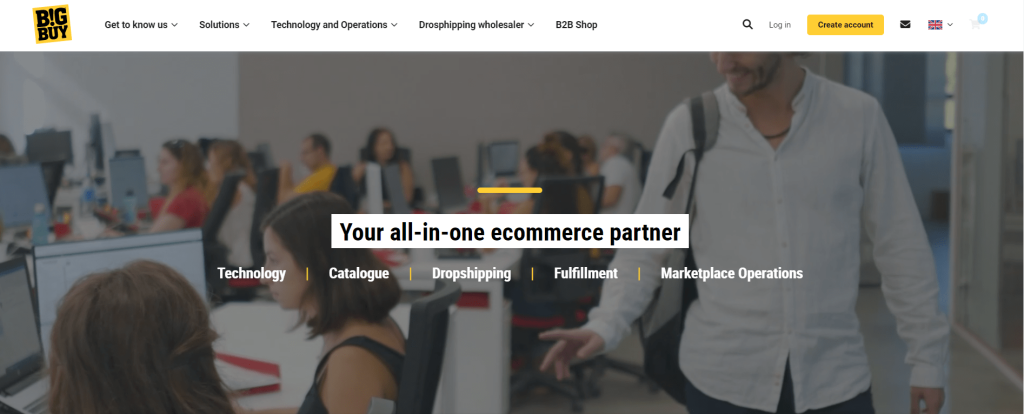 On BigBuy, if you purchase furniture products in bulk, you can get up to 20% discount straight away. You can also get discounts (up to 75%) and deals on occasions like Black Friday, Cyber Monday, and Christmas. The platform works with 50+ reputable carriers, so you rely on their shipping services. The best part of choosing as your dropshipping supplier is that you can integrate with more than 200 eCommerce platforms, marketplaces, and sales channels.
Key Features of BigBuy
More than 5000 furniture selections for dropshipping
Global shipping with 50+ carrier options
The website supports 24 languages
Personalization and branding options
Stock reserve items at no additional cost
No minimum order quantity
Drawbacks
Expensive registration and monthly subscription fee
Membership Cost: €69/month (charges an additional €90 for registration)
4. GeekBuying
Founded in 2012, GeekBuying is a renowned wholesale and dropshipping supplier. In fact, it features a customer-focused online marketplace that comes with a broad collection of tech products. Apart from tech accessories, you will also find a huge variety of other dropshipping products, including furniture. You can find almost every type of furniture item, such as tables, chairs, sun loungers, shoe cabinets, chipboards, and many more.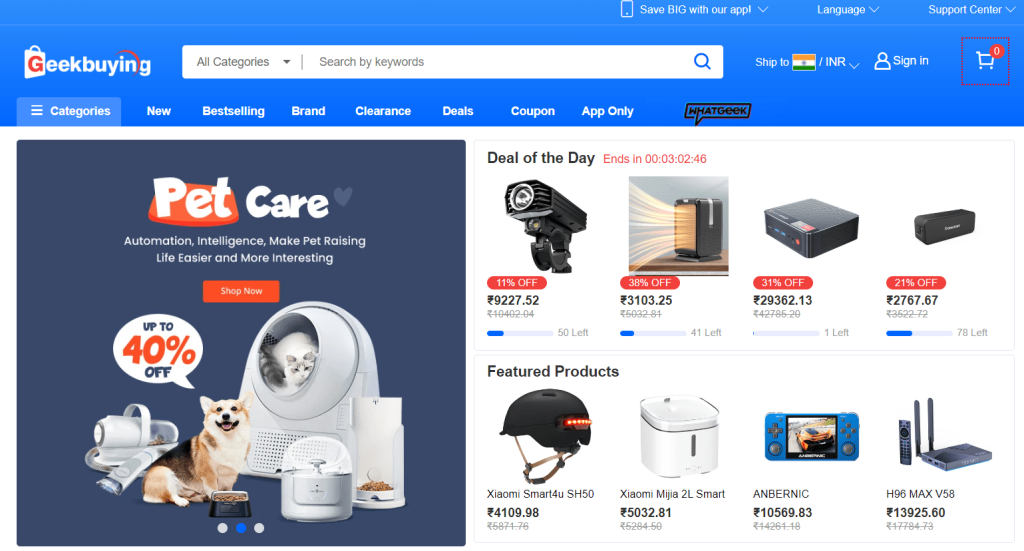 GeekBuying owns a chain of warehouses in the US, Italy, Germany, Poland, China, Spain, and Hong Kong, so you can easily choose your nearest region to find a supplier. You can browse products from their official website, but if you use their mobile app, you can get special discounts on many products. They have partnered with popular shipping carriers, so you can choose your favorite carrier to ship cross-border orders.
Key Features of GeekBuying
Thousands of products in the furniture category
Provides order samples to dropshippers
Special discount for members
Supports 20+ major payment gateways
7-day return policy
A fully functional mobile app
Drawbacks
Standard delivery can take weeks and even months
Membership Cost: Free
5. Geko Products
Geko Products is a UK-based dropshipping and wholesale supplier that especially trades in the furniture category. In fact, it is one of the first dropshipping suppliers to serve online businesses in the UK. Talking about furniture, you get to choose cabinets, drawers, chairs, stools, benches, and tons of other products. Designed and sourced by artisans and manufacturers, the company trades in premium and well-furnished products.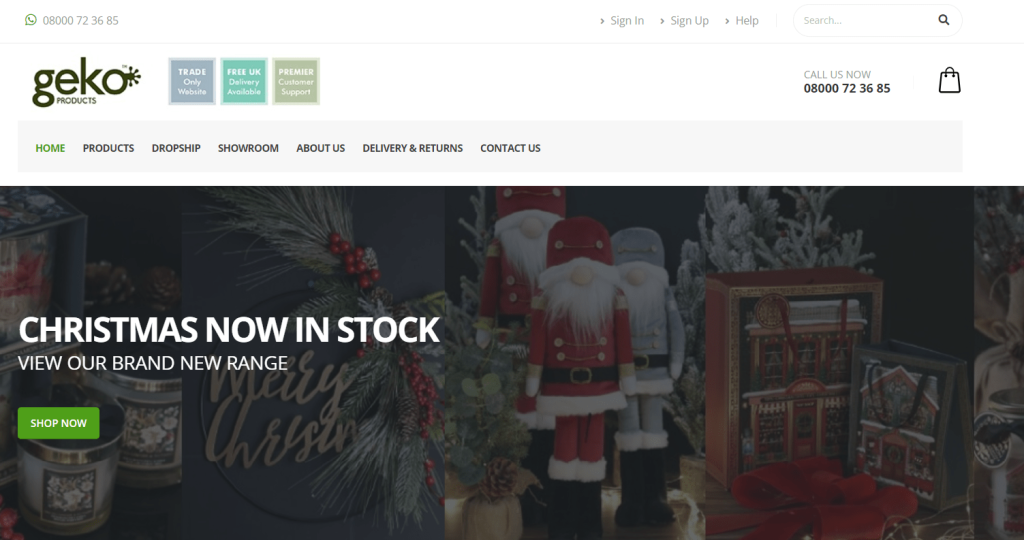 Apart from delivering the best quality products, Geko is famous for providing 100% customer satisfaction. All the suppliers who work with the company get fully vetted. You will also get a promising shipping time and cost for a specific region, and their average shipment time is 3.5 days, even if it is global. There is no minimum order quantity, but you must place an order of £100 to qualify for shipment. The company also offers free shipping for standard shipment inside the UK.
Key Features of Geko Products
Serves to both online and offline merchants
A huge product selection of furniture and wooden items
No order minimums
An in-built shipping cost calculator
Flexible return policies
Fast shipping solutions
Drawbacks
Hefty shipping cost for global delivery
Need to order products with a minimum order of £100
Membership Cost: £30/year
6. AppScenic
AppScenic is a quite new but rapidly-growing B2B marketplace that connects verified dropshipping suppliers with retailers and online store owners. The platform features millions of dropshipping products at wholesale prices. Here you can find winning products in 100+ categories, including furniture and wooden items. The platform works with highly-rated suppliers from the US, UK, Europe, Canada, Australia, etc., so you can rely on your supplier's product quality and services.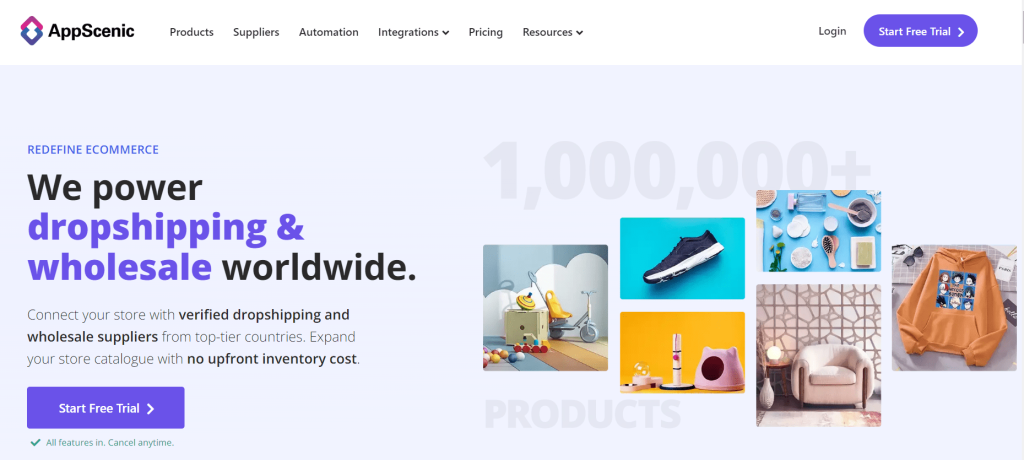 If you are a newbie and want to start a dropshipping business from scratch, you can take advantage of the platform's toolkit and automation features. You can also integrate your Shopify, WooCommerce, and Wix stores to automate your product syncing, shipment tracking, auto-ordering, and order processing. You can sign up on AppScenic for free, but you can only view limited products. To order products, you need to subscribe to a premium plan.
Key Features of AppScenic
Over 500 high-profile dropshipping suppliers from 40+ countries
600+ premium and unique furniture products
Automation and eCommerce-centric features
Smart shipping options from 100+ carriers
Integrates with 12 major eCommerce platforms and marketplaces
Supports 20+ payment gateways
Drawbacks
Charges transaction fees for placing orders
Need to sign up to a higher tier to unlock eCommerce features
Membership Cost: $24/month
7. Artisan Furniture
Artisan Furniture is a unique dropshipping supplier that mostly trades handmade wooden furniture. The platform comes with three programs for merchants. If you want to dropship furniture, you can join the Dropship Program, which gives you access to thousands of furniture dropshipping products, and you will get flat 10% off on orders worth £1000. Those who own brick & mortar stores, they can get up to 25% discount straight away with the Trade Program. The best offer comes with the Wholesale Program, where wholesale dropshippers can get up to 50% on bulk purchases.

Here at Artisan Furniture, you can select from a huge product selection, including tables, bedroom furniture, benches, chairs, drawers, and many more. There is no minimum order requirement, and they offer fast delivery service. UK-based buyers can receive their orders within 1 to 3 days, while global shipments can take 7 to 10 days. The company also offers white-label packaging so that you will have control over your brand. US-based customers can take advantage of free delivery since they own multiple fulfillment centers in New Jersey.
Key Features of Artisan Furniture
Offers a huge range of handmade furniture
Free shipping for US-based customers
Offers own order fulfillment services
Solution for both online and offline stores
Fast global shipping services
No order minimums
Drawbacks
Can't integrate with eCommerce stores
Only wholesalers can get bigger discounts
Membership Cost: Free
8. FastFurnishings
FastFurnishings is a wholesale and dropshipping supplier of furniture products. The US-based platform offers a huge range of eco-friendly furniture and home furnishing products. You can choose from over 3,000 unique varieties, from bookcases to headboxes, barstools, dining tables, and other wooden products. The platform offers free and paid memberships. Free membership offers you access to all products, and you can get up to a 10% discount on wholesale purchases, while paid membership gives you a flat 15% on all products.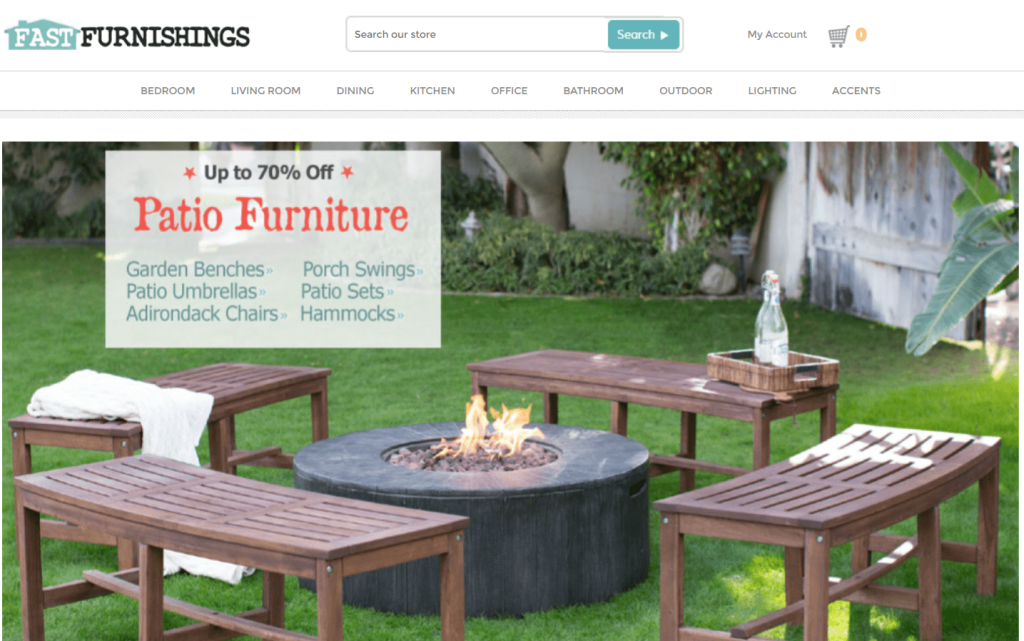 FastFurnishings only works with verified suppliers and manufacturers. You can find a directory of the suppliers with their locations and shipping policies. The best part of using the platform is that you can get a free shipping option with each product with no sales tax included. It allows getting higher returns on dropshipping products. You will also get access to tracking tools that allows you to track orders that are shipped to your customers.
Key Features of FastFurnishings
3000+ premium furniture products to choose from
Wholesale discounts of up to 15%
High-profit margins
Free shipping with each product
30-day risk-free return policy
Integrates with major eCommerce platforms and marketplaces
Drawbacks
Not many reviews on social platforms
Ships to only a few countries outside the US
Membership Cost: $49/month
9. DropshippingXL
DropshippingXL (also known as vidaXL) is an international retailer of furniture, sporting goods, homeware, garden ware, etc. The platform offers a catalog of 90,000 products, of which 50,000 are furniture products. You can directly start selling furniture products on your online store without needing to purchase the item. You can set the prices and sell to your customers in 32+ countries. You can also track the orders in real-time.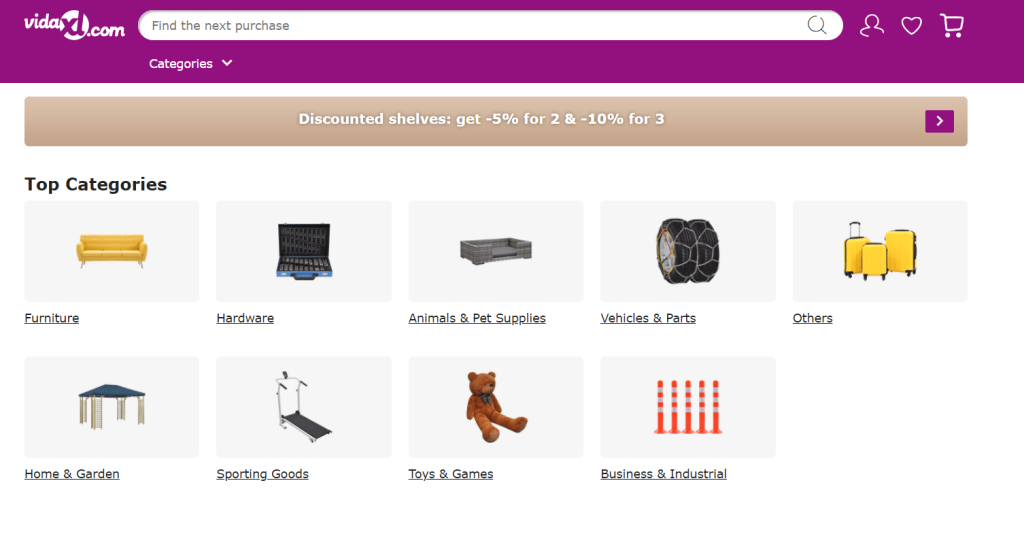 After signing up on DropshippingXL, the system will provide a B2B feed that will automatically synchronize with your eCommerce store. The in-build automation features will automatically update your price change, stock, product inventories, and content information. The platform supports multiple languages to serve international buyers. You can take advantage of free shipping if you reside in Australia, the US, or Europe.
Key Features of DropshippingXL
A huge product catalog of over 50,000 furniture products
In-built automation and eCommerce tools to run an online store
Supports 20+ different languages
Free shipping options for customers from the US, Europe, and Australia
Access to high-resolution product images and data feeds
Priority customer support
Drawbacks
Membership Cost: €30/month
10. SaleHoo
SaleHoo is one of the most popular dropshipping platforms that cater to thousands of dropshipping business owners from all over the world. The platform works with over 8000+ vetted and verified suppliers who offer more than 2.5 million various dropshipping products, including furniture.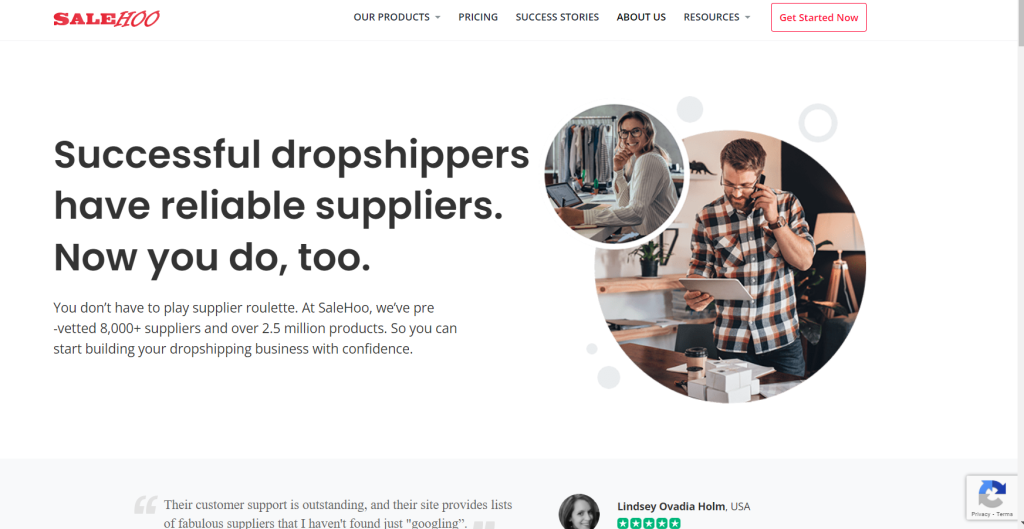 On SaleHoo, you can discover from bookcases to bean bag chairs and thousands of other furniture products that you can possibly select for dropshipping. You can also find unique and trending furniture products such as portable laptop desks, hanging hammock chairs, pop-up closets, decorative wall hooks, and many more. You can directly connect your eCommerce store with your SaleHoo account and find a reliable furniture supplier within your marketplace.
Key Features of SaleHoo
A global network of 8,000 trustworthy and verified suppliers
A robust research tool that helps users find any type of products
Offers automation features for dropshippers
An educational portal for beginners
An excellent customer support team to help you 24/7
60-day money-back guarantee
Drawbacks
No branding options are available
You need to order at least $100 worth of products for dropshipping
Membership Cost: $27 (for dropshipping)
Related Read:
Conclusion: Best Furniture Dropshipping Suppliers (2023) 
So this is my list of the best furniture dropshipping suppliers. Furniture is a billion-dollar industry that comes with a lot of potential for dropshippers and retailers. So trading in furniture can open gates to higher profit margins. Starting with furniture dropshipping can be fruitful if you want a side venture for extra income.
You can find some great options for your furniture dropshipping business. Each supplier has no order requirements so you can order your desired number of products for dropshipping. Purchasing in bulk can give you discounts as well. So choose the one that suits your business best.