Are you struggling to manage your PPC campaigns on Amazon? Don't worry, Helium 10 Adtomic comes to your rescue.
Amazon PPC advertising can also be complex and time-consuming sometimes. Adtomic's AI-powered features are designed to optimize and automate PPC campaigns for better results with less effort. So adding this tool to your inventory can be beneficial for your FBA business.
In this article, I have reviewed Adtomic's features and added a step-by-step guide on using its core features for Amazon PPC campaigns. Read on to find out whether this is the right tool for your advertising efforts.
What Is Adtomic?
Adtomic is the latest addition to Helium 10's suite of powerful tools for Amazon FBA sellers. The name Adtomic represents the explosive boost in performance and atom-like precision it aims to provide for PPC campaigns.
The tool uses advanced AI and algorithms to streamline and optimize your Amazon PPC campaigns. The goal is to help sellers improve key metrics like ROAS (Return on Ad Spend), ACoS (Average Cost of Sale) and lower their overall advertising budget through automation and enhanced analytics.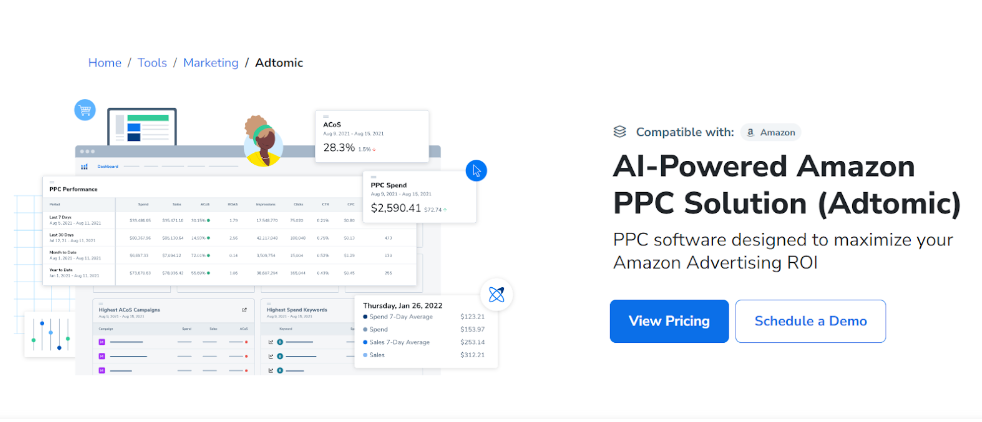 Helium 10 claims Adtomic will empower sellers to run their smartest and most efficient advertising campaigns ever. The sophisticated data analysis and AI optimization give valuable insights into both paid and organic sales data that will help you make data-driven decisions to maximize profits.
Pros & Cons Of Helium 10 Adtomic
Before we get into the details, let's go through its pros and cons so you can decide if it is the right tool for your FBA business.
Pros of Adtomic:
Automation to simplify and streamline campaign management
Templates for beginners to create PPC campaigns easily
Advanced analytics and data-driven insights
It stores sales data for 2 years for better analysis and overview of spending
AI-optimized bids and new keyword suggestions
Cons of Adtomic:
Currently in beta so some bugs and issues can be expected
Full automation is only available on high-tier paid plans
Charges additional fees if monthly ad spend exceeds limits
How Does Helium 10 Adtomic Work?
Adtomic works by connecting to your Amazon Seller Central account to import your advertising data. Once connected, it helps you streamline and automate your PPC campaigns. Adtomic keeps tabs on keyword performance and provides you with detailed insights, such as organic rank, search volume, and sponsored rank. You can find high-performing keywords to bid on using the Helium 10 Magnet tool.
The AI and proprietary algorithms of Adtomic feature things like:
Automatically identifies high-performing keywords and search terms
Discover new relevant keywords to target
Determines optimal bids for keywords based on historical performance
Adds negative keywords to reduce irrelevant clicks and costs
Provides the ability to pause and schedule campaigns
Every action can be automated on this tool–all you need is to set rules for every campaign. You can maintain control over the level of automation and customize rules. The main goal of Adtomic is to eliminate repetitive manual tasks while still being able to implement your own strategy.
Helium 10 Adtomic: The Complete User Guide
Adtomic offers powerful optimizations for Amazon PPC, but you need to properly set it up and configure the automations for optimal results. Here's a complete step-by-step guide for every PPC campaign optimization with Adtomic.
1. Creating A PPC Campaign
To get started with Adtomic, you need to connect your Amazon advertising account and set up a new campaign. Here's how you can do it:
First, link your seller account data by connecting the Amazon MWS access token in Helium 10's cloud setting. You can find your merchant token under your business information in the Settings menu.
Now go to the Ad Manager on Adtomic and click "Add Campaign." You will see two campaign templates: Quick and Guided.
With the Quick campaign template, you can pick the product lifecycle stage, name the campaign, add products, set default bids and budget.
For a more precise campaign, select the Guided template. This template allows you to target products, keywords, brands, and competitors.
Review campaign settings and launch. Adtomic will begin optimizing after 24-30 hours.
You can follow the same process to create multiple campaigns for different keywords.
2. Modifying Or Adding New Rules To The Campaign
There's a Rules section located in the Ad Manager. This powerful editor allows you to add customized rules for automation. Let's see how to modify or add new rules for your campaigns:
In the Ad Manager, find the Rules column and click the icon to get the rules editor.
Click "Add Rule" and configure. You will find two rule settings: Find low-performing search terms to negate and Identify converting search terms to target
Name and save the rule. Toggle the Automate Automate switch to enable the rule.
Once rules are set, Adtomic will automatically implement those rules based on your criteria.
Follow the same method to add and remove rules whenever you want.
3. How To Create Negative Keyword Rules?
Negative keywords play an important role in setting up the campaigns. These keywords determine which keywords are not relevant to your active campaigns. Removing them will save you money and increase your conversion rate as well. Here's how you can set rules for negative keywords:
Click on Ad Manager from your dashboard and go to the filters column.
Enter the number which is your "threshold limit" in the Clicks section.
Enter 0 in the PPC Orders section and click Apply Filters.
Now, Adtomic will come up with the keywords with 0% ACoS which shows these keywords are just wasting your money with no orders. You can simply click on the check box to select and add to "+Negative." This way, your products will not appear on top for those keywords.
Or, you can access the rules editor for your campaign and click "Add rule"
Select "Find poor-performing keywords" as the rule type.
Set optional thresholds for clicks, spends, and orders to filter keywords.
Choose match types and goals for keywords to negate. Then, select the ad groups you want the rule applied for.
Click "Create rule" and toggle "Automate" to enable.
This will continuously prune out irrelevant keywords that are wasting your budget.
4. How To Monitor PPC Spending?
Lastly, you want to keep an eye on your PPC spending budget. You don't want to spend too much on your campaigns without getting an ROI. Here's how Adtomic makes this process easy:
Check your profile menu and select "Plans & Billing"
On this page, you can view your billing history and PPC spending data over time.
Change date ranges to view specific periods.
Export data to CSV/Excel for deeper analysis.
Daily spending budget caps can be configured per campaign.
Get alerted as you approach monthly billing thresholds.
If can also schedule your campaigns to appear in a specific time period. Mostly, shoppers browse Amazon product pages but don't order. But clicking on the product will spend your PPC money. So you can check which time this happens the most and turn off your campaign for that specific time.
Bonus: You can also check an exclusive coupon on Helium 10 to save a few bucks on your purchase.
Helium 10 Adtomic Pricing
Since Adtomic is an add-on, you won't get full access to this tool with any Helium 10 pricing plan. With every plan, you can only view analytics and data of your campaigns in Adtomic. To get full access, you can add the Adtomic tool at $199/month.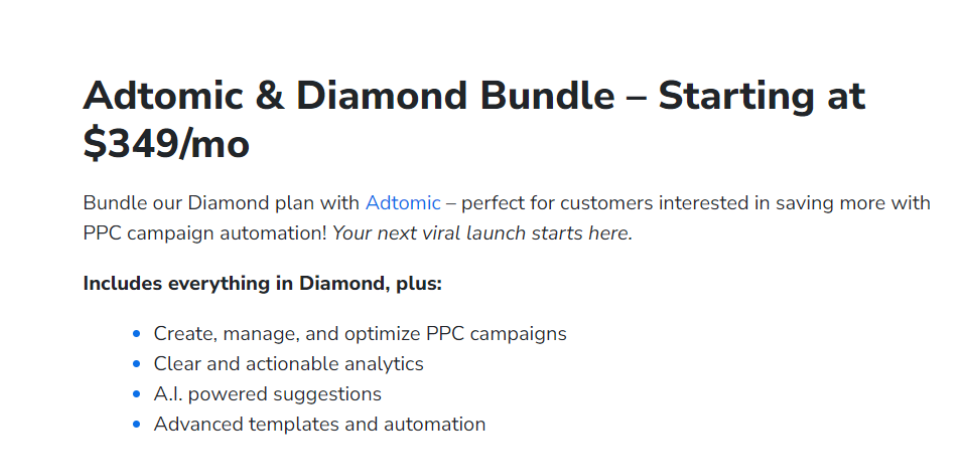 You can also purchase the Adtomic and Diamond bundle at $349/month. It will save you $100 a month. The Diamond plan will give you full access to Helium 10 features, while Adtomic will keep your campaigns active. So it's a win-win for FBA sellers.
You can read the detailed Helium 10 pricing guide to check different plans.
Pro Tip: You can get Helium 10 for free with its free plan offer.
More Helium 10 Resources:
Final Verdict: Helium 10 Adtomic (2023)
Helium 10 Adtomic aims to provide sophisticated PPC campaign management and automation tailored specifically for Amazon sellers. The combination of AI-powered optimizations, analytics, and customization can help drive improved advertising performance and ROI.
With stepwise guides mentioned in the article, you can easily use Adtomic to create new campaigns, negate negative keywords, and set up customized rules to manage your campaigns like a pro. With Adtomic's detailed data analysis and spending overview, you can take the guesswork out of the equation and find success with solid automation and customized rules.
Latest posts by Shally Rose
(see all)