When it comes to deciding between Shopify Vs Squarespace, most of us get confused. If you think of taking suggestions, most people will suggest Shopify, some of them will suggest Squarespace and the rest will suggest some other platforms. 
But how do you come up with the right decision? Can Squarespace stand in front of giant e-commerce builders like Shopify?
Well, to erase all your confusion, we'll give you a detailed comparison between Shopify and Squarespace. Let's dive deeper and see who wins!
Shopify Vs Squarespace: A Quick Glance
After thorough research of both these platforms, we have come up with the below-given list where all the features are rated out of five. ( Though we'll discuss them in detail in the upcoming section of this article).
| | | |
| --- | --- | --- |
| Feature | Shopify | Squarespace |
| Pricing | 4.4 | 4.6 |
| Marketing Features | 4.7 | 4.5 |
| Sales Features | 4.5 | 4.4 |
| Designs and Themes | 4.3 | 4.6 |
| Ease of Use | 4.3 | 4.4 |
| Customer support | 4.6 | 4.4 |
Things Where Shopify Excels
eCommerce Capabilities: Shopify is specifically designed to cater to eCommerce businesses. This is why all of its features are eCommerce-centric, such as online store creation, inventory management, payment gateways, and shipping options.
App Integrations: Shopify has its own app store, where you can find thousands of third-party apps and add-ons. Sellers can install their favorite third-party apps in their stores to increase their performance and streamline various operations.
SEO Optimization: Shopify prioritizes online sales and exposure for sellers, which is why they give SEO optimization so much importance. They have included plenty of SEO features with their plans so businesses can optimize their store for search engines and increase their product visibility.
Scalability: Shopify provides solutions to businesses of all sizes, from small startups to large corporations. So if you have started as a small business on Shopify and grown up to a much bigger company, you don't have to look for other options. You can upgrade to a higher plan that offers more advanced features and scale your business to the next level.
Things Where Squarespace Excels
All-in-one Platform: Unlike Shopify, Squarespace offers solutions for almost every type of online business. If you want to start an online store, blog, or create a website, you can get solutions from Squarespace all in one place.
Website Design: If you prioritize website look and design, Squarespace is the best choice. The platform offers a range of professional and customizable templates that help you give your store an aesthetic and modern look to your website.
Blogging: Squarespace includes a built-in blogging feature with all of its plans that allows you to create a blog on your website. This is a great feature for individuals who want to add a professional touch to their websites.
Content Management System: Squarespace offers a user-friendly content management system (CMS) to its users. It allows you to add and manage content on your website. This is a great feature if you want to enhance your customer experience on your website.
Shopify vs Squarespace: Ease of Use 
No matter how many advanced features your website has, they should be responsive and easy to use; otherwise, it might hamper customer experience. Right?
Shopify
Shopify is not as easy as it claims to be. It's surely a straightforward platform, but you need to be teach-savvy to use this platform in a better way. But overall, it's responsive enough; you just need to use the drag and drop option to add products and other functionalities.
Squarespace
Now, Squarespace is the easiest platform in the market. Its user interface is minimalistic – fairly easy to use. But it could have been better.
Winner
No doubt, Shopify is the clear winner here. However, Shopify isn't the easiest platform in the market. But still, it takes leads in this case.
Shopify vs Squarespace: Pricing Battle
" Shopify or Squarespace – which offers more advanced features within a pocket-friendly budget?" – It's the most common question asked by almost everyone.
So, here we'll break down every nitty gritty pricing aspect of both platforms and decide who wins at last.
Shopify
Shopify offers a total of five monthly plans. The more your budget increases, the more you benefit from advanced features. It also comes with a 14-day free trial.
| | | | |
| --- | --- | --- | --- |
| Plans | Basic | Shopify | Advanced |
| Pricing | $29/month | $79/month | $299/month |
| Suitable For | Newbie business | Mid-level business looking forward to scaling up | Enterprise-level business |
Further, It has two more plans – Shopify Starter and Shopify Plus.
Shopify Starter is a perfect option for newbie businesses. Though here, you won't benefit from other built-in features of Shopify, it'll let you sell your products through different social media platforms and messaging apps. So, it's a great option to try your hand out in the online selling world.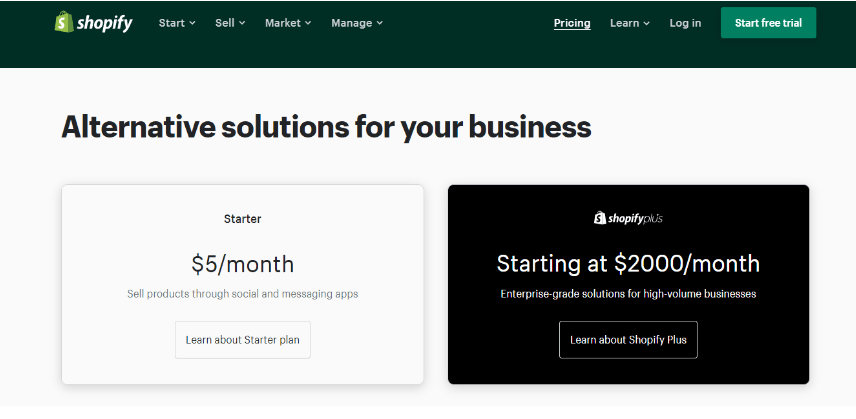 On the other hand, Shopify Plus seems expensive to many. But it's worth it. It's the one-stop solution for every business that wants to grow exponentially within a short period as it increases the conversion rate up to 16% higher.
Now, let's see some major points of these plans –
Shopify starter doesn't offer a fully customized online store. Rather, it allows you to sell on different social media platforms and messaging apps.
You can add only two staff accounts in the Shopify basic plan, whereas you can add up to 15 in the advanced plan.
Shopify's advanced plan only offers third-party calculation shipping rates.
Shopify Payment Gateways
Unlike Squarespace, Shopify has integrated its own payment gateway by eliminating all the extra hassle of setting up other third-party payment gateways.
But Shopify payment is only available in a few countries in the world. But don't worry! If you can't access Shopify payment, you can integrate other third-party payment processors, including PayPal, Worldpay, Stripe, AmazonPay, etc.
Shopify Fees
Now, if you use other payment gateways except Shopify Payment, you must pay extra on your monthly plan. The more your plan increases, the less you have to pay for transaction fees.
| | | |
| --- | --- | --- |
| Basic plan | Shopify Plan | Advance plan |
| 2.9%+30 cent USD online2.7%+0 cent in person | 2.6%+30 cent USD online2.5%+0 cent in person | 2.4%+30 cent USD online2.4%+0 cent USD in person |
Squarespace
Squarespace mainly offers four types of monthly plans –
| | | | | |
| --- | --- | --- | --- | --- |
| Pricing plans | Personal | Business | Basic commerce | Advanced commerce |
| Pricing | $16/month | $23/month | $27/month | $49/month |
| Suitable for | Newbie businesses | Most popular plan of Bigcommerce. Suitable for mid-level businesses | Growing businesses | Enterprise-level businesses. |
Some key pointers about these plans are –
Unlike Shopify Lite, Squarespace's lowest plan also offers built-in SEO features. So, it's a great advantage for marketers.
Its Personal plan only offers two staff accounts, whereas its other plans offer unlimited contributors.
Only the advanced commerce plan offers an "abandoned cart recovery option."
If you opt for the basic and advanced commerce plan, you don't need to pay any transaction fees.
Payment Gateways
Squarespace doesn't have its own payment processor. But it has integrated a few third-party payment gateways ( Stripe, PayPal, Square, Afterpay) to make the process more streamlined and seamless.
Transaction Fees
Squarespace's commerce plans don't charge any transaction fees, but if you opt for a business plan, you have to pay 3% transaction fees on sales.
Winner
After analyzing all the nitty-gritty aspects of Squarespace, we have concluded that Squarespace beats Shopify when it comes to offering advanced-level features at a low budget. Here is how we have made the decision –
Though Shopify's starter plan starts from $5, you won't get a stand-alone store there. Whereas Squarespace offers you a standalone store with advanced features at just $16.
Shopify charges extra as transaction fees, whereas Squarespace doesn't charge any except for Squarespace's business plan.
Sqaurespace's business plan lets you add unlimited accounts.
Shopify vs Squarespace: Marketing Features
Solid and effective marketing features are the major aspects everyone looks for while qualifying any platform. They can make or break your growth as a marketer. So, let's see who satisfies the customer needs as per as effective marketing features are concerned.
| | | |
| --- | --- | --- |
| Marketing Features | Shopify | Squarespace |
| Built-in SEO tools | 4.6 | 4.4 |
| Blogging option | 4.3 | 4.5 |
| Third-party Integrations | 4.6 | 4.2 |
| Email Marketing feature | 4.5 | 4.3 |
| Reporting and analyzing tools | 4.6 | 4.4 |
Built-in SEO Features
You can never ignore the search intent as an online marketer. Right? But most website building platforms lack while providing premium SEO features for the users. But is the same true with Shopify and Squarespace? Let's find out.
Shopify
When it comes to built-in SEO functionalities, Shopify offers a range of premium SEO features that boost your store visibility to your potential customers. These are as follows-
You can optimize your site structure for search engines.
You can change page titles, meta descriptions, product descriptions, etc.
Shopify integrates a default robot.txt file to every store that constantly updates the crawlers and boosts your visibility.
Shopify generates a sitemap.xml that contains all the links to your pages, primary images, blog posts, etc.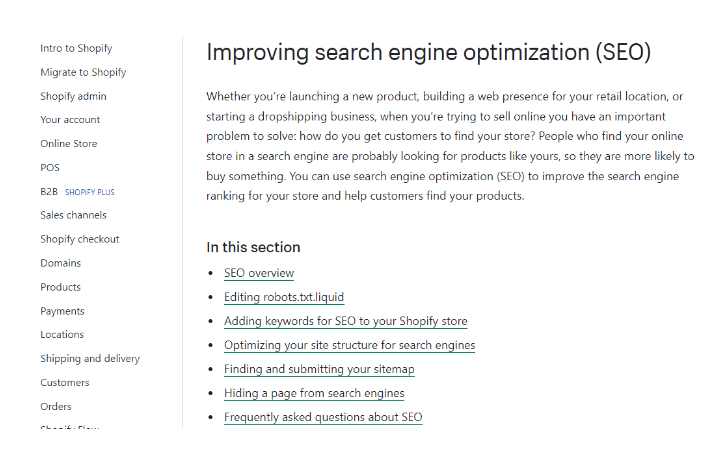 Squarespace
Squarespace gives a neck-to-neck competition by offering several effective SEO features to its users.
All your collection items and pages have clean URLs that are indexed by search engines.
If you have multiple domains, it will automatically redirect your visitors and search engines to your primary page.
Like Shopify, it also generates a proper sitemap.xml that contains all the links on your site.
You can also add <alt> tags for image descriptions.
Built-in mobile optimization feature.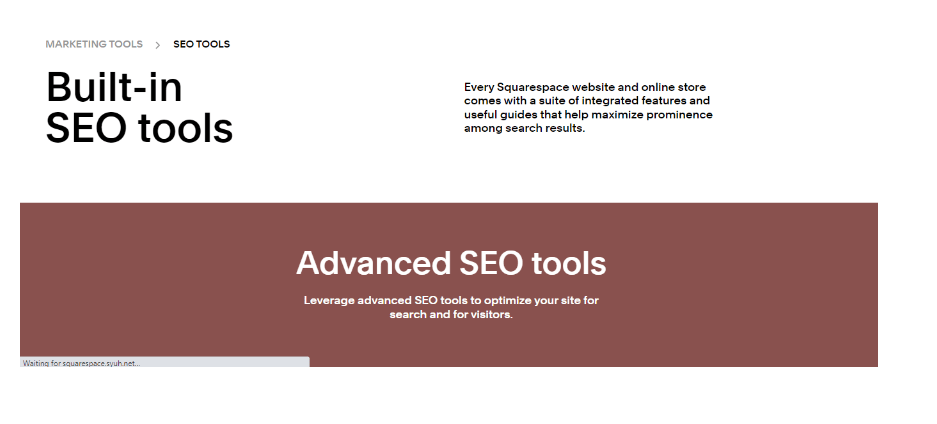 Winner
If we take a deep look at the SEO features of these platforms and compare each other, we clearly find Shopify to be the winner in the end.
Unlike Squarespace, Shopify generates page titles and meta descriptions by default based on the content on your page.
We find that Shopify offers a more seamless URL redirection option than Squarespace. For example, if you delete a product from your site, you can set up a URL redirect for the same that will deflect your customers to similar product pages.
In Squarespace, you have to change a page URL manually.
Moreover, Shopify also takes the lead in the technical SEO aspect.
Blogging Option
Be it for inbound marketing or positioning yourself as a thought-leader, the importance of content marketing is irreplaceable. And when it comes to content marketing, blogs do wonder! Now, Shopify or Squarespace – who has nailed this feature? Let's take a look.
Shopify
Every Shopify store comes with a blogging engine. You can easily create an optimized blog post to boost brand awareness. Moreover, if you opt for Shopify's advanced blogging option, it'll make everything easier for you to manage your blogs. But you need to have some idea coding to access this feature.
Squarespace
Like Shopify, Squarespace also comes with built-in blogging features. Squarespace has integrated more advanced features in terms of adding a blog page, creating a new post, editing post settings, and so on. You can even share them on social media to build a credible relationship with your audience.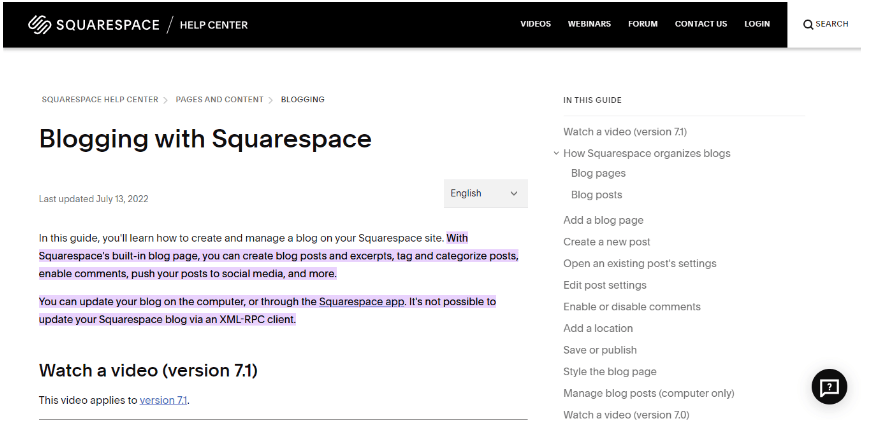 Apart from that, you can also share your post on email marketing campaigns. Also, Squarespace has taken extra care in this section as it lets you style your blog page the way you want.
Winner
Now, if we compare this option of both these platforms, Squarespace definitely beats Shopify as it offers multiple advanced features, including style, fonts, blog pages, and so on. You will have more control and flexibility on Squarespace. Though Shopify has a decent blogging feature, it can't compete with Squarespace's.
Third-Party Integrations and App Store
If you are not satisfied with the built-in features of these platforms, you can go for other third-party integrations or apps to have a seamless online selling journey.
Shopify
To make your online business more streamlined, Shopify has integrated more than 6000 third-party apps ( both paid and free) into its app marketplace. These include popular applications such as Mailchimp, Shopify Email, Pinterest, Shopify Inbox, Klaviyo, Snapchat Ads, etc.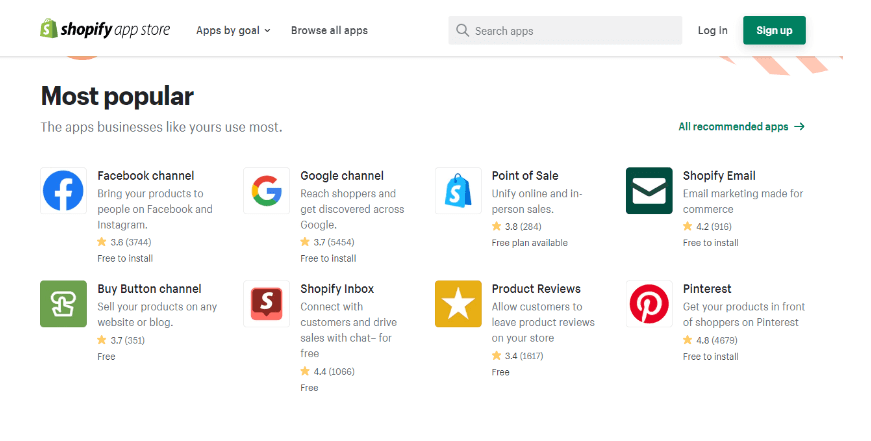 Moreover, other leading apps such as Facebook, Google, and Buy Button Cand channel are also available in Shopify App Marketplace.
In a nutshell, the Shopify AppStore is a one-stop solution for marketers.
Squarespace
Like Shopify, Squarespace has also incorporated a few apps and third-party tools in its store known as Squarespace Extensions. But they are not as diversified as Shopify. It has only 32 applications, including Aftership, Art of Where, Candid Wholesale, Delighted, Dext, Easyship, and Mailchimp for commerce.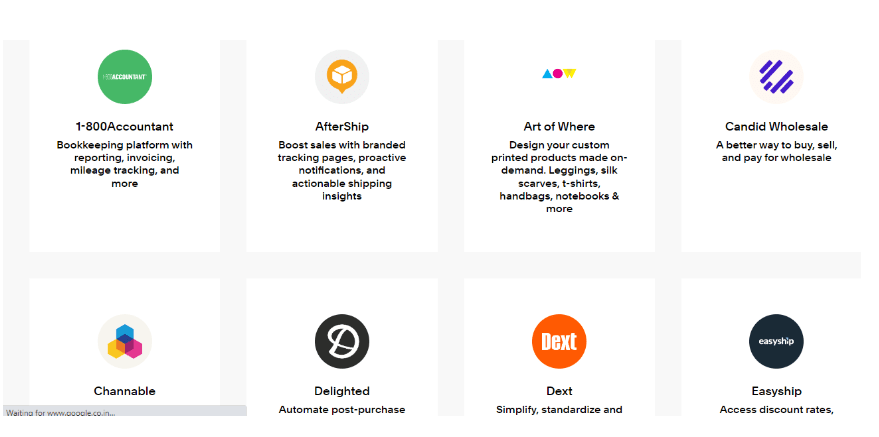 Winner
The winner is clear! Shopify it is! Where Shopify has more than 6000 apps in its Appstore, Squarespace only offers 32 extensions. This number might increase in the future, but there is no guarantee.
Email Marketing Features on Shopify and Squarespace
Both Shopify and Squarespace allow you to integrate third-party tools (like Mailchimp) for email marketing. But it might be time-consuming and cost you extra on your monthly plans. Keeping that in mind, both these platforms have introduced their built-in email marketing features. Let's take a look at them.
Shopify Email
Shopify Email is the one-stop solution for your email marketing campaigns. From templates and reporting tools to workflows, Shopify helps with everything. You can also go for automation functionality to get more engagement in your site.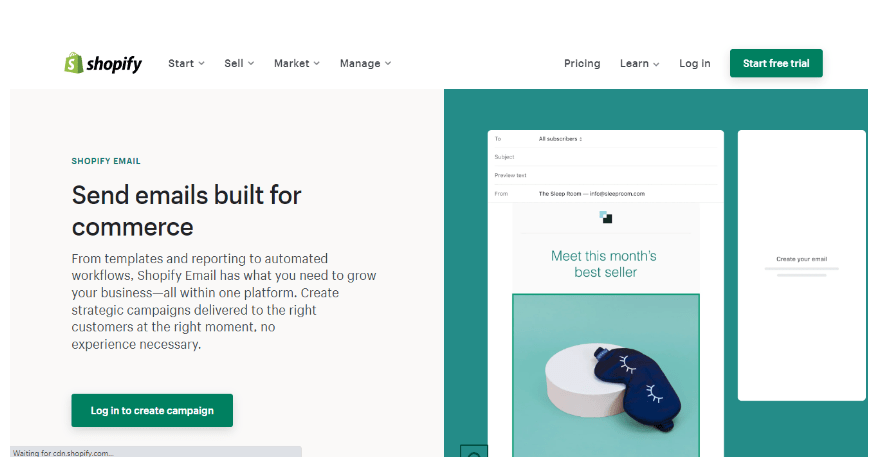 You can send up to 10,000 emails every month for free. After that, it'll charge $ 1 per 1000 emails.
Squarespace Email Campaigns
Squarespace Email Campaigns also offer a streamlined way to connect with your target audience. From choosing your email layout to easy editing functionality to audience management, it helps you make the process seamless.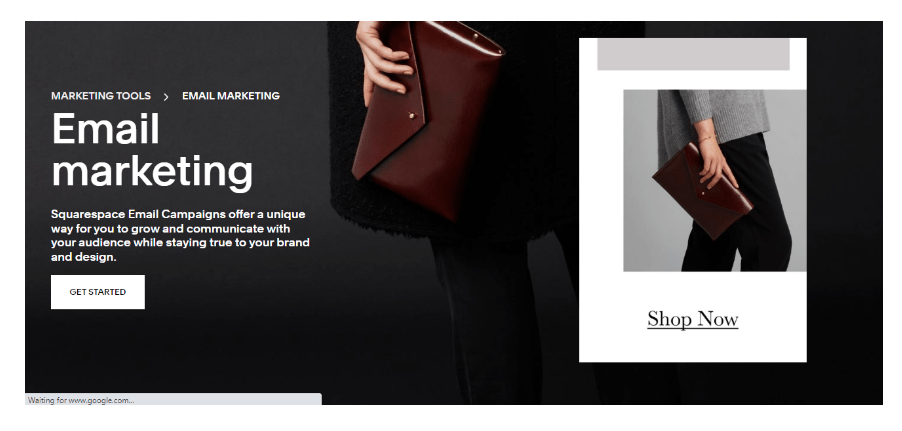 Further, Squarespace has four types of email campaigning plans –
| | | | | |
| --- | --- | --- | --- | --- |
| Plans | Starter | Core | Pro | Max |
| Pricing | $5 | $10 | $24 | $48 |
| Emails per month | 500 | 5,000 | 50,000 | 2,50,000 |
Winner
As per our research, we'd say Shopify Email is more effective than Squarespace's when it comes to comparison. However, both Shopify and Squarespace need to improve their built-in email features. Now, if you want to invest in Email Marketing campaigns, we'd suggest you integrate third-party tools for better results.
Reporting and Analysing Tool
You can grow only when you keep track of your growth. Right? Fortunately, both Shopify and Squarespace have integrated built-in analytics tools to improve your selling journey.
Shopify
Shopify has an integrated built-in analytics tool to improve your performance. Anyone can access this analytics tool. Now, if you go for higher plans of Shopify, you'll benefit from more monthly reports including inventory reports, marketing reports, order reports, customer reports, profit reports, and so on.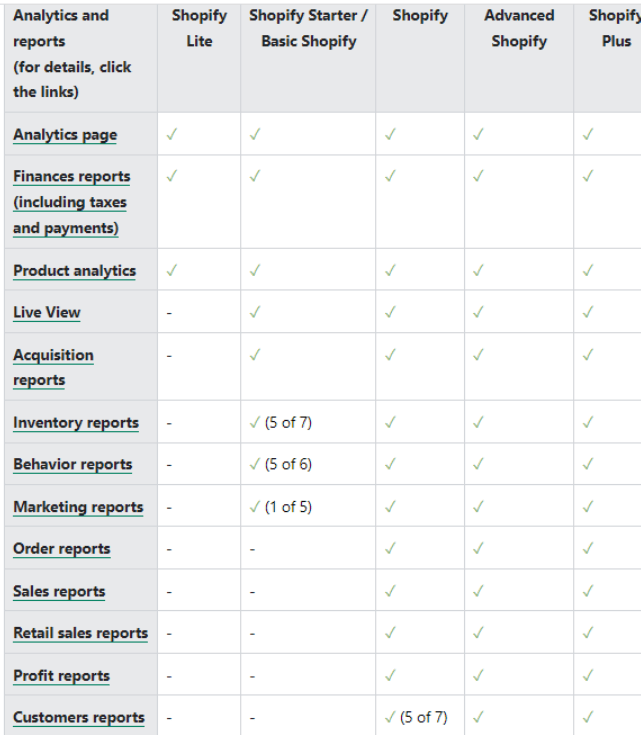 Squarespace
Like Shopify, Squarespace also offers a built-in analysis tool that helps you get insights regarding your sales, revenue, marketing, and so on. But it depends on the plan you have opted for. E.g., if you go for commerce plans, you'll benefit from the more advanced features of it.
Verdict
Again, Shopify is the winner here as it provides more functionalities in this feature. Though they both provide pretty basic analytics information, Shopify still takes the lead in this case.
Shopify vs Squarespace: Selling Features
| | | |
| --- | --- | --- |
| Selling Features | Shopify | Squarespace |
| Point of Sale feature | 4.4 | 4.0 |
| Dropshipping | 4.5 | 4.3 |
| Product Types | 4.2 | 4.5 |
| Shipping options | 4.6 | |
POS Feature
If you want to create a better business in the long term, integrating a POS system is mandatory. But which platform takes care of this feature in a better way? Let's see.
Shopify
When it comes to providing a seamless and effective POS feature, Shopify does its best. By offering several premium features, it makes your selling journey more streamlined and seamless.
A POS system search bar lets you search for your customer profile, products, codes, etc.
Mobile POS terminals and payment hardware.
Order notes
Sales Channel integrations
In-store Pickup
Store Transfer
To learn more about Shopify POS, Click here.
Squarespace
Now, if we come to Squarespace's POS feature, it hasn't introduced any built-in POS feature yet. They have partnered with Square so that you can accept cash, mobile payment, credit card, etc.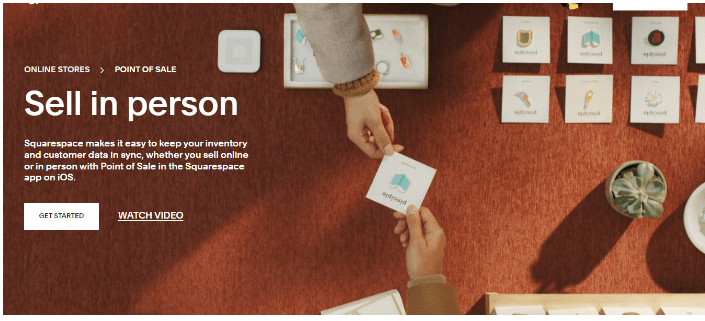 But the main drawback is that you can only connect Square with iPad and iPhone to start selling.
Winner
The result is crystal clear. If you are concerned about the POS feature of your site, then Shopify can be the best option for you as it offers more streamlined POS functionalities than Squarespace.
Dropshipping
If you want to try your hand out at online selling, Dropshipping can be the best option for you. You don't have to keep your products in stock, just connect your store with the dropshipping sellers, and that's it!
Shopify
To manage the dropshipping functionalities in your online store, you need to integrate third-party applications from Shopify App Store. Shopify offers a range of third-party tools in terms of Spocket, Modalyst, Oberlo, Carro, and many more. Some of them provide free plans too. So choose one as per your choice.
Squarespace
Recently, Squarespace has also incorporated third-party tools to manage drop shipping. These include Spocket, Printful, Art of Where, and so on.
Winner
But unlike Shopify, Squarespace doesn't have a variety of dropshipping apps, though the number might increase in the future. So, Here Shopify wins the game!
Product Types
"What types of products can you sell on Shopify and Squarespace?" It's the most common question asked by almost every marketer. So let's delve deeper into this topic.
Shopify
Other than materialistic products, you can sell several other things on Shopify, including services, memberships, consultations, digital products, event supports, experiences, classes, rentals, etc.
One thing to remember here is that you must integrate third-party tools (Sky Pilots, Digital Downloads, SendOwl) to sell digital products on Shopify.
Squarespace
Squarespace allows you to sell products every kind of product without any third-party integrations.
Winner
Now, in this case, Squarespace takes leads on Shopify as it makes the process more seamless and streamlined without integrating any third-party tools.
Shipping Options
You might have great products in your store, but how you ship them to your customers makes the difference. People love seamless shipping. But between these two platforms, who meets your needs in a better way? Let's find out.
Shopify
There's no doubt that Shopify has the fastest shipping solutions than any other platform in the market. From getting discounted rates to protecting your shipments to setting everything in just one place, Shopify has got you back with everything.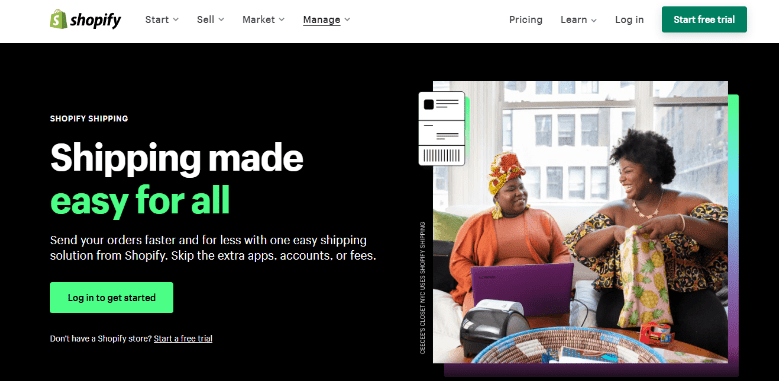 Further, Shopify's shipping feature also helps you create setups and arrange pickups with UPS and DHL.
Squarespace
To be very honest, Squarespace doesn't have premium shipping features like Shopify. But now, it's trying to give neck-to-neck competition to it by working with USP to calculate carrier shipping rates.
Winner
The result is as simple as that. Shopify is the winner here! Nothing can beat Shopify's advanced shipping functionalities. Though in the future, we can expect more from Squarespace.
Shopify vs Squarespace: Themes and Designs
Your online store is like the door. So make sure to make it welcoming with premium designs and themes. But as we compare Shopify and Squarespace, let's see who meets our expectations.
Shopify
Shopify offers 70+ different themes (both paid and free) to its users. The range of paid themes starts from $180 to $350. No matter what industry you belong to, Shopify Theme Store has a range of premium templates, including clothing and fashion, Jewelry, Electronics, etc.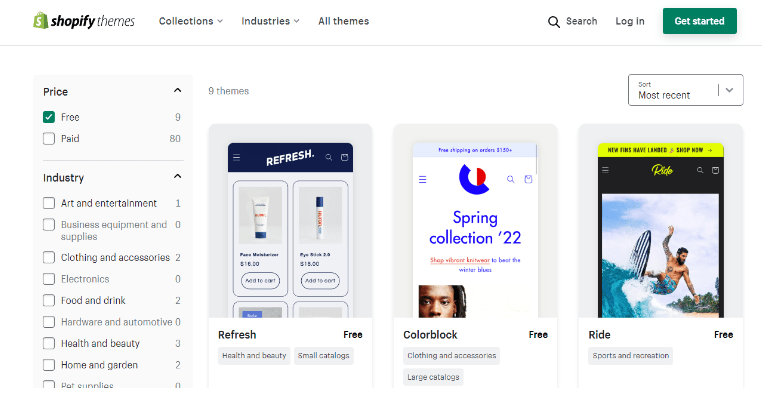 Also, you have full control over customizing these themes as per your choice. So, no drawback is there.
Squarespace
No doubt Squarespace has more advanced and updated themes and templates. In terms of style and feature, they are modern and burnished. And the best part is you'll get them for free without any extra cost.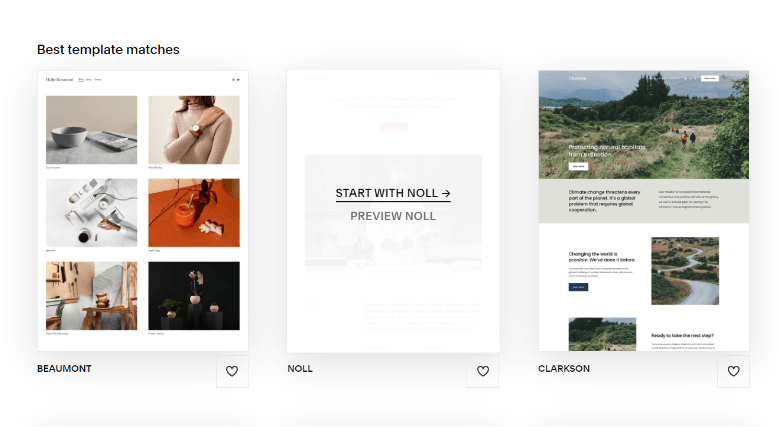 Further, they are also mobile responsive, so they're also mobile responsive. So, there are no drawbacks to it.
Also, Squarespace offers a built-in zoom feature for your product presentation, giving your store a modern and aesthetic vibe.
Winner
Without any doubt, Squarespace wins here. It has more advanced and responsive themes and templates, whereas Shopify's free themes are old-patterned. Moreover, Squarespace doesn't charge you extra for its templates.
Shopify vs Squarespace: Customer Support
If any platform has a good customer support system, people automatically fall in love with it. Now, let's see which platform performs this role in a more streamlined way.
Shopify
When it comes to providing support, Shopify doesn't disappoint its customers. They are super active 24*7. You can connect with them via messages, voice calls, and several video tutorials.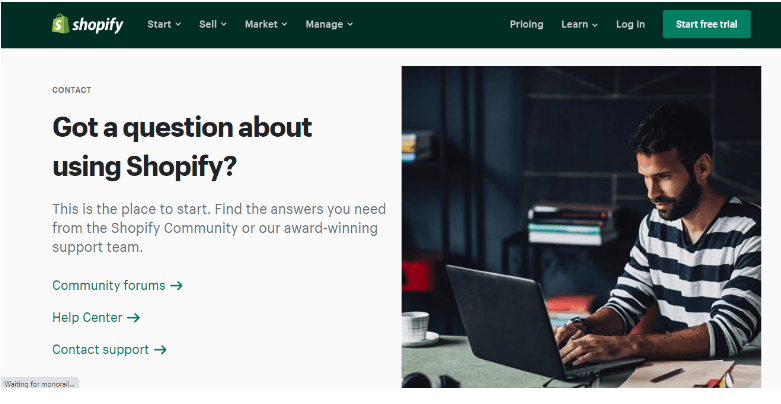 Moreover, if you opt for Shopify Plus, you'll get customized planning for your store.
Squarespace
Unfortunately, Squarespace doesn't provide phone call support to its customers. And, it's the main drawback one can face with Squarespace. You can also connect with the Squarespace team via emails and chats.
Winner
Surely, Shopify wins here as it takes care of its customers in a more better way than Squarespace.
Shopify vs Squarespace: Pros & Cons
Here are the advantages & disadvantages of using Squarespace and Shopify.
Shopify Pros
Shopify has a huge template library where you can find free & premium themes.
Integrate your favorite tools into your store using the Shopify App store.
You can contact customer support via email and live chat.
Find answers to your questions in the resources option and Shopify community.
Sell your products through multiple channels, such as Facebook and Instagram.
Shopify Cons
You will be paying transaction fees on third-party payment apps unless you use Shopify payments.
It may take you longer to learn to use Shopify than Squarespace.
Squarespace Pros
Squarespace's template library is big, and here you can find templates for different niches, including online stores.
Offline selling options are also available with Squarespace.
Affordable pricing options for individuals on a budget.
Amazing blogging tools to help you with your content marketing strategy.
See your online store's performance through analytics & reports.
Squarespace Cons
There is no app store available for additional integrations.
Only a few payment options are available on Squarespace.
What About The Rivals of Shopify and Squarespace?
| | | | | |
| --- | --- | --- | --- | --- |
| Features | Shopify | Squarespace | Bigcommerce | Wix.com |
| Overall Ratings | 4.5 | 4.3 | 4.2 | 4.4 |
| Pricing Plans (per month) | $29-$299(Shopify starter at $5) | $16-$46 | $29.95-$299.95 | $23-$49 |
| Number of Templates | 70+ | 110+ | 120+ | 1000+ |
| SEO features | Effective, but you may face problems of Duplicate Content | Remarkable SEO features. | Highly effective | Excellent fit for every website |
| Built-in Email Marketing Functionality | Yes | Yes | No ( via third-party apps) | Yes, its free plan also offers an email marketing tool. |
| Ease of Use | Easy | Minimalistic but could be improved | A bit difficult | Very easy and user-friendly |
| Business Globalization | Not for international level growth | Ideal for big brands | A perfect fit to grow your business | Not a perfect match for large businesses |
Related Read:
Shopify vs Squarespace: The Ultimate Winner!
After analyzing both platforms in detail, we'll make Shopify the winner as it offers more advanced and effective features than Squarespace. Though Squarespace is trying to give neck-to-neck competition to Shopify, in a few cases ( Marketing features, sales features, customer support), Shopify has an edge.
Now, it's your choice to pick one for yourself. This article will help you with that. Now, if you have any questions regarding this battle, don't forget to leave a comment below.