Are you looking for the top Amazon competitors to shop or sell? Look no further, I have got your back.
Amazon is a colossal marketplace, and its popularity is widespread around the world. Every newbie seller prioritizes Amazon as their first option when it comes to opening an eCommerce store. The reason is its heavy traffic and millions of established customers all over the world. Millions of merchants are already selling on Amazon and have made their online presence over the year. It makes it harder for beginners as they have to face a lot of competition.
Luckily there are tons of eCommerce alternatives available that you can consider starting a business on. You might not get the same traffic and monthly visits as Amazon, but you will definitely escape from the heavy competition without compromising your profit or sales.
In this post, I have listed the top 9 Amazon competitors that you can consider shopping for or starting an online business.
Let's get started.
Top 10 Amazon Competitors: In A Nutshell (2023)
| | | |
| --- | --- | --- |
| S.No. | Amazon Competitors | Users Worldwide |
| 1. | Walmart | Over 1.1 billion |
| 2. | Alibaba Group | 305 million |
| 3. | eBay | 135 million |
| 4. | Target | 153 million |
| 5. | Flipkart | 30 million |
| 6. | JD.Com | 580 million |
| 7. | Costco | 119 million |
| 8. | Rakuten | 544 million |
| 9. | Otto | 55 million |
| 10. | Netflix | 230 million |
Here is the list of the top 10 Amazon competitors that you can consider for online selling or shopping.
1. Walmart
Walmart was founded way before Amazon. It started as a departmental store in 1962 but entered the online market in 1996. Now, Walmart is one of the biggest competitors of Amazon. Apart from an online marketplace, Walmart operates a chain of more than 10,500 various stores, such as discount stores, departmental stores, hypermarkets, supercenters, neighborhood markets, etc., in 24 countries.

Like Amazon, Walmart also allows customers to purchase goods in almost the same way and process. You will also get options like same-day and two-day delivery. There is a lot of potential for sellers and wholesalers who want to sell online at Walmart. However, you need to go through a lot of verification processes in order to open your store, while on Amazon, you can easily register as a seller.
2. Alibaba Group
Alibaba is a China-based global supplier that trades millions of products internationally. Both Amazon and Alibaba are eCommerce giants. But Alibaba runs on a B2B model and acts as a middleman that connects buyers and sellers through an extensive network of websites. Alibaba accounts for over 58% of total online retail sales in China.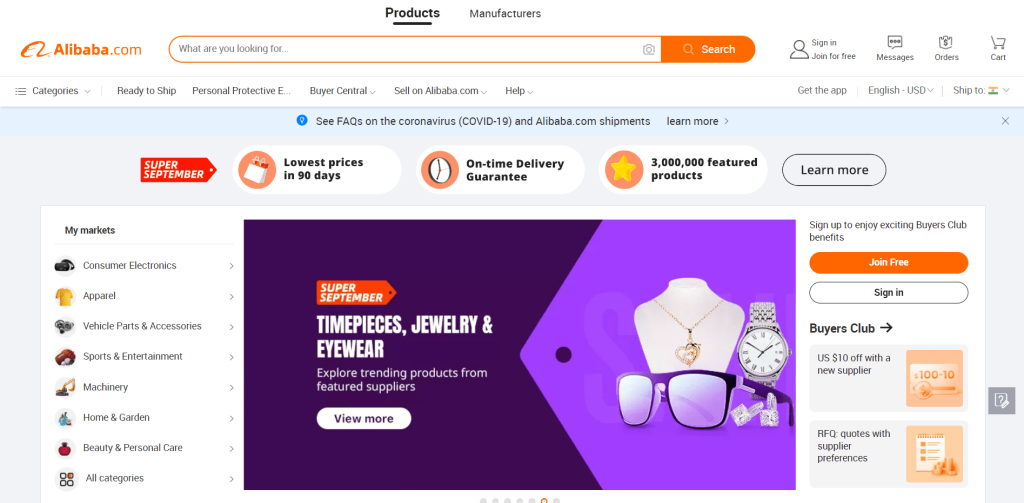 On Alibaba, you can find almost every product that is being sold on Amazon. Most of the suppliers on Alibaba deal in wholesale products, making it the best platform to source products at a cut-rate price. In fact, many sellers on Amazon are running private-label businesses by selling Alibaba products under their brand name. As of 2023, Alibaba's market cap is over $333 billion, which is six times lower than Amazon's. 
3. eBay
eBay is one of the biggest competitors to Amazon and is known for offering a whole new method of selling. Unlike Amazon, sellers can list their items for auction, and they get paid on the very final bid. Amazon's eCommerce sales statistics are enormous, and eBay is the closest one to Amazon in this category.

Over the years, eBay has been running on a C2C business model, but it also started B2C in the past few years. Now, you can explore many different categories to find your favorite products. Here you can also trade in refurbished and second-hand products. However, on eBay, you can find more customized listings compared to Amazon.
4. Target
Target is one of the oldest and biggest retailers in the world. In terms of offering a wide range of products, Target is almost the same as Amazon. Despite this similarity, both companies imply a completely different selling strategy. Whereas Amazon completely focuses on online selling, Target mainly focuses on traditional in-store selling. That's why Target owns almost 2000 physical stores along with 51 supply chain facilities.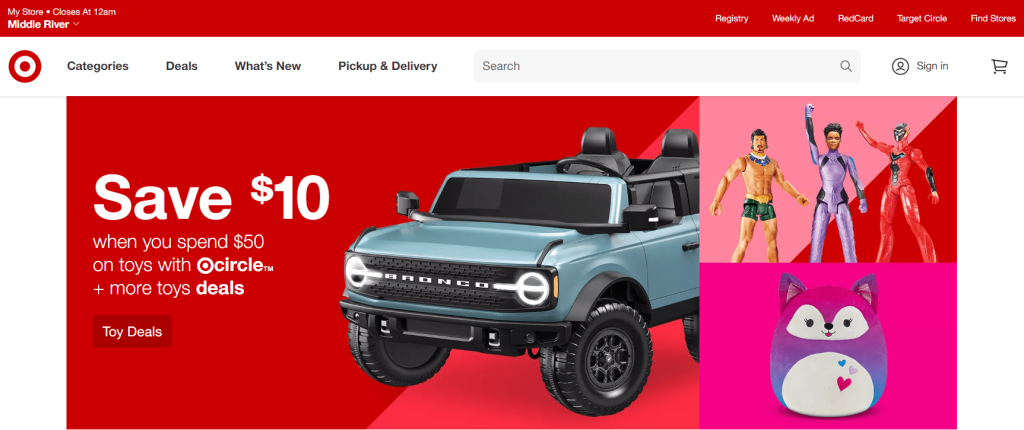 If we talk about Target online shopping, people shop with Target Plus. Target Plus is a local online marketplace that offers a wide range of products, including fresh groceries and daily-use products. The best part about Target Plus is that they ship almost all their orders on the same day of order. However, Target Plus is an invite-only platform for third-party sellers, so opening an online store on Target will require an application that officials must approve.
5. Flipkart
Compared to other eCommerce platforms, Flipkart is quite new, but it got evolved enough to give decent competition to Amazon. Founded in 2007, Flipkart is an Indian-based eCommerce company that offers a huge range of products. Flipkart was a Singapore-registered entity from 2011 until Walmart acquired 77% of its shares in 2018. Now the company is valued at over $6.1 billion.

If we specifically talk about India, Flipkart has more than 40% market share while Amazon has only 31%. Indians trust Flipkart over Amazon when it comes to online shopping. However, Flipkart doesn't offer global shipping options. But if you're an India-based citizen, you can apply for Flipkart Sellers Hub.
6. JD.Com
JD.com (or Jingdong) is another China-based online marketplace that also operates globally. JD is similar to Alibaba but is directed towards the B2C model, making it a top competitor to Amazon. With a market cap of $100 billion, JD easily finds its place in the top 10 eCommerce retailers. However, Amazon has bigger global operations, while most of the revenue figures of JD are estimated from China.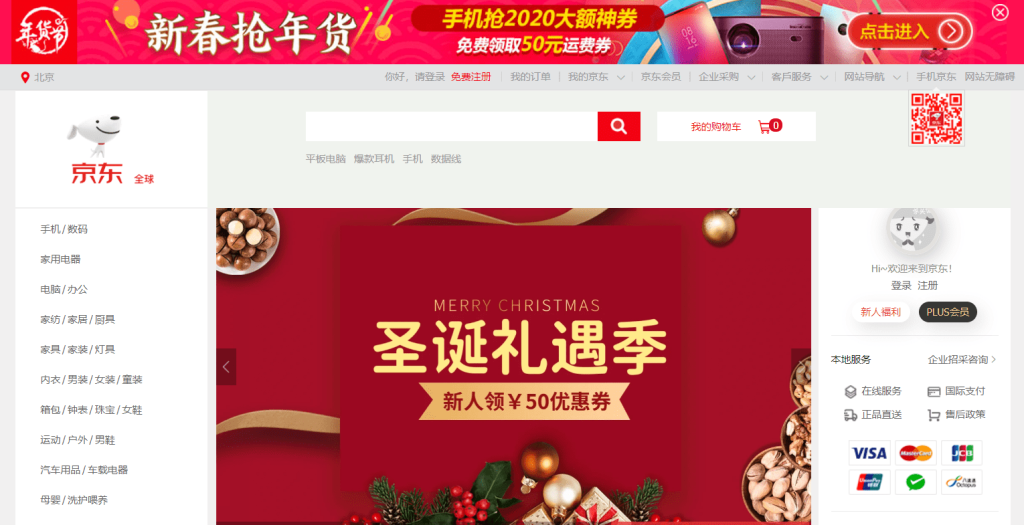 Like Alibaba, JD is one of the best places to source bulk products from China. The company owns more than 230 warehouses across 105 regions. So if you are thinking about starting a private-label business, you can source a specific product at a discounted rate. In fact, most of the private-label sellers source their products from JD as they offer a buyer protection program that saves them from fraud and unverified sellers. That's the reason JD estimated a whopping $115 billion in revenue.
7. Costco
Costco is a US-based company that runs a chain of retail stores in 100+ locations worldwide. The company mainly focuses on the wholesale selling approach. Here, you can find a huge range of wholesale goods in various categories, such as furniture, electronics, gifts, books, clothing, pet products, etc. Costco is the best place in the USA if you want to purchase high-quality products at a budget-friendly price range.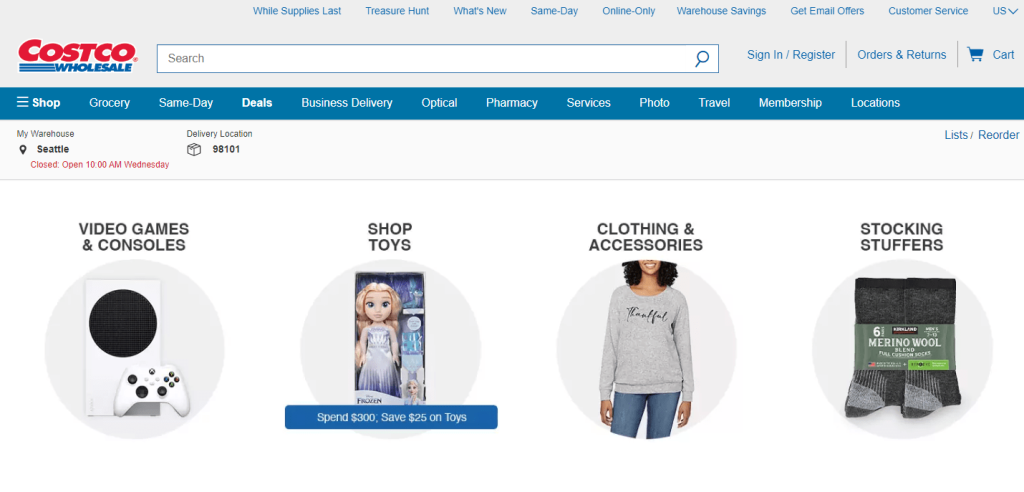 Costco is also famous for delivering perishable groceries online, such as seafood, organic meat, fresh vegetables, and fruits. Costco takes orders from local customers to deliver fresh groceries with one-day delivery. Costco performed better than Amazon during the pandemic, which is why its current revenue is valued at $192.05 billion.
8. Rakuten
Rakuten is a Japanese-based eCommerce company founded in 1997. Well, Rakuten is more than just an eCommerce company. It is an ecosystem that includes health services, streaming services (Rakuten TV), payments, and banking services. Instead of trading brands, Rakuten focuses on promoting domestic products by offering a cash-back system.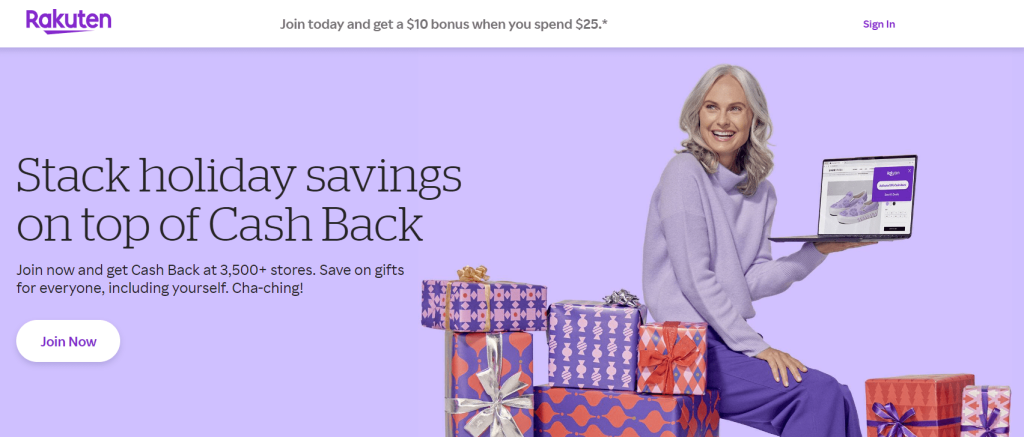 In Japan, Amazon and Rakuten go head-to-head in terms of monthly sales and visits. Amazon earned a total revenue of $14.6 billion, while Rakuten bagged $13.8 billion. The platform also sells internationally and has access to 50K merchants in 30+ countries, making it a significant competitor to Amazon.
9. Otto
Otto is one of the biggest eCommerce platforms in Europe. When it comes to Amazon alternatives in Europe, Otto is considered the first choice, and no one comes closer to it. Founded in 1949, Otto started as a mail-order service in Germany and then slowly evolved into an online giant in 1995. Apart from that, the company is known as the biggest retailer of electronics, sports gear, fashion, and furniture.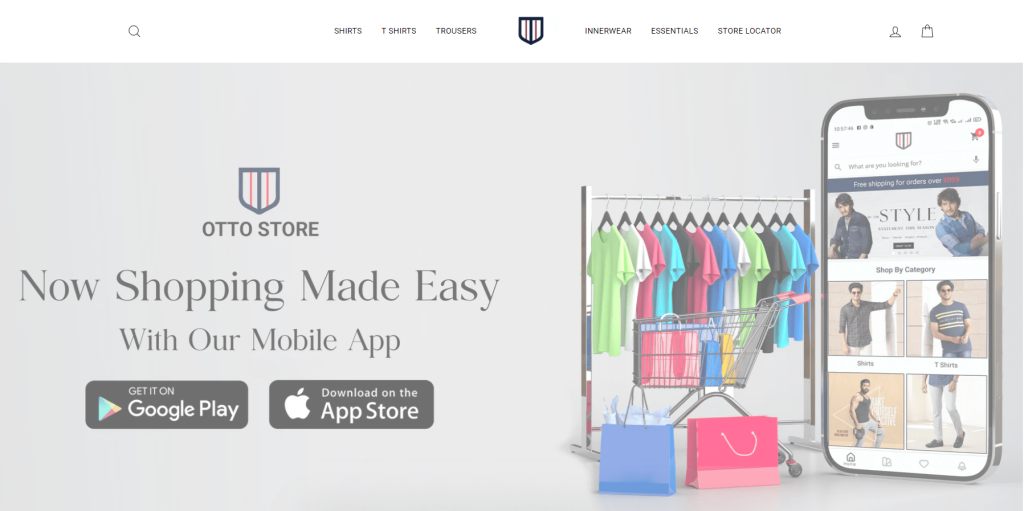 The company operates in 20+ countries, including Germany and the USA. In 2022, Otto's sales revenue is estimated to be valued at $14.5 billion at a growth rate of 5.34%. Overall sales of the company also skyrocketed by 13%. These stats show potential growth, so starting as a seller on the platform would be a smart choice. Over 45% of households in Germany shopped at Otto, so Europe-based sellers have better chances to generate profit at a significant scale.
10. Netflix
Apart from the eCommerce field, Amazon has gained immense popularity in providing video streaming services (Amazon Prime Video) to binge watchers. In this field, Netflix is the biggest competitor of Amazon Prime Video. Launched in 1997, Netflix started as a subscription-based streaming service across the world, granting subscribers access to a huge library of exclusive films, documentaries, and web series.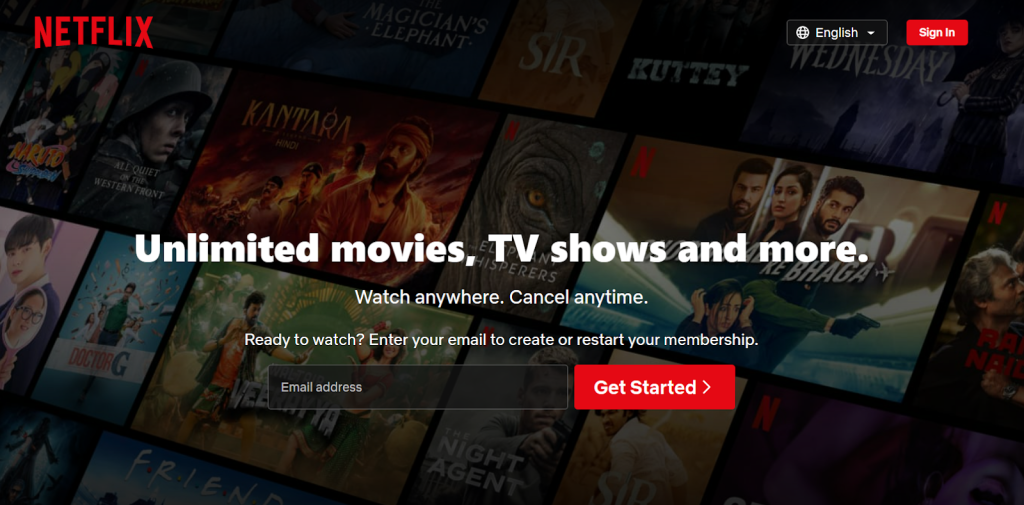 Netflix has a whooping 233 million subscribers worldwide, while Amazon Prime Video has only 200 million subscribers. Compared to other subscription-based streaming platforms, Netflix has the most premium selection of video content, such as Stranger Things, Money Heist, Wednesday, Dahmer, etc. In 2022, Netflix boasted almost 32 billion in revenue, which is almost 10 billion more than Prime Video. You can also download your favorite shows to watch them offline.
Related Read:
Conclusion: Best Amazon Competitors (2023)
So this is my handpicked list of the best Amazon competitors. Whether you are a beginner or already selling on Amazon, you can start your online store without dealing with mediators. You can use Amazon's omnichannel services to expand your business to other eCommerce platforms. All these platforms are equally successful, with millions of loyal customers. Despite earning billions of revenue each month, these platforms support small and medium-sized businesses on the same scale as bigger known brands. 
However, selecting one of these also depends on your location. Suppose you live in Japan, so starting an eCommerce store in Rakuten would make a lot of sense as it is mainly located in Japan and supports global selling. And the same goes for Otto and Flipkart. So consider picking the one within your region and start your business in a less-competitive environment.
I hope this post helps you with your purpose well. If you have any other queries, let me know in the comments.