Are you confused between Shopify vs Magento? You are not alone. Many sellers get puzzled between these two since both platforms stand next to each other in the top 10 list.
Shopify and Magento are two top-class eCommerce platforms that cater to thousands of sellers around the world. Both platforms include advanced eCommerce features that will help you create and run your own online store. However, both platforms focus on different types of merchants.
Shopify is beginner-friendly, so anyone can start their online business with ease. On the other hand, Magento targets technically-involved merchants, so they can mold their websites as they have imagined. There are tons of other features that set them apart from each other.
In this post, I will share a detailed comparison between Shopify and Magento. By the end of the article, you will understand which platform suits best for your business.
Let's get started.
Shopify vs Magento: In A Nutshell
Before starting the comparison between Shopify and Magento, let's know more about both platforms.
Shopify
Shopify is an all-in-one eCommerce platform that helps you create fully-responsive online stores without any coding skills. It offers a tier-based eCommerce solution, and all of them include web-hosting services. That means you don't have to manage or update your web servers in order to run your website. With Shopify, you can sell in multiple sales channels and marketplaces at the same time so that you can expand your brand internationally.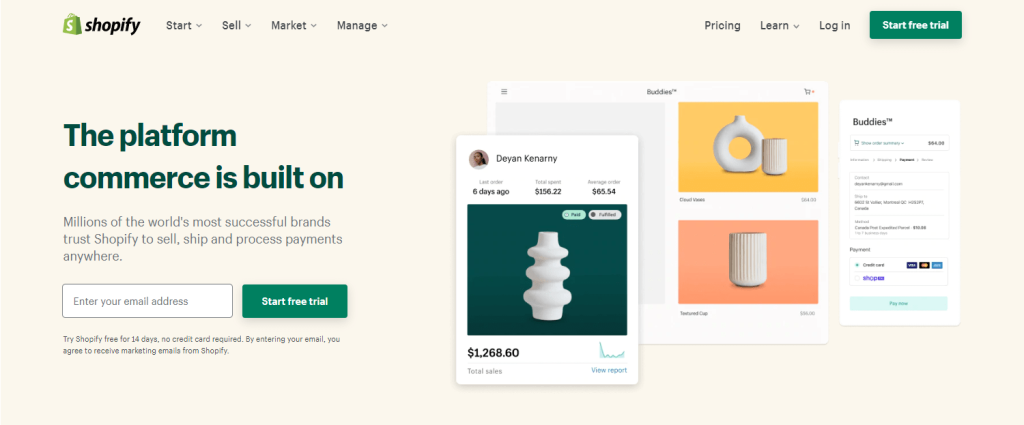 Magento
Magento, also known as Adobe Commerce, is an open-source platform with built-in PHP. It allows programmers and coders to create an eCommerce website. If you are a programmer, you can customize your website to add the tiniest details possible using extensions and eCommerce tools. With Magento, you get total control over your website, marketing, SEO, and catalog management. With such features and capabilities, Magento allows you to cater to any business size.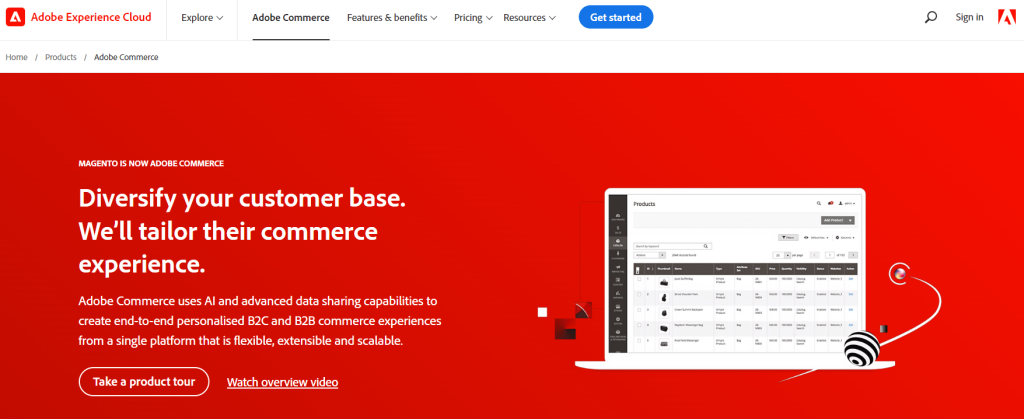 Key Differences Between Shopify and Magento
Magento is an open-source platform, while Shopify offers an all-in-one eCommerce solution to its customers.
Shopify offers tier-based monthly/yearly subscriptions. Magento, on the other hand, runs on a pay-as-you-go model.
Shopify charges a fixed transaction fee on each sale. But with Magento, transaction fees can vary according to your selected payment processors.
Shopify includes hosting charges with its plans, you don't have to spend any extra penny. With Magento, the hosting prices depend on Magento Hosting.
With Shopify, you can create a fully-responsive online store without any technical knowledge. But Magento requires you to be technically compliant in order to set up an online business.
Shopify vs Magento: Major Features Comparison
Shopify and Magento are two feature-rich platforms that offer endless opportunities for scalability and growth. But which one is superior? Let's see after comparing both platforms' features.
1. Ease of Use
Shopify and Magento both offer a properly structured user interface, but which platform is user-friendly? Let's find out.
Shopify is a hosted platform that comes with a wizard mode. That means you can create an eCommerce store without worrying about managing infrastructure or hosting your website. You can simply sign up and follow the system wizard, and it will help you set up your store. After that, you can use its simple drag & drop builder to edit and customize your online store. That means you don't have to be technically skilled in order to create a store. In fact, Shopify is built for both tech-savvy and non-technical people.
Compared to Shopify, Magento has a steep learning curve. Magento indeed offers flexibility and more control over your online store, but people with no technical skills will find it tricky to use. To be precise, it is made for professional and tech-compliant users. The reason is that it is an open-source platform. That means you need to acquire your own web hosting and install the software yourself. So if you are into technical stuff, you can customize your store or include additional elements. But if you don't even know the basic terms of website design, you will need to hire a professional, as it is going to be challenging for you.
Winner: Shopify
2. Themes and Templates
Shopify offers a variety of themes for store design and customization. With a Shopify plan, you instantly get access to 110+ customizable themes. There are some free options available, but most of them are paid. However, it offers a much cheaper range than many popular platforms. You can browse all the themes from Shopify Theme Store, which ranges between $180 to $350. All the themes on Shopify are mobile-optimized and available in different styles and color palettes.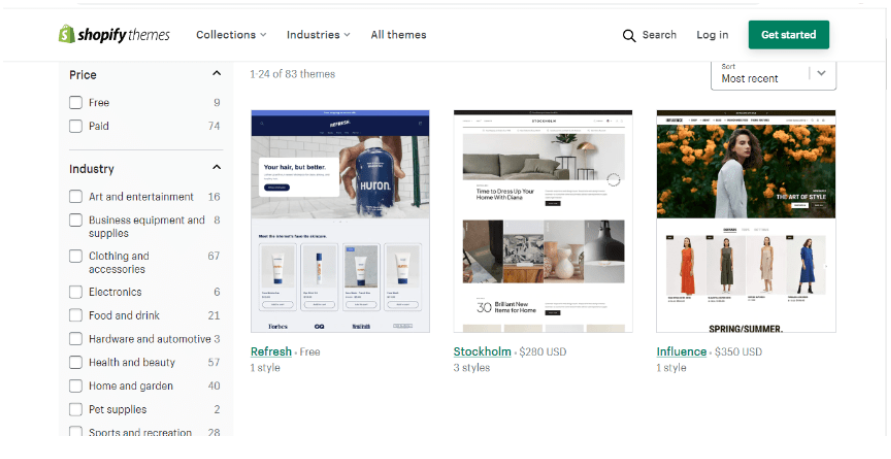 In terms of numbers, Magento is far away from Shopify. It only offers six premium themes at $499 each. These themes are ready-made and don't require coding customization. If you look for themes apart from Magento, you will get hundreds of cheaper options. Themeforest is one of the best websites to browse top-class Magento themes ranging from $20 to $399. With Magento, you can customize your store themes to their full potential.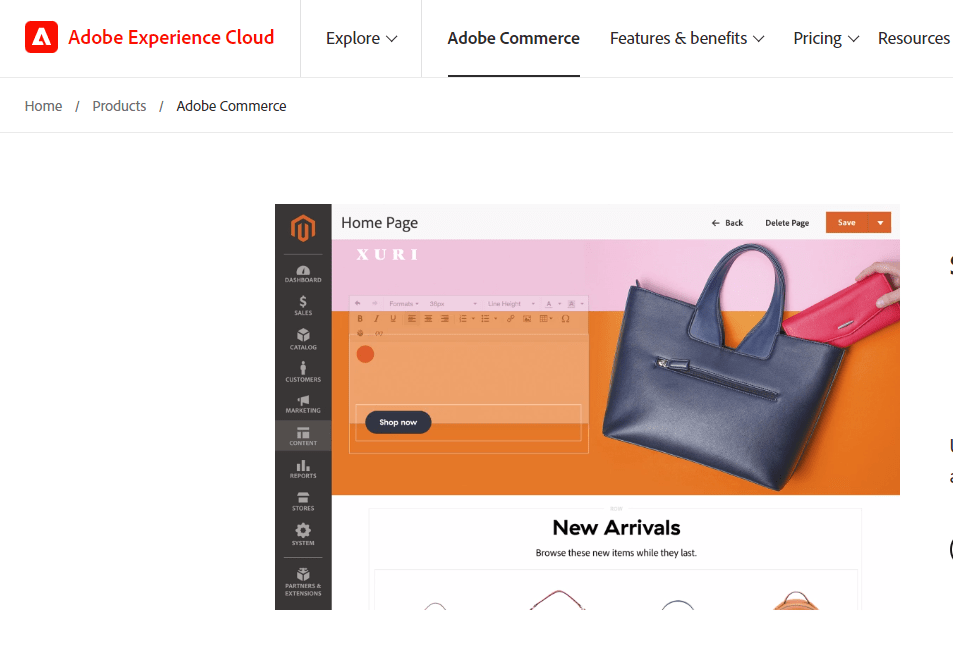 Winner: Shopify
3. Sales Tools
Shopify and Magento both offer equally powerful eCommerce features. With Shopify, you get everything integrated with your selected plan, whereas with Magento, you can unlock unlimited possibilities.
Shopify is a complete eCommerce platform. That's why they offer almost every eCommerce feature, including the advanced ones. With its plans, you can sell unlimited products with unmetered bandwidth. So no matter how many products you sell at the same time, you will get the same speed. Apart from that, you will also get access to inventory tracking, shipment tracking, mobile POS, abandoned cart recovery, and bulk import.
Magento also takes the eCommerce department seriously. The company offers a top-notch bulk import and inventory system. Compared to Shopify, Magento offers almost all the same features. It also offers some advanced features, such as multi-channel selling, discounts, abandoned cart recovery, checkout customization, etc., that are extremely important for a store's success.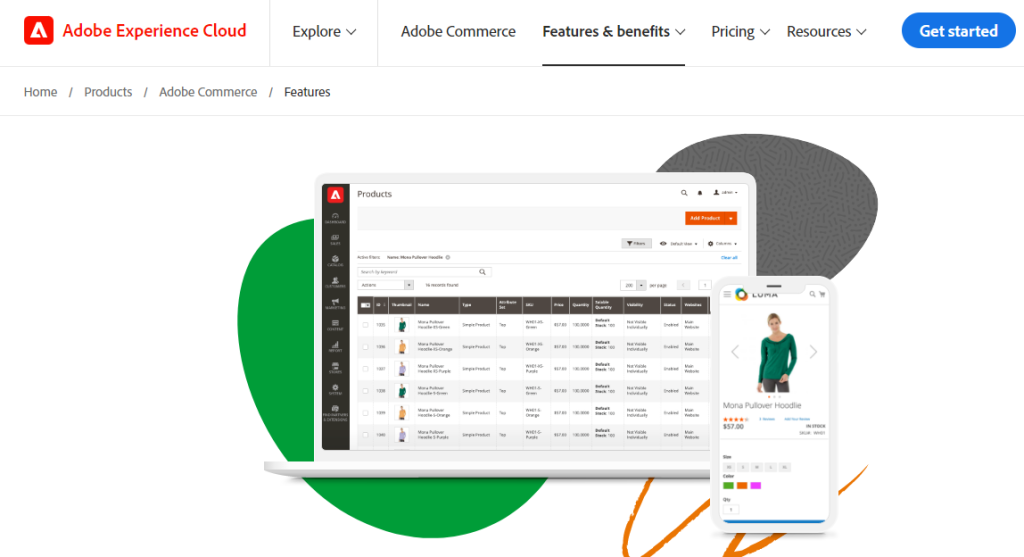 Winner: Tie
4. Inventory Management
Shopify's inventory management extremely depends on the Shopify plan you choose. You can sell unlimited products, but managing inventory can be a bit of stress, so you might need to install a third-party inventory management app to sort things out.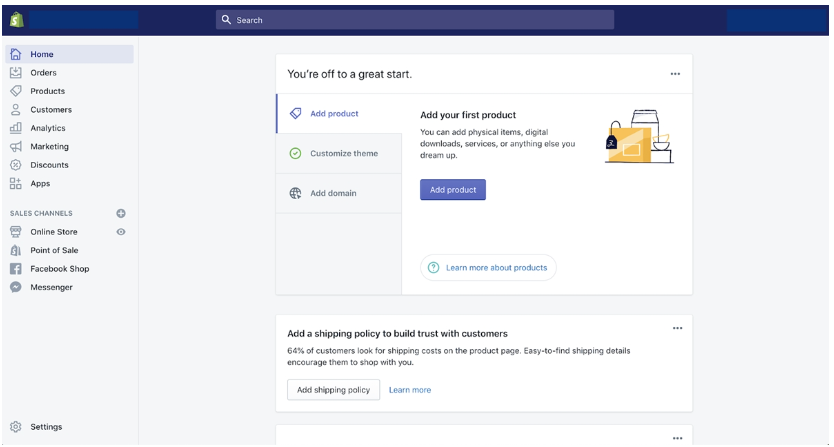 Magento, on the other hand, offers powerful inventory and order management features. And you will get all these features built-in. Like Shopify, you can also list unlimited products and add various customer attributes. Since everything on Magento is coding-friendly, you can add an additional touch to offer a personalized user experience to your customers.
Winner: Magento
5. SEO Features
Search engine optimization (SEO) is the most crucial aspect that decides your success on a specific platform. It helps you increase traffic and conversions so you can get the maximum sales opportunities.
Shopify offers a decent set of SEO features with its subscriptions. With in-built tools, you can edit image alt tags and page titles. But if you want to unlock full SEO potential, you might have to rely on third-party apps.
Magento really excels in this field by offering tons of SEO features. It also offers various SEO guides that help you get started with ease. It gives you the ability to modify meta descriptions and page titles and lets you add schema markup. This inbound marketing strategy helps you focus on your target audience, so your page ranks better in the search results.
Winner: Magento
6. Marketing Features
Shopify offers some incredible marketing tools, and most of them are built-in with your subscription. With its tools, you can advertise or even sell on many social platforms, such as Facebook, TikTok, Instagram, etc. It also supports multilingual sites (50+ international languages), so you can sell your products in different regions with their local languages. You can also check out its App Store to add various marketing tools to your store.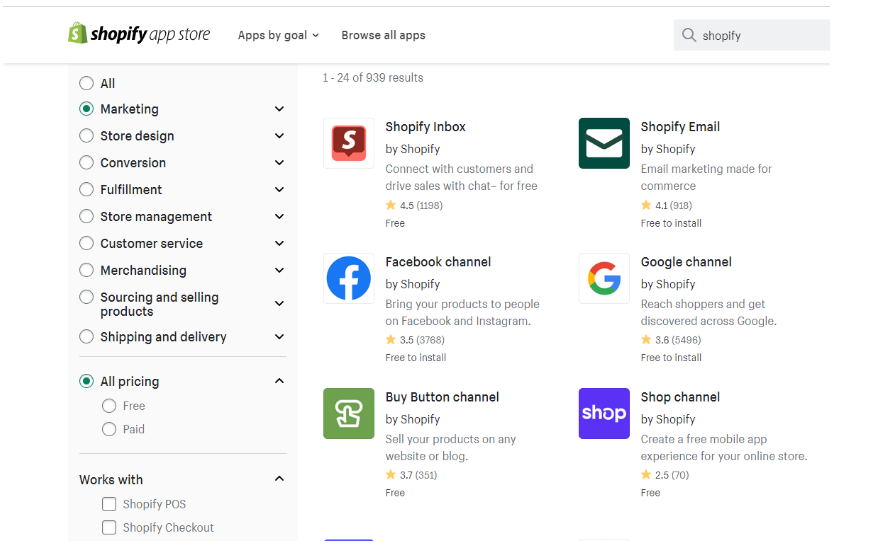 On the other hand, Magento mainly depends on its marketplace for the majority of marketing tools. For example, if you want to run an email campaign, you need to install extensions such as MailChimp to your store. Furthermore, marketing features also rely on your web development skills. If you are a skilled developer, you can scale your business to a whole new level.
Winner: Shopify
7. Apps and Add-ons
Shopify has an in-built App Store, from where you can add multiple apps to your store. The App Store contains over 4,200 free and paid third-party apps that will help you with various purposes. All these apps come with a free trial and real customer reviews. The free trial helps you test all the features without paying a penny, while reviews help you understand how it is performing under different sellers.
When it comes to offering apps and extensions, there is no match for Magento. The platform offers over 5,000 apps and extensions, of which almost 2000 extensions are absolutely free. And other extensions can range between $20 to $2000. However, adding some extensions to your store might require technical capabilities.
Winner Tie
8. Payment Options and Fees
Shopify offers over 100 payment gateways that you can add to your store as payment processors. Stripe, PayPal, Apple Pay, and Amazon Pay are a few popular names among these payment gateways. All of them come with a fixed payment processing fee imposed by Shopify. It also offers an in-house payment processor, Shopify Payments, that seamlessly process any type of payment. And best of all, it doesn't charge any transaction fees.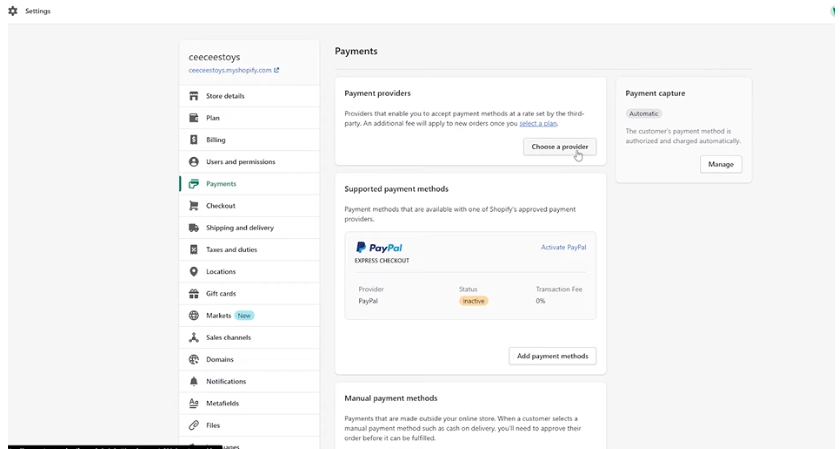 Magento goes a step ahead in this section by offering 150 payment gateways. The transaction fees depend on the payment gateway you choose so they can be low or high. However, the majority of payment gateways target larger businesses. Still, you can find a few popular payment gateways, such as Square and Stripe, that can handle any business size.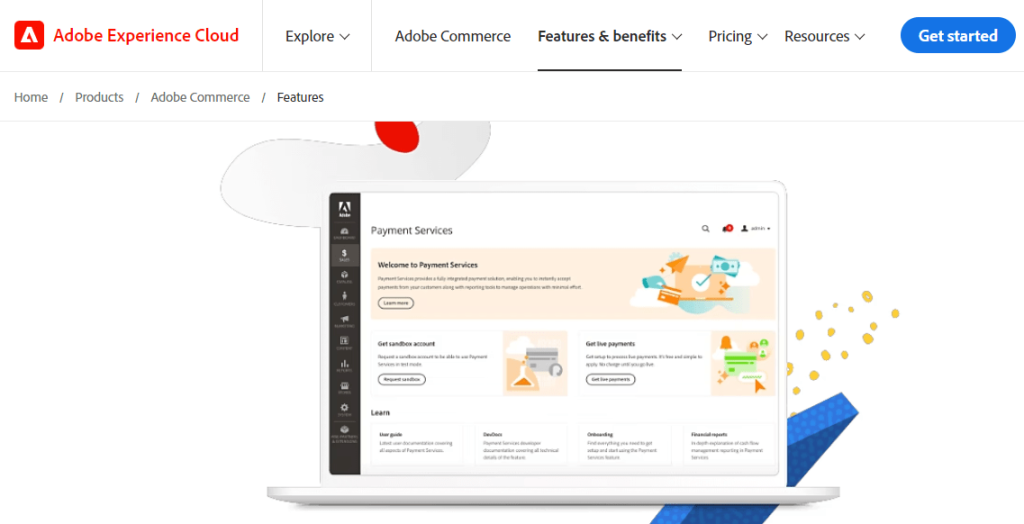 Winner: Magento
9. Help & Support
Shopify offers top-tier customer support to its users. It offers every possible customer support service you can think of. Whether it is related to creating a store or fixing issues, you can take help from Shopify customer support via email, 24/7 live chat, phone social media, Help Center, community forum, and video tutorials.
Magento is a community-based platform that offers excellent support via community forums. Since most issues are regarding coding related, you can't get it fixed over the phone or email. That's why forums contain hundreds of step-by-step guides that will help you with any troubleshooting or technical issue in an instance.
Winner: Tie
10. Pricing
If you look at Magento and Shopify from a pricing perspective, they are two different platforms. Shopify offers a subscription-based pricing model, while Magento is an open-source solution that doesn't offer any monthly subscription.
Currently, Shopify offers five different pricing plans to its users. But customer mainly prefers three plans, which is Basic, Shopify, and Advanced. Out of all plans, the Starter plan is the cheapest plan, but it only allows you to sell on social platforms, and you can't create a standalone website for your business with it. The most expensive plan is Shopify Plus which offers industry-level custom eCommerce solutions. That's why only larger businesses and enterprises buy it for eCommerce solutions.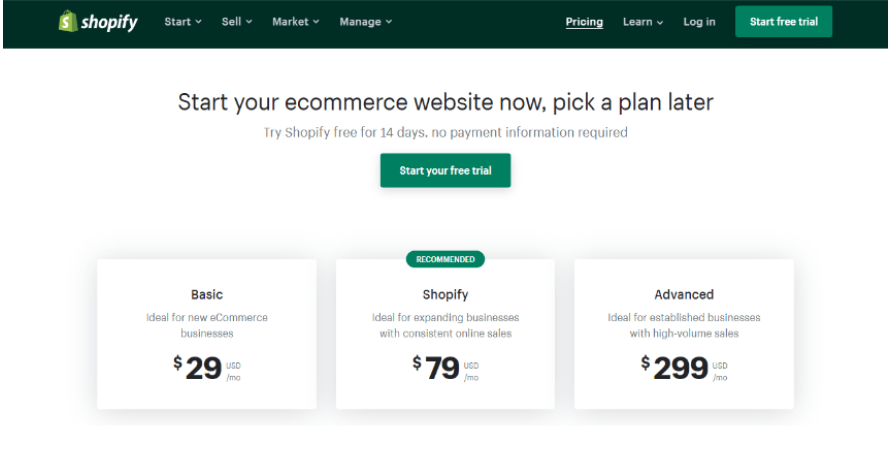 Magento doesn't have a monthly plan. The pricing mainly depends on your web hosting service and add-on costs. It can be cheaper or costlier than Shopify's plan—it all depends on how many services you want to add to your Magento store.
Winner: Tie
Shopify vs Magento: How To Create An Online Platform?
Shopify and Magento both offer powerful platforms for creating a responsive eCommerce website. However, the store-creation process is quite different from each other.
Selling On Shopify
Creating an online store on Shopify is relatively easy. All you need to do is sign up and follow a setup wizard. Let's see how you can do it.
Pick a Plan: The first thing you need to do is pick a plan to start the store creation process. You can also try its 3-day free trial to check all its features.
Create an Account: Next, sign up for a new account using your email address.
Add Domain Name: Select a domain or enter an existing domain name.
Select a Store Theme: Find a relatable theme for your store. You can also customize it according to your profession.
Create Product Listings: Add products to your store by creating a listing for each product. For a listing, you need to add necessary product-related details and pricing.
Add Shipping and Payment Methods: Next, add your preferred payment methods and shipping partners for order fulfillment.
Make your Website Live: Once your store is all set, you can make your website go live on the internet.
Selling On Magento
You can create a powerful eCommerce platform with Magento, but you need to follow some critical steps very carefully.
Review System Requirements: There are multiple versions of Magento available on the internet. Before choosing a version, check your PC's web server, OS, memory, PHP, and database and see if it is compatible or not.
Select a Hosting Provider: Now, you need to find a reliable hosting provider. Make sure that your selected hosting services match your system requirements and offer fast web servers and an SSL certificate.
Install Magento: Now, download and install the latest version of Magento. However, this step requires a specific process and technical knowledge. Select a host that offers a one-click installation to avoid this long process.
Complete General Configuration: Fill in necessary details like country, language, store name, address, and others.
Customize Your Store: Next, choose a free theme or purchase a professional theme and customize it according to your store. You can also create new pages, widgets, and blocks in this section.
Add Products: Create a product catalog by adding products to your store. You will also need to add product descriptions, images, types, and pricing in this section.
Set up Shipping and Payment Methods: Next, you need to add delivery methods to ship your products to customers' addresses. And then set up payment methods and configure payment gateways.
Preview and Launch: Once you have added all the necessary details, preview your store to see how it will look from the customer's perspective. Once you are satisfied, you can make your website live, and it will be available on the Internet.
Shopify vs Magento: Pros and Cons
Let's have a look at the pros and cons of Shopify and Magento:
Shopify Pros
Ease of Use: Shopify is a user-friendly platform that requires no technical skills to set up and run an online store.
Hosted Solution: Shopify is a fully hosted solution, which means that the company takes care of the technical aspects of running the store.
App Store: Shopify has a vast app store that offers a variety of third-party apps to enhance the functionality of the store.
Customer Support: Shopify offers excellent customer support, with 24/7 support available through phone, email, and live chat.
Security: Shopify takes care of the security of the store, including SSL certificates, PCI compliance, and fraud protection.
Shopify Cons
Cost: Shopify can be an expensive platform, with additional fees for apps and payment processing.
Customization: While Shopify offers a variety of themes and templates, customization options are limited for those without technical skills.
SEO: Shopify's SEO features are limited compared to other platforms, which can make it more difficult to rank in search engines.
Magento Pros
Open Source: Magento is an open-source platform, which means that it is free to use and can be customized to fit the needs of the business.
Customization: Magento offers more customization options than Shopify, making it an ideal choice for businesses with unique requirements.
SEO: Magento offers advanced SEO features, including meta tags, URL rewrites, and sitemaps, which can help improve search engine rankings.
Scalability: Magento is a scalable platform that can handle large amounts of traffic and products, making it suitable for growing businesses.
Magento Cons
Technical Skills: Magento requires technical skills to set up and run an online store, which can be challenging for those without technical expertise.
Hosted Solution: Unlike Shopify, Magento is a self-hosted solution, which means that the business is responsible for the technical aspects of running the store.
Customer Support: Magento's customer support is limited compared to Shopify, with only email and chat support available.
Security: Magento is responsible for the security of the store, which means that the business must take care of aspects such as SSL certificates and PCI compliance.
Related Read:
Conclusion: Shopify vs Magento (2023)
After conducting a side-by-side comparison between Shopify and Magento, you have come to a conclusion. Overall, it is a tie as both platforms offer a powerful platform with top-notch eCommerce features. Shopify is great for every type of business, while Magento suits best for people with technical knowledge. Shopify offers fixed and affordable solutions, whereas Magento doesn't have a fixed subscription or membership. With Magento, you have to choose a reliable web hosting provider, while Shopify offers built-in hosting solutions.
Apart from store creation difficulty, Magento excels in almost every category. With Shopify, everything is fixed and limited according to its plan. But with Magento, you can create unlimited possible opportunities. However, you need to rely on third-party sources, and it might cost a fortune—it totally depends on you. But if it is worth the spending, you can go for it. And if you want everything centralized under one platform, you can go for Shopify. So which one do you choose? Let me know in the comments.